This article has links to products and services we love, which we may make commission from.
On vacation and looking to build your itinerary with the best tours in Dubai, or are you short on time and need quick tips during a stopover?
This guide details exciting Dubai excursions for every budget including time-saving skip the line tickets, thrilling desert tours and an Abu Dubai day trip.
You may also like: how to spend 1-3 days in Dubai, where to stay in Dubai, and how to dress in Dubai.
Dubai Tours for Every Budget
The first attraction a tourist needs to see in order to believe that they're in Dubai is the Burj Khalifa.
Burj Khalifa is the tallest building in the world which stands proudly in the middle of Downtown Dubai, right beside The Dubai Mall.
It is approximately 828m tall and can be seen from almost any part of the city. Tourists who are brave enough to go 'At the Top' will be rewarded with breath-taking 360-degree views of the entire city.
The main observation decks are located on levels 124 and 125 and if you're willing to pay more, you can even go all the way up to level 148. This experience isn't for the faint-hearted.
Just picture yourself being on top of the world while every other building in the city looks like it's a center for ants. The best time to visit the top is around 5-6pm.
That's when you'll enjoy the beautiful sun setting over the Arabian sea as all the city lights start to come alive.
Even though you can purchase 'At the Top' tickets in the lobby, it's much better to book them online in advance to choose the perfect time slot before it gets sold out.
You can then pick up tickets at 'Will Call' as soon as you arrive.
Try to get there early because the lines can be intense, especially for those who have booked the sunset slots.
You won't get bored while waiting because, through interactive displays, you'll get a very rich history lesson about the architecture of the building.
You'll also get to hear a lot of fun facts.
Did you know that the weight of all the concrete used to construct the Burj Khalifa is equivalent of 100,000 elephants?
As soon as it's your turn to go to the top, get ready to experience the fastest elevator ride in the world. When those elevator doors open and your heart barely stops pounding, you'll be greeted by the staff with a warm smile saying those delightful words, "Enjoy the view."
You might even see Tom Cruise scaling the building again on a top-secret mission.
You can easily get to Burj Khalifa by metro, but it's a very long walk just to exit the station alone! Taxis are inexpensive in Dubai so it's better to just hop into one.
Make sure that your driver takes you through Sheikh Zayed Road. That way, you will see the futuristic stretch of the Dubai skyline along the way, especially Emirates Towers, where Star Trek was filmed.
This will surely build up a lot more excitement as you finally approach the Burj Khalifa.
Pros: Jump the line, choose a specific time
Cons: Audio tours additional fee
Duration: 1.5 hours
2. Evening Desert Safari Dubai $$-$$$
A desert safari is one of the best tours in Dubai. Once upon a time, Dubai was nothing but a vast and empty desert.
That's why it's worth going back in time to experience where it all began and treating yourself to a delicious Dubai desert dinner, underneath the stars.
There are many tour companies that provide competitive rates for a standard desert safari with BBQ dinner.
In order to choose the right desert safari company in Dubai, make sure to read some online reviews from previous customers.
You can book your own four-wheel drive if you're traveling together in a group or share one with other tourists to make some new friends.
A standard evening desert safari begins around 3-4pm, which gives you plenty of time for other activities in the morning. A very spacious and comfortable air-conditioned land cruiser will pick you up from your hotel.
After an hour's drive, you'll briefly stop at an old service station with souvenir shops, for a chance to stretch your legs while your driver removes air from the tires.
The friendly shopkeepers will offer to sell you a 'Ghutra,' which is a traditional Arabic headscarf worn by local Bedouins to protect against dust and sandstorms. It also helps keep your head cool on hot days and it's fun to watch how skilfully they tie it for you.
A stop there only lasts 20 minutes and then it's time to go bashing through the Lehbab desert dunes.
Dune bashing in Dubai is such an exhilarating experience and can even be a little scary for some people. You'll be safely strapped inside a 4×4 Land Cruiser as your driver expertly speeds you up and down the giant sand dunes.
You'll see lots of great views of the desert but get ready for some serious butterflies in your stomach! Your driver might also be adventurous enough to tilt the cruiser over the edge of a massive dune to make you feel as though you're about to fall.
Dune bashing is such a thrilling rollercoaster experience in the desert, and you'll love every moment of the adrenaline rush. One member of our group was extremely nervous, but our driver's great sense of humor really helped put everyone at ease.
The drivers are friendly and knowledgeable, feel free to ask them any questions and they'll be happy to engage with you.
Don't worry about not getting good photos from inside the cruiser, your driver will stop at a beautiful spot for a photo op with the magnificent sunset in the background.
Most Dubai desert dinner tours start early afternoon and last approximately 5-7 hours. They also provide full transport, so you don't have to worry about hitching a ride in the middle of the desert.
There are many different desert tours in Dubai for all the popular activities that you'd like to experience.
Pros: Sunset, BBQ, dune bashing
Cons: No camel experience
Duration: 6-7 hours
3. Red Dune Safari with Sandboarding and BBQ $$
Instead of just stopping for a sunset photo op, with this tour, you'll also get to hop on a board and go surfing down the sand dunes.
It's great fun to have a race with all your friends and having a good laugh whenever someone falls on the sand.
Because the sand is very soft, sandboarding is a very safe and fun activity even for children.
There will also be a great opportunity to experience riding a camel. It's a short ride, but still great for a few photos.
After building up a strong appetite on the dunes, you'll be taken to a private oasis called Lahbab camp to have an all-you-can-eat buffet dinner. You'll be seated around a large stage area and enjoy various musical shows such as belly dancing.
The buffet options are plentiful consisting of bread, rice, salads, Arabic meats, and sweets.
Be sure to try the typical Arabic sweet called 'Luqaimat.' It's like a warm and soft deep-fried marshmallow that just melts in your mouth.
You'll want 50 of them for sure!
You'll also get unlimited coffee, tea, water, juices, and soft drinks. Alcoholic drinks aren't free but it's still worth splurging a little on a cold beer in the desert.
There's a separate area where everyone can gather around and smoke some delicious shisha.
You can either have your own shisha or share one with two different pipes. Unfortunately, all the free shishas are the same flavor so if you want to try different ones, you'll have to pay extra for it.
You can also get a temporary henna tattoo from a professional artist and pose with a real falcon. Make sure to get the henna done after dinner because it takes a while to dry and peel off. After all, the best way to experience true Arabic cuisine is by eating with your hands!
Pros: Same as above tours + camel experience
Cons: Charges for additional options
Duration: 4-7 hours
4. Bike the Red Dunes, Sandboard and BBQ with Shows $$
This safari tour has most of the activities (minus dune bashing).
Instead of a 4×4 cruiser, you can fulfill your need for speed by riding your own quad bike for 45 minutes through the desert.
You'll get all the safety tips on the day, so don't worry if you're not an experienced rider.
Just make sure that you choose a reputable Dubai tour guide for this safari.
This is very important because some use very old quad bikes and a tourist was hospitalized.
That was a very rare case but it's still wise to do some research when you're booking any Dubai safari tours.
Pros: Quads for thrill seekers
Cons: No dune bashing
Duration: 6 hours
6. Morning Safari with Quad Bikes and Sandboarding
This Dubai desert safari tour is like the ones in the evening, but you'll have to wake up early for it. It's much shorter for just 4-5 hours and is perfect for those who don't want to spend an entire day in the desert.
You can go dune bashing, camel riding, quad biking, sandboarding, and enjoy a picnic at Jumeirah Beach after you're done. Pro: Shorter, great for those on stopovers Con: Duration: 4-5 hours
7. Overnight Dubai Desert Safari Trip $$
In case you can't get enough of a desert safari in Dubai, why not stay longer and camp overnight with this tour?
The desert is very quiet and peaceful at night.
You'll get a lot more privacy because most tourists leave right after the evening tour.
There are many fun activities to do at night, and the desert is the best place to look at stars since there's no light pollution.
Each person gets their own tent with sleeping bags, cushions and mattresses so you don't have to bring any camping equipment with you at all.
Some light snacks and drinks are also provided through the night.
It's a great way to sit around a fire and meet new people. A local guide will be there to tell you all about the history of Dubai.
Some older guides have very interesting stories about what it was like to live in the desert before the city of Dubai was built.
Then you'll get to watch the most beautiful sunrise when you wake up in the morning.
You'll get to enjoy a traditional Arabic breakfast before your drive back to the city.
They don't do any dune bashing on the way back from the desert because everyone's full from breakfast.
An overnight desert safari in Dubai is extremely safe.
The guides work hard to make sure that everyone can sleep peacefully. You can leave your belongings in the tent and no one will steal anything.
There are shared male and female bathrooms in the campsite which are very clean. Click here to find out more.
Pros: Less touristy, stargazing
Cons: Expensive
Duration: 24 hours
---
» » Read the full guide to Dubai's safari tours here
---
8. Abu Dhabi Full-Day Sightseeing Tour from Dubai $$
Abu Dhabi is the capital of the United Arab Emirates and well worth a visit for at least a day.
It's only a 90-minute drive from Dubai and there's barely any traffic on the way via Sheikh Zayed Road.
You can catch a public bus to Abu Dhabi.
Tickets are very cheap at 25 AED from Al Ghubaiba bus station but when you arrive at Abu Dhabi central station, you'll need a taxi to get around.
Alternatively, you can prearrange a trip with a popular tour company who arrange all transportation from Dubai and back.
Tours are also great at managing time because there's a fair bit to see in Abu Dhabi.
---
Things to do in Abu Dhabi
The most iconic tourist attraction is the Sheikh Zayed Grand Mosque. It's one of the largest mosques in the world and has an open-door policy for all non-Muslims.
You will be utterly captivated by the impressive architectural styles which represent different Muslim civilizations.
Women are required to wear an Abaya at the mosque. There's no reason to bring your own because they let you borrow one in different sizes for free.
Everyone must also take their shoes off and walk barefoot. Don't forget to bring a pair of sunglasses because the bright white building is blinding on a very sunny day.
After the Mosque, you can check out Yas Island and Ferrari World.
Yas Island is famous for hosting many concerts. You can even rent a sports car and race laps around at Yas Marina Circuit where Formula One is held each year.
Ferrari World has some rides, a museum and plenty of merchandise for sale. It does get slightly boring unless you're really a hardcore Ferrari fan.
It's worth trying out the fastest rollercoaster in the world but if you're not into rollercoasters or Ferraris then it's not worth the high price.
Some tours do a photo stop at Ferrari world so you can have a quick pose to say you were there.
If you're a Fast and Furious fan, then you'll want to see Etihad Towers and Emirates Palace.
Even if you're not a fan of the franchise, it's still worth seeing anyway.
Emirates Palace is breathtakingly grand and perfect to walk around to take some incredible photos. If you want a unique souvenir, you can purchase some gold from the UAE's first 'Gold ATM' which is on the ground floor.
Make sure you leave some time to walk down to the Corniche Beach and dip your feet in the water.
Pros: All transport included, highlights visited
Cons: Limited by tour itinerary
Duration: 8-9 hours
9. Dubai Helicopter Flight from The Palm to The Burj Khalifa $$$
There's always a lot of traffic on the streets of Dubai, so the fastest way to do a Dubai day tour is by flying in the air.
Experience all the tours of Dubai in a much shorter time with a complete aerial view.
With a helicopter tour of Dubai, you'll get to see the entire magnificent shape of the Palm Islands and the crystal blue water surrounding it.
You'll also get to see the World Islands in case you feel like fantasizing about which private island you'd like to save up for.
The helicopter will also circle close to the Burj Al Arab which is the only 7* hotel in the entire world.
You'll get to see the helipad that Tiger Woods shot a golf ball from. This is an expensive experience but worth doing at least once in your life.
Make sure to get a window seat if you want to take a lot of photos and videos without having to lean across another passenger.
It's also important to book a helicopter tour at the start of your holiday in Dubai because the weather can be unpredictable.
If there's a sandstorm, your flight will get postponed due to poor visibility. So, it's better to give yourself plenty of time to reschedule the tour rather than canceling it.
Pros: Bird's eye view
Cons: Expensive
Duration: 12-25 mins
10. Dubai Hop-on Hop-off Bus Tour 24, 48 or 72 Hours $
For a relaxing Dubai day trip, the Hop-on Hop-off Bus Tour is the best experience.
When the weather is nice, it's a lot of fun to sit on the top deck and wave to all the other cars passing by.
The lower deck is fully air-conditioned so you can still do the bus tour during the summer months.
The bus stops at all the major landmarks so you can get down explore as much as you like. Reserve and download your instant ticket.
Pros: Multi-stops for sightseeing, audio guide
Cons: Traffic impacts on duration
11. Dubai Speedboat Tour: Marina, Atlantis, Palm & Burj Al Arab $
A speedboat tour is one of the best day activities in Dubai and takes you up close to the Palm Islands.
You'll enjoy the sea breeze and the great views of the Dubai Marina. Your speedboat driver will make you feel very special throughout the trip and even take photos for you.
On the weekends, you might also see some of the luxury yachts that belong to members of the royal family.
Pros: Fun tour, up close to the Palms
Cons: Weather dependent, can be windy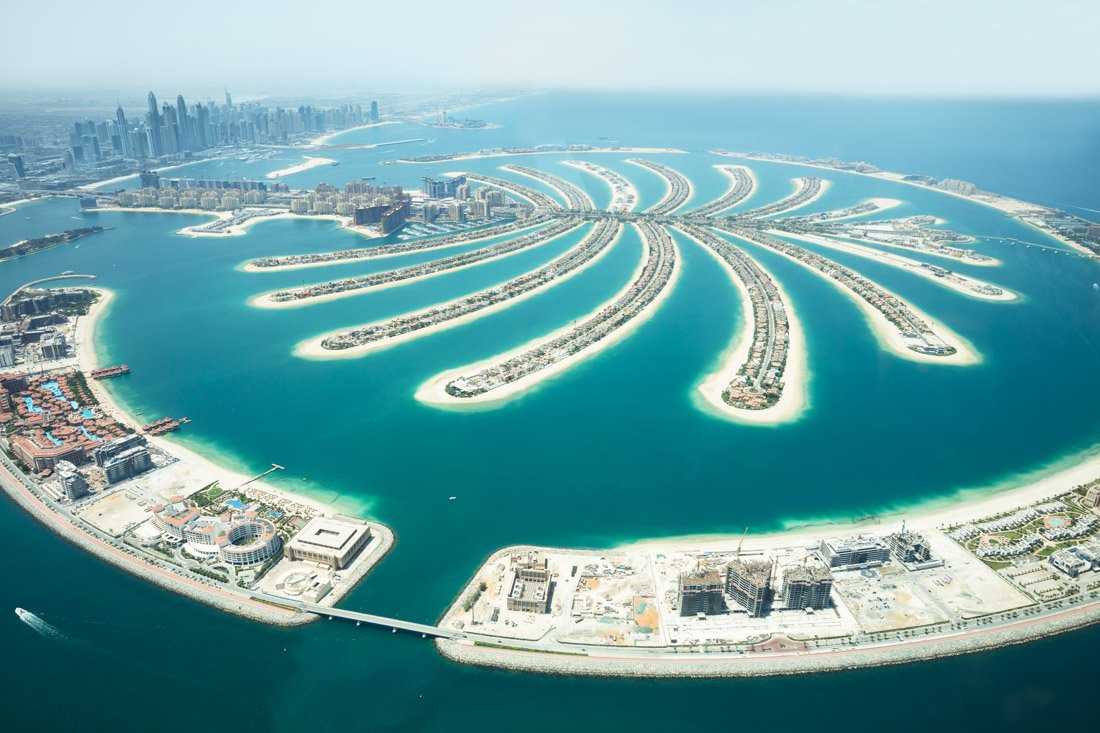 12. Dubai Fountain Show and Burj Lake Ride by Traditional Boat $
After your visit 'At the Top,' you should go back to Dubai Mall and walk down from the Apple store escalator and exit through the swiveling doors.
You'll see the majestic Burj Khalifa standing proudly to your right and this is where you can catch the famous musical fountains that come on every 30 minutes.
It's very tricky to capture the building's entire length in photos, so you might see a lot of people squatting down to the ground while trying to take pictures.
And before you know it, you'll suddenly hear a blast of music and a loud gush of water thundering towards the sky.
Make sure you have your camera ready to record the free show!
The best time to see the free fountain show is after sundown to enjoy all the lights.
You can see it from the bridge between Dubai Mall and Souk Al Bahar or reserve an outdoor table at any of the restaurants facing the fountain.
The fountain area gets extremely crowded, so there's a new floating platform which is much closer to the water and you'll get a much better view.
It's called the Dubai Fountain Boardwalk, and tickets for the are only 25 AED per person.
You can also go on a 30-minute traditional Abra cruise and get even closer to the fountain. Don't forget to pick up physical tickets beforehand because the Abra driver won't accept any e-tickets.
It's a very heartwarming experience to watch the beautiful dancing fountain up close, especially when Andrea Bocelli's 'Time to say goodbye' comes on.
You might get sprayed with water the closer you get to the fountain, especially if it's windy. It helps to carry a small hand towel in your purse.
13. Dubai 5-Hour Tour with a Professional Photographer Guide $$
This is one of the best tours in Dubai because it allows people to live in the moment.
Now you can truly enjoy being a tourist and the photographer will take all your candid shots for you.
You won't have to deal with blurry selfies anymore because you'll get professional high-quality shots to show off on social media.
Don't forget to use #MyDubai when you upload photos on Instagram. The best photos get displayed on the Burj Al Arab! Check out the best rates here.
Pros: Feel like a celeb while seeing the sights
Cons: Quite a long day if not used to being a model!
Duration: 5 hours
Final Words
Dubai can be expensive but there's always something for everyone.
Since there's so much to do and see in Dubai, you should plan your stay for at least 3 days.
This will give you the best chance to visit all the landmarks, learn the history and take a few of the best Dubai tours.
Oh, and make sure you don't forget to eat delicious shawarmas from a local cafeteria and grab a saffron tea from Filli.
---
Pin to your Dubai board for future planning
---
About the Author
Shipra is a digital marketer who was born and brought up in Dubai and has lived here for over 30 years. Thanks to all her friends who constantly keep visiting from abroad, she has been on a desert safari 25 times.
Read next: Where to stay in Dubai (best districts and hotels).