This article has links to products and services we love, which we may make commission from.
Thinking about visiting Dubai in December? Go for it! Winter season is the ideal time when temperatures are bearable, shops are packed with discounted gifts and winter events take place throughout the month so you can step into Christmas while catching some rays.
This guide will detail what to do in December in Dubai, offer tips for Christmas Day and recommend where to celebrate New Year's Eve, 31st December, in style.
Note: A decision about Dubai Christmas events has not been made yet.
Things to do in Dubai in December

Dubai Weather in December
In December, the weather in Dubai is perfect because it is the winter season and temperatures range between 15-30 degrees Celsius.
This is a stark difference from the summer months when the temperatures are burning around 40-50 degrees Celsius, and the intense heat makes it impossible to plan for most places to visit in Dubai during the day.
However, December is also one of the most expensive months to book flights and hotels because it is the peak tourist season.
You should book months in advance and avoid waiting on last-minute deals.
Beaches, gardens, desert safari tours, many of the top Dubai attractions are actually outdoors, hence why so many tourists visit Dubai in winter.
As always, we'll provide budget tips to help keep your trip to Dubai affordable!
---
» Others also liked | How to plan the perfect Dubai vacation
---
1. Madinat Jumeirah Festive Market
Even though the UAE is an Islamic country, many tourists and residents celebrate Christmas in Dubai, and the holiday season kicks off at the start of December.
Nearly every mall will have a giant Christmas tree with decorations, and Santa attends all of them to take photos with families.
One of the most anticipated activities for Dubai in December is the Madinat Jumeirah Festive Market.
This is the perfect time for you to dig out those matching Christmas sweaters and flex your carol-singing vocal cords.
The market runs for only sixteen days every year, and visitors can enjoy live music, traditional food, and drinks.
This is a family market, so there might not be any alcohol available at Ford Island where the festivities are.
However, Madinat Jumeirah is an Arabian souk market that is attached to luxury hotels, like Mina Al Salam and Al Qasr.
There are walkways connecting the souk to these hotels, and they have their own bars where you can pop in for a beer or two before returning to the main market.
If you want the best view of the seven-star hotel Burj Al Arab to wow everybody on social media, follow the signs from Madinat Jumeirah to Al Qasr and head upstairs to Koubba Bar.
The bar's outdoor terrace is the perfect vantage point where you can see the world-famous hotel and the sea with all the surrounding palm trees. This is also a very relaxing spot to have a drink while watching the traditional Abra boats pass by.
The festive market is one of the best places to buy last-minute presents for Christmas in Dubai.
Just make sure you do not attend the market with the gift recipients or buy them discreetly when your loved ones are busy riding the Abra boats with Santa.
Aside from food and drinks, there is a massive snowball zone, gingerbread house, and other play areas if you are traveling with kids and want them to be entertained while you shop.
The Madinat Jumeirah Festive Dubai Market runs from 3pm until late and opens earlier at 12pm on Christmas Eve and Christmas Day.
2. La Mer
Another exciting choice for your Dubai trip and one of the best places to visit in Dubai is La Mer.
La Mer is the ultimate beach and shopping destination that makes winter in Dubai feel more spring break than hibernate.
You can easily spend an entire day on this Dubai beach sipping on delicious drinks and taking part in watersports.
Around the beach, you will find breezy beachside restaurants and graffiti-filled urban streets with art murals and boardwalks to explore.
The street art murals and La Mer's Brighton-style pastel-coloured beach huts bring all the Instagram fans to the yard! Work on your pose and angles then tag La Mer Dubai for re-share.
Even though La Mer is in the city center, it is a great place to get away from all the noise if you want a relaxing Dubai Christmas holiday.
One of the best Dubai waterparks is in La Mer, called Laguna Waterpark.
You can go jet skiing, flyboarding, wake surfing, paddle boarding, and so much more.
Otherwise, you can hire inflatable floaties and drift around to enjoy a lazy afternoon and get that holiday tan to give those Love Island stars a run for their money.
https://www.instagram.com/p/Bz5itWKHSW8/?igshid=syi3yq9d9w2z
---
» Save for later | How to spend 3 days in Dubai
---
3. Burj Khalifa At the Top
Even though the weather in Dubai is heavenly at this time of year, it is only natural that you might want to do some indoor activities as well.
After all, you cannot spend Xmas in Dubai without going to the tallest building in the world that the city is famous for.
Otherwise, how will anyone believe that you have been to Dubai without a selfie inside the Burj?
For the best Dubai tour of the Burj Khalifa, you should plan a few months in advance because the winter season is usually packed with tourists.
You do not want to arrive at the lobby only to be told that there are no tickets available, and your only option is to see the Burj Khalifa from afar or on YouTube.
The main observation decks are on levels 124 and 125.
From here, you will be approximately 450 meters above the ground, so this Dubai attraction is not for the faint-hearted and those who are afraid of heights.
The observation decks are surrounded by floor to ceiling glass, where you can enjoy a complete 360-degree view of the entire city.
While taking photos and learning about the magnificent structure, you can also stop by for a luxury meal at Atmosphere restaurant and bar.
Sunsets are the most popular time slots, and you might miss out if you do not book tickets in advance.
Dubai Burj Khalifa: Levels 124 and 125 tickets will secure your sunset spot at the top, and you can also use the free Wi-Fi and viewing telescopes for just $40.
This price is significantly lower than buying on-site, and you will not risk having to settle for another time slot if you really want those picturesque Arabian sunset views over the horizon.
After a visit to the observation decks, don't forget to stop by for a delicious meal at Dubai Mall and catch the dancing fountains, which may be playing your favorite Adele song with the colorful night lights and backdrop of the Burj Khalifa for a great photo op.
If you want to sit by the fountains rather than stand among the sea of tourists, you can grab an outdoor table at Five Guys, Nando's, Texas Roadhouse, Starbucks, and many more restaurants that are facing the Burj.
Another option is to go up the escalator to the second floor and catch the fountain away from the crowds from the Apple shop's balcony.
4. Desert Safari
If you want those Aladdin fantasies to come true during the Dubai winter season, you cannot miss a trip to the desert to ride four-wheel drives on giant sand dunes.
A trip to the desert is a huge part of Dubai's culture, which is why all tourists are encouraged to spend a day.
This trip is not a boring one, and you will be left with butterflies in your stomach after dune bashing, sandboarding, dune buggy rides, camel rides, and so many more thrilling activities.
By booking tickets in advance, you can save a lot of money because the prices do increase during the winter months.
You will not have to worry about transportation because a local driver will pick you up from anywhere in the city.
The drive to the desert is approximately an hour, and all you have to do is sit back and enjoy the breathtaking views as you race up and down sand dunes on Land Cruisers or dune buggies like you're in a Mad Max movie.
Your driver will tell you all about the history of Dubai and answer any questions you may have.
They have lived here for a very long time and can provide recommendations on what to do in Dubai if you have run out of ideas.
After sunset, you will be taken to a luxury Bedouin campsite where you will be treated with an all-you-can-eat barbecue buffet dinner with local and international cuisines.
When you are done with dinner and drinks, you can sit back and watch a belly dance and Tanoura show.
Then you will be driven back to the city after a long and exciting day of fun.
The evening safari is the best because you get to spend the perfect amount of time in the desert so that the trip is not too long or rushed.
If you want to stay in the desert much longer, you can book an overnight camping safari where all the tents, mattresses, pillows, blankets, food, and drinks will be provided. The only thing you need to pack is a sense of adventure.
For Dubai in December, the most top-rated desert safari tours get sold out very quickly, so you should always buy tickets in advance instead of living life so close to the edge, hoping to buy them after arrival.
The best Dubai tour that provides everything for an upfront payment is the Dubai Desert Safari Red Dune: BBQ & Sandboarding.
This hot ticket includes transport to-and-from anywhere in the city, all your meals, dune bashing, camel rides, and sunset photo ops from the tallest sand dunes for just $35, which is a steal compared to regular Dubai winter season prices.
You should carry some warm clothes in the desert for evening trips because it is a lot colder than in the city.
Even though the Dubai desert will never be Arendelle, the temperatures can drop to 10-20 degrees Celsius, especially after sunset.
Your trip will be a lot more comfortable if you pack a hoodie, light coat, or even a Christmas sweater knitted by that family member whose gifts you hate.
Some safaris might provide blankets if you request them in advance, but there is no way of knowing where they have been, so it's always best to bring your own.
The buffet includes a lot of barbecued meats, rice, Arabic bread, salad options, desserts, tea, coffee, soft drinks, juices, etc.
There is also alcohol available at the camp, but those beverages are not included in the overall package and must be paid for separately.
The campsite will not have any ATM machines because you are in the middle of the desert.
Therefore, you should always bring some cash in the local currency (Dirhams) to purchase alcohol and souvenirs.
---
» Read more | How to choose the best safari tour in Dubai
---

5. Miracle Garden
If you love a colorful life and are not prone to allergies, a visit to Miracle Garden while in Dubai in December is a must.
This gorgeous Dubai attraction is the largest natural flower garden, with over 50 million flowers and 200 million natural plants.
This is a little further from the city center, but worth a visit if you want some breathtaking photos for social media.
A ticket to the Miracle Garden is only $14 for adults and $10 for children and provides a lot of fun for the entire family.
If you have always dreamed of being an Instagram influencer, this is the place to be for the best shots that you won't even need filters for.
The Miracle Garden is only open from November until May every year, so you should take advantage of the winter season to enjoy this stunningly unique display and extravagant outdoor tour in Dubai.
Since the park covers over 72,000 square meters, it might take approximately two or three hours to cover the entire place, depending on how many times you stop for a selfie.
The garden has already gotten four Guinness World Records just for being so incredible.
These are not flowers in pots or vases, you will literally see an actual Emirates Airlines' A380 plane covered in colorful flowers. There are many other sculptures and twinkling lights that enhance the experience if you want the most visual treat for Christmas in Dubai.
Aside from the Insta-worthy flower displays on steroids, you can also check out the Amphitheatre for live entertainment, street performers, costume parades, and even catch a Zumba session if all that walking is not burning enough calories.
Some of the most prominent displays are 3D shapes of life-sized animals, the aerial floating lady, the Emirates plane, cartoon characters, and many more.
Every year the garden adds several new floral exhibits and has become a very special place for a lot of tourists and residents of Dubai.
---
» You may also like | Dubai's best tours
---

6. Global Village
If you ever promise to show a loved one the entire world but have a very limited budget, Global Village is the best solution to your problems.
This is often a running joke amongst Dubai residents.
Global Village is one of the most iconic Dubai attractions that has been running every winter season for many years, and people never get enough of it.
This is the world's biggest multicultural amusement park with pavilions selling goods from different countries, a ton of street food from every cuisine, and carnival-style Dubai theme park rides for both adults and kids.
You can go shopping at the Indian pavilion and then visit Iran, Egypt, China, and then Europe, etc.
It takes an entire day to visit all the pavilions because there is so much to see.
You might also struggle to walk after eating a lot of food because you will see vendors everywhere selling delicious local and international treats.
Some of the best things to eat at Global Village are pasta in a wheel of cheese, shawarma sandwiches, roasted corn, Turkish ice cream, Indian biryanis, American burgers, and hopefully still have room for dessert.
Global Village has daily fireworks at night and even a water fountain show.
They also host famous international artists, Bollywood stars, and Arabic singers for free live entertainment on the mainstage.
If you want to take an epic panoramic selfie with the Burj Khalifa, Eiffel Tower, The Big Ben, and Sydney Opera House together, make sure that Global Village is on your itinerary while visiting Dubai in December.
7. Dubai Nightlife
There are plenty of clubs in Dubai that are open almost every night of the week.
Alcohol is very expensive in Dubai, and a pint of beer might cost around $15 each because of all the taxes, but you can always find special deals.
If you purchase Zomato Gold, you can get 1-for-1 free drink deals.
Another popular drink app is "Moonshine," where you can find tons of deals for cheaper drinks or get free ones if you spend over a certain amount.
Dubai is famous for the best ladies' nights in clubs and bars.
Women can benefit from free entry and free drinks until late at night.
A lot of dinner buffet packages also include free-flow house beverages, such as champagne, wine, beers, and some spirits.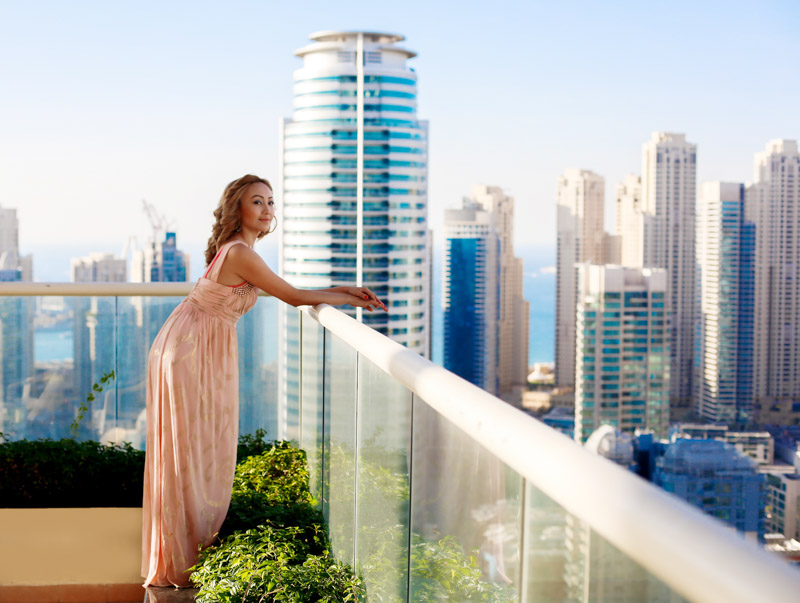 8. Ahoy! Dine on the QE2
Never mind decking the halls, you can dine on the deck of Queen Elizabeth 2 in Dubai.
Choose from a buffet meal with alcohol at The Lido (indoor) or The Pavilion (outdoor).
This books up fast.
9. Christmas Day in Dubai
Chrismas Day (25th December) is not a public holiday in Dubai. However, lots of places celebrate the holiday.
You can expect the metro, shops and attractions to run like any other day.
Madinat Jumeirah Festive Dubai Market is open on Christmas Eve (24th) and Christmas Day too.
Top hotels serve western traditional meals as well as local options on Christmas Day throughout the city.
Looking for something boozy? Dubai's infamous party brunches can be booked on the 25th too.
For more civilized Christmas dining experience check out the revolving restaurant at Hyatt Regency Dubai, Dubai.

Although the 25th is not a public holiday, there are three other dates to note which won't have much impact on your trip.
Throughout the UAE, the 1st is Commemoration Day and the 2nd-3rd is National Day.
10. New Year's Eve in Dubai
Dubai is an expensive city to visit, but it becomes even more pricey on New Year's Eve.
If you are planning to celebrate New Year's while visiting Dubai in December, you might have to overstretch those wallets to have the best party.
Nearly every hotel, club, yacht, or mall in Dubai throws an event for New Year's Eve.
The midnight fireworks take place at the Burj Khalifa, Burj Al Arab, and The Palm Island.
The best fireworks are held at Burj Khalifa, where they literally shoot out of the building.
The fireworks, light show, and fountains are all synchronized on New Year's Eve. Which is why everybody wants to be there, and crowds become too hectic.
A yacht party is the best way to see the fireworks on the water.
However, a ticket for an all-inclusive drink and food package can set you back $500 per person.
This is worth the money because you get to set sail on a luxury yacht from Dubai Marina and drink as much alcohol with a buffet dinner from 9pm until 3am.
If you want to visit Dubai in December to celebrate New Year's Eve with Burj Khalifa fireworks, you might want to plan early.
The boardwalk closest to the fountains and Souk Al Bahar gets closed off because there isn't enough space for everybody to stand.
Only restaurants along the promenade allow people to sit there and wait for the fireworks.
However, restaurants capitalize on this opportunity hardcore.
Regular food chains, such as Nando's, Texas Roadhouse, and Five Guys Burgers, have a cover charge of at least $200 per person to reserve a seat for New Year's Eve.
Imagine eating peri-peri chips for $10 on a regular day and then forking out hundreds of dollars.
They justify this inflated cost by including all-you-can-eat in the cover charge, so you can get prime seating for the fireworks while eating as many burgers as possible until midnight.
The only entrance to the promenade is through Dubai Mall.
Mall security stops people from going near the Burj Khalifa and fountain unless they have a restaurant reservation.
The free public viewing area is a little further down at Burj Park.
This is a green open space to fit loads of people who arrive very early to wait for the fireworks.
You will also find public toilets and food carts that make it easier to spend the evening.
A DJ will also be performing with other musical acts to get everyone partying for the night.
A lot of people get to Burj Park as early as 2pm to get the best spot in the front.
This is because when the fireworks begin, everybody crowds around, and it is challenging to see the complete synchronization with the fountain as well.
If you are a short person stuck in the back, you might have a better chance of seeing Aquaman levitate out of the fountain and fly with a Superman cape into the smoke-filled sky instead of the show.
Many clubs will host New Year's Eve parties with a cover charge.
Such as Barasti and Zero Gravity which are trendy beach bars where you can watch fireworks and dance the night away with live music.
Traffic on New Year's Eve is an absolute nightmare because the police shut down the roads leading to Dubai Mall. This is for everybody's safety.
In the past, a lot of people got stuck in standstill traffic for hours and started walking on the flyover pass to get to the mall.
To catch the Burj Khalifa fireworks, you will have to arrive with the Dubai Metro.
When you get off, there will be signs or security personnel to guide you to the viewing area if you do not have a Texas Roadhouse reservation.
The metro also shuts early because of the crowd. The latest you should take the train is 6pm.
Otherwise, you should abort the plan for Burj Khalifa and go on an exciting yacht party instead.
Some people manage to drive to the mall early morning and shop around until they can go to the fireworks area.
However, this seems like a good idea until the show ends, and then people are stuck for eternity trying to get out.
You should either only take a taxi if you plan on getting there in the morning or use the metro if you are arriving after around 2pm.
Alternatively, you can also go to Dubai Festival City Mall for fireworks, fountains, and an epic light show too.
It is not as grand as the show at Burj Khalifa, but the outdoor area is less stressful to get to, and they also have a wide range of restaurants you can book tables at.
Many hotels in Dubai have a beautiful view of the Burj Khalifa.
You can splurge on a room with a balcony or terrace facing the fireworks to enjoy popping open that champagne away from the crowds.
The Address Hotel is the closest to Burj Khalifa and Dubai Mall.
It does require a lot of effort to see fireworks in Dubai because of all the crowds.
However, it is always worth doing at least once because the city continuously pushes itself into making every year's show the very best.
Dubai always wins awards for New Year's Eve.
No matter how much you spend or go through the hassle to be there, you will enjoy every moment.
---
What to Wear for Dubai Winter Months?
This depends on your tolerance for cold temperatures.
You might be a tourist from Florida who wears a puffer jacket or a Scandinavian warrior walking around in shorts.
Most people wear light sweaters and hoodies because Dubai does not get as cold as European countries.
At times it even feels colder inside the malls from air conditioning than it does outside by the dancing fountains.
You will not need scarves, hats, or gloves at all. Long pants and a light cardigan or shawl should be enough unless you are going to the desert for the night.
Then you might need a thick hoodie or sweater because the temperatures are lower among those beautiful sand dunes.
Many tourists do not feel cold and are less dramatic than the residents, so they usually wear t-shirts and shorts as if it is summer.
---
» Read the full guide | What to wear in Dubai
---

Where to Stay in Dubai
Many hotels in Dubai remain unoccupied throughout the year and suddenly fill up during the winter months because it is peak tourist season.
If you are planning a visit to Dubai in December, you should prepare to pay higher prices even if you book in advance.
The further you are away from downtown, the more hotel rooms will be available because everyone wants to stay as close to the Burj Khalifa as possible since that is where all the action is.
You can book luxury hotels, such as the Armani Hotel, Emirates Towers, W Hotel, Jumeirah Beach Hotel, and many more.
Or you can pick some slightly more affordable options in areas such as Dubai Festival City, Karama, Bur Dubai, Deira, etc.
Either way, you will have no choice but to deal with inflated prices because the winter months are when Dubai attracts the most tourists, and all the hotels make up for the lower occupancy from the summer months.
---
» See all recommendations | Where to stay in Dubai
---

Best Month to Visit Dubai
December is the best month to visit Dubai. This is because of the fun festive atmosphere where everyone comes together to celebrate Christmas in Dubai.
You can visit the Madinat Jumeirah and Festival City Christmas markets that are only held during this month.
A lot of malls, such as Mall of the Emirates, Dubai Mall, and Wafi, have the best Christmas decorations and events with Santa for the kids that you won't get to experience during any other month.
The Dubai climate in December is very pleasant with a soothing chill in the evenings rather than the rainy season around January and February that makes headlines because roads get flooded, road traffic comes to a standstill, and deliveries get delayed.
In January 2020, the airport got shut down for a day as well because of the flooded runways.
If you are traveling to Dubai in January, it might be best to check the weather reports closely before booking flights in case there are delays or cancellations.
According to Gulf News, Dubai is actively engaging in cloud seeding, which is apparently causing a lot of unexpected rainfall in the region.
Unless you want Pizza Hut to take three hours to deliver those chicken wings and garlic bread to your hotel room, you might want to visit Dubai in December rather than mid-January.
The cheapest time to visit Dubai is around June till September.
These are the hottest months in the city where your face will feel like it is melting, which is why many tourists avoid the summer season because it hinders your ability to enjoy all the amazing outdoor activities, such as the souk markets, beaches, and desert safaris.
Hotel occupancy during this time is lower, so you can often find a lot of great deals at much cheaper rates than the Dubai winter months.
Many theme parks also experience less footfall during this time and might offer two-for-one deals on tickets.

---
Pin to your Dubai planning board
---
---
Final Words
There are many incredible outdoor activities in Dubai that you would miss out on if you do not visit during the winter months.
Therefore, the prices for flights and hotels get higher because every tourist wants to see the world at Global Village, sip hot chocolate at Madinat Jumeirah, pose for photos in front of a flowery A380 aircraft, and sit by the beach without regretting life.
If you want to have the best holiday while visiting Dubai in December, you should start planning as early June or July.
Many hotels offer an early bird rate if you book and pay in advance. This will help you save money without paying twice as much closer to winter.
Our Dubai Travel Guides
---
Author's Note
Shipra has spent many winters in Dubai, and always looks forward to December every year because she loves riding an Abra with Santa.