Locally Sourced Cuba Tours are a tour company which aims to showcase the 'real' Cuba through its group tour schedules and city tours. Guests can join Cuban guides in their 8-20 day tours around the island, teaming up with visitors from all over the world. Don't have that much time or prefer to travel independently? You can book a day tour as a taster of what Locally Sourced has to offer and that's what we (Gemma and Craig) did in Havana.
---
» Don't miss our first timer's guide to visiting Cuba
---
5 Reasons To Book a Locally Sourced Day Tour
1. Jam-Packed Full-Day Havana Itinerary
We met our Cuban guide, Yaniel at Hotel Inglaterra, Parque Central early the morning.
Yaniel was punctual, we were late. Too many Cuba Libres the night before and failure to change the clocks on our mobile phones nearly caused us to miss the tour.
Luckily for us, Yaniel understood, made a joke about getting Craig some water and we were off.
→ Note: you can't easily access 4G in Cuba so we couldn't message to say we were going to be late. Read our guide to WiFi and 4G in Cuba during your planning.
The morning was packed with all the Havana highlights in Centro Habana and La Habana Vieja (Old Havana). We learnt about:
Havana's Capitolio, the Government building which is being refurbished on Cuba time
Art and sculptures such as Roberto Fabelo's girl on a rooster which is a nod to the women in Cuba who have made certain financial decisions to improve their lives
The national hero José Marti and his statue
The

Museo de la Revolución
Havana's many plazas
2. Guides Are Local But Speak English
No español? No problem. Locally Sourced Tour guides are Cuban but they speak both Spanish and English, fluently.
Yaniel ordered food for us, politely asked street vendors to move on and organised our taxi rides to and from Vedado, in a classic car, baby!
Not just that, Yaniel also had a really sound understanding of our culture and was happy to share everything, and I mean everything, about his.
We learnt about the health care system which is wife was currently using at the time as she was in hospital pregnant with twins, we asked about crime and drug use and why all the kids had better mobile phones than us!
No question was too awkward, it was like spending the day with a friend, not a guide.
3. You Get to Ride a Classic Car
One of the number one reasons for visiting Havana has to be riding in a vintage car and you can do that with this tour.
Yaniel organised a taxi to Vedado for lunch and a classic car ride.
After lunch, we were met by our driver in a mustard yellow Mustang. So damn cool!
You just can't beat the wind in your hair and feeling like a Hollywood star from the past. We visited Plaza de la Revolución where Che Guevara beams down on you from up high.
We also zoomed through the more affluent area of Havana as well as the forest which Cubans refer to as the 'lungs of the city' – the forest of Havana.
We were surprised to see people in the river, Yaniel explained that the river has been tainted by the practice of Santeria where believers sacrifice animals, often in the water. We really did touch on all topics of conversation during the day.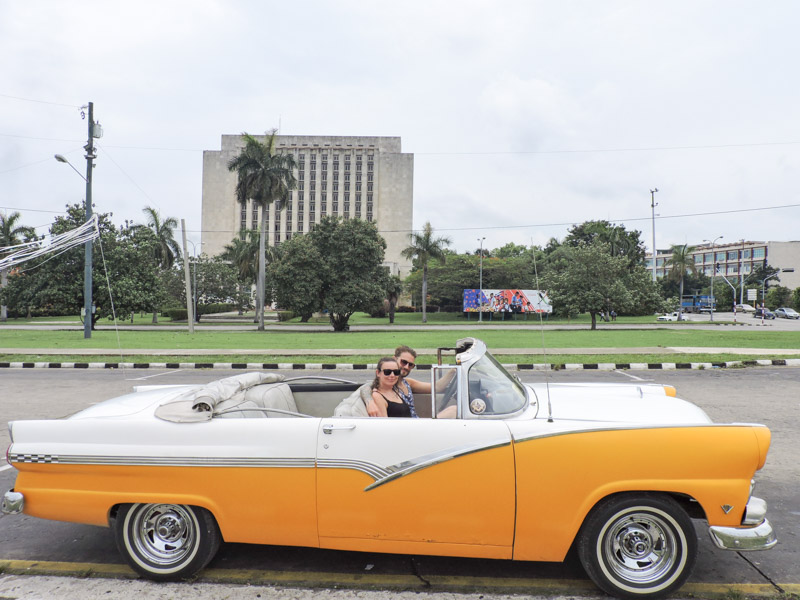 4. Dine at a Paladar
Paladares are privately-owned restaurants in Cuba which have suffered in the past, strangled by the rules and regulations of government.
However, the resilience of a few restaurant owners and chefs has paved the way for paladares, privately-run restaurants are common places in Cuba today and they are notoriously better than government-run, Yaniel tells us.
In Vedado, we took the elevator to Paladar Café Laurent. This bright, penthouse restaurant offers nice views of the sea and Vedado. Dining here makes it hard to believe the financial struggles and rationing that Cubans and restaurant owners had to deal with.
No meal is complete without a cocktail in Cuba and where else to drink an afternoon mojito than the National Hotel. If it's good enough for the mafia…
5. Local Tips
One of the main reasons I do tours is to nip the guide for local tips!
Yaniel went above and beyond. He helped us with bus times for moving on, wrote out a list of casas particulares (Cuban homes, read our guide here) we should check out during our trip and pointed us in the direction of popular paladares such as 304 O'Reilly which we dined at, twice.
We also met him again the next week in Viñales. He was on a group tour and we were visiting independently.

---
Final Words
I am very aware that this reads like an ode to Yaniel but I'm confident you will have your own Yaniel experience with your Havana Locally Sourced Tour too. Let me know how you get on in the comments below.
---
---
Thank you to Locally Sourced Cuba Tours for two passes. An honest review, as always.
Update: My good friend Laura recently returned from a trip around the island with this company and felt it was well organised and the tour guides were knowledgeable. She was the youngest (32) but that's the luck of the draw with group tours!
---