This article has links to products and services we love, which we may make commission from.
Greetings from Scotland, my name is Gemma Armit and I have a confession to make.
By day I am a high school teacher and by night a travel blogger but always an adventure lover. I'm writing to advise you that just because you work full time it does not mean you cannot travel.
I am fresh off the back of an 18-month career break where I travelled around 16 American and European countries with my (now) husband, Craig. Reading this at work and thinking, I want to do that? Here's how I applied for a career break (and was successful!)
1. Sabbatical Employment Policy

The first step in applying for a career break is to check what the company policy is on career breaks and sabbaticals.
Both the terms 'career break' and 'sabbatical' are used to refer to time off work with the right to return but they actually have different definitions. According to Careershifters – a sabbatical is when you return to work, a career break is when you quit. However, my employer uses both terms interchangeably.
As a high school teacher, I am a public sector worker and those who have worked for my council for over three years are entitled to apply for a career break (really a sabbatical) for up to two years with the security of retaining a permanent contract.
Granted, this opportunity is not heavily advertised, I only learned of it when another teacher shared stories of teaching English in Nepal during a volunteer programme.
I am aware this may not help your case if you are a private sector employee, however, I am aware of a friend who worked for a private company, applied and was granted six months leave (to travel Australia). Craig is self-employed so he asked himself, and he said yes.
2. Sound Out Your Management
The next step after scouring the work policies is to speak with your line manager then your senior manager (headteacher in my case).
You may have to discuss the dates which best suit the business. I had planned for a one-year career break but because we aimed to leave in March, 18 months suited the school better. Be flexible if you can!
3. Justify Your Career Break

With career break, applications come justification. You should identify how your career break will benefit you and your stakeholders.
For example, as I'm a teacher of politics and current affairs (Modern Studies), we teach about world powers such as the USA and less economically developed countries such as Bolivia. Travelling gives you the experience to make the textbook come to life to young people and hopefully also inspires them to see the world too.
Why not make the justification about developing your own skillset? You could volunteer at an eco-farm, manage projects abroad or teach English as a foreign language in China?
4. Wait (hard, I know, muse over Pinterest)
A decision was made pretty swiftly by our head office and thankfully it was yes. If it wasn't, the other option was to leave my job which I didn't want to happen (luckily, neither did my management).
5. Save For Travelling
Car boots sales, tutoring, switching TV packages, going sober – you name it, we did it. We reached our £20K target, find out what strategies we used here.
6. Rejection
It can happen. An alternative could be to speak with management and ask if you can merge holidays together and take unpaid leave for a shorter period, this is what Craig did for Southeast Asia.
I've always regretted not taking a 'gap ya' after university but I feel a career break is a better option for me, I have more disposable income to save, a maturer head (debatable) and I get to go with Craig (awwwww).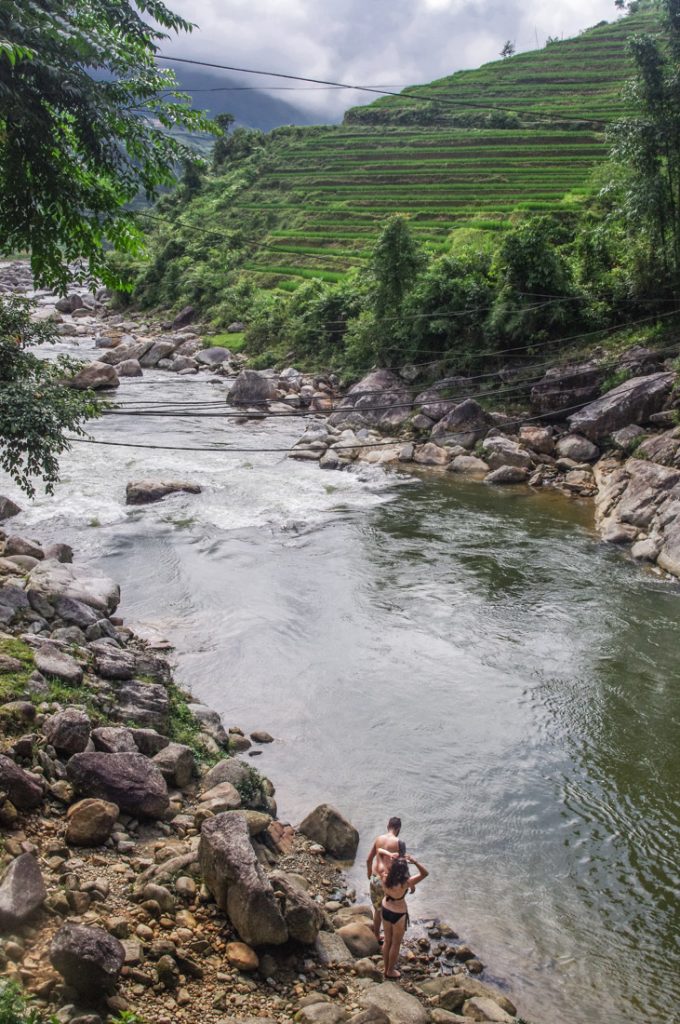 My students love to hear about life in Vietnam
What tips can help others move from armchair to airport?