This article has links to products and services we love, which we may make commission from.
Oregon is known for its natural marvels—from the scenic Columbia River Gorge in the north to the beautiful Crater Lake in the south.
And fall is one of the best times to visit.
The state is known as one of the greenest in the country, so there are plenty of opportunities to enjoy the changing leaf colors along with the crisp autumn air.
To help you plan your trip, this guide will explore the exciting activities during fall in Oregon, including the best spots to see the foliage, trails for fall hikes, downtown area tours, a visit to wineries and vineyards, autumn festivals, and more!
Most of the destinations and activities listed below are divided into cities or towns where they are found, starting from the north.
So whether you're a nature lover or just looking for a fun fall getaway, read on to learn more about what Oregon has to offer.
Oregon also features in our USA bucket list.
Northern Oregon in the Fall
We'll start with the northern part of Oregon where you'll find some of the best sites for leaf peeping, hiking, and wine tastings.
Portland, Oregon in Fall
Foliage in Portland
For a perfect combination of shopping in downtown Portland and checking out the beautiful fall colors in Oregon, make sure you head to NW 23rd Avenue.
The streets are lined with trees turning red, orange, and yellow, and the local shops and restaurants make for a fun and entertaining afternoon.
Take a ride on the Portland Aerial Tram (OHSU) which connects the waterfront with the university to catch a bird's eye view of the foliage.
If you want to discover more things to do in Portland that are mostly free, check this guide.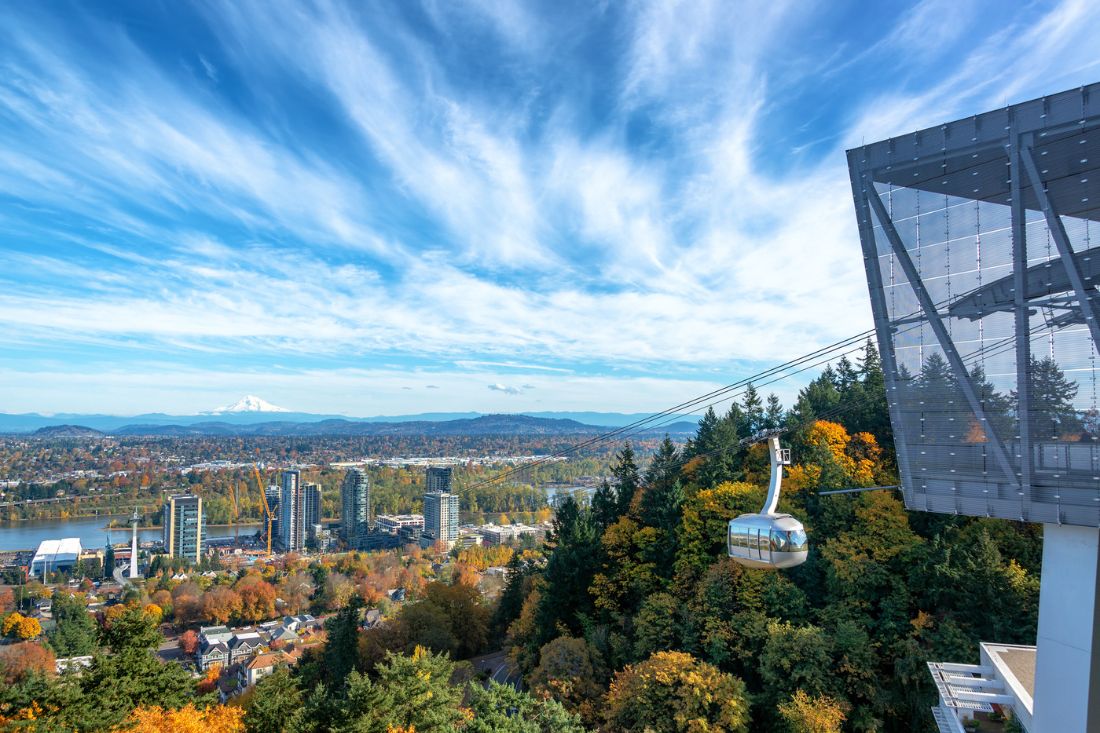 Haunted Tour in Portland
Ready for something a little spookier?
Make sure you schedule a haunted tour of Portland, Oregon this fall.
On this tour, you'll visit some of the historic sites and haunted spots in downtown Portland like the Lan Su Chinese Garden (239 NW Everett St) and the Old Town Pizza (226 NW Davis St).
Staying until winter? Read our guide to festive things to do in Portland.
Art in Portland, With Fall Colors
If it's your first time visiting Portland, OR, you'll want to get a fall framed photo of the iconic neon sign and the Keep Portland Weird sign, naturally!
Oregon Multnomah Falls
The Multnomah Falls Trail is 2.4 miles and is located near Bridal Veil, Oregon.
This moderate-level adventure is an amazing hike for anyone who is ready to see a hundred-foot waterfall.
It should take about an hour and a half to complete, but if you stop and eat lunch, it could be longer.
The trail is open to dogs, though they have to be kept on a leash.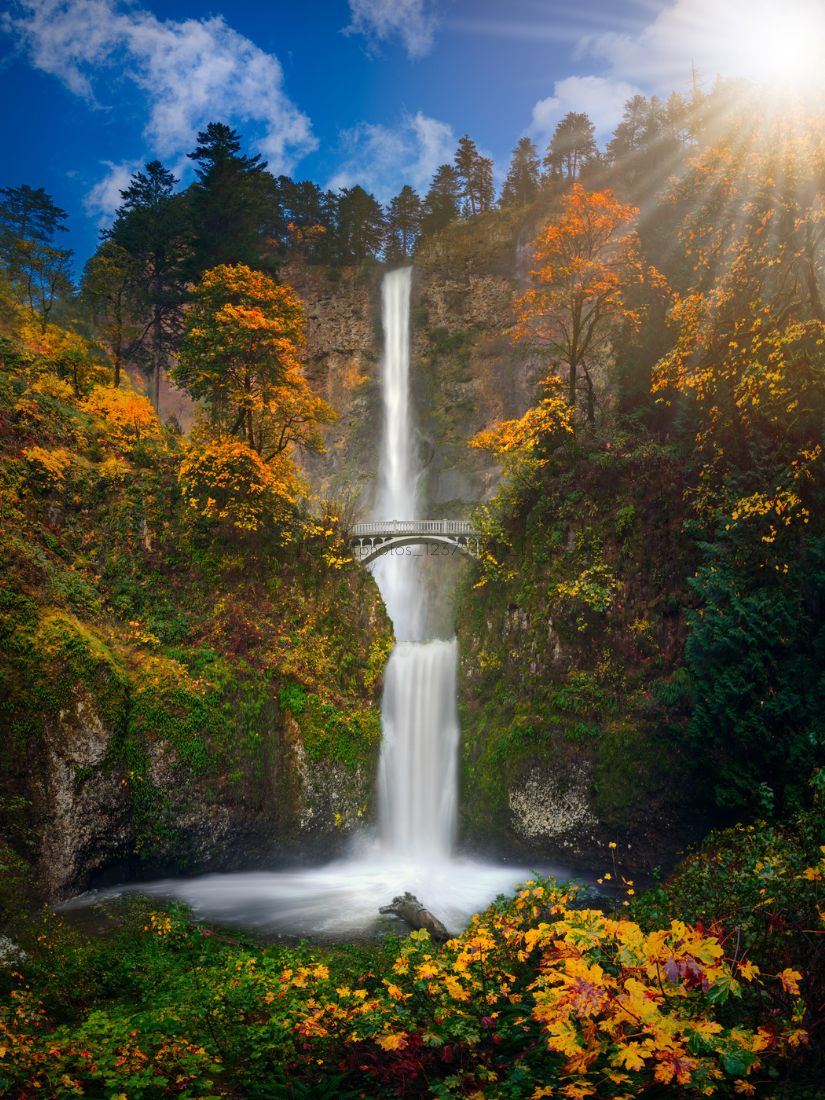 Columbia River Gorge
The Columbia River Gorge is huge; it spans 80 miles and is up to 4,000 feet deep.
Exploring the gorge by way of set trails is a better idea than trying to take it all in at once.
Set out on the Dog Mountain Trail (hard), the Wahkeena Falls Loop Trail (moderate), or the Wahclella Falls Trail (easy) to get started.
If you're ready to get out into nature but you aren't exactly a seasoned hiker, don't worry!
Head out on a 4-hour tour to the waterfalls of Columbia River Gorge and enjoy one of the most photographed natural scenes in the country with an experienced guide!
Mt. Hood Scenic Byway in Fall
The Mt. Hood Scenic Byway is a great chance to enjoy the best of Oregon's fall foliage without having to hike for miles and miles.
On your trip, you'll be able to pass by the communities of Hood River, Government Camp, Zigzag, Sandy, and Troutdale.
It would take about 3 to 4 hours to complete the entire byway, which is 105 miles long.
The scenic loop follows this path: Historic Columbia River Highway to Hwy 26 to Hwy 35.
You're essentially traveling around one of the most spectacular glacial mountains in the Cascade Mountain Range.
Mt. Hood is an unforgettable peak that you'll see from all angles as you travel around its base.
Willamette Valley Wine Country in Fall
For the wine lovers in Oregon this fall, you've got to visit Willamette Valley.
There are more than 600 wineries and 800 vineyards in the valley, and so many wineries host events in the fall as well.
The Willamette Valley is known for its pinot noir, a type of dry red wine, so make sure you taste a few of them while you're there!
For a seated wine tasting experience, you can visit Bailey Family Wines (10660 SW Youngberg Hill Rd) in McMinnville, Sidereus Vineyard & Winery (5195 SW Hergert Road) in Cornelius, or Elk Cove Vineyards (27751 NW Olson Road) in Gaston.
Central Oregon in Fall
If you're looking for some fun outdoor activities in the fall, check out what Central Oregon has to offer.
The area has countless hiking trails as well as rivers, falls, and lakes that are nice for exploring in the autumn.
Salem, Oregon in Fall
If you're looking for lovely fall foliage in Oregon, look no further than Salem, Oregon.
The tree-lined streets offer beautiful fall colors without ever leaving the downtown area.
Salem, OR Parks To Visit in Fall
If you're hoping to spend a bit more time outdoors, there are three parks to visit: Orchard Heights Park, Straub Nature Park, and Brush College Park.
Each of these parks has winding trails, thick woods, and a perfect opportunity to enjoy the season.
Silver Falls State Park, Oregon in Fall
Silver Falls State Park is known for its collection of breathtaking waterfalls along its trail systems.
It is one of the best places to visit in Oregon in fall because of its densely forested areas, waterfalls in a rocky canyon, and overnight camping sites open year round.
Among the most popular routes to see the falls up close is the Trail of Ten Falls, which features a moderately difficult 7.2-mile loop- with South Falls Lodge Trailhead being the popular starting point.
If you prefer a shorter route, you can hike the Silver Falls Canyon Trail, which measures about 5.6 miles but from a separate access point.
For those planning to camp, reservations for campsites can be made up to 6 months in advance.
Smith Rock State Park, Terrebonne
Deep river canyons and miles of hiking trails in Smith Rock State Park make this a perfect place to do some fall hikes in Oregon.
Some of the hiking trails to explore include the Misery Ridge Loop at 3.7 miles, 1.8- mile Homestead to North Point Loop, and the Canyon to Rim Loop at 3.4 miles- all of which are round trip distances from the park's Welcome Center.
Enjoy some of the best natural areas and Oregon fall foliage the state has to offer.
You also might be able to spot golden eagles, prairie falcons, or mule deer in the park!
The park is also open for camping for most of the fall season, so plan to stay overnight if you'd like to be immersed in autumn in Oregon.
Smith Rock Ranch, Terrebonne
One of the most popular fall activities in Oregon is the festivities at Smith Rock Ranch (1250 NE Wilcox Ave).
Open only for the month of October, you'll need to purchase tickets to experience the fun at the ranch.
Find a sprawling pumpkin patch, a corn maze, an amazing harvest market, and more at this iconic Oregon fall experience.
Bend Oregon in Fall For Nature
There is so much to do in Bend, Oregon this fall.
Whether you'd like to get out on an adventure or stay close to town, you'll find a perfect fall activity in Bend, Oregon.
For festival fun, check out the Bend Fall Festival (more below in the Festivals section).
Fall Tours In Bend, OR
If you'd like to get outside, try a half-day guided canoe tour to explore the stunning high-elevation lakes in the Cascade Mountains- plus a chance to learn about the area's ecosystem.
You can also take a half-day guided volcano tour to visit an ancient volcano in Central Oregon as well as experience the lava fields while a professional naturalist guide helps you discover more about the site's natural history.
Tumalo State Park
Tumalo State Park is a part of the Deschutes River Trail and features golf courses, trout streams, alpine lakes, and miles of hiking trails- making it an excellent place to spend a day during fall in Oregon
The park offers 2.4 miles of hiking trail along the Deschutes River and connects to the Riley Ranch Nature Reserve trails to the south – where you'll find additional trails.
Camping is open year-round in this park and you can book sites up to 6 months in advance.
Southern Oregon in Fall
The fall season in southern Oregon offers a bounty of natural wonders and scenic outdoor adventures.
From Klamath County's Crater Lake to Ashland's Lithia Park, there is so much to see and do.
You may also like our guide to the best coastal towns in Oregon.
Crater Lake National Park, Crater Lake
Formed almost 8,000 years ago, the Crater Lake at the Crater Lake National Park (1 Sager Building) is a scientific marvel and one of the best places to visit in Oregon in fall.
The lake is the deepest in the U.S. and is considered one of the most pristine lakes on the globe.
You'll be able to enjoy this incredible sight from the top of the Cascade Mountain Range, along with the amazing Oregon fall foliage.
Aside from the lake, the Crater Lake National Park also features hiking trails like the Boundary Springs trail measuring 5 miles at a round trip distance, and an easier 2-mile Plaikni Falls trail.
If you're taking your pets with you, a pet-friendly walking path can be found at the Rim Village- just be sure to put them on a leash.
Rogue-Umpqua Scenic Byway in Fall
If you're hoping to find the best Oregon fall foliage, look no further than the Rogue-Umpqua Scenic Byway.
The entire byway is 172 miles long and would take about 7 to 8 hours to complete.
You'll find the town of Roseburg on one end and the town of Gold Hill on the other.
The road follows this path: State Highway 138 east from Roseburg to SR 230 to SR 62 to SR 234.
You'll go into the Cascade Mountains and travel what is known as the "highway of waterfalls."
The byway offers the perfect chance to see the best fall colors in Oregon so you can't miss out on this incredible journey.
Butte Falls in Fall in Oregon
If you're visiting the town of Butte Falls, you will enter a town with less than 400 full-time residents.
You can visit its two restaurants- the Butte Falls Cafe (443 Broad St) and My Little BBQ (443 Broad St) as well as the Butte Falls General Store (415 Broad St) I.
Or you can take a scenic drive along Butte Falls Highway to the beautiful Butte Falls Waterfall.
You'll find it if you head north on Crater Lake Hwy and turn left on Butte Falls Hwy- the road to the waterfall will be on the left.
Ashland Oregon in Fall
There is so much to do in this little Oregon city this fall.
Besides the yearly Oregon Shakespeare Festival (more below in the Festivals section!) you'll be in the heart of wine country!
Three of the best wineries in the area are Dana Campbell Vineyards (1320 N Mountain Ave), Irvine & Roberts Vineyards (1614 Emigrant Creek Rd), and Long Walk Vineyard (1800 N Valley View Rd).
Siskiyou Mountain Tour
If there's one thing you have to do in Ashland this fall, it is to take a guided sacred nature hike through the Siskiyou Mountains.
During the tour, you can learn about meditation and energy healing from a spiritual guide as well as enjoy a quick dip in the cool waters of Ashland's creek after the hike.
Lithia Park in Fall
Visiting Lithia Park is one of the best things to do in Ashland, Oregon in fall.
Within these 93 acres, you'll find breathtaking fall foliage, winding trails for hiking, ponds, fountains, and an amazing Japanese garden.
You'll also find pickleball courts and a playground perfect for the little ones.
Fall Festivals in Oregon
Check out the following list of fall festivals and events to look forward to on your next visit to Oregon.
Check out our guide to Oktoberfest in the US, which features Mount Angel Oktoberfest in Oregon.
St. Josef's Grapestomping Festival, Canby
Grape stomping in beautiful Willamette Valley wine country sounds like a dream, and you get to partake this fall in the St. Josef Grapestomping Festival!
Located at St. Josef's Winery (28836 S Barlow Rd), this iconic tradition dates back to the ancient Romans.
Reconnect with history and help St. Josef make their wine at this fun September.
Shrewsbury Renaissance Faire, Kings Valley
Step back in time–500 years, in fact–when you visit the Shrewsbury Renaissance Faire (Grant Rd) this September.
Wander through more than 125 artisan stalls and interact with 1,000 costumed players at this snapshot in history.
There is something to do at the fair for everyone, including kids and seniors!
Corvallis Fall Festival, Corvallis
If you're looking to celebrate fall with a massive art festival, make sure you make a stop at the Corvallis Fall Festival (582 SW Adams Ave).
This wholesome fall festival takes place at the end of September every year and makes for a wonderful art viewing experience.
Check out drawings, paintings, ceramics, glass, jewelry, photography, textiles, woodwork, and much more at this incredible event.
Bend Fall Festival, Bend
Crafts, art, and music unique to the Pacific Northwest all gather in Bend, Oregon every fall to commemorate the Bend Fall Festival.
This free festival takes place at the beginning of October and spreads across several streets in downtown Bend.
You'll love the fine art booths, the Harvest Market, and the Oregon Lifestyle Marketplace, as well as the fundraisers for good causes and live music all weekend.
Bandon Cranberry Festival, Bandon
Well-known as the longest-running festival on the Oregon Coast, the Bandon Cranberry Festival (3225 Beach Loop Rd) celebrates local cranberry farming with all sorts of education and entertainment for every age.
Every year in September, the city of Bandon welcomes visitors from all over to enjoy the wonder of local cranberry harvests.
As many as 15,000 people come to Bandon to take part in the festivities, markets, and vendor booths all weekend long.
Oregon Shakespeare Festival, Ashland
Even if you weren't a fan of Shakespeare in high school or college, the Oregon Shakespeare Festival (15 S Pioneer St) is guaranteed to change your mind.
You'll love the classics reimagined, the fascinating new takes on the originals, and even musical productions this fall at OSF.
The festival runs through October, so make sure you plan ahead and grab tickets.
Check out the season brochure and browse tickets on their website.
Final Thoughts
We hope you find this guide helpful in planning your next visit to Oregon in the fall.
And don't forget to tell us about your own favorite spots or activities in the comments section.