This article has links to products and services we love, which we may make commission from.
Portland is known for its ''weird'' vibe, craft beers, and laid-back culture.
But did you know that the city is also home to some amazing attractions and fun activities?
From its beautiful parks and gardens like Forest Park to some fascinating museums and art galleries like Blue Sky, Portland has something for everyone.
Thankfully for the budget-conscious traveler, this article will look at free things to do in Portland Oregon so you can make the most of this quirky city without breaking the bank.
You'll also find cheap things to do in Portland, as well as affordable accommodations and transportation on your next trip.
You may also want to check out our Portland itinerary for first-time visitors.
Free Outdoor Things to Do in Portland
Hike in Forest Park
Forest Park is a nature lover's paradise and it's one of the best things to do in Portland, Oregon for free.
With more than 80 miles of trails, the park provides visitors with ample opportunity for a peaceful walk or an invigorating hike.
You can explore the park's diverse ecosystem and find everything from gently flowing streams to towering trees.
Some of the common trees you can find there include Douglas fir, western hemlock, redwood, maple, and oak trees.
Visit the International Rose Test Garden
Portland is nicknamed the ''City of Roses'' and is home to the country's oldest rose test garden, the International Rose Test Garden (400 SW Kingston Ave).
You can find the garden inside Washington Park (4033 SW Canyon Rd), hosting more than 10,000 roses in over 600 varieties.
The best blooms are seen from May to September.
It's a great place to visit whether you love roses or just want a beautiful place to spend some time.
While strolling among the garden's luscious rose bushes, you'll get spectacular views of the city and Mount Hood.
Explore Hoyt Arboretum
Hoyt Arboretum (4000 SW Fairview Blvd) is a botanical garden also within Washington Park.
It boasts hundreds of different tree species in various stages of bloom throughout the seasons- from evergreens to magnolias.
In addition to its tree collection, the Hoyt Arboretum also features a conservation lab and a tree museum.
The arboretum offers miles of hiking trails, and the views from the top of the hill are incredible.
Visitors can explore the Hoyt Arboretum all year round; admission is always free.
Admire Pittock Mansion's Architecture
Pittock Mansion (3229 NW Pittock Dr) was built in 1914 by one of the founding families of Portland and is now operated as a museum.
Though entry inside the museum has a fee, visitors can access the outside grounds for free.
From the outside, you can admire the mansion's beautiful French Renaissance-style architecture and its beautiful garden landscape.
The city of Portland and Mount Hood can also be seen from the place on a clear day.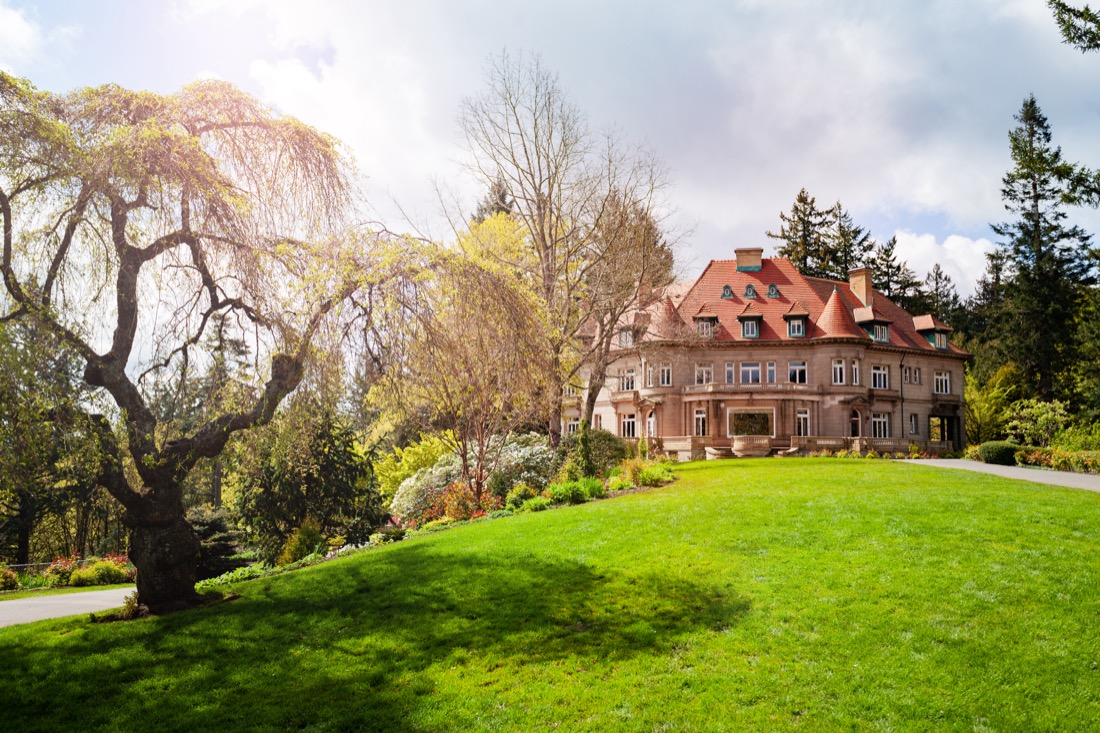 Snap Photos at the Portland Sign
No free activities in Portland are complete without taking a photo of the city's most iconic landmark, the Portland Sign (70 NW Couch St).
This white stag sign was installed in the 1940s and has become a familiar part of the cityscape.
Portlanders have a special connection to the sign, and it is often used as a backdrop for community events and gatherings.
Its message has changed over the years but has always been a beacon of Portland's unique spirit. 
The Portland sign also features in our guide to fall in Oregon.
Mill Ends Park
Mill Ends Park (56 SW Taylor St) is dubbed the smallest park in the world by the Guinness Book of World Records.
This tiny park is a quintessential example of Portland's weirdness.
It is just 2 feet across and can be found in the median of SW Naito Parkway.
Its appearance has changed over time, but it usually consists of one small tree and some flowers.
See the Cherry Blossoms
The Tom McCall Waterfront Park (98 SW Naito Pkwy) is the best place to see cherry blossoms in Portland.
It's a popular free attraction in Portland, Oregon, especially in spring when the cherry blossoms are in full bloom.
It is a long park with 100 cherry blossom trees you can walk through and have a picnic under.
Portland Farmers Market
Portland has several Farmer's Markets.
Most are seasonal, although Portland State University (Southwest Broadway) has a year-round market every Saturday.
It has as many as 130 vendors and is the largest market in the city.
You can walk around the area and see displays of fresh produce and cooked meals- and even catch some live music playing.
Portlands Food Carts
You can visit Portland's Food Carts for free to take pictures but I can't promise you won't be tempted to open your wallet once the smells hit you!
Portland's Food Carts are legendary, and an inexpensive way to enjoy a variety of Portland's cuisine.
There are several food cart pods around the city including 5th and 3rd Avenue and near Portland State University.
Free Indoor Things to Do in Portland
This list explores indoor things to do in Portland for free.
If you want to see more free activities in Portland or take a break from the outdoors, here are some of the city's famous indoor attractions worth seeing.
Oregon Rail Heritage Center
The Oregon Rail Heritage Center (2250 SE) is a free museum in Portland, Oregon.
It is home to three steam locomotives open to the public to view.
It is a great place to learn about the history of Oregon's railways.
Powell's City of Books
Powell's City of Books (1005 W. Burnside St.) is routinely rated as one of the best bookstores in the country, and it is the largest used and new bookstore in the world.
While you have to pay to buy books at Powell's, you can explore the bookstore for free.
It has nine rooms to explore and a cafe, including a room full of rare books.
Portland's Central Library
The Multnomah County Central Library (801 SW 10th Avenue) is one of the most popular destinations in downtown Portland.
Built-in 1913, the Library is a beautiful example of Georgian-style architecture.
After a significant renovation in the 1990s, the library retains much of its original charm.
There are three stories and a collection of books that can take up to 17 miles of shelf space.
See Photo Exhibits at Blue Sky
Blue Sky (122 NW 8th Ave), also known as The Oregon Center for the Photographic Arts, is a non-profit gallery dedicated to contemporary photography.
A rotating schedule of exhibits by emerging and established photographers is presented at the gallery.
It is also home to the Blue Sky Library, which has one of the largest collections of photography books and periodicals in the Northwest.
Cheap Things To Do in Portland
Discover the coolest things to do in Portland, Oregon that are worth shelling out some extra few bucks.
You can click the link to book your tickets.
Visit Portland's Waterfalls
You do have to pay for gas and in some areas a parking permit, but for very little, you can drive to several waterfall hikes near Portland in the Columbia River Gorge.
Multnomah Falls is the most popular, but it is close to two longer waterfall hikes, Latourell and Wahkeena Falls Trails.
Tour of Multnomah Falls & Columbia River
In this 4.5-hour coach tour, you'll get to see the scenic beauty of the Columbia River Gorge and famous waterfall hikes in Portland.
Admire the cascades of Multnomah Falls, and visit smaller Wahkeena, Latourell, and Horsetail Falls.
This tour also takes you across downtown Portland bridges for some city sights on the way.
Downtown Ghost Tour
If you're looking for a unique and thrilling way to spend an evening in Portland, then visit some of the city's most haunted places.
In this 1-hour walking tour, you'll be given a historic and memorable look at the haunted past of Oregon's largest city.
Your knowledgeable and experienced guide will take you to some of the most haunted places in downtown Portland while sharing some spine-tingling stories behind them.
Craft Brewery Walking Tour
Portland is known for its craft beer, and there's no better way to explore the city's brewing scene than on this craft brewery walking tour.
The two-mile walk takes you through the inner Eastside neighborhood.
Along the way, your knowledgeable guide will share stories about the development of beer in Portland and the US.
You'll sample a variety of beers, spanning the gamut in style, flavor, and color.
Portland's Japanese Garden
The Portland Japanese Garden (611 SW Kingston Ave) is near Washington Park.
The Japanese Garden is described as being one of the most authentic Japanese gardens outside of Japan with a variety of plants and an authentic Japanese Tea House.
Portland Underground Donut Tour
On this walking tour, you'll explore some of Portland's best donut shops near popular landmarks like the Portland State University (1825 SW Broadway), Pioneer Square (701 SW 6th Ave), and downtown.
This tour includes tastings from the city's famous donut shops like the Voodoo Doughnuts and some other local favorites.
It's one of the cheap things to do in Oregon where you can fill your belly and learn a bit of these iconic shops' history at the same time.
Portland also features in our USA bucket list guide for its food.
Heart of Portland Sightseeing Cruise
Hop aboard the Portland Spirit for a 1.5-hour leisurely cruise down the Willamette River.
Sit back and relax as you take in the panoramic city views and sights of the Portland waterfront, including the Steel Bridge and Pioneer Courthouse Square.
And if you get hungry or thirsty during your cruise, no worries – there's a full-service bar and bistro on board, so you can enjoy a bite or a drink while taking in the views.
Free Events in Portland Oregon
If you're looking for other free things to do in Portland or learn more about its free events, make sure to check out this list.
Portland Rose Festival
The Portland Rose Festival is the biggest festival in Portland.
Being there during the festival is one of the free fun things to do in Portland as you can see the whole city comes alive with carnival rides, parades with floral floats, and events for Memorial Day through June.
Portland Art Museum Free Day
The Portland Art Museum (1219 SW Park Ave) is one of the largest art museums in the United States with over 112,000 square feet of gallery space.
It has over 40,000 works of art with rotating exhibits.
The Portland Art Museum free entry for all is available every first Thursday of the month.
Shakespeare in the Park
The Original Practice Shakespeare Festival brings Shakespeare to a variety of parks all across Portland like Washington Park (4033 SW Canyon Rd) and Irving Park (707 NE Fremont St.).
These are entirely free and are performed in a unique way and with audience participation.
You can view a list of their performances on their website.
Free Things to Do in Portland in Winter
This list will let you take a glimpse of Portland's free activities during winter.
You can also visit our guide to things to do in Portland in winter.
Portland Winter Lights Festival
For a few weekends in February, various light installations spring up around downtown Portland.
It's one of the free Portland activities where you get to see fantastic light art shows from artists all over the area.
The major spots for this are the Pioneer Courthouse Square (701 SW 6th Ave) and the World Trade Center (121 SW Salmon St).
Christmas Ship Parade
The Christmas Ship Parade is a Portland tradition.
Dozens of boats get decked out in lights every year and sail down the Columbia and Willamette rivers.
The parade happens every night for two weeks, so there is plenty of time to see the ships.
Christmas Tree at Pioneer Courthouse Square
After Thanksgiving, the Christmas season kicks off in Pioneer Courthouse Square with the annual Christmas tree lighting.
A giant Christmas tree is brought into the square and decorated with lights and usually includes live music.
Crowds gather to watch the tree lighting ceremony and adore the beautiful sight in the square.
Affordable Accommodation in Portland
Portland has plenty of affordable accommodations for travelers on a budget.
The Society Hotel is great for anyone who wants affordable accommodation that's close to some of the city's major attractions like the Portland Art Museum and Powell's City of Books.
You can check out the review we made about The Society Hotel.
Boutique Style Apartment in the Heart of SE (3215 Alder St) offers a range of amenities for the perfect stay, including free WiFi, free bikes, and garden views.
For even more affordable accommodation, you can stay at HI-Portland Northwest Hostel, a dormitory-style accommodation that offers complimentary breakfast.
How to Get Around Portland On a Budget
If you are only seeing attractions in one neighborhood, you can walk or ride a bike.
Portland is a bike-friendly city and has miles of protected bike lanes as well as walking bridges.
There are also electric scooters you can rent.
If you plan on traveling far throughout the city, the easiest way to get around is through the TriMet.
TriMet is Portland's public transportation system that offers bus, light rails, and streetcar services in the city.
You can use Uber and Lyft if you want to take control of your travel destination and time.
About the Author
Val is a Portland-based hiker and blogger, passionate about photography and the outdoors.
Val, VoyageswithVal