This article has links to products and services we love, which we may make commission from.
Ainu culture, sake brewing, traditional izakaya restaurants, modern malls and the gateway to the national parks of Hokkaido. Whether you are visiting in winter for ski season or summer for hiking there are many things to do in Asahikawa.
To us, Gemma and Craig, Asahikawa city feels very much like Vancouver. Not only is it surrounded by mountains but it works on a grid system with beeping crossings.
Get Your Bearings
Asahikawa is a city in central Hokkaido, Japan's second-largest island (north Japan). It is part of the Kamikawa subprefecture. Asahikawa is Hokkaido's second-biggest city after Sapporo.
What to do in Asahikawa
Asahikawa is very much a working city and its streets come alive when the office workers clock out.
While the city is quiet, you can enjoy several tourist attractions which introduce Hokkaido culture.
1. Kamikawa Shrine
Kamikawa Shrine is a peaceful shrine. You won't find busloads of tourists here as you do in Kyoto, making it the perfect spot to appreciate the process of approaching a shrine.
How to Enter a Shrine
Wash hands before entering the gate. Wash left hand, right hand, mouth, left hand again and then the ladle.

Pass through the gate to the side, not the middle to let the gods through the centre.

Sometimes there is a threshold you step over.

At the shrine, throw in coins, clap twice, bow, clap once.
Note: If the top of the shrine points out, you are praying to a female god!
You can buy a fortune (omikuji) to see what your future holds.
My luck is below average but for the past week, I thought our translator said my LOOKS were below average. Lost in translation.
By the way, Kamikawa is the name of the wider region that Asahikawa is part of. One of the most challenging things about Japan travel is getting your head around area names and placement.
Address: 2 Kaguraokakoen

Cost: Free, donations
2. Asahikawa City Museum
If you are interested in finding out about the Ainu culture in Hokkaido, previously named Ezo, Japan, Asahikawa City Museum has two floors of artefacts and information.
Ainu people respect nature, live off the land and believe that their gods connect with them through worship and sacrifice. You can observe the tools of the trade, housing styles, ceremonial staffs and traditional outfits at the museum.
It wasn't until 2008 that Ainu people were formally recognised again. The numbers of Ainu people in Hokkaido have reduced dramatically (diminished by disease and assimilation) so researching ancestry is difficult. This makes Asahikawa City Museum one of the very few places with Ainu knowledge on display.
Moving forward, an application has been put through to allow traditional Ainu dance during the Opening Ceremony of the 2020 Tokyo Olympics and Paralympics.
Address: 7 Chome-1 Kagura 3 Jo
3. Otokoyama Sake Brewery
One of the best free things to do in Asahikawa is to visit Otokoyama Sake Brewery to learn about the sake-making process.
Otokoyama has been making sake for over 350 years and using the high-quality Hokkaido water throughout that time.
If you visit during winter you can see sake being made in this working brewery through the glass windows in the museum.
There is also a nifty multi-language video which talks you through the process and explains why Otokoyama has won so many gold awards, some of which you can see hanging on the walls of the museum.
The main reason for visiting? To try sake of course.
There is a free tasting session which includes a variety of traditional dry to sweet variations of Otokoyama sake and also seasonal options such as the fizzy sake which I like. I had to take one or two away with me as a souvenir naturally…
Address: 7 Chome-1-33 Nagayama 2 Jo

Price: Free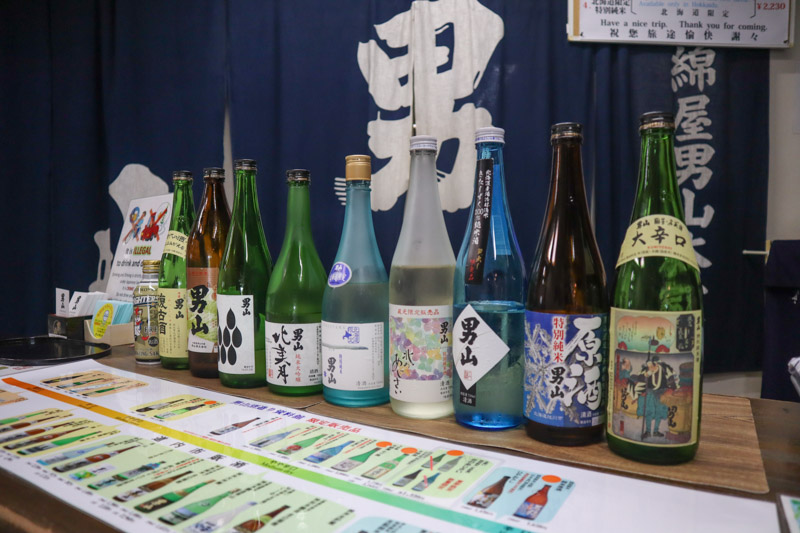 4. Asahikawa Shopping Street
Heiwa dōri kaimono kōen is Asahikawa's shopping street. You won't be surprised to hear that the large pedestrianised street is lined with towering blocks of shops and restaurants.
Recorded voices can be heard over speakers to try to entice visitors and locals into eateries. Helpful images on shop fronts capture what each restaurant sells.
Dotted along Heiwa dōri are several sculptures including a man playing the saxophone to a cat, open hands in a pond of water and a few posing ladies.
Head to the bottom of Heiwa dōri for ice cream at the best-named store in town, Japancheese. It serves cheese too apparently but we only saw customers with soft-serve ice cream.
5. AEON Mall
If writing about any other destination, shopping malls would not feature heavily in our itineraries but they make up such a big part of Japan city life so we found ourselves in them often.
Top tip: If you can't find a location on Google Maps, especially in Tokyo, there is a good chance the shop is actually inside a mall.
AEON Mall is a massive hit for two reasons.
Firstly, there is a food court that sells a variety of food including the famous Hokkaido ramen.
Order your food at the stall, take a seat with the buzzer and wait for the sound to collect to your fresh steaming bowl of ramen goodness, or sizzling beef, whatever you choose.
Each stall has plastic versions of its meals on display which is typical for Japan. If you are a fussy eater, like Craig, these toy-like models of meals will save you from hanger!
The second reason I loved this mall? Taiyaki.
Taiyaki is not a new dessert in Japan but the kind you see in malls like AEON are an updated version of the pudding.
So what's new? They've added sugar to the top of the pastry and there are variations.
I tried the chocolate pastry with chocolate fondue in the middle. It's kind of like a Poptart. Delicious.
Remember that it is not part of the Japanese culture to walk and eat, even with snacks like taiyaki so take a seat and enjoy with a coffee while you people watch.
AEON Mall is attached to Asahikawa Station (train) where you will find the Japan Rail (JR) office if you need to book ongoing Shinkansen bullet trains.
We did so here and the process was easy. We advise that you write down your desired journey destinations, dates, times and that you prefer no smoking before waiting in line.
If you've chosen non-JR trains by accident, as we did, the attendee will help source the closest time.
You must have your JR vouchers. These are not sent in the post, you have to swap the information sent to you for vouchers before you book Shinkansen trains.
Address: 7 Chome-2-5 Miyashitadori

Cost: Ramen under ¥700
5. Breakfast with a View
Art Hotel, Asahikawa is a modern hotel with beautiful large window views of the city.
Japenese and western-style buffet breakfast is served on the top floor so you can eat mochi while looking out at the mountains.
We stayed here twice and while one room was very modern, the second one was slightly more dated. Both served our needs with hot showers and a typically sized twin room.
The location is ideal, there are two 7/11s across the road, Heiwa dōri Shopping Street is about 5 minutes walk away and the train station is less than 10 minutes drive (¥650 taxi).
6. Tsuboya Kibana no mori
If you like cakes and biscuits you'll love Tsuboya Kibana no mori.
Predominantly a souvenir shop near Asahikawa Airport, Tsuboya biscuits are made and packaged on the premises then sold in cute boxes on the store floor.
Tsuboya are popular biscuits in Hokkaido. Two circular biscuits sandwich a variety of fillings such as white chocolate and strawberry.
You can also buy our friend Karl's Taisetsu coffee to sit in or takeaway. Keep your eyes peeled for the creative Taisetsu souvenir packaging at the airport too.
Address: 19 Chome Minami 6 Jodori
Nightlife in Asahikawa
7. The Alleys of Asahikawa
Furarito Alley is the most famous of Asahikawa culinary small back streets but the beauty of the city is finding all its wee nooks and crannies by yourself at night.
We stumbled across a selection of bars and small restaurants down 4 Jodori including Switch Flavor which sells tea in a hipster dimly lit book cave, packed with date nights listening to soft indie music.
Craig said he felt like he was on the set on a coming of age movie. My favourite kinda flavour the night before work starts!
Craig made his way to the pub to watch football promptly after. Yes, he went to the British pub in Asahikawa, shame!
8. Izakaya Tenkin
An Izakaya pub/restaurant is an old traditional culinary experience where groups of friends dine around a very low table. Diners sit on the ground using cushions for comfort.
Shoes are removed at the door so remember socks if you prefer not to sit with bare feet.
The dining event is kicked off with a round of beers. Food, predominantly seafood in Asahikawa, is then ordered for the group to share.
Once the meal is over, it closes with a cheer and a round of clapping. You can watch our experience here.
Note: Otoshi is the name given to the table fee in Japenese restaurants. It is typically between ¥300-600 per table and for that price, you get a small plate per person.
At Izakaya Tenkin our small plate was a bowl of tuna, we just pretended to Craig that it was steak as he doesn't like seafood. He ate it and said it was bearable. Mwahaha.
Izakaya Tenkin is not only the best restaurant in Asahikawa but one of the oldest Izakayas in the city!
You can find many bars and restaurants around 3/6 San Roku.
Address: 7 Chome 4 Jodori
9. Drink Sake
Part of the Izakaya experience, if you want it, is to drink sake via the traditional process.
A bottle is presented by the host. Next, the sake is poured into a large shot glass and the pour continues until the sake is overflowing, filling up the wooden cube in which the glass sits.
One member of the group takes the first sip and then the others try it. Sake isn't shot, it is enjoyed.
10. Snack Bars in Asahikawa
One of my favourite things about Japanese nightlife are the snack bars.
Previously, snack bars were reserved for the shadier side of Japanese entertainment but now there are varying levels of snack.
'Accessible for all' snack bars are run by hosts who take drink orders and make sure that your glass in never empty in a non-creepy way, just in a great host way. Unsurprisingly, there are snacks on the table.
The host service isn't the real appeal of a snack bar, the karaoke is!
We've enjoyed singing western songs with new Japanese friends in private rooms in Asahikawa (a bar called You) and more public small snacks in Tokyo. So much fun.
It may be difficult to get into a snack bar in Asahikawa without Japanese members in your group but You Snack Bar seemed very happy we were there and asked us to go back.
Leave Asahikawa
I know what you're thinking, why would I leave when I'm looking for an Asahikawa itinerary?
One of the benefits of the visiting Asahikawa is the ability to get out into the mountains, as the locals do.
11. Daisetsuzan National Park
Daisetsuzan National Park (Taisetsuzan) is Hokkaido's largest park.
The park is split up into different onsen areas and in those areas, you can hike, bike, ski, and even go rafting!
Part of the authentic Hokkaido experience is to hike (or ski) during the day, dine on a kaiseki-style platter of seasonal food then soak in a hot spring onsen which is part of hotel facilities. Bliss and balance!
Car rental stores can be found at both Asahikawa city and airport. Self-drive is the best way to get around Daisetsuzan National Park because public transport is not very frequent.
---
» Read next: 5-day Daisetsuzan National Park itinerary
---
12. Asahikawa Winter Festival
We've not yet had the chance to experience Asahikawa in winter but hope to get there very soon.
From October to November, temperatures drop by half and then come December to February, the city freezes over.
February is the best time to visit as the Asahikawa Winter Festival takes over the streets for one week.
For over 60 years, visitors have enjoyed the massive sculptures which all meet the annual theme.
Previous themes include 'Zoo in a Dream' and Daisetsuzan Mountains which is the mountain range mentioned above.
The event is always stepping up to the challenge. In 2018 it hosted the world's first snow mosque!
There are two sculpture areas in the city, one by Asahibashi Bridge and another on Heiwa dōri Shopping Street.
https://www.instagram.com/p/BthSt_AhTlP/
Getting to Asahikawa
The quickest way to get to Asahikawa from Tokyo is by flight.
Domestic, internal flights are just over 1 hour 30 minutes and can be found for under $100.
Avoid public holidays as prices skyrocket.
Public buses connect Asahikawa Airport with the city in 35 minutes.
Asahikawa Airport is popular with ski sports enthusiasts because it has a better track record for successful winter flight touchdowns than Sapporo's New Chitose Airport.
By flying into Asahikawa you skip the road toll fees incurred from driving from Sapporo, which saves your budget for the wonderful onsen hotels in the surrounding areas.
Frequent trains run from many Hokkaido stations. Japan Rail (JR) passes can be used on JR trains. The JR office can be found in Asahikawa Station (train).
---
Japan Travel Guides
Rishiri Island, Hokkaido
Rebun Island, Hokkaido
Things to do in Yokohama
---
Planning a trip to Japan? Pin to your board for later
---
Final Words
In Asahikawa, you won't find the flashing lights of Tokyo's Shinjuku or the excited Instagram mob of Kyoto's Gion but that is the appeal of this working city. Arrive keen to learn about local culture and then ready to leave for the nature surrounding the city.
---
Support by Hokkaido District Transport Bureau. Thanks to Asahikawa for hosting us as part of a fun adventure Hokkaido campaign. We can't wait to visit the region again during winter!