This article has links to products and services we love, which we may make commission from.
Looking for things to do in Yokohama now that all eyes are on this fun city near Tokyo for the 2020 Summer Olympics? Our Yokohama travel guide details the top ways to spend your spare time, where to eat, stay and how to get around. Highlights include Yokohama Red Brick Warehouse for food, the Noge district for nightlife and Sankeien Garden for culture. Yokohama is a port town and many of its top things to do are located around the attractive and spacious waterfront.
---
» You may also like: 11 hidden gems in Japan
---
Things to do in Yokohama
Sankeien Garden
三渓園
Starting with the furthest away Yokohama tourist spot, Sankeien Garden is a breath of fresh air in a hot city. Gardens and paths envelope around the central pond with the three-story pagoda temple poking through the trees in the backdrop.
We spotted a heron eating fish and a couple in traditional Japanese attire taking part in a professional photoshoot. A privilege to witness.
Sankeien Garden was built in 1906 by a wealthy silk trader who was influenced by the Japanese gardens in Kyoto. Luckily, you don't have to experience the elbow to elbow crowds at Yokohama's Japanese gardens as you do in Kyoto.
There are English speaking tours Monday, Wednesday, Thursday, Saturday and Sunday at 2pm.
Alternatively, you can enjoy a walk through the garden and over the bridges independently, picking up an English map as you enter.
If a unique Japanese landscape appeals to you, consider a ferry ride to the highlands, Rebun Island or Rishiri Island.
Cost: 700 yen

Address: 58 Honmokusannotani, Naka Ward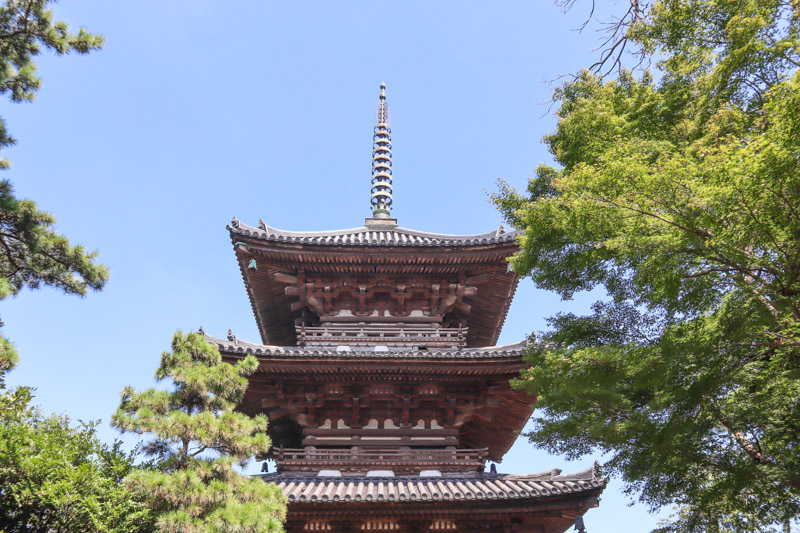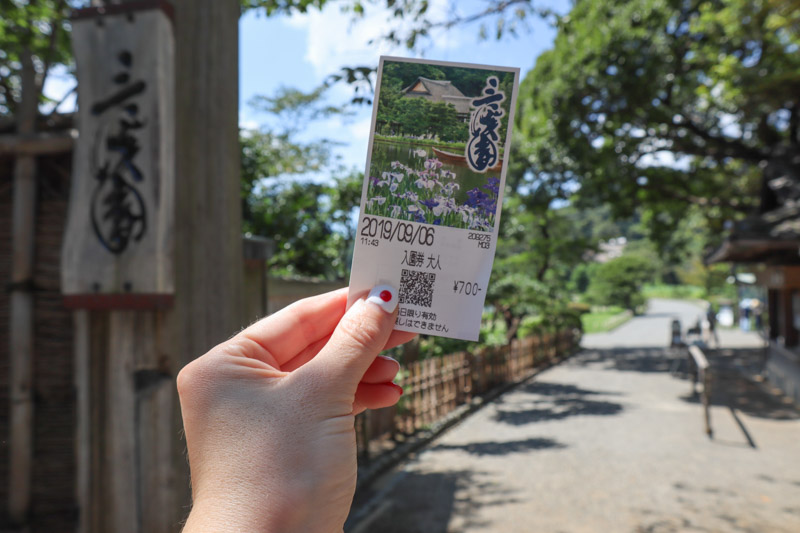 Yokohama Chinatown
横浜中華街
Sweet smells fill your nostrils as soon as you step through Yokohama Chinatown gates. The bright red pillars and blue and gold top of the gate are lavish yet welcoming.
This is Japan's biggest Chinatown, yet the wide pavement make it walkable.
Vendors and shops sell meals and ice cream. I tried green tea ice cream for the first time in Chinatown.
Ice cream at 27 degrees celsius/80 Fahrenheit is quite the challenge!
Look up at the imposing and busy signs and down for the dumplings. Catch Chinatown at early lunchtime to share the street with local school kids. Exit via the blue gate, and then head down to Yokohama Harbour.
Don't eat too much. There are more food stops to come in this Yokohama itinerary.
Cost: four dumplings 400 yen, two ice creams 600 yen

Address: Yamashitacho, Naka Ward
Yamashita Park, Kannai
山下公園
The pace is slow at Yamashita Park. Cyclists mount, artists draw and couples sit in the shade under the trees.
Japan's first seaside park boasts sea air, pristine gardens, a water feature and a paved waterfront route from Yamashita Bridge to Shinto Circle Walk, Minato Mirai.
A great way to stretch the legs while working off the calories consumed at Chinatown because next up are the eateries at Yokohama Red Brick Warehouse.
Hikawa Maru, a previously working ship liner is docked here at Yokohama Pier and serves as a museum. Please see our section on Yokohama museums below.
Address: 279 Yamashitacho
Osanbashi Bridge /
大桟橋
Osanbashi Bridge is a popular sunset spot by the waterfront at Osanbashi Pier.
The modern pier has an unusual placement of grass and a boardwalk that is set to resemble waves, in keeping with its surroundings.
Location: Between Yamashita Park and Minato Mirai
Yokohama Red Brick Warehouse
Yokohama Red Brick Warehouse reminds me of St Lawrence Market in Toronto. They both have history, red bricks and a variety of food options in common.
This ex-Customs Inspection House was first built in the 1920s and today it is converted into a space for festivals and restaurants.
Did you know that the Japanese love cakes? You can try apple pie and crepes at the Warehouse as well as main meals such as ramen and Hawaiian!
Yokohama Red Brick Warehouse hosts several events from wedding shows to Pokémon exhibitions. There are a variety of shops selling products from Japan in the second brick building.
Address: 1 Chome-1 Shinko, Naka Ward
Shinto Circle
Shinto Circle is a modern bridge which is built in the shape of a… you guessed it, a circle.
Yokohama Landmark Tower and Sky Garden スカイガーデン
This is the highest observation platform in the city at 296.3m (972ft).
Once the tallest building in Japan, visitors can access the 69th floor for panoramic views of Yokohama. If you are lucky you might see Mt Fuji.
Address: 220-8169 Kanagawa

Cost 1000 yen

Yokohama Amusement Park (Cosmo World)
If you want me to fall in love with your city, build a fairground and I'm there.
Cosmo World can be seen all over the city because of its massive clock disco lights Ferris wheel. Those spokes pull some moves!
Tangled around the wheel is an old school roller coaster painted in pink with a splashing surprise.
Address: 2-8-1 Shinko, Naka-ku, Yokohama

Cost: Pay each ride individually
---
» You may also like: Our Hokkaido road trip itinerary
---

Museums in Yokohama (and Tours)
There's a great variety of museums for visitors who want to escape the heat or rain while learning something new about Yokohama culture.
Yokohama Port Museum – Docked at the waterfront, part of Yamashita Park

Yokohama Museum of Art – Japanese and international artists

Mitsubishi Museum – Small, interactive museum

Yokohama Cup Noodle Museum – Popular choice for tourists

Akai Kutsu – vintage bus which stops at Yokohama sightseeing spots

Nightlife and Restaurants in Yokohama
Miyakobashi Shotengai Street 都橋商店街
Miyakobashi Shotengai Street is a popular curved street occupied by a variety of small restaurants.
The backs on the eateries look out onto the water with their lights reflecting making a cool city shot for photographers.
Noge District
You can't miss Noge when visiting Yokohama. You'll know you've hit it by the colourful lights above and lanterns strung along the streets.
Locals and visitors hang in small enclosed restaurants called izakaya which serve small plates and booze!
Every nook and cranny of the street is filled with food and banter. Expect to hear familiar accents as well as local ones.
Many izakayas have menus in English and a beer and sake cost around 500 yen each.
We dined at Yakitori Suehiro (焼き鳥 末広 (野毛) eating the last of their chicken and leek skewers while sipping on a cold beer. The passing breeze through the cloth doors was welcomed in this wee packed out joint.
---
If you like the nightlife side of a city you should consider Asahikawa for your next trip to Japan.
---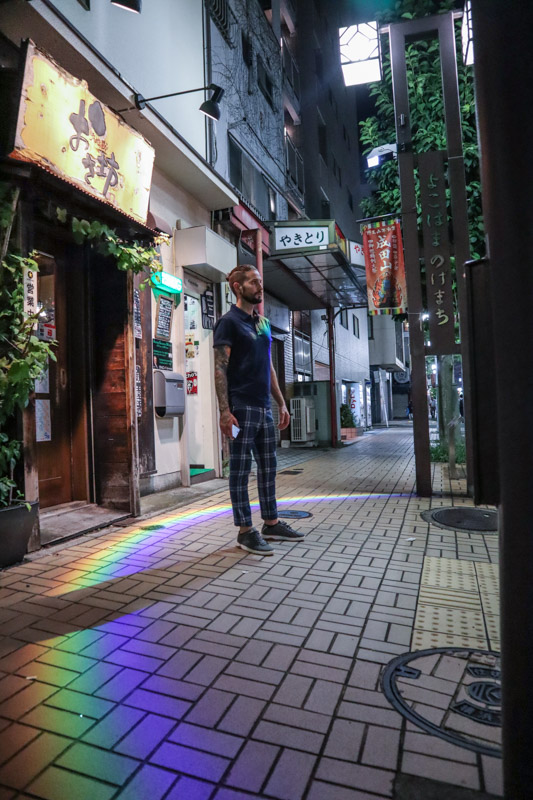 Next, we ordered small plates of fried chicken and cheese/ham on a stick to accompany a glass of red wine (came chilled) and a beer at a nameless izakaya with open front seating.
We ended the night at a rooftop bar which we found by looking up. We were the only ones there, but the staff cranked up the 90s RnB tunes for us.
Note: Many izakayas have a cover fee of around 300 yen per person. With this, you get a small dish like seaweed (try it, it is oishī, delicious) which you can't refuse. This is part of the Japanese culinary culture.
Yokohama Districts
Yokohama is split up into 15 Japanese Government-designated cities. While 3.7 million people live in Yokohama, most visitors stay in accommodation around the Minato Mirai 21 and Yamashita Park (Kannai) areas.
The city is well connected by very efficient rail, just like in the rest of Japan.
Hotels in Yokohama
We stayed at the Yokohama Bay Hotel Tokyu (横浜ベイホテル東急) which overlooks the Ferris wheel and is attached to the Queens Square shopping mall.
Bay-facing rooms are luxurious. We were in the fortunate position to enjoy a suite which had a balcony, twin beds with floor to ceiling views of the waterfront.

Our balcony overlooked the Ferris wheel and other top attractions such as the Red Brick Warehouse and Osanbashi Pier were visible in the background.
An extensive Japanese/Western buffet breakfast is served every morning. This is the biggest selection of Western food we've experienced in three weeks in Japan. Options include cereals, fruit, pastries and cooked breakfast items like bacon and egg.
If you are not a breakfast person you can switch to the lunch menu by requesting the change with the front desk.
The hotel is situated a one-minute walk from Minato-Mirai Station, Yokohama Red Brick Warehouse is within a 20-minute walk and the Noge district is less than 20 minutes by foot or stumble.
Staff are friendly, speak English and are very professional.
Getting to Yokohama
It is very straightforward to get to Tokyo from Yokohama.
From Shibuya Station, Tokyo, take the limited express or express train to Yokohama Station (30 minutes).
Yokohama Station has air-conditioned rooms for you to sit in while you wait on your train. There are convenience shops for snacks.
From Yokohama Station, you can connect to the local trains which stop at/near the top attractions.
You can also use your Japan Rail (JR) Pass and book a ticket from Tokyo to Shin-Yokohama (15 minutes).
If ordering your JR passes in advance, you have to exchange the voucher sent via post for your pass at any of the JR Stations (we did it at Haneda Airport) and state your start date.
This is the cheapest option, buying directly in Japan is more expensive. JR offers next day delivery options.
The ticket only lasts for the set days (for example, seven-day pass) and ends at midnight on the last day. You can use it on any JR train lines, including local trains.
A seven-day pass is not worth it for the journey from Tokyo to Yokohama alone so only consider it if you are touring to a couple of further away destinations like Koyko and Osaka via bullet train (Shinkansen).
From Haneda Airport, take the Keikyu Line Haneda Airport (25 min) or the limousine bus (30 minutes). We took the bus which was well organised and comfortable with free WiFi.
From Narita Airport, take the limousine bus (90 minutes).


Getting Around Yokohama
You can use your Suica and Pasmo Cards in Yokohama for train rides. I highly recommend buying a Suica Card, we trialled me travelling with one and Craig buying tickets as he went and Suica was the most efficient option.
We explored most of the top Yokohama attractions by foot but used the train and bus for Sankeien Garden. Enter the bus at the front and pay the driver. In Kyoto, we went on the bus at the back and paid at the end. Google Maps was 99% reliable for us in Yokohama.
Train lines are colour coordinated for ease. Each station has easy to follow signs in English. Most staff members speak enough English to answer questions. Trains have digital maps signalling each stop.
JR pass holders need to show their tickets and passes before going through the turnstiles.
If you don't have a JR card you can buy the cheapest ticket and use the price adjustment option at the end of your ride. Google Maps is pretty accurate at telling you how much the journey is.
There are city bikes for rent in Yokohama called Bay Bikes.
Japan Practical Information
Is this your first trip to Japan? You are in for a treat! Here are tips on how to prepare for your first adventure. I'm sure you'll be planning your next soon after you touchdown.
Currency in Japan
Japan uses the yen for currency. 1000 yen is approximately £8. Credit cards aren't widely used so always carry cash with you.
You can take money out using ATMs at 7/11 shops and Post Offices, only.
Tipping is not part of Japanese culture. When paying, place your money in the tray provided.
There is a service charge at many restaurants called Otoshi. The price varies from 200-600 yen and with that you get a small plate of food.
Cultural difference, doors tend to slide open instead of push or pull open!
Food in Japan
Probably the second reason you are visiting Japan, after sport, is the food.
I love the food here and I can honestly say that it is the only trip I've not felt like a bloated mess by the end of it!
Here are some of my favourites to try:
Ramen – Shoyu (soy), Shio salt), Miso (soybean) or Tonkotsu (pork broth)

Udon Noodles – Thick and slimy delicious

Soba Noodles – Buckwheat

Sashimi – Raw fish, dip in soya sauce

Wasabi – Green paste you can add to soya to spice it up

Sushi – Food on top of rice

Onigiris – Filled rice ball lunch/snack

Tempura aubergine/eggplant – Fried veg

Gyoza – Dumpling with meat, fish or veg

Tofu – In soupy dishes or fried

Kaiseki – Platter style of dinner, mainly seafood

Genghis Khan – Self BBQ style meat/fish
Desserts
Japanese love puddings and they often look like a piece of art!
Mochi – Sweet dumpling made from rice, gooey middle

Strawberry Shortcake – Sponge cake with cream

Matcha – Green tea item like ice cream

Crepes – Thin pancakes, not native but popular

Taiyaki – Pastry with fish design, sweet filling

Coffee jelly – Cubes

Dorayaki – Red bean stuffed into pancake
In most restaurants, at your table place, there will be chopsticks, a glass of water and wet cloth to wash your hands with.
Don't leave your chopsticks in rice standing up as it's a social faux pas.
Slurp your soupy noodles! A popular practice in Japan as it cools the hot bowl down.
Some meals are consumed sitting on the ground at a low table. We never dined this way in Yokohama, only in Asahikawa, Hokkaido. At the end, there is a wee celebration, click here to see it in action.
You may need to remove your shoes at some attractions and before you sit down in restaurants. We did this around five times in three weeks of travel in Japan travel.
It is common that you leave your shoes at the front door of your accommodation. Some hotels and apartments provide slippers.
Izakaya restaurants are small eateries which serve small plates of food and drink. Two chicken skewers, two cheese skewers, one wine and one beer cost us 2829 yen/£21. This included a 300 yen per person table fee.
Eating and drinking in the street isn't a done thing in Japan. You won't see anyone eating or drinking on public buses either. Partly why Japan is so clean.
7/11 and Lawson convenience shops sometimes have seating areas. You'll find a whole variety of snacks here from fried chicken to rice balls.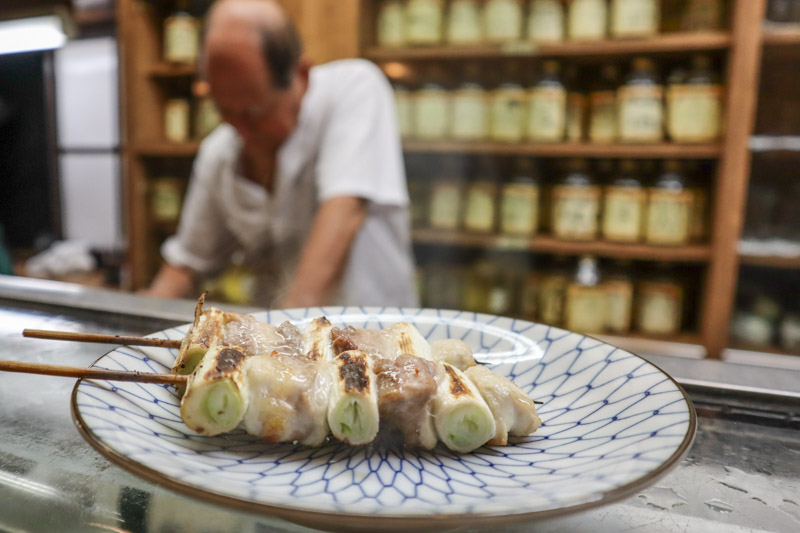 Drinking in Japan
Drinking alcohol is a big part of Japanese culture!
Local beers included Sapporo (capital of Hokkaido in the north) and Asahi. A beer in a bar costs around 500 yen. You can buy a cold beer from a vending machine for about 200 yen.
Vending machines selling cold drinks are everywhere in Japan. You won't see much in the way of fizzy drinks but lots of cold coffee and flavoured water.
Sake! Like wine, there's a sake for everyone. Cold, hot, fizzy, sweet or dry. Give it a try!
Cheers in Japanese is Kampai.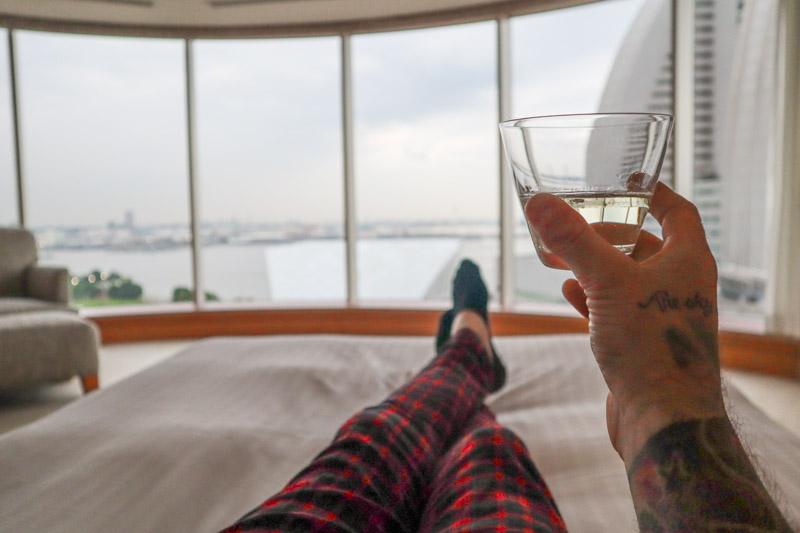 ID
In Tokyo, carry your passport as police checks on tourists happen frequently.
Immigration
You will be asked to complete an immigration card when you land. Use black or blue pen only, we used a light blue and had to redo it.
SIM Cards and WiFi
It is unlikely that your current phone provider covers calls, messages and data in Japan.
You can buy a prepaid data SIM card at Bic Camera on the second floor of Haneda Airport. We bought 3GB, 30-day SIMs each at 6084 yen, about £23 each. Well worth it for access to Google Maps.
There are lots of WiFi spots around Yokohama if you prefer not to buy a SIM.
Plugs
Japan uses the same electrical plug as the USA which is the two-prong (thin) plug.
Tokyo Haneda Airport and Luggage
There are shower rooms at Haneda Airport which you can pay for if you arrive early and want to hit the attractions as soon as you land.
Staying in Tokyo first and don't want to carry your luggage? There's a nifty service which carries it to your Tokyo accommodation for you. This service operates in reverse too.
Alternatively, there are lockers at most train stations.
Safety
Japan is very safe. Theft or tourist fraud is rarely an issue. The Japanese are very honest people.
English
English is not spoken widely in Japan but you can get by with pointing at Google Maps and the words hello (Konnichiwa) and thank you (Arigato).
We've found the transport staff to have the best spoken English.
Weather in Yokohama
Yokohama enjoys seasons and hits lows of 6 degrees Celsius/43 Fahrenheit in winter and highs of 27 degrees celsius/80 Fahrenheit in summer.
We visited in September and it was hot as in 27 degrees Celsius/80 Fahrenheit at breakfast.
Shopping malls and trains are air-conditioned and you are never far away from a vending machine with cold water so stay hydrated.
The Japanese take recycling very seriously. Respect the coordinated bins.
Water in Yokohama
Water is safe to drink and delicious. Pack a reusable water bottle to help reduce your plastic waste.
Onsens
A massive and relaxing part of life in Japan is the onsen expect.
Onsens are hot spring-fed communal baths located in public buildings or hotels.
To enter an onsen you have to do so naked, so get used to that one Brits!
We never used the onsen in Yokohama but did so all over Hokkaido and highly recommend it.
Yokohama onsen can be found at Kohokunoyu, 248 Orimotocho, Tsuzuki-ku, Yokohama-shi.
---
Final Words
Japan's first harbour city, Yokohama, once a small fishing village, now a contemporary city with many fun places to visit during your Japan travels or as a day trip from Tokyo. Have we missed anything? Tell us in the comments below.
---
Bookmark for later, pin to your Japan board
---
Disclaimer: We worked with Yokohama to promote the city via social media and our website. Check out our trip by clicking the 'Japan 2' highlight on Instagram. Thanks to Yokohama for allowing Two Scots to visit before the mass infiltration of Scotland rugby fans! Opinions our own, as always.