This article has links to products and services we love, which we may make commission from.
Rishiri Island, located in the north of Japan, is an outdoor lover's playground! Home to one of 100 Famous Mountains of Japan, Mount Rishiri, many hikers enjoy this day trek, others come for the island views and seafood fans enjoy the famous urchins. Rishiri makes a great combination trip with its smaller sister, Rebun Island (Rishiri-Rebun-Sarobetsu National Park). So, let's dive into the best things to do in Rishiri Island, Hokkaido.
Mount Rishiri is in the very north of the Hokkaido region of Japan. To get there, you take a quick and scenic ferry ride from Wakkanai Port in Hokkaido. There are four main areas to this small island; Oshidomari in the northeast (ferry terminal), Oniwaki in the southeast, Senhoushi in the southwest and Kutsugata in the northwest.
Rishiri isn't just far away geographically, it's also so far removed from the craziness of the likes of Tokyo and Japan's Golden Route. Think tranquillity and you are there. Stop dreaming! Let's check out the Rishiri Island itinerary starting from Oshidomari and moving anti-clockwise.
---
Heading to Japan? Read our ultimate planning post for tips, coming soon
---
Best Things to do at Rishiri Island
1. Himenuma Pond
Take the short path, walk across the Omoide Bridge then, as if by magic, 50 shades of green of Himenuma Pond will appear (see feature image).
Sandwiched by a variety of species of trees, walk along the 1km boardwalk around the pond.
Photograph Mount Rishiri from different angles as well as the ducks, butterflies the size of small birds and dragonflies.
If the water is still you can capture a cool reflection image.
Himemasu (kokanee salmon) were released into the pond when it was first built in 1917 hence the name Himenuma.
2. Hike Mount Rishiri (Oshidomari Trial)
If your visit includes trekking, do consider the day hike up Mount Rishiri.
The route official timing is 12 hours, 6 hours accent (peak at 1721m), 2 hours lunch/rest, 4 hours descent.
We met three Austrians who did it in approximately 7.5 hours. Starting from this stage is said to be the easiest trail, Kutsugata Trail (west Rishiri) is harder.
Enquire at your accommodation for a starting point drop off.
If you don't want to hike it all, you can endure the 100 steps from Mikaeridai Park to the lovely observatory.
---
Hiking fans should check out Asahikawa, the gateway to Daisetsuzan National Park
---
3. Peshi-Misaki Cape
Peshi-Misaki is the cliff you see as you dock at Oshidomari Port.
You can't miss this rocky mountain which stands out as if emerging from the sea.
This is a popular sunrise and sunset spot which takes around 20-30 mins to climb.
Unfortunately, we never made it up to the top, tell us in the comments below if you do, or tag us @twoscotsabroad in your social media photos.
4. Gorilla Rock
Gorilla Rock is a standalone rock formation surrounded by turquoise waters and is part of Cape Peshi.
The cliff to the right of the rock is a popular sunset spot.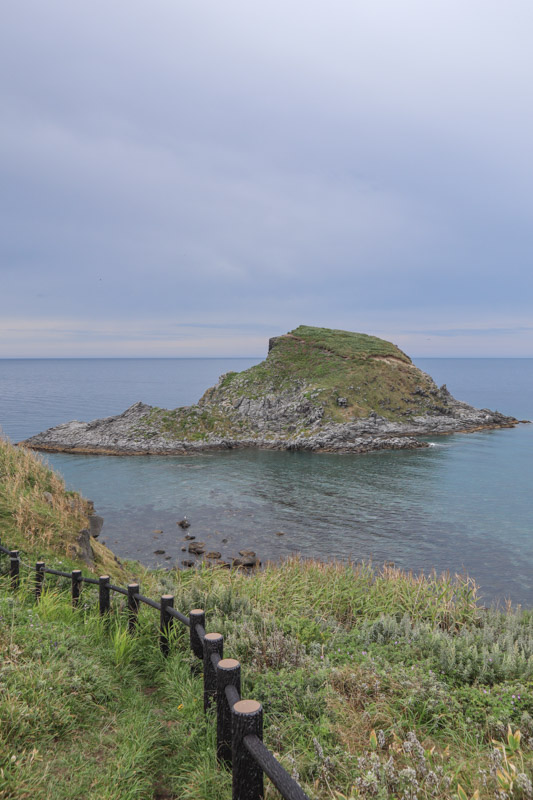 5. North Itsukushima Benten Shrine
By the side of the road on the southwest of the island stands a small bridge.
At the start of the short bridge, there is an orange gate which visitors can walk through and down to the shrine which sits on the rocks.
The shrine has a bell. The religious act is to ring the bell, clap your hands twice and pray. Some people leave bits of paper at the shrine. There is a pot for donations too.
The starkness of the orange against the grey ground really is striking.
This shrine stands by the sea to protect the island.
6. Sea Urchin Collecting Experience
Get your hands a little dirty at Kamui Kaigan Park! This sea urchin (uni) experience shows you where your food comes from.
Hop aboard the stationary boat and use the magnifying glass tool to search for the spiky uni under the water.
If you can catch it, you can keep it! Use the fishing rods to pull out from the sea, drop it into your basket then head to the cracking and cleaning area onshore.
A guide will teach you how to open the search urchin and then how to clean it. For an additional ¥100, you can add your uni to some rice and seaweed to create sushi. Alternatively, eat it with a spoon straight from the basket.
The demand for uni by city restaurants has grown massively over the last few years, on Rishiri you can try it fresh from the water.
7. Izakaya Kamome
If you are a fan of sea urchin you can eat a full bowl on top of rice (don) for ¥3000 at Kamome Shokudo.
8. Numaura Observation Deck
Shiroi Koibito-no-oka (Numaura Observation Deck) is a Mount Rishiri photo opportunity stop in the south of the island.
On a clear day, you can see the definition of 'White Lover's Hill' from this spot as it sits over Lake Otatomari. The mountain top looks like a set of jaggy teeth!
Here you can read about the famous Hokkaido Shiroi Koibito cookie covered in white chocolate which took inspiration from Mount Rishiri for its packaging. Which country do you think this Mount Rishiri snapshot looks like? Hint, the same country is known for its chocolate…
If you propose here Shiroi Koibito will send you a certificate!
9. Otatomari Pond
Otatomari Pond is a popular refreshment stop with a boardwalk which is built into the pond. Locals eat corn on the cob at the pond shop.
We tried the green tea and pink flower ice cream mix. Delicious. Dairy is a massive part of the Hokkaido region's culture and economy.
10. Spend the Night at a Rishiri Ryokan Hotel
One of the best ways to unwind from city travels is to relax at a ryokan hotel.
Ryokan hotels are a type of Japanese accommodation that often includes use of an onsen hot spring bath spas.
You don' t have to book a typical room which has tatami-mats and low mattresses on the floor. You can book western-style rooms too.
Some onsens are inside, others are outside. I've even experienced a Ryokan with a sauna onsite too.
There are two main rules when it comes to onsens. Firstly, you have to enter the bath naked. Secondly, you must use the correct onsen; women and men are separated.
Another thing to consider is tattoos. Each onsen has different rules. We were allowed to use onsens on both Rishiri and Rebun. Just ask before you book your room.
---
How to use Onsens
Wear your hotel robe, wrap and shoes

Take your hotel room towel

Remove your hotel shoes as you enter and store in the shoe rack

Leave your items in the provided locker

Remove your robe and pack in the box

Clean your body

Enter the bath and relax
11. Kaiseki-Style Dining on Rishiri
Another part of the Ryokan experience is dinner.
It is common for guests to use the onsen when they check-in then again, a few hours after dinner. This means you can wear your robe to the hotel restaurant.
The dinner itself is a platter of different kinds of seasonal seafood, which may include fish, clams, crab, uni, salmon. There is always rice, miso soup and a cup of tea too.
Kaiseki is a special kind of dining experience as it encourages everyone to talk about their food while they make their way through the numerous bowls and plates.
One of my favourite parts of Kaiseki dining is the hot pot. The waiting staff light a fire underneath a pot which boils until the fire goes out. Then it is ready to eat.
Enjoy your Kaiseki dinner with sake, plum wine or Sapporo beer.
Like food and drink? Check out Yokohama, a cool city less than an hour from Tokyo.
12. Cycling
You can cycle around Rishiri Island in a day which makes it an attractive spring, summer or autumn activity.
The Rishiri Cycling Road is 60.2km and takes around 8 hours to cycle.
Bike rental is available near Oshidomari Ferry Terminal and at Kutsugata Misaki Park.
13. Enjoy the Ferry Ride
Honestly, sailing to and from Rishiri Island was one of the top highlights of our trip to Japan.
We had had the luxury of sitting in first class with its large, comfy seats and big windows to watch Peshi Misaki disappear into the distance.
The Heart Land ferries have an onsite shop that sells the famous creamy Wakkanai Milk.
I'd seen this milk on Instagram while doing my research so was looking out for it. Super fresh with cream that coats the inside of your mouth. Remember to shake it first.
14. Island Hopping
Japan is made up of 6,852 islands, 430 of which are inhabited. In northern Japan, you can island-hop three out of the 430!
Start in Wakkanai then hop to Rishiri then on to Rebun Island.
15. Japan's Most Northerly Town, Wakkanai
Wakkanai is not just a ferry port town! You will be surprised to see the Soviet/Japanese mix of architecture around the town and the Russian influence on the signage.
If you have time in Wakkanai don't miss the following tourist spots:
Cape Soya – Monument celebrating the most northern part of Japan

Soya Hills – Stunning windmill observatory and trekking

Shiroi Michi – A white path made from the shell with sea views

Cape Noshappu – Popular sunset photography location

Wakkanai Lighthouse – Red and white striking lighthouse, the second tallest in Japan

Wakkanai Breakwater Dome – Really cool concrete structure for photographs

Wakkanai Park – A park of remembrance

Former Seto Family Home – Interesting historical house, I tried on a gold kimono!

Uroko-Tei – Casual seafood dining, cool experience eating with a group around the grill

Wakkanai Grand Hotel – A nice modern hotel with spa

Domu Wakkanai Onsen – Day onsen if not looking for an overnight stay
---
» Check out our 5-day Hokkaido itinerary
---
Rishiri Island Accommodation
Kitaguni Grand Hotel (Ryokan)
Kitaguni Grand Hotel has a high-rise restaurant called James Skybar where dinner and a Japanese/Western buffet breakfast is served each morning.
We dined at sunset, it was a lovely setting having the island visible on each side of the Skybar restaurant while we ate Kaiseki dinner.
The twin rooms are large with two beds, a table, a TV and a fridge. WiFi works in the lobby. The bathrooms are typical of Hokkaido hotels. The shower is hot and there is an inside and outside onsen hot spring bath.
Maruzen Pension Reramoshiri (Ryokan)
Maruzen Pension Reramoshiri is the most relaxed ryokan that we stayed in.
The vibe is adventure. There are skies, hiking boots and bikes as you walk into the hotel reception. The staff are young and smiley. This Rishiri hotel feels more like a friend's home than formal accommodation.
The rooms are spacious, clean and modern. The bathrooms are similar to all other hotels we stayed in Hokkaido and the shower water was hot.
WiFi worked in our hotel room, which is a first for the area. The restaurant is compact with an outside seating area.
Cooked breakfast is a mix of Japanese (soup) and Western (quiche, croissant). There is extra bread served throughout the sitting.
Camping on Rishiri Island
Camping is allowed on Rishiri Island. Please avoid wild camping, using the official campgrounds instead. There are two, Rishiri Family Camp Yuni and Rishiri-cho Forest Park Campsite.
Getting to Rishiri Island
Heart Land Ferries run daily from Wakkanai Port in Hokkaido to Rishiri Island. You can take an internal flight from Haneda Airport (Tokyo) to Wakkanai Airport in less than two hours.
The drive between the airport and the ferry is around 25-minutes. A taxi costs approximately ¥5000.
The ferry ride takes around two hours and docks at Oshidomari Port in the northeast of Rishiri Island.
Wakkanai Ferry Port has is big. It has a restaurant selling noodle dishes, rice meals and burgers so you can dine there before you board if you wish.
There is a variety of class seating on the Heart Land Ferries.
First-class is pleasant with large seats, windows and outside areas. Tickets are approximate ¥5000 for first-class foot passengers.
The second class is cheaper at ¥2500 and does not require pre-booking.
Getting Around Rishiri Island
Driving a rental car is the best way to see Rishiri Island's attractions at your own pace.
You can rent a car when you dock at Oshidomari. Pre-arrange your car rental with Toyota or Nippon. It takes around one hour to drive the full island.
Alternatively, you can rent one in Wakkanai and board the ferry with the car. This is more expensive than visiting as a foot passenger.
If you'd prefer to hire a private taxi you can do so for ¥30,000 for 3 hours and ¥60,000 for 6 hours.
There are tours of the Rishiri Island but there are no English-speaking tour operators yet.
If you are just looking for the travel aspect of the trip you can book at the tour desk at the Wakkanai Ferry Terminal although there is no guarantee that there will be available seats.
Practical Information
Rishiri Island is an island in the northwest of Japan. It is part of the Hokkaido region which is closer to Russia than Tokyo!
Credit and debit cards are not a part of island life for Rishiri or Rebun. This is pretty typical of Japan as a whole.
Bring enough currency to last your trip or use the island Post Office (郵便局にあります) to take money out from the bank machine.
Most hotels do not accept major credit cards.
There is no currency exchange on the island. You will find currency exchange in Wakkanai.
There is no need to tip for the great service you will experience on Rishiri Island. Tipping is not part of Japanese culture.
Local shops close by 6pm so buy your snacks or lunches as you travel throughout the day.
As with the majority of places in Japan, locals do not speak fluent English on Rishiri Island. Signs can be found in Japanese and English for the island's main attractions.
You can pick up maps and guides at the tourist information found at the Fujimicho Ferry Terminal (香深のフェリーターミナルにあります).
WiFi in Rishiri Island accommodation is mostly only found on the lobby floor.
---
Planning a trip to Japan? Save for later
---
Final Words
Nature, viewpoints, seafood, cycling, and hiking, Rishiri Island is an ideal trip for those wanting away from the hustle and bustle of the city and looking to explore one of Hoddaiko's lesser-known places.
If you are short on time you can visit Rishiri Island, or Rebun Island, as a day trip from Wakkanai. However, I think that Japan's most remote national park deserves at least two days of your Japan itinerary!
We would like to thank Rishiri Island and Wakkanai for inviting us to explore this lesser-known region of Japan. The above review is our honest opinion.