This article has links to products and services we love, which we may make commission from.
Fresh air to take in, cute historic villages to visit, easy walking routes and those golden autumn colours, Perthshire in Scotland is the New England of Caledonia! Anyone who loves the fall season as much as I do will fall hard for this region but since there's so much to do you can visit all year round.
This guide will detail the best things to do in Perthshire, where to eat, accommodation tips and what to pack for a day trip or weekend break in the area Sir Walter Scott called "The fairest portion of the northern kingdom".
Things to do in Perthshire
Pitlochry
The heart and busiest town in Perthshire is Pitlochry. 
Take a wee walk from the high street to the River Tummel and on to the dam on Loch Faskally.
This is where you will find the world-famous salmon ladder and the Hydro Station. How many salmon do you spot swimming upstream?
If walking is your thing, there are 41 miles of tracked routes for you to enjoy in Pitlochry.
Grab breakfast at Garden Cafe, a cake and tea at Hetties (my fave), lunch at Escape Route or a heartier meal at one of the many restaurants including The Old Mill Inn or Victoria's Restaurant.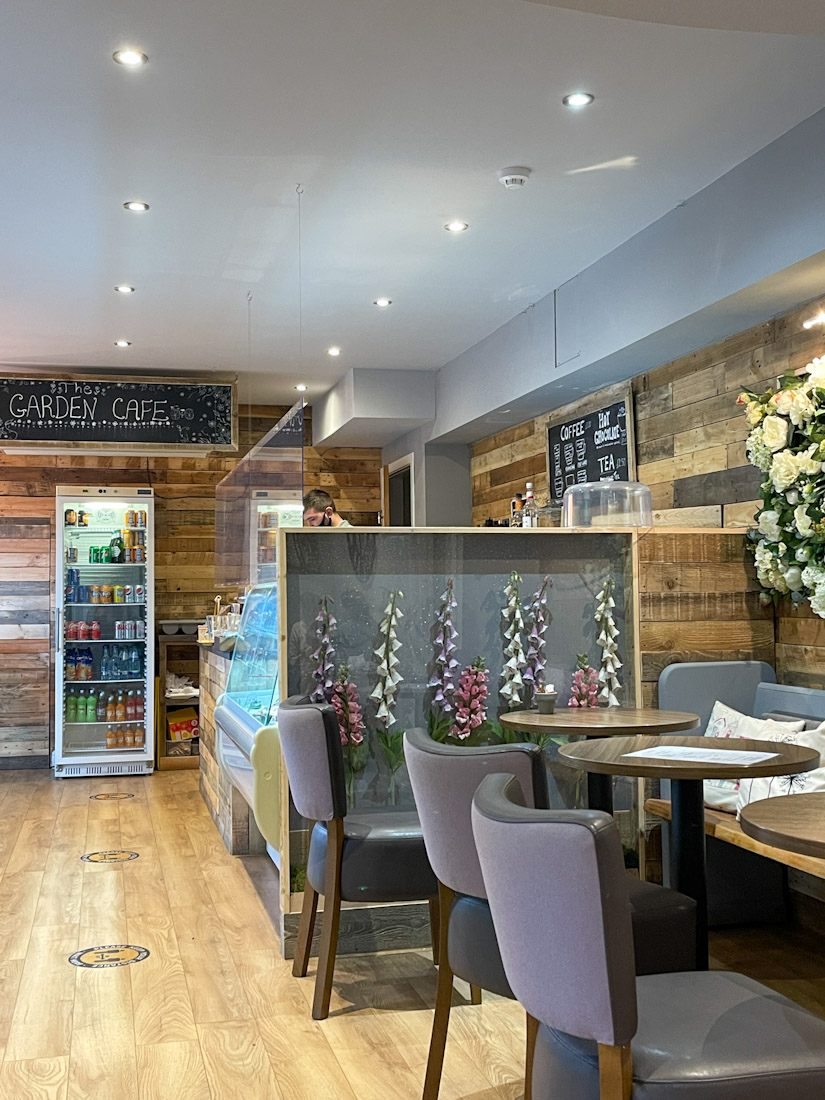 In autumn, The Old Mill Inn has crawling red ivy covering the building. One for the photographers!
A little out of town is the restaurant, East Haugh House, looked after by the award-winning chef, Patron Neil McGown.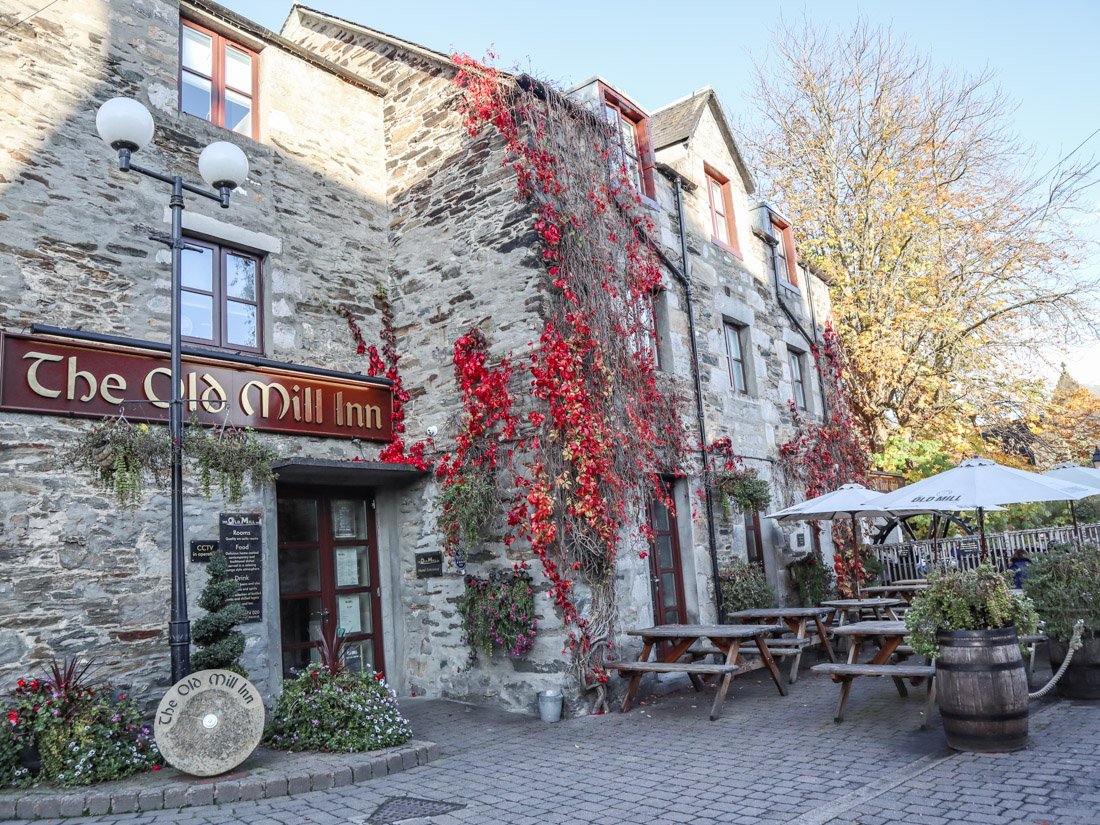 September through to October is usually one of the best times to visit Pitlochry as this is when the magical Enchanted Forest takes place.
Each year, Faskally Wood is transformed into a themed lit-up wonderland!
Buses leave from the centre of Pitlochry and depart throughout the night.
Hot beverages are also on sale at the forest so you can heat up with a hot chocolate!
This is a family-friendly event which is kids will absolutely adore.
Check for updates here.
If you're lucky you might be in town just in time to take part in Scottish Coutry Dancing at the town hall.
Craig and I spent our first weekend away together in Pitlochry and joined in a ceilidh.
Pitlochry is also where my brother-in-law, Kyle, proposed to my now sister-in-law, Ashley!
Hotels in Pitlochry
There is no shortage of Pitlochry accommodation which makes it the perfect base for a Perthshire road trip.
We stayed at the Pitlochry Hydro Hotel which was comfortable but if you want to stay in a castle check out Fonab Hotel.
Queen's View
Not far from Pitlochry you'll find the scenic Queen's View.
You do need a car to get there and the road is quite tight so take your time!
The winding drive is worth it to see the panoramic views of Loch Tummel and on a clear day, Glencoe.
Royalty has walked here before you! Queen Victoria visited in 1866.
However, this isn't who the viewing area is named after!
Robert the Bruce's, wife Queen Isabella steals that crown.
Paid parking is available at the visitor centre and there are facilities and cafe onsite.
The House of Bruar and Falls of Bruar
A popular tourist stop in Perthshire is the House of Bruar.
At this shopping precinct you'll find clothes, homeware, foodhall and a restaurant.
Just behind the House of Bruar is the Falls of Bruar.
It's a relatively easy 1.5 mile (2km) walk along a pathed route considering the views you get in return.
When Robert Burns visited in 1787 and was inspired to write The Humble Petition of Bruar Water. What creative output will your trip conjure up in you?!
Killiecrankie
3 miles from Pitlochry you can throw yourself off a bridge and over the River Garry!
This is the first purpose built bungee platform in Britain and very popular with daredevils like ourselves.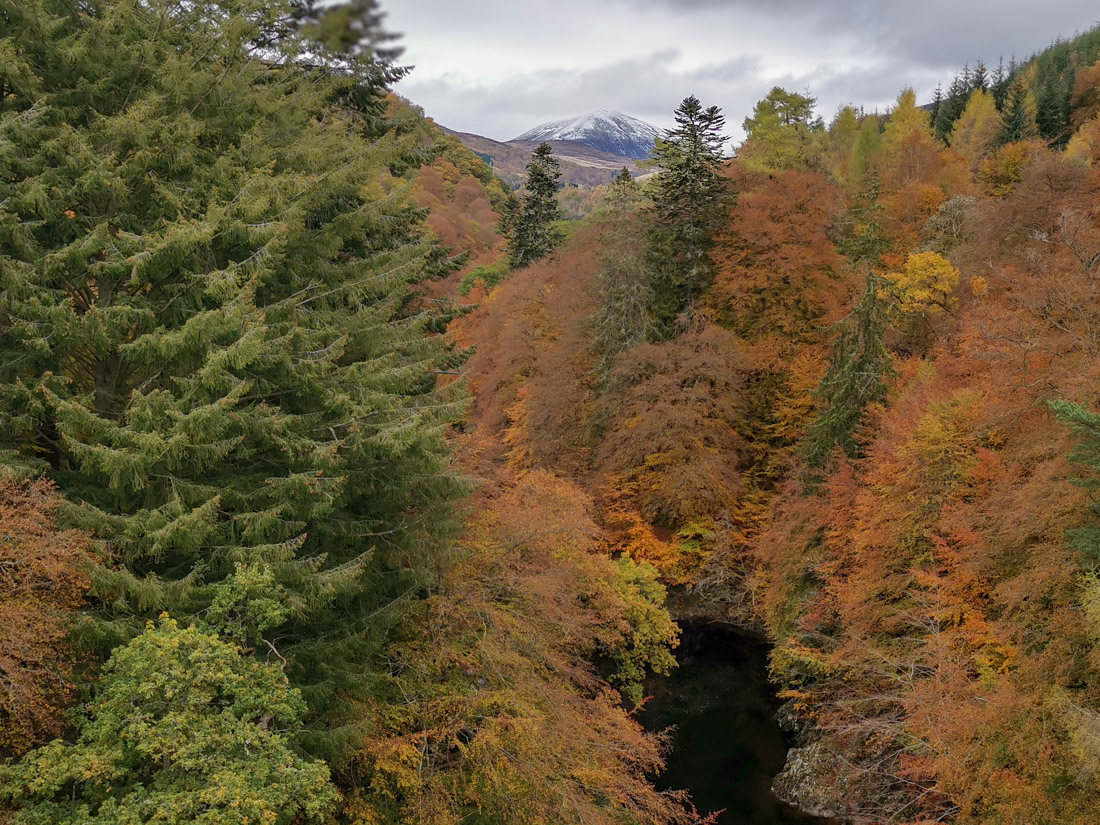 Yes, Craig and I tandem bungee jumped 40 metres off the Garry Bridge and it was hoot!
You can read all about our experience here.
Don't want to bungee? There's a cool swing option too.
Aberfeldy
A small market town, Aberfeldy has a handful of pubs, a restaurant, Co-Op, watersports activities and a weekend market.
Dine at Three Lemons for an upmarket meal and drinks or enjoy a pub lunch at The Fountain for big, hearty potions.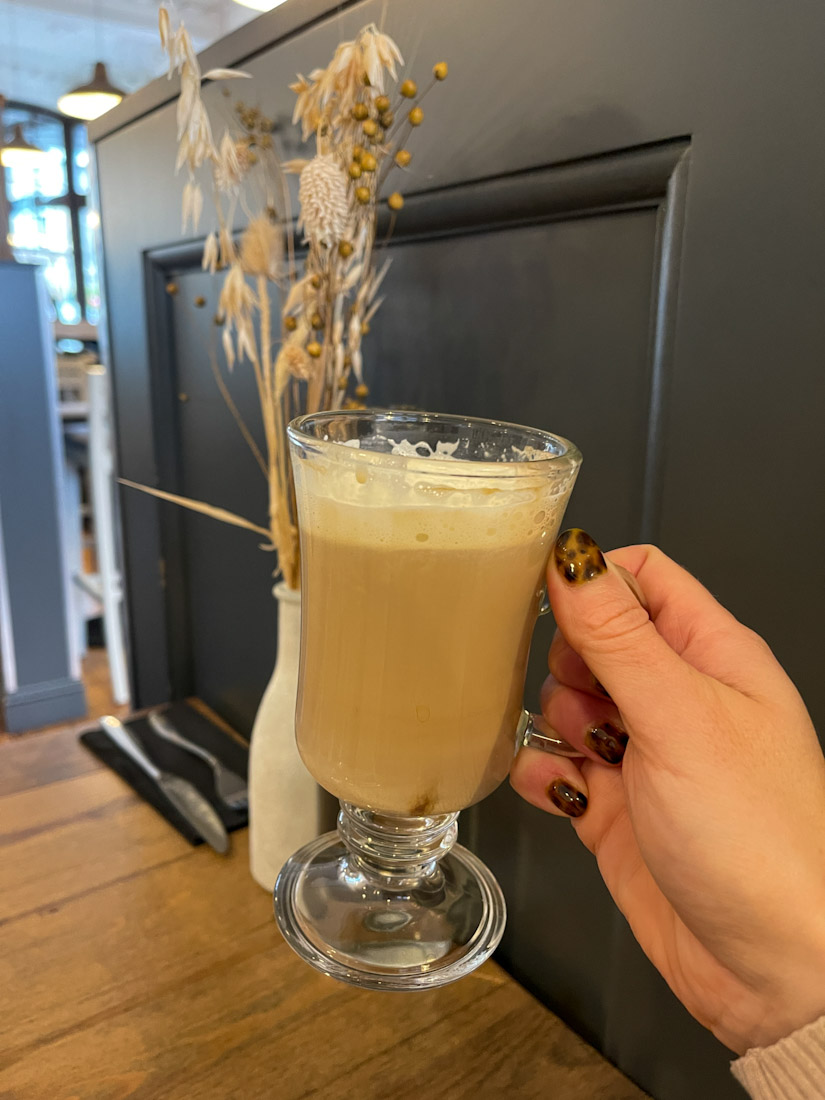 Catch a movie at The Birks or pop into the independent shops along the high street.
If you're feeling a little adventurous, consider a water rafting experience on the River Tay.
It's very tame!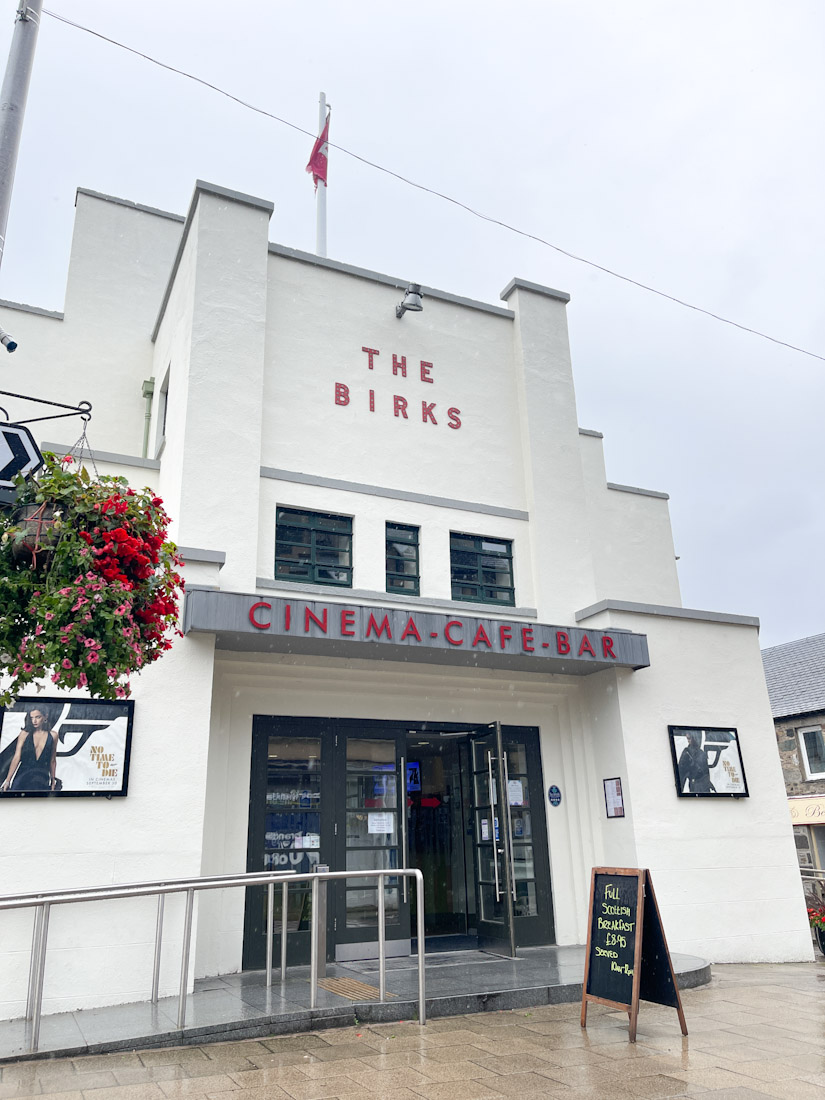 Enjoy the nature walk to Dull (1 hour 15 minutes) to get the iconic Welcome to Dull paired with Boring sign.
You might just catch deer galloping and a Perthshire sunset.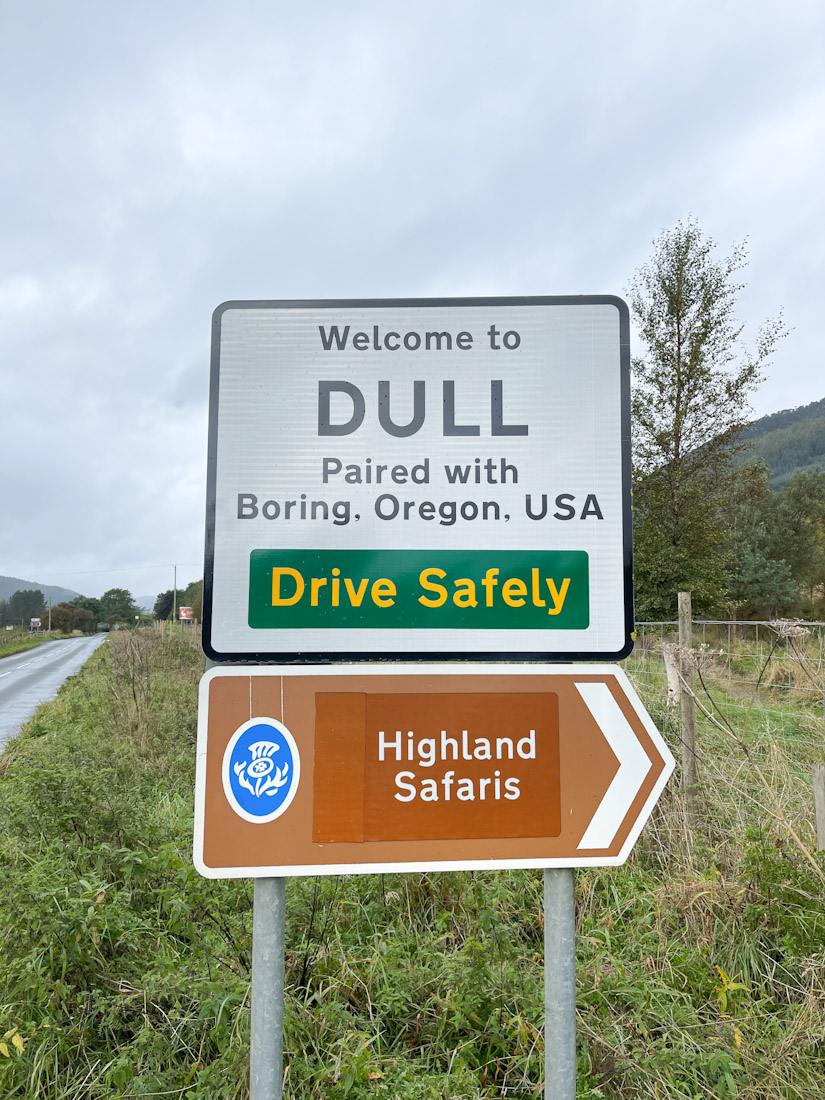 Swing by the dog-friendly Ailean Craggan Hotel for coffee, food or drinks on the terrace.
The hotel dog is super cuddly!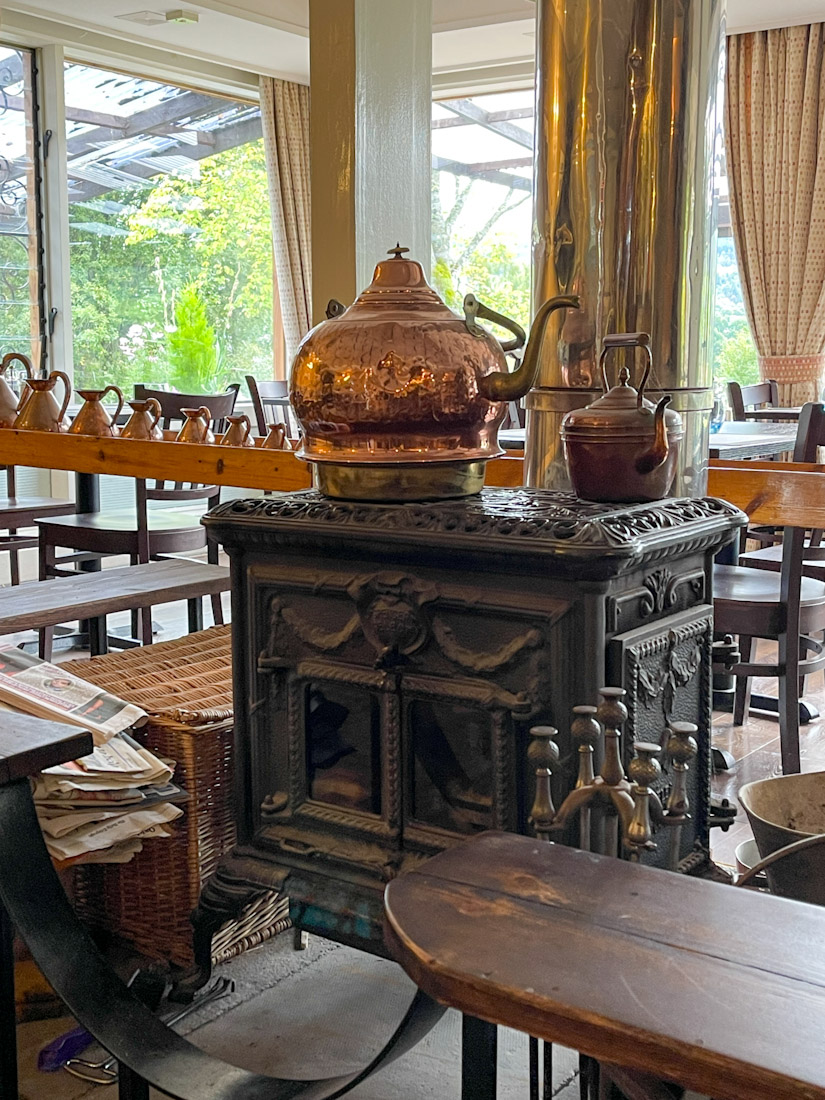 Dunkeld & Birnam
Dunkeld is a lovely wee town in Perthshire.
Birnam and Dunkeld are joined by the Dunkeld Bridge which was designed by famous Scottish architect, Thomas Telford in 1809.
At the Birnam side of the bridge you can see spot for the the old Toll House before you head down the stairs for a walk along the river.
Birnam is home to the Beatrix Potter Garden which is free to enter.
In picturesque Dunkeld you will find cafes, delis and hotels serving food on the high street but don't forget to visit Dunkeld Cathedral (1318) and its gardens.
On the way you will pass The Atholl Memorial Fountain.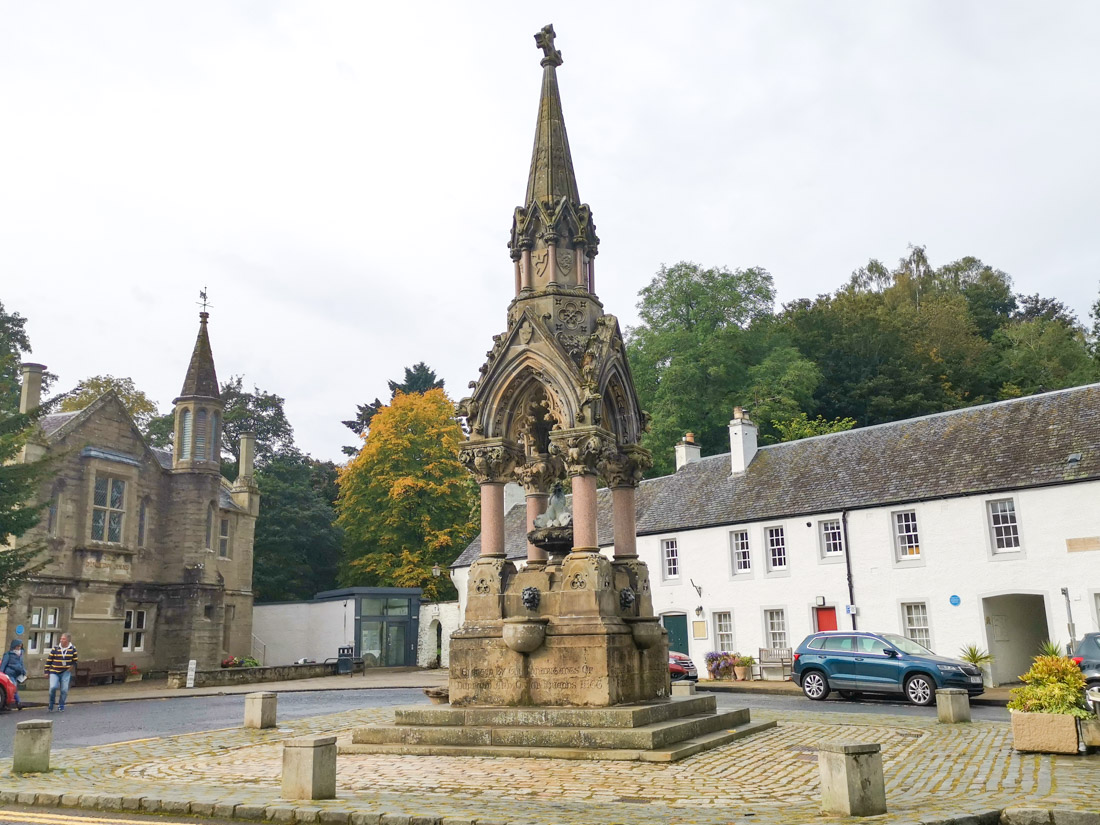 Inside Dunkeld Cathedral, lies the tomb of Scotland's vilest man, the Wolf of Badenoch.
Alexander Stewart, Earl of Buchan, was known for his desire to destruct using fire as a his weapon.
The Dunkeld House Tree Trail is the perfect walk for those looking to mix a bit of history with fitness and scenery.
Here you can see The Birnam Oak, famously known as the Macbeth's oak as it was mentioned in the William Shakespeare's play.
Hotels in Dunkeld
There are lots of lovely options for historic hotels in Dunkeld:
The Hermitage
One of my favourite days out in Perthshire is walking among the Douglas firs at The Hermitage.
This walk is a 10-minute drive from Dunkled and there is a small car park with paid parking at the entrance.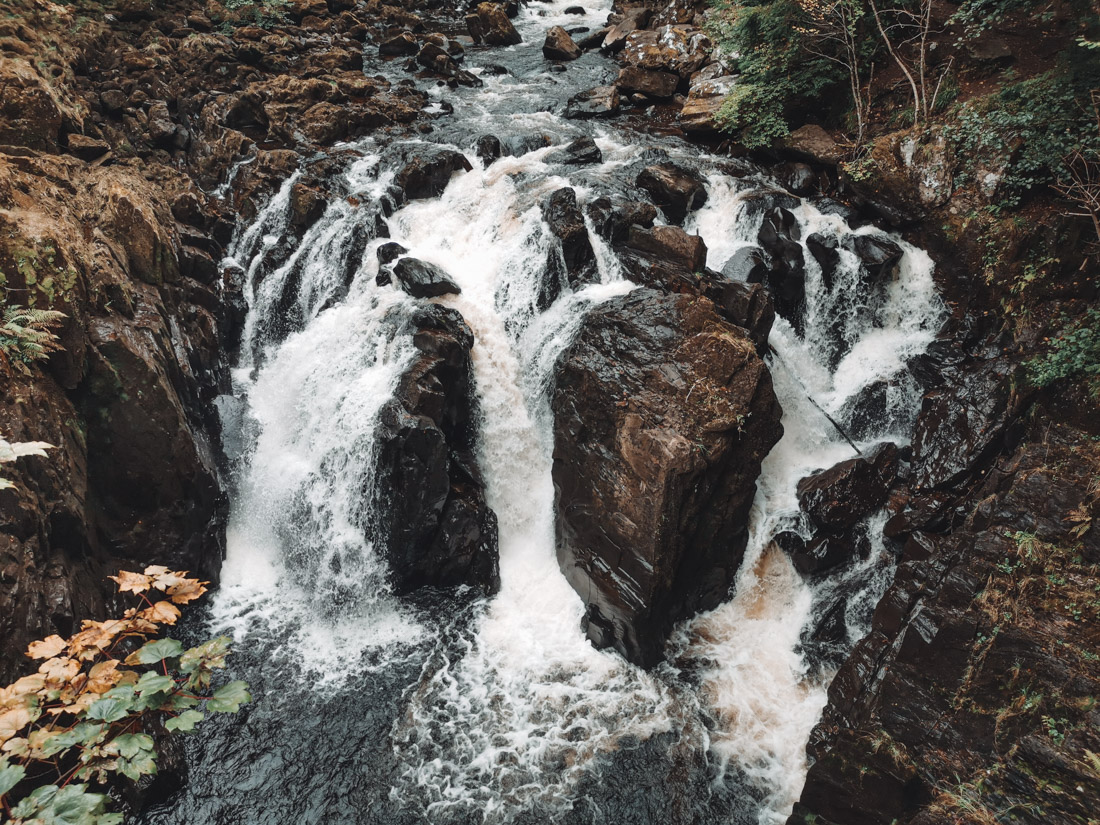 From the car park, head to the 1757 Ossian's Hall viewing platform and keep your eyes peeled for salmon battling the noisy Black Linn Falls!
Please don't leave your coffee cups in Ossian's Hall, it's disappointing to see visitors disrespect the area.
The Hermitage is a great example of why Perthshire gets called Big Tree Country!
The toilet facilities aren't always open so be sure to use the loos before you arrive.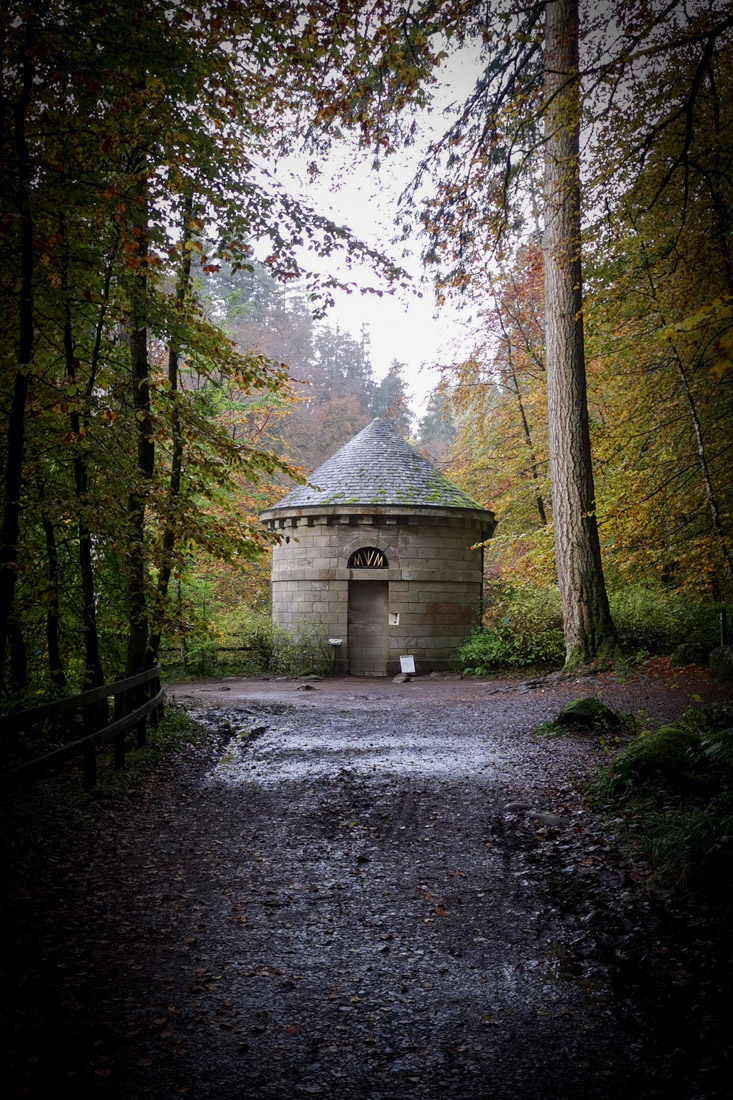 Blairgowrie
Outdoors enthusiasts may be familiar with Blairgowrie, the gateway to Glenshee.
If Scotland gets a decent dump of snow, Glenshee is one of four ski centres in the country making this town in Perthshire a possible winter holiday destination.
The town has is famous for its old Flax mills buildings which can be seen during the Cargill's Leap River Ericht walk from the Blairgowrie Riverside.
We dined at the Dalmore Inn & Restaurant. The food was great and the staff were super friendly.

I had the prawns then the fish and chips, Craig had the steak and haggis pie.
Alyth
East of Blairgowrie you'll find the cute town of Alyth.
Alyth Burn runs through the town and several bridges connect the streets including the photogenic 17th century packhorse bridge.
There are a couple of other architectural points of interest including The Arches and the church designed by the Scot, Thomas Hamilton in 1839.
A casual hike along the waters at Den of Alyth is recommended.
Meikleour Beech Hedge
A unique thing to do in Perthshire is visit the longest hedge in Britain, The Meikleour Beech Hedge, which was planted in 1745.
Close to Blairgowrie, this stretch of hedge featured in the Guinness Book of Records for its height of 100 ft (30 m) with its length coming in at 530 m.
Recognised by the Guinness Book of Records as the highest hedge in the world, the Meikleour Beech Hedge was planted in 1745 and is one third of a mile long (530 m) and 100 ft (30 m) high.
Meikleour Arms Hotel is a popular dining spot with locals.
Perth
One of Scotland's smaller cities, Perth is the biggest area in our Perthshire road trip itinerary.
In 'The Fair City' you will find shops, cafes such as Hinterland for very tasty soup, restaurants, pubs and parks.
While enjoying the city life, look out of the River Tay Public Art Trail which includes giant thistles, torso and birds.
Pop into Perth Museum and Art Gallery in the Marshall Musem.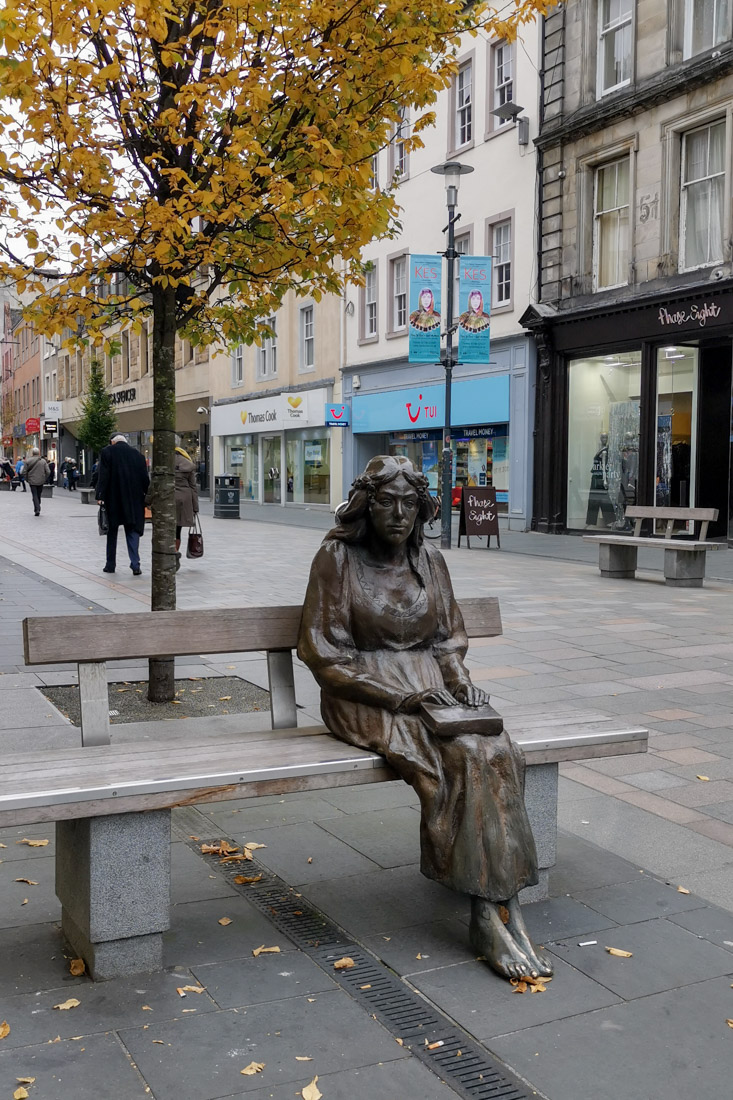 There's an easy 40 minute Kinnoull Hill hike which starts at Dundee Road and takes you up to a viewpoint.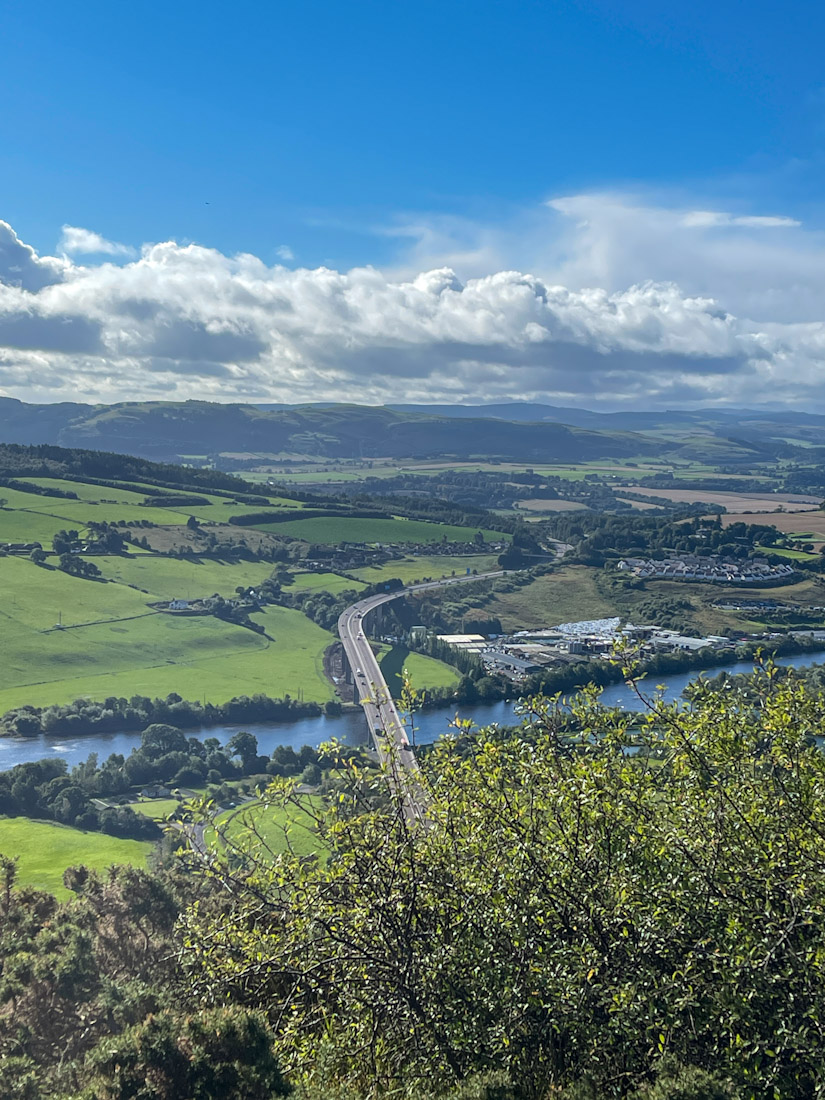 Plant fans will want to check out the 2-acres of hillside gardens at Branklyn. This NTS garden has an array of unique trees and plants including one that smells like sugar in autumn!
There are several car parks in Perth with paid parking options.
Perthshire Castles
There are a variety of castles near Pitlochry in Perthshire and Kinross ranging from the Burleigh Castle ruins to the strong surviving Blair Castle.
Blair Castle
Home to the Dukes and Earls of Atholl for 19 generations, Blair Castle's doors will be open until winter so you can see why this special estate withstood civil wars and the Jacobite era until mid-December.
You can easily spend half a day here walking through the nine acres of grounds including Diana's Grove, following the sculpture trail and then enjoying a scone or lunch at the cafe.
Make sure you behave though, Blair Castle is home to the last remaining private army, the Atholl Highlanders!
Check for updates at the official website.
Drummond Castle (closed)
Since being featured in the 1995 Hollywood movie Rob Roy, Drummond Castle has been a popular spot with visitors enjoying its incredible gardens.
Check for updates on the official website.
Scone Palace
If you are familiar with the Stone of Destiny, an important part of Scottish history and a pretty decent movie starring Robert Carlyle, you may want to pay a visit to Scone Palace.
The stately home is where Scottish kings were inaugurated and today visitors can tour the grounds.
Getting to Perthshire
There are train and bus routes to parts of Perthshire but this Scottish weekend trip is best done by car.
Perthshire Packing List
Leave the umbrella at home, invest in a decent but stylish waterproof like my brilliant Mountain Equipment Rupal US / UK.
1 x eco water bottle such as TreeTribe which keeps hot drinks hot and cool drinks cold (international shipping).
Camera, charger and SD card.
Sunglasses.
---
Perthshire Road Trip Map
Thinking for spending a few days in Perthshire? Below is a screenshot of the locations and attractions discussed above. Click this link to access the free Perthshire map.
---
Final Words
As you can see, there are heaps of different activities to make up the perfect Perthshire weekend breaks and since one of the main appeals of this region is its nature and landscape you'll experience a different vibe each season you visit!
Share your tips and tell us about your Perthshire experience below!
---
Pin to your Scotland planning board