This article has links to products and services we love, which we may make commission from.
Did you know that it rains most days in Colombia's capital, Bogota? I know, it was a surprise to me (Gemma) too! Hence the greater need to find cool things to do in Bogota come rain or shine. Here's a lowdown on the two distinct areas of Bogota, La Candelaria v Chapinero, where you'll find accommodation, food, nightlife, and tourist attractions.
Chapinero
Things to do in Chapinero
Chapinero officially runs from Calle 39 (south) to Calle 100 (north) and according to Vogue, Chapinero Alto (Calle 22 to 72) is the Williamsburg of Bogota!
The area itself had heaps of restaurants and local cafes with every type of cuisine on your doorstep, including local.
Craig enjoyed a typical Colombian breakfast of Caldo de Costilla which is soup with meat and potatoes.
The grid system of Bogota makes navigation super easy, even for a map killer like me.
(About) ten blocks (max) north of Fulano Backpackers you will find the jumping area of Zona G.
We walked back at night and felt safe but taxicabs are cheap so you don't need to worry about the price.
There are two apps that you can use to get even cheaper taxi services, Uber and Easy Taxi.
We dined at La Hamburgueseria whilst listening to a Colombian band do reggae!
Honestly, there are heaps of restaurants in Bogota and Zona G has an eclectic mix of them so you can please everyone.
Looking for something more relaxed? Head to the food truck park at Calle 73.
During the day you will also find a shiny shopping centre but most shops are outwith a backpacker's budget! Alternatively, Carrera 14 has lots of preloved clothes shops if you need to replenish your outfits.
Not to deviate from Chapinero just yet, my favourite shop at Zona G was an ice cream shop which sells delicious ice lollies. I mean heavily delicious ice lollies! Who cares if it's raining? Eating ice cream was one of my favourite things to do in Bogota!
You'll see lots of locals hanging about Zona G, it also had an open art exhibition on while we were there.
There is a lot of green space in Chapinero; we walked to Parque 93, which is on Calle 93, funny enough.
It had a dog park within and is also surrounded by lots of restaurants and bars such as Bogota Beer Company.
We probably wouldn't have found all of these places if it wasn't for the kindness of our Colombian friend, Ricardo, whom we met for ten minutes on Taquile Island in Peru.
He insisted on taking us on a tour of his beloved city. We are very grateful for this and his friendship!
Ricardo, Colombian friend and impromptu tour guide
Bogota Hostels, Chapinero
The red-bricked Tudor houses of Chapinero could easily be confused for Manchester in England. We stayed at Fulano Backpackers, which is high up on our favourites list for hostels so far.
I loved its clean and minimalist feel. We stayed in an eight-bed dorm which was spacious and comfortable. The showers were always scorching and they even have a separate showering area for the ladies!
There is a kitchen, which you can prepare and cook your own food but the bar also sells breakfast for 5 (£1.25) or 8 COP (£2.00) depending on your choice. We spent 71 COP / £17.72 over two nights at the bar, succumbing to happy hour on both nights where I enjoyed mojitos the size of my head!
A DJ played both the Friday and the Saturday night, throwing out a mix of European dance music and Colombian tunes.
The staff were extremely friendly and helpful, they even let us leave our cabin bag in storage for three weeks! And most importantly (?) the WiFi was fast which meant I could catch up on the blogging I missed in La Paz.
Address: Carrera 10A # 69 – 41
Contact: +571 4672530 / [email protected]
Price: 23 – 50 COP / £5.74 – £12.48
La Candelaria
Things to do in La Candelaria
Stick to 7th if you get lost in Bogota, one of the tour guides from the outstanding Bogota Graffiti Tour advised us. This advice put us in good stead for the trip. 7th is the Sauchiehall Street of Bogota. You'll find lots of shops and buskers.
La Candelaria is in the South of the city and is where most of the epic graffiti lives but don't just stare at the images, learn the story behind the street art…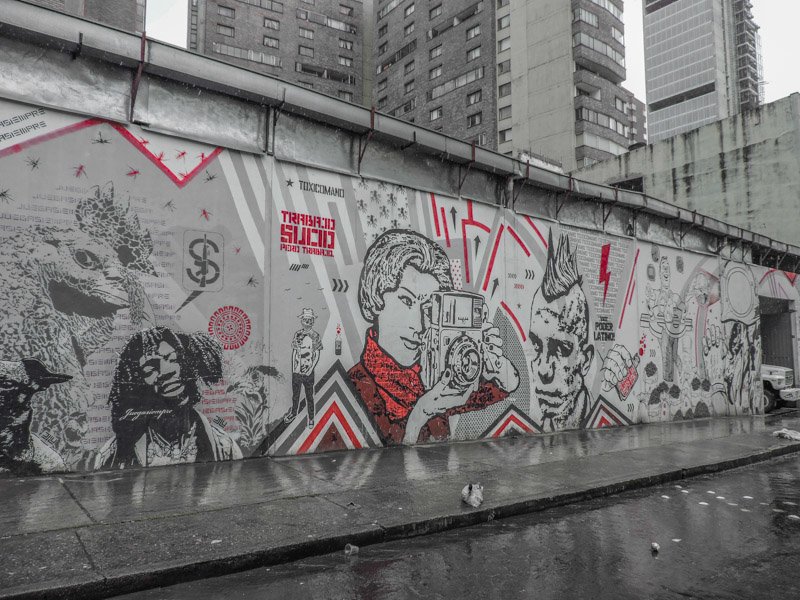 Bogota Graffiti Tour
The one thing you can't miss in Bogota is the Graffiti Tour. Rey and Jay (American/Colombians) take you on a two and half hour tour of the city's street art, providing very detailed explanations of the artists' artwork.
There is a large variety of street art so there is a lot to be said. The artists all have their own story and some are internationally known.
We asked how the artists felt about tagging which is a nuisance in Scotland, but they said they didn't mind it as it was a 'way in' to the good stuff. There's even an area at the local school where the artists support the students during projects (with police protection at night if necessary).
This really set the vibes for Colombia for me, it is such an incredible country. If you like street art you might be interested to hear that my lesser-known home region in Scotland, Fife, has started to commission work, read about the emerging scene here.
Many of La Candelaria hostels have graffitied facades; many were commissioned by the owners which is cool. Rolos (people from Bogota) are obviously pretty liberal!
Bogota Graffiti Tour – top for things to do in Bogota
What: RSVP up here * no affiliation, it's just damn kickass!
Where: Parque de Los Periodistas
When: 10am and 2pm every day
How much: For tips (20,000 – 30,000 COP / £4.99 – £7.49
Bogota Hostels, La Candelaria

We stayed at Hostal Bakano which was nice enough, not the most social which was fine for us as we were preparing to go to Cuba at this point. It is definitely in the heart of La Candelaria. Staff spoke only Spanish but were very accommodating.
La Candelaria Restaurants
We dined at Dos Gatos y Simone which is a Mexican fusion restaurant. I went for the mango salad which had beef, cheese and nuts through it. We were even envious of everyone's food around us and vowed to go back but it was closed on the Sunday when we returned!
I loved the colours of Calle Jon del Embudo, we were told this was the spot for great nightlife in Bogota so we took a stroll for drinks but it appears to be pretty dead on a Sunday night.
We had one Chicha Color y Sabor, which tasted like acid, not very pleasant! On the wander home we stumbled across a cool bar with a local indie band, ah, don't you just love cities?
Bogota Weather
Be prepared for the weather! Forget your initial image of piña coladas in pineapples in the sunshine (save that for the North!) as it actually rains most days in Bogota so make use of the extensive bus service.
---
How to get to Bogota
Bogota is usually your first stop but may also be your exit city.
Armenia (Salento) To Bogota

Overnight bus of doom from Armenia (Salento) was 41 COP / £10.23 and took 7.5 hours with Bolivariano.
It was a hellish bumpy ride, even with semi-reclined seats and a toilet. The driver must have been over the speed limit the whole way but this was just our experience, other travellers had a fine time!
Flights with Avianca take under one hour and can be anything between 82 to 800 COP!
Santa Marta to Bogota

Fly from Santa Marta. Flights will set you back about £75 and takes you a couple of hours. We actually missed our flight (Bogota to Santa Marta) and got one with LAN for £35 at the desk!
The bus is 17-20 hours long and costs 82 – 100 COP / £20.47 – £24.96
Looking for things to do in Bogota?
Why not hover over image & pin to your Pinterest board?
La Candelaria v Chapinero, Bogota – where is your preference?
Thanks to Fulanos for our two nights stay in the dorm, an honest review as always.