This article has links to products and services we love, which we may make commission from.
A Colombian who works in the tourist industry dismissed Salento as being too 'touristy' now, so when it was suggested that we stayed at a converted farm ranch ten minutes outside of the small town surrounded by lush countryside and a river, we jumped at the chance! Overall, I felt this area seemed like a sleepy one, but still offers 5 things to see in Salento!

1. Salento's Main Square 
Salento has a few restaurants, cafes, a supermarket and a main square. The weekends are busy with locals who travel to hang around the pop up restaurants around Salento's main square. Fish lovers try the trucha! Not just a some things to see in Salento but also to eat! We made a few trips into Salento via a twenty minute up hill walk through trees to the main road from El Mocambo, if you are lucky you will get this pair of four legged tour guides.
Eddie, El Mocambo's resident dog, and Pablo, La Serrana's (the sister hostel) dog honestly took us on our first jaunt to town, they led the way and kept us right through some jungle like terrain, eager for us to get to all the things to see in Salento! When we reached the bridge (civilisation) they scattered off.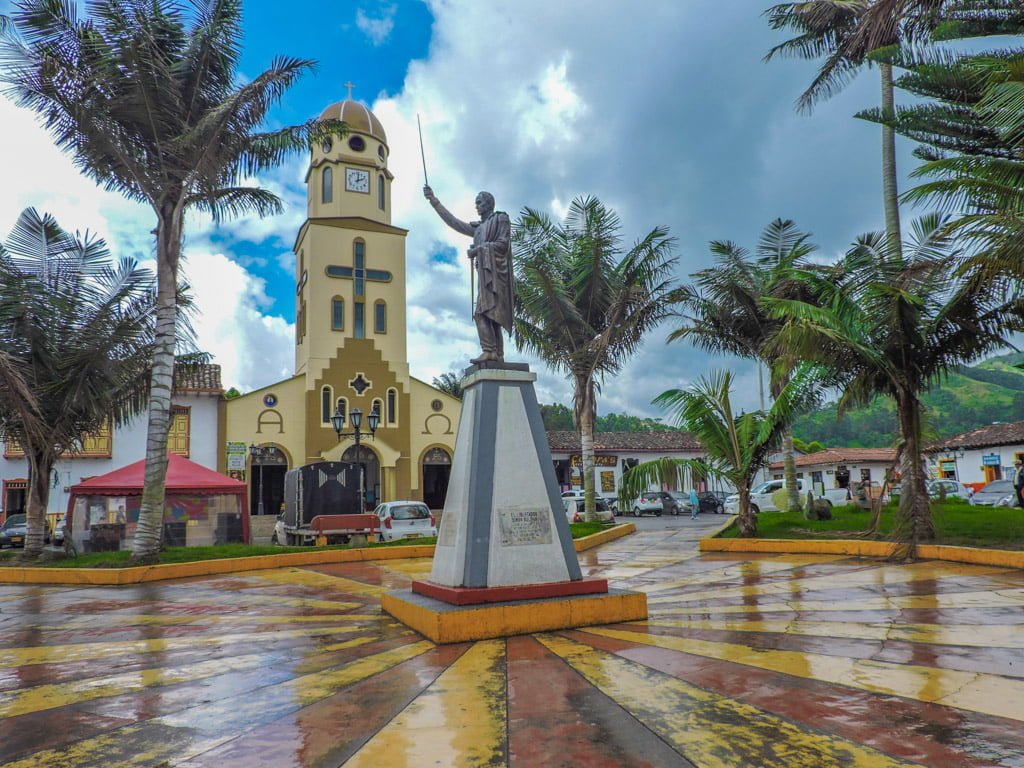 2. Salento's Animals
The dogs of Salento are so friendly. One local dog chummed us back to El Mocambo. Our new pal lay at our feet all night and then outside our bedroom door, we only realised he was there after he dropped a stink bomb that wafted under the door! He was gone in the morning. We were told this is common. Salento is surrounded by fields filled with horses and cattle, it is not unusual to share the path with a herd of cows!
3. Coffee Region, Colombia 
Fan of the black stuff? Salento is the place for you. We walked 40 minutes left of El Macambo (after the incline), with Eddie obviously, and ended up at Finca El Ocaso Farm (8 COP / £2.00 each). You can't really bypass Salento without taking a tour around one of them many coffee farms, a specific thing I advise you see in Salento is how the these simple coffee beans become that hot black addictive liquid!
Alex, an energetic Colombian although terrible joke teller, guided us through a very informative and practical guide of how Colombian coffee is made from the hybrid plant to the tasting session an hour later.

A lot of hard graft goes into making coffee, I'm not a drinker of the hard stuff myself but do appreciate the time and effort that is put into one of our nation's favourite drinks (after Irn Bru obviously!) It reminded me of the summer trip to Laphroig's whisky distillery in Islay, Scotland.

On the way home we jumped in a taxi jeep (5000 COP/ £1.25 for two) which dropped me off at the top of the hill at our accommodation and Craig in Salento to watch the football. I felt jittery after one cup of the smooth coffee! I maybe won't embark on the road to another addiction.
4. Cocora Valley, Really Big Trees!

Another thing to see near Salento are some very tall and unique palm trees called Ceroxylon Quindiuense. Cocora Valley is part of Los Nevados National Natural Park which many travellers hike, we opted for a scooter hire and a picnic.

Our scooter hire cost 30 COP / £7.40 per hour. Our advice is, if the speedometer and petrol gauge doesn't work it's probably a good sign that the hire is going to be unsuccessful. Let's just say I had to jump off the back and run along side Craig a few times, and that was nothing to do with Craig having the choke on…
The fifteen minute drive to Cocora was reminiscent of the glorious drive to Pai, Thailand – winding roads, lush green plants and a bit of rain.
We had a picnic by the water and went for a donder, mainly walking through horse crap. Many tourists go on horse rides around this area, Nicole from El Mocambo took a ride one day but was disappointed as felt the horses were not very well looked after. You can also hike, it should take about five hours but we met a group who took nine, albeit with lots of stops. The car park staff at Cocora were very friendly, helping Craig out with his bike problems!
5. Salento's dream stays

For such a tiny town Salento hostels are not hard to come by. We stayed (and lazed) at El Mocambo, a farm ranch, come traveller's haven of tranquility situated ten minutes walk from Salento in Boquía. The farm house has been painted pink and white, decorated with quaint, vintage furniture and the resident dog called Eddie, is a cutie. I say resident as there are frequently other uninvited yet welcomed four legged furry visitors.
We stayed in the stables, luckily the horse in the field didn't mind. The hostel had only been open for three weeks, it was a privilege to be one of the first guests and I'm sure when we return it will be overrun by you lot!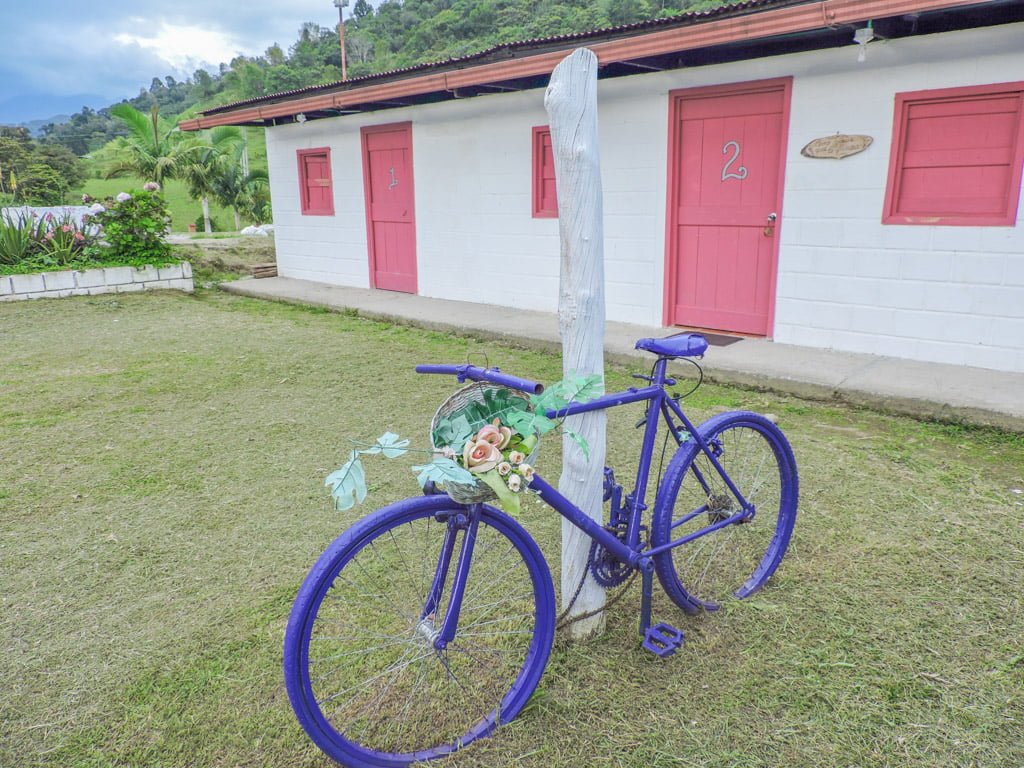 There was a large kitchen, we cooked in one night and let Nicole cook for us another (14 COP / £3.50 for dinner and 7 COP / £1.75 for breakfast).
Most of our time was spent lazing about the outside dining room table, chatting to our new Kiwi friends about Game of Thrones. The hostel is very relaxed, the surroundings do that to you!

The staff couldn't be more helpful. Diego and his pick up truck became our best friend for getting up and down the dirt track with our 80 litre backpacks (when will we learn to travel light?) John built a fire one night for us to chat around as a New York / French couple provided background songs on guitar.
---
El Mocambo: Check availability, prices and more reviews here
Address: Kilómetro Cuatro, vía a Salento, Quindío – entrada por el costado derecho, Boquía, Quindio, Colombia
Contact: 312 6600371 / [email protected]
Price: 30 – 60 COP per night (rooms vary) / £7.49 – £14.98.
»»» Or check out over 30 other accommodation options in Salento by clicking here
Things to See in Salento
Sleepy Salento, as touristy as a native may feel it's becoming, it's still worth a few days of your itinerary to do the things above. To us tourists, it actually felt relatively untouched! In fact, I would say El Mocambo deserves even longer and the owners think so too…If you stay for one week you get two night's free; a fortnight, five nights free and one month, fourteen nights free! Now that sounds like the dream to me.
A Quick Colombia Itinerary
Travel planning?
Why not save to Pinterest for later?
Any questions, hit me below! Have you been to Salento?
Thanks to El Mocambo for our stay, an honest review as always