This article has links to products and services we love, which we may make commission from.
Cartagena was another one of those places other travellers said no to bother committing too much of our time to but we ended up really liking. We arrived at night and the town was bustling with a European feel. Lots of travellers go to party in Cartagena but there are plenty of things to do in Cartagena with a few cool day trips too!
Cartagena Bike Tour
We joined Cartagena Bike Tours one sunny Saturday morning for the Film Tour. The guide, Gerardo, kicked off the tour from the roof of his apartment in 'mini Miami' which overlooks the beach and offers spectacular views of the city's skyline. You really could be looking at Vancouver or Chicago here. Using the landscape, he painted a picture of what Cartagena looked like in the 1500s.

Did you know the Spaniards created a wall to stop 30000 English soldiers from invading?

Gerardo kindly gave us two souvenirs, a bandana to keep the sweat from rolling down our faces and a friendship bracelet in the Colombian colours. We were later told the colours all represent part of Colombia's history – yellow for the gold which Cartagena had (lots of it which the Spanish plundered and English tried to steal); blue for 'del mar' (the sea) and red for the blood shed over the country during its liberation.
Once we were kitted out with the bikes and helmets, we cycled along the beachfront which was pleasant and then into the old town. This was the first time we had visited the 'wall' which surrounds the old town and we were impressed. We cycled through The Mouth of The Bridge which is now known as The Clock Tower and around many plazas of Cartagena. Gerardo shared his knowledge of history and passion for the movies as he pointed out scenes from films. For example, Robert De Nero spotted his on-scene girlfriend making out with his brother in The Mission here…
Over fifty films have been made in Cartagena and when you see the muy bonito (very beautiful) streets which have colourful houses and romantic balconies with spilling flowers you can see why. Most recently Javier Bardem from No Country for Old Men starred in Love in the Time of Cholera which was filmed around Cartagena. Shakira (Craig's teenage favourite) made the soundtrack for it and Gerardo was involved in a commercial featuring the singer!
Gerardo is not just a storyteller who loves cycling! His father initiated The International Film Festival in Cartagena, Gerardo has been heavily involved in the industry too. As well as the tours he creates programmes of opportunity for young people in deprived areas, such an interesting man with exciting stories to tell you!
Cartagena Bike Tours
Address: Cra. 11 #5-60 Castillogrande, Cartagena
Contact: +57 315 7262989
Cost: US $55.00 / COP 141146.50 / £36.24
---
Volcano that erupts mud in Cartagena?
Yes you read right. I first came across this in the Lonely Planet and had to book a tour. I've always been envious of people who go to countries with mud baths and lagoons, ever since my Gran and Grandad did one when I was little. I love massages, it may have something to do with it. The trip to El Totumo with Colombia Eco Travel fulfilled my long-lasting desire to get dirty in nature's offerings!

The company collected us from our hostel (along with other customers, this took one hour) then drove for forty minutes to El Totumo.
Now obviously we were not faced with an erupting volcano, more a hill with mud in it but that didn't take away from the fun of the experience!

The company was very organised. We had a hut to change clothes in and leave out valuables (lockers provided). We left our flip flops in the hut too and toddled off in our swim wear. There's a camera man you pay 3000 COP / 72p and he snaps away during your time in the mud bath.
Once you are in two men offer you a massage which is a delight. Craig rejected it, he's not a fan of being touched by strangers.
The mud itself is a giggle. If you lean forward you float up uncontrollably. It left my skin feeling soft.

After the mud bath, we climbed down the stairs to find our flip flops. Next stop was the lake to wash off. Local women are there to help you for 3000 COP / 72p but you can reject this too (albeit they are pretty persistent). *Warning* they ask you take your swim wear off but help hide your dignity!
Afterwards you can shower, eat some watermelon and buy a beer to 'cheers' your first time in a volcano that erupts mud! The locals will collect their money at this point so bring small change.
Lunch is also provided at Playa de Manzadilo de Mar.
Colombia Eco Travel
Address: Pick up
Contact: +44 (702) 404 – 7464
Cost: COP 55.000 / £14.25 & extras mentioned above
---
Playa Blanca – Postcard Perfect Beach
How on earth can there be yet another form of paradise in Colombia you cry! Well there is, and it comes in the form of Playa Blanca. Reserve a place on the shuttle from Hostel Mamallena which leaves at 9am or 1pm and returns at 11am or 3pm. The journey takes 45 minutes.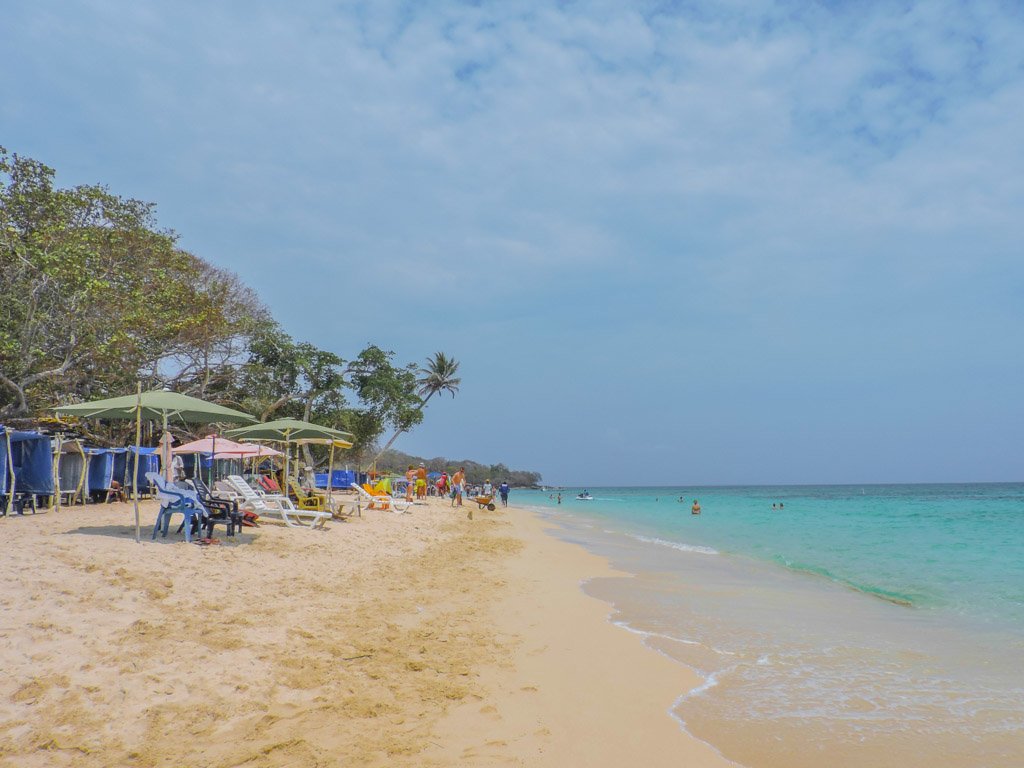 The reason for the two different times is because many travellers stay over on Playa
Blanca, hiring a hammock or booking a hostel room. This would be ideal to see paradise without the tourists, Playa Blanca is a busy beach. Unfortunately, we did not have time for this.
We met a couple from England who had taken a taxi to the beach which set them back 60,000 COP / £14 one way, the shuttle is only 50, 000 COP return and the bus has air con.
9am was a good time to arrive, locals were just arriving and we found a spot for our throws with ease (cheap seats). You can hire loungers for 30, 000 COP / £7.20 according to other travellers, we didn't ask how much they were, you'd be expected to purchase if you asked and it would not be worth the hassle.
Paradise comes at a cost and the man in control is the vendor. As soon as you hit the sand you'll be asked if you want to snorkel, jet ski, take a boat ride, eat fruit, buy a beer, purchase a necklace, lunch on fish, have a massage. It's a bit of a nuisance continually saying 'no gracias', it tapers off as you settle but it still happens through the course of the day.
We did purchase some beers (3000 COP for one or 12,000 COP / £2.88 for six) from the 'shop'…

And I splashed out on a piña colada in a pineapple. It was supposed to be 15,000 / £3.64 COP with negotiation but the vendor conveniently never had change so we just waved the remaining 5000 COP / £1.20. It was tasty though and he gave us the piña to eat too.
We witnessed a couple getting ripped off. A vendor offered the girl an oyster type thing for free, then speedily cuts open a second then tries to charge her 20,000 COP / £4.80 for it, we stepped in and the vendor settled for 3 COP. He was angry though. Outrageous! Just have your wits about it.
Regardless of the vendor's persistence and bentness it was still worth a visit. The sea was crystal clear and the sun was hot! We left our stuff on the beach to go swimming and it was fine, obviously keep an eye on it whilst doing somersaults and races in the water.
Take some snacks, we bought crackers and crisps at the shop since 'pescada' was the main meal of the day and Craig doesn't eat from the sea, even The Caribbean!
Want off the beaten track and less touristy beaches? Try Rincon del Mar which can be booked through Mamallena also.
Playa Blanca Shuttle by Hostel Mamallena
Address: Calle Media Luna, 10/47
Contact: +57 (5) 6700 499
Cost: 55 COP / £14.25
---
More Things to do in Cartagena
Just like Ibiza (?), Cartagena had its very own Cafe del Mar which funnily enough has awesome views of the sun setting. Jay who owns Casa Loma in Minca recommended going for a cocktail to watch the sun set and Gerardo said it was thee place to be at 5pm. How could we resist? Unfortunately it was a cloudy day but the over priced daiquiri (20 COP, our three course lunch in town was this!) was delicious.
Rub Botero's Fat Lady

As you can see, the lighter parts of Fernando Botero's sculpture are the parts which have been rubbed the most! If you are a fan of this Colombian artist's work you should definitely check out Medellin!
Horse Drawn Cart Ride
I'm jealous of this! We didn't have time so looks like we'll just have to return to Cartagena!

After this, you'll be heading on boasting of all the things to do in Cartagena!
---
Thanks to the generosity of the companies, as always these opinions are honest.

What are you recommendations for Cartagena?