This article has links to products and services we love, which we may make commission from.
Known as the sister city to Minnesota's capital of St. Paul, Minneapolis is filled with plenty of free and inexpensive activities for friends and family to enjoy.
Locals and visitors alike are sure to find plenty to keep them occupied- whether it is exploring nature, visiting museums, listening to live music, and more.
If you're looking for free things to do in Minneapolis, you're in the right place, because this guide will explore them.
You'll also be introduced to cheap fun things to do in Minneapolis as well as affordable options for accommodation and transportation.
Minneapolis also features in our guide to the best places to visit in August USA.
Free Outdoor Things to Do in Minneapolis
Minnesota is an outdoor lovers' paradise, filled with nature, parks, and other outdoor things to explore.
Here are the best free things to do in Minneapolis outdoors.
See the Waterfalls at Minnehaha Park
Minneapolis' oldest and most iconic park, the Minnehaha Park (4801 S Minnehaha Drive), is where you can find Minnehaha Falls.
This 53-foot waterfall is an iconic natural wonder in the heart of the city.
You'll reach the falls after just a short walk from the park's parking lot.
If you're up for a bit more hiking, take the Minnehaha Creek Trail which leads you along the nearby creek.
You can also spend time just relaxing at the park, as there are picnic tables and many interesting spots to stop by.
See the Art at the Minneapolis Sculpture Garden
The Minneapolis Sculpture Garden (725 Vineland Place) features 40 large sculptures- all built by artists from ten different countries.
One of the most popular sculptures is Spoonbridge and Cherry, which is highlighted in many Minneapolis pictures.
Another popular art piece includes a giant blue rooster.
It's the perfect place to get out and appreciate some of Minnesota's finest art.
Walk Across the Stone Arch Bridge
Another free thing to do in Minneapolis, MN is to visit one of its iconic landmarks, the Stone Arch Bridge (100 Portland Ave).
The bridge is made of stones and is one of the oldest in the city, built in the late 1800s.
The bridge is only open to pedestrians and bikers, so feel free to walk or bike across and admire the views of the Mississippi River and the Twin Cities skyline.
You can also see the Mill Ruins Park (102 Portland Ave) situated slightly underneath the bridge.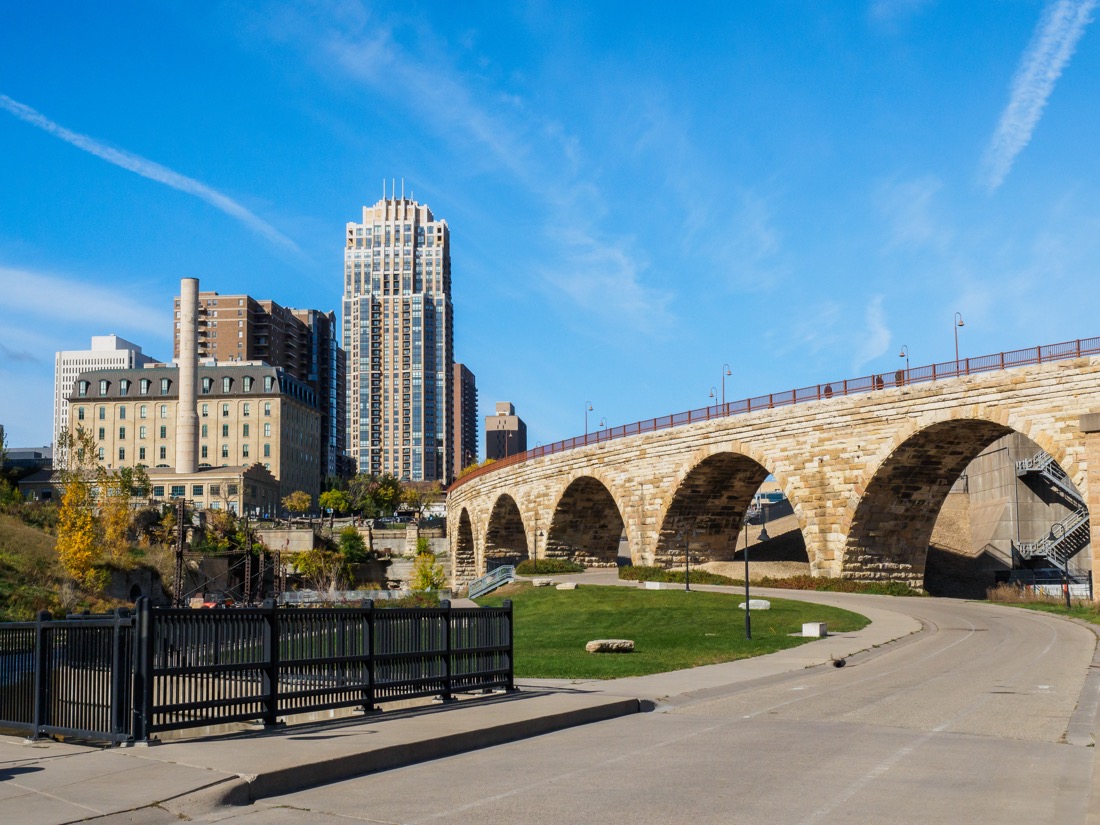 Explore Mill Ruins Park
If you're looking for a great place to take in some history, Mill Ruins Park (102 Portland Ave S) is definitely worth a visit.
It's a great place to come to learn about the history of flour milling in Minneapolis and to see the ruins of some of the old mills that used to be here.
You can walk around the park and see the ruins up close, and there is also a great view of Saint Anthony Falls and the Mississippi River.
Visit the Minneapolis Farmers Market
There's nothing better than visiting a farmer's market in the summer to get a glimpse of some fresh produce in the city.
The market is open from May to October and on certain days during the winter.
One prominent location is at 312 East Lyndale Ave North with over a hundred vendors selling everything from farm-fresh produce to homemade products.
If you're not looking to spend a dime, you can just walk around the market and appreciate the sight of vendors selling their products, learn where it comes from and immerse yourself in the liveliness of the place.
Admire Minnesota's Beautiful Wildflowers
If you enjoy wildflowers and the outdoors, then the Eloise Butler Wildflower Garden is perfect for you.
This 15-acre piece of land found right in Minneapolis is home to over 500 plant species, all on display for visitors to admire.
Perfect for families and beginner hikers, the Theodore Wirth Wildflower Trail is short, easy, and in the summer, showcases the beautiful flowers.
In June and July, you may even find the state flower, a Lady's Slipper.
Take a walk on the short, 1.2-mile Quaking Bog trail to experience a wetland.
Tour the Street Art and Murals
One of the free attractions in Minneapolis includes murals and street art all over the city.
Two of the most well-known pieces feature some of Minnesota's most beloved music artists.
A huge, 5 stories tall mural of Bob Dylan showcases him in three eras of his music career (5th Street and Hennepin Avenue).
Prince, who was born and raised in Minnesota, is memorialized in a few murals around Minneapolis (26th Street and Hennepin Avenue/424 N Washington Avenue).
Alongside these two popular murals, you'll find several others scattered around the city.
See the Stars at First Avenue
Speaking of Prince, pay a visit to First Avenue, where the music artist began making a name for himself.
This unique music venue sits on a corner in downtown Minneapolis in a rounded building (701 N 1st Ave).
It's hard to miss because as you drive by, you'll catch a glimpse of over 500 white stars with music artists' names on them.
Stop and take a look at the stars and see if you recognize any of the names that have played on the stage at First Avenue.
Visit Bde Maka Ska Park
Known as the Land of 10,000 Lakes, Minneapolis has its fair share of waterways.
So exploring and spending time on the lakes is one of the best things to do for free in Minneapolis.
Bde Maka Ska means 'White Earth Lake' in the Dakota language, and is the largest lake in Minneapolis (also known as Lake Calhoun).
Families can enjoy time at the beach on Bde Maka Ska or enjoy some time on the walking trails around the lake.
Cool Down at a Waterpark
During the summer months, Minneapolis's temperatures can get hot and humid.
Spending a day at North Commons Water Park (1701 Golden Valley Road) is the perfect way to cool down.
With waterslides, a pool, and a kid's swimming area, you'll keep everyone busy, for free!
There are picnic tables right outside of the park for you to enjoy a picnic before swimming.
Snap a Photo By The 'I Like You' Wall
Grabbing that perfect Instagram shot is always a fun thing to do in different cities, and best of all, it's usually free!
And one of the fun free things to do in Minneapolis is snap some photos at some of its most iconic and popular spots.
You can find the perfect place to do this in Minneapolis at a small, local gift shop.
I Like You (1955 Johnson St NE) features locally made gifts made by over 200 artists.
Right outside the store, there's a white wall with 'I Like You' painted in bright colors all over it, where you can take great photos while checking out the cute little shop.
Kind of like the 'I Love You' wall in Austin, Texas right!
Free Indoor Things to Do in Minneapolis
When the weather gets too hot or too cold to stay outside, here are some free indoor activities in Minneapolis you can try.
Visit the Mall of America
Home to over 500 stores, an indoor theme park, plenty of restaurants, and more, the Mall of America is the largest in the country.
Just visiting the mall (60 E Broadway) and seeing what it's all about is quite the experience-no shopping needed!
During the holidays, the mall features Santa or the Easter Bunny which makes it a nice spot for free things to do in Minnesota with kids.
Also, every Tuesday, families can bring their toddlers to Toddler Tuesday and enjoy free activities, crafts, and storytime.
Minneapolis Institute of Art
The Minneapolis Institute of Art (2400 3rd Ave S), known as Mia, is a great place to see a wide variety of art from different cultures and time periods.
The museum has a collection of 90,000 artworks with some dating back to as early as 5,000 years ago.
The collection includes paintings by Monet, Van Gogh, and Rembrandt as well as Egyptian mummies, musical instruments, and more.
Admission is always free and no tickets are required except for special events.
Wander the Walker Art Center
The Walker Art Center is a museum in Minneapolis (725 Vineyard Place) that showcases beautiful art.
Many unique galleries call this museum home, and it is found right next to the Minneapolis Sculpture Garden.
The Walker Art Center is also one of the places that offer free museum days in Minneapolis- every Thursday night from 5:00 to 9:00 pm as well as on the first Saturday of the month.
And if you're a teenager, you're always welcome to visit for free.
Weisman Art Museum
The oddly shaped, metal building on the Mississippi River is home to the Weisman Art Museum (333 E River Road).
This is a free museum in Minneapolis housing all sorts of exhibitions from many artists.
Not only are the pieces inside of the museum art, but also the building itself!
Go Next Door to the State Capitol
If you're looking for free things to do near Minneapolis, you can head to its sister city, St. Paul, and visit the State Capitol.
There's always something to see at the State Capitol, from its magnificent architecture to the public pieces of art that surround it.
The tours are free and you can read more about them here.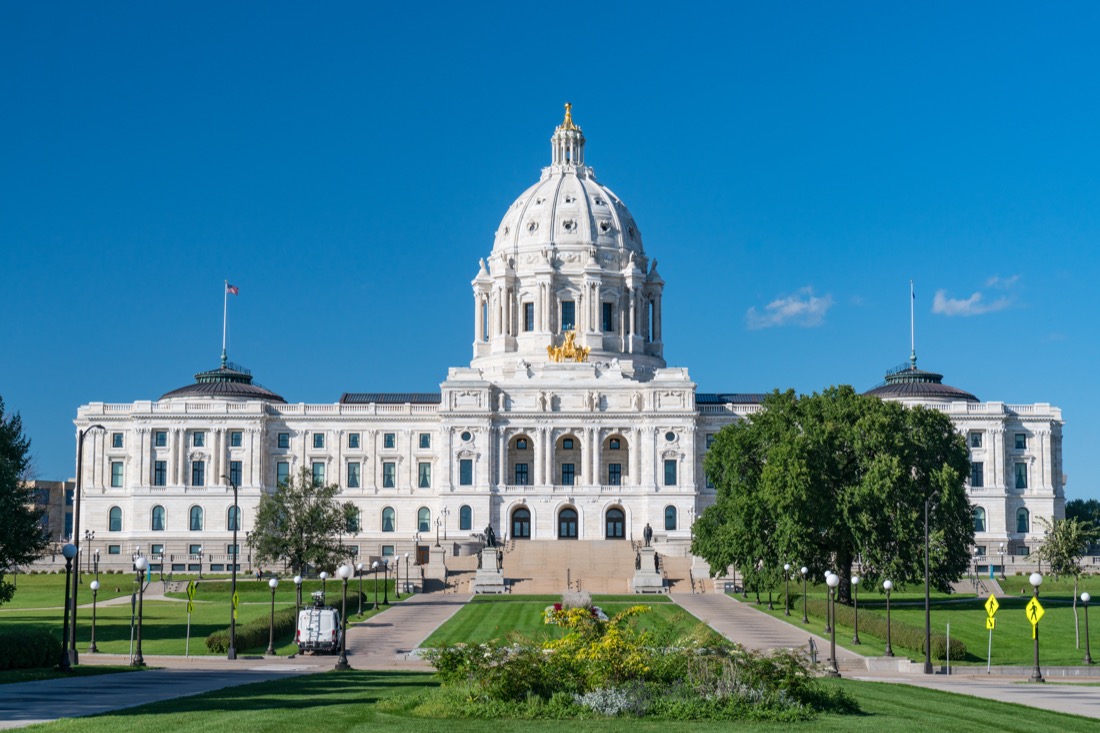 Cheap Things to Do in Minneapolis
There are some things to do in Minneapolis that are just worth spending a little extra money on!
This list will give you ideas about fun cheap things to do in Minneapolis.
Minnesota State Fair
You couldn't have a list of things to do in Minneapolis without mentioning the Minnesota State Fair.
If you're in town for the fair, it's worth it to purchase the inexpensive tickets to experience what locals call The Great Minnesota Get Together.
Between the rides, animals, booths, and of course the food, it shouldn't be missed!
The fair takes place every August, on the 12 days preceding Labor Day.
It's held at the Minnesota State Fairgrounds each year (1265 Snelling Ave N).
Minneapolis Scavenger Hunt Adventure
On this smartphone-guided walking tour, you'll get a chance to do exciting challenges and solve puzzles while having a closer look at Minneapolis' history, art, and culture.
You'll also see many interesting places like the Stone Arch Bridge, US Bank Stadium (401 Chicago Ave), and Saint Anthony Falls (1​​00 Portland Ave).
Crayola Experience
Crayola Experience is a great place to take the family for a day of creative fun.
The Crayola Experience staff are on hand to help you make the most of your visit and ensure you have a wonderful time.
Whether you're painting a masterpiece or simply enjoying the colorful atmosphere, Crayola Experience is sure to delight the whole family.
Wabasha Street Caves
For one of the most unique tours in Minneapolis, check out the Wabasha Street Caves.
You'll get to walk underground and explore some of the caves that were once used for mining.
Your guide will tell you all about the history of the caves, including stories of some paranormal activity that may have happened there.
Nickelodeon Universe
Nickelodeon Universe is the nation's first indoor Nickelodeon theme park, and it's the perfect place to enjoy a full day of fun.
With an unlimited ride wristband, you can experience all 26 of the unique rides and attractions, which are suitable for all heights and ages.
The indoor theme park is found inside the Mall of America and it features some famous Nickelodeon characters like SpongeBob and the Teenage Mutant Ninja Turtles.
Free Events in Minneapolis
Throughout the year, Minneapolis hosts some fun events that are free for visitors to attend.
Here are some of the best options!
St. Paul Food Truck Festival
Right next door to Minneapolis, the St. Paul Food Truck Festival takes place every August.
With over 45 food trucks selling their unique, creative, and delicious dishes, you can enjoy breakfast, lunch, and dinner!
There are also other fun activities happening such as outdoor games and live music as well.
The festival takes place at the Union Depot's Lot C (390 E Kellogg Blvd).
Enjoy Some Live Music
If you're looking for free things to do in Minneapolis at night, you can check out some of its live music events.
Starting in May and lasting throughout the summer, several parks around Minneapolis host artists to play live music.
The events are usually held in the evening so and hosted in venues like Bryant Square Park (3101 Bryant Ave S), Lake Harriet Bandshell Park (4135 W Lake Harriet Pkwy), and Minnehaha Bandstand (4801 S Minnehaha Drive).
All sorts of genres of music can be heard during Music in the Parks, and it's all free to check out!
You can find the full schedule here.
Outdoor Movies in the Summer
During the summer, there's an outdoor movie screening almost every night in multiple parks around the Minneapolis and St.Paul area.
It's one of the fun free activities in the twin cities to do with family or friends.
The Minneapolis Parks and Recreation Board hosts free movies outdoors in parks like Lyndale Farmstead Park (3900 Bryant Ave S) and Jackson Square Park (2212 Jackson St NE).
The movies start fifteen minutes after sunset and vary between new and old ones.
The Black Market
The Black Market (767 North Eustis Street) is a fun event that aims to increase the visibility of black businesses in the community.
It's one of the free places to go in Minneapolis that provides a vibrant, unique space for the community to gather and enjoy themed events.
It takes place every Saturday of the month and features food trucks, arts, and shops for the whole family to enjoy.
Free Things to Do in Minneapolis in Winter
Consider these free activities in Minneapolis when the cold weather hits!
We also mentioned Minneapolis for a winter wonderland getaway in our guide to places to visit in USA in January.
Get in the Holiday Spirit at Holidazzle
What was once a holiday-themed parade now takes place as a festival in Loring Park (1382 Willow St) in December.
Holidazzle is the place to be around Christmas with shining lights, Santa visits, fireworks, and more to enjoy.
Go Ice Skating
One of the fun free things to do in Minnesota in the winter is to go ice skating.
There are ice rinks all over Minneapolis, many of which have warming shacks and free ice skate rentals.
Bryant Square Park (3125 Bryant Ave S) has a nice ice rink, and so does North Commons Park (1801 James Ave N).
Check Out the European Christmas Market
Every weekend in December, you can wander around the fun, free European Christmas Market at the Union Depot (842 Raymond Ave).
There are over 50 kiosks showcasing European crafts and gifts, delicacies as well as family-friendly entertainment.
Attend the St. Paul Winter Carnival
To celebrate Minnesota's winter, the city of St. Paul hosts a winter carnival, which is free and open to the public.
It's one of the free things to do in the Minneapolis–Saint Paul area, featuring parades, food, scavenger hunts, and ice sculptures.
Go Sledding
Sledding is an exciting free family activity in Minneapolis during the winter season.
Theodore Wirth Regional Park has a great hill to go sledding.
Unlike the snow tubing, the sledding is free here, as long as you bring your own sled or toboggan.
Adult supervision is always advised when sledding with kids.
Affordable Accommodations in Minneapolis
Minneapolis is full of affordable places to stay as a home base for all of your adventures.
You can consider staying at Ramada (6300 Wayzata Boulevard) for an affordable stay, which includes a complimentary continental breakfast.
Home2 Suites is another good choice, featuring small kitchenettes so you can make meals in your own room.
There's also Courtyard Marriott, a great hotel that's conveniently located downtown and close to attractions like the Huntington Bank Stadium (420 23rd Ave SE) and the University of Minnesota.
How to Get Around Minneapolis on a Budget
Depending on where you're planning to visit, you can get around Minneapolis on foot or via bicycles or scooters.
You'll find these modes of transportation all over the city!
You can explore Minneapolis by car if you want to have the freedom to drive around or go to different places.
There are plenty of taxis as well to get you around downtown Minneapolis.
Uber and Lyft are available around the city, which can be affordable for short distances.
But if you're really tight on a budget, you may consider using the Metro Light Rail system, which makes 43 stops around Minneapolis.
You can see fares and find a map of the stops here.
About the Author
Kassidy is a lifelong Minnesota resident and writes a blog, Kassidy's Journey, all about her beautiful home state.
She enjoys exploring all that Minnesota has to offer, as well as getting to know the rest of the world.
Kassidy Olson, Kassidy's Journey