This article has links to products and services we love, which we may make commission from.
Iona of my heart, Iona of my love. While there are only a handful of things to do on Iona, the pace on this 3-mile long island is slow and the scenery is stunning. Whether visiting as part of a Staffa tour, day trip from Mull, to stay on the island for a couple of nights, or as part of a pilgrimage, our Iona itinerary details what to do, places to eat, where to stay and how to get there so all you need to do is make bookings and enjoy your West Coast of Scotland trip.
Things to do in Iona
1. Enjoy the Ferry Ride from Mull
The starting point for your trip to Iona will be from Fionnphort in the south of the Isle of Mull.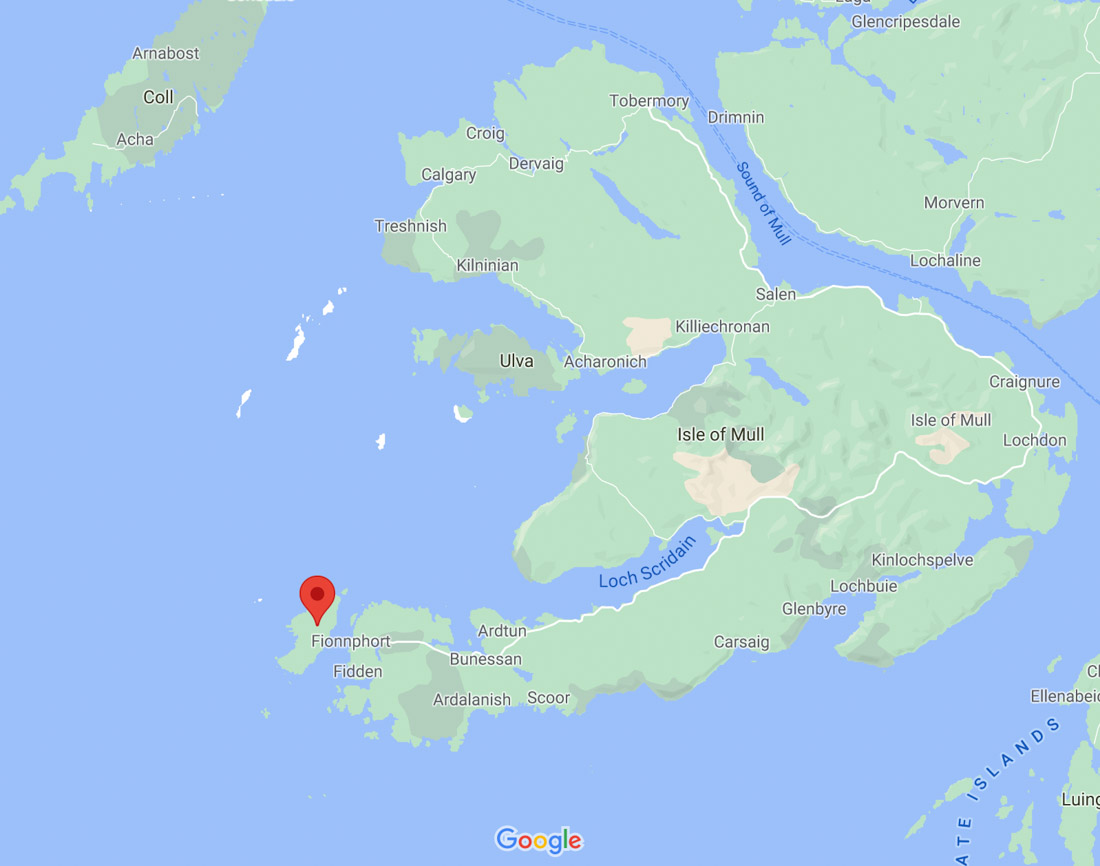 Since no cars are permitted on the Inner Hebrides island of Iona, there is a car park to leave your car or camper at (fee-paying), a pub, public toilets and a beach.
If you are hungry after the one hour drive from Craignure or the 1.5 hour trip from Tobermory, you can get a snack at the harbour cafe or fresh fish at The Creel kiosk which also has outdoor seating.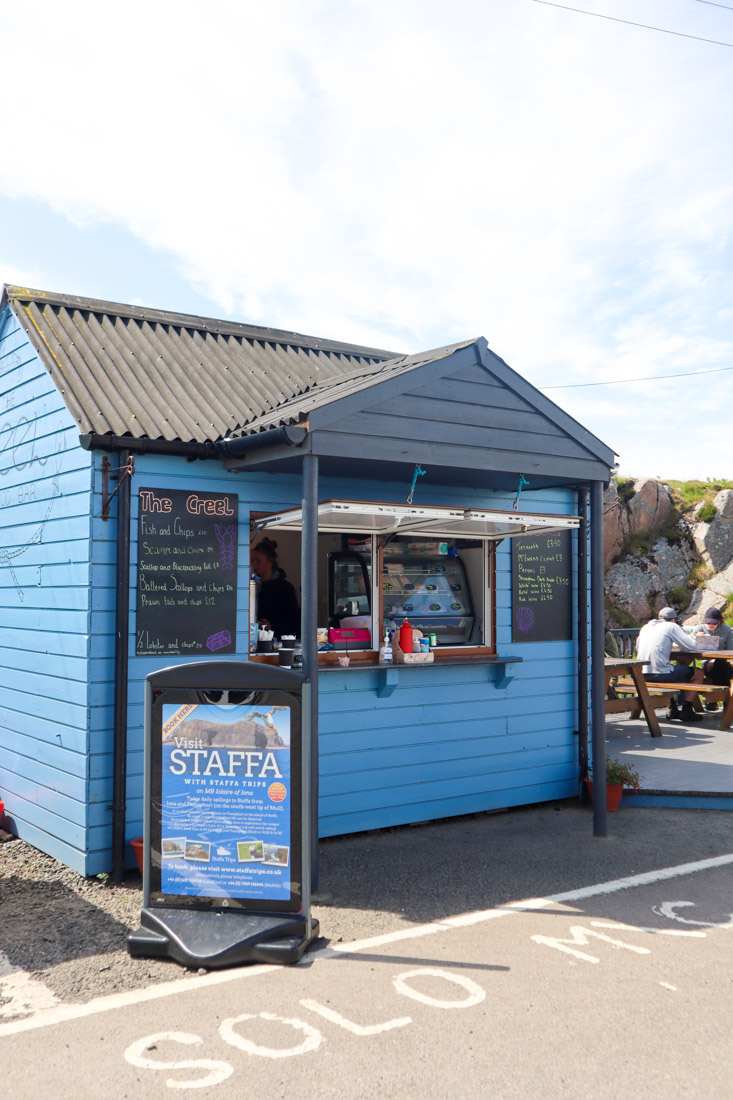 Getting to Iona
There are a few ways to get over to Iona, the birthplace of Christianity.
Firstly you can visit as part of a Staffa Day tour where you get off at Iona and make your own way back to Mull using the CalMac ferry service.
Staffa is well worth a trip to see the geological wonder which appears in poetry and music, Fingal's Cave.
If you are planning a visit between May and August you will be in for a chance of seeing puffins on the cliff at Staffa!
You can read all about this 3-hour trip from Mull on our Mull travel guide.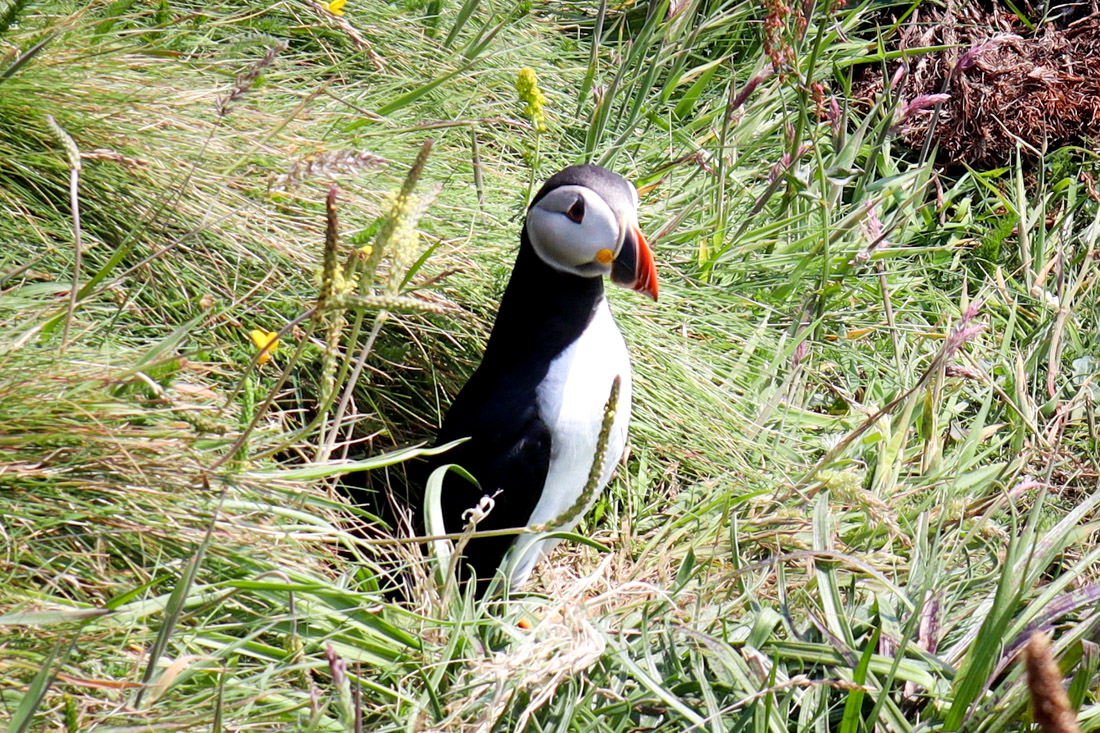 You can also travel independently using the CalMac ferry which takes 10 minutes to cross between islands and costs a couple of pounds.
See CalMac's website for the most up-to-date details and times.
Alternatively, if you don't want to drive around the island yourself and prefer a guide to organise everything for you check out this 5-day tour of Mull, Iona and Skye which leaves from Edinburgh or this 3-day tour which focuses on just Iona and Mull.
If planning your own trip to Iona sounds too stressful, why not let a professional build your Scotland itinerary for you?
2. Take a Tour of Iona Abbey and See St Oran's Chapel
The most popular thing to do on Iona is a tour of the Abbey.
When you dock, follow the signs to Iona Abbey and St Oran's Chapel to see the traditional resting place of kings.
It is said that 51 kings are buried on Iona, 48 of whom were Scottish.
The original Iona Abbey is thought to date back to AD 563 and was founded by a monk, St Columba, and his Irish followers.
One of which was his friend Oran and none of which would have been women or cows since they were both banished.
Women were sent to Eilean nam Ban before they could cause mischief, which meant the men who built the first abbey on Iona had to live on the island without their wives.
Another unusual request during the construction was for a live body to be buried at the abbey.
Oran put himself forward for the ritual.
A few days after the burial, Columba asked to see Oran's face again, he was uncovered and surprisingly found alive.

Oran was muttering blasphemy so Columba saw that his death by suffocation using soil was completed.
You can visit St Oran's Chapel for free however, the redeveloped Iona Abbey has to be booked in advance.
3. St Oran's Chapel & Reilig Odhráin
The 12th-century St Oran's Chapel is the oldest intact standing structure on the island. Inside you can view carved slabs.
Next to the chapel is Sraid nam Marbh or The Street of The Dead where the Reilig Odhráin graveyard is located.
It is difficult to read many of the graves but clan chiefs and kings are buried here.
Some tombstones are now located inside the abbey.
4. White Strand of the Monks Beach
There is a series of white sand beaches and dunes past Iona Abbey in the north of the island which unfortunately we didn't have time to visit.
Traigh Bhan Nam Monach or White Strands of the Monks in the northeast is where monks who resided on Iona were massacred by Vikings.
It is also a muse for many artists.
Let us know in the comments if you make it there.
5. See the MacLeod Family Home from the Outside
Close to Iona Abbey is a house with an arched porch and well manicured garden.

At the gate of the garden you will find a plaque detailing information about the family who occupied the house;
Lorna and Reverend George MacLeod are the historic residents known for building the Iona Community.
George was a social reformer from Govan in Glasgow who moved to Iona to reconstruct the abbey with a team of ministers and tradespeople who worked and worshipped together.
Many others joined them thus creating the community that supports all people that you will find on Iona today.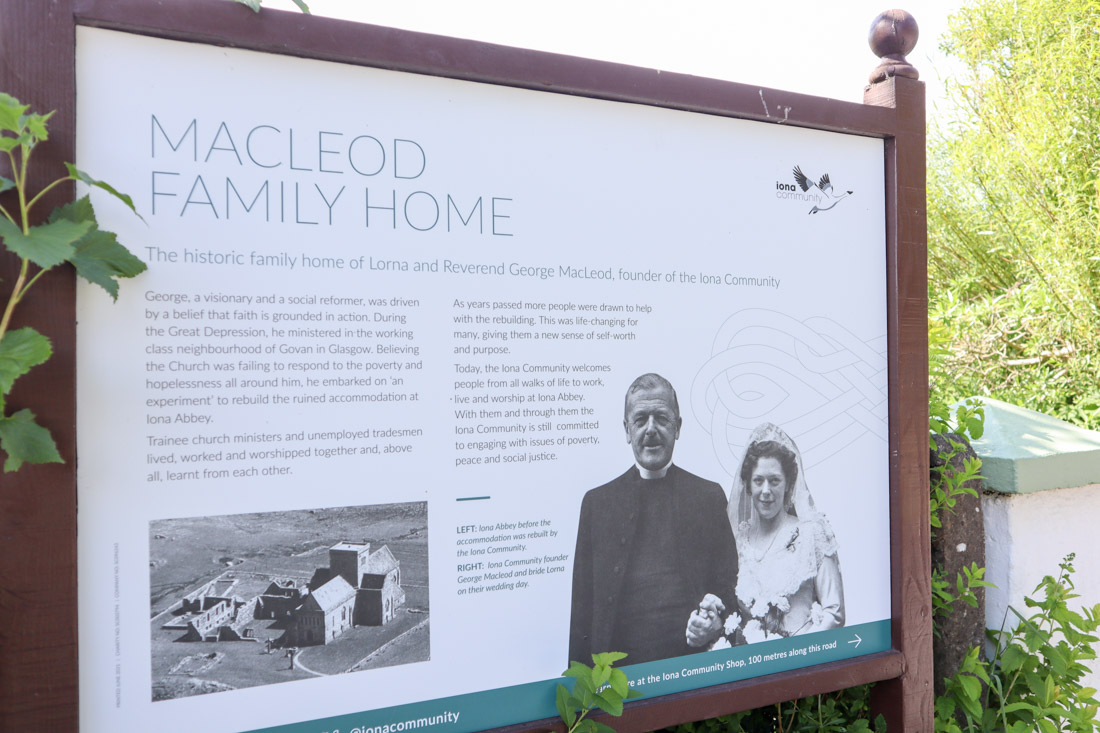 6. Buy Whisky and Souvenirs at St Columba Larder
St Columba Larder is a modern store that sells Scottish crafts, art, artisan food and alcohol.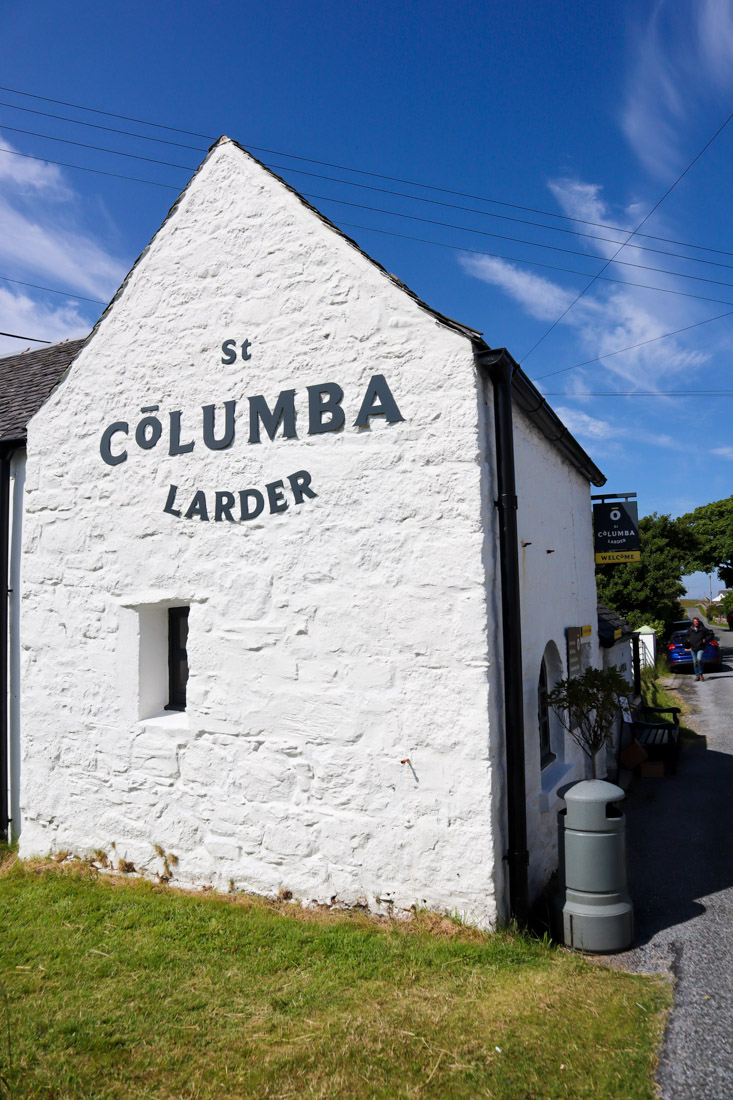 With a particular focus on island produce, you can buy St Columba whisky, gin, Isle of Mull seaweed and organic vegetables.
Hot drinks and cakes are also available to take out.
7. Quintessential St Columba Hotel Afternoon Teas
Evaluate your morning over an afternoon tea at Iona's St Columba Hotel and restaurant.
One of the three places to eat on Iona, St Columba Hotel takes pride in its plates being packed with homegrown, organic food from their garden.

This is interesting as it is well documented that the monks who lived on Iona found cultivating food a challenge!
Vegan options are available on the daily menu.
Argyll Hotel and Martyrs Bay Restaurant are the other restaurants serving lunch and dinner. There is also a well-stocked SPAR store.
Note: Some restaurants on Scotland's islands close between lunch and dinner.
8. Scenic Drinks in St Columbia Hotel Gardens
In front of the hotel is a stretch of land with benches perfect for afternoon pints and views over the Sound of Iona.
The Quiet Garden is free for visitors to enter if you need 10 minutes to yourself.
9. Shop at St Columba Steadings
Across the road from St Columba Hotel, you will find an attractive steading which is home to the contemporary jeweller, Aosdana Gallery and Oran Creative Crafts.
10. Observe Iona Nunnery
Close to the pier is the remains of one of the Augustinian Nunneries in Scotland.
Constructed in the 13th century, the Iona Nunnery overlooks St Ronan's Bay and has done so for over 350 years.
The women who lived here did so for many reasons, such as they were unmarried daughters, widows, illegitimate children and estranged wives.
Seems ironic now we know that Columba didn't allow women on Iona during his time!
Look out for a potential weathered 'Sheela na gig' or 'Sheila/Old Hag of the Breasts' which is a carving of a woman with her legs open and an exaggerated vulva.
11. Pick Up a Coffee at Iona Craft Shop
Iona Craft Shop has unique souvenirs and toys as well as a small coffee menu for take out.
If you are looking for knitwear, this shop is a great option as it has a variety of items from slippers to blankets.
Established in 1965, this seasonal gift shop has been transformed into a craft network which nods to Iona's cultural importance and history.
I picked up an attractive towel that says "Iona of my heart, Iona of my love" a quote by St Columba for my office.
Check out the shop's entertaining story here.
12. Watch the Boats in the Harbour from the Beach
To end the day, watch the sun settle over the water with boats bobbing in the turquoise sea of St Ronan's Bay.
If you love island life because of its remoteness, give the Ardnamurchan peninsula a try on your next Scotland trip.
It is on mainland Scotland but it is very secluded and quieter than Iona!
Iona Accommodation
Accommodation on Iona is limited so book ahead to avoid disappointment.
St Columba Hotel offers basic rooms, a nice restaurant and lovely views while Ardoran House is a bed and breakfast with a private beach.
Save for later! Pin to your Scotland planning board