This article has links to products and services we love, which we may make commission from.
The Ardnamurchan Peninsula is a stunning, secluded and remote region on the West Coast of Scotland. Surrounded by hills and mountains including the UK's biggest, Ben Nevis, discovering this lesser-known corner of the country will quickly become a Scotland bucket list highlight.
This guide details the best things to do in Ardnamurchan with a car or camper, how to get there, where to eat, where to stay and an easy, popular island-hop that's worth tacking on two days to your Scotland road trip for!
Fun Things to do in Ardnamurchan
1. Fill Up at the Most Scenic Petrol Station in Scotland
Is this the most scenic petrol station you've seen in Scotland or what?
Sure, the more remote you get, the more expensive fuel gets but we didn't mind paying an extra penny for these views of Loch Sunart in Strontian.
Payment for fuel is made in the equally scenic Post Office shop to the left.
Look at the echoes of the hills in the background. So beautiful.
If stopping by to see Loch Sunart at dusk, come equipped to take on the West Coast midges!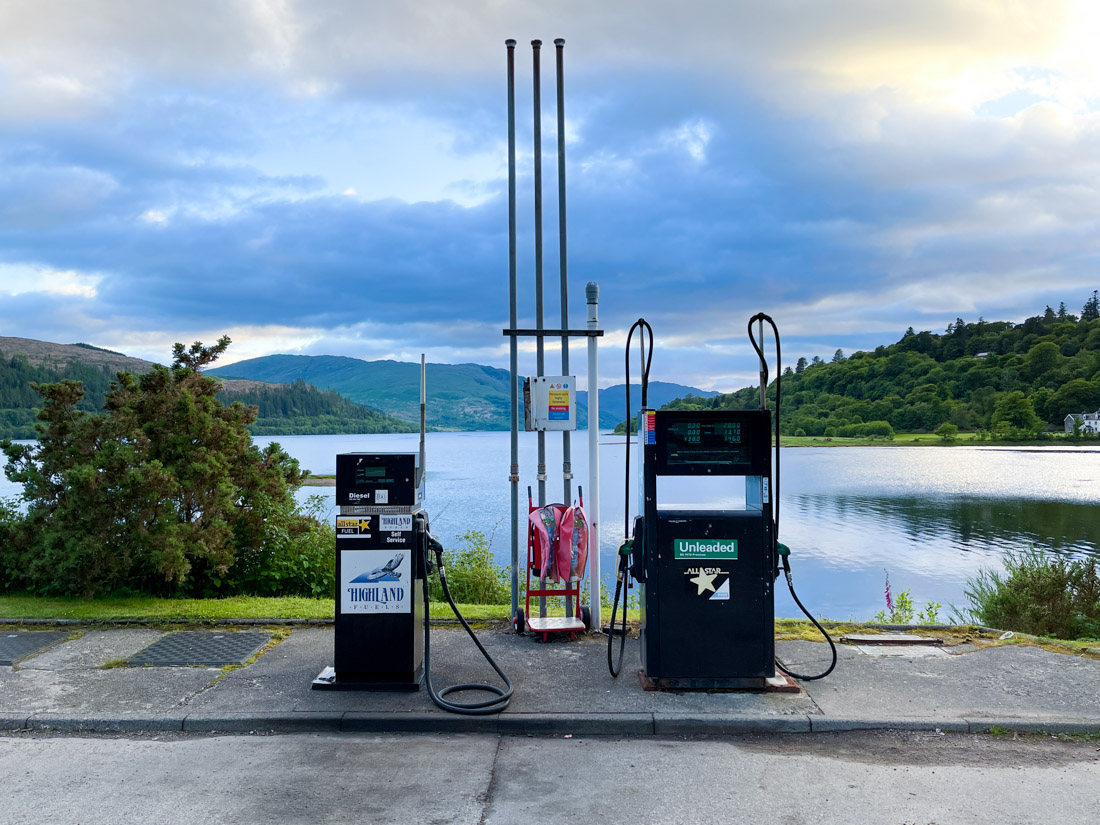 2. Dine at Cafe Sunart (Centre) or Hotel Strontian
Swing by the Sunart Centre for lunch at Cafe Sunart or to pick up snacks from the local shop that sells everything.
Looking for dinner? Pre-book a table at Hotel Strontian which has views over Loch Sunart and a bar at the back.
I had the fish and chips.
Alternatively, enjoy a special lunch at the historically rich, Kilcamb Lodge Hotel.
In 1746, this luxury hotel was headquarters to 100+ militiamen who hunted the leaders of the Jacobite Rebellion.
In 1752, it became a garrison that enforced the prohibition of tartan.
Today it is a boutique hotel with a 3AA Rosette restaurant. Locals recommend the Sunday roast.
3. Hike the Easy but Rewarding Phemie's Walk
Close to the Sunart Cafe and Centre is a short 2.5 km/1.5 mile one-hour hike through a forest called Phemie's Walk.
This woodland walk is named after a respected figure called Phemie Mackinnon who worked for the Forestry Commission.
You'll come across a variety of trees including young native oak and old confiners.
At the top is a bench with views over Loch Sunart, the water you could canoe on if you follow our recommended Ardnamurchan activities!
4. Do a Canoe Trip at Loch Sunart
Consider a canoe ride on the mirror-like Loch Sunart surrounded by lush hills that once mined lead and the mineral, Strontianite which is named after the town Strontian.
This 3-hour activity is not only recommended to those who love water sports but also first-timers.
Canoeing is a pretty straightforward gateway sport to other water-based activities which require a little more coordination such as paddleboarding.
While we've water skied, white water rafted, kayaked and paddle boarded before, in Scotland and abroad, this was our first time canoeing and what a calming experience it was.
The adventure began with stylish waterproof trousers, which were provided by the company, and Dunlop wellies which we had packed ourselves.
We politely declined the waterproof tops as it was roasting hot, opting for just the lifejackets.
Then we walked to the canoe through the water, hence the need for the wellies.
I sat up front and Craig paddled from the back.
Over the next 2+ hours, we listened to our guide share local stories and facts about the sea life around us.
We also enjoyed moments of peace.
It is so quiet out there.
We paddled by a gaggle of geese, through Moon jellyfish which look psychedelic and Craig thinks he saw the notoriously dangerous, Lion's Mane jellyfish.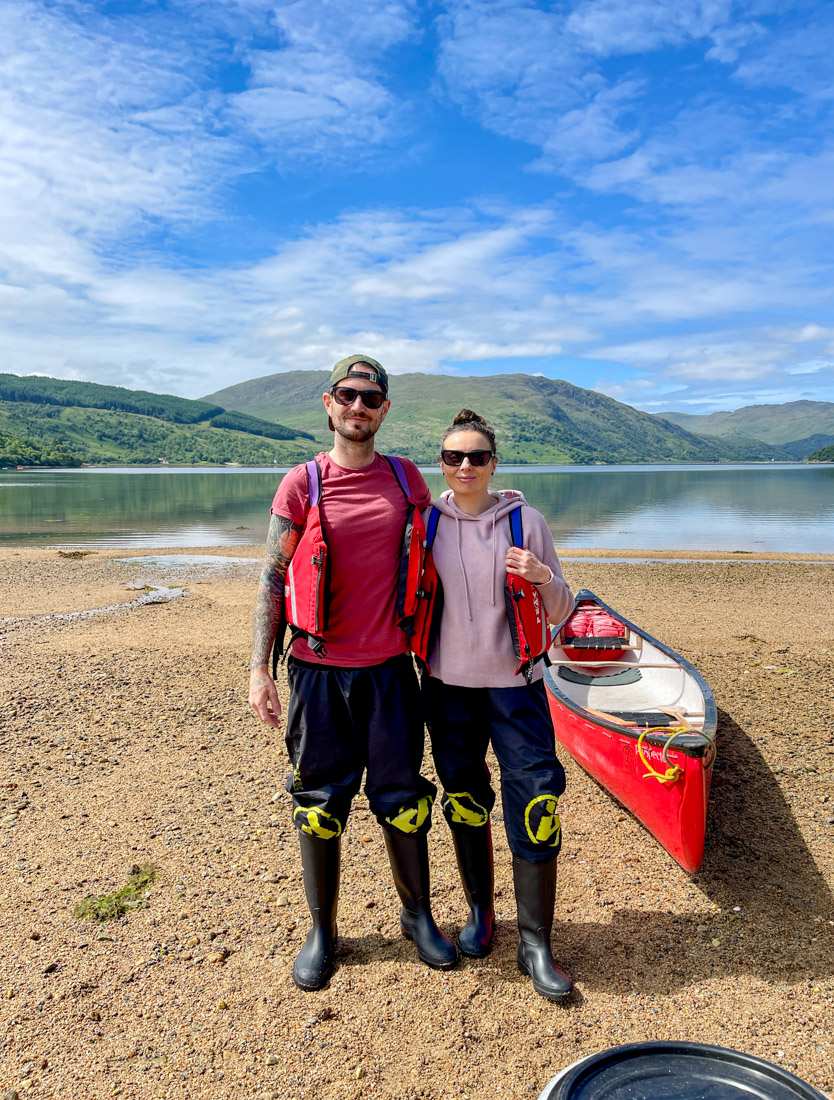 We docked at a sandy beach to take a break and eat a snack to refuel for the paddle back.
The ride isn't strenuous at all, the most energy you'll exert is lifting the canoe out of the water and onto the beach.
5. Visit the Ariundle Centre for Food and History
If you are looking for an Aspen-feel breakfast then make sure the Ariundle Centre is on your list of things to do in Ardnamurchan.
This light and airy restaurant has two large rooms for indoor dining.
There are floor to ceiling windows that open up to the lush, green views which feel like Colombia, not the West Coast of Scotland!
There is also speedy WiFi and friendly service.
While the cafe decor is cosy, the real star of the show is the alfresco dining area, among the trees and manicured gardens.
We enjoyed sending pictures to family and friends back home, asking how their weekend breakfast was going. Mwahaha.
Breakfast is served on adorable plates and crockery.
Two breakfast rolls, a traybake and two hot drinks cost £14.
The Ariundle Centre isn't just a cafe though!
There is a small museum with information about local mining history, farming and wool.
You can also buy the elusive Scottish animal, the haggis!
6. Singing Sands Beach and Hike
Sanna Bay is the beach on every visitor's bucket list but the locals will tell you about a secret beach called Singing Sands.
To get to Singing Sands, you head through the greenest of drives and past scenes like this body of water below until you get to a small car park at Arivegaig.
The car park only accommodates six cars and there is limited room to turn so arrive early to avoid disappointment.
From the car park, walk through the woods for an hour until you see a sign for the beach.
From here, turn right and continue to walk through the trees.
Then you will be met by the stunning sand and sea with patches of turquoise.
It is quite windy but you can find alcoves to hide in for sunbathing.
To return to your car, just head back the way you came to the small car park and drive back along the road you arrived via.
Look out for deer and stags, we saw a stag roaming the gardens of Acharacle!
7. Try the Catch of the Day at Salen Hotel
Much of the Ardnamurchan experience is trying the local, seasonal food.
I went for the Loch Sunart prawns (£9.50) at the family-owned Salen Hotel which has indoor and outdoor seating and a small pub area in Salen.
8. Buy Local Produce at the Community Garden Shop
On the way to Sanna Bay, don't blink or you will miss the cute Community Garden Shop.
Filled with fresh veg and cordial, just pop the correct money in the honesty box and sign the book to say what you've purchased.
I took home cordial as a souvenir!
Looking for Scotland souvenirs online? Here's our guide to Scotland gifts.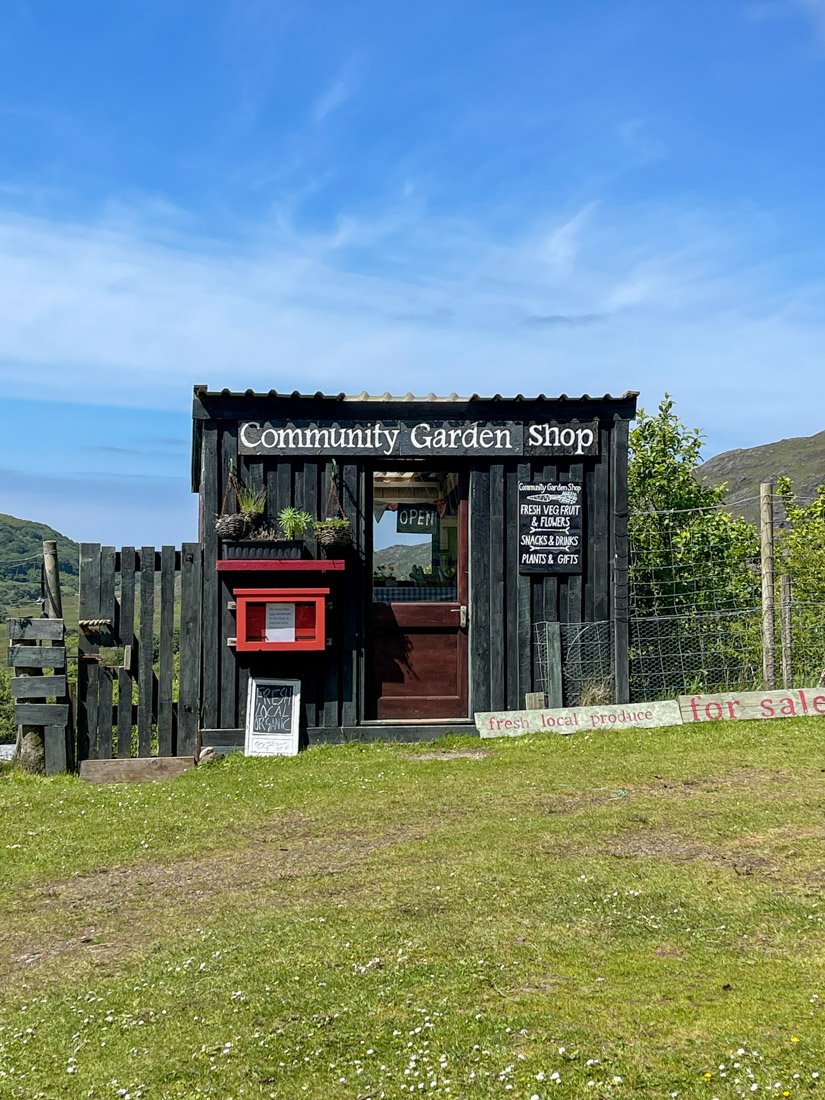 9. Walk from Portuairk to Sanna Bay
There are two ways to get to Sanna Bay.
You can either drive to the beach and park up or do the short hike from Portuairk, parking at the car park at the top of the hill across from the holiday homes, before the drive into the tiny village by the sea.
You can't park in Portuairk so if you make it that far, do a turn and head back up the hill.
The black sign below is for the car park. The image to the right is your end destination, Sanna Bay.
The walk is well sign-posted at the start then it gets a little off-track as you walk along the path.
Wearing hiking boots as it can get quite boggy underfoot. Here's our full hiking packing list for more gear tips.
We met two other couples and a local along the route so it's likely you'll bump into others if you go off-piste from these directions.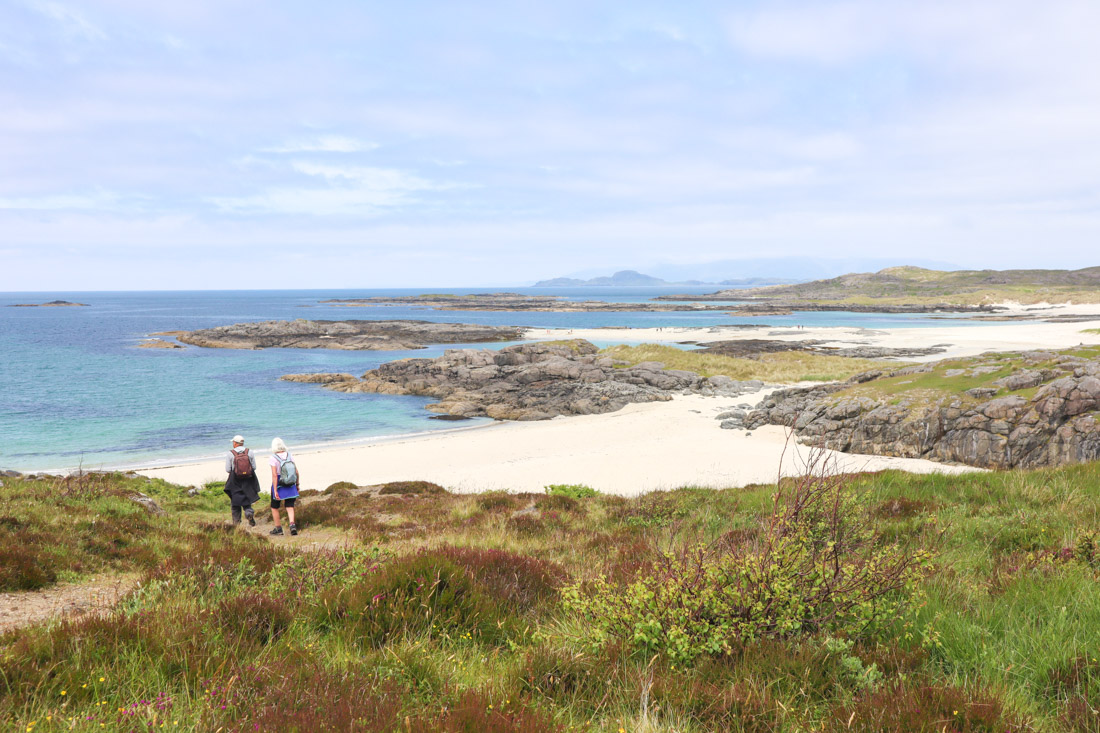 As suggested by a local out walking their dog, the hike only took us an hour but the walking route states to 2-3 hours.
The route is curricular which means you arrive and end at the same location at the car park.
This house signifies that you are nearly back at the starting point.
You might pass some sheep on your walk too!
10. Stunning Sanna Bay, Ardnamurchan
White sand for days and sea for miles, Sanna Bay is the most popular place to visit in Ardnamurchan and for good reason.
It is a hamlet in the Lochaber region of Ardnamurchan, home to sand dunes and a popular family day out in summer.
The weather can change pretty quickly on the coast.
When we first arrived, Sanna Bay was very overcast but by the time we set off to walk back, the skies were blue picking out the turquoise in the West Coast water.
Whether you drive or hike, or decide to stay on this beach, you won't be disappointed.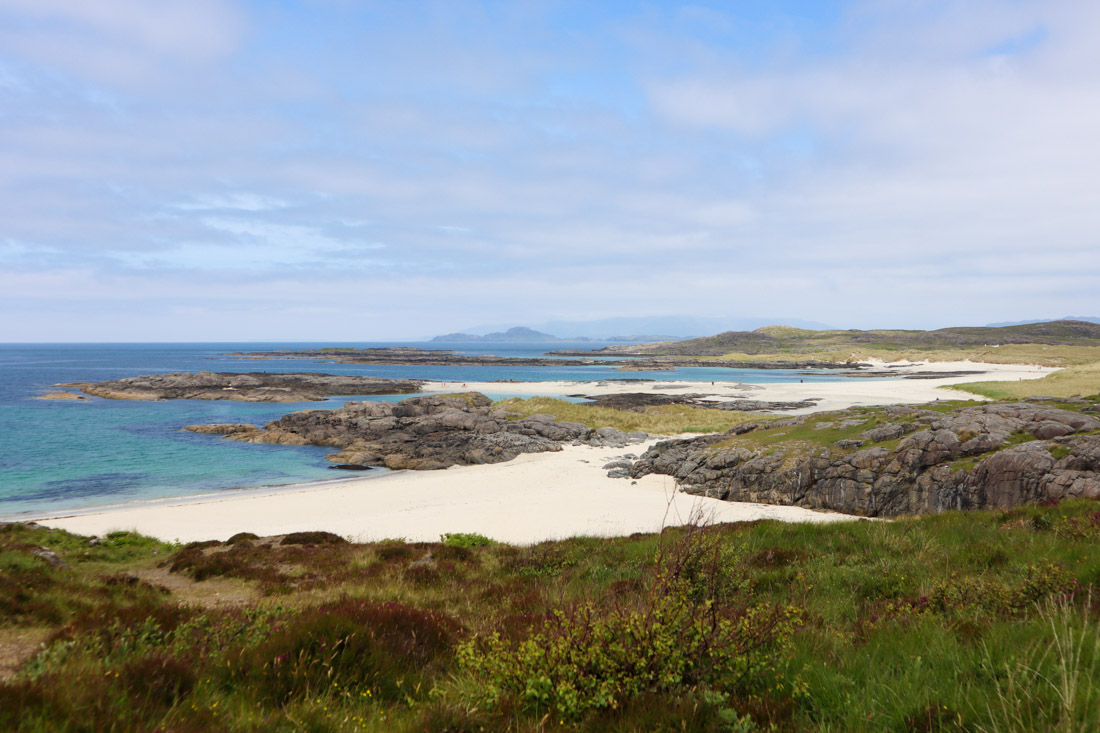 11. Visit Ardnamurchan Distillery Shop
Scotland's greenest distillery, Ardnamurchan is located at Glenbeg.
Although the company was established in 1826, this location didn't actually open until 2014 when HRH Princess Royal, Anne, did the honours.
This new distillery prides itself on using modern whisky production which is carbon neutral.
For guilt-free liquid gold, check out the official website.
12. Ardnamurchan Lighthouse for Views
Ardnamurchan Point is another popular destination and day trip for those visiting from the Isle of Mull!
Signalling the most westerly point on mainland Britain, Ardnamurchan Lighthouse has guided ships since 1848.
Today, this grade A listed landmark is a viewpoint and cafe open during the summer months.
Uniquely, this lighthouse is community-owned and run by the Ardnamurchan Lighthouse Trust.
For the most up-to-date information and advice on your visit check out the official website.
The lighthouse was closed when we visited.
Let us know if you visit, leave a comment below!
13. Take the Ferry to the Isle of Mull
Have you even done a West Coast road trip if you've not island hopped?
There's something absolutely magical about boarding at one destination and arriving at a new one and there are a few points around Ardnamurchan where you can sail with your vehicle or as a foot passenger to the Isle of Mull.
From Kilchoan you can take the 35-minute ferry ride to the colourful town of Tobermory.
There are public toilets and parking at the Kilchoan ferry port.

Note: The port is not next to Kilchoan Ferry Stores, don't assume this as we did when we went to buy ice cream while waiting on the next ferry!
When on Mull you can drive south to Fionnphort and island-hop to Staffa to see the puffins and Iona, the sacred birthplace of Christianity.
Here's our guide on things to do on Mull.
From Lochaline in Ardnamurchan, you can also sail to Fishnish on Mull. The journey takes around 20 minutes.
From Craignure in Mull, you can take a ferry to Oban which is back on the mainland and one of my favourite places in Scotland!
You can read all about it in our 2-3 day Scotland itineraries guide.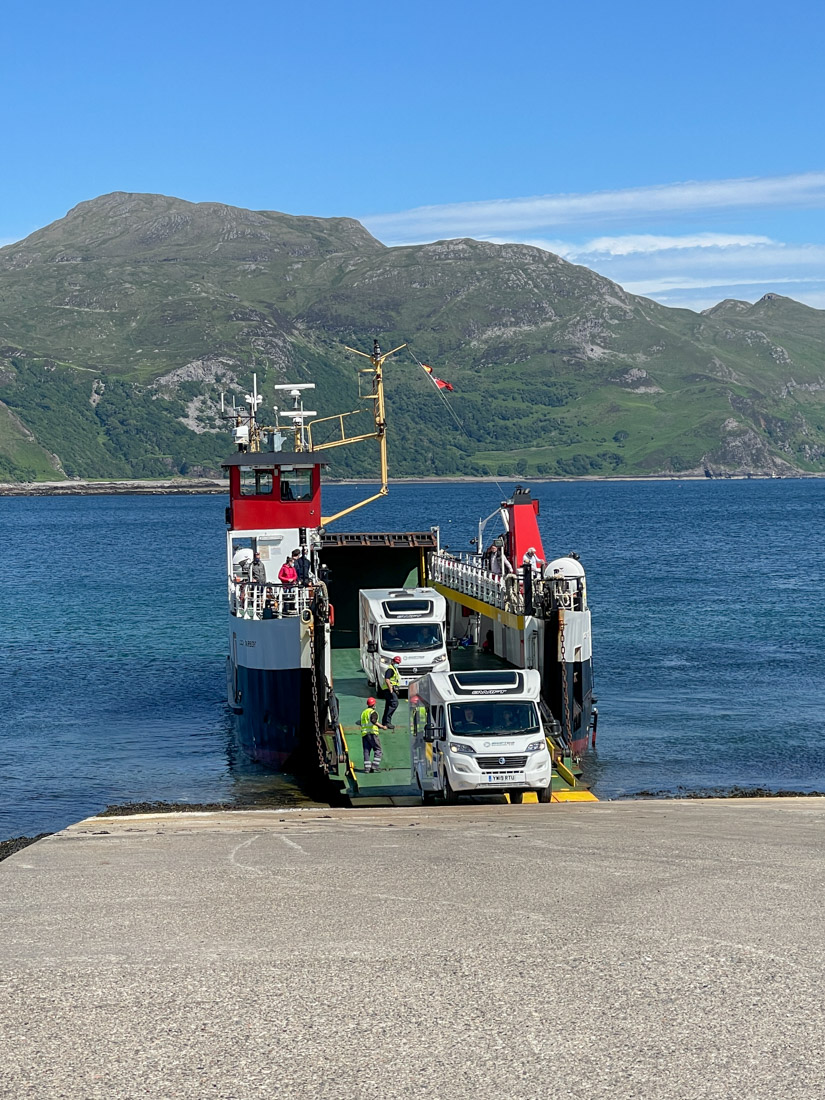 14. Ardnamurchan Walks
There is no shortage of walks in Ardnamurchan.
Even in the Sunart (Strontian) area where we spent most of our Ardnamurchan itinerary, there are easy route options such as Phemie's Walk (1 hour) and Ariundle Oakwoods Circular (1-2 hours).
The most popular hike is to Sanna Bay (image one below), and there is another beach walk to Singing Sands which takes an hour to get through a forest with loose rocks underfoot (image two below).

See above recommendations for full details.
Travel Information
Where is the Ardnamurchan Peninsula?
Ardnamurchan is a peninsula on the West Coast of Scotland.
Driving along its A861 road, you can see Fort William and Ben Nevis directly across the loch.
From the south and south/west of the region, you can catch a ferry to the Isle of Mull.
Ardnamurchan is where you will find the most westerly point in mainland Britain.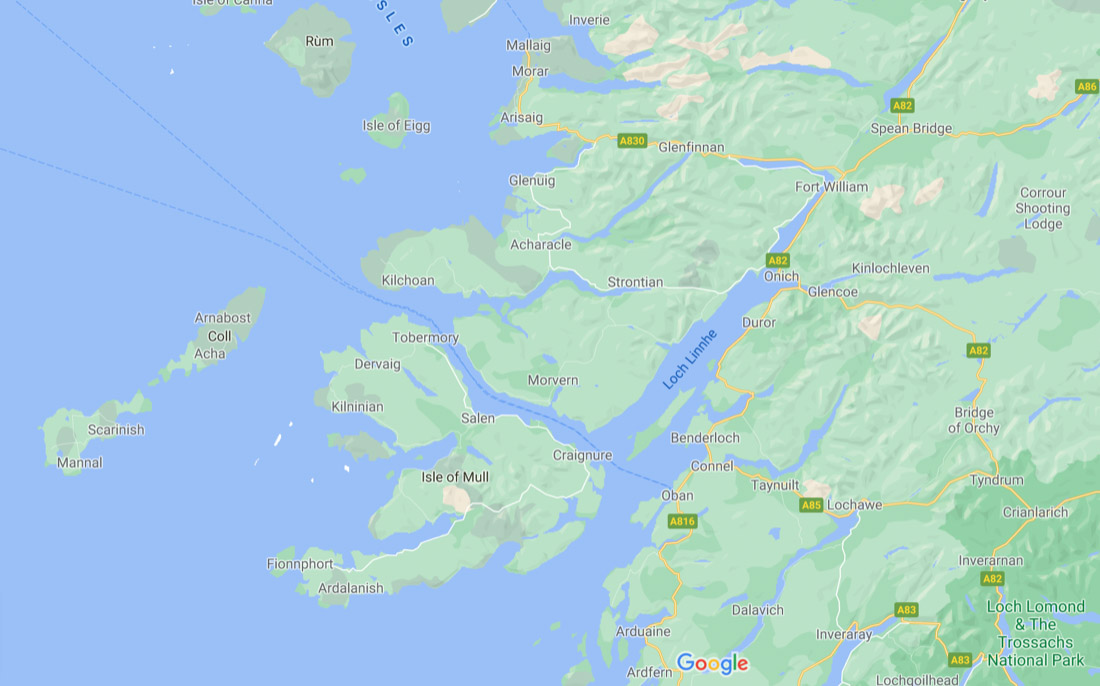 How do you get to Ardnamurchan?
Depending on where you want to start, you can reach Ardnamurchan in a variety of ways.
If you want to avoid ferries, head to Fort William and then drive around Loch Eil using the A830.
You'll pass holiday homes, sheep and some alpacas if you keep an eye out to your right.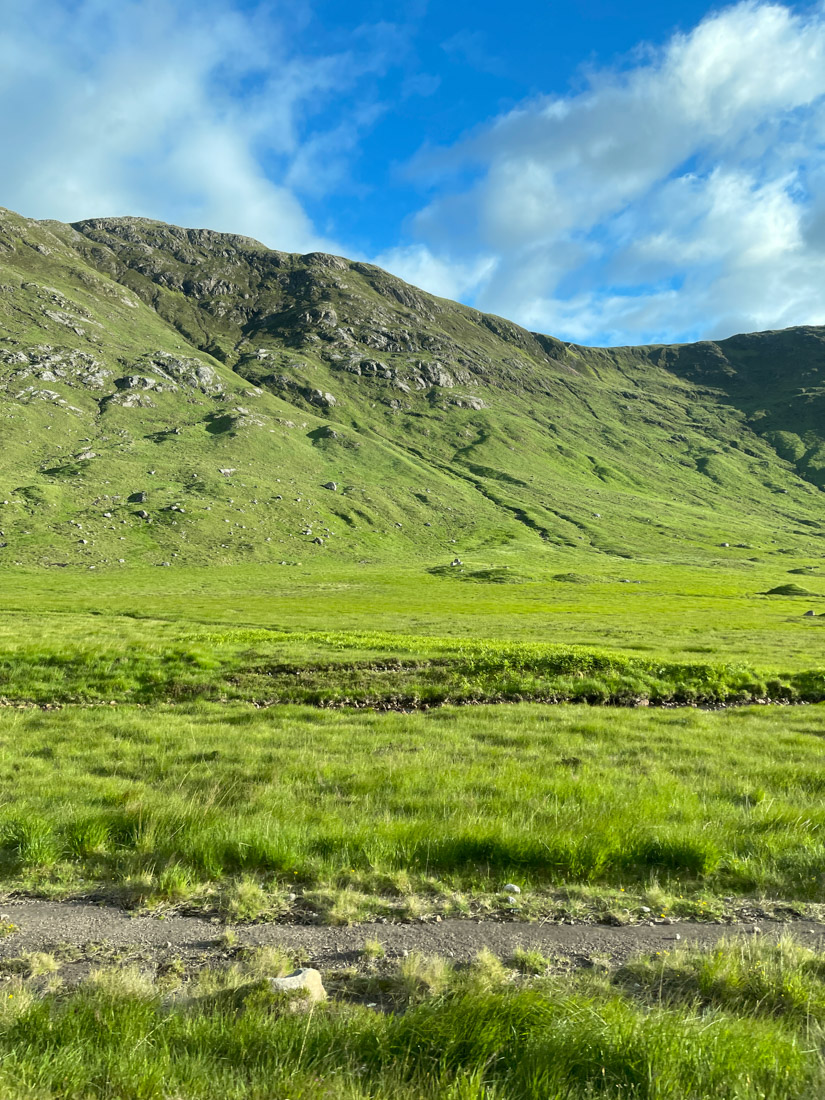 There is also a five-minute ferry across Loch Linnhe from Corran which is nine miles south of Fort William.
See CalMac's website for the most up-to-date details and times.
If you are arriving from Mull, check out the ferry details from Lochaline and Kilchoan.
Our Ardnamurchan Route
Fort William to Sunart, Strontian (driving)
Sunart, Strontian to Arivegaig (Singing Sands hike)
Salen to Portuairk (Sana Bay hike)
Portuairk to Kilchoan, ferry to Mull – stay in car during journey
Ardnamurchan Map
Here's a free map with all the suggestions mentioned in this guide to Ardnamurchan.
Driving Around Ardnamurchan
We did an Ardnamurchan road trip in our VW campervan and found the driving, for the most part, OK.
As with most remote parts of Scotland, you will be driving on single-track 'A' roads and must respect passing places where you pull over to let drivers on the other side get by.
Remember that these roads are used by locals who are going to work, shopping, leisure and who require access to roads to get to healthcare appointments.
Locals know the roads better than you so if you plan to drive at a slow pace let them pass when it's safe to do so.
You can read more about single track roads and driving in Scotland in our road trip planning guide.
Even as experienced campervan drivers, we faced challenges driving.
Firstly, we forgot to fill up with fuel at Strontian so we had to turn back after breakfast at the Ariundle Centre before continuing around the peninsula.
However, this was a blessing as it meant I got to chat with the lovely workers at Scotland's most scenic petrol station!
The second challenge was getting parked at Arivegaig (Singing Sands) as there are only six small spaces.
If they are full don't try and drive further or may get stuck.
Anything bigger than a VW Crafter will struggle to get parked.
Similarly, when we returned to our camper after our Sana Bay hike, the small car park at Portuairk was full.
How do you say Ardnamurchan?
Ardnamurchan is pronounced aard·ner·muhr·kn. My Grandad's top tip is to say it really fast.
Interestingly, we met quite a few expats with Yorkshire accents in Strontian!
Ardnamurchan Accommodation
When choosing where to stay in Ardnamurchan consider what your trip needs are.
For example, will you be dining out? Do you plan to stay in one area and day trip? Would you prefer to move around the region and stay in different parts of it? Do you need an early start to get the ferry to Fort William or Mull?
Ardnamurchan Campsites
We stayed at Sunart Camping which is a small, family-run campsite with pitches, hookups and glamping huts.
There is a separate toilet block for men and women with one shower in each.
You will need midge nets for your camper and face, welcome to the West Coast in summer!
This is the first time that we've worn face nets, it was 100% necessary and we were not alone in wearing them!
Pack the Smidge too.
Here's our road trip packing list for the full guide to our road trip gear.
Ardnamurchan Self-Catering
There is a handful of holiday homes dotted around Ardnamurchan.
Sanna Bay:1 bed home cottage with sun porch
Portuairk: 3 bed home with fully equipped kitchen
Acharacle: Bed and breakfast with double and family rooms
Ardnamurchan Hotels
If you prefer a hotel room, here are some options.
Save for later! Pin to your Scotland planning board
Our Scotland Guides