This article has links to products and services we love, which we may make commission from.
There are so many things to do on the Isle of Mull it deserves more time than a quick hop off during a 'Three Islands Tour'! With mountains akin to Glencoe, shorelines as stunning as Seychelles and colourful buildings like Skye, this Inner Hebrides island is a popular choice for holidaymakers in Scotland and rightfully so!
Our guide details the best things to do in Mull with a car or camper, how to get there, where to eat, where to stay and two easy, popular island hops that are unmissable, so be sure to make space for them on your West Coast Scotland itinerary.
Things to do in Mull
1. Be a Tourist in Tobermory
What's the story?!
If your first point of interest is Tobermory, then you can't miss Main Street with its multi-coloured buildings popping along the seafront.
Here you will find pubs, restaurants and well-stocked independent shops such as Tobermory Stores which has a better vegan selection than the whole of my home region, Fife.
There is also a handful of crafts shops if you want to pick up a souvenir that the receiver will actually like!
Look out for the unique cherub on the seafront.
By the water and next to the town clock, you will see a huge line of hungry visitors waiting on their Fisherman's Pier fresh fish and chip van order.
If you don't fancy fish, Tobermory has a few dining options to choose from.
I recommend Spice of Mull if you are looking for a curry, which Craig always is.
A starter, two curries, shared rice, naan and an Irn Bru came to £40.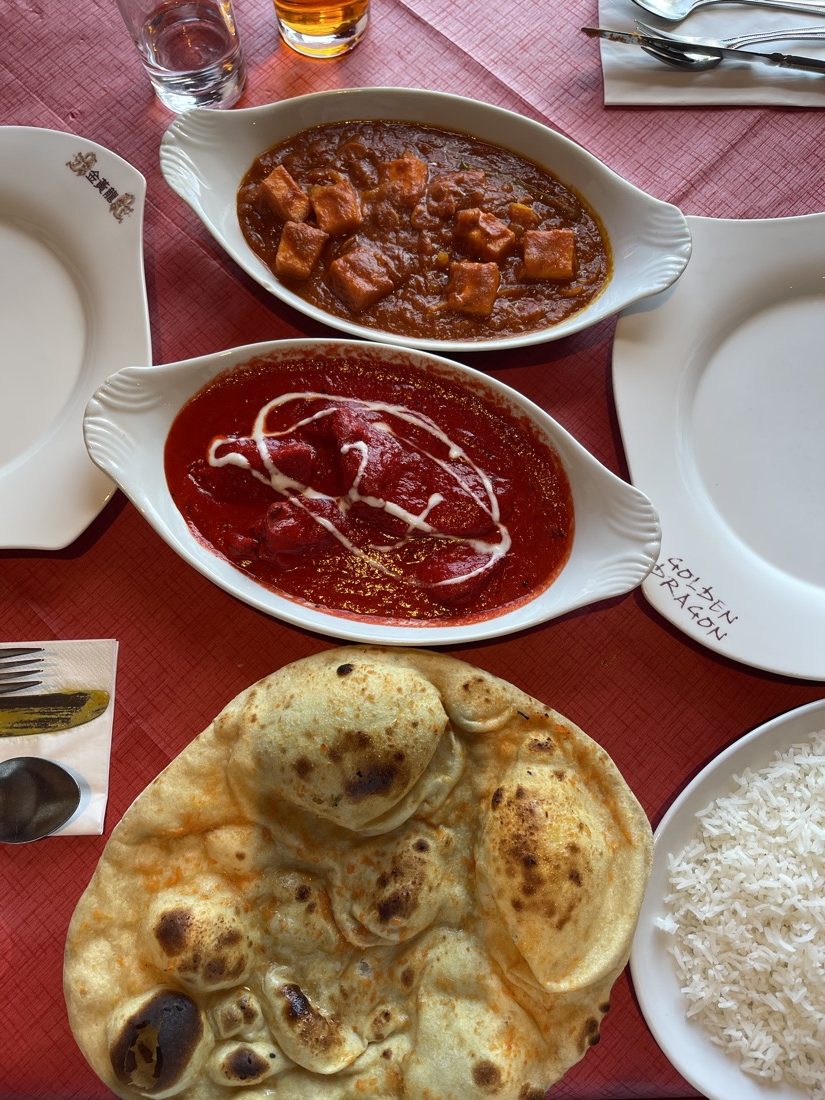 If you prefer a meal or drink with a view, Macgochans serves pub grub on its outside deck with views over the water.
The Gallery Cafe is also a nice spot for a sunny day drink; be sure to take a look at the stunning interior of this old church building.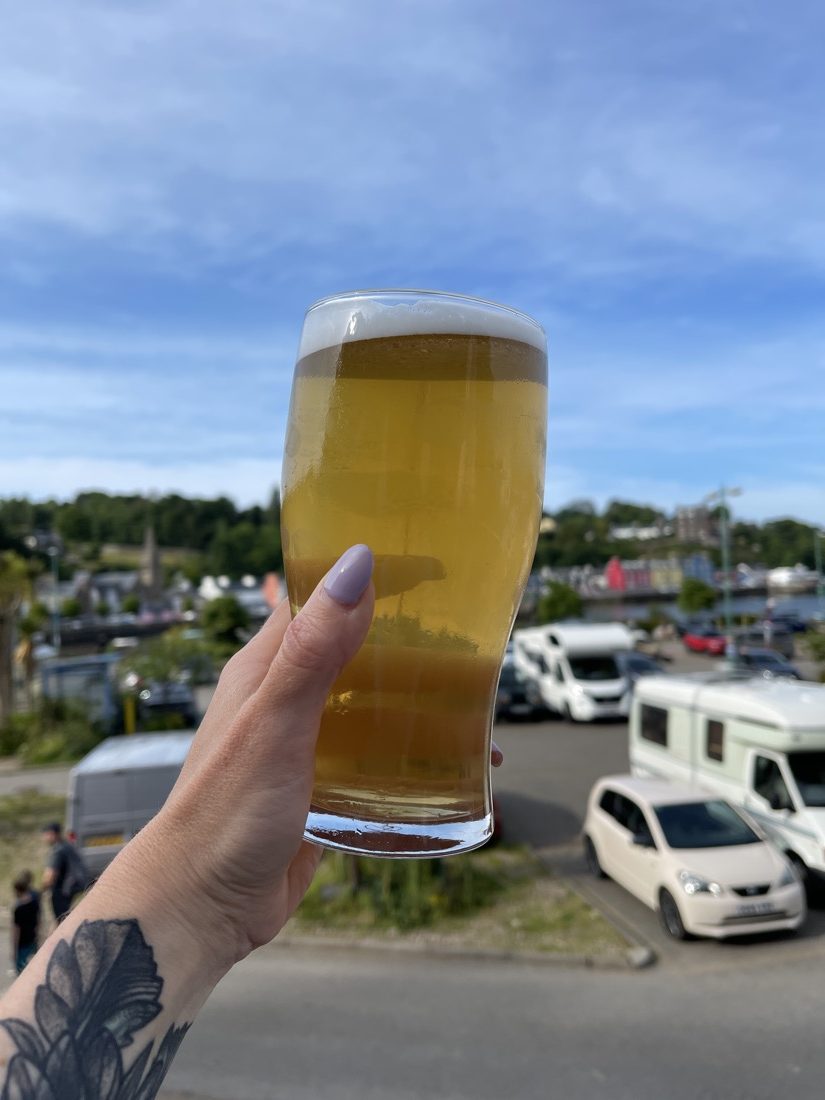 2. Treat Yourself to Isle of Mull Ice Cream
The next biggest line is for the Isle of Mull Ice Cream shop.
Take your cone or tub to the harbour to watch the tour boats come in.
You can do a day tour to Staffa and the Treshnish Isles, but we opted for the Staff tour leaving from Fionnphort in the south so we could also visit Iona.
Keep reading to find out more.
3. Visit Tobermory Distillery to Taste Isle of Mull Whisky
One of the most striking buildings in Tobermory is the Distillery.
Guided tours take you around the island's only distillery, which was established in 1798, making it one of the oldest commercial distilleries in Scotland.
Onsite two whiskies are made, a non-peated Tobermory and a heavily-peated Ledaig.
This Mull tourist attraction also produces gin, so if you prefer to learn about this phenomenon in Scotland, check out the gin tour options.
Next to Tobermory Distillery is the Post Office which has had a bright paint job to match the pastel-coloured buildings along the street.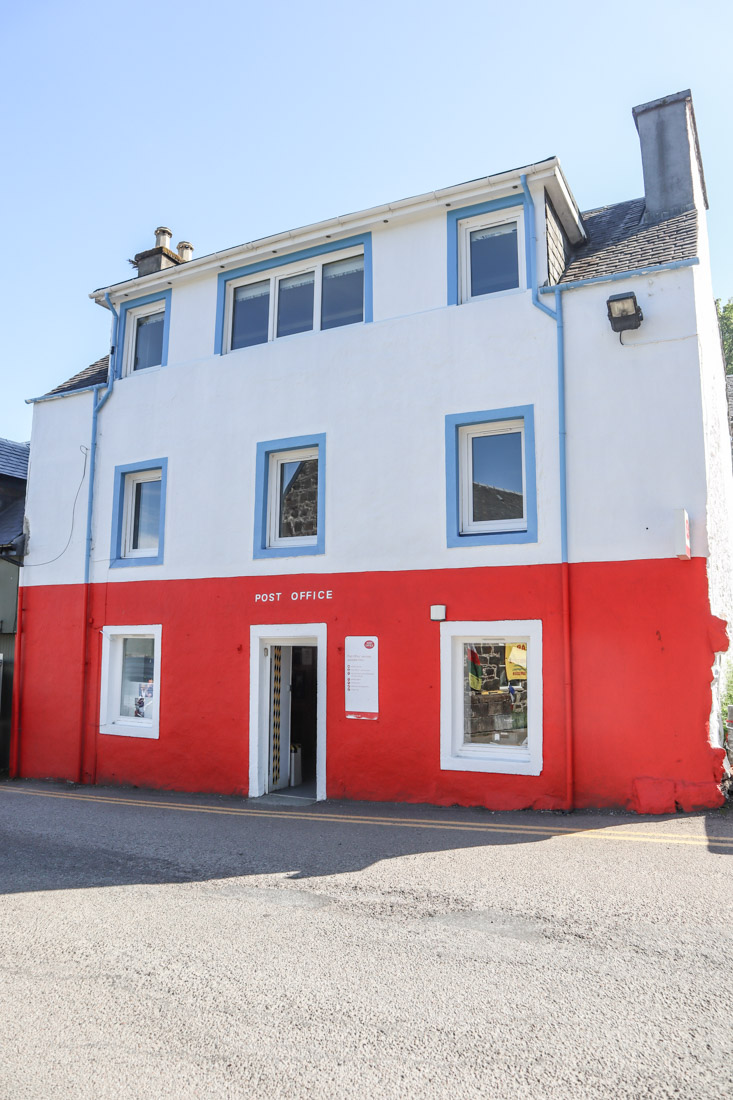 4. Tobermory Lighthouse
We only managed to see Rubha nan Gall, Tobermory Lighthouse from the ferry ride on the way to Oban but there is a recommended 3.5-mile hike if you can set aside 1.5-2 hours.
Keep an eye out for otters and wave over to Ardnamurchan if you do this hike.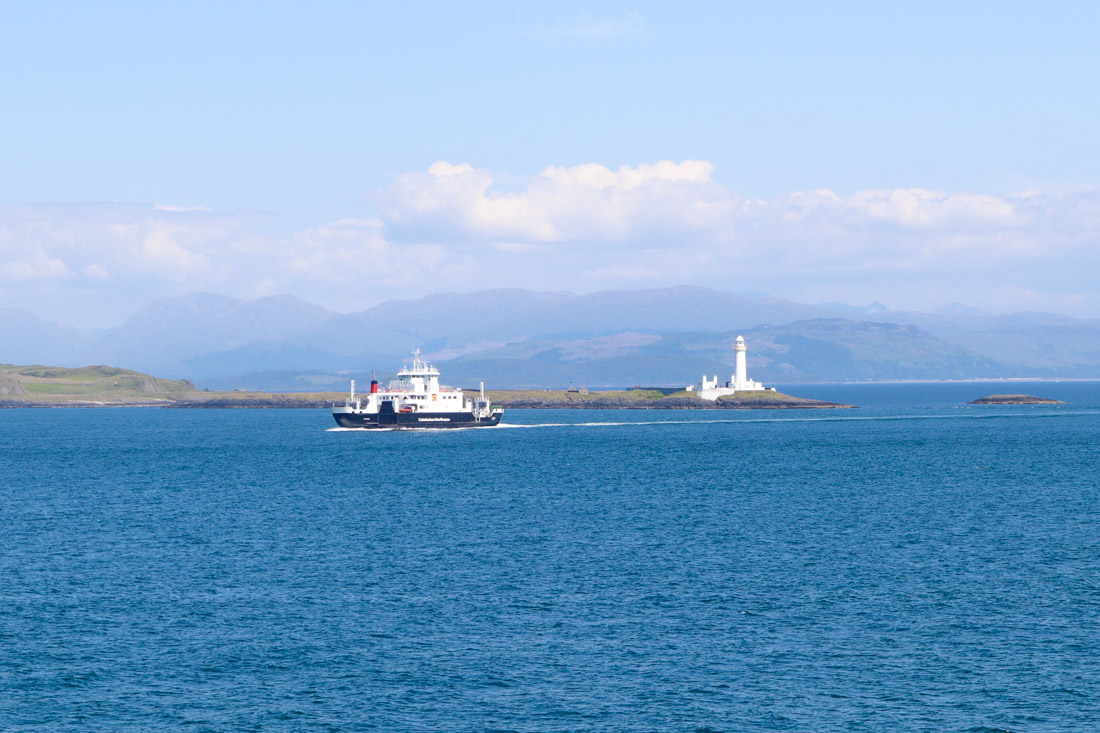 5. Enjoy Coffee at the Isle of Mull Cheese Glass Barn
Nestled among the farmlands of the B8073, Sgriob-ruadh Farm is home to the Insta-famous Isle of Mull glass barn cafe.
Look out for those floor to ceiling windows, lush greenery and rustic decor; what's not for your camera to like!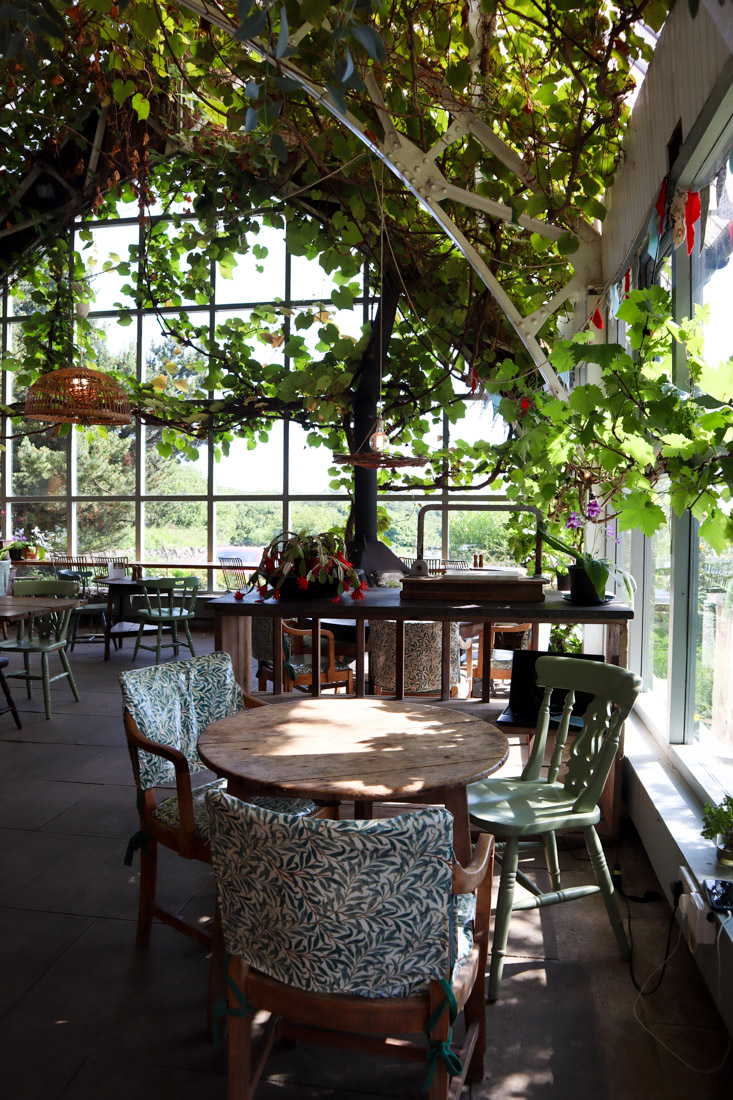 We popped by for a scenic coffee and couldn't resist a Nutella swirl to accompany the hot beverages.
One tea, one coffee and one tasty chocolate pastry cost £11.90.
Surrounded by shrubbery and entertained by the cafe dog, this slow breakfast was one of the highlights of our Mull trip.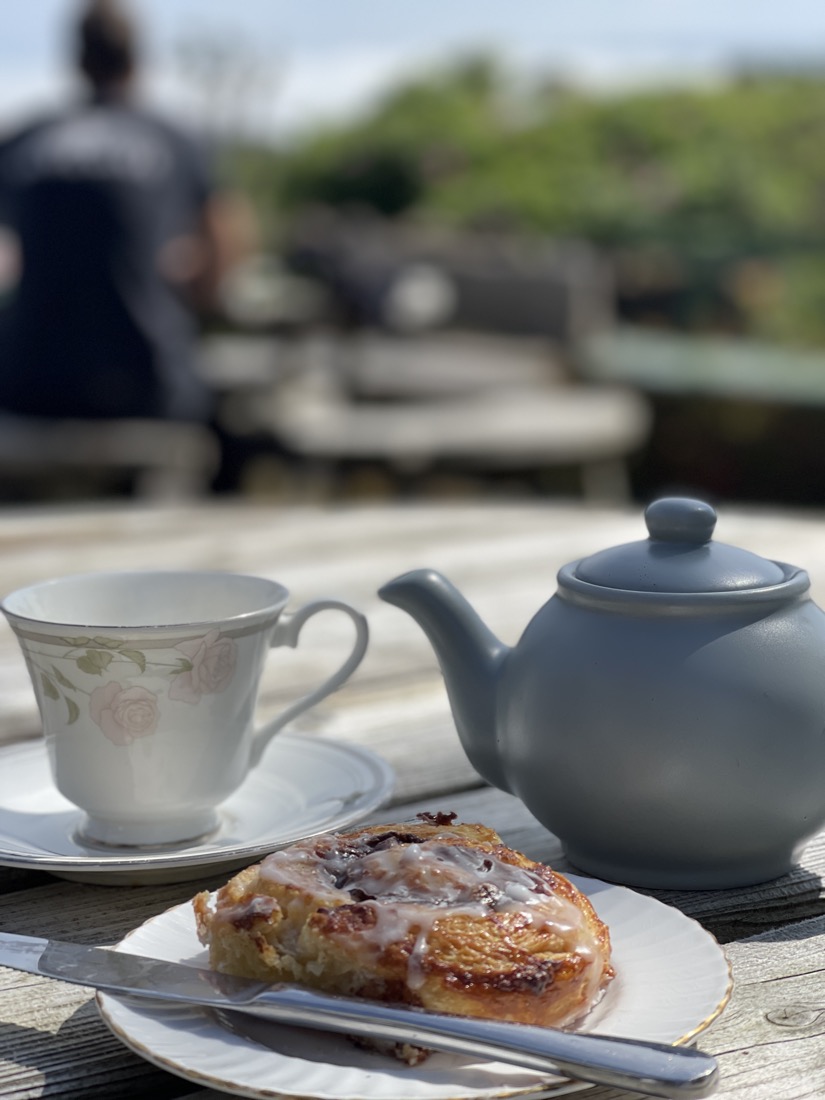 Obviously, if you want to pick up some Isle of Mull cheese this is the place to do it.

They have a farm shop inside the glass barn, so if you just want to have a look at the cafe without sitting for coffee, you can pick up the famous cheese here then head out.
Look above your head as you pay. Can you guess what the hanging structure is?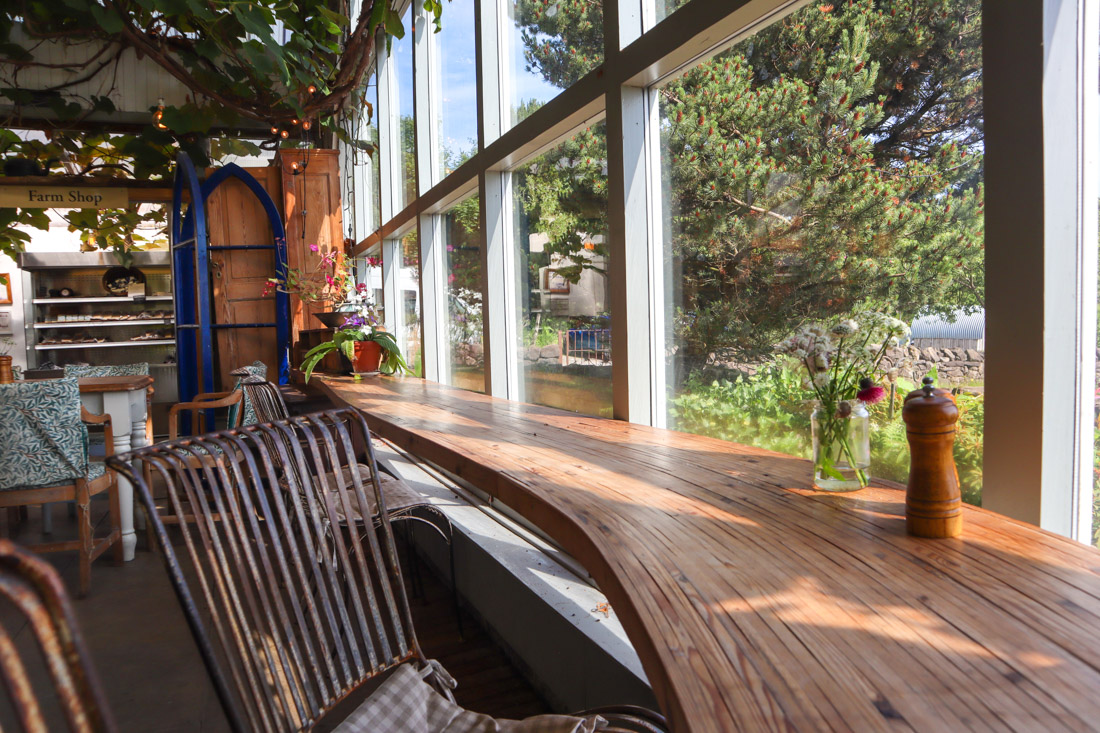 The next tips on what to do in Mull are outside of the main area in Tobermory so here is a map to help navigate.
First, we head to Devaig and Calgary Bay then over to Craignure before driving south to catch the ferry to Staffa and Iona from Fionnphort.
6. Swim at Calgary Bay
When people ask about Tobermory Beach they tend to be referring to the most popular bay on the island, Calgary Bay.
This huge, sandy beach is popular with families, dogs, water sports enthusiasts and visitors.
I swam in the clear sea and it was… cold. As to be expected!
There are a number of car parks close to Calgary Bay.
There is one across the road from Calgary Art in Nature. See below for more information on this art trail.
Another can be found at the Calgary Bay Farmhouse. Both are about a 5-minute walk to the beach.
There is also a car park near the public toilets which doubles up as a wild camping campsite for cars only.
The most popular car park is the one with direct access to the beach next to this sweet treat…
7. Enjoy Ice Cream at Robin's Boat
Robin's Boat kiosk sells Isle of Mull Ice Cream at the edge of Calgary Bay and is made from a real boat!
There is also a board outlining the wildlife that has been spotted in the area recently.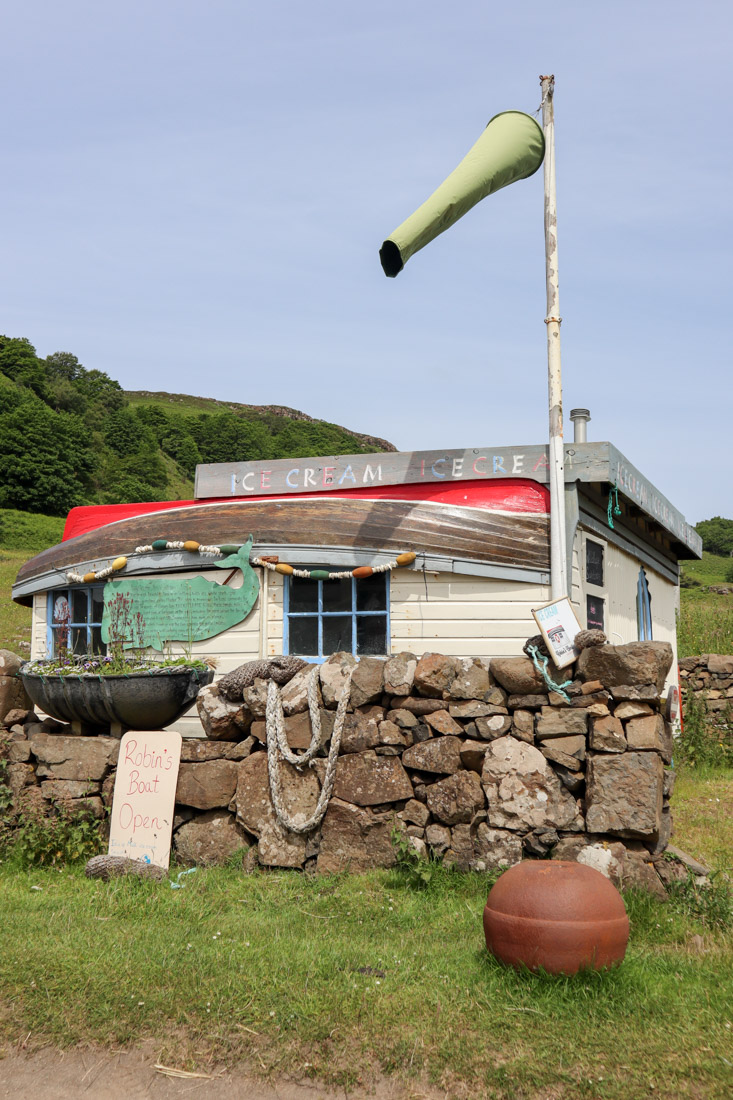 8. Wander Through Woods at Calgary Art in Nature
Just before you enter Calgary Bay you will see a wicker figure with birds welcoming you to an art trail in the woodlands called Calgary Art in Nature.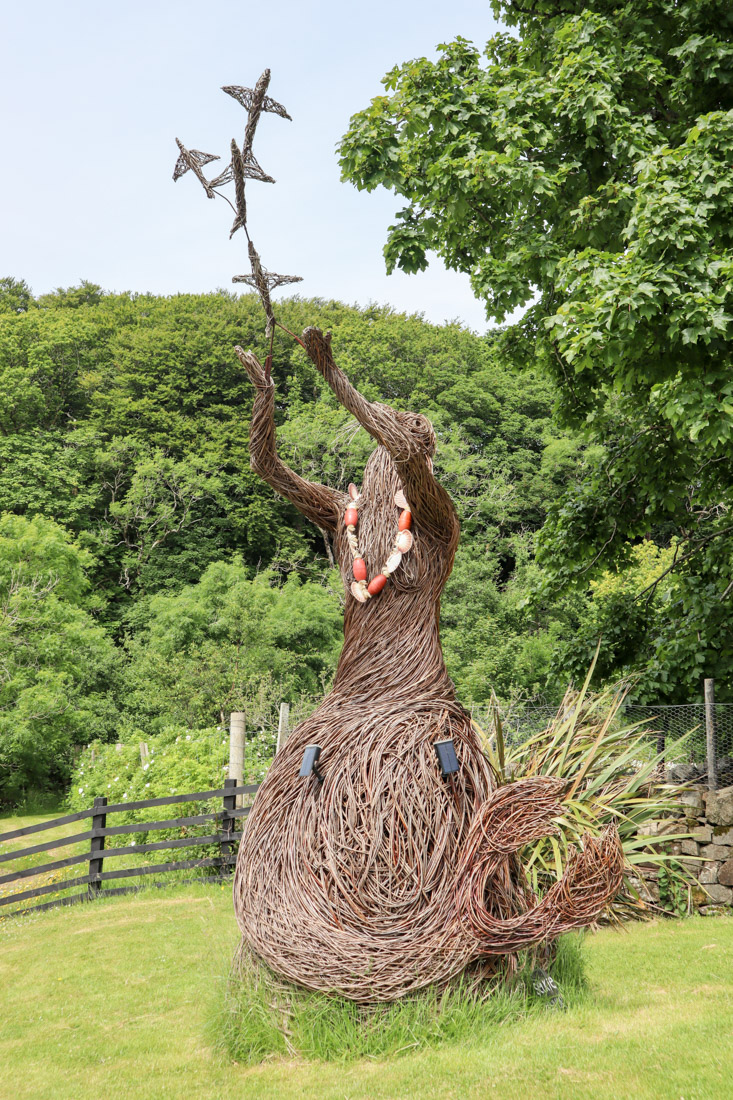 This donation-based art walk includes mosaics, wooden structures and a flying fox!
You also get incredible views over Calgary Bay from the top of the walk.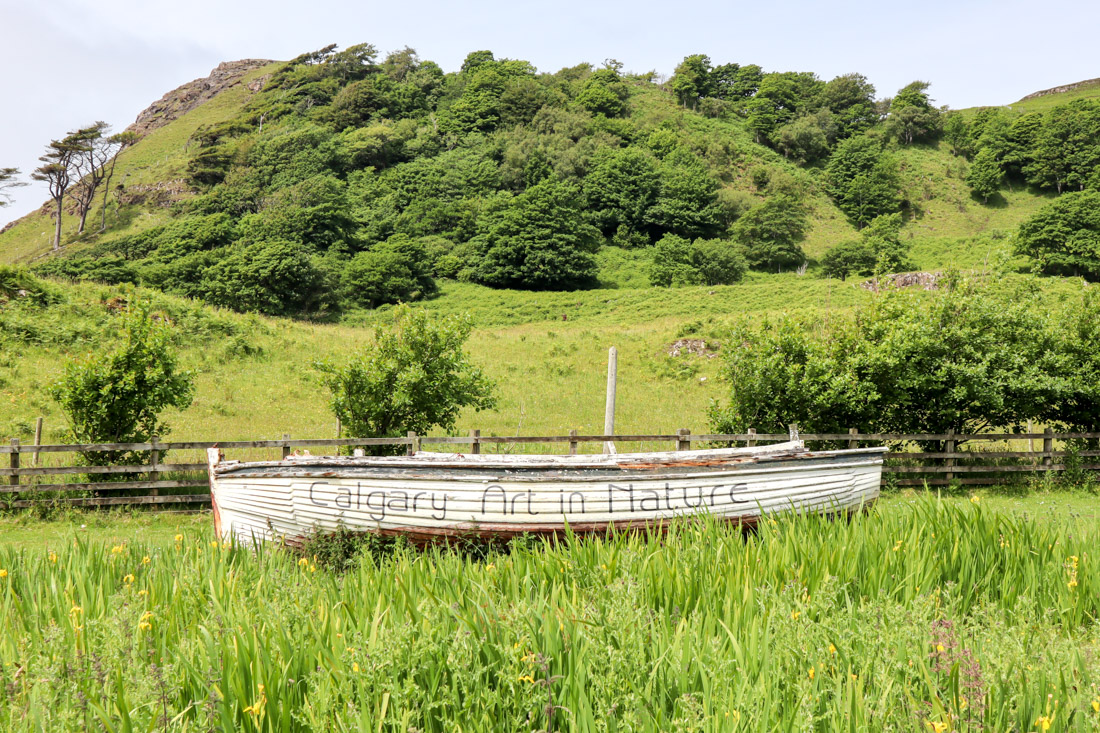 9. Check Out Other Isle of Mull Beaches
If beach life is your kind of trip there are other beaches aside from the most photographed, Calgary Bay.
Craignure Bay is located on the east coast of the island.
If you stay at Shieling Campsite at Craignure you will have access to your own pebbled beach to watch sunsets like these pictured below.
You can also set off with your kayaks from this point.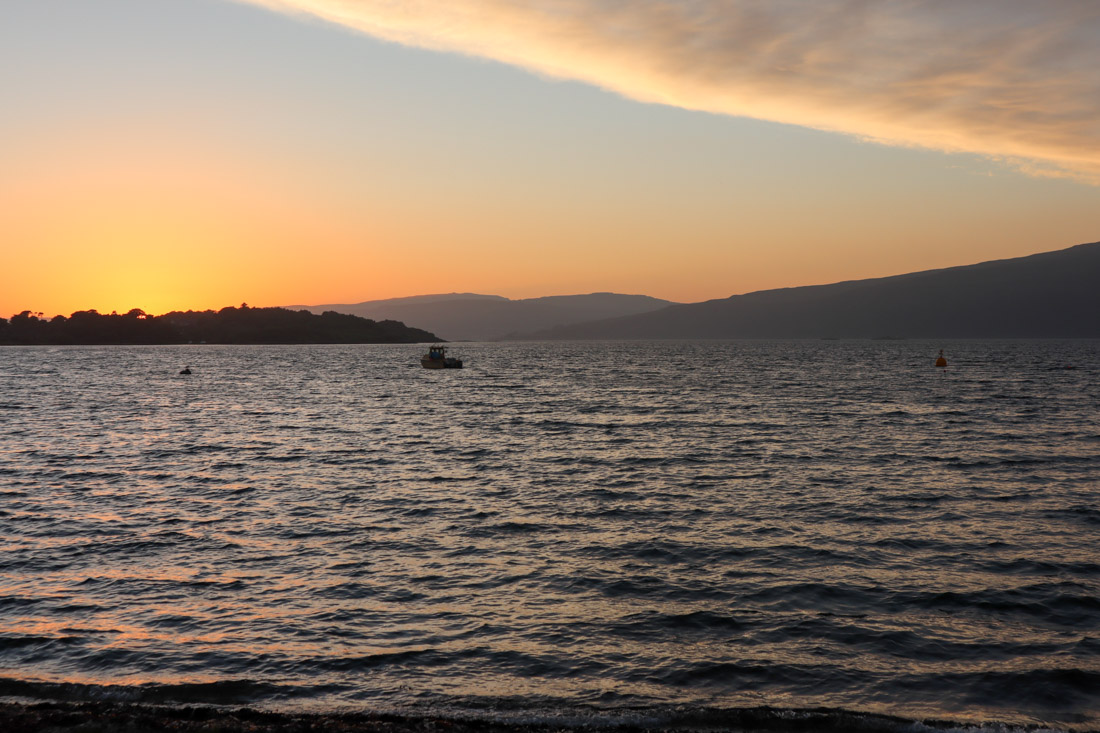 In the south, Fionnphort Beach is the first, among many, things you'll be amazed at during a day trip to Staffa and/or Iona.
See below for full details about this jam-packed day trip from Mull.
A cluster of houses sits at the top of the beach and sheep casually hang around the car park.
There is a pub across the road from the car park and The Creel seafood kiosk sells take out food and offer outdoor seating at the harbour.
There are coin-operated public toilets across from The Creel.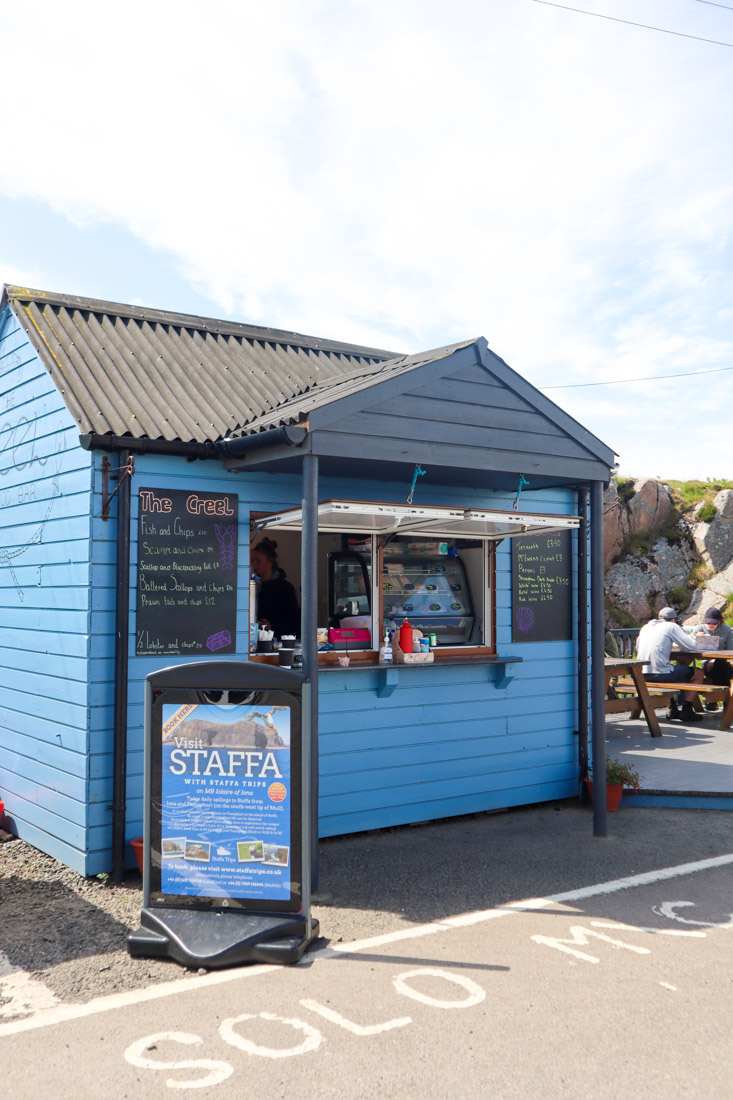 10. Buy Cakes at Bus Stop Bakes
Pick up some fresh cakes and scones at the pop-up Bus Stop Bakes on the road out of Calgary Bay.
This kiosk works on an honesty payment system so you will need coins.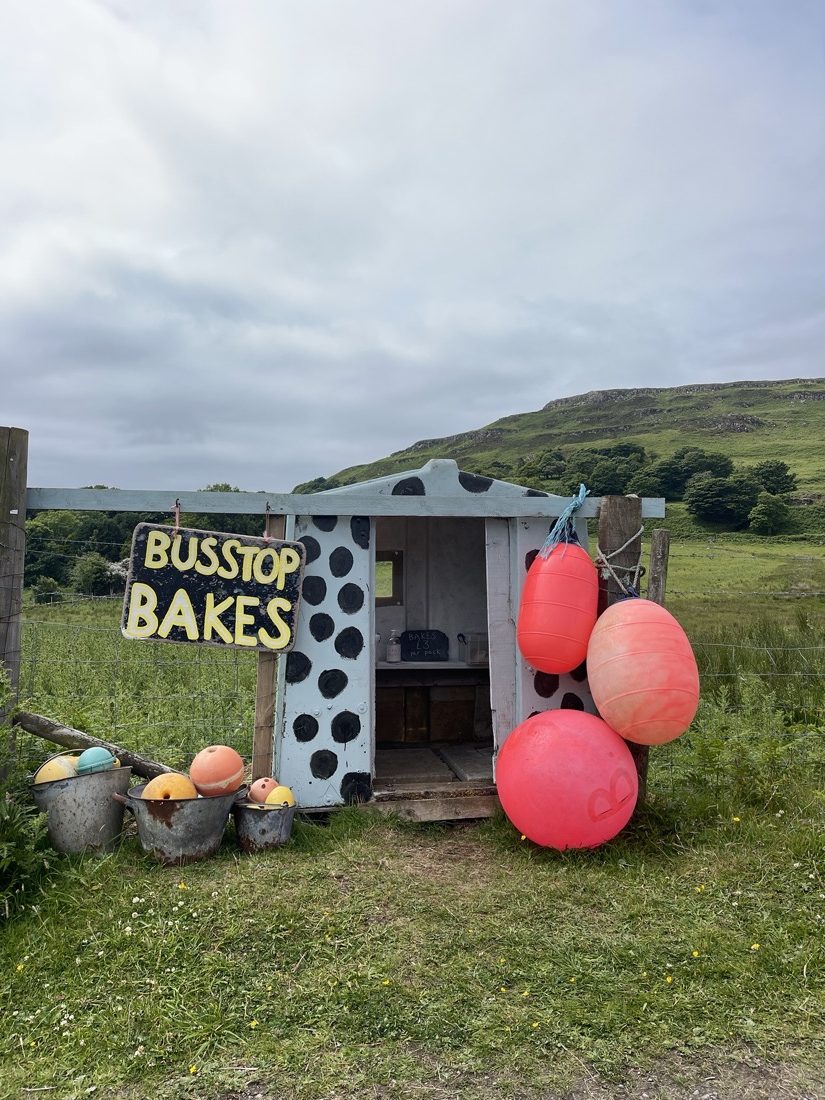 11. Enjoy the Ride Between Calgary Bay and Tobermory
If you like driving the Bealach Na Ba in the Highlands, you'll love the road between Calgary Bay and Tobermory.
This route has hairpin vibes without a cliff drop!
There's a viewpoint at the top of the hill at Dervaig where you can take a breather.
12. Aros Park
If driving between Tobermory and Craignure be sure to set aside time to visit Aros Park.
There is a quick yet rewarding 30-minute stroll around Lochan a Ghurrabain which looks like Canada from one side and Japan on the other.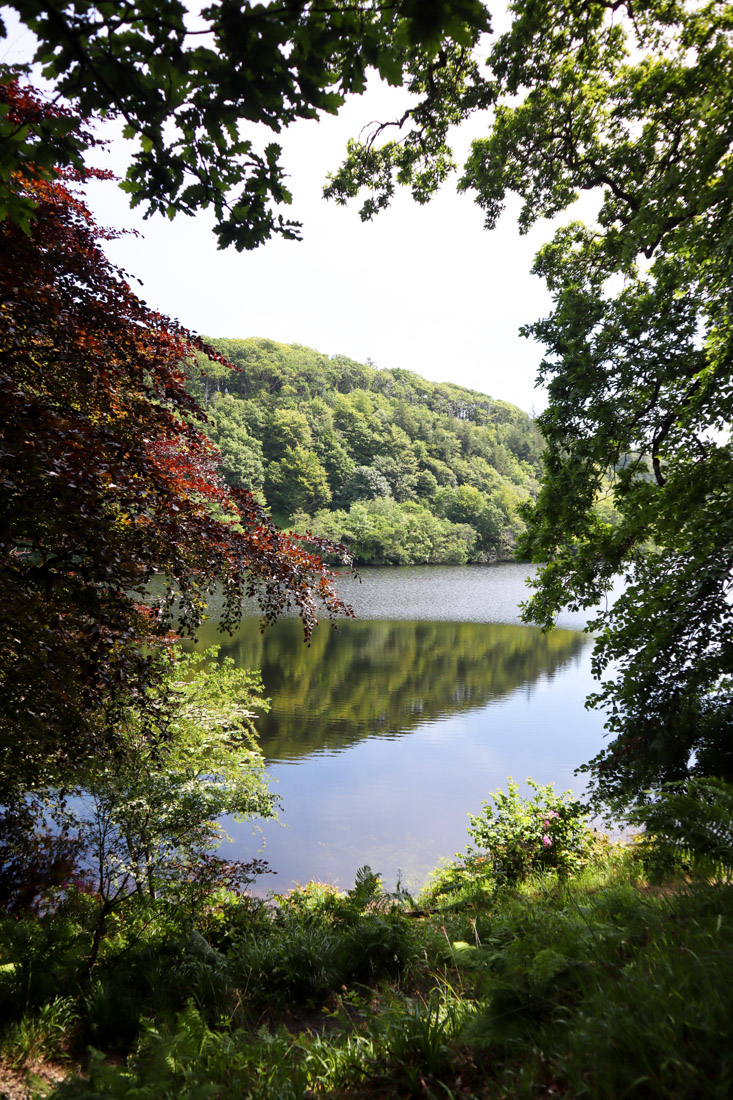 This isn't the only Mull hike in the area.
If you have more time you can do the Waterfall Trail in the park or Coastal Trail to Tobermory.
There is free parking and a BBQ area which is also free for visitors to use.
Back on the road driving from Aros Park to Craignure, look out for light aircraft soaring above.
13. Cakes at Arlene's in Craignure
We were intrigued to try Arlene's at Craignure because a friend told us the food is superb but reviews always mention how crabbit the person behind the register can be!
Well, that member of staff must have been on their day off, twice, because the staff member who served us both days was bubbly and welcoming.
During our first visit, we bought two hot drinks, a breakfast roll and two cakes (£11.30) and ate them by the port watching the huge CalMac ferry beasts come in.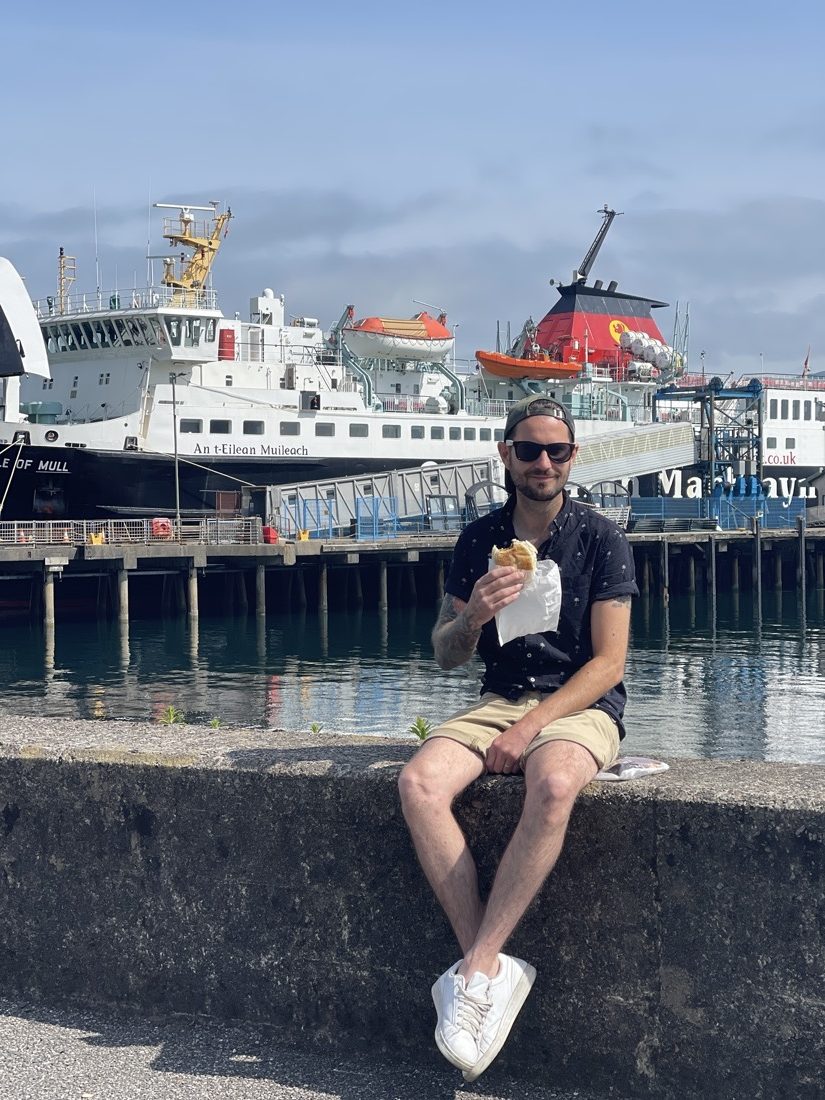 On our way out of Mull, we got sandwiches and Isle of Mull Ice Cream from Arlene's.
I couldn't decide between flavours so the friendly server gave me half and half.
Here is a slightly melted version!
The Craignure Ferry Terminal, where you exchange your voucher for tickets, is located near Alrene's.
There is also a free public toilet.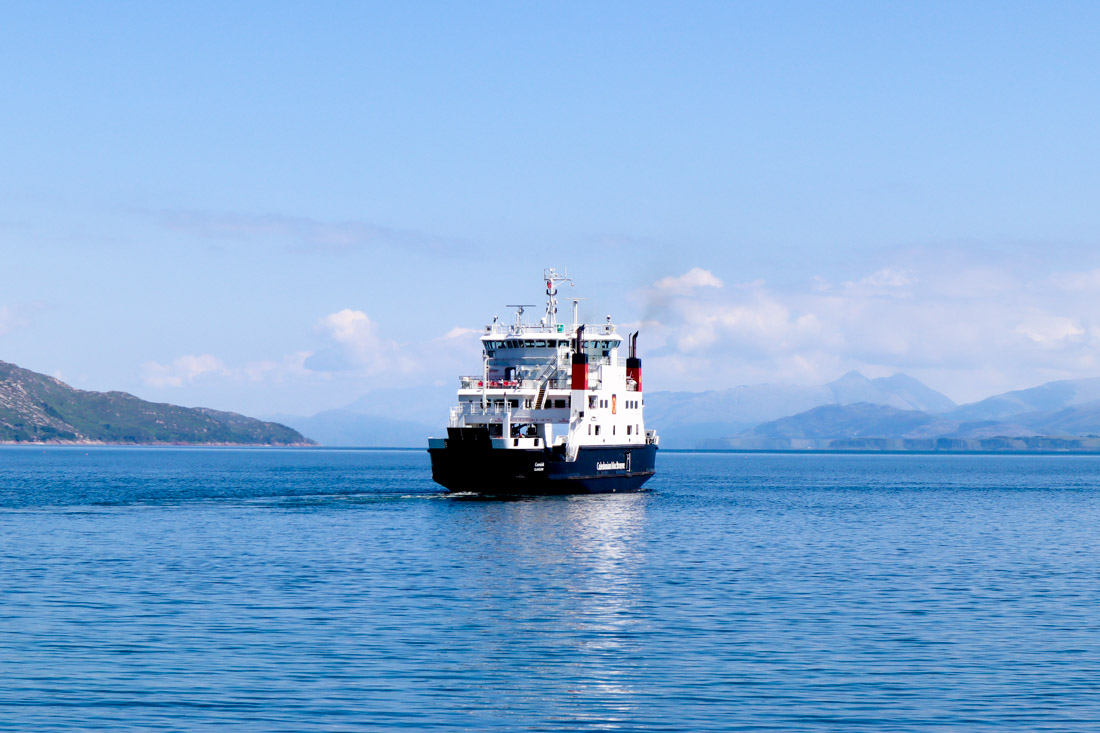 If you are looking for a sit-down meal, the Craignure Inn does decent pub grub with outdoor and inside seating.
This is very close to Shieling Campsite where we stayed two nights.
Note: Some rural restaurants close their kitchen between lunch and dinner.
14. Duart Castle
If you are taking the ferry from Craignure to Oban, you will pass Duart Castle on the right-hand side and Tobermory Lighthouse on the left.
On dry land, you can visit this 700-year-old home to Clan MacLean and its tearooms.
Visitors can access The Great Hall, State Bedrooms, and learn more at the clan exhibition.
Duart Castle features in the 1999 film Entrapment, starring Sean Connery and Catherine Zeta-Jones.
15. Enjoy a Unique Coffee at Pennyghael
There's nothing unusual about the mug of coffee you get from Pennyghael Stores, but there is something very special about the location where you can drink it.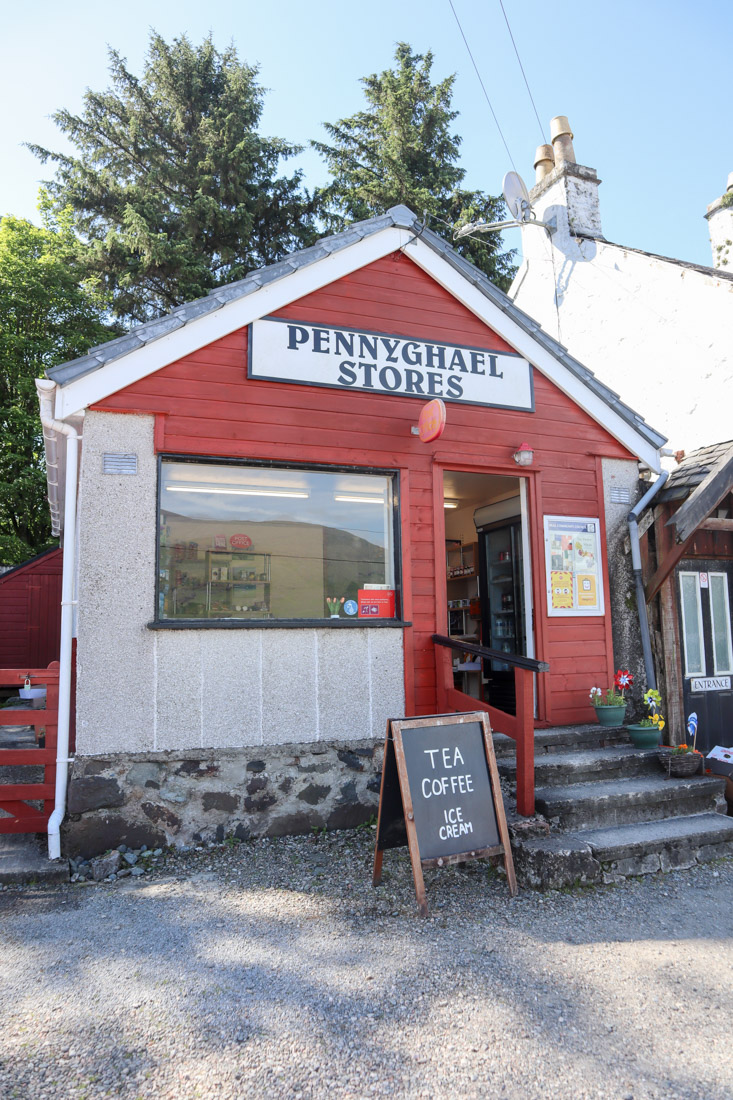 Head down to the benches which overlook Loch Scridain and enjoy a scenic sip.
While driving south keep your eyes open for wildlife such as otters and deer.
The road from Craignure to Fionnphort takes a good hour and it is very pretty so consider lots of photo stops.
Remember to be cautious of passing places that allow drivers to pass on single track roads. See below for more details.
If heading to Fionnphort for an island-hopping day trip, leave plenty of time and use the bathroom before you set off.
16. Isle of Mull Tours to Staffa
There are two reasons for visiting the Isle of Staffa.
Firstly, to step inside the geological attraction, Fingal's Cave, an uninhibited sea cave with an interesting backstory.
Secondly, to see the puffins which is a seasonal experience and we were lucky to catch them during our visit in June!
In addition to the above, you also get a free drop off at the Isle of Iona so factor time into your Mull itinerary to visit the birthplace of Christianity in Scotland.
You can only visit Staffa is by boat so pre-book your tour before you arrive.
17. Fingal's Cave
If you've visited Kilt Rock/Mealt Falls on the Isle of Skye or Giants Causeway in Northern Ireland, you may be familiar with the story of Finn McCool which the cave is said to be named after.
This mythical Northern Irish giant also known as Finn MacCumhaill or Fionn Mac Cumhaill is said to have been in feuds with an even bigger but less intelligent giant from Scotland, Benandonner.
Their fight resulted in parts of the coast being torn up and thrown in the sea creating the basalt structure at the Giant's Causeway in County Antrim, 82 miles from Staffa.
The more tours I do in Scotland, the more variations of this story I hear!
Novelist, playwright and poet, Sir Walter Scott was in awe of Fingal's Cave stating it was 'the most extraordinary place I ever beheld; it baffles all description'.
Fingal's Cave has also inspired music.
The German composer Felix Mendelssohn visited in 1829 and composed The Hebrides Overture after this trip.
This feature made it a popular tourism destination.
Pink Floyd also have a song named Fingal's Cave.
So how was the cave named after folklore formed?
Lava. But according to the NTS, not the same volcanic lava flow that created the Giant's Causeway. The plot between Fingal and the sea cave thickens!
It was actually Mull's volcano that shaped this 227-foot cavern 59 million years ago.
Visitors can walk along the lava-formed hexagonally jointed basalt to the mouth of the cave to test the acoustics.
If you are not comfortable with heights, you may not enjoy this tour of Staffa as both activities on the island are quite high up.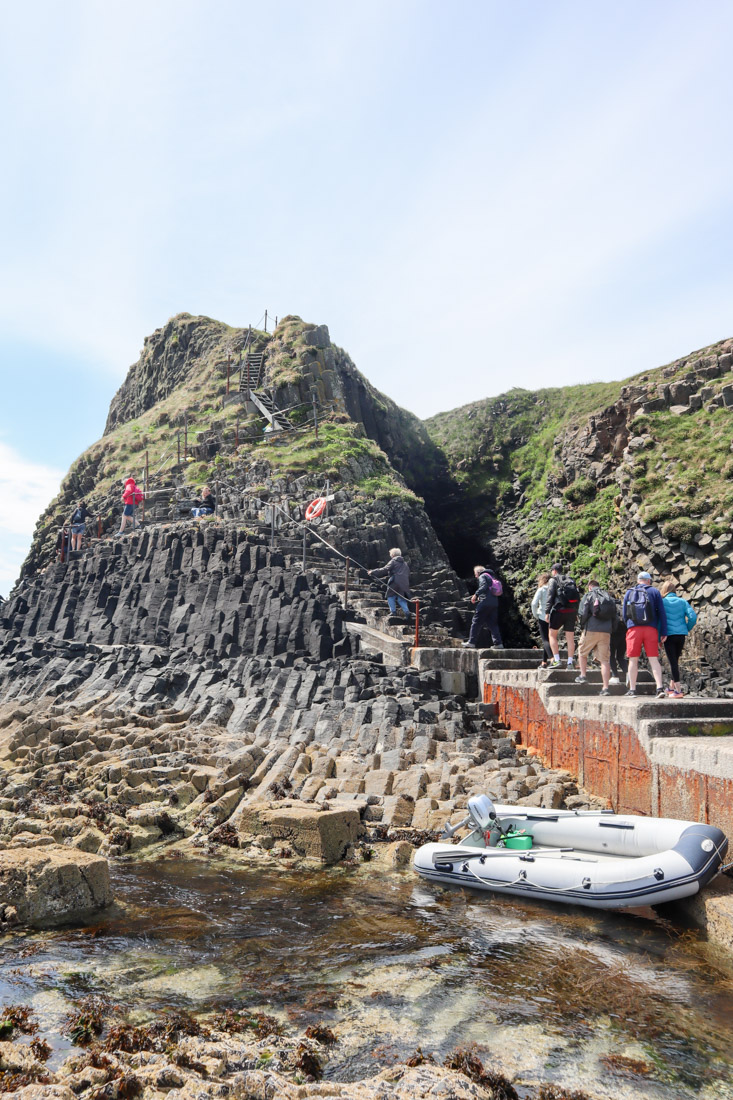 18. Puffins on Staffa
The best time to see the puffins on Staffa is between May and August and we had a solid 30 minutes watching the beautiful birds fly from the cliff and back to their nests.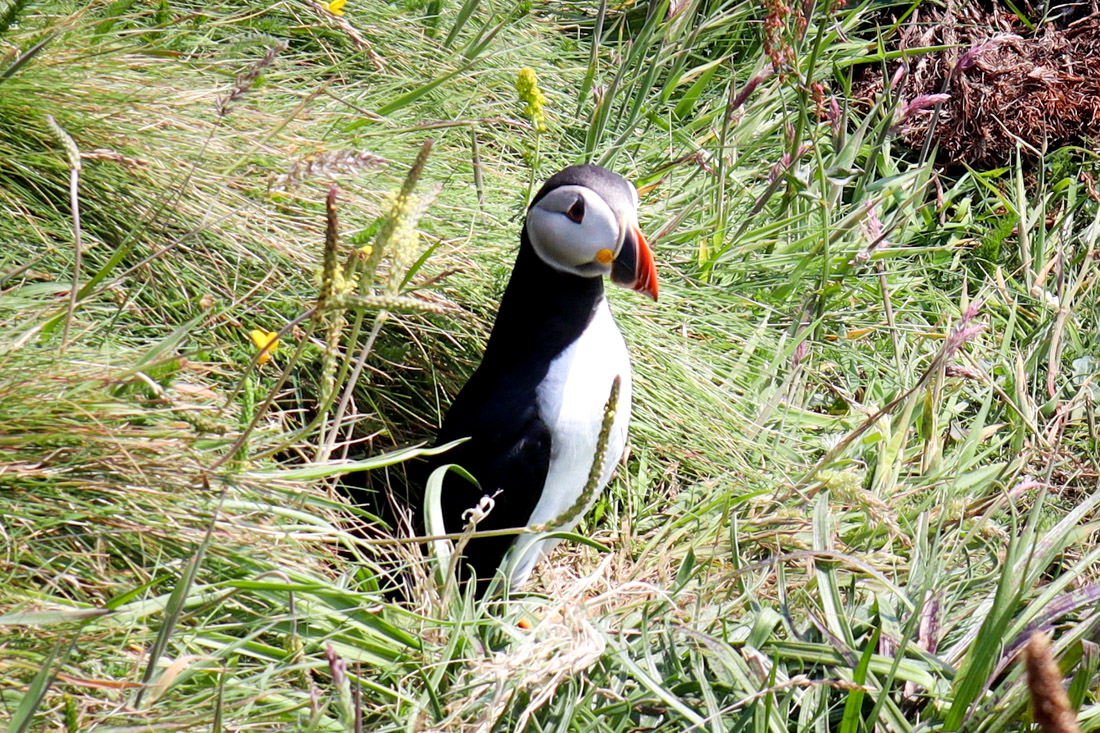 When you get off the boat at Staffa, the tour guide recommends heading to Fingal's Cave first then back to the drop off point to climb the stairs at the bottom of the hill.
From there you walk to the right for about 5 minutes until you see the pink marker which highlights the best spot for puffin watching.
Sit at the top of the cliff in silence and give your eyes time to adjust then you'll see them!
Tiny puffins so close you won't believe it.
It is memorising watching these wee creatures with their faces looking like they've been delicately decorated in theatrical make up.
They are super chill and seem to love the camera!
The tour itself lasts 3 hours with the option of being dropped off at Iona and making your own way back via CalMac ferry which only takes 10 minutes and costs a couple of pounds.
Since there are no cars on fragile Iona, only foot passengers are allowed.
Tip: Take lots of layers, the boat ride to Staffa is pretty breezy and goes on for 30 minutes!
19. Take the Ferry From Mull to Iona
You don't have to do the Staffa tour to see the Isle of Iona.
There is a short CalMac ferry that runs throughout the day leaving from Fionnphort and arriving in Iona right next to the beach.
Iona is a truly special island.
It's only 3 miles long and its most popular attractions are no more than a 10-minute walk from the harbour so if you are limited on time, you can still see what the island has on offer.
Things to see include Iona Abbey, St Oran's Chapel, Iona Nunnery, St Columba's Larder and a handful of gallery shops such as the Iona Craft Shop.
Read all about our tips in full here, things to do on Iona.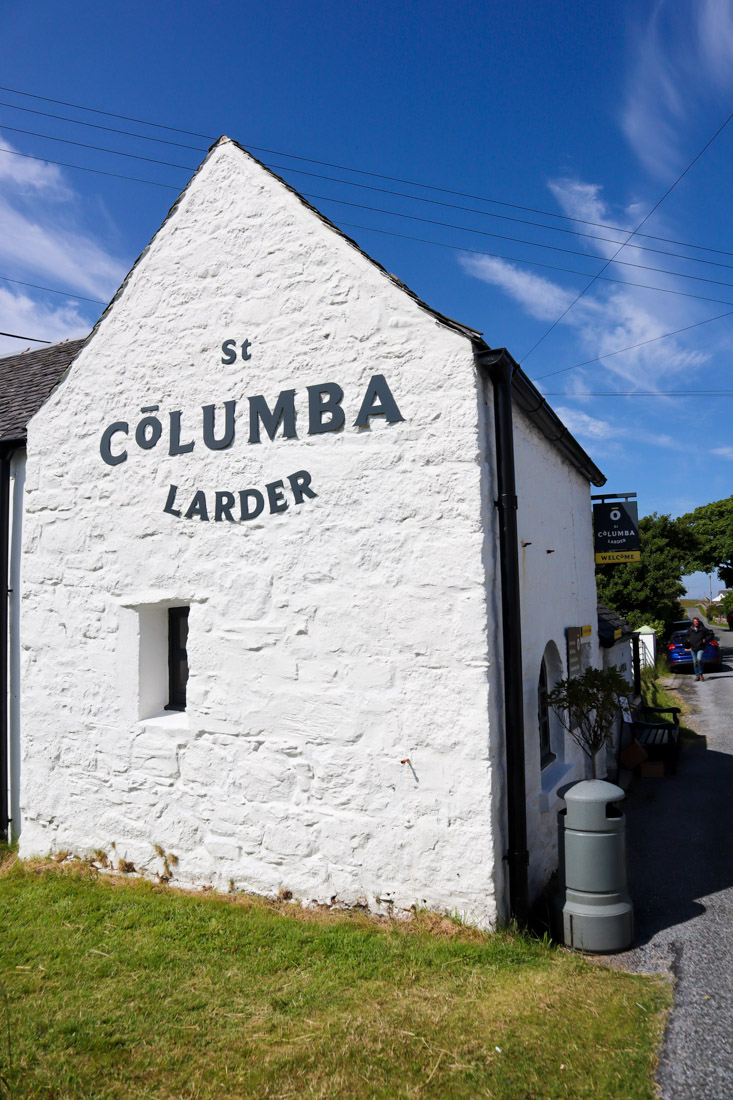 20. Isle of Mull Walks
Back to things to do in Mull.

Mull is quite a large island so there are plenty of walks at various difficulty levels.
An easy hike around the loch at Aros Park is recommended for those with 30 minutes to spare.
A longer coastal walk from Aros Park to Tobermory would require transport being left at one side or a return walk.
A popular hike is a walk to Tobermory Lighthouse from Main Street.
Mull has its own Munro called Ben More at 966 m (3,169 ft), not to be confused with Ben More at Crianlarich.
The hike covers the distance 9.25km / 5.75 miles and takes around 5-6.5 hours starting at Dhiseig.
21. Take a Ride on the Isle of Mull Ferry To Ardnamurchan
Ardnamurchan, a hard word to say, an even harder place to leave!
However, if you are short on time and just want a taster of the peninsula which features the most westerly point in mainland Britain, you can get a ferry from Tobermory to Kilchoan that takes 35 minutes or from Fishnish to Lochaline in 20 minutes.
See CalMac's website for the most up-to-date details and times.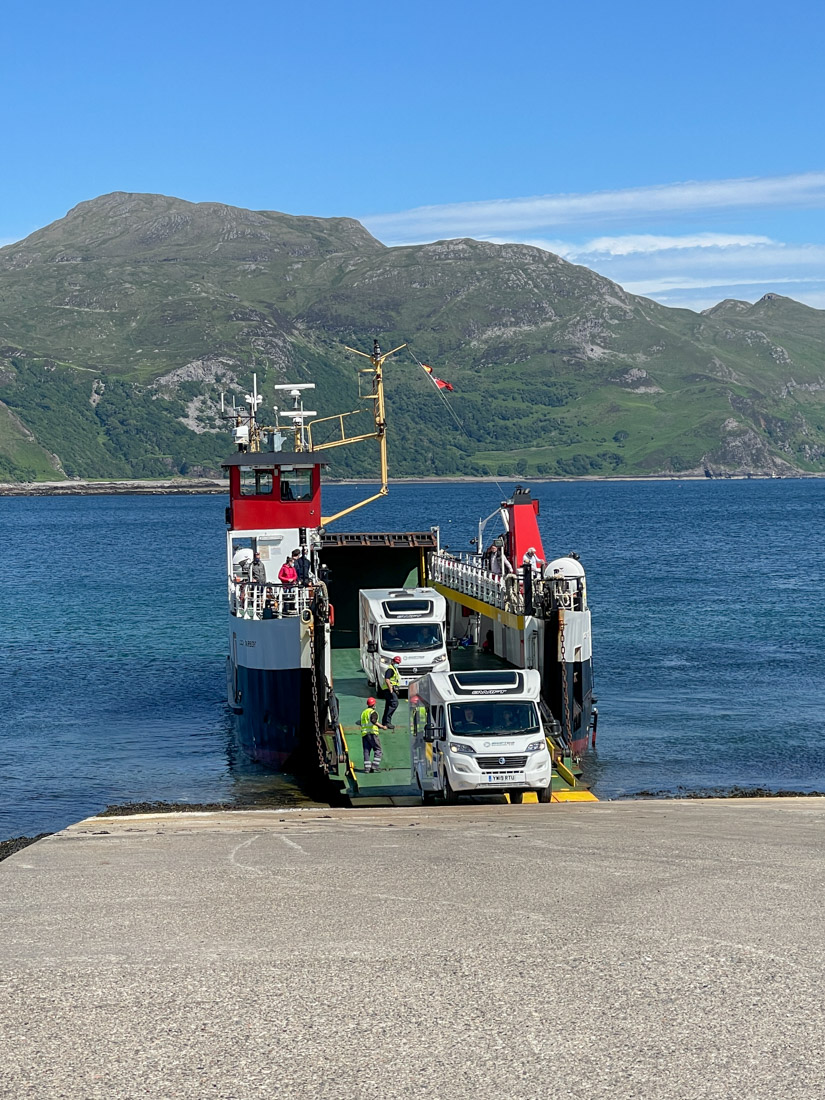 Kilchoan is the closest entry point to the famous Ardnamurchan Lighthouse and Sanna Bay beach.
You will need transport to get to both.
If you have time to take a West Coast road trip, definitely add the Ardnamurchan Peninsula to your itinerary for relaxed hikes, stunning beaches and crowd-free beauty spots.
You can read all of our tips here, things to do in Ardnamurchan.
Isle of Mull Travel Information
Where is the Isle of Mull?
Mull is the second-largest island in the Inner-Hebrides on the West Coast of Scotland.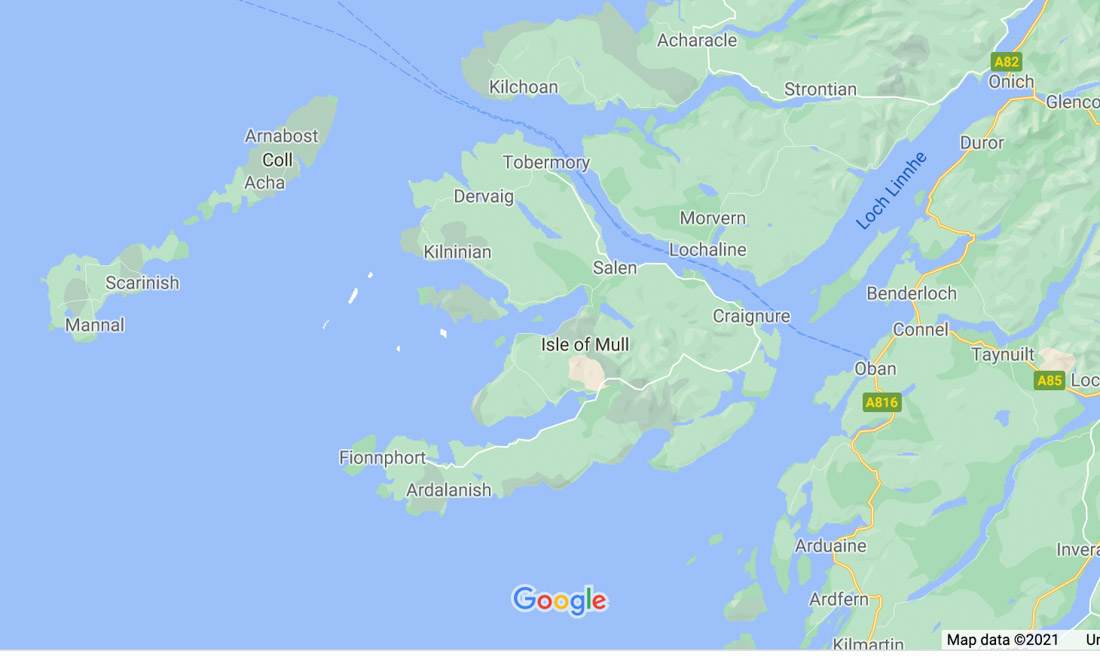 How To Get To Isle of Mull
You can get to the Isle of Mull in three ways.
Firstly, you can do the Three Islands Tours from Oban which is a whistle-stop tour of Mull, Staffa and Iona.
A nice intro to the area or taster for those short on time.
Secondly, you can arrive by ferry from Ardnamurchan (Kilchoan – Tobermory and Lochaline – Fishnish).
Finally, there is a ferry from Oban which arrives at Craignure (below) which is about a 30-minute drive to Tobermory.
Alternatively, if you don't want to drive around the island yourself and prefer a guide to organise everything for you check out this 5-day tour of Mull, Iona and Skye which leaves from Edinburgh or this 3-day tour which focuses on just Iona and Mull.
Driving on Mull
We did this Mull road trip in our VW Crafter campervan and found the driving, for the most part, OK.
You will be driving on single-track 'A' roads which require the use of passing places where you pull over to let drivers on the other side get by.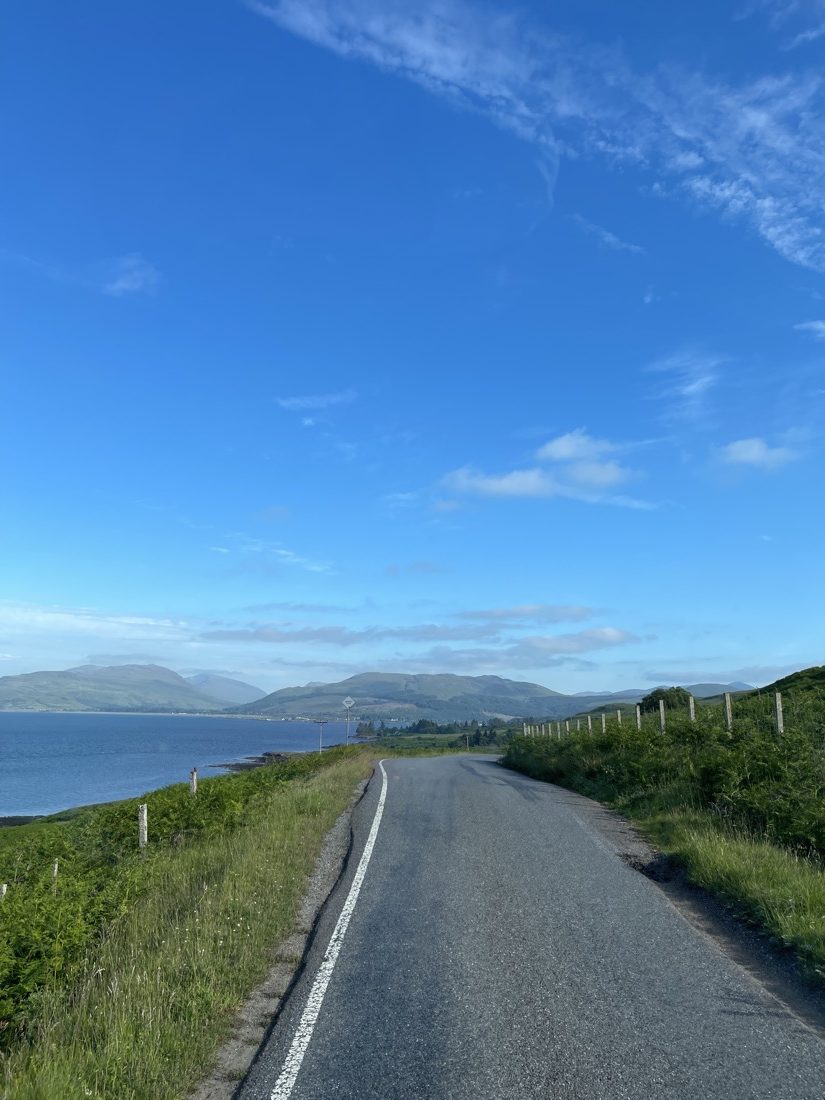 These passing places can be identified by poles and this process will add time to your journey.
Island roads are used by locals who are going to work, shopping, leisure and who require access to roads to get to healthcare appointments.
Locals tend to know the roads better than you, so if you plan to drive at a slow pace let them pass when it's safe to do so.
You can read more about single track roads and driving in Scotland in our road trip planning guide.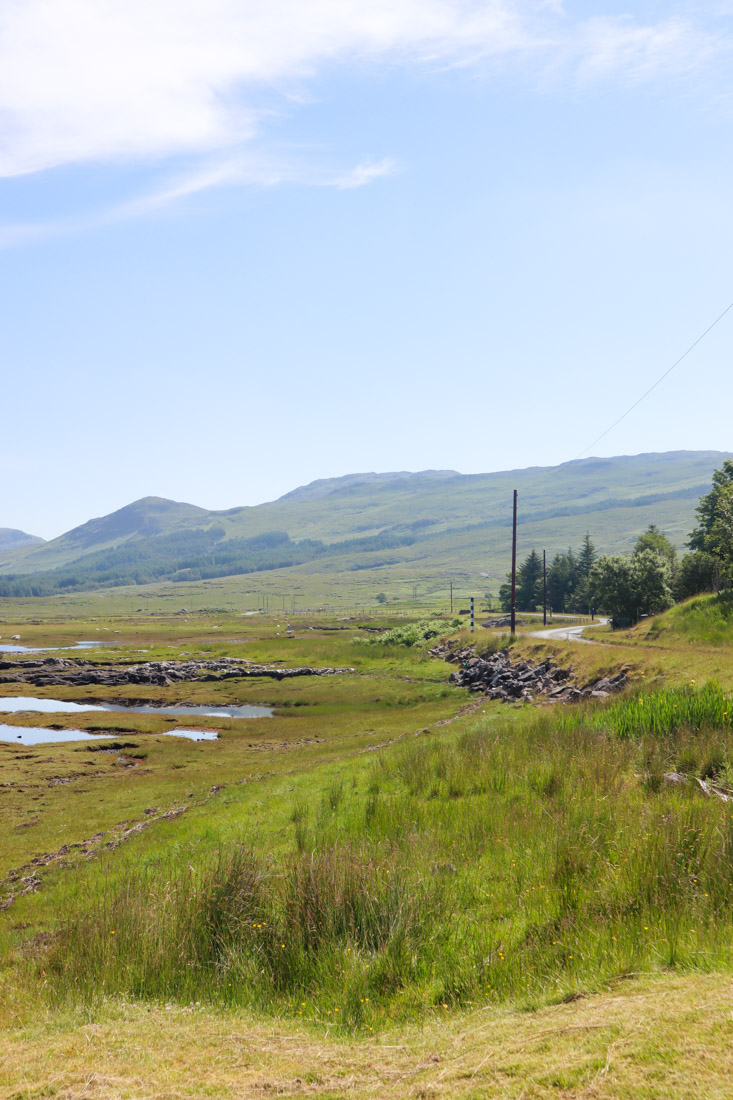 Isle of Mull Accommodation
There is no shortage of places to stay on Mull but hotels, self-catering holiday homes and campsites do get busy during the high season so book ahead to avoid disappointment.
Before booking accommodation, consider how you want to visit Mull.
Do you plan to stay in one location and do day trips?
Do you want to use public transport to get around or do you need parking?
Do you need to leave early for a ferry to Iona, Oban or Ardnamurchan which means staying close to the right port?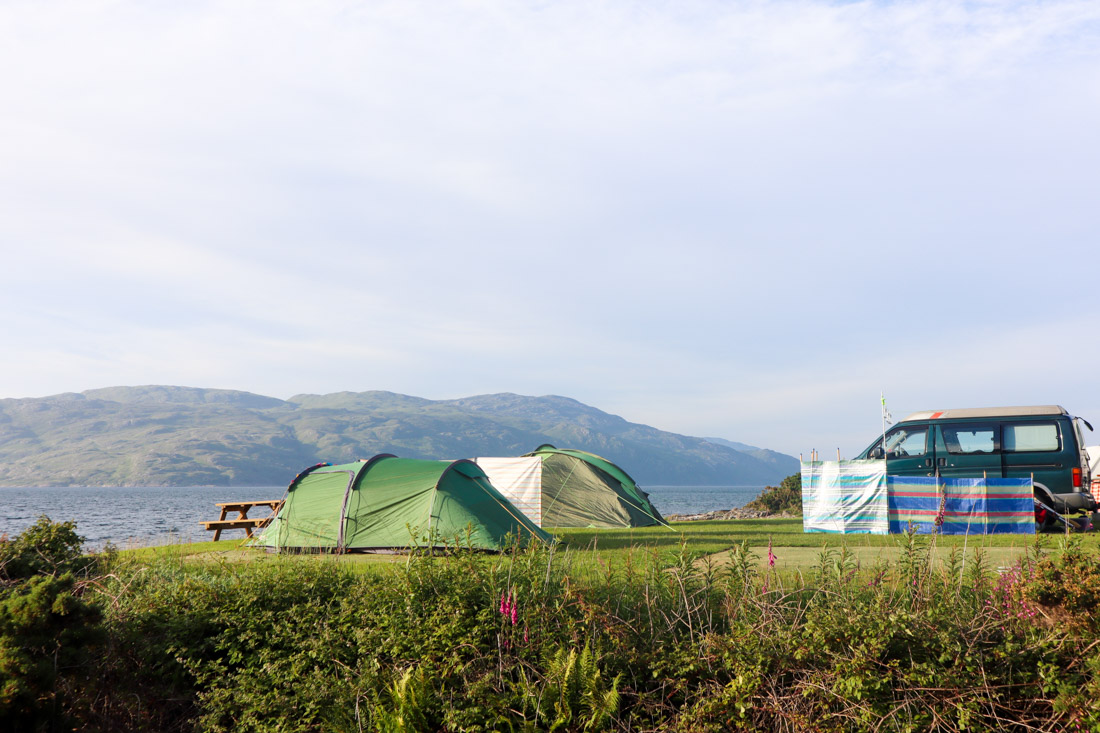 Isle of Mull Camping
While there are a good handful of Mull campsites, the island is not inundated with campers like say the North Coast 500 in the Highlands.
Tobermory Hotels
If you prefer to stay in a Tobermory hotel, here are some options to suit all budgets.
Isle of Mull Map
Here is a free map that includes all of the attractions discussed in our guide on what to see on Mull.
Save for later! Pin to your Scotland planning board