This article has links to products and services we love, which we may make commission from.
This guide to hidden gems of Milan reveals activities that you can only do in The Fashion Capital of the World including tours, food, and lesser-known options for all visitors.
Let's take a look at alternative options to the most popular attractions, so you can see Milan off the beaten path, while avoiding crowds of tourists.
Even if you are a local to the city, you may just discover Milan's hidden gems that you've not heard of, do leave us a comment at the bottom of the guide if so!
We're also going to discuss unique things to do in Milan, the northern Italy city known for fashion, food, finance, which has way more to offer throughout its numerous districts.
You may also like our guide, how spend one day in Milan.
Unique Things to do in Milan
We're kicking off this Milan hidden gems article in Duomo then we'll make our way to Brera and Quadrilatero della Moda.
Next up are cool things to see in Milan's Sempione, Chinatown, Ticinese, Navigli or Porta Garibaldi districts.
Then we'll finish on a stunning day trip no visitor should miss, and every local to try.
Duomo's Hidden Gems
Duomo is the most popular area in Milan as it is home to the city's cathedral at Plaza del Duomo.
You've probably seen photos of tourists with pigeons in front of the Gothic building.
When you visit, look out for the gold Madonnina catching the light on the roof!
Since you are researching lesser-known things to do, we're going to skip the Duomo and head straight to the second floor of the striking Galleria Vittorio Emanuele II, Italy's oldest shopping mall.
Marchesi 1824 For Cakes & Coffee
Marchesi 1824 is an elegant cafe tucked away above the Prada store in Galleria Vittorio Emanuele II.
To get to it, you take the set of stairs to the left of the elevators where you'll be greeted by the door staff.
This historic cafe is exquisite with its green velvet chairs, marble tops, and cherry wood counters where you'll find delicate pastries and cakes.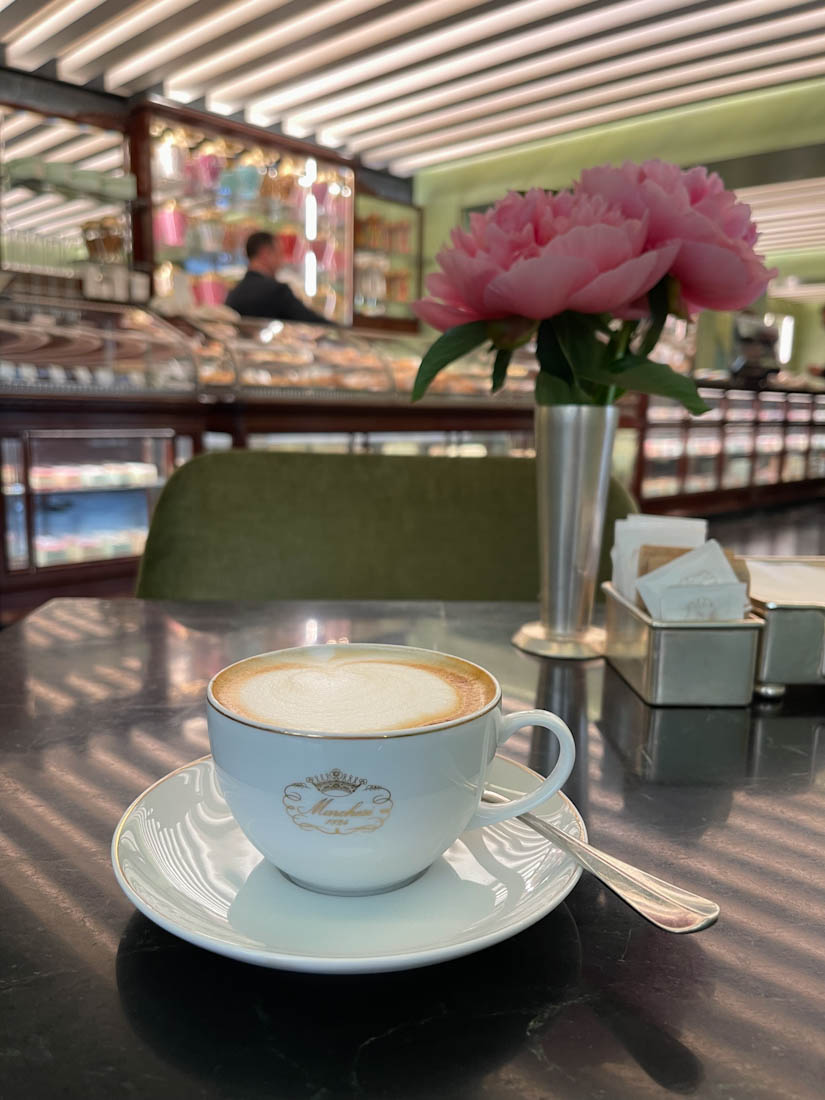 One of the most unique things about this Milan cafe is its windows that peer over the shopping arcade.
Watch tourists take their vacation snaps while sipping a cappuccino from the hidden gem above.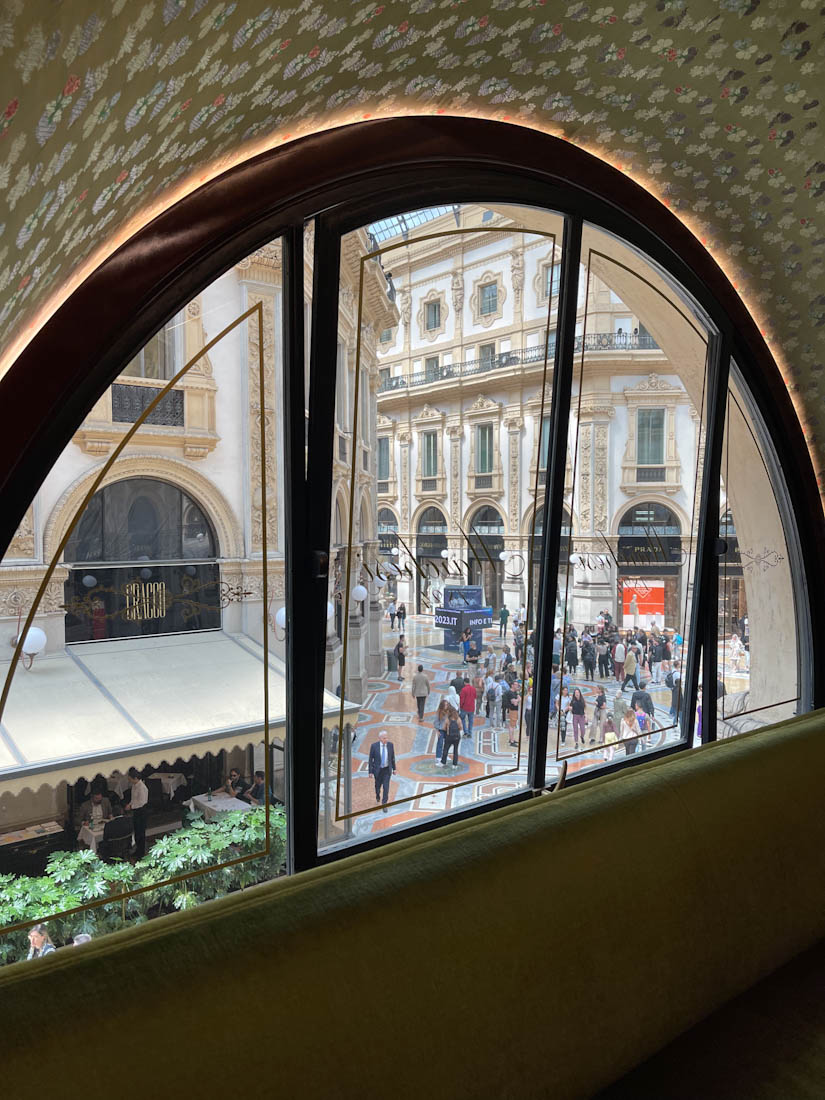 Maio Restaurant For Duomo Views
It's time to get even higher than the second floor!
Maio Restaurant is located on the top floor of the Rinascente fashion store.
What makes Maio special is that it looks directly onto the Duomo, so you can look face on while enjoying a spritz and aperitivo plates.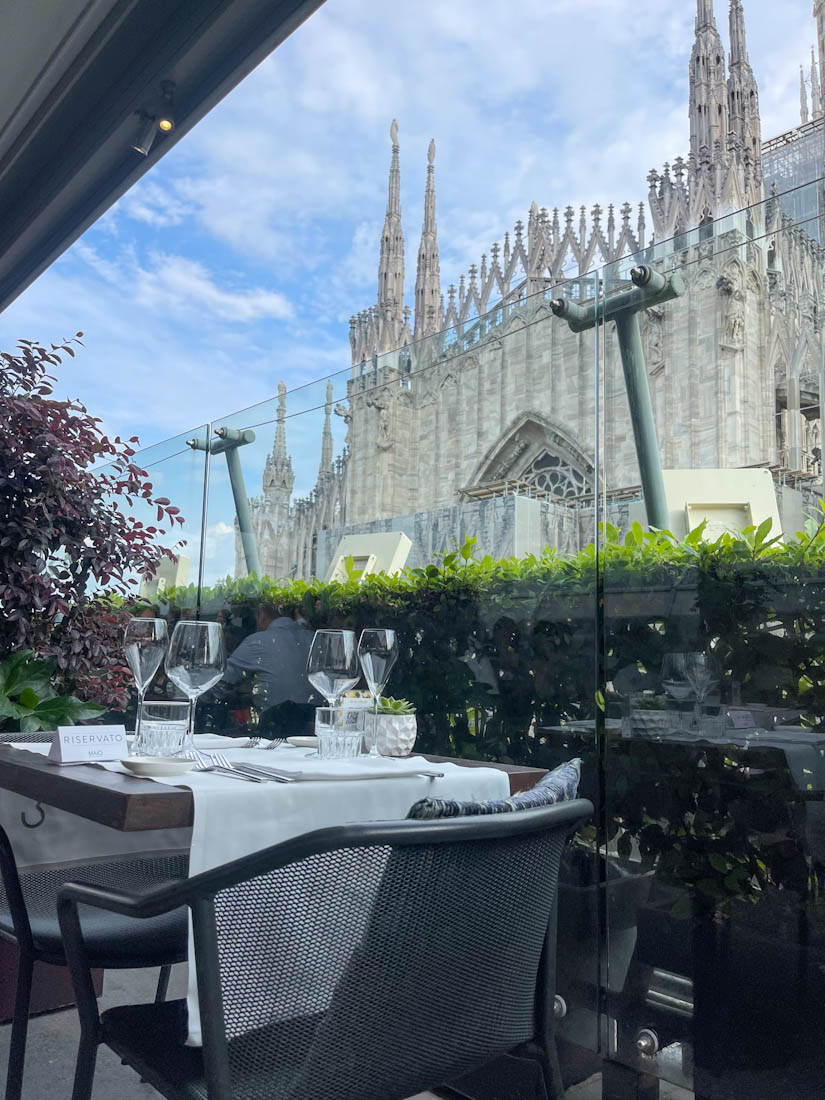 Rinascente For Unique Souvenirs
If you are visiting Milan for a holiday and want to share your glorious trip with those back home, consider picking up souvenirs from the top floor of Rinascente.
Here you'll find lots of different food in jars, biscuits in tins, packets of pasta, and chocolate bars with tasteful pictures of the Duomo.
There's a free restroom at the top of the Rinascente too.
Enjoy Italian Food During A Tram Ride
One of the most alternative things to do in Milan is to combine a local tram ride with dinner!
ATM Mosfera offers a lunch or dinner menu on an air conditioned traditional tram.
The tram drives by Teatro alla Scala, Galleria Vittorio Emanuele, Porta Nuova, Bosco verticale, Arco della Pace, Duomo, Darsena, and Santa Maria delle Grazie.
Starbucks Reserve® Roastery Near Duomo
This unique attraction always has a line during high season, so it isn't quite a hidden gem.
However, it is worth mentioning as there is no Starbucks ((Piazza Cordusio 3) like it in the world.
Housed in an old post office, you can sit among the working appliances that make the coffee you are sipping.
Upstairs there is a Starbucks bar with espresso martinis and other alcoholic beverages.
Enjoy a cocktail while watching the aficionado below.
Middle Finger Statue For Cheeky Art
Milan is one of the cities that is responsible for Leonardo Davinci's success and it is where you can view his most famous piece, The Last Supper.
However, it is also home to unusual art, such as the L.O.V.E statue by Maurizio Cattelan.
It is also known as Il Dito, The Finger, as it is a huge marble hand flipping the bird in front of Piazza degli Affari, at the Italian stock exchange!
San Bernardino alle Ossa For The Ossuary
While there is no shortage of churches in Milan, San Bernardino alle Ossa (Piazza Santo Stefano) is the only one with skeletons in its walls.
Once you enter the main building of the church, turn right, pay the offering, then walk through the short corridor to the side church to see skeletons peering from within the mesh walls.
The ossuary was built in 1210 to cater for the deceased who couldn't fit into the cemetery, then the church was later attached.
Look up at the ceiling as the ossuary also has interesting artwork.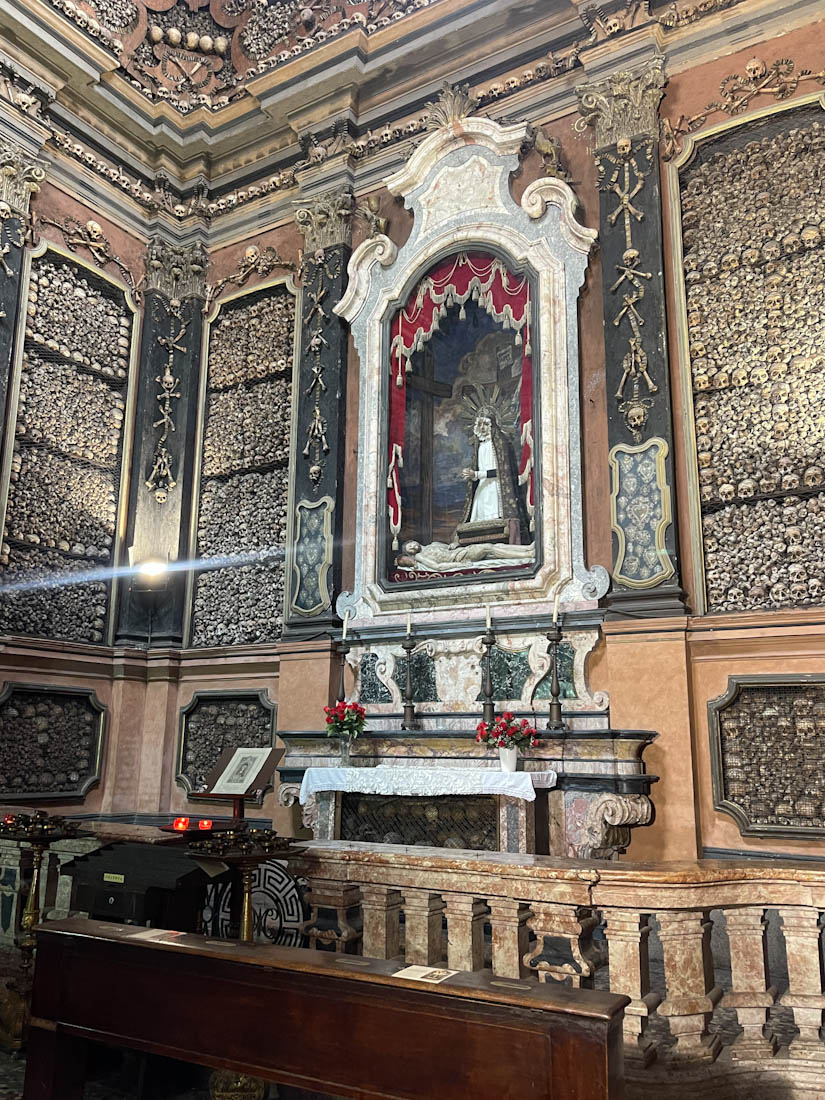 Get Lost in Giardini della Guastalla
Giardini della Guastalla (Via Francesco Sforza) isn't actually big enough to get physically lost in but it is so peaceful you could just lose yourself mentally.
Take a book, listen to a podcast, and enjoy the fresh air at this traditional Italian garden constructed in 1555.
Brera's Hidden Gems
Brera is a lovely district, packed with locals pushing prams and businessmen cycling bikes in suits.
Here, you could easily spend an afternoon people watching at the bars on Via Brera before walking back to Duomo.
Palazzo Brera's Courtyard and Art
Known for being a Jesuit College in the 1600s, Palazzo Brera (Via Brera, 26) is a bustling building with a shaded courtyard where young people hang out.
The main attraction of this palace is Pinacoteca di Brera, which houses 13th to the 20th century paintings, as well as the Biblioteca Nazionale Braidense.
It also has through access to Brera Botanical Gardens.
Brera Botanical Garden For a Secret Garden
Escape the midday heat, like the locals do, and take your lunch to the free green spaces at Brera Botanical Garden.
Here, you can wander through the lines of plants which are labelled or hide, with a book, under the shade of a tree.
The gardens are located at the back of the Pinacoteca or behind the super lux Bulgari Hotel.
Quadrilatero della Moda Hidden Gems
In this fashionable district you can hit the rails of Via Montenapoleone, Via Manzoni, Corso Venezia, and Via della Spiga, also known as the Golden Quad.
But there are a handful of lesser-known treats in store too.
Espressos at Cova Montenapoleone
Get your caffeine fix at one of Italy's oldest pasticceria, Cova Montenapoleone (Via Monte Napoleone 8).
When you enter, turn left and pay for an espresso at the till, then take your receipt to the counter where you'll be served a coffee and small dark chocolate square.
How cute are the cups?
Dine on a Special Lunch at Il Salumaio di Montenapoleone
Give your feet a rest at Il Salumaio di Montenapoleone (Via Santo Spirito, 10), a hidden restaurant built in Bagatti Valsecchi Palace.
This Renaissance courtyard and restaurant has been serving food since 1957.
Magazine Kiosks
Italy still holds on to its magazine kiosk tradition and we love it.
There are different styles of on-street shops, the older more worn out looking kiosks and the super sleek ones like that of Bazaar located at Corso Venezia, outside of Dolce & Gabbana.
These kiosks are popular fashion shots of social media fans.
Remember to buy a magazine to help the stores out.
Sempione Hidden Gems
Most visitors spend time in Parco Sempione to see Sforzesco Castle, the Arch of Peace, or to stretch their legs after seeing The Last Supper painting at Santa Maria delle Grazie.
For a more unique reason to visit, keep reading.
Bridge of Mermaids
Inside Sempione Park, approximately halfway between the castle and arch there is a bridge called the Bridge of Mermaids.
It connects the park, covering a stream from the nearby pond.
During spring, you might just see ducks and ducklings swimming underneath the bridge.
The bridge itself has stone mermaids on either side of it.
Apparently, it was the first metal bridge in Italy, designed by Francesco Tettamanzi in 1842.
Branca Tower
If you want to see Milan from up high, Branca Tower (Viale Luigi Camoens 2) is one of the highest points in the city at 108.6 m high.
You can hop on the elevator, which takes you up the iron tower to see panoramic views from the top.
Wear layers as it can be chilly.
Dine at DAZI
DAZI (Piazza Sempione) is a restaurant located next to the Arch of Peace.
It serves food from brunch through to dinner, with a cocktail menu that guests recommend.
Chinatown Hidden Gem
Less than 20 minutes walk from Sempione you'll stumble across Milan's Chinatown.
It's busiest street is Paolo Sarpi, here you'll find Asian food, shopping, and an Italian wine cave.
It is also where one of the most unusual yet striking hidden gems in Milan is located, especially attractive to those who like history, architecture, and dark tourism.
Eat Dumplings in Milan
Granted most people spend time eating pizza, pasta, and risotto in this Italian city, but if you have more than one day in Milan, and you enjoy Asian cuisine, consider stopping by the Ravioleria Sarpi (Via Paolo Sarpi, 27) window for dumplings.
The menu consists of beef, pork, and vegetable dumpling which are served in a takeout box.
This place is so hidden you might walk past it, as I did!
Just look for the white window on the right hand side.
Cantine Isola For Wine
When you hear the word 'Chinatown', wine probably isn't the first drink that comes to mind, but you are in Italy after all.
Cantine Isola (Via Paolo Sarpi 30) is a fun place for oenophiles as the experts behind the bar provide suggestions to meet your taste, and let you sample before you buy.
It has a lovely compact covered outside seating area on the street of Via Paolo Sarpi.
The bar also serves an attractive aperitivo.
This is one of the cool things to do in Milan for wine fans who want to try everything from affordable to prized bottles.
Monumental Cemetery For Unusual Things to do in Milan
Monumental Cemetery (Piazzale Cimitero Monumentale) is huge, so big you could easily plan for half a day wandering through the gravestones and tombs of the rich and notable families in Milan.
One of the most famous tombs in the cemetery is that of the Campari family, where Davinci's Last Supper is displayed in stone, created by Giannino Castiglioni.
He also worked on the towering tomb of Antonio Bernocchi.
Once you've walked around the outside, take a look at the interior of the main building for a stunning blue ceiling.
Ticinese Hidden Gems
Ticinese is a lovely, commercial district with useful shops like bakeries, fruit stores, and butchers.
It is also home to fashion stores and the historic Colonne di San Lorenzo.
Mr D*ck
Get a fill of your phallic shaped pastries at Mr D*ck (Corso di Porta Ticinese 83).
Alternatively, go for the v*gina moulded cakes on a stick.
Wall of Dolls
Just round the corner from Colonne di San Lorenzo is a wall (Via Edmondo de Amicis 2) covered in soft toys and dolls.
The installation is there to shine a light on the local lives lost to violence against women.
Navigli Hidden Gems
Navigli is a lively district where unique buildings sit around Naviglio Grande and Naviglio Pavese.
This is where locals come to chat over afternoon drinks and dine on aperitivo.
There's also some interesting nightlife and creative spaces around this area.
Drinks at Naviglio Grande
There's a variety of bars and restaurants to spend your money at along the Naviglio Grande.
Both sides of the canal are lined with opportunities for al fresco and indoor dining, and the locals are not put off by some rainfall or thunderstorms!
There's also a scattering of street art sprayed on the sides of staircases that take you over to the other side of the canal.
Stick around until night to see the area liven up with music and football on outside TVs.
On the weekends, there is an art and craft fair that lines the canal.
Ticinese Municipal Market Area
Pick up fresh produce at Ticinese Municipal Market, enjoy a drink by the water at GUD, or take a stroll along the path by Darsena del Naviglio at the Ticinese Municipal Market area.
These secret places in Milan are close to both Ticinese and Navigli.
Fashion Tour
This 3-hour fashion tour is ideal for visitors who are seriously interested in the manufacturing and design side of the city.
It is a private tour led by a fashion expert and includes visits to boutiques around the canal area.
Drinks in the Park
Do as the locals do and order drinks at the small bar, Sugar, then take them over the road to hang out in Parco Baden Powell while others run, do yoga, and walk their dogs.
There's an area with graffiti at this park too.
BASE
For a creative space with live sessions consider BASE (Via Bergognone 34), in the Zona Tortona area.
There is also an industrial style indoor cafe and outdoor bar space which welcomes everyone.
MUDEC
MUDEC (Via Tortona 56) offers a changing timetable of art exhibitions in a cool space.
The staircase and upper floor walls make for interesting photography.
There's also a shop selling art and homeware.
Go For a Thai Massage to Release Stress
About 15 minutes walk from Navigli is Full Moon (Via Evangelista Torricelli, 3) where you can walk in for a stress-busting Thai body massage.
They also do couples massages if you feel your partner deserves a treat!
Hidden Gems in Porta Romana
The Porta Romana district is mainly known as the location where you'll find Fondazione Prada (L.go Isarco 2).
It's a little trickier to get to than the other areas mentioned in this guide to non touristy things to do in Milan but it is worth the trek to experience the Torre part of the museum, and the bar designed by a very well known filmmaker!
Bar Luce For Cakes in a Throwback Cafe
Very few people know that the bar located inside the Fondazione Prada complex was created by Wes Anderson.
Cue composition, symmetry, and cool colour palette!
The bar sells fresh sandwiches, tasty branded cakes, coffee, and alcohol in a 1950 style cafe.
Fondazione Prada Tower
The Torre, or tower, of Fondazione Prada sticks out against the rest of the museum as the 60m high block is strikingly white.
Take the lift to the floors featuring exhibitions from the likes of Damian Hirst and Carsten Höller – the latter displaying a dark tunnel that leads to trippy upsides of town mushrooms that you walk through.
One of the Milan attractions not to be missed by modern art fans seeking something a little different.
It also has epic views of the city.
Hidden Gems in Porta Garibaldi
The final area we're going to look at in our unique Milan guide is the Porta Garibaldi, Porta Nuova, and Isola districts.
Known for its 'newness', where you'll find shiny skyscrapers, it is a real contrast to the dustier streets of Duomo and surrounding areas.
Corso Como For Drinks
Corso Como is an entertainment area that has restaurants running down the middle, and stores on either side.
Look out for 10 Corso Como, the brainchild of gallerist and publisher Carla Sozzani, which features a courtyard restaurant, gallery, shop, and hotel.
Keep your eyes peeled for the rainbow print trolley traveling around Porta Garibaldi!
Bosco Verticale
Bosco Verticale is a really cool high rise with plants growing all over – a nature and urban fusion.
It is also known as a vertical forest, which is easy to see why once you visit.
The tower is surrounded by grass, benches, sun loungers, and a play park.
A Day Trip to Lake Como
If you've come all this way to Milan, you can't not see Lake Como as it is less than an hour away by car, train, and bus trip.
This day trip picks up visitors from two locations, near the Duomo or Central Station, and drives to the quiet town of Menaggio on the western shore of Lake Como.
Tip – sit on the right hand side of the bus, opposite the driver, for the best views coming into Lake Como.
After an hour in Menaggio, you take the local ferry over to touristy Bellagio where you can buy lunch, walk to the viewpoint, and chill out at the free gardens.
The next part of the trip is a private boat tour, sailing past the mansions that make the area so famous. Hi George!
Back on dry land, the day tour ends in the city of Como, where you have free time to sightsee or shop.
The bus returns to Milan on the same day, offering a lovely city/lake combination tour.
Mercato Centrale Milano
If you get off Central Station after your Lake Como day trip, take a walk around Mercato Centrale Milano, the hip food market where chefs cook food in front of you.
You can dine on fresh fish, pasta, sushi, pizza, and cakes!
There's even a wine bar.
San Siro Stadium and Museum Tour
Finally, if you're a footy fan, you won't see past this San Siro Stadium tour.
Home of A.C. Milan and Inter Milan, the self-guided tour takes you through the changing rooms, the tunnel 'La Scala del Calcio', and gives access to the museum.
Our Italy Guides