This article has links to products and services we love, which we may make commission from.
Looking for things to do at night in Rome? This historic capital city is arguably even more spectacular when dark falls. So whether you are enjoying a warm summer's evening, escaping the rain, or are looking for a romantic night – our guide details popular indoor and outdoor activities you can do all year round.
We've also included where to enjoy sunsets in the eternal city, or should we say, nocturnal city!
You may also like our one day in Rome itinerary and best areas to stay in Rome.
Things to do in Rome at Night All Year Round
Enjoy the Buzz of Trastevere at Night
The number of districts in Rome appears to be disputed with anything between 21 and 25 being identified.
What is undisputed is the popularity of the district Trastevere at night.
Trastevere means 'beyond the Tiber' which is the river that runs through Rome and it can be reached by foot in 30 minutes from the Trevi Fountain.
The walk takes you over the Ponte Garibaldi bridge with unique Tiber Island/Isola Tiberina to your left.
Immerse yourself in a Trastevere evening where locals chitter chatter the night away over slow dinners and drinks.
There is no shortage of cafes and restaurants serving traditional Roman recipes and international cuisine around Piazza di San Calisto, Piazza Santa Maria and the cobbled streets that surround them.
Sit indoors away from the crowds or outdoors, clinging on to the last of a balmy summer evening or crisp autumn night.
Craft Beer in Rome
Just out for a few beers?
Check out Delirium Cafè (Via di S. Francesco a Rip) for a craft beer menu featuring international options.
Note: Trastevere is a very popular area to stay in.
Check out these hotels and apartments before you book your stay so that you you can stagger home safely or read our where to stay in Rome guide for the lowdown on other areas.
Live Music at Trastevere
Alcazar Live (Via Cardinale Merry del Val, 14b) is a bar, restaurant and music venue.
DJs, local artists and cover bands take to the stage at this Trastevere late night spot.
There's also an outdoor patio.
Fun things to do in Rome don't have to involve history, reserve a table for dinner at Alcazar Live to avoid disappointment.
Dine, Drink and Soak Up the Atmosphere of Monti at Night
Historically, Monti was where the poorest of citizens lived, debauchery and prostitution was common.
Today, Monti is cool area of Rome where you'll find beautiful bohemian buildings, dining opportunities, wine bars, live music, galleries and its weekend vintage market.
Monti is a magnet for artists and creatives.
Grab a gelato at Fatamorgana Monti, dine on pasta at a restaurant such as Alle Carrette or grab a beer and drink it a square like Piazza Della Madonna.
The word Monti means mountain in English and this area of Rome is set over some of the city's hills.
Keep reading to find out a cool Monti sunset spot.
Colosseum at Night
Within walking distance of Monti is the Colosseum.
Catch the oval amphitheatre lights shine through its windows with the inky night sky as a backdrop.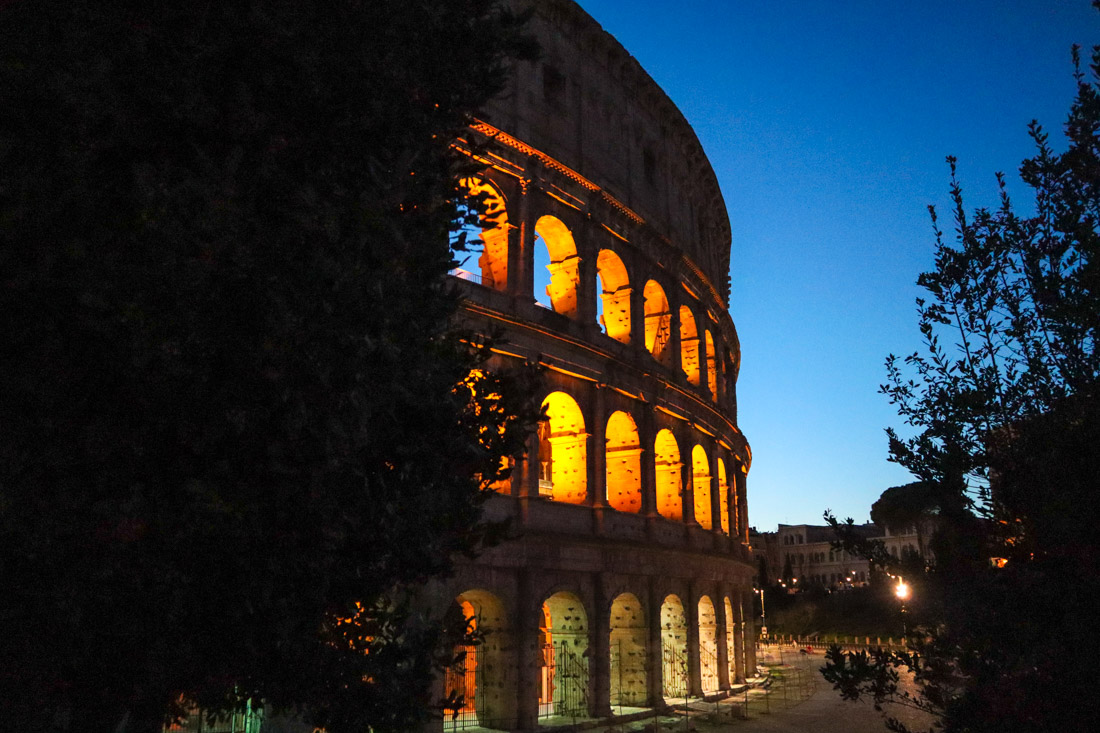 Via Nicola Salvi is a raised road which gives you a decent angle for taking photos of the Colosseum.
Gay Bars in Rome
Next door to the Colosseum you'll find Coming Out and My Bar, friendly LGBTQ+ bars on Via San Giovanni.
Dine, drink, sing karaoke and get involved in the themed nights at these popular bars.
Visit the Trevi Fountain
Visiting the Trevi Fountain (Piazza di Trevi) at night means fewer crowds as the day tour groups have left the city.
However, since this is one of the most visited attractions in Rome, it's likely you'll still be rubbing shoulders with fellow tourists as you throw a coin into the water.
The Trevi's travertine stone bounces off the flood flights, contrasting against the dark skies at night.
Lights illuminate the turquoise water creating a little bit of magic for photos.
The Trevi is one of the oldest water sources in Rome but there are hundreds of free water fountains which are safe for you fill up your water bottle with.
Do an Audio Tour of the Pantheon
The Pantheon is a striking structure which used to be a pagan temple and later became a Christian church.
It is the only remaining nearly intact ancient Roman building thought to have been built between 25 and 27 B.C.
The 35-minute audio tour takes you through 15 listening points inside of the basilica and teaches you about the history of the church and mausoleum.
The Pantheon is located at Piazza della Rotonda which is very busy during the day with tourists taking a minute by the water fountain to listen to street performers and enjoy some gelato.
At night, you can still expect to see couples and groups dining al fresco at the restaurants with Pantheon views which is another thing you can do at night in Rome.
Castel Sant'Angelo
Reserve tickets for the last session at the Castel Sant'Angelo museum to skip the large crowds in the afternoon.
Explore the seven levels of Roman Emperor Hadrian's old home which later became the pope's fortress with castle.
Castel Sant'Angelo is a very popular photo spot in Rome.
Dine at the Central Station
Why would you have dinner at a train station you might be thinking!
Rome's Mercato Centrale is actually a cool spot to enjoy food and a drink, especially for couples and groups who can't agree on the same kind of food.
There are a number of food stalls around the market so you can go for noodles while your partner eats a burger.
There's plenty of wine and beer to choose from too.
Milan's Centrale Railway Station also has a similar set up.
Spend a Night at the Lesser-Known Ostiense and Testaccio
Looking for something different to the cobbled streets of Trastevere and Monti?
Meet the Testaccio and Ostiense districts.
Tourists come for the Rome points of interests, St. Paul Outside the Walls and the Pyramid of Caius Cestius then leave amazed at the intricate street art work.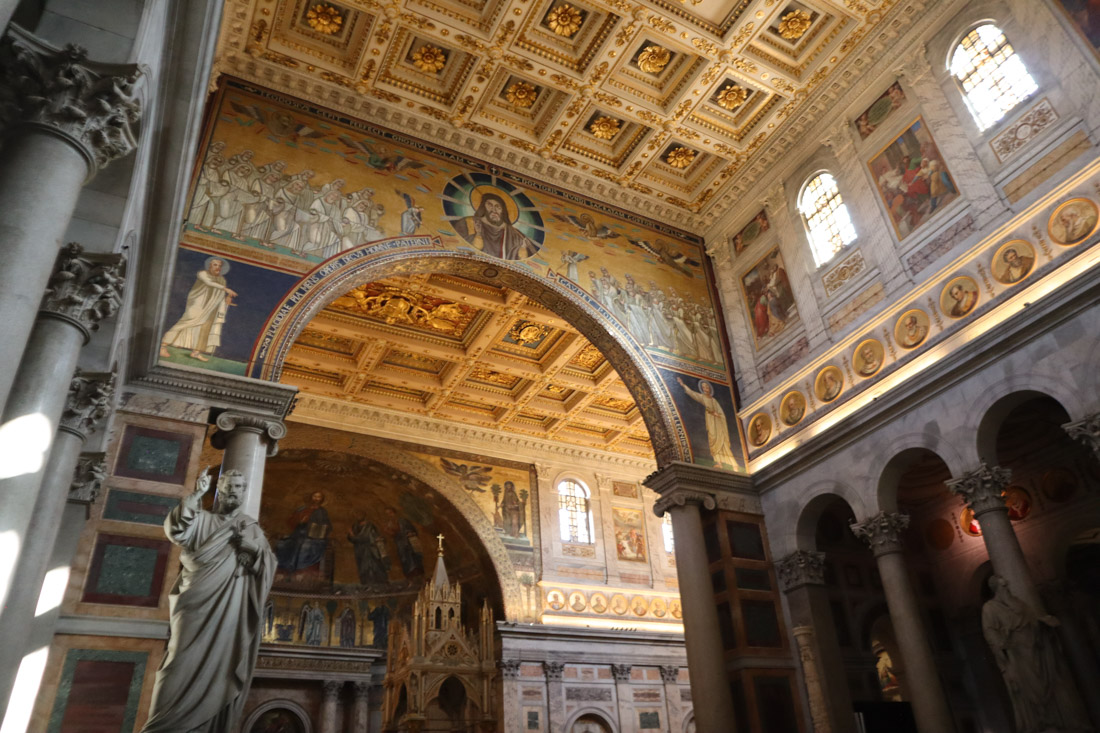 Entire buildings are covered in bright murals, many of which were completed during Rome's Outdoor Festival proving that Rome is more than just traditional art such as The Creation of Adam by Michelangelo at the Sistine Chapel.
Here's an overview of what street art you can see in Ostiense and where.
Sam3, Via Ostiense 193b
Spanish artist, Sam3 is known for the use of black silhouettes which is exactly what you can see in Opera Onirica, painted on to a building across from St. Paul Outside the Walls.
This work was created in 2012 for the Outdoor Urban Art Festival.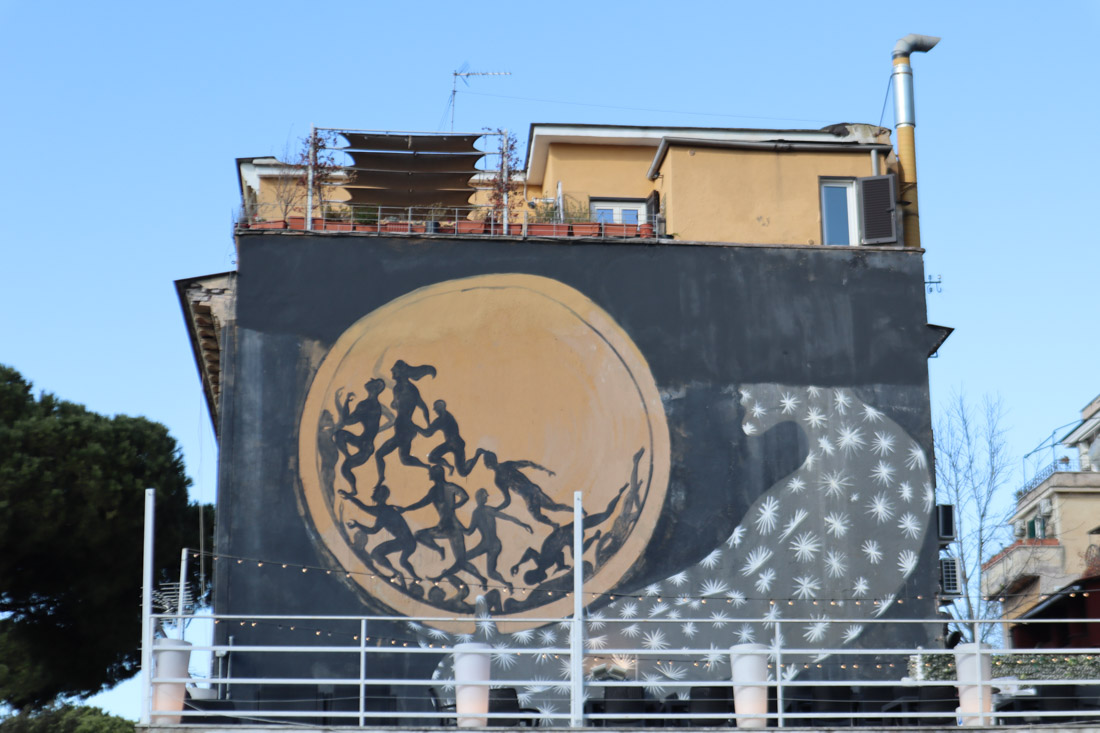 JB Rock, Via dei Magazzini Generali
You'll recognise quite a few faces on JB Rock's 60 meters Wall of Fame.
Next to this wall is the Roman headquarter of the Cartoon Network and a mural celebrating its 25th anniversary.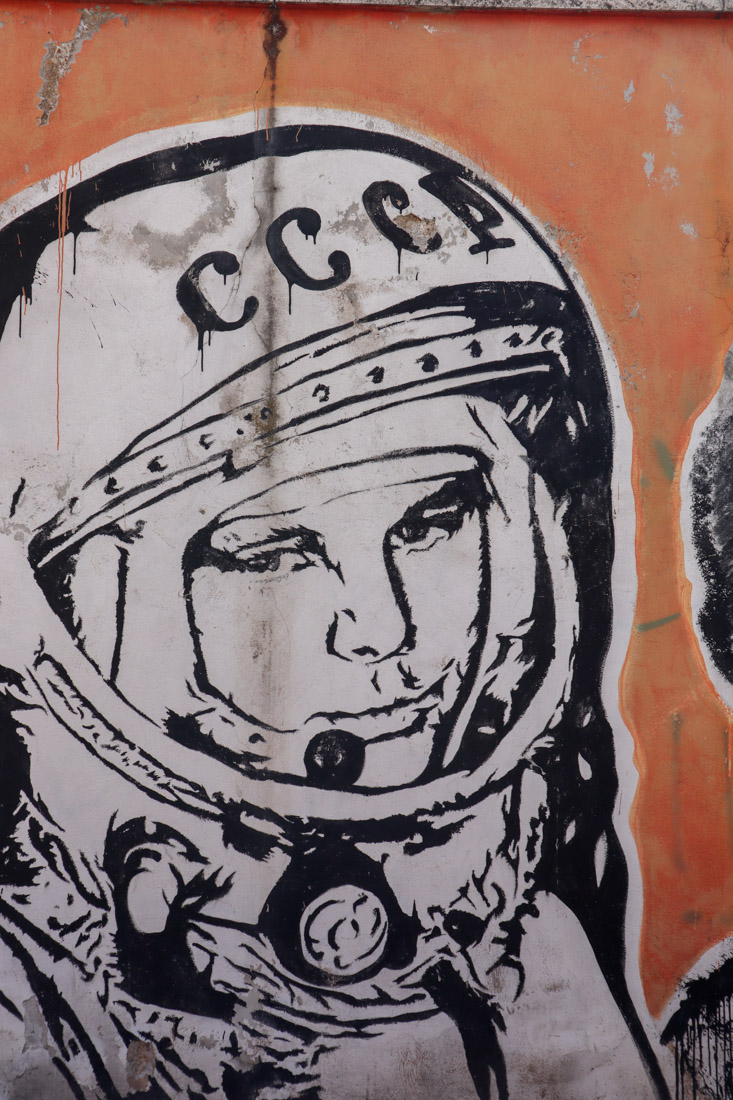 Kid Acne, Via del Commercio Ostiense
Paint over the Cracks was painted in 2011 as part of the Outdoor Festival.
The 100 meter long slogan, in Kid Acne's recognisable font, was completed in under two days.
Searching for that street art is thirsty work.
Enjoy dinner and a drink at one of the many Ostiense bars such as the friendly and chic, Porto Fluviale (Via del Porto Fluviale, 22).
Content that we've done most of the touristy things in Rome, we would consider staying in Ostiense the next time we visit.
Watch the Sunset at Giardino Degli Aranci
Did you know that like Edinburgh, Rome is built on seven hills?
Located on one of them, Aventine Hill, is Giardino Degli Aranci which means The Orange Trees Garden.
This beauty spot was designed by Raffaele De Vico in 1932.
Terrazza del Pincio at Dusk
Another popular sunset spot is Terrazza del Pincio (Salita del Pincio), a short walk up from the Piazza de Popolo.
The 19th century terrace has fountains, views of the piazza and St. Peter's Basilica.
Local buskers add some ambiance so be sure to tip them.
The well manicured Villa Borghese is close by.
Be Seen and Sip Cocktails at a Rooftop Bar
While the majority of Rome's social energy takes place in tight bars on busy piazzas, there's a handful of rooftop bars that serve sundown drinks.
Tiziano Terrace for Monti views, Minerva Roof Garden for stylish spritz and Up Sunset Bar for panoramic views.
Dine on a Floating Restaurant
The River Tiber runs throughout Rome creating an excuse for its many marvellous bridges.
It also gives reason for floating restaurants and bars such as Baja (Lungotevere Arnaldo da Brescia).
Baja is a barge moored on the banks which boasts of an 'elegant and functional Art Nouveau structure'.
As night falls, Baja's lights give the barge restaurant a certain vibe, a romantic thing to do in Rome.
Baja is a little pricier than other dining experiences in Rome, you are paying for the ambience after all.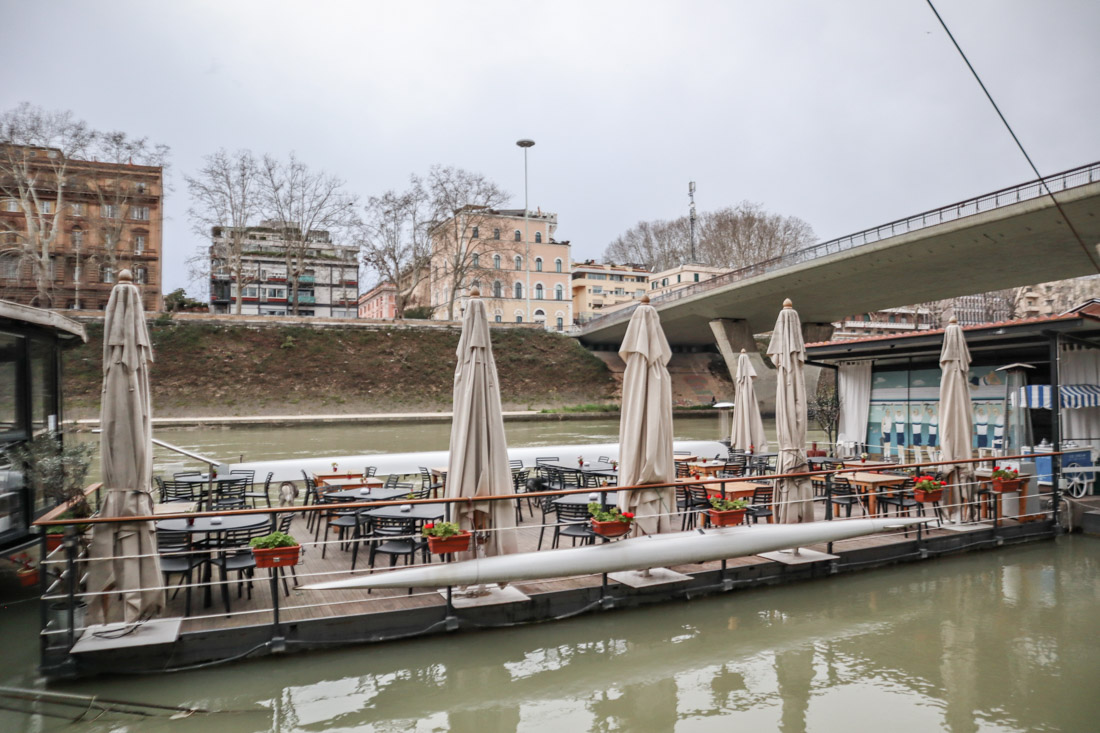 Hop On and Off Bus
Watch the city change from day to night from the comfort of the Rome hop on and off bus.
See St. Peter's Basilica, the Colosseum, Forum, and Circus Maximus from the top deck and learn about their history via audio guide.
If a stop takes your fancy, like the Spanish Steps, get off and hop back on the next bus.
An ideal thing to do at night in Rome if you're feeling tired but don't want to miss out.
If it's raining, stay dry on the bottom deck which is fully covered.
See a Movie
If you're bored of boozing, your feet need a rest, it's raining outside or you just really fancy catching a movie, check out what's on at Cinema Adriano (Piazza Cavour, 22) or Cinema Admiral (Piazza Verbano, 5).
Watch a Soccer (Football) Game in Rome
Italians are known for their love of football and Rome is home to two teams, AS Roma and Lazio.
Purchase tickets to see AS Roma play at Stadio Olimpico here and Lazio here.
If you can't get stadium tickets, watch the game on a screen at Highlander's.
Auditorium Parco Della Musica
Book tickets to see a large international acts play music at the Parco della Musica.
With three music halls and a theatre, this live music venue hosts a busy calendar of events all year round.
Go Bowling
Strike it lucky at the late night Brunswick Bowling (Lungotevere dell'Acqua Acetosa, 10).
Dine, bowl, play games or mini-golf at this family friendly attraction.
Things to do a Night in Rome in Winter
See the Christmas Trees in Rome
Check out the huge Christmas trees all lit up at the Colosseum, Piazza Venezia and Galleria Alberto Sordi.
Enjoy the festive lights at Via del Corso.
Pick Up Festive Souvenirs
Head to the Piazza Navona Christmas Market for festive gifts, Christmas snacks, candy or just enjoy a glass of vino while you people watch from a restaurant on the sidelines.
Listen to a Christmas Choir
Attend mass or an organised choir event at one of the churches in Rome.
Save for later!
Our Italy Guides