This article has links to products and services we love, which we may make commission from.
Wondering how to pack everything into Rome in a day? Some will say 24 hours is never enough in Italy's capital but we appreciate that some trips are time restricted so we've created this jam-packed one-day Rome itinerary that ticks all the traditional bucket list items around the popular districts.

If you're looking for historical monuments, insightful tours that save time, perfect photo spots and hidden gems, keep reading.
We've also featured restaurants and, if you plan to stretch your one day in Rome into the wee hours, nighttime entertainment!
You may also like our guide on things to do at night in Rome.
So whether you are planning a fly visit or have built a day into a bigger trip you'll find our 24 hours in Rome guide exactly what you need to get a taster of what the Eternal City has to offer.
Find out the best place to stay for one night in Rome here.
Getting Around Rome
Money can't buy you love but it can buy you time and time is what you need to get the most out of your day in Rome.
You can easily walk between some of Rome's top attractions while others are a little out of the way.
If you want to see it all and save your feet consider the Rome hop on and off bus where you get off at the stops that take your fancy and then hop on the next bus.
This tour also includes an audio guide so you can learn while you are in motion.
If it's sunny, sit on the open top deck.
If it's not dry, the sightseeing bus is a recommended thing to do in Rome when it rains, especially if you only have a day.
Here's an overview of how far apart points of interest are to help you get your bearings.
Rome Attractions Walking Times
Pantheon to the Trevi Fountain: 8 minutes
Trevi Fountain to the Spanish Steps: 8 minutes
Spanish Steps to Castel Sant'Angelo: 20 minutes
Castel Sant'Angelo to St Peter's Square at the Vatican: 11 minutes
Trevi Fountain to Colosseum: 20 minutes
Trevi Fountain to Trastevere: 30 minutes
Rome in One Day – Morning at The Vatican
If you plan to visit the Vatican to see The Creation of Adam by Michelangelo at the Sistine Chapel AND St Peter's Basilica consider this very early morning tour.
If you're arriving late morning, read through the Vatican review and then check out the other entrance options below.
For this early morning tour, you meet your guide and enter the Sistine Chapel a whole hour before the general public, giving you time to see the intricate art in a smaller crowd.
Did you know that the Vatican is its own country with its own rules?
It is the smallest country in the world with a population of just over 800.
Remember to take ID with you as you will need it for this tour.
There's a dress code which involves ensuring your shoulders and down to your knees are covered so keep this in mind when you are packing for your day in Rome.
Food wise, the meeting point is outside a piazza cafe which sells coffee and sandwiches and there is a cafe inside the Vatican for a morning comfort break.
The early access Vatican tour is laden with insight and backstory so best have a coffee before it kicks off!
As you wait to pass through security, your guide shares a map with a key of the epic Michelangelo fresco which was created between 1508 and 1512.
You can't take any pictures of the famous roof painting but there's plenty of other fascinating art and decor to capture as a souvenir.
The tour also includes access to St. Peter's Basilica which is overwhelmingly beautiful.
Its Renaissance style is a work of art itself never mind the religious importance it holds in the city.
The early access Vatican tour is four hours long which may seem like a long time when you only have 24 hours in Rome but it does get you up and out of bed really early and on your way to explore the rest of the city by 11am.
Next up is an additional option that photography fans will want to take advantage of.
If you can handle the adventurous stairs to St Peter's Dome Climb, you will be rewarded with vast views of St Peter's Square and beyond.
Please take note of this warning, the steps are not for those who suffer from vertigo or fear tight spaces as you can see in the images below.
There are two options, you can take elevator and climb the remaining 320 steps or climb the full 551 steps.
The first option will obviously save you some time which is the goal since you only have one day in Rome to see all of the highlights.
Other Vatican Tours and Entrance Options
You can easily spend half a day at the Vatican but if you just want in and out here are some options.
Afternoon – Whistle Stop Tour of Rome's Monuments
There's a take out pizza shop called Scialla The Original Street Food (Vicolo del Farinone, 27) five minutes walk from St Peter's Square where you can get a cheap slice.
There are a couple of tables inside or benches on the street outside.
Castel Sant'Angelo
Castel Sant'Angelo (Lungotevere Castello, 50) is a very popular photo spot in Rome.
The cylindrical building was once home to the Roman Emperor Hadrian and then it was the pope's fortress.
Today it is a museum with seven floors.
It takes around 10 minutes to walk between the pizza take out shop and this historic building.
Pantheon
Next we head over St. Angelo Bridge, one of Rome's many bridges which connect districts separated by the River Tiber.
The Pantheon is the only remaining nearly intact ancient Roman building and it really does look in great shape considering it was built between 25 and 27 B.C.
Just imagine that for a minute, 25 and 27 B.C.
It really is incredible when you think how old Rome is.
This Rome attraction used to be a pagan temple and later became a Christian church.
You can do an audio tour of the church and mausoleum and it only takes around 35 minutes if you want to budget that into your 24 hour Rome itinerary.
Looking for a pit stop? Enjoy a drink or meal at a restaurant on Piazza della Rotonda.
Alternatively, go for pizza or pasta at Origano Campo De' Fiori (Largo dei Chiavari, 84) which is a modern Italian restaurant on a street close to the Pantheon.
Trevi Fountain
There's no denying that the star of the show for many is the Trevi Fountain (Piazza di Trevi) and the crowds around it indicate just how many Rome bucket lists this water piece features in!
Squeeze in to get a picture, throw a coin then be on your way to your next stop, the Spanish Steps.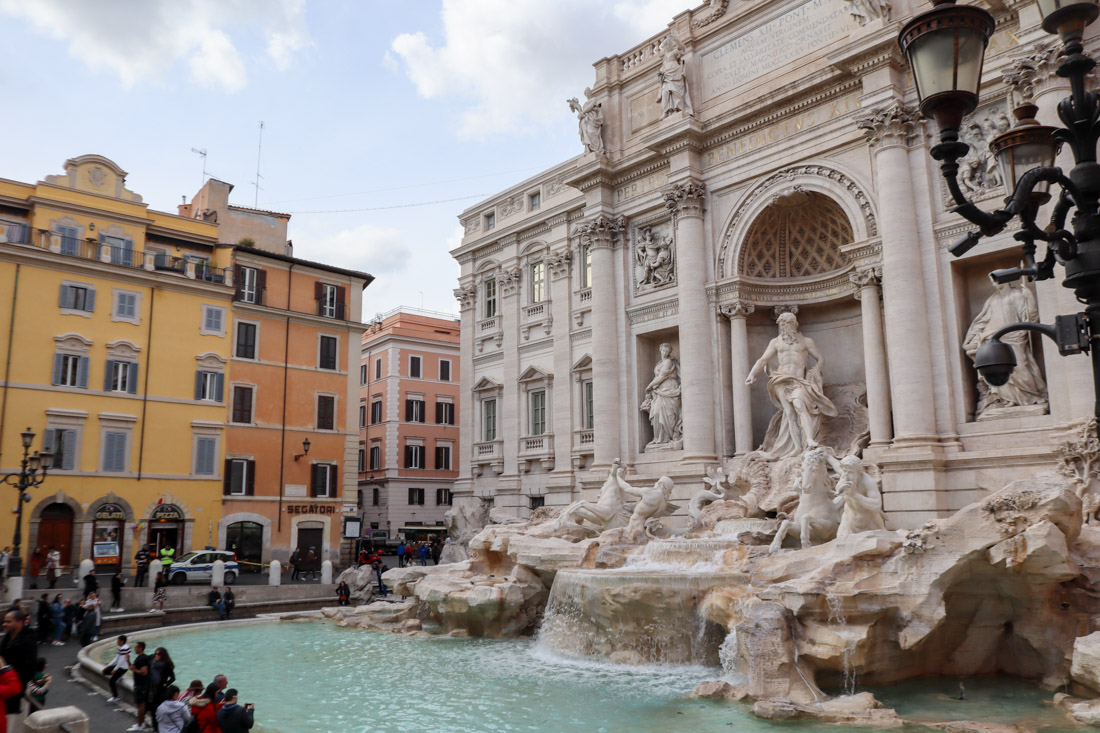 The Spanish Steps
These are the famous steps that feature in the Audrey Hepburn movie, Roman Holiday.
You can do you best impression where this wall ends just avoid sitting on the steps as the tourism police are forever blowing whistles and telling people to stand up.
The building at the top of the 135 steps is Trinità dei Monti.
If you are in need of some green space, climb the steps and make your way to Villa Borghese where you will find one of the most popular viewpoints, Terrazza del Pincio.
Depending on the time of day, this is a decent sunset spot.
Check out our guide to things to do at night in Rome for more sunset locations.
Evening – Colosseum and Monti
Rome's Colosseum
If you have a hop on hop off pass use it to save your feet and some time because the next stop on this Rome in a day itinerary is the Colosseum.
Alternatively, enjoy the 40 minute walk from Terrazza del Pincio or the 30 minute walk Spanish Steps.
The Colosseum (Flavian Amphitheatre) is an oval shaped structure with a crumbling side and sordid past.
This amphitheatre is where the emperor put on gladiator fights and animal hunts for entertainment.
Construction started between between A.D. 70-72 making it the oldest amphitheatre and the largest standing in the world.
Colosseum Tours
If a tour of the Colosseum is something you would really be interested in while visiting Rome, skip the Vatican tour and check out the following options.
Monti
Monti is a hip area close to the Colosseum where locals enjoy beers at Piazza Della Madonna, chat over slow dinners and listen to live music.
In the past it was known for being one of the poorer districts but now it is bohemian and arty.
Dine on pasta at a restaurant such as Alle Carrette, gelato at Fatamorgana Monti then a drink at one of the cool bars.
Monti also has a popular weekend vintage market.
Alternative Night in Rome – Trasteverse
Head back over the Tiber River to Trasteverse which means 'beyond the Tiber'.
Plan for an evening of al fresco dining, drinks at Piazza di San Calisto or Piazza Santa Maria and live music at Alcazar Live (Via Cardinale Merry del Val, 14b).
Save for later!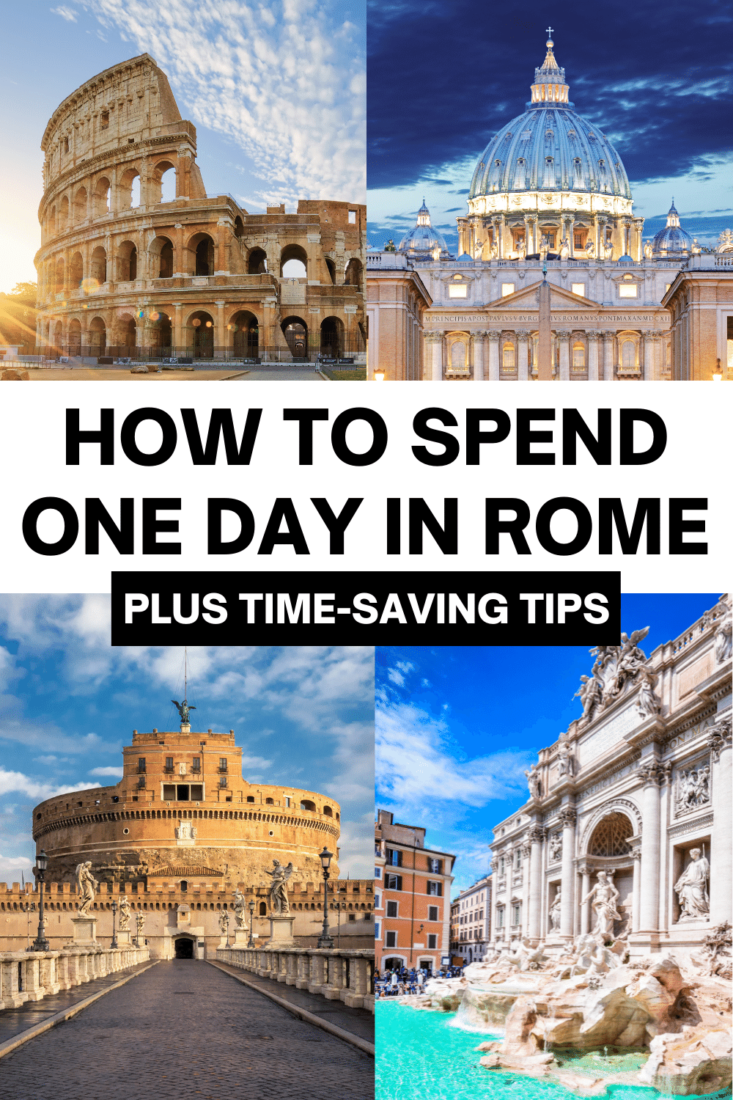 Our Italy Guides