Roberts Creek is a special place.
There's something in the air, a Scotsman living in the Creek told us, and I don't mean the medicinal marijuana that is grown up here, he added. According to the Lonely Planet, this small coastal town is where conscription dodgers fled to during the sixties to avoid going to war. So it makes sense to see an older gent with long hair and flowing clothes in Roberts Creek! The town has a real quirk to it. Not only this, the locals are environmentally conscious and healthy. Here's our guide on things to do in Roberts Creek, on British Columbia's Sunshine Coast.

We (Gemma and Craig) lived in the Creek by the way. Our story even made it into the Coast Reporter.
---
» You may also like: Our Sunshine Coast travel guide
---
Things to do in Roberts Creek
1. Robert Creeks Beach
The town has a great and well-used beach. The walk down from the small town centre (at Flume Road and Beach Avenue) takes you past the famous mandala (see below) and to the rocks.
To the left of the pier, there is a stretch of stones with sandy patches. Families play and sunbathe here during summer.
There are picnic tables and also (random) logs for seating.
Sunsets are cracking and the sea passes the clean tests with over 90% frequently throughout the year.
You can launch kayaks and paddleboards here with ease.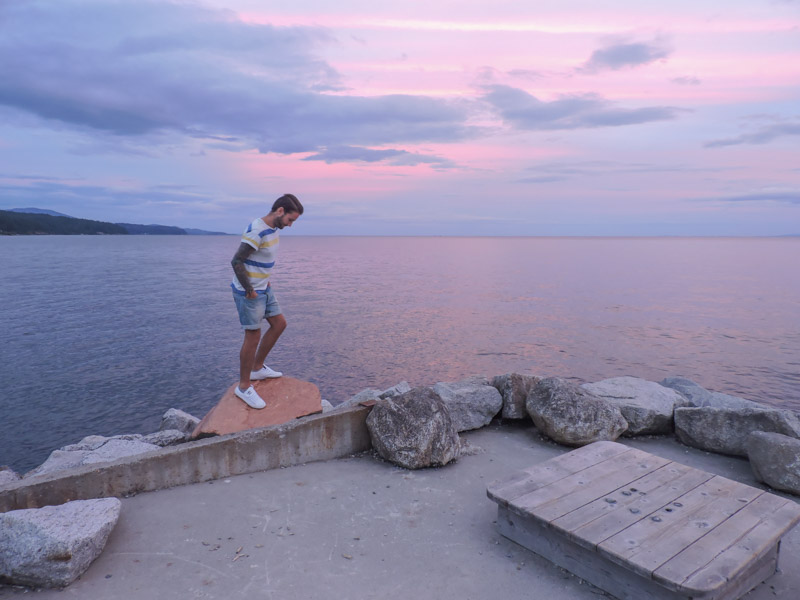 2. Mandala, Community Painting
One of the cool things about Roberts Creek is the variety of community events that take place throughout the year.
Every July, a team of locals paint over the Roberts Creek mandala and redo the outline.
Visitors then grab some paint and do damage to the shapes!
Craig and I did start off a team project but it ended up with me passing the brushes.
Check out for the Scottish flag and Two Scots having a smooch under a palm tree.
Don't grow too attached to your work, it will be going the next year. An excuse to return for summer?
3. Roberts Creek Provincial Park
Just outside of the residential area of the town is Roberts Creek, Provincial Park.
In the park, you can find large cedars, Douglas fir and Hemlock trees and a campsite with picnic area.
The trails in the park lead to the ocean (less than 2K).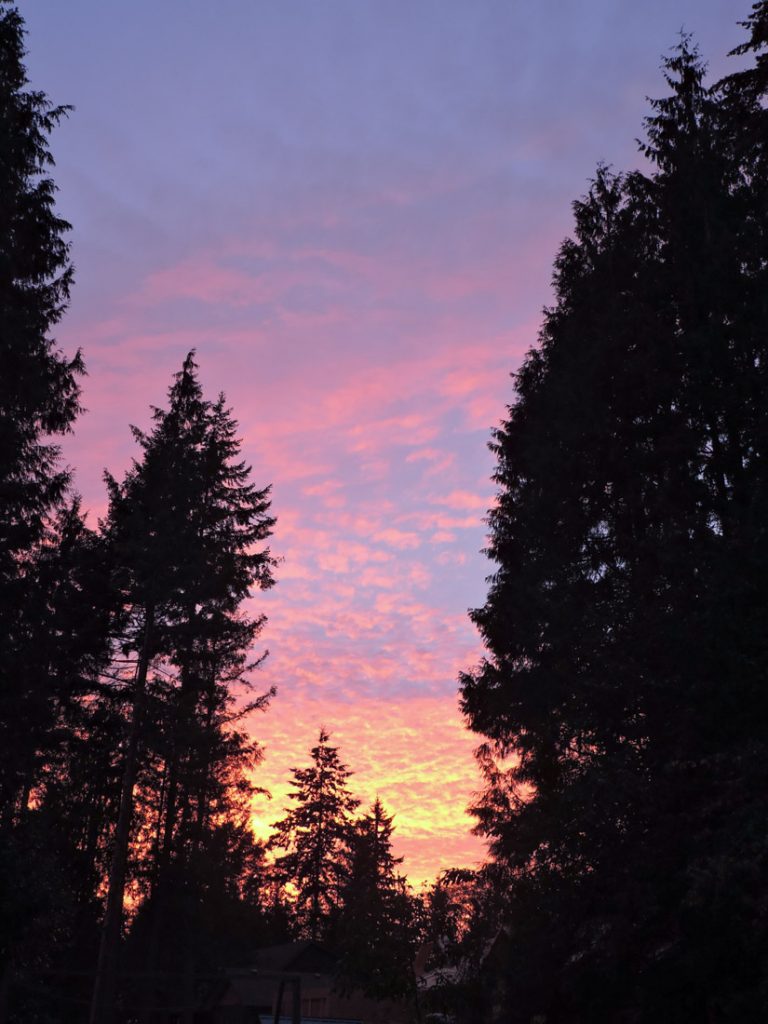 4. Cliff Giliker Park
One turn off the Sunshine Coast Highway 101 takes you to a variety of hiking trails at Cliff Giliker Park.
The trails are well kept and easy to walk (less than 2K). There is a waterfall which we didn't get to enjoy because the summer we lived in Roberts Creek there was a heatwave, forest fires were common at that time.
Dogs must be kept on leads and no bikes are allowed on the trails.
---
» For more hike ideas, check out our things to do on the Sunshine Coast, BC
---
5. Roberts Creek Legion
The Legion is one of the live music venues in Roberts Creek. We never had the pleasure of spending the winter in the Creek but have been told that there are social events on every weekend.
We did catch a singer and drinks a couple of times at the Legion during summer.
The kitchen is open Tuesdays and Fridays, it closes when meals sell out! Check the website for more details.
---
» You may also like: Our guide to Sechelt, the big town next door
---
6. Roberts Creek Community Hall
Roberts Creek Hall is another venue at the other side of the Creek.
It puts on various events from family movies nights to swap shops.
We danced our socks off to a live band one Saturday with the locals.
7. Yoga by the Sea
There is a very peaceful yet welcoming yoga studio in Roberts Creek.
Classes run every day, most are drop-in so anyone can attend.
It has an array of nice yoga props. It's the nicest yoga studio I've ever done yoga at.
8. Roberts Creek Farmers Market
Farm Gate Market is open every Wednesday, all year round, at the Roberts Creek Masonic Hall.
You can pick up locally grown and made products such as fruit/veg, baking goods and oils.
Hot meals are also served. Support local!
---
Robert Creek Restaurants
9. The Gumboot
Wholesome food doesn't stop at the farmers market, the local restaurant, The Gumboot, uses fresh ingredients from local suppliers and more impressively, what's in their back garden!
The Gumboot's atmosphere is relaxed and this is mainly down to the music, on a Tuesday and Wednesday night there is live music to enhance the dining experience. Quite frankly, The Gumboot is a really nice place to be.
We ate there when my parents visited and we also reviewed the restaurant.
Craig chose the burger and I had the halibut with risotto.
We couldn't resist a dessert of cheesecake and blueberry crumble after observing another table's order.
And since the produce is brought in from local suppliers we had to support the community be ordering a BC red and Craig's fave, Golden Goddess
Like beer? Don't miss the craft breweries in the next town of Gibsons.
10. Food Vendors
Roberts Creek has a unique weekly 'food to order' event.
Two caterers put up meals on different nights of the week.
Soul Kitchen cooks up Korean on a Monday and Curry in the Creek has curries to order for a Thursday.
You have to pre-order. Find out more here.
11. Roberts Creek General Store
The heart of the Creek!
The General Store has shelves stacked with confectionary and store cupboard food and fridges with fresh produce.
You can buy homemade sandwiches and alcohol! The perfect picnic.
Stop by the notice board to see what events are happening in the town.
The Roberts Creek Library is next door.
---
Roberts Creek Accommodation
Up the Creek Backpackers B&B
There really is only one hostel to stay at (literally and metaphorically), Up the Creek Backpacker's B&B. This wooden BnB is often referred to as a home away from home and this is conclusive when you look at the number of returning guests.
Martin's hostel has a seven-bed dorm, three private rooms and tents (for foot passengers), we should know – we cleaned the rooms daily for two months!
There is lots of living room space with a fire and guitar, multiple maps for all over BC and since Martin has lived in the area for sixteen years, he is full of helpful tips and advice.
The hostel has a guest kitchen, free tea and local coffee, as well as use of not one but two BBQs.
Many cyclists visit Up the Creek as the hostel has space for bikers to clean up their wheels and hang up their clothes.
There are many bike routes around Roberts Creek, it's popular with the bike gang. Don't have a bike? No problem, there are plenty of loaner bikes.
My favourite spot in the hostel are the hammocks. You just can't beat swinging on them and reading a book or sending selfies back home! Jealous?
Roberts Creek Camping
You can rent a camping spot with a tent and foamies, sleeping bags, liners, pillows, pillowcases and flashlights at Up the Creek.
Guests have full use of the property kitchen, bathrooms, lounge area and hammocks.
A camping spot without a tent may be available for guests arriving by boat or bus only.
There is also a campground in the Roberts Creek, Provincial Park, which users say is basic.
21 campsites with pit toilets and a sani-station are available.
---
Website: Up the Creek Backpacker's B&B
Address: 1261 Roberts Creek Rd, Roberts Creek, BC V0N 2W2
Contact: 604-837-5943 / Call toll-free 1-877-885-8100
---
How to Get to Roberts Creek
Where is Roberts Creek?
The Creek can be found off Sunshine Coast Highway. You can get there by local bus from Gibsons and Sechelt.
Vancouver to Roberts Creek – Enjoy the forty-minute ferry from Horseshoe Bay. Take the bus from Gibsons along the Sunshine Coast Highway.
---
Thank you to the small businesses of Roberts Creek for their hospitality and making our summer one of the best yet! Our own opinions expressed above.