This article has links to products and services we love, which we may make commission from.
Sechelt, BC is one of the larger towns in Canada's glorious Sunshine Coast. With size comes responsibility and Sechelt certainly put out a healthy serving of restaurants, accommodation and things to do. So let's head along the Highway 101 to see what Sechelt has to offer visitors and locals alike with our (Gemma and Craig) things to do in Sechelt guide.
---
» Check out our ultimate guide of things to do on the Sunshine Coast, BC
---
Things to do in Sechelt
Sechelt Waterfront
Enjoy a leisurely stroll along the Sechelt waterfront and enjoy the calm of the Sunshine Coast.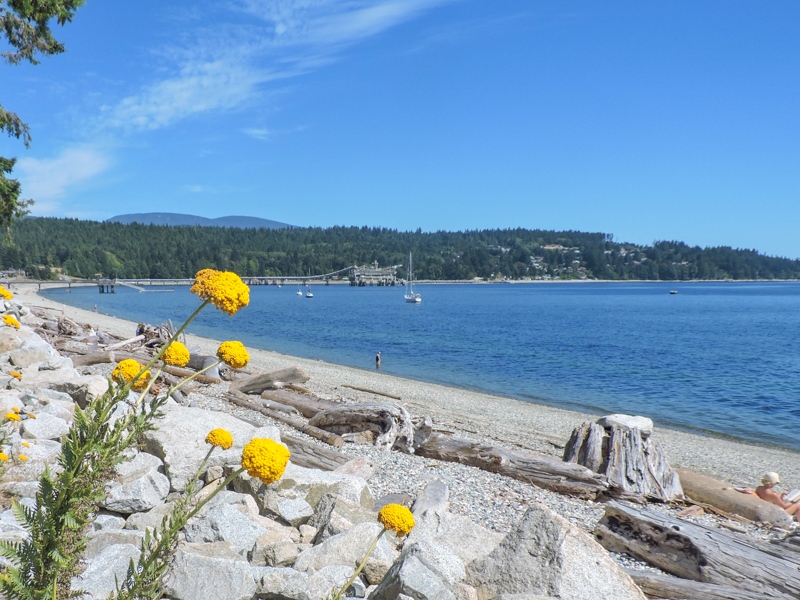 Sechelt Farmers' and Artisans' Market
From April to September, over 60 vendors meet in all weather conditions to sell their local stock and crafts.
This is the biggest outdoor market on the Sunshine Coast and has been running for a quarter of a century ever Saturday morning.

---
» Like more farmers' markets? Here's our list of 47+ things do in on the Coast
---
shíshálh Nation tems swiya Museum
Discover artefacts and materials belonging to the shíshálh Nation and learn about the native culture.
Paddleboarding and Kayaking on the Sunshine Coast
Tucked out the way of the main drag, Paddles and Pedals puts on a variety of outdoor experiences from boat cruises to board rentals.
We enjoyed a two-hour paddleboarding afternoon at Sechelt Inlet, a difficult spot to find without a car.
We had a very heated discussion and mild fallout trying to get to the Inlet from the bus stop, eventually dumping our bikes in the woods and hitching a ride to avoid being late. Apologies to the owner of the $50K Audi who was left with our sweat in the back seats.
It was worth the tiff, for these views and access to a private beach!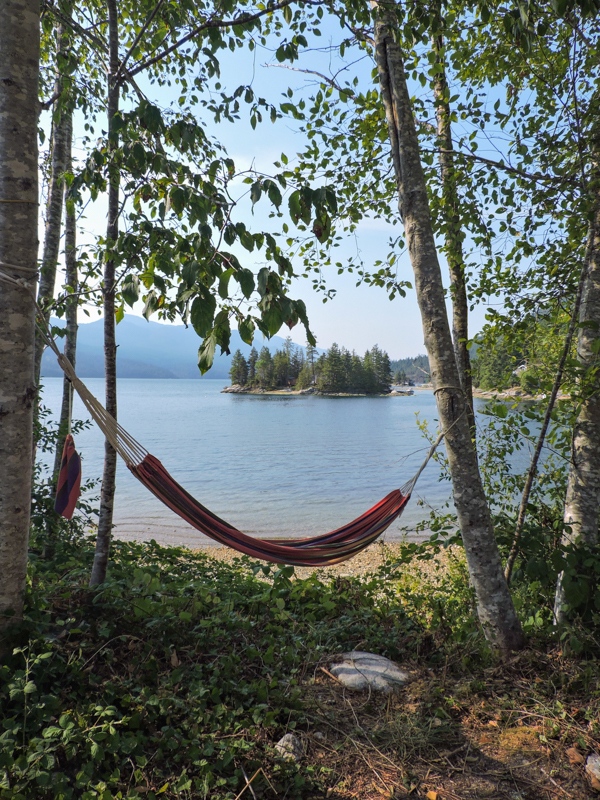 I managed to fall off the paddleboard, twice, while Craig aced it executing Instagram-worthy headstands to show off.
This was my first paddleboarding attempt, it felt different to kayaking, less strenuous and restrictive.
Paddles and Pedals offered us waterproof phone covers, which was handy for taking snaps!
Don't want to paddleboard? You can also hire kayaks.
Porpoise Bay Provincial Park
Local forest trails and grassy park at Sechelt Inlet.
Secret Cove, Suncoaster Trail
The Suncoaster Trail is 37K in length and includes 6K of the Secret Cove hike.
This is a great trail to do on a hot day because there are swimming areas for cooling down. I jumped in, Craig didn't.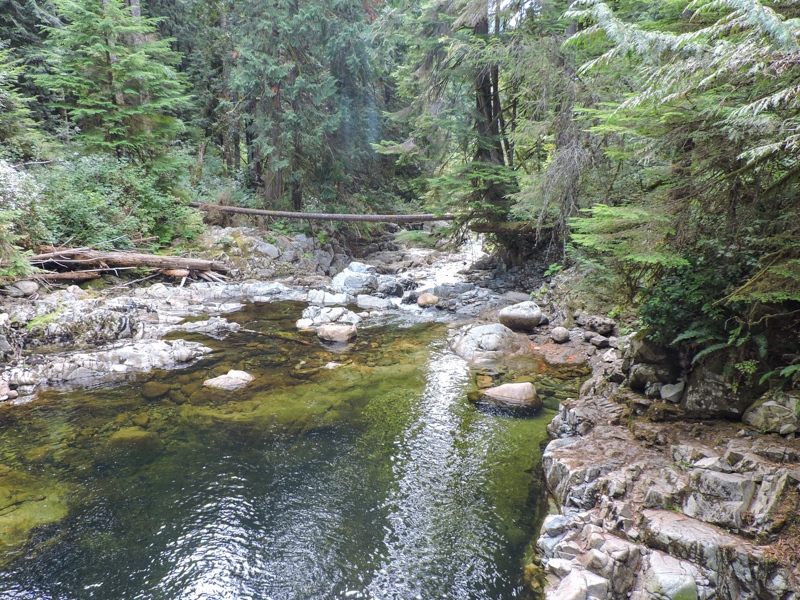 See a Movie
One of the Sunshine Coast cinemas can be found just as enter Sechelt from Robert's Creek. Raven's Cry Theatre shows popular and niche movies throughout the year. The movie house has a shop for cinema snacks and air conditioning for comfort.
Slushy Time
Grab a slushy at the grocery store. Make it a hard one, the liquor store is just over the road.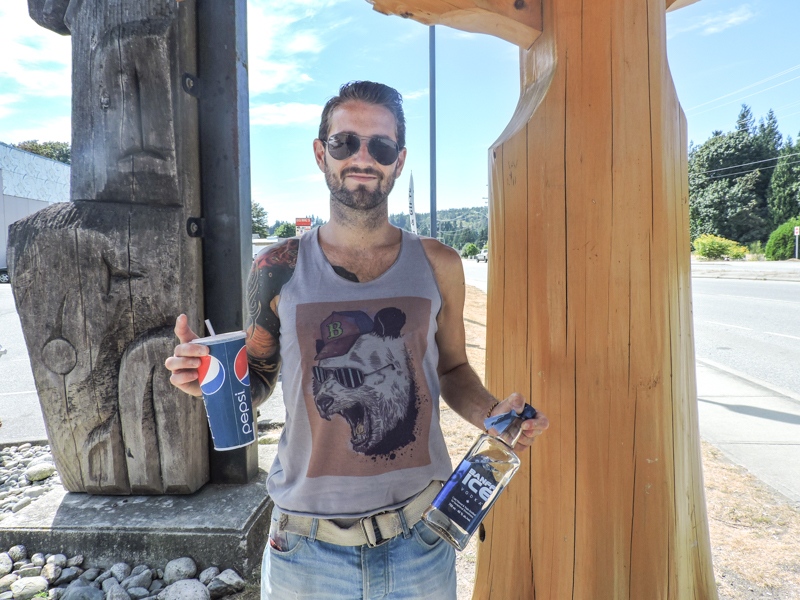 Yoga in Sechelt
Join in a yoga session at Blissful Yoga Studio. Public and private classes available.
Straight Up Climbing Wall
If it's raining outside, you could be climbing inside! Straight Up Rock Climbing is suitable for big and wee kids. Daily passes and group classes available.
Hidden Grove
Endless Trails marked on a map for you to follow. Big fan with dog walkers.
Start the Morning…
With a Daily Roast coffee, Sechelt's first coffee shop.
Grab a Taco
Looking for a light bite? Head to the Taco Republic for tacos, burritos, nachos or salad.
Eat Some Sushi
Choose between Sima Sushi or Sushi Bar 5517. How do you roll?
Brunch
Head to Shift Kitchen for brunch and frozen bellinis.
We enjoyed a date night here. Try the pankados fried avocado stuffed with spicy tuna. Nom.
Grab a Cheeky Cupcake
Cheeky cupcakes, cake pops, Oreo cheesecake bars, parfait cups, need I go on?
GF and vegan options too.
Lighthouse Pub
One of the best ways to spend a lazy lunch is at the Lighthouse Pub while watching the seaplanes take over and enter.
This is a live music venue in Sechelt too.
Rogue Arts Festival
Three-day music and art festival in Sechelt. The event includes shows, workshops and installations on Clarke Farms on Tyson Road in Wilson Creek, BC.
Sunshine Coast Festival of the Written Arts
Every summer, writers and reader gather in Sechelt to network, learn and have fun. This is Canada's longest-running summer gathering of writers.
Halfmoon Bay
Just outside of Sechelt is a secluded stoned beach.
Smugglers Cove Marine Provincial Park
Take an easy stroll through Smugglers Cove. Take in the views and maybe a dip?
Sechelt to Smugglers Cove is a 20-minute drive.
Davis Bay
A fan of fishing? Join the locals as they catch their dinner at Davis Bay.
We were very fortunate to see a whale put on a show here while Craig was fishing.
Roberts Creek
Catch a live music show, check out the Mandela or take an easy hike through Cliff Gilker Park.
Sechelt to Roberts Creek is a 15-minute drive or 30-minute cycle.
---
How to get to Sechelt
Although the Sunshine Coast is easier to navigate by car, the 101 highway bus service is pretty frequent between Sechelt, Roberts Creek and Gibsons.
Vancouver to Sechelt – Enjoy the forty-minute ferry from Horseshoe Bay. Take the bus from Gibsons along the 101 highway.
---
Thanks to Shift Kitchen & Paddles and Pedals for their generosity, honest review as always