Where to stay in Vienna? A challenging question for the 'city of dreams' with so much choice! Austria's capital is divided into districts and each area comes with its own price point and appeal.
Whether you are visiting Vienna to muse over the many museums or during winter to check out the twenty Christmas markets, our guide to the best places to stay in Vienna will help you choose the right accommodation for your trip.
You may also like our popular 3-day Vienna itinerary. Prefer to stay in Airbnb? Here's our guide. On a budget? Check out Vienna's hostels.
Why Trust Us?
We love Vienna. I have now visited Vienna (Wein) three times. Once for a romantic city break with my husband, Craig.
The second time in December to drink glühwein at the Christmas markets with my mum!
The third to attend my friend's wedding.
---
» Short on time? Click to see our preferred hotel: Hotel am Konzerthaus
---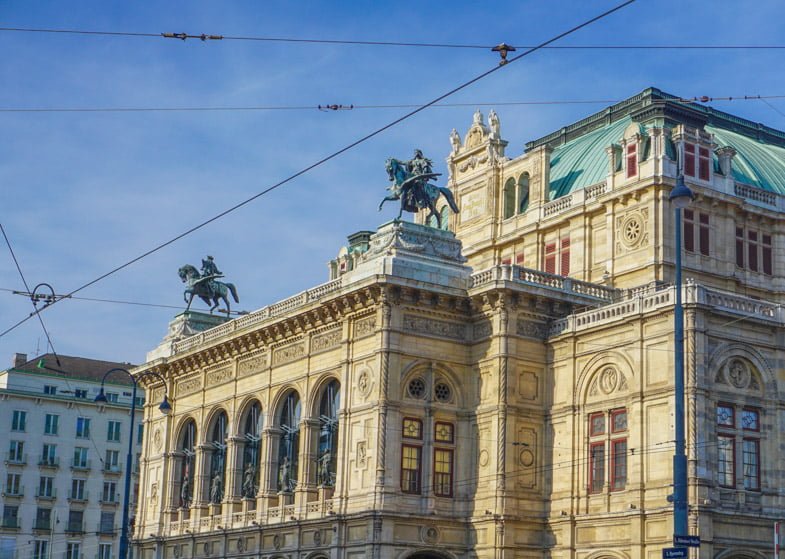 Vienna Districts
There are 23 districts (bezirk) in Vienna and you won't be surprised to hear that each has its own attractions, lifestyle and affordability calculator.
However, as a first or second-time visitor to Vienna, you don't have to contend with all 23 districts as this guide to the best places to stay in Vienna will highlight the most popular areas for visitors.
During our first stay we opted for being close to the heart of Vienna (District 3, Landstraße), During sightseeing, I stumbled across, what I thought was, my spirit hotel at the MuseumsQuartier (7th District) so that is where I stayed during my winter trip to Vienna.
When you are out and about you can identify which district you are in by looking at the street sign and working at the two numbers in the middle of the four numbers on the sign (cryptic!)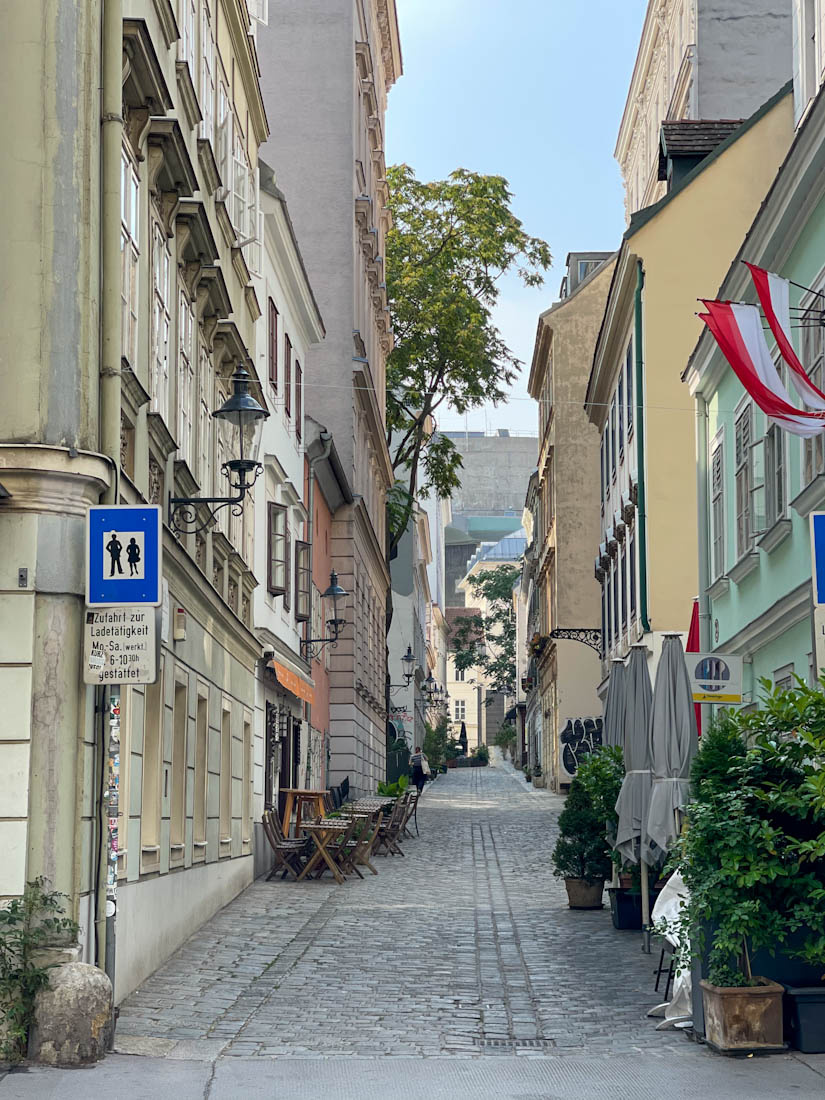 The Best Area to Stay in Vienna
When looking for the best place to stay in Vienna, consider the reason for your trip.
Close to top attractions: 1st District (Innere Stadt)
Less touristy and cheaper alternative: 2nd District (Leopoldstadt), 3rd District (Landstraße)
Hip area with lots of bars: 6th (Mariahilf), 7th (Neubau), 8th (Josefstadt)
Hotels near the airport: See below options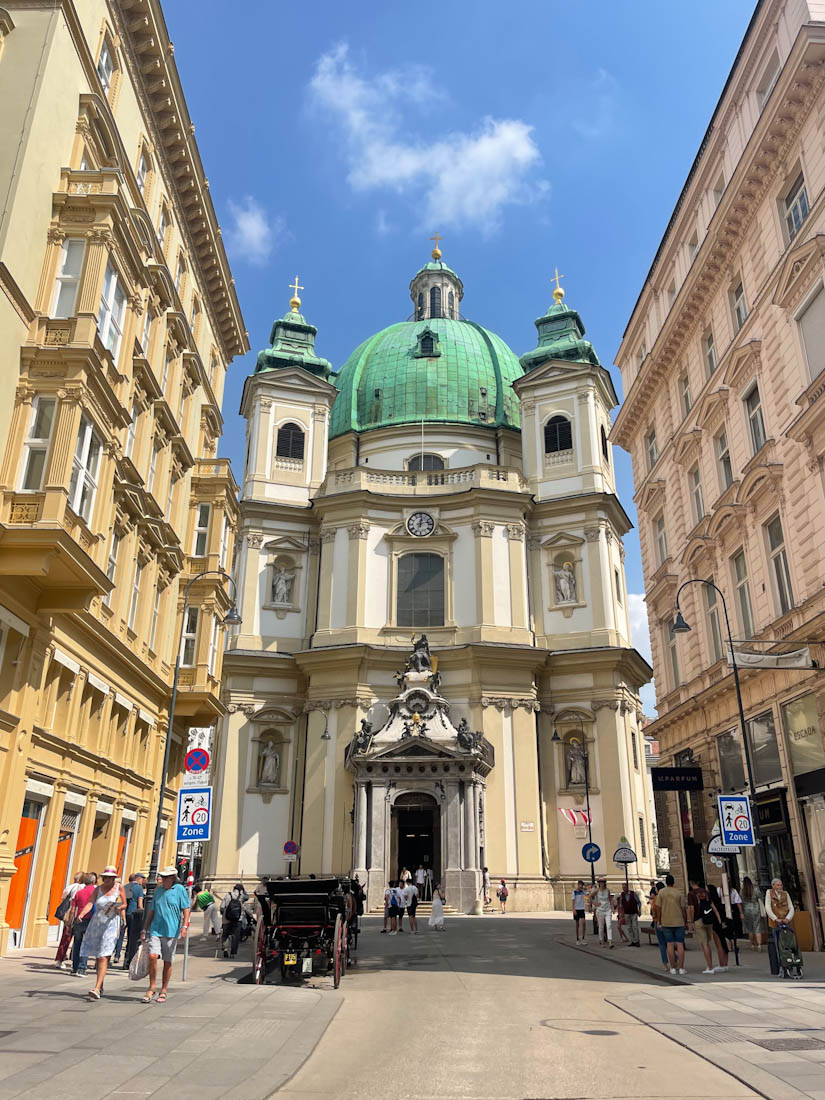 Getting Around Vienna
You can get around Vienna very easily on foot.
We found we were no more than 40 minutes away from any attraction, excluding Schönbrunn Palace which is quite far out.
Prefer to save time and your poor feet?
Vienna has an awesome transport system compromising of buses, trams, trains and a metro.
Taxis and Uber also operate throughout the city.
For the more adventurous, there are now e-scooters dotted around the streets which you can ride via an app set up. Nifty!
Now that we've got our bearings, let's take a look at the affordable Vienna hotels most popular districts for visitors.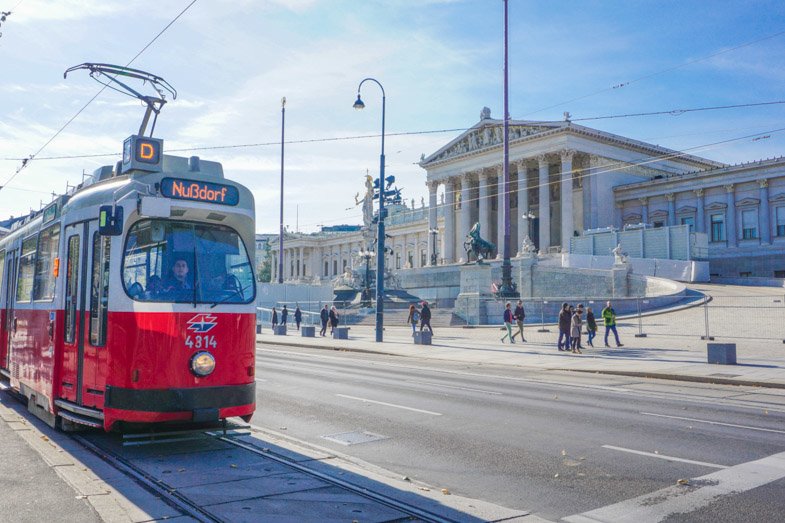 Best Places to Stay in Vienna
Unless I mention it is not available, WiFi is a free amenity offered by all hotels in this guide.
Regardless of its beautiful historic architecture, Vienna is a pretty modern city.
1st District: Innere Stadt (1010)
The Innere Stadt (Inner City) is the heart of Vienna and the other 22 districts wrap around it.
The Ringstrasse is a large ring road which is located at Innere Stadt.
Due to its architectural beauty and historic significance, the Ringstrasse (and the rest of the area) is a UNESCO World Heritage Site.
Lots of the top Vienna attractions can be found in the 1st District such as the Vienna State Opera, Rathaus (town hall), St Stephen's Cathedral and the Austrian Parliament Building.
As to be expected, hotels in the First District come at a premium price!
Hotels in Vienna City Center
Best Seller $$ Appartement-Hotel an der Riemergasse is one of the most popular affordable hotels in Vienna, so you may have to book fast. Visitors love the suite/studio feel, the size of the comfortable rooms and its proximity to St Stephen's Cathedral and Kärntner Straße shopping street. Check availability here. Read TripAdvisor reviews.

Boutique $$ Boutique Hotel Das Tigra is a modern, family-run hotel on a quiet street ten minutes walk from St Stephen's Cathedral. Rooms have air conditioning, TVs and safes. A very special guest used to live in this building! Mozart and his family resided in the historic part of the building in 1773. Breakfast on site is available each morning. Check availability here. Read TripAdvisor reviews.

Luxury $$$ Grand Hotel Wien is a traditional hotel and perfect for those celebrating something special in Vienna. Guests enjoy the very central location, five restaurants, two bars, spa and a rooftop terrace which offer panoramic views of the city. Check availability here. Read TripAdvisor reviews.
---
√ Pros: Smack bang in the middle of attractions, lots of restaurants around.
× Cons: Touristy and can be expensive.
---
2nd District: Leopoldstadt (1020)
Leopoldstadt is still a central option for Vienna accommodation with the added bonus that you can avoid the busloads of tourists in the 1st District.
The most famous landmark in Leopoldstadt is the vintage, Wiener Prater fairground, Ferris wheel included! Some of the hotels in Leopoldstadt overlook the Danube Canal, a winning choice at sunset.
So if you are looking for cheap hotels in Vienna that are conveniently located near public transport, the 2nd District may be for you.
2nd District Hotels
Wow Factor $$$ Love, love, love the SO/Vienna super modern hotel overlooking the Danube Canal. We spent an evening enjoying sundown drinks in the extraordinary (and I don't use that word often) Bar Das LOFT on the 18th floor. The aesthetics, the music, the drinks, the staff, just perfection. Guests also love the air-conditioned rooms, bathtub and rain shower. St Stephen's Cathedral is only a 10-minute walk from SO/Vienna. Book here. Read TripAdvisor reviews

Budget $ Motel One Wien-Prater is great value for money for visitors who don't mind a bit of travel. We've stayed with the Motel One before and always find their rooms super modern in decor and the breakfast extensive. Reviews at Wien-Prater state the same. Messe-Prater Underground Station (line U2) is only 200 yards away. Book here. Read TripAdvisor reviews.
---
√ Pros: Cheap hotels in Vienna, close to Prater, Messe-Prater Underground Station (line U2).
× Cons: Large area so can be further away from central attractions.
---

3rd District: Landstraße (1030)
This is where we stayed in Vienna during our first trip and I would have never known that we weren't in the 1st District location wise.
Landstraße (Country Road) does have a more local feel which is down to the fact that locals do reside and work in this district.
This area is home to the outrageously grand, Belvedere which houses the famous Klimt's The Kiss and my personal love, Judith (a bit cheekier!)
3rd District Hotels
Recommended $ Hotel am Konzerthaus is a comfortable hotel close to the action but not in the action. Each room is elegantly decorated with a nod to Austria's Gustav Klimt. All rooms have air conditioning, a safe and a TV. A breakfast fit for a king is served each morning on the bottom floor. Check availability here. Read TripAdvisor reviews.
---
√ Pros: Very close to the heart of Vienna and Belvedere.
× Cons: Fewer hotel choices.
---

7th District: Neubau (1070)
Hipster bars, independent shops, art galleries and traffic lights with same-sex couples.
Welcome to the hip 7th District.
Home to the MuseumsQuartier, 7th attracts a younger crowd with disposable income and a conscious.
7th District Hotels
Edgy and Trendy $$ 25hours Hotel MuseumsQuartier is worth a visit even if you don't stay here. The decor and people watching at 25hours Hotel will keep you occupied for some time and the views from

The Dachboden rooftop bar is worth noting. Warning, it gets insanely busy at the weekends here so don't expect speedy service.
Rooms are kitted out in quirky decor with a circus theme. There is also a spa on site but annoyingly it doesn't open until later which they don't tell you at checkout.
In all honesty, I thought it was a cool looking hotel but the staff just vibe off its success and don't really try to be hospitable.
Some may say that's just the Vienna way when it comes to customer service but our experience at Hotel am Konzerthaus was stellar so I'd argue against that sentiment. Check availability here. Read TripAdvisor reviews.
Budget $ Pension Primavera is a modern affordable option in 7th close to Neubaugasse Underground Station. Situated on the third floor of a historic building, guests love the local feel close to a market, cafes and public transport. Rooms are clean and the staff are super friendly. Pension Primavera. Read TripAdvisor reviews.
7th District is also very close to 6th (Mariahilf) where you will find the famous Naschmarkt and street art murals and 8th (Josefstadt) where many students from the University of Vienna live.
---
√ Pros: Very cool area, nightlife, close to museums, walking distance to 1st District.
× Cons: Some hotels can be pricey.
---

Airbnb in Vienna
Airbnb is available in Vienna for those on a budget or visitors looking for a kitchen.
Many are located in the coolest districts too, sandwiched between bars and restaurants but still in walking distance to the city's main attractions.
Looking for something more affordable? Check out our guide to Vienna hostels.
Hotels Near Vienna Airport
Vienna International Airport is located in Schwechat.
The CAT train journey takes under 20 minutes for under 15 euro one way, book here before you go.
MOXY Vienna Airport ($$) is one of two airport hotels only 200 yards from the terminals. The modern and charismatic chain offers air-conditioned rooms with TVs and soundproof windows. There is a 24/7 bar on site. Check availability here. Read TripAdvisor reviews.
NH Vienna Airport Conference Center ($$) is the second hotel at the Vienna Airport and it is situated across from arrivals so ideal for early flights or late arrivals. Air-conditioned rooms are clean, modern and guests enjoy the coffee machine. Breakfast is available, this includes an 'early riser' option, and guests are offered a free welcome drink at the hotel restaurant. Check availability here.  Read TripAdvisor reviews.
Final Words
Vienna is big and many of the top things to do are located in the heart of the city. However, not all of the best hotels in Vienna are found there too.
Don't be afraid to consider some of the other districts, letting your style of travel dictate! The best area to stay in Vienna may be the 7th District if you love to party or the 3rd if you want to be central without paying tourist prices. Tell us in the comments below where you book to stay.
» Can't find what you are looking for? Click to see all of the hotels in Vienna «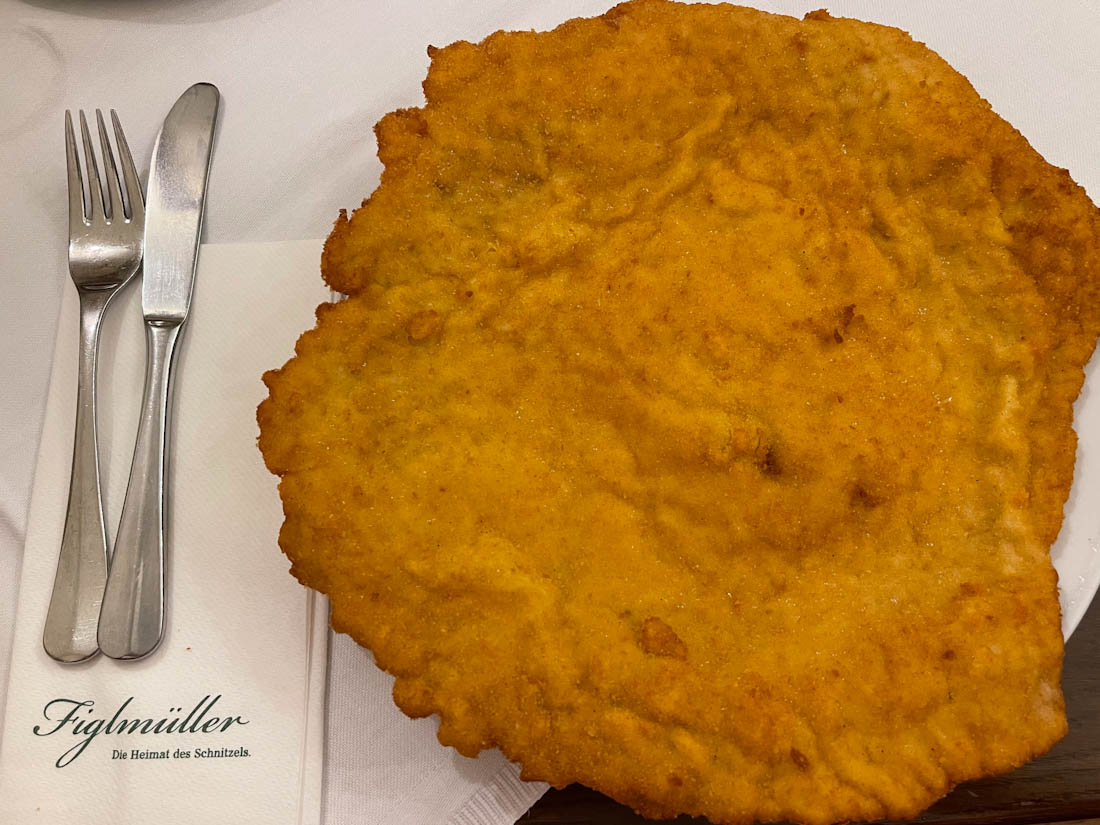 Planning your Vienna trip? Save to your board for later.