This article has links to products and services we love, which we may make commission from.
Staying in but still want to be social or planning a work event and need virtual Zoom games to impress? Here are 30 games you can play on Zoom and other conference call apps. All you need is a video calling device, audio, a pal and the occasional prop. So let's take a look at the best virtual games to play on Zoom and how to play them.
Before we dive in, we wanted to let you know that we've created a series of virtual online games so all you have to do is purchase, download and play!
Check out our Zoom quiz store for 80s, 90s and 00s trivia packs including rounds on general knowledge, music, movies and TV. Plus our newest challenge – the Scotland Trivia Quiz.
Zoom games come in a whole variety of types, can be played with one other player or huge groups and last anything between 10 minutes to a full day or night. Let's find out more…
Note: We (Gemma and Craig) will keep adding to this post when we discover more light-hearted activities to play over the screen so bookmark this page and keep coming back. Have any online games to play on Zoom that you want to add to our guide? Email us gemma[at]twoscotsabroad.com.
---
Fun Games to Play on Zoom with Friends

& Colleagues

We have identified which games can be played with family, the best options for co-workers and the online games to play with friends. The latter being a little cheekier!
1. Name in the Bag/Guess Who?
You know that popular Christmas Day game where you put the celeb names on post-it notes and stick it on someone's head?
Then your loved one has to guess who it is?
Well, Name in the Bag is not just for Christmas!
You have to be creative and turn the game around a little by choosing a celebrity for the player.
Don't let the player see who they are until they've guessed correctly or run out of guesses!
There is the popular app version called Heads Up which you can download on Android and on Apple but it might be a little fast-paced for video call software.
While all of the below ideas are not specifically Zoom games for adults, we do have a dedicated guide for kids.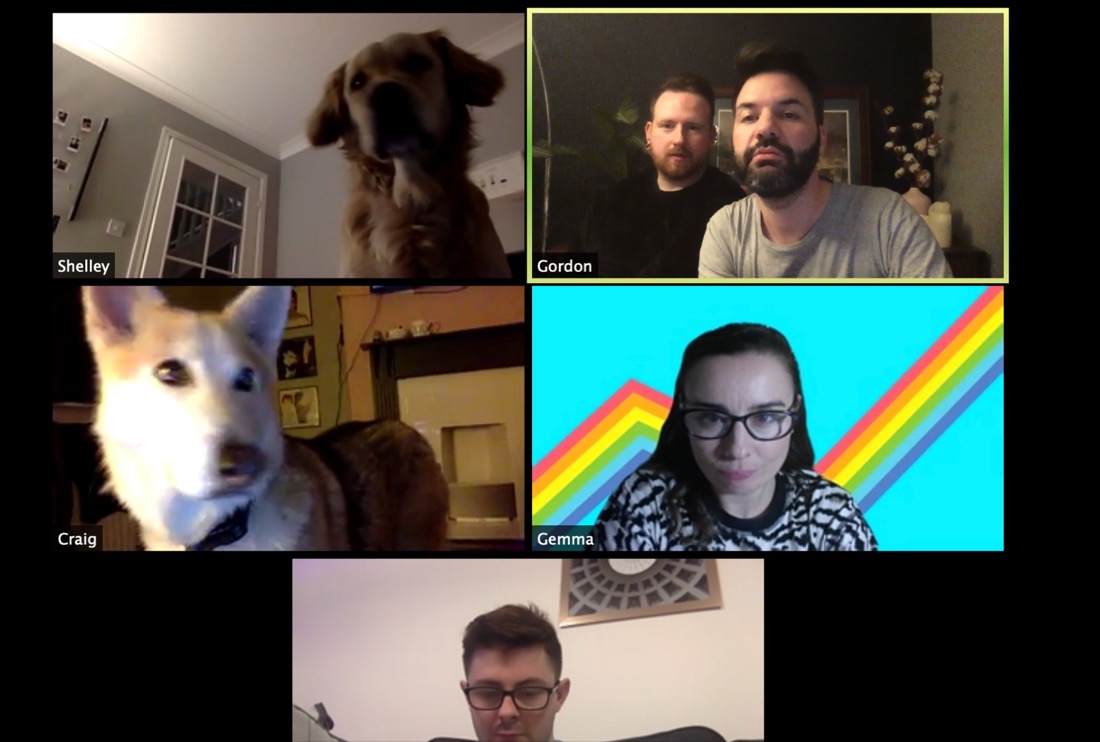 2. A Day In Paris For Paris Fans – Travel Zoom Games For All
This game has been hugely popular with families looking for an alternative group virtual tour.
This unique virtual tour is aimed at groups of people who are looking for a fun way to build their team skills.
The one-hour Zoom tour is led by an experienced guide who whisks the group off to the City of Lights and throws in challenges along the way.
I got my pals together and joined a call to test it out and it is a hoot. Our virtual guide was Herbert ('erber), not only was he knowledgeable about Paris he knew lots about our home countries which made us feel really connected.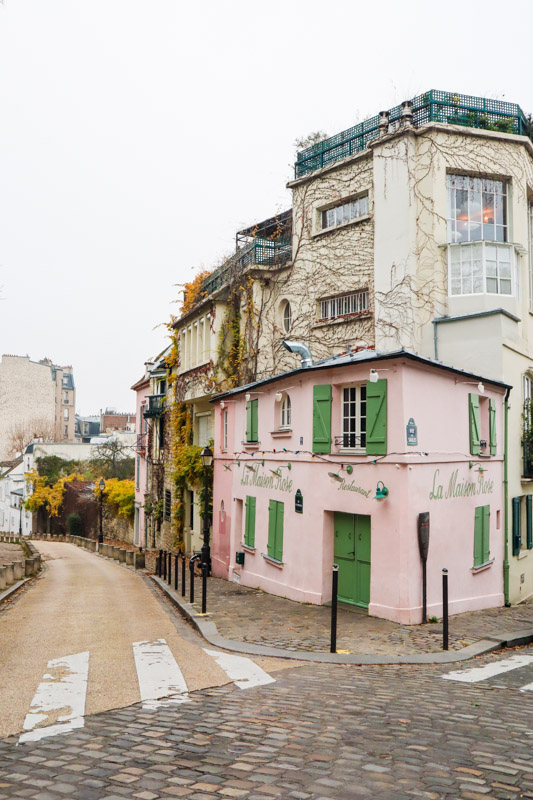 He plays on the typical stereotypes but also tears them and throws in local tips for your future itinerary.
He's not a fan of Emily in Paris, the Netflix show, as it is too cliché he says. I feel you all judging our cliché outfits below!
You can ask your guide anything about Parisian culture, no question is too out there.
If you want to learn more about Parisian culture, visit the city's beautiful attractions and have a laugh with your coworkers or friends and family then this tour is for you.
It lasted just over 60 minutes, you book the best time when you sign up and it is delivered via Zoom and Zoom breakout rooms. Book your spot here.
Companies have been using this team-building game for onboarding new members of staff when they can't meet in person. A lighthearted icebreaker!
Herbert and the team also tell me that their Paris tour is being used as an option for a Zoom conference virtual after party so if you are in charge of the social activities after your virtual event, this could be it!
So whether you are planning a night in, virtually, with pals or a work event, it relevant to both audiences.
Here's me, in the hat, and my pals pulling our best 'Parisian smile'. Get ready to strike a pose! Are you booking a tour? Tell me in the comments below.
Read our Paris travel guide here.
3. The Trip, Played On Zoom With Host Or Self-Hosted
The Trip is a puzzle game created by 100 Point Challenge.
If like us you are dreaming of faraway places that you can't get to right now, then The Trip is the game for you!
The Trip is about connecting, collaborating and solving your way around the world – one puzzle at a time.
The game begins with a master puzzle and then ten smaller mind bending problems to solve – a fun mix of visual problems, word puzzles, riddles, and number games.
Each of the problems gives you a clue towards reaching the final destination and completing the game.
Honestly, the final master puzzles are crafty!
This is the perfect group game for those who like puzzles, riddles, and other kinds of challenges that require a little bit of wit and some friendly competition.
It can be played on Zoom but also on other platforms like Microsoft Teams, Google Meet, Webex and Skype.
There are two ways to play The Trip.
The facilitated game is hosted for you by experienced online game facilitators from the 100 Point Challenge.
This is ideal for virtual work events and meetings where you can bring in an external facilitator who will lead you and your team through how to play the game, and take care of all the event logistics for you.
Prices start at $189 (and save 10% using the code "2SCOTS") and they can cater to large groups. Find out more here.
The 100 Points team has facilitated games for 6 and 200 people at one time, using multiple facilitators.

However, most people play in teams of 4-5 with the added time-based competition, where large groups play together.
Although it costs slightly more than the self-facilitated version, they take care of all the event logistics which take the pressure off you and you can also play the game yourself.
Then there is also a DIY version which requires you or someone from your group to take charge.
The self-facilitated version of The Trip is priced at $49 (and save 10% using the code "2SCOTS").
With this, you get access to an online game platform with a video walkthrough explaining how to deliver the game and all the instructions needed. Find out more here.
I have played three of 100 Points Challenge online games, The Puzzle (review below), The Riddle and now The Trip.
We managed to smash through the challenges that The Puzzle and The Riddle presented at around the 40 minutes mark but The Trip beat us!
Slightly embarrassing considering what I do for a job.
Nonetheless, the night was a success and my friends enjoyed the travel-themed rounds.
Can you do it in under 40 minutes?
This is the ideal online party game for people who love to travel.
4. The Puzzle

– Best Games to Play on Zoom with Coworkers

The Puzzle is a challenge game created by 100 Points Challenge.

The game is predominantly a team-building challenge played among friends and colleagues in remote settings.

There are ten rounds of puzzles and a 'master puzzle' which teams have to work out to win.

The Puzzle can be time-sensitive (40 minutes) if you want to add some heat.
There are two ways to play.
Firstly, self-facilitated (DIY) where one member of the team takes the lead, records the scores and keeps the time.
This is the cheapest option at $49 (and save 10% using the code "2SCOTS").
Click here to purchase.
All you need is an email address where the instructions and documents are sent to.
The facilitator needs around 20 minutes before you play to read over the information and to get preapred to host.
Use the share screen function on the likes of Zoom to explain the game and then share a unique link to the puzzle game page with all the players.
This DIY option is popular for companies wanting to keep their event in-house or families and friends looking for a virtual gathering.

The second option is to pass the host responsibility over to the 100 Points Challenge team.
This costs from $179 (and save 10% using the code "2SCOTS"), depending on your group size. To purchase you just need to reserve a date here.
The facilitator will talk all team members through how to play the game and ensure everyone gets involved.
This is most popular with companies, since there is a team building element making it one of the best games to play on Zoom with coworkers.

I played The Puzzle with six friends so we decided to take the team element out of it and work through the puzzles together.
It took us around 45 minutes to complete and although a few puzzles were worked in within seconds, the team still struggled to figure out the mater puzzle for a long time.
I'm keen to play again with the team element and time constraint added.
100 Points Challenge know what they are doing having worked with giants such as Google, Spotify and Ikea.
Customer service is speedy too, I had to ask a question about the master puzzle an hour before we played and the team got back to me quickly.
This was a welcomed change to our normal pub quiz style Zoom chat and I think it would be one of the better online team games for work too.
5. A Christmas Puzzle
The makers of the hugely popular online challenge, The Puzzle (see below), have created a new Christmas game for Zoom!
A Christmas Puzzle is a team problem-solving challenge that aims to bring groups of people together, whether that be coworkers, friends, or family, Thanksgiving, Christmas or New Year celebrations.
It's not only popular with companies, lots of families have been getting together, virtually, through this challenging yet fun game.
There is no need to download anything for A Christmas Puzzle as the challenge is set online.
All you need to do is choose a time, invite the gang, set an additional Christmas jumper challenge, and engage your brain while your facilitator leads you through the fun! That's Craig and I (Two Scots Abroad) in the second window, I'm wearing red.
Your group will be divided up into teams that compete against each other in breakout rooms before coming back into the main room to find out who has won!
There are a series of 10 puzzles to tackle before cracking the overall 'master' puzzle. You can use Google search for the master puzzle only so it really does bend your brain during the challenge.
Tasks include visual questions, riddles and problem-solving questions. It's really fun!
The facilitator-led A Christmas Puzzle Zoom game starts at $180.00 and all you need to do next is book a time slot here.
This is the most popular option with companies.
If you'd prefer to be in control of the game, there is a self-facilitated version of A Christmas Puzzle priced at $49 which is purchased here.
This version is most popular with families but do consider that one member will be the host so they will miss out of the action. Or, if you've got FOMO, like me, you can do what I did and not look at the answers so you can join in too.
The game itself is a 40-minute time-based competition but the facilitated version schedules a 1 hour – 1 hour and 15 minutes call in total for the game session.
This includes time for a quick warm-up, rule explanation and time to go through the answers at the end.
The majority of teams are able to solve The Christmas Puzzle (or get close) in approx. 35-40 minutes.
I rallied up the troops and played A Christmas Puzzle to try it out for this guide.
While we were heavy eye-rolling at starting up Zoom call quizzes again after a five month break, we all agreed it was really nice to get together again, with a festive twist.
Like with original The Puzzle below, we decided to play as one team. I didn't look at the answers which meant I could play along too.
It is doable but if you are playing with work you will definitely want to add the competitive team element!
This game is a really nice way to celebrate Christmas together without leaving the home and it is ideal for companies who are planning a virtual Christmas party!
6. Online Cook Club

With Authentic Italian Chef

If you are looking for more than just virtual games to play on Zoom, set up your device in the kitchen and chat while making a dish.

Why not learn from an actual chef in Italy?

There's a two-hour pasta making class online with Nonna Live.
Just select a date for your live stream lesson with an authentic Italian cook.
Not only are you learning new skills and creating a meal to eat, but you are also supporting a local business that can't do in-person lessons.
Nonna Nerina is an 84-year old grandmother offering virtual cooking classes. How cool is that?
When Nonna is not available, her granddaughter, Chiara, takes the class so you are in good hands regardless.
Each day there is a specific meal in focus so if you enjoy making live lasagne why not try gnocchi?!
Here's a review:
"I am a Chef from the USA and this is exactly what I wanted. I specialize in pasta and even I got to learn about how to make pasta by hand. This is geared towards people who have never made pasta from scratch but it's a fantastic experience nonetheless." ~ Zachery, USA.
That's not all! For every class, Nonna Live will provide a warm meal to a child in need.
They have partnered with local non-profits to provide underprivileged children access to nutritional food.
Millions of children face hunger every day, and Nonna Live is committed to ensuring children everywhere don't go to sleep hungry.
So you can book your online pasta-making class live from Italy here and know you are donating to charity too.
Looking for an international tour? Check out these tours from home around Rome, Venice and New York.
---
---
7. Virtual Escape Rooms Challenge
Remote Adventures Escape Room challenges you and your coworkers or friends to get out in under 60 minutes via Zoom or your preferred conference call!
There are a number of virtual escape room challenges such as a prison escape, find the gold, or recover a stolen painting during a 60 minute adventure.
My friends and I (above) got together to play the heist escape game and a few things surprised me.

Firstly, this was my first experience at an escape game and I was actually pretty good at it.
The game involves getting through different rooms and solving different kinds of puzzle using forms of communication and numbers.
Secondly, it was way funner that I thought it was going to be.
Sure, it was a challenge but we were all full of energy and smashed it!
We only used one of our three lifeline tips and managed to find the art in under 48 minutes.
TEG Remote Adventures uses its years of experience building 19 physical escape rooms across the USA and has moved the challenge online so players can participate from anywhere in the world!
Prices start at $30 per player (plus tax) and games can accommodates up to eight players per game. Minimum purchase is four players.
If you have a bigger group, they can accommodate up to 500+ by splitting the large group into teams of eight.
To start the game, reserve a time slot here and you'll receive an email with the video call information.
Get the group on the video conference call at the agreed time and The Escape Game host will guide you through the virtual escape game challenge!
One of the guides will be the escape room with a live camera feed waiting on your instruction.
Work with your team to direct your guide through the adventure.
Pick up clues in your digital dashboard to solve puzzles and complete your mission in 60 minutes!
Sounds fun, right? Reserve your booking here.
Read our new guide for more online team building games.
Other reviewers say that The Escape Room is 'well-crafted', 'reworked to play remotely', 'an enjoyable 60 minutes'.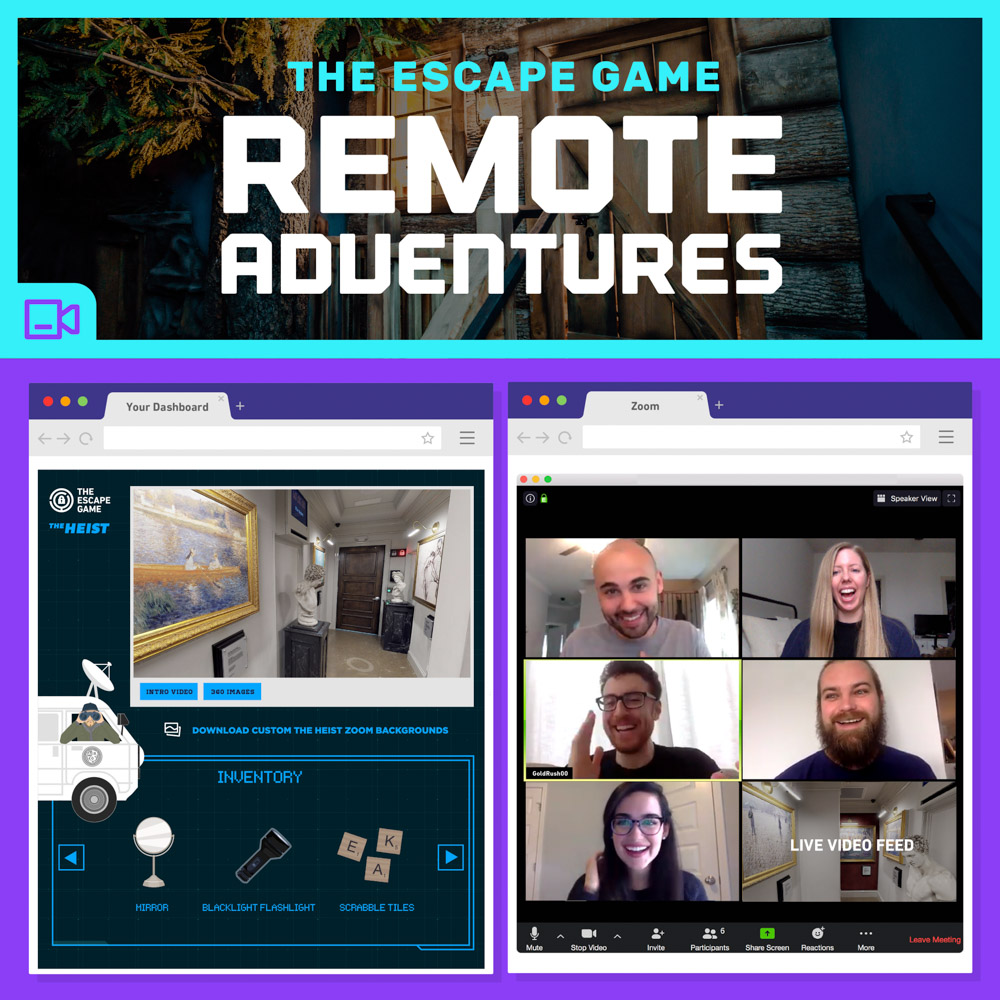 8. Seasonal Craft Making
In charge of coming up with the Christmas Zoom party and not sure where to start?
Wondering what on earth the family can do to celebrate Easter together?
Struggling with spring break at a social distance ideas?
Consider a calming yet festive wreath making party or similar for other seasonal events.
Contact a local maker workshop and ask about their online options.
Games for online use can be be traditional activities with a virtual twist.
It is likely they will provide a list of items or post items that you need to make the craft in question out to you.
The workshop is most likely executed over a group video call such as Zoom.
Alternatively, ask attendees to purchase a wreath making kit such as this one (US / UK) or similar and take charge of the craft.
A calming seasonal or Christmas virtual event!
We have seasonal wallpapers in our Zoom backgrounds guide if you want to jazz up your backdrop!
Note: For Zoomsgiving (Thanksgiving) and Christmas, Zoom lifted the capped 40 minutes time on free accounts so you can spend lots of screen time with your loved ones playing our virtual games!
We're hoping it will be a recurring offer for special holidays.
9. Tasting Party Via Video Call
Wine, whisky, beer or gin! What's your tipple?
Contact a local drinks company and request a delivery of specific drinks items the team has to test.
Or create a drinks wish list on your preferred shopping site for the group to buy.
Then let the friend/coworker who sees themselves as a connoisseur host the virtual tasting party.
Alternatively, let these professionals from France host the wine and cheese tasting remote party event for you!
60-90 minute virtual wine and cheese tasting sessions can be booked as part of a Zoom call with a Parisian.
The French delicacies are delivered overnight so you can book last minute if you've left the planning a little too late…
During the session your group will learn about food history, cheese science and the cultural impact of wine in Europe.
The tasking session includes four cheeses Chèvre, Camembert, Ossau-Iraty and Comté which are paired with three different wines.
The wines include Château Bourbon La Chapelle Médoc 2012, Château Gillet Bordeaux Blanc 2017 and Alchimie Côte de Brouilly 2015.
This wine and cheese tasting event is brought to you by the same company that hosts the Paris tour (above) so it is sure to be a hit with family, friends and work.
The only downside is that this virtual alcohol tasting Zoom game is only available in mainland US.
Need something seasonal? Team it up with a naff Christmas jumper or fancy dress competition!
A sophisticated yet fun virtual happy hour!

10. Houseparty

– Free Zoom Games, One of the OGs!

Free, fun and fast to set up, Houseparty is a game available on IOS, Android, Chrome and Mac.

Coined 'Facetime plus games', the software is a video call software and quizmaster rolled into one.

Play Heads Up (like Celeb in the Bag), Pictionary and Quick Draw.

I've found the Android app works better than the IOS on my Macbook.

Sometimes my friend couldn't start a game but I could.

Be patient and you'll get there!

I never hook up free apps to other apps like Facebook etc. Don't want to share content between apps.

Houseparty was one of the best virtual games used by young adults and is a suitable option for Zoom games for two.
11. Jackbox

– Perfect Online Game To Play With Friends on Zoom

Once everyone has exhausted HouseParty they move on to Jackbox!

Jackbox Games has a variety of individual games and games packages for sale.

Packages include bluffing games, drawing games, fill in the blank, sound effects and trivia.

Jackbox can be played over every device going from laptops to game consoles, phones to desktops.
We played Fibbage using Zoom.
Fibbage is really similar to the Psych! (see below) where the identified person secretly shares the truth to an answer and other players create believable lies.
Points are awarded for finding the truth, fooling others and bonus points for being funny.
Everyone answers their own secret question then the game commences.
Quiplash is another popular option.
The game throws up a statement and players reply with witty answers.
Players then vote on the best answer.

12. Harry Potter Virtual Locations Tour

For Potterheads

All aboard Hogwarts Express.

Next stop is Edinburgh!

Take a virtual tour of Scotland's capital as you follow in the footsteps of JK Rowling.

Find out which cafes Rowling wrote it, wander through the very graveyard the award-winning author took inspiration from and visit Edinburgh's very own, Diagon Alley, the colourful Victoria Street.
Dive deep into Potter trivia during this private 1-hour virtual video tour over Zoom.
The tour is priced at £40 but we have an offer for you…
Any referral commission received will be added to The Potter Trail's donation to Scottish Trans Alliance in reaction to JK Rowling's recent actions.
Sign up here and reserve your spot here.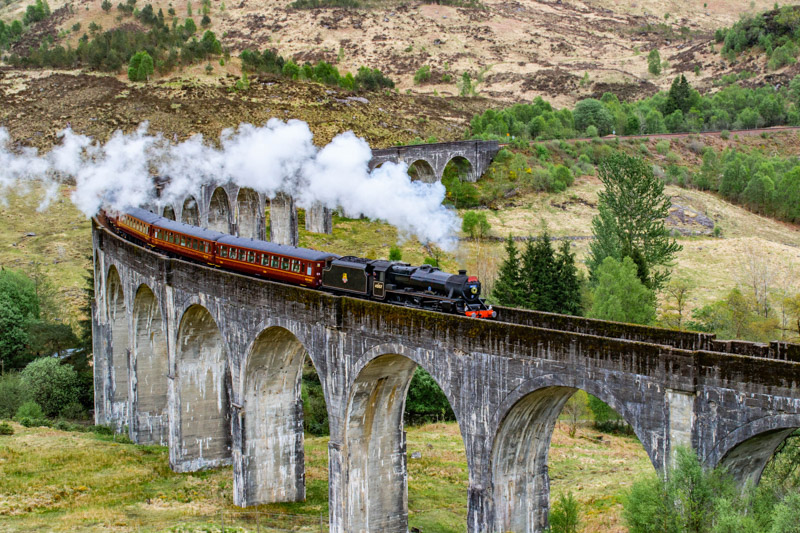 13.

Outlander Virtual Tour of Scotland, Oh Hey Jamie!

Want to follow in the footsteps Jamie and Claire Scotland without leaving your home?

All you need is access to Zoom and 1-2 hours to devote to Jamie. Not hard, right?

Mary's Meanders have been running award-winning tours including their Outlander classic tour for six years.

They know their stuff and you can join them!

In this online Outlander tour, you join the guide and fellow Outlander fans via Zoom.

For more information and the booking form, click here. Tell them Two Scots Abroad sent you.

14. Cards Against Humanity

Online

This is not a game to play with your grandparents.

The infamous Cards Against Humanity can now be played online.

Set it up over the likes of Zoom (see below) for multi-person virtual play.

Cards Against Humanity is a dark card game where players match ridiculous statements which are often close to the bone!

Hours of fun and cringing. One of the free games to play on Zoom which is magic because times are tough for some.
15. Psych!

For Quick & Easy Zoom Games With Friends

Psych! is a game app by The Ellen Show team which Ellen describes as the game 'where you make up fake answers to real trivia'.

The way we describe it is Cards Against Humanity with you and your friends, being the stars of the show.
This is a 3+ person game and best played with friends you know well.
It's meant to be an in-person game but can be played over video call to keep pals connected.
One of the funniest Zoom games for friends.
Did you know that Ellen owns the popular game Heads Up? Take to the stage, Ellen!
There are a couple of free games on the app including And The Truth Comes Out.
During it, the app throws up a statement about one member which you and your friendly privately create answers for.
The first one we were asked was 'What is Gemma T's most annoying habit' – this game is not for sensitive people!
The system then gathers all the answers and you vote on your fave but you can't vote for your own.
Points are then added up.
Note: One of the online games to play with pals who are not offended easily.
16. Just Dance – To Get People Moving
Thanks to my sister-in-law for this recommendation!
Download Just Dance to your laptop or desktop and also add the app to your phone.
The phone then acts as the controller.
Play over Zoom to enter 'party rooms' and dance together.
There's a huge range of music from disco to Disney.
Now obviously there has to be an element of competition!
Points are gathered and the winner takes home the glory.
So whose handbag is going on the ground during this perfect zoom party game?!
17. Caribu

For Kids and Families Chatting Virtually

Looking for a fun way to connect with the kids in the family?

Caribu is an app was awarded the 'best invention of 2019' by Time Magazine.

This app allows absent parents and grandparents to read to and interact with children for a monthly fee.

Games include drawing and reading so they are educational as well as fun.

Looking for more games to play on Zoom with kids?
18. Karaoke

, Kinda!

I'm not joking! There are hundreds of karaoke songs on YouTube.

Grab a Bluetooth mic UK / US or a hairbrush and let the battle commence.
19. Dine Together

, Virtually

Pre-agree on ingredients or see what's in the store cupboard and choose a recipe from Jack Monroe, Bootstrap Cook UK / US.

Stress out together while you cook and then chill over the meal.

You are definitely sitting two metres apart during this dining experience!

Perfect for date night too.

I've now seen so many dates do this. Super cute and no taxi home required!
20. Film/Book Club/Netflix Party
Saturday nights in don't have to be boozy.
Grab a gang, pick a book and discuss the main themes.
I've recently taken part in the Femspectives weekly film review.
We privately watched the film on Netflix before the chat, then spoke about the themes for an hour via Zoom.
Each week the organisers will put up films for us to vote on.
You can keep up to date with new callouts here on their Facebook.
What about a Netflix Party?
With this addon, you can watch a movie or show with friends and have the option to write comments to each other.
If you love reading, check out my friends Sonja and Phil's Scotland Book Club where each month members read a new Scottish novel and discuss it in a private group.
Authors also join the couple for book discussions over Zoom.
21. Yoga With Yours Truly
Move over Adriene, we're all YouTube stars during this testing time!
Place your device so you can show off your Cat-Cow while others follow along.
Or you could all just follow Adriene because she's the best.
Alternatively, sign up with a local trainer. Many PTs and instructors have flexed their flexibility skills during this crazy time and are now offering lessons online.
22. Pub Zoom Quiz Ideas
Quizmasters ready? Contestants ready?
It's time for the weekly virtual pub quiz.
This is one of the most popular Zoom games, easy to create and gets everyone involved.
Rounds may include:
General knowledge
Guess what the emojis spells (films, terms etc)
Picture round: closeups of photos, chronological order, odd one out
Music intros
Zoom has a whiteboard functionality for a Pictionary-style round
Or check out my free guide to 53 pub quiz round ideas because, after months of quizzes, things are getting stale!
Alternatively, let us create the quiz for you. All you need to do is choose your quiz, purchase, download and host.
Topics include Scotland, 80s, 90s and 00s.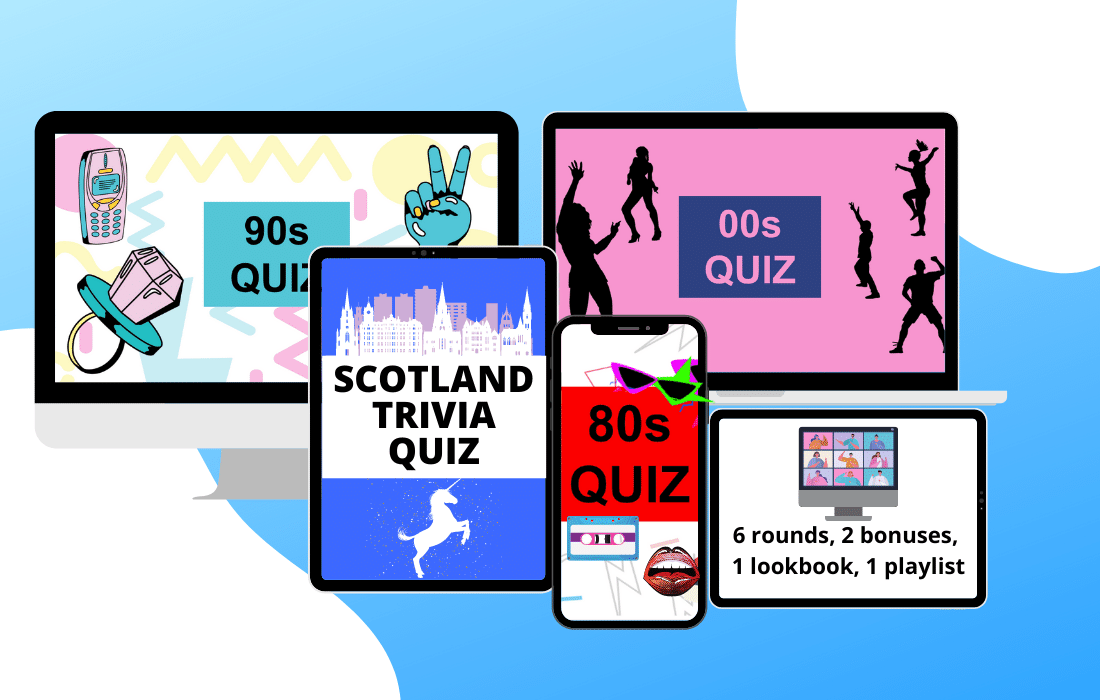 Each of our quiz packs includes:
6 rounds of general knowledge, music, movies and TV
2 bonuses to keep you on your toes
1 fancy dress lookbook for a themed night
1 hour long Spotify playlist to send attendees to get ready to
Remember the round of drinks to go with the rounds of questions.
See our section on How to Use Zoom below for a quiz round idea using virtual backgrounds.
From experience, if you are the host and marker, it is best to have the answer written or printed out before the quiz.
I felt a tad overwhelmed and did the count the next day.
There's a number of local pub quizzes going virtual.
Check Twitter or do a quick Google search for your favourite pub.
Know of a pub quiz online? Tell us in the comments below.
This is the perfect option for Zoom games for large groups.
We played it with the whole family for my brother's birthday.
Here are a few:
Christmas Trivia Quiz
Looking for a Christmas Zoom quiz? I created this festive quiz which you are free to use.
The link will prompt you to create your own copy.
The quiz has four rounds and includes:
Christmas Movie Round
Christmas Song Emoji Round (my fave)
Christmas Songs Double Speed Intro
Christmas Charades, Pictionary or Act It Out
Let me know you if you use it!
23 *Insert Word* Bingo
Like the traditional game of bingo?
You will need cards and a dabber but unlike the normal game, you put on a TV show, film or maybe a crap political speech that currently happens daily and using your pre-arranged bingo boards you cross off words as they are said.
We used to do this at uni during election party leader televised talks. Aye, I'm cool.
How to win
Complete a line – cross off an answer in each box in a line across you card

Full House – cross off all boxes on you card
Or just play everyday bingo. Here are the cards UK / US.
Pinterest has printable cards for lots of themes here
Quick Do It Yourself Online Bingo
I used to play this with the kids at school to start a lesson or test knowledge.
Create a box with three up and three along.
Provide more terms than boxes so in this case, more than nine terms.
Individuals choose terms and add to boxes.
You call out the definition (not the term) and the contestants then score off when they've guessed the correct term.
♥ News just in! The world-famous Bongo's Bingo is kicking off bingo in the house! Check for dates and times here.
I went with pals to a Glasgow event and it's wild. 90's music + bingo = fun!
Me, Gemma, winning at bingo and a tad tipsy!
24.

Host a Kid's Zoom Party

How do I keep a group of toddlers entertained through a screen? How do I stop them all speaking at the one time?

Are you having a panic attack thinking about how to host a kid's party on Zoom?

You are not alone! I've even had a professional kids entertainer get in contact asking for ideas.

I asked around my social circle and here are the top tips for hosting.
Make use of the waiting room before allowing everyone into the main Zoom chat party
Speak to every kid individually to create a quick connection before the entertainment kicks off
The mute button is your best friend, ask another adult to help you out
Keep the games short
Use the "spotlight" function on Zoom to highlight kids
Fun Games to Play at a Kids Zoom Party
Musical statues
The Hokey P/Cokey
Teach a simple dance
Karaoke
Scavenger hunt with clues
Alphabet scavenger hunt where kids find items beginning with letter A and so on
For more ideas, check out our post games to play on Zoom with kids.
25.
Try a Trivia Game
You don't have to manually create virtual games to play over Zoom.
Let the software do most of the work with Trivia Maker.
Launch the game

Start the call

Share a screen

Get your game face on
Games can be work-related, child friendly, themed or general knowledge.
You can try it for free but it's a premium game.
26. Hat's All Folks
One last suggestion, make a call fabulous with a hat.
Thanks to my pal Kirsten and The Union team for that one!
---
→ My friends Megan and Scott have some fun quizzes on their travel site. To find out which animal you are, play the game here.
---
Board Games To Play Online
You may be familiar with the following free virtual games online.
27. Monopoly
Do you have what it takes to build an empire?
This classic fast-paced board game can be dusted off and played online with family and friends via the App Store or Steam.
Review are mixed, some saying that the game works well, others finding it too glitchy.
28. Clue
Looking for fun family games online? The classic 'whodunnit'? board game, Cluedo can be found online.
Was it Miss Scarlet with the candlestick in the study or Mr Green with the rope in the ballroom?
Test your powers of deduction to find out.
29. Codenames
Competing spies try to select the cards which represent their agents through codes without revealing agents from the other side or choosing the assassin card.
To play Codenames, select a room and choose the number of words that you want.
Share the link of the game with friends.
This appears to be quite a tricky game so maybe not the best virtual family game depending on kids age and stage.
30. Backgammon
An oldy but a goody, the goal of Backgammon is to be the first player to remove all of your checkers from the board.
This is a free online game which can be access here.
Just hit start game and send the code to the other player.
There's a nifty schedule tool if you want to play in future.
31. Catan Universe
This free online board game can be played via smartphone or PC and with multi-players.
There are handy tutorials for those unfamiliar with the original game.
Languages available include German, English, Polish, Danish, Finnish, Norwegian, Swedish, Spanish, Catalan, and Portuguese.
Get started at the official website.

---
Video Call Software
There are lots of video call software options and some you may already have on your phone.
---
How to Use Zoom
Now a household name, Zoom is keeping people connected outside of the office! Talk about doing more than your day job, eh Zoom team?
Download the app
Open and click 'join a meeting' – you don't have to sign up to enter
You can also sign in or sign up at this stage on mobile
Type in the meeting ID which the person who has set it up will have. Add your screen name
The arrow on the desktop version shows the people you've spoken to before
Type in the meeting password
Say yes to audio if you want to go in speaker on
Say yes to the video if you want to go in with video on
Use earphones if you can to help with sound quality
If you are having issues with connectivity try getting closer your router, switch off all other WiFi connections, use the LAN cable to directly plug into the laptop if the model allows it
Zoom Tips
It's nice to switch your audio off unless you are speaking
This stops others having to listen to you take a drink, sniff and other natural bodily noises!
To do this hit the mute button/picture of the microphone at the bottom of your screen
You can also hover over your image on desktop and select mute
If you need to leave the meeting temporarily you can block your screen off by hitting the stop video button next to the audio
If you click 'chat' a column appears where you can type to people in private or to everyone in the group
On mobile, this is probably accessed by hitting the three dots [Apple]
How does Jim have a jazzy background?!
Click on the arrow next to 'stop video' and select 'choose virtual' background
Upload your image of choice, this function could be used in a quiz
You can also share your screen so it shows what you are looking at, just hit 'share screen'
Zoom has a whiteboard so you can draw/play Pictionary
If you require more than the free 40 mins, you can pay for a one-month subscription
How to Start a Zoom Call
Sign up and confirm email activation in your inbox
Complete personal details and create a password
Here you will be given a personal meeting URL
You can also invite others at this stage and an email will hit their inbox with details
Starting a meeting later? No problem
Sign in, select 'schedule a meeting'
Complete the details and take note of the meeting ID
---
Zoom Games FAQs
What are Zoom games?

Zoom games are traditional or online games that you can play over a video conference calling software such as Zoom.

The software needs to have some form of screen sharing capability to allow the host to share the game with other players.

Some games are hosted by a professional, others are played among friends and family.

Zoom doesn't have games built into its software, hence why we put this guide together.
What are the requirements to play games over Zoom?

Everyone can sign up for Zoom for free, however, your time on a conference call is limited to 40 minutes.

If you want to spend more time playing games on Zoom, one member of the group will need to sign up.

If your friends work from home, it is likely someone will have access to a premium account already so ask around.

If you do need to sign up, you can pay and cancel monthly.

Over the festive period, Zoom dropped the capped time to allow everyone unlimited access.

Everyone participating will need access to WiFi or 4/5G. The stronger the connection, the better the quality of the line.

You will also need one of the games above to pay!
---
Final Words
Basically any game can be transformed into a virtual version with a little bit of imagination. Knit club, fight club, dance club whatever your vibe just please remember to include everyone, especially those who are vulnerable to loneliness during this challenging time and don't assume the loudest in the group is fine. The extroverts will be finding this change hard too. Stay safe, have fun, tag me @twoscotsabroad
Many of these Zoom games for adults can be adapted to for kids too! Tell me below if you're using them.
---
Bookmark this guide to games to play over Zoom by pinning
---
Please share your ideas in the comments below or talk to me/tag me in your pics on social media @twoscotsabroad
---
Note: We can't guarantee the safety of apps discussed in this guide.
Disclaimer: I was personally invited to try my partner's games to provide a first-hand experience for you. This includes Paris For a Day, The Puzzle, The Riddle, The Trip, The Potter Trail, and The Escape Game.