This article has links to products and services we love, which we may make commission from.
Winter in Montana is an experience you should have at least once.
The state is absolutely breathtaking when blanketed in snow, and there are plenty of activities to keep you busy no matter what your interests are.
Montana is home to some of the best skiing in the country, and whether you're a beginner or a seasoned pro, there's a slope that's perfect for you.
If you're not into hitting the slopes, you can always go for a scenic hike or build a snowman with the kids.
To help plan your trip, this guide listed down places to visit and activities you can do during winter in the state.
If you scheduled your trip earlier and are looking for things to do in Montana in November, read this guide.
Northwest Montana in Winter
Let's start in the northwest of Montana, where the temps are freezing and the powder is fresh.
This region is a playground for outdoors enthusiasts hoping to ski, board, or even bike!
Things to Do in Whitefish, MT in Winter
Whitefish, Montana in winter is a great place to enjoy the snow and the cold.
There are many ways to stay busy here, from skiing and snowboarding to ice fishing and fat biking.
Plus, if you want to get the most out of your trip, you can spend a full day of activities in one of Montana's winter resorts located in the area.
Ski at Whitefish Mountain Resort
If you're looking to ski, snowboard, or snowshoe in Whitefish Montana, then the Whitefish Mountain Resort (1015 Glades Dr) is a must-visit.
Located in Big Mountain in northwest Montana, the resort gets more than 200 inches of snow during winter making it an ideal location for winter activities.
The resort also offers lift rides and ski lessons, as well as equipment rentals.
Go for a Bike Ride through the Snow
Winter fat biking is a popular pastime in Montana in the winter.
Guests can visit Whitefish Bike Retreat (​855 Beaver Lake Road, Whitefish) to rent a winter bike with fat tires and explore the snow-covered Whitefish trails.
The Whitefish Bike Retreat also offers lodging, guides, and everything you need to take a bike ride through the snow.
Take an Ice Fishing Lesson on Flathead Lake
Flathead Lake Charters (14980 MT Hwy 35, Bigfork) offers guided ice fishing lessons on Flathead Lake.
A guide will take your group out to the lake, show you how to drill a hole, and provide all the equipment you need for ice fishing.
It's a great way to enjoy the winter weather while trying something new.
Winter Activities in Western Montana
Western Montana during winter is worth the visit because the landscape is absolutely stunning- blanketed in a layer of snow, the mountains and forests take on a whole new level of beauty.
And there are few better ways to experience this than by strapping on a pair of skis or a snowboard and hitting the slopes.
Below are more of the winter-worthy activities you can find in the region.
Experience Glacier National Park, Montana in Winter
One of the best places to visit in Montana during the winter is Glacier National Park.
You can simply enjoy the breathtaking views of the snow-covered peaks and valleys in the area.
The park also offers tons of natural trails that are perfect for cross-country skiing, but none are as majestic as Going-To-The-Sun Road.
Going-To-The-Sun Road is over 12 miles of great views of the glaciers, lakes, and wildlife that make up the park.
It can be difficult to do the whole road in one go, so it is suggested that you take on small parts of the road at a time, especially during the avalanche season.
Glacier National Park is also featured in our list of national parks for backpacking.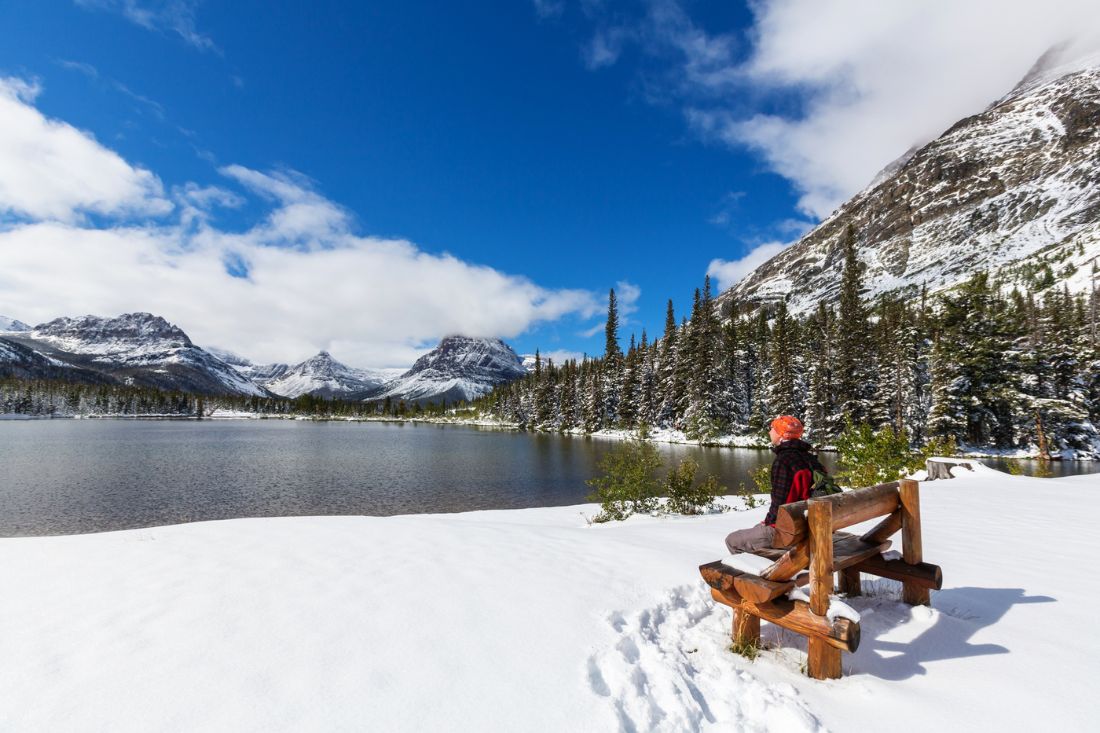 See the Frozen Waterfall at Kootenai Falls
Kootenai Falls (Libby) is located in the Northwest corner of the state and is, at times, the coldest place in Montana.
Below freezing temperatures cause the river and the connected Kootenai Falls to freeze into a beautiful ice structure that shimmers in the sunlight.
Camp in a Yurt in the Swan Mountains
Yurtski offers unique camping options for Montana winter getaways in the Swan Mountains.
The yurts are canvas-sided tents with a wood-burning stove and all of the furnishings you need for a relaxing winter vacation.
They are positioned in the mountains and can be used as base camps for all kinds of skiing adventures both downhill and cross-country.
Enjoy your Montana Winter Vacation in a Private Lodge
Downing Mountain Lodge (1017 Grubstake Road, Hamilton) offers beautiful wood cabin lodging in Western Montana.
You can choose a room at the main lodge or a private cabin that is all your own.
All lodging offers access to cozy fireplaces and access to the beautiful natural area surrounding the lodging, perfect for a hike, ski, or snowshoe through the snow.
West Yellowstone Snowmobile Packages
Looking for things to do in west Yellowstone in winter?
Take the Yellowstone Vacation Tours which offers a snowmobile tour of Yellowstone throughout the season in Montana.
A guide will provide you and your group with fully equipped snowmobiles and lead you through trails in Yellowstone National Park.
See the natural beauty of the park off the beaten path and enjoy the excitement of riding a snowmobile through the freshly fallen powder.
Snow Coach Tour in Yellowstone National Park
If you're looking for west Yellowstone winter activities and snowmobiles don't tickle your fancy, try a snow coach tour.
Snow coaches are giant raised vans equipped with snow treads so you can travel through the parts of the park that are closed to other guests.
The snow coach is heated and comfortable and features an experienced driver and tour guide to show you the side of Yellowstone you've never seen before.
You may also like our guide to the best national parks to visit in October which features Montana for the Yellowstone National Park.
Southwest Montana in Winter
In this section, we'll cover activities and destinations in and around Bozeman, one of the most famous cities in Southwest Montana.
Things to do in Bozeman, MT in Winter
Bozeman is one of the places to visit in Montana in winter, especially if you want to go ice skating or snowshoeing or just relax in a hot spring.
Go for a Skate at the Outdoor Rink at Bogert Park
Bogert Park (S Church Ave & Bogert Pl, Bozeman) is a fantastic place to go in Montana in the winter.
The park hosts an outdoor rink every year for ice skaters of all ages to enjoy.
Guests are welcome to use the rink, which is covered from the elements, fenced in, and is free of charge.
Bring a thermal-fueled picnic for a perfect winter afternoon at one of Bozeman's best parks.
Escape the Winter Weather at the Museum of the Rockies
The Museum of the Rockies (600 W Kagy Blvd, Bozeman) is the state's best museum and a great place to see all of the natural histories of Montana while escaping the cold.
The museum features a dinosaur exhibit with a world-class collection of bones and full skeletons.
One of the best things about the museum is its commitment to featuring native art and histories both as permanent exhibits and special collections.
Warm Up in the Bozeman Hot Springs
Escape the cold winter air with a dip in the Bozeman Hot Springs (81123 Gallatin Road
Bozeman).
The hot springs have been used to heat the local bathhouse since the late 1800s and now there are 12 different pools to choose from.
Pools are all clothed and some are separated by age group for a more relaxing setting despite the icy temperatures of winter in Montana.
Go Snowshoeing Around Hyalite Canyon
Hyalite Canyon recreation area (Hyalite Canyon Road, Bozeman) has a handful of trails that are open for snowshoers in the winter.
You can rent snowshoes on site and choose the trail that is the right difficulty level for you.
Explore the trails, walk over frozen lakes, and enjoy the calming silence of a hike through the snow.
Take an Ice Climbing Class to Explore the Frozen Frontier
Montana Alpine Guides (13 Enterprise Blvd) offers ice climbing courses for every level of climber.
The course provides everything you need to get climbing along with the expert guidance of an experienced instructor.
A variety of courses offered by Montana Alpine Guides allow you to climb key ice structures in and around Bozeman.
Big Sky, Montana
Big Sky is a mountain resort that's just an hour-long drive through the Gallatin National Forest south of Bozeman.
The place features around 5850 acres of terrain for skiing.
Other Big Sky winter activities include snowmobiling, snowboarding, snowshoeing, and chairlift rides.
The ski resort is America's largest and one of the places to see in Montana in winter.
South-Central Montana in Winter
The final region which offers dreamy Montana winter adventures in the south-central area.
This includes Billings.
Winter Activities In and Around Billings
There's no shortage of fun activities to enjoy in Billings, Montana in winter.
Whether you want to sled, ski, or simply walk around in one of the city's sites to enjoy the weather, this list will explore all the wintry things you can do.
Enjoy the Winter Brews on the Billings Brew Trail
The Billings Brew Trail is the only walkable brewery trail in Montana.
As you walk the trail, you will pass nine breweries including Angry Hanks (20 N 30th St., Billings) and Uberbrew (2305 Montana Ave.).
Most of these breweries offer food and seasonal beers that will warm you up during the cold Montana winter.
Go Sledding at Pioneer Park
Pioneer Park (301 Parkhill Dr, Billings) is a great place to go sledding in Billings.
The hills at Pioneer Park are steep enough for an exciting time, but not too steep that the entire family cannot enjoy them.
At 32 acres, the park features public-use bathrooms and shelters so you can enjoy an entire day sledding.
Custer Gallatin National Forest to Get Your Own Christmas Tree
The Custer Gallatin National Forest (Nye) is one of the only public lands where you can cut down your own Christmas tree.
In the weeks leading up to Christmas, you can purchase a $5 permit to cut your tree from the national forest.
The experience of walking around the forest and finding the perfect tree is straight out of a fairytale.
Go Skiing at Red Lodge Mountain
Located just over an hour outside of Billings, Red Lodge Mountain (305 Ski Run Rd, Red Lodge) is a ski resort with everything you need for the full downhill skiing experience.
The hill has multiple runs of all difficulty levels spread all around the mountain so there is something for everyone.
Warm up around the fire of the lodge or spend the night in your private cabin.
Winter Festivals in Montana
For more things to do in Montana during the winter, be sure to check out some of its winter festivals and events.
Whitefish Winter Carnival
Looking for things to do in Montana in February?
Held during the first weekend of the month, the Whitefish Winter Carnival is the biggest winter celebration in Montana.
Join in this fun event which features a parade, a penguin plunge, and even a snow sculpting contest.
It's a free event that's open to the public and can be enjoyed by the whole family.
SnoFlinga
SnoFlinga is an annual winter festival in Butte held around the last week of January and features dozens of ways to get out and enjoy Montana in the winter.
From a winter 5K to a bike race to an art fair, SnoFlinga has something for everyone.
SnoFlinga features everything that makes winter great from sports to music to food, it is one of the most activity-packed festivals in Montana.
Kids N Snow in West Yellowstone
Kids N Snow is a family-friendly event held in West Yellowstone on selected weekends during winter.
Families can enjoy activities and programs like ice skating, cross-country skiing, or snowshoeing.
The event is held in a safe environment so little kids can join in the fun too.
Final Thoughts
We hope you enjoyed all the things to do in Montana in winter listed in this guide.
And if you have a favorite winter destination in Montana, don't forget to share them in the comments.