This article has links to products and services we love, which we may make commission from.
Ski, shows, shopping and chocolate box towns straight out of a Christmas movie! If you are looking for the best places to visit in December in the USA, this guide details cities with seasonal events, small towns with snow globe scenes and the wicked good ski resorts across the country.
We've shared things to do, festivals to attend and provided a rough idea of accommodation prices for each destination.
If you prefer to travel on a budget, check out our guide to the cheapest citifies to visit in the US.
This article also features temperatures but please note that weather and temperatures don't always meet expectations which is out of our control.
Choosing a destination for lights? Here's our guide to the best cities to visit that take decorations very seriously!
Just browsing? Consider the best places to visit in the US in November too.
Best US Cities to Visit in December
Chicago in December for Tree Lighting & Holiday Shopping
Only those who can brave the cold travel to Chicago, Illinois in winter – are you badass enough?
Shoppers love the Christkindlmarket Christmas Market at Daley Plaza in the Loop and Wrigleyville at Gallagher Way for sparkly souvenirs, mulled wine and carol singing.
This is a legit European influenced market with ties to Christkindlesmarkt in Nuremberg.
You can hire skates and take advantage of indoor rink facilities at Mccormick Tribune Ice Skating Rink or glide outdoors at both Millennium and Maggie Daley Park.
There is also a number of pop-up Christmas events such as Frosty's Bar.
One of the biggest festive events celebrated in Chicago in December is the Christmas Tree Lighting Ceremony where a 50-foot+ Christmas tree is lit up in Millennium Park.
Chicago also has a number of Hanukah events in December.
Plan for temperatures ranging from 24°F (-4°C) to 43°F (6°C).
For more tips here's our guide to Chicago in Christmas.
Hotels wise, the first weekend in December is considerably cheaper than the first weekend in May for Chicago accommodation.
If you're planning to stay a bit later, you may want to read our USA NYE guide featuring Chicago and more cities in the US.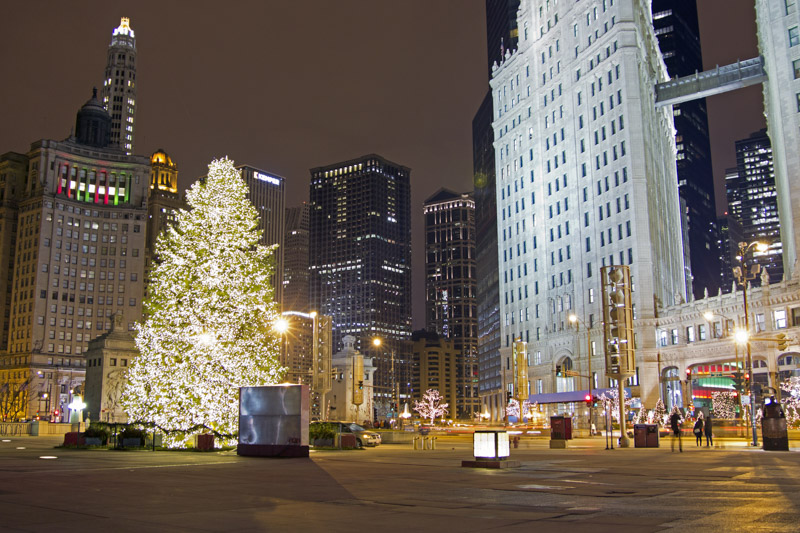 Flagstaff in December For Route 66 & North Pole Experience
Cruise along Route 66, stopping for historical monuments, nature and The City of Seven Wonders.
Stick around Flagstaff in Arizona until dark to take advantage of the Dark Skies status.
If stargazing is your thing, visit Lowell Observatory's Giovale at night and use high-powered telescopes.
For more festive ideas, you can meet Santa at the North Pole Experience and go sledding at Coconino National Forest.
Ski or snowboard at the Arizona Snowball which has 260 inches of average snowfall, 2300 ft. vertical drop and the largest beginner terrain in the Southwest.
Snowshoe the 10 miles of trails at the Arizona Nordic Village (ANV).
Prefer to be indoors? Hire ice skates at the Jay Lively Activity Center and drink at one of the award-winning breweries.
Let someone else do the driving on this Antelope Canyon and Horseshoe Bend tour which departs from Flagstaff.
Don't forget to get a picture of the Route 66 Flagstaff sign and take part in line dancing at The Museum Club.
Pack layers for highs of 58°F (14°C) and lows of 31°F (-0.5)°F.
Hotel rates for the first weekend in December are double the price compared to the first weekend in May for Flagstaff.
New York in December for Shopping, Shows & Igloo Drinks
The Big Apple is one of the best places to travel in December in the US if you love the cheer of the holiday season.
The month is packed with holiday-themed events like The Radio City Christmas Spectacular, holiday concerts, festivals, and New Year's Eve in Times Square which also features in our guide to the best NYE destinations.
If the weather's particularly wintery, spend the day inside New York's famous museums within walking distance of Central Park including the American Museum of Natural History, The Metropolitan Museum of Art, and The Guggenheim Museum.
If you can brace the cold, there are a handful of ice skating rinks around NYC including the two most famous, the Wollman Rink in Central Park and the Rockefeller.
Do your holiday shopping on Fifth Avenue, or at least take a walk to admire the elaborate holiday window displays.
Still trying to get in the holiday spirit?
Take a 4-hour sightseeing tour to the famous Dyker Heights Christmas lights in Brooklyn.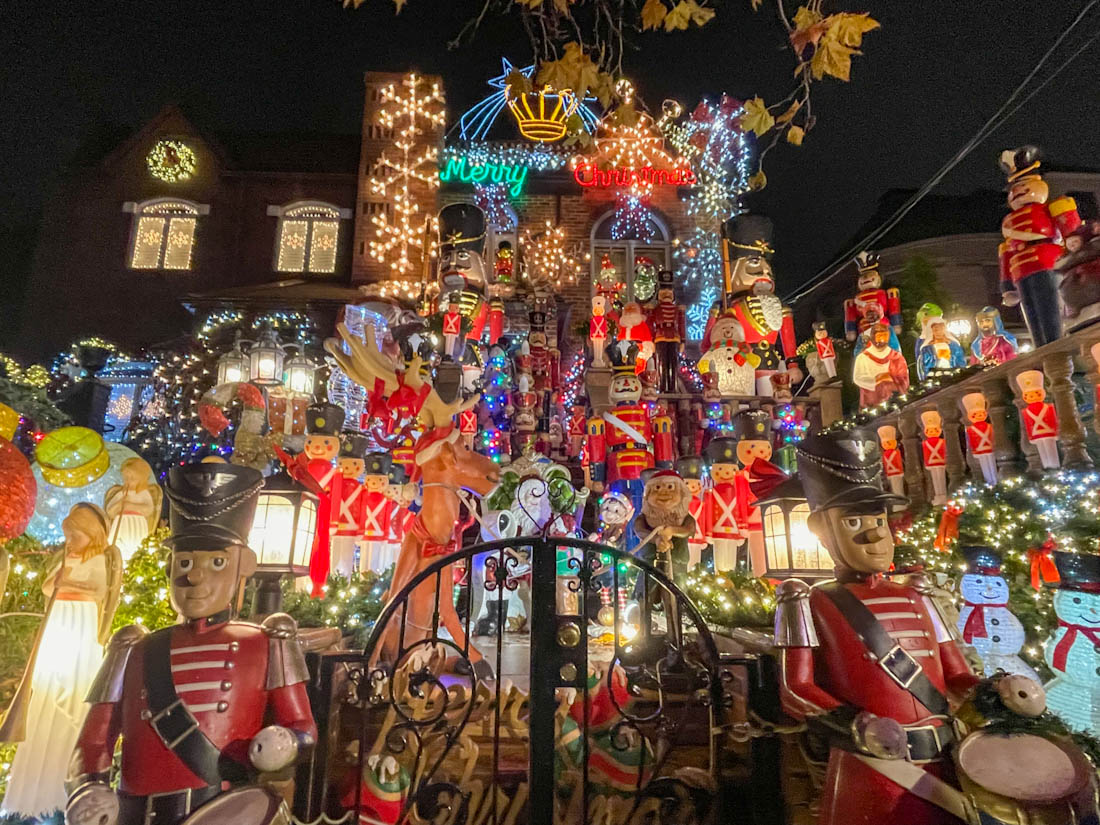 Aside from sightseeing and shopping, New York is also famous for its world-class food.
While there's certainly an abundance of gourmet dining establishments, New York is really known for simpler dishes including bagels, pizza, and cheesecake.
Expect chilly December temperatures between 31°F (-0.5°C) and 44°F (6.6°C) with a very small chance of snow.
Don't let the temperatures put you off rooftop bars though!
Many are heated and some even have fire pits and igloos.
Begin planning your trip early in the year to get the best deals – prices tend to increase in December, especially closer to the holidays.
You may also like our free 4-day NYC itinerary and you can find out more about New Year's Eve at Time Square here.
No surprises that NYC hotels are way more expensive than Chicago in December but the first weekend in December is cheaper than the first weekend in May.
Portland in December for Festive Events & Light Shows
Portland in Oregon not only lights up the town but also the water.
In December, the Christmas Ships Parade takes place where decorated ships can be seen on the Willamette and Columbia River.
Portland Winter Light Festival is also a popular festive attraction with around 100 art and light installations dotted around the city with a map to follow.
Some artwork pieces are interactive!
Portland is known for its craft beer and fans can try a range at the Holiday Ale Festival.
For more tips, read out guide to Portland at Christmas.
Expect average temperatures between 36°F (2°C) and 48°F (8°C).
It is possible to book a Portland hotel for under $180 a night during the first weekend in December.
You may also like our free Portland itinerary.
Best Winter Wonderland Escapes in the US in December
Anchorage in December for Unique Winter Activities
Anchorage, Alaska offers the ultimate winter adventure complete with dogsledding, glaciers, and maybe a glimpse of the northern lights.
While the wintery conditions scare away most tourists, Alaskans aren't afraid to head outdoors to enjoy wintertime activities.
The city's 105 miles of award-winning ski trails make it easy to plan a day of cross-country skiing or snowshoeing.
If you're looking for an extra-unique nature adventure, take a day trip to tour the Matanuska Glacier – the largest glacier in the U.S that's accessible by car.
Avoid the cold temps but still enjoy the sights aboard the Aurora Winter Train that runs through the Alaskan backcountry.
The train connects Anchorage to weekend destinations like Talkeetna and Fairbanks.
You can also spend a day learning about Alaskan history, art, and science at the Anchorage Museum at Rasmuson Center.
Seafood dominates the local food scene, which means plenty of warm chowders to warm up after a cold day exploring the city.
The crowds tend to avoid Anchorage in December, which means it's pretty easy to find affordable accommodations and airfare.
Keep in mind that some hotels and businesses keep winter hours, so check those before making plans.
Hotel prices are cheaper during the first weekend in December compared to May for Anchorage.
By December, Anchorage will probably already have a coating of ice and snow.
Expect average temperatures between 17°F (-8.3°C) and 25°F (-3.8°C).
Keep an eye on the aurora forecast as well; Alaska's famously dark winters provide ideal conditions to see the northern lights.
Anchorage also features in our guide to the best places to visit in June as it nearly has 24 hours of daylight!
Kennebunkport in December for an Award-Winning Christmas
Where else are you going to see Santa sailing in on a lobster boat?
Kennebunkport in Maine puts on a host of shows and events during the month of December such as carol singing, spiked cider tastings and decorated home tours.
This popular seaside town calls its festive period, its Christmas Prelude and it is organized annually by the Kennebunkport Business Association.
Old favorites include the Hat Parade and Pooch Parade as well as the tree lighting event where you won't see a star on top of the tree…
The Christmas Tree Trail invites local businesses to decorate their own tree and visitors can tour the trees using the trail map.
If you like to try new things, there is a cocktail, coffee and choco trail which is guaranteed to make you jolly.
There's plenty of holiday shopping opportunities in Kennebunkport too.
York in December for Family Festive Fun
Another Maine coastal town know for its Christmas schedule is York.
See Nubble Lighthouse all lit up, search for candy canes and shop at the local fayer.
The official Festival of Lights events include ornament painting, breakfast with Santa and a parade on the ground and in the water.
Expect festive floats in York!
Newport in December for Rhode Island Mansion Decorations
The tiny state of Rhode Island is bursting with holiday spirit come December – especially the colonial coastal town of Newport.
December visitors should tour Newport's Gilded Age mansions, which are always decked to the halls for the holidays.
For a unique twist on a holiday classic, try to catch a performance of A Newport Nutcracker at Rosecliff – a ballet performance presented throughout a beautifully decorated New England mansion.
There's also the two-week Christmas in Newport Festival featuring daily events like concerts, tree lightings, and fairs.
Get to know the town's unique history while admiring the impressive holiday decorations on The Newport Historical Society's guided Holiday Lantern Tour.
Stop for a bite to eat at the White Horse Tavern, the oldest operating restaurant in the U.S.
December visitors shouldn't be afraid of a walk along the beach or through Queen Anne Square.
Average temperatures fall between 34°F (1.1°C) and 45°F (7.2°C) with cloudy skies and a very small chance of precipitation.
Newport hotels during the first weekend in December are half the price of May!
Leavenworth in December for Chocolate Box Christmas Village
The Bavarian-styled village of Leavenworth, Washington in the foothills of the Cascade Mountains provides a picturesque backdrop for your next winter getaway.
The town knows how to cater to tourists, and it goes all out for the Christmas crowds.
Downtown Leavenworth transforms into a holiday wonderland with carolers, Santa Claus appearances, and live entertainment through most of the month.
Swing by the Leavenworth Nutcracker Museum that boasts a collection of more than 7,000 nutcrackers.
Do some holiday shopping at the Leavenworth Winter Market that's held each weekend on Front Street.
You also shouldn't miss a chance to participate in the town's favorite winter pastime: Sledding.
Head to Front Street Park or Leavenworth Ski Hill for the best downhill action.
It's no surprise that the German-themed town has plenty of German food and beer on the menu – be sure to indulge with a warm pretzel.
Although Leavenworth is a small town, it does see some serious crowds for its holiday events. Make hotel reservations and travel arrangements well in advance.
Plan for cold, wintery weather with average temperatures between 21°F (-6.5°C) and 34°F (1.1°C) with cloudy skies and possible precipitation.
Hotels book up very far in advance so don't hesitate to secure your stay for next year if you decide that Leavenworth is the December vacation of your dreams!
Levenworth also features in our guide to Oktoberfest in the US.
Lake Placid, Adirondack Mountains for Olympic Level Fun
New York's Lake Placid is one of the oldest winter playgrounds in the US and has hosted two winter Olympics.
You can still enjoy Olympics activities such as the Mt. Van Hoevenberg Cliffside Coaster, which is a bobsled and a roller coaster!
Olympic Jumping Complex has a SkyRide gondola that reaches the highs of the base of the ski jumping towers, which offers epic views of Lake Placid and the High Peaks.
If you prefer to keep your feet on the ground, head to Mirror Lake for ice skating or snowshoeing on the 2,000 miles walkable Adirondack trail system.
Accommodation wise, hotels and lodges don't have too much of a mark up the first weekend in December compared to May.
Best Ski Destinations in the USA
Stowe in December for Best Skiing on the East Coast
The little mountain town of Stowe, Vermont is one of the best places to visit in USA in December on the East Coast for skiing.
Take a gondola ride up Mount Mansfield where you can grab dinner and a drink at Cliff House Restaurant while looking over Vermont's snow-covered peaks.
You'll have lots of options when it's time to hit the slopes.
Stowe Mountain Resort is popular, particularly for its double black diamond trail that's considered the most challenging in New England.
That's not to say Stowe is only for advanced skiers – there's plenty of terrain for different ages and skill levels.
Stowe has 116 ski trails, 13 lifts and gondolas connecting Mount Mansfield, Vermont's highest peak at 4,395 and Spruce Peak.
If you're not much of a skier, take a leisurely snowshoeing trip along the Stowe Recreation Path, which brings trekkers through the forest to picturesque covered bridges.
Be sure to bring plenty of warm clothes for whatever activity you choose.
Average temperatures in Stowe are between 8°F (-13.3°C) and 23°F (-5°C).
Save time to spend a day in Downtown Stowe to enjoy its many galleries, breweries, shops, and spas.
Winter athletes should check out the Vermont Ski and Snowboard Museum to learn all about the region's winter sports history.
Stowe couldn't be a great ski destination without some great food.
Local specialties include locally sourced apples and maple syrup.
Swiss fondue, American comfort food, and craft beer are also local favorites.
Mose people recognize Stowe as the "Ski Capital of the East," so start planning your December vacation early in the year.
To avoid crowds, skip the weekends when locals ski and use the Mountain Road Shuttle from Main Street.
As to be expected, Stowe accommodation is slightly more expensive in December than May.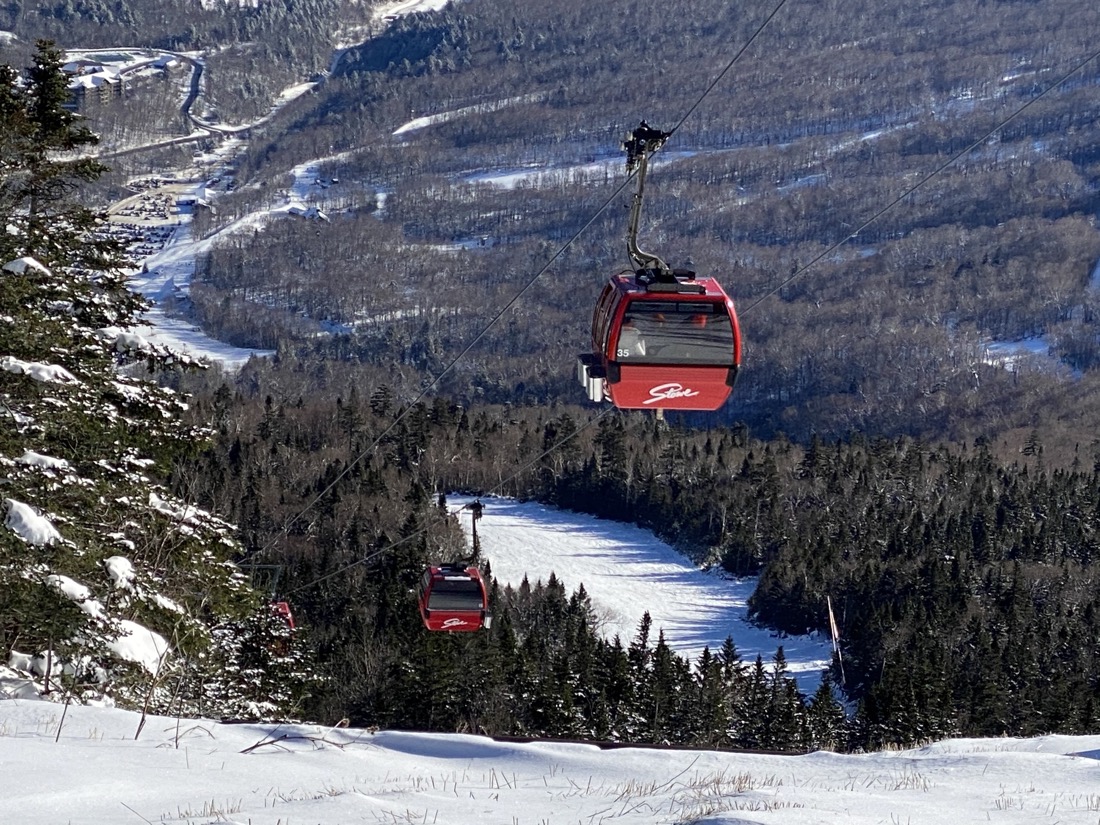 White Mountains in December for a Winter Road Trip & Skiing
If you are yearning for that fresh free botox feeling on your face from the freeze and have a desire to test out your new winter tyres, plan a road trip to New Hampshire's White Mountains to see frozen lakes and snow-dusted peaks.
Average temperatures in the White Mountains are between 13°F (-10.5°C) and 39°F (4°C).
The most popular touristy towns in the White Mountains are North Conway, Lincoln and Littleton.
Things to do in North Conway include tax-free shopping on Main Street at the independent stores, a ride on the Conway Scenic Railroad snow train and tubing at Cranmore Mountain Resort, where you can also ski.
Hike around the lake at Echo State Park; it is only one mile, so not too much effort is required, ideal because you'll be wrapped up against the cold.
Add on the Cathedral Ledge overlook, which is 1.2 miles, for views of the River Saco Valley in winter.
Just a 15-minutes drive from North Conway is Nestlenook Farm in Jackson for ice-skating and s'mores.
Skiing wise, there are various ski resorts around Mount Washington Valley, such as Loon Mountain, Waterville Valley, Wildcat Mountain, Attitash, Bretton Woods and Cannon Mountain.
Annually, New Hampshire hosts the Insta-famous North American Ice Castles, but the season doesn't tend to open until January.
Do you agree that New Hampshire is one of the best states to visit in December if you are seeking a Hallmark movie winter trip?
Hotels and lodges are slightly more expensive in December compared to May.
Sun Valley in December for Slope, Backcountry & Heli-Ski
Sun Valley, Idaho has been a must-visit for winter sports enthusiasts since the 1930s.
The area's most popular ski destination is Bald Mountain, or "Baldy," at Sun Valley Resort.
There's terrain for nearly any skill level accessible from 13 lifts.
Avoid crowded slopes and hop on a heli-ski tour from the top of Bald Mountain to remote backcountry ski destinations.
There are more backcountry ski opportunities near Galena Pass that don't require a helicopter to access.
Head to the nearby town of Ketchum to learn about the area's history and ties to Old Hollywood celebrities including Ernest Hemingway and Marilyn Monroe.
Stop for coffee and a pastry at one of the town's many cafes.
Bigger appetites will find plenty of comfort food and classic pub dishes featuring locally sourced ingredients.
Stargazers will be delighted to know that Sun Valley is within a dark sky reserve are, which offers some of the country's best stargazing.
Be sure to bundle up when you head outside, especially at night.
Average temperatures in December are between 7°F (-13.8°C) and 31°F (-0.5°C) with snow and ice possible.
Besides the weather, be sure to check the daily avalanche report before hitting the slopes.
Don't wait until the last minute to book your Sun Valley vacation.
The area is already bustling in December when prices jump and reservations are harder to come by.
Park City in December for Ski
Did you know Park City in Utah hosted the 2002 Winter Olympics?
With 7,000 skiable acres, Park City Mountain is the US's largest ski and snowboard area.
In December, temperatures range from 31°F to 12°F (-0°C to -11°C).
Some visitors like to stay at resorts with ski in and out facilities on Mountain Resort and use the bus system to get around, others prefer to book accommodation downtown and use the Town Lift up.
There are two food stores for those who want to rent a condo and cook up a big breakfast before hitting the slopes or a variety of brunch options if you are planning a slower paced trip.
Park City's alcohol rules differ to other parts of the country as it is state controlled so remember to pick up alcohol before 8pm and that you can't buy it on Sunday.
Downtown offers a mix of 19th-century charm from the area's silver mining history and award-wining restaurants and bars.
Enjoy American food in an an old lumberyard at Boneyard Saloon & Wine Dive or Mexican food at Alberto's.
Sip cocktails in an igloo at Stein Eriksen Lodge or go for lunch.
The best way to get to Park City is to travel from Salt Lake City which is a 40-minute drive.
Park City Hotels are also more expensive in December compared to May.
Warm Places to Visit in December in the USA
Death Valley National Park for Hikes and Spas
Death Valley National Park is known as being one of the hottest places on earth but temperatures drop to 65.1°F (18.4°C) – 38.3°F (3.5°C) in December.
It's not the warmest destination but if you plan to hike in this California and Nevada national park, the temperatures may appeal to you!
Highlights include the Devil's Golf Course salt pan, the drive along Artists Drive for photos of Artist Palette and hiking the 2.7-mile long Twenty Mule Team Canyon.
Stay in the park at The Inn at Death Valley for 5-star hotel and spa treatment, prices don't change much when comparing the start of December to May.
Note: Death Valley became federally protected in 1994, after years of national monument status (1933).
However, Timbisha Shoshone People lived in Death Valley long before it was declared a national monument.
Death Valley also features in our guide to best national parks in March.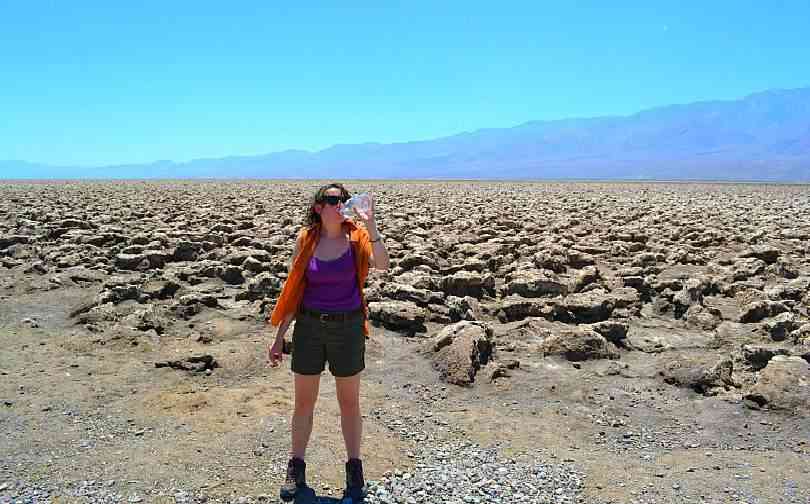 Orlando in December for Disney with a Christmas Spin
Not the hottest place in the states but it is home to the happiest place in the world…
Orlando in Florida is a popular choice for families who want to experience Walt Disney World with a Christmas twist while enjoying warmish temperatures which can make getting around the four parks bearable.
The most popular way to spend your time is at Walt Disney World's Magic Kingdom, Hollywood Studios, Epcot and Animal Kingdom.
Do holiday shopping on Main Street or Disney Springs, devour a mountain of s'mores cake at Epcot and look in awe at the festive light projections at Hollywood Studios.
Orlando is also home to Universal Studios where you can wander the wintery streets of The Wizarding World of Harry Potter and discover Grinchmas at Islands of Adventure.
But that's not all!
Along International Drive you will find heaps of family fun at i-Fly, Ripley's Believe It or Not and ice skating at Funtania Family Fun Center on International Festival Plaza.
Buy the astronaut wannabe in your family the gift of a lifetime with tickets to Kennedy Space Center.
International Drive hotels are slightly more expensive during the first weekend in December compared to May.
Celebration for Snow in Florida
Yes, you read that right!
The Disney created town of Celebration in Florida puts on a nightly snowfall show for kids and adults to experience the white stuff falling from the sky (machines) over Market Street!
Festive fans can also hop aboard the Trolley Express and skate at the ice rink.
End the day with a trip to Jeater Bend to see the houses all decked out!
New Orleans in December for Fun Decor & LUNA Fête
New Orleans in Louisiana is a good choice of location all year round if you like food, drink, music and festivals.
In December, NOLA's hotels deck the halls so visit The Roosevelt and the Royal Sonesta lobbies to experience the magic.
See the Christmas tree at Hotel Mazarin in the French Quarter and listen to jazz on Frenchmen Street.
While The Skeleton House on St Charles Avenue is famed for its Hallowe'en decor, it puts on a good show for Christmas too.
Catch the holiday lights show, Celebration in the Oaks and also the festival of lights, art and technology, LUNA Fête.
For more touristy stuff, hop aboard a riverboat cruise, drink cocktails on Bourbon Street and find out more about the ghosts in New Orleans.
Finally, take a tour of the Whitney Plantation which gives accounts from enslaved people.
In December, temperatures range from 48°F (9°C) to 68°F (20°C).
Read more about our New Orleans tips in our guide.
You could save around $100 per night booking a hotel in New Orleans for the first weekend in December instead of May.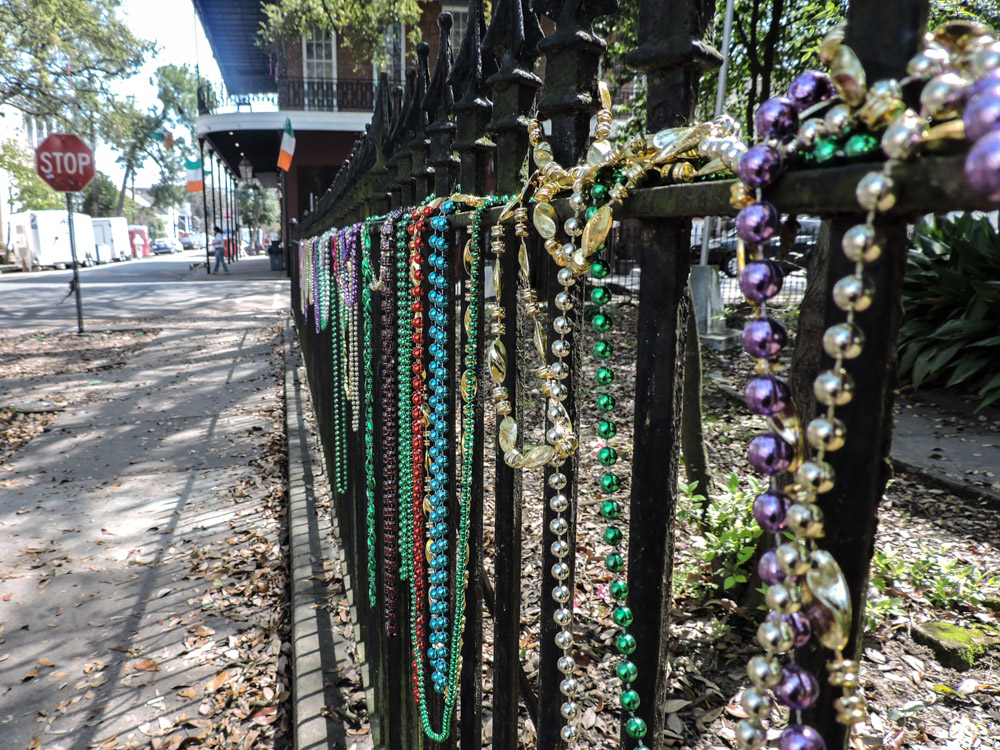 Maui in December for Whale Watching and Outdoor Adventures
Did you know that Hawaii is an archipelago of eight major islands?
Being able to choose an island that best suits your travel needs is ideal for holiday maker as historically Kauai and the North Shore of Oahu typically sees a lot of rain during December and flash flood warnings.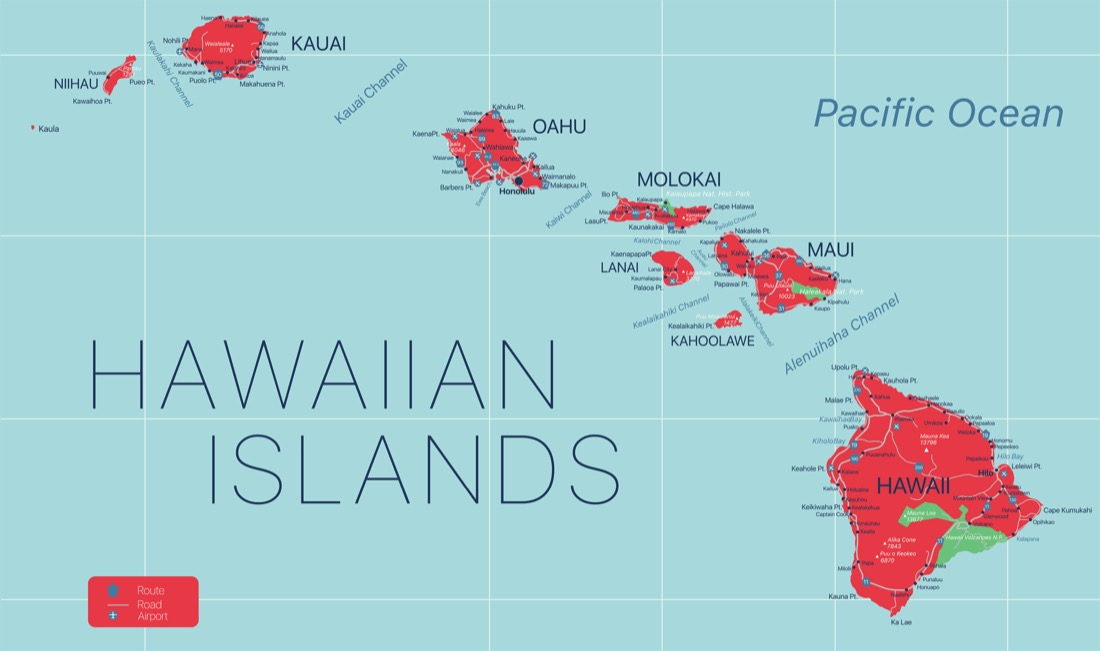 There's no denying that Maui is one of the most beautiful places to visit in winter in the USA because from December to April, 10,000 humpbacks migrate to Maui's warm and shallow waters!
Other things to do include a ride along the Hana coast to see black sand beaches, the 3.5 mile Wailea Beach Path which is relatively easy to stroll along and exploring the active volcanoes at Haleakala National Park.
The closer it gets to the Christmas, the more expensive hotel rates get in Maui with some doubling in price.
Read our guide free things to do in Maui for budget-saving tips!
This is just a selection best places to visit in winter in USA
We have an extensive warm US places to visit in December guide you may like too.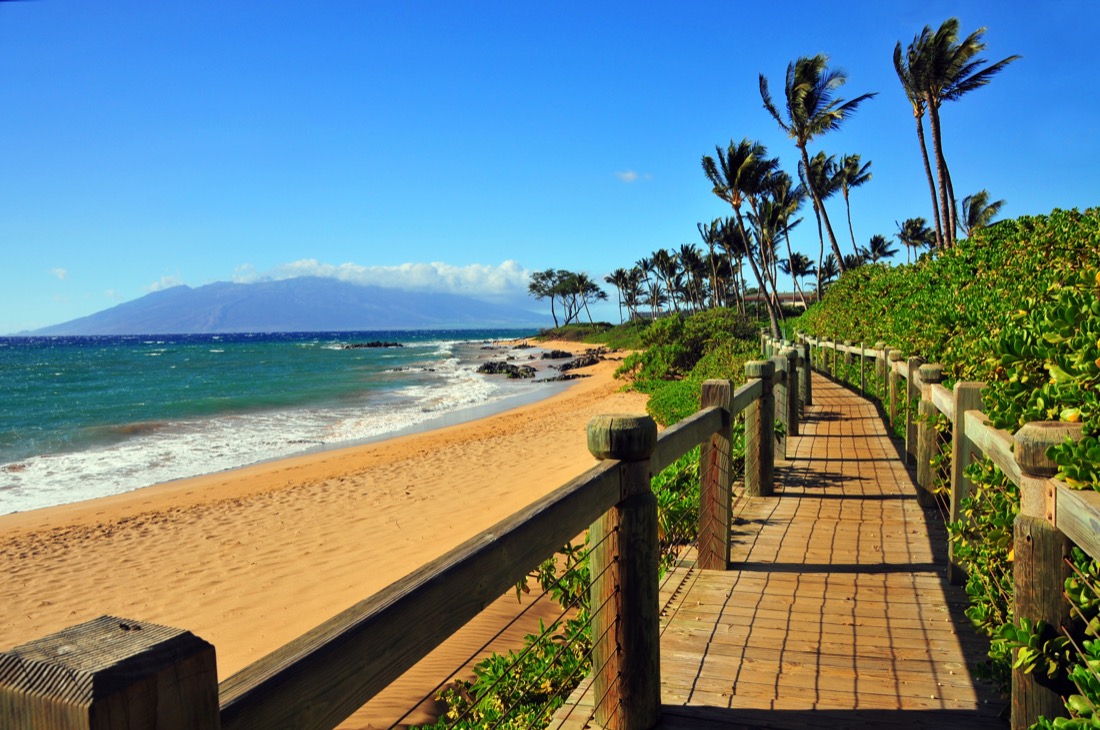 Other US Travel Guides You May Like