This article has links to products and services we love, which we may make commission from.
Ah, I feel zen! And you can too after tubing in Palomino, Colombia. I take that back, it should be called tranquil tubing in Palomino. It has been a much needed chilled out couple of days after a wee fiesta in Santa Marta! For obvious reasons, this will be a (nearly) photo-less post for us (Gemma and Craig), which is a first.
Palomino Travel Guide
Palomino is a small beach town half an hour past Tayrona National Park. The town itself only has a few restaurants and shops but there are now a growing number of hostels in Palomino. I hear it's common practice to have drinks in the hostels and then head to the beach for a party. Not there for a party, we were happy to just to chill by the pool and swing in the hammocks.
Sunsets at Palomino
Most backpackers head to The Dreamer, Palomino which sells out quickly, we were content at the Tika Hut Hostel. We spotted heaps of accommodation on the walk from the bus stop for half the price of these two, so if you are keen to avoid the cool crowd, you'd be safe arriving without a booking.
Things to do in Palomino
The main attraction for us was tubing in Palomina. For 20 COP / £5.13 you get a ride via scooter (mototaxi) and a rubber ring (inside of a lorry tyre!) The guys on bikes hang about outside the hostels and on the main street so you don't have to look far for a ring/ride.
The bike ride takes around ten minutes then walk with your ring for a further fifteen. It's quite an inconvenient walk with the tube. The path will turn into yellow sand, keep following that (up and down, up and down) when you reach a stream turn right and you should be at the start of the tubing river.
Tubing in Palomino
Jump on the ring and float away. On our journey we saw hogs, a heron type bird, cows feeding, a family washing their clothes and children washing themselves while splashing about. It usually takes people about three to four hours in total but we were in a bit of a rush so used our flip-flops as paddles to speed up the process! It was a good laugh trying to avoid trees and shallow water. Watch your booty at times, shallow water brings rocks and tree branches. Ouch! We left about 08:15 and were back on sandy land by 11:30. The route floats you to the beach.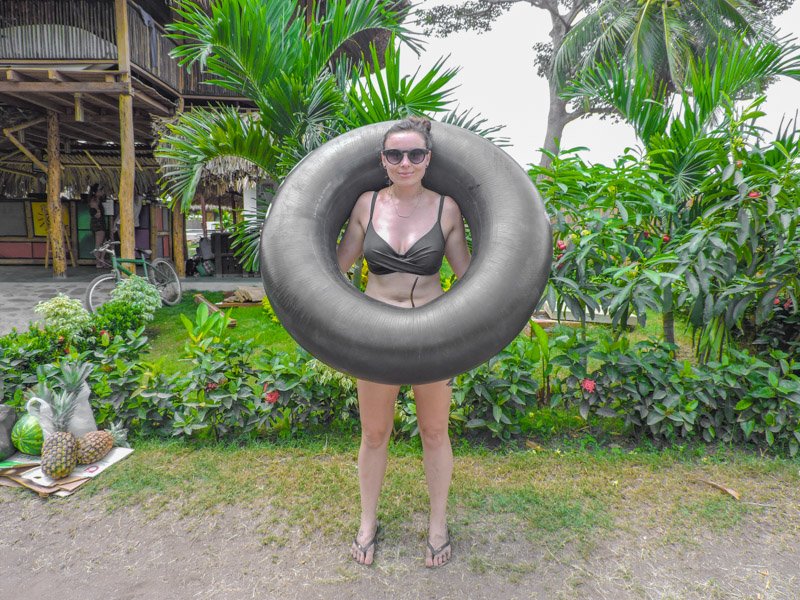 It's then a ten-minute walk back to the hostels. It really is relaxing being surrounded by all the lush green trees.
Palomino Tubing Packing List
1. Beginner's Checklist
Wear your bikini/swim shorts and flip-flops. Obviously, have suntan lotion on!
2. Do it like a Pro
Bikini; flip-flops (wearing suntan lotion); a plastic bag with beers; a waterproof camera / Go Pro
Enjoy!
Santa Marta to Palomino
Travellers will catch the same bus which takes you to Tayrona National Park (a must if on the coast) from Calle 11 Car 11 in Santa Marta. The journey is super cheap at 8 COP / £2.06. The ride lasts about 1.5 hours and is usually pretty busy.
Buses leave every twenty minutes, we've never had to wait long for a bus. Get off outside the tool shop in Palomino, people on the bus or the conductor always help you out anyway. We met a fellow Scot on the bus, Charlie from Edinburgh! A stylish lad who has been travelling for two years, this is his second time in Colombia and we can see why.
Pin to your Colombia board
Have you been tubing?
Any questions or quips, leave in the comments!