This article has links to products and services we love, which we may make commission from.
If you're visiting San Francisco and it's raining, don't worry – there are plenty of things you can still do!
While the city is known for its mild climate, you can expect some drizzle, especially during the winter season, with December being one of the wettest months.
But there's no need to stay home or spend the day curled up inside your hotel room and let the wet weather spoil your trip.
Discover all the things to do on a rainy day in San Francisco featured in this guide.
Whether you're looking for some fun indoor activities to try or visiting the city's fantastic destinations, there are plenty that will keep you occupied and entertained.
You can also check out our San Francisco itinerary if you are looking to spend several days exploring the city.
Fun Things to Do on a Rainy Day in San Francisco
Visit Alcatraz Island
A tour of Alcatraz Island on a rainy day adds to the already eerie experience.
Explore the history of the infamous people who once walked the halls of this famous prison, now turned into a museum.
Although most people know about the prisoners who tried to escape Alcatraz, very few are aware of the Native Americans who 'escaped to Alcatraz' in 1969, taking over the island for 19 months, creating a national debate on Native American rights.
Alcatraz Island is one of the most popular things to do in San Francisco and its impact on The City has many layers.
Pack a lunch, as there aren't any food vendors on the island.
Covered seating is available on the ferry ride but still bring an umbrella for the uncovered areas.
This is also ideal if you want to brave the rainy weather and go outdoors as the tour also takes you to explore the views of San Francisco's waterfront.
Alcatraz also made it to our San Francisco bucket list.
Bowl
A perfect way to spend a rainy San Francisco day is bowling at Plank (98 Broadway), with its waterfront views and state-of-the-art lanes.
Play, eat, drink and repeat for the best way to get out of the rain and have fun with the entire family.
Take Selfies at Madame Tussauds
Madame Tussauds (145 Jefferson St) is a wax museum that features wax features of famous movie stars, politicians, and sports stars and entertaining indoor activities.
Spend an afternoon taking photos with your favorite wax sculptures as a fun way to beat the rainy day blues.
Sip Irish Whisky at the Buena Vista Cafe
If you require ideas for indoor activities in San Francisco when it is raining, you must visit Buena Vista Cafe (2765 Hyde St) for its Irish Coffee and friendly surroundings.
Watch while they prepare your Irish whiskey, coffee, sugar, and floating cream; shouts come out of the rain.
Buenavista cafe also features in our guide to San Francisco in fall.
Watch While San Francisco's Famous Sourdough Bread Is Made
Spend your rainy day in SF watching the bakers at work at Boudin At the Wharf (160 Jefferson St)
Not just a bakery; you can have lunch and coffee.
If you are a clam chowder lover, you must indulge in their bowl on your rainy day visit.
Explore the Fort Mason Center for Arts & Culture
Fort Mason Center for Arts & Culture (2 Marina Blvd), once a military base, is now open to the public and makes for a nice place to pass the time on a rainy day.
With various cafe bars and restaurants, you can grab something to eat and walk around indoors.
Fort Mason has a lot to offer throughout the year, with incredible views of the Golden Gate and Alcatraz Island.
Visit the Exploratorium
Over one million people visit the Exploratorium (Pier 15 Embarcadero at Green St) annually, making for an excellent indoor activity for a rainy day.
This scientific house of fun will help you forget it's raining outside.
The After Dark taking place every Thursday evening comes with a full DJ and drinks and is a great activity to experience in San Francisco at night.
Chinese Fortune Cookie Factory
One of the landmark locations in San Francisco's Chinatown is the Chinese Fortune Cookie Factory (56 Ross Alley).
Since 1962, the factory has been making 10,000 fortune cookies every day, and visitors can tour of the premises, a perfect way to escape the rain and learn more about the city's culture.
You can also taste different flavors of freshly baked fortune cookies!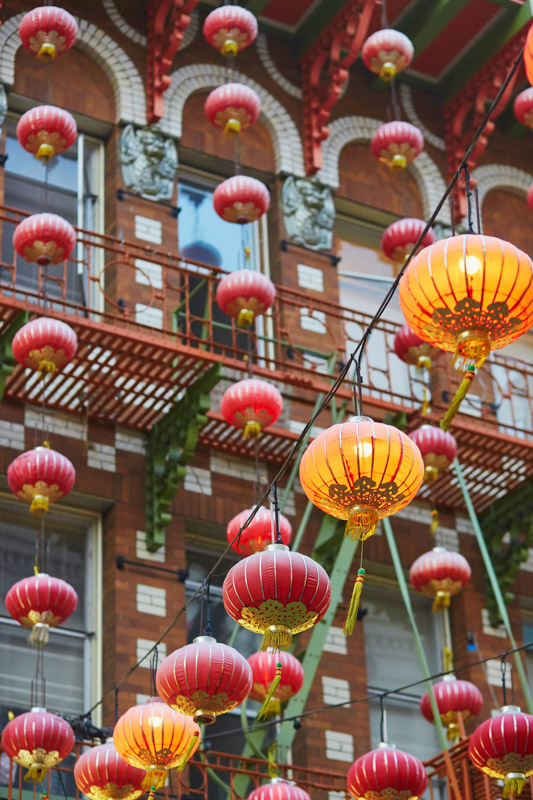 Take Some Wine Closer to Home
Skip the drive to Napa Valley if you are wondering what to do in San Francisco on a rainy day, and go to Chateau Montelena Tasting Room (335 Powell St).
Just one of several tasting rooms in the city, this one is located in the lobby of the hotel St Francis; it feels like an extension of the Napa winery, where you can sample wines nearer to home on a rainy day.
Experience The Flyer
Fly over San Francisco and bask in the fantastic realistic scenery as the floor drops away to add to the experience at The Flyer (2 Beach St Pier 39).
This indoor virtual reality experience is great for kids and the kid-at-heart, and there is something for everyone.
If you are into horror (not recommended for kids), check out the 7D experience.
The escape room will have the entire family in a real pickle of trying to figure things out.
Explore the Painted Ladies Tour
Leave the driving to the Painted Ladies Tour Company (427 Post St) on a rainy day as you go where the big tour buses can't.
This locally owned and operated family business wanted to share a love for the city with others.
Tour the city in a vintage Volkswagen van with lashes as you and your tour buddies (seat 6-7 people) form lasting memories.
Read a Book
City Lights Booksellers & Publishers (261 Columbus Ave) is a great place to spend a rainy day snuggled up with a good book.
The bookstore is legendary for having unique volumes not found anywhere else.
Something is entertaining in every nook and cranny, and you can say you've sat where some of the best writers' careers have begun.
Go to the Theater
Going to the San Francisco Theater is one of the best indoor activities for a rainy day, and the city has plenty of options.
With something on the calendar each month, from musicals to standup to family shows, you have several options from which to choose.
Visit the Walt Disney Family Museum
The Walt Disney Family Museum (104 Montgomery St) will be a great fit if you are a Disney fan scouting for things to do on a rainy day in San Francisco.
Learn about Walt Disney's vision and how Disney World came to be.
The location for this museum in Presidio is ideal, as views of Alcatraz and the Golden Gate Bridge are in the foreground.
Go to the San Francisco Museum of Modern Art (SFMOMA)
The San Francisco Museum of Modern Art (151 3rd St) has seven floors to explore, is filled with modern and contemporary art, and is a terrific place to visit in San Francisco on a rainy day.
The entire family will love the variation of art on display, from the levitating meteorite and the living wall.
You can easily spend four hours exploring, so remember to grab something to eat at the Cafe on level five.
Play Ping Pong at SPIN SF
Ping-pong lovers will thrive in SPIN SF (690 Folsom St) on a rainy day for its bar, great food, and ping-pong tables.
An excellent combination of table tennis and drinks as you socialize with friends.
The artifacts and artwork around the 5000 square feet of space are worth exploring.
Go Shopping
Home to some of the city's best shopping, Westfield San Francisco Centre (865 Market St) is multiplexed with nine floors and a covered atrium that offers several places to shop and other things to do on a rainy day in San Francisco.
With over 170 retail shops and places to eat, you can spend hours here out of the rain.
Go Brewery Crawling
Visiting 21st Amendment Brewery (563 2nd St) and a few other breweries in the same area make for an ideal rainy-day activity.
A chill place to hang out before a game and when it's raining if you like a laid-back atmosphere, good food, and craft beer.
Play at the Emporium
Emporium (616 Divisadero St) is a popular spot for sipping your favorite drink and playing pool or an arcade game.
The rain won't stop a night out with friends as this place offers comfort food and a dance floor so that you can spend hours here.
Visit the Conservatory of Flowers
Come out of the rain and visit the Conservatory of Flowers (100 John F Kennedy Dr.), the oldest glass and wood greenhouse in the United States.
Take your time and explore the rare exotic plants, each distinct environment of full color and unique blooms.
The Conservatory is a great way to spend a relaxing rainy day and take selfies with beautiful giant lilies in the background.
Play Mini Golf
Urban Putt (1096 S Van Ness Ave) provides the solution for a fun way to get out of the rain and enjoy a good meal and drink.
They put a unique spin on indoor mini-golf with fun themes and various scoring options.
Golf is on the lower deck, where the bar is also located, with several areas to place your drink glass while you play.
You can stay for a meal on the second level and take a picture at the photo booth before leaving.
Go Outer Orbit
For a more vintage Hawaiian feel, checkout Outer Orbit (3215 Mission St) if you are looking for San Francisco indoor activities.
A good family outing as their retro pinball machines is a hit, along with their craft beer and impressive food menu.
Learn How Chocolate is Made
Dandelion Chocolate Factory (740 Valencia St) delivers a unique experience while you watch them make the chocolate firsthand.
With limited productions daily, you can grab a hot or frozen cup of chocolate or coffee, your choice, and a S'Mores or one of the other sweets stuff and engage in conversation with the chocolate makers.
They even have chocolate classes for kids.
Attend SF Sketchfest
If you are in town at the beginning of the year, you will laugh if it is raining when you attend the SF Sketchfest, an indoor sketch and improv comedy performance.
Come and be entertained by local comedians doing skits, stand-up, and improv, and it takes place around town at different venues.
It's Tea Time
Enjoy tea under a canopy with pink roses at K Cafe Patisserie & Tea House (923 S Bascom Ave).
It's a nice way to spend time in San Francisco on a rainy day to enjoy a fusion of Asian-French cuisine.
The cozy pillow seating provides a great atmosphere for a good conversation with your friends or your date.
And speaking of dates, you may also like our guide to date nights in San Francisco for ideas on where to spend time with your special someone in the city.
Wine Tasting in Oakland
As mentioned above, you don't have to travel to Napa to enjoy wine in SFA!
Head to the Black Arts Movement Business District in Oakland to sip on wine and sample small bites curated and created by BIPOC, POC, as well as Women Winemakers and Chefs in California.
Check out Coconoir Wine Shop for more.
The trip between San Francisco and Oakland takes less than 20 minutes by public transit and by car but remember to appoint a designated driver if doing the latter!
Final Thoughts
We hope you enjoyed our list of things to do on a rainy day in San Francisco that will keep you occupied and entertained.
What's your favorite rainy-day activity in the city? Let us know in the comments.