This article has links to products and services we love, which we may make commission from.
Famous for its sea to sky activities, Vancouver is the perfect winter destination. While snow is not always guaranteed on the streets, there will be more than a sprinkle (and possibly a fabricated dump, Olympics 2010, yikes!) on the mountains. This festive bumper guide on things to do in Vancouver in the winter includes fun sports, warm indoor activities and, of course, top-rated Christmas attractions! 
---
» Don't miss our Vancouver itinerary
---
Note: A decision on the 2020 Vancouver Christmas market has not been made yet.
Things to do in Vancouver at Christmas  
1. Grouse Mountain Light Show

Peep out of the Grouse Mountain Skyride window and watch the snow-capped trees disappear as you reach the peak. 
Once on the mountain, crunch your way through the snow, passed the skiers, to the Light Trail and magical tunnel.
Enjoy a sleigh ride, Rudolph has been replaced by a monster snow eating machine for this trip, through the tree-lined lanes then warm up with a drink at Grouse Grind or BeaverTails. 
2. Vancouver Santa Claus Parade
For one afternoon in December only, streets are blocked off for the impressive Vancouver Santa Claus Parade. Featuring inflatable decorations, Santa's sleigh and talented dancers from tiny to late teens.
→ Tips: Leave your umbrella at home as it prevents others from seeing and find a sport at the starting point for fewer crowds.

3. Capilano Suspension Bridge

Probably the busiest of all the top things to do in Vancouver in December, Capilano Suspension Bridge in North Vancouver gets dressed up with hundreds of thousands of lights for all to see.

Like the world's biggest Christmas tree, which lives there, the crowds grow bigger each year so plan ahead. 
→ Note: Free shuttle buses run throughout the day and evening from Downtown Vancouver.
4. Festival of Lights at the VanDusen Botanical Garden

Up there with Capilano Bridge as one of the most popular Christmas attractions, the Festival of Lights is an annual event which creates a glitter bomb effect on VanDusen Botanical Garden ( at Shaughnessy).
No space in the garden avoids being draped in lights, decoration or installation. For obvious reasons this is best experienced at night but be warned, the lines are crazy.
5. Hycroft Manor
One of the most jaw-dropping Christmas events in Vancouver is a visit to Hycroft Manor (Shaughnessy).
The building is dripping in fairy lights, offset against the light grey stone, and looks very Miracle on 34th Street.
During Christmas, it is home to Vancouver's longest-running fair where local vendors sell their products. I bought Craig a pizza box filled with candy, combining two of his most loved treats, pizza and sweets.  
6. Woodward's Windows, Canada Place 
Take a look at the throwback winter scene at what once stood Woodward's Department Store, hence the name. 
Santa's workshop and The Candlestick Factory from the 1960s are displayed each year at Canada Place.
7. Avenue of Trees
Supporting the Woodward's Window display is a trail of trees dressed in different themes. Classic, garish, modern and pretty out there, the designers take the brief seriously! 
While you are there enjoy the lit-up night cityscape and Canada Place Sails of Light, where the sails on top change colour. 
8. Yule Duel
Quite possibly the best name for a Christmas choir event, Gastown hosts this carol competition. All singing levels of choirs welcome.
9. Glow Vancouver
Hop aboard the Glow-comotiv, fly on the LED swings and sip seasonal drinks at the bar.
Glow Vancouver is a family-friendly seasonal event running from November to January at Harbour Convention Centre.
10. Vancouver Christmas Market 
The best time to visit the Christmas Market in Vancouver is at night so you can see the lights around the festive huts as you sip on mulled wine.
There are 80 German-style huts packed into Jack Poole Plaza at Canada Place, selling food, drinks and trinkets for gifts.
There is also a series of free live music including Christmas choirs.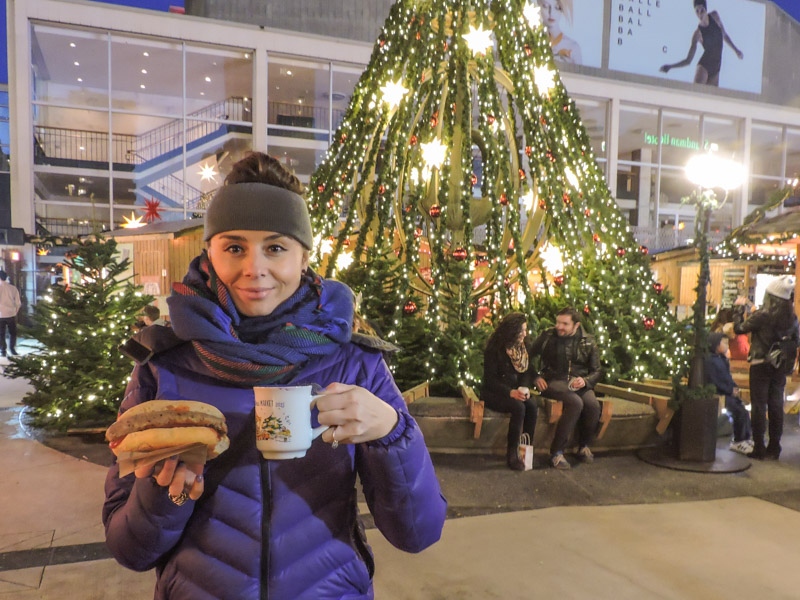 11. St. Paul's Lights of Hope
The Lights of Hope campaign raises millions of dollars for charity while giving a variety of sites a bit of twinkle, including the most famous spot St. Paul's Hospital.
Individuals and companies can purchase a star and have their name put on it for everyone to see.
12. Ice Skating 
From mid-November families wrap up and perfect their axles at Robson Square Ice Rink. You can't miss this igloo-shaped ice rink glowing at Downtown Vancouver.  
13. Robson Christmas Tree
Not only can you ice skate at Robson Square but you can also admire the city Christmas tree.
14. Tree Lighting
At the end of November, locals come together for the official tree lighting at Robson Square.
You can buy a bulb and proceeds go to the Vancouver International Children's Festival.
There is no pressure to purchase, this family-friendly event to open to everyone and the big man, Santa, will be there.
15. Vancouver: Karaoke Christmas Lights Trolley Tour
O.M.G a karaoke Christmas train. Do I have to say anymore?
For three hours, participants ride on a stolen San Francisco trolley belting out Bing Crosby before stopping off at Vancouver's Christmas attractions, Bright Nights Display (Stanley Park) and Festival of Lights at VanDusen Botanical Garden.
Dreams do come true. Reserve your spot.
16. Trinity Street Lights (Unofficial)
Bring your shades, Trinity Street Lights sparkle bright! Unfortunately, the official event had to be put on hold down to safety concerns so if you do plan to visit leave your cars at home. 
You can expect icicles hanging from trees, stars brightening up plant pots and reindeer lazing in gardens, all in light form of course. 
Address:

2400 to 2900 blocks of Trinity Street in East Vancouver
16. Christmas Tree Shopping
Pick up your annual tree at Aunt Leah's Place. For over two decades, locals have been supporting families in need by purchasing their BC/Pacific Northwest sourced trees from this volunteer-run tree lot. You can even volunteer too.
Winter Sports/Outdoor Activities in Vancouver 
17. Snowboarding
Grouse Mountain, Cypress Mountain and Mt Seymour have just over 100 trails waiting for your waxed boards.
Not as credible as Blackcomb at Whistler but still a local option for those looking for a wee frill. 
18. Skiing in Vancouver
Prefer to ski? No problem. Those pushing their progression should check out the Black on Black run at Cypress or the Unicorn at Mt Seymour.
19. Night Skiing 
14 of Grouse Mountains runs are open until 10 pm. Watch the city lights sparkle as you cut down Heaven's Sake run. The runs are lit by industrially bright lights. Be cautious of the non-sports visitors who are just visiting for the Light Trail (see above). 
20. Snowshoeing 
If slower-paced winter activities are more your thing, whack on some cramps and try out snowshoeing around Dog Mountain at Mt Seymour (5K).
Next progress onto the Mt Seymour loop (7K). 
Have a car, will travel? Check out Joffre Lakes Provincial Park. Magical! The birds are very social, and I don't mean the ones of Granville Street.
21. Snow Tubing 
What happens when you put a rubber ring on snow? Speed! Cypress has six chutes for you to fly down at Gnarly's Tube Park. 
22. Brewski Fest at Cypress
Complimentary beer from craft beer popup tents for season ticket holders Cypress Mountain for Brewski weekend! 
23. Grouse Mountain 24 Hours of Winter
Although March usually signals the end of the ski season for many resorts, Grouse Mountain has decided to celebrate it!
As the name suggests, the resort does not close for 24 hours and DJs play live music to keep the party going.
There are a number of events running throughout the 24 hours such as S'more trails, ice sculpting and torch procession.
24. Santa Shuffle
Make way for the turkey and trimmings! Join the annual Santa shuffle and raise money for the Salvation Army.
The fun run is short at 5K and fancy dress is encouraged. Young elves can join in the 1K race too.  
Indoor Activities in Vancouver 
25. Granville Island 
Grab a gingerbread pastry to fuel your way through the food stalls at one of my fave spots in Vancouver. Bring an empty belly and full purse, there are lovely makers shops around the island too. This is where I bought my second engagement ring… The first was a plastic straw from Cuba, the third was a family heirloom. Only one guy proposed, in Vancouver!
Kids, I spotted Santa in a sidecar at Granville Island and guess who was driving? Rudolph!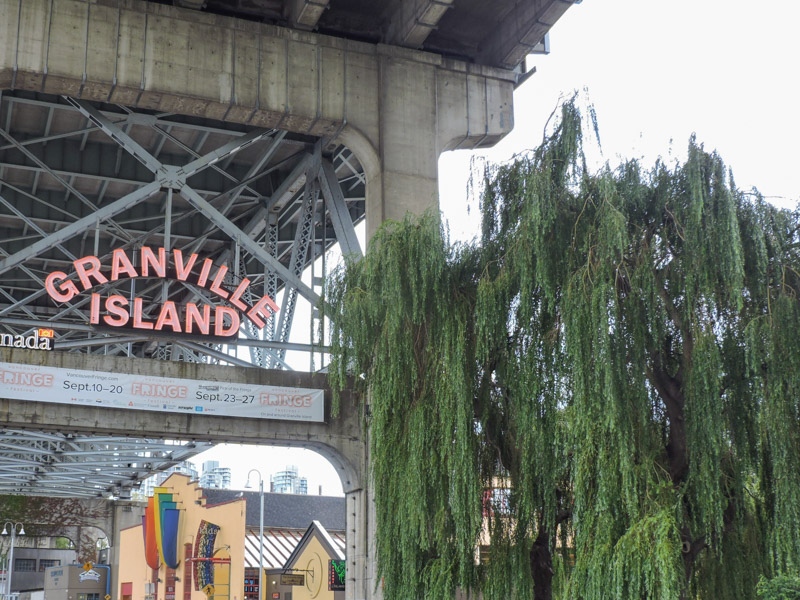 26. See a Show
Vogue Theatre and Queen Elizabeth Theatre promote an array of shows in December from kids classics to ballet.
27. Granville Street Bar Hopping
Granville Street is always a hotbed for partying regardless of the season. Put your sparkly outfits on and heat up at one of the many bars from Irish to Indie. Here's our guide to more night time activities.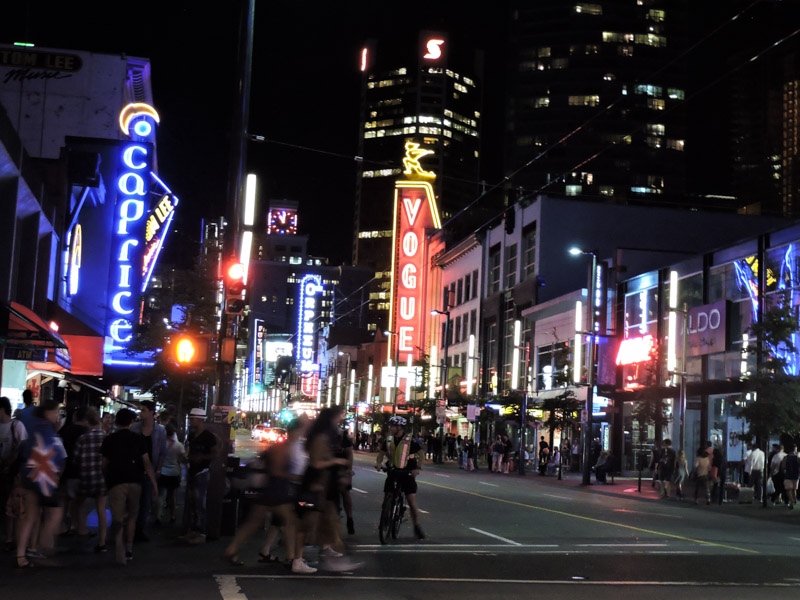 28. Festive Craft Beer Crawl
There is no short of craft beer breweries in the city. Do a crawl of the East Van brews and sample their Santa inspired winter ranges.
Craig's fave is Parallel 49, Ruby Tears which isn't very festive at all.
29. Holiday Wreath Making Classes
Create your own Christmas decorations at Lonsdale Quay Wreath Making Workshop. There is no need to bring material, everything including a teacher is provided.
30. The Four Seasons Hotel Holiday Special
This beautiful hotel is transformed into a Winter Wonderland.
The first and second floors of the Four Seasons is taken over by the Festival of Trees. Visitors can vote on the best-dressed tree. 
Big kids can enjoy Christmas cocktails at the YEW's lounge. Eggnog in the moose mug appears to be popular! 
---
» Looking for accommodation in Vancouver? Here's our advice on hotels and our hostels guide 
---
31. Make It Vancouver
Make It Vancouver is a 4-day shopping event which gives space to local makers.
Shoppers pay an entrance fee which allows them to shop over the long weekend in December while supporting local craft businesses.
Pick up a unique gift for the hard to buy for at East Hastings.
32. Volunteer 
"Tis the season to give so why not give something back?
During my winter in Vancouver, I volunteered at a local shopping mall. We wrapped gifts for payment which was donated to charity.
I met a new friend named Danika who I hung out with while I lived in Vancouver! Nice way to meet like-minded people.
---
Pin to your Vancouver board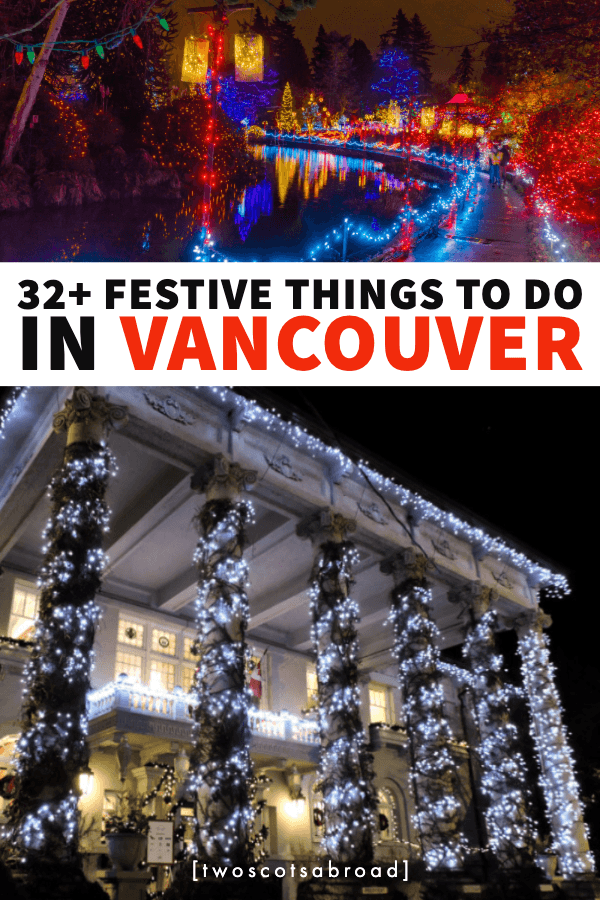 ---
Final Words 
Whether you are visiting for the weekend or local to the city, we hope you've found something new to add to your Christmas Vancouver itinerary. From skiing to shopping, markets to midnight mountain trails, tell us in the comments what festive fun you get up to.