This article has links to products and services we love, which we may make commission from.
Vancouver, the Britsh Columbia city with everything. Mountains, parks with beaches, friendly people, great summers, actual seasons (read; rain), food to satisfy even a fussy eater (Craig) and cool neighbourhoods waiting to be explored. So, with all this potential activity, what do you do with one day in Vancouver?
---
» Visiting Vancouver in winter? Here's the ultimate list of things to do
---
A One Day Vancouver Itinerary
Morning – Gastown/Downtown
Fresh off the bus, plane, car or even boat? The first stop on your Vancouver bucket list is breakfast.
For a throwback breakfast under $10, head to Smile Restaurant on West Pender Street. For a trendier option, hit Purebread on West Hastings (vegan-friendly).
Rather start the day on the go? You have to try the famous Canadian Tim Hortons coffee and grab a pastry to compliment it.
Since there is so much to do and you are so short on time, consider the Vancouver Hop On/Off bus.
I did it with visiting friends and it covers a lot of ground you'd struggle do yourself with just 24 hours in Vancouver.
It stops at 29 of the main Vancouver attractions and also includes a boat ride to Granville Island. The captain had a one-eyed dog on our boat!
Don't fancy the hop-on/off bus quite yet? Wander through a mix of old and new at the Gastown neighbourhood popular for its Victorian buildings.
What's everyone taking photos of? That's the Gastown Vancouver Steam Clock.
The Steam Clock blows its load throughout the day. Excellent Boomerang material.
Next, head to the needle in the skyline and take the 40-second elevator ride 167 metres high to the top of the Vancouver Lookout. Enjoy the 360-degree panoramic views of the city. Reserve your all-day admission ticket here.
If you happen to be visiting on a Sunday, you can enjoy 'all you can eat' brunch in the Top of Vancouver Revolving Restaurant!
For a budget lunch, pop into Canary Wharf Shopping Centre at Canada Place or grab a slice at Freshslice. There are pizza windows everywhere in Vancouver, and the slices are sizeable.
If you can hold off, your next stop is foodie heaven.
Other Vancouver Activities Near/In Downtown
Dr Sun Yat-Sen Classical Chinese Garden

. I love this place for tranquillity in the city.

Spot the koi carp in the pond and take a picture of the city poking through in the background.

Play games over pints at Pub 340 Pinball Arcade on Cambie Street.

Shopping at

Canary Wharf Mall.

Boat Tour of Vancouver Harbour.

Vancouver Art Gallery.
---
» This is a great but expensive area to stay in. Read our advice on where to stay here
---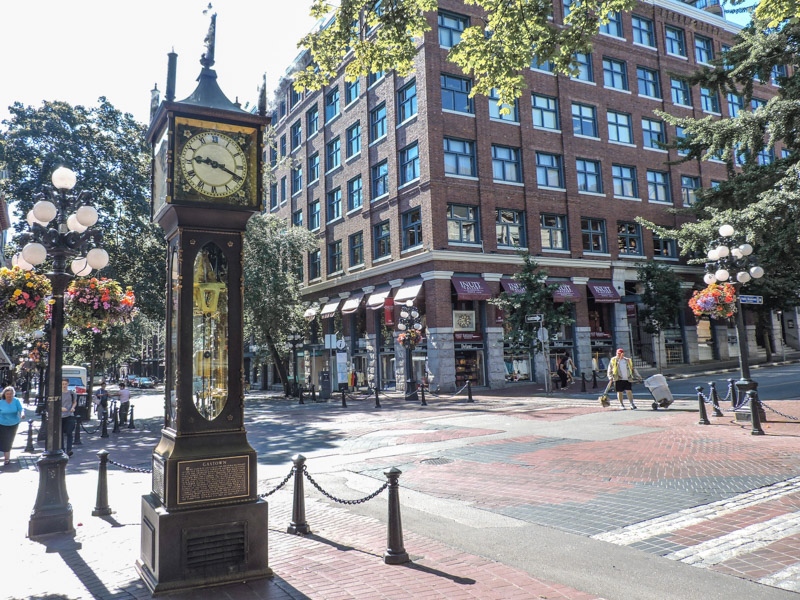 ---
Lunch – Granville Island
All hail the delicious Granville Island Public Market food stalls!
An institution in Vancouver, Granville Island Market is where locals and visitors alike grab lunch and people watch.
Seafood, meat, baked goods, pizza, bagels, ice cream, candy, you get the picture! Go with a hungry belly and leave with a happy one.
There are boutique shops dotted around Granville Island too. We actually chose my temporary engagement ring there. Craig proposed in Vancouver on Halloween under the fake stars of Macmillan Space Centre. You can read the full soppy story here.
Sidenote: I spotted Santa in a sidecar at Granville Market. Guess who was driving? Rudolph!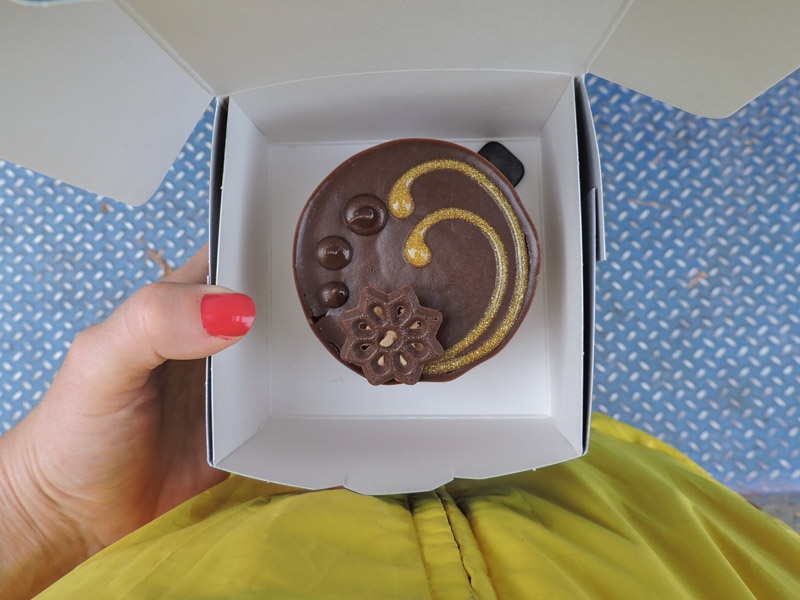 ---
Afternoon – Stanley Park
A walk (2-3 hours), cycle (1 hour) or skate around Stanley Park is when you realise, there is no city quite like Vancouver.
Pick up your choice of wheels on Reckless Bikes on Davie Street (if you wish to speed the stroll up) then start your journey around Stanley Park Seawall (9km).
There is a dedicated trial so you will be keeping good company with runners too.
The park is 400-hectares, so possibly at this stage, you may be wishing you did the hop-on/off bus tour!
Remember to pack your swimming gear so you can enjoy the beaches at First and Third.
Vancouver has nine beaches! Beach life is one of the best things to do in Vancouver during summer, and one of the most popular.
Expect to see locals playing outdoor sports in the sunshine too.
If you want to learn more about the Coast Salish people, head to Brockton Point Visitor Centre. Look out for the Totem Poles, one of Vancouver's most visited attractions.

---
Alternative Afternoon – Capilano Suspension Bridge Park
At only 15 minutes from Downtown, Capilano Suspension Bridge is the most popular tourist attraction in BC.
The bridge itself is 70m above the ground, which sometimes includes rivers and canyons. It is not recommended for people who do not like heights as the bridge moves and moves more as you get to the middle. It is surprisingly long too (137m) and unsurprisingly busy with two lines of traffic going either way.
Nestled amongst the park you can find First Nations artwork, boardwalks and cafes.
Be warned, Capilano Suspension Bridge is busy all year round, especially during the dry months and even more so at Christmas time when the Canyon Lights are switched on.
I personally found it unbearably busy during December.
Reserve your ticket and bus journey to and from the Bridge before you go at GetYourGuide, provided by the official Capilano Suspension Bridge Park team. Ticket includes free cancellation up to 24 hours before your trip.
How to get to Capilano Suspension Bridge
1. Take the free shuttle bus leaving from Downtown Vancouver locations like Canada Place.
2. Pay for a public bus 246 which goes over the Lions Gate Bridge or the 236 which includes a short boat ride.
https://www.instagram.com/p/Bya2huPB4ts/
---
Other Afternoon Options

Lynn Valley, North Vancouver – a less busy, and free, Capilano Bridge.
Grouse Mountain – Grouse Mountain Skyride or endure Grouse Grind 4,100 feet up into nature.
Kitsilano (Kits) Beach – Trendy, yoga, acai bowls, yummy mummies (we lived here in summer/autumn). For a cute lunch experience, check out Neverland Tea Salon.
Commercial Drive (The Drive) – Hipster bars, ethnic cafes, where cool people live.
Main Street Shopping – Vintage clothes (bought my yellow wedding dress here), brew bars (home for winter). Try Bob Likes Thai Food, delicious.
Davie Village Drinks – Rainbow Crosswalk, pink bus shelter, LGBT+ district.

---
Evening Itinerary
Well, haven't you packed a lot in?
For the evening you have the option to explore any of the above-named neighbourhoods for dinner and drinks and/or check out the below options and read this post* for full details.
Things to do in Vancouver at Night
Granville Street Partying.

Live Music in Van at the Commodore Ballroom, Queen Elizabeth Theatre and the Imperial.
Movie at the Rio Theatre was initially built in the 1930s, it has all the mod cons of the 21st-century movie house.
Outdoor movies at Stanley Park in summer.
Richmond Night Market is a summer food market, very busy.
Go ice skating at

Britannia Rink on Napier.

Go night skiing at Cyrpus during winter.
Watch football at BC Place Stadium.
Catch an ice hockey game at Rogers Arena.
Weekend night market at Lonsdale Quay, North Vancouver.
---
» Read more: Things to do in Vancouver at night – in detail, by season
---
Getting to Vancouver from
Vancouver
International
Airport
(YVR)
There is a direct train connecting the city and the airport. It takes around twenty minutes.
What a surprise to be greeted by a man in a kilt on stilts playing the bagpipes on Granville!
Getting Around Vancouver
The city is built on a grid system so it is very easy to navigate.
Vancouver has a great transport system including buses, SesBuses Skytrains and taxis.
One of the really appealing aspects of Vancouver Translink is that the fares last for 90 minutes so you can get across town without paying double.
You may also like my friend Laura's handy Vancouver infographic travel guide.
---
Save for future planning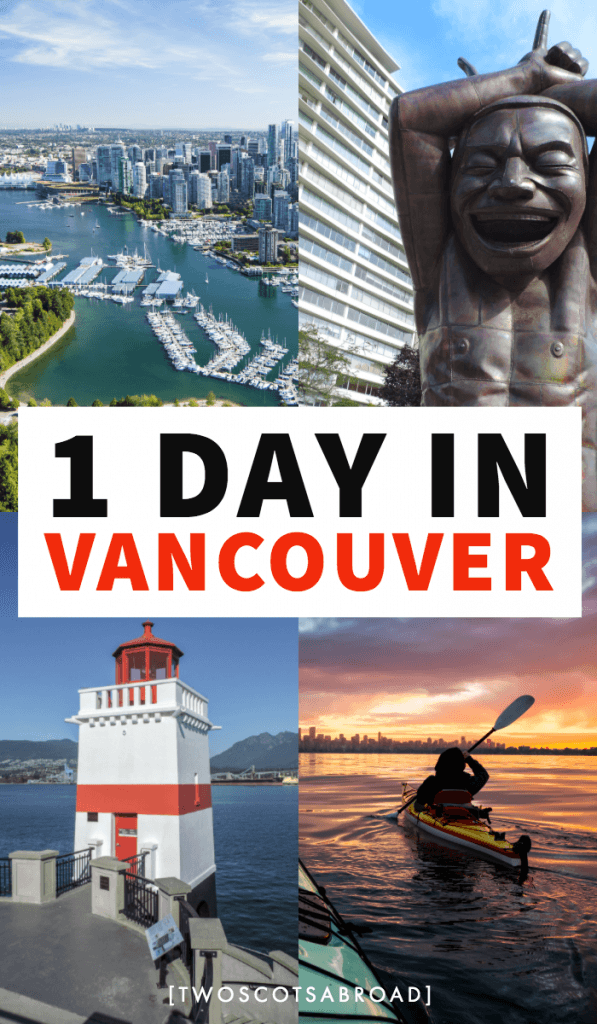 ---
Final Words
I hope my admiration for Vancouver has come across. 24 hours in the city isn't enough to really explore the best things to do but it is a teaser! Tell me in the comments below what you get up to.