This article has links to products and services we love, which we may make commission from.
Scotland's North Coast 500 is one of the most popular travel experiences in Scotland. Everyone wants to drive the winding roads of the Scottish Highlands, eat tasty local produce, hike the majestic hills and bathe (if you are brave) in the turquoise waters. So let's take a look at the North Coast 500 highlights for inspiration while you plan your NC500 road trip.
I (Gemma) can't hold on to the Highlands all to myself, this wonderful experience truly pulls in an international crowd, so we've asked our friends and Scotland fans from around the world what their NC500 highlight is too.
Don't Miss Our NC500 Planning Guides
---
NC500 Highlights

1. Bealach na Bà

Love it or hate it?!
Bealach na Bà means Pass of the Cattle and this winding road kicks off the clockwise route of the North Coast 500. It peaks at a summit of 2053ft (625.7 metres).
Some NC500 fans, like Colin MacDonald from Aberdeen/Calgary (raised in/now resides), actually site the road as their top thing to do on the North Coast 500!
2. Applecross

A picturesque stop with views on Skye! There is also a campsite behind the Applecross Inn.

3. Langoustine

The Applecross Inn serves a large plate of tasty langoustine. I had to ask the staff how to eat it!
Hart of Mull Self Catering Log Cabins also recommends Waterside Cafe at Lochcarron for a hearty meal and outdoor seating.
4. Shieldaig

This village is the perfect stopover for the end of night one, especially if there is a sunset over the island.
---
» Read next: where to stay on the North Coast 500 (you have to book ahead)
---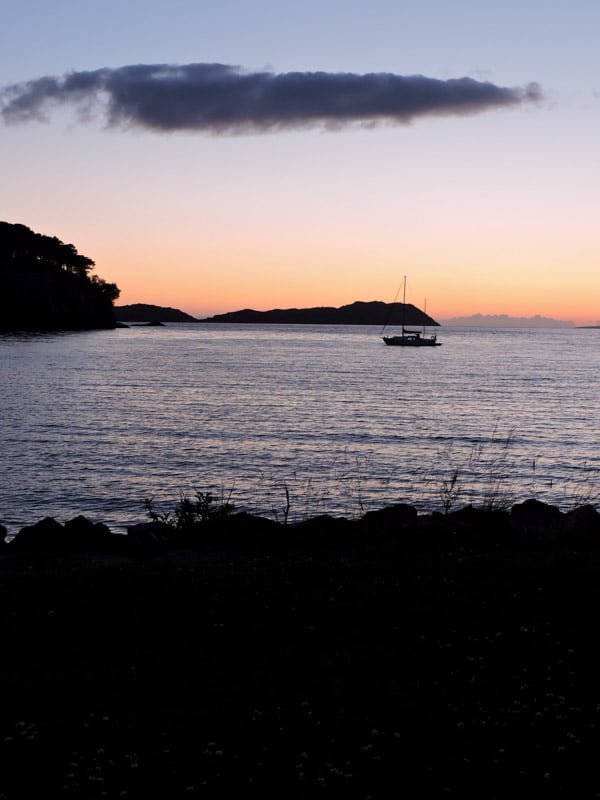 5. Gairloch
Holiday town to many! Gairloch is where you can hitch a boat tour to meet some of Scotland's sea life.

6. Mellon Udrigle Beach

White sand and turquoise waters. Bliss.

---
» You may also like our NC500 camping and motorhome tips
---
7. Gruinard Bay
This beach has red tones in its sand from the Torridon rocks. It is just as lovely.
8. Ullapool
Ullapool is the jumping town on the NC500!
Expect live music, drams and views of the ferries heading to Stornoway on the Isle of Lewis.
Remember the hydration tablets US / UK and be cautious of the zero-tolerance drink-driving laws in Scotland.
---
» Read more: what you need to know about the NC500 before you go
(driving, location and general tips)
---

9. Kim Richards Art
OK, I'm biased here as Kim and I have been friends since we were bright-eyed students in the big city of Glasgow.
Kim is one of the most creative and funny people I know.
She sings like a dream and can jam with a variety of instruments.
Luckily for you, Kim is based in Ullapool and can be found playing often throughout the week in the town.
You can also pick up some of her art and greetings cards here.
---
If you watch our video with the volume up can hear Kim sing. Glorious.
---
10. Stac Pollaidh
I always recommend this short hike close to Ullapool. The views are absolutely breathtaking for little effort!

11. Ardvreck Castle
This 15th-century castle ruins on the banks of Loch Assynt are a short drive from Ullapool, you can't miss them on the side of the road. Calda House is close by too.

12. Lochinver
If you tell anyone you are going to Lochinver they'll say one thing to you… PIES.
13. Lochinver to Melvich
My friend Garry (from Fife) cycled the NC500.
He says that he can't lie, parts of it were incredibly brutal but the cycle from Lochinver to Melvich was a massive highlight.
14. B869
This crazily beautiful road is one of my personal highlights.
Get ready to turn into another dimension of Martian land.
Diane McChesnie from Edinburgh agrees, she says 'Assynt, the whole of it' is her highlight of the NC500.
15. Achmelvich Beach
Yet another turquoise water beach on the NC500! I jest, as if we can get fed up looking at them.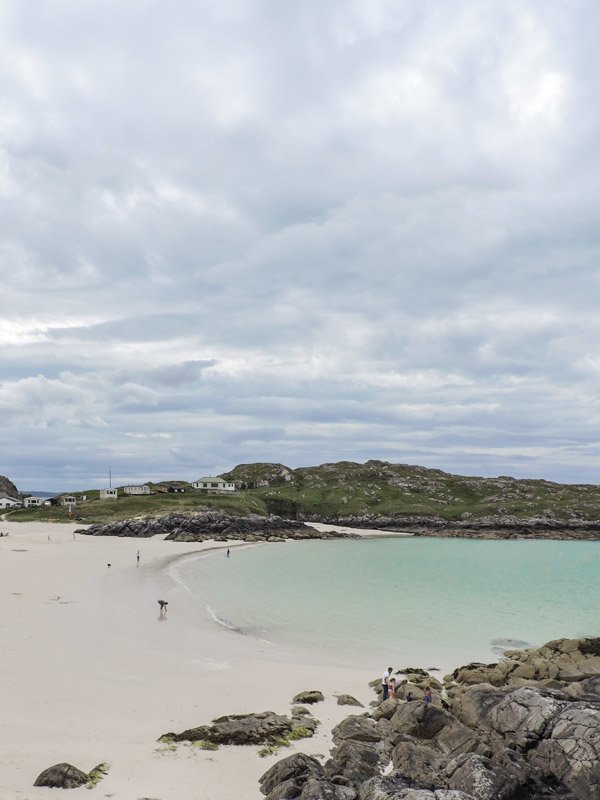 16. Clachtoll Beach
The Maldives? Nope. The Caribbean? Nope! Clachtoll Beach in Scotland.
Recommended by the talented Scottish photographer and fellow Fifer, John Murray Jnr. Follow him on Instagram for glorious Scotland shots.
https://www.instagram.com/p/BaE2o3VhFqr/?igshid=1qlqw7dgelkfa
17. Kylesku Bridge
An iconic modern (ish) bridge in the Scottish Highlands.
18. Durness Beaches
Balnakeil Bay is good to visit especially on a Coosday!
Balnakeil's local residents come in a herd.
Heather Fox from South of Tucson, Arizona adored the beaches in Durness and Alison Jones states that she is impressed with Sango Bay, and she's from the Inner Hebrides so she knows beaches!
19. Smoo Cave
Lovely wee boat tour in Durness.
Smoo Cave is one of the largest entrances to a British sea cave.
The tour guides are awesome.
20. Hot Chocolate
At the one and only, Cocoa Mountain.
21. Bettyhill
Bettyhill is often recommended in Scotland Facebook groups.
This wee village is a hit with history fans who want to find out more about The Clearances. If that's you, check out Strathnaver Museum.
Bettyhill comes highly recommended by Margaret from Edinburgh.
22. Thurso

You might just catch a wave or the sight of a dolphin in Thurso.
Follow Caithness based photographer Karen Munro on Instagram for her catch of the day!
You can also see over to Orkney from the town.
https://www.instagram.com/p/BwuvMf0AKUY/?igshid=qgg7agglgmam
23. Dunnet Head
The most northerly point of mainland Britain.
24. Duncansby Head
The real northern tip of mainland Britain?
Plus the incredible Stacks of Duncansby.
This is the area where the Big Yin, Billy Connolly, was photographed.
Scottish artist, Jack Vettriano (fellow Fifer!), turned the image into a mural on one of Glasgow's end gables for the celebration of Connolly's 75th birthday.
I love Scotland and the connections that run throughout our villages, towns and cities.
25. John o' Groats
It's mandatory to snap the sign at John o' Groats.
Spencer Willis from McDonough, Georgia recommends hanging back for the tour buses to leave then grabbing some food from the snack van.
Chow down while watching Orkney in the backdrop.
26. Dunrobin Castle, Golspie
The most northern castle in Scotland and the largest in the Northern Highlands (189 rooms).
Its grounds are a highlight for me. Loved plants, ponds and rhubarb leaves the size of small children!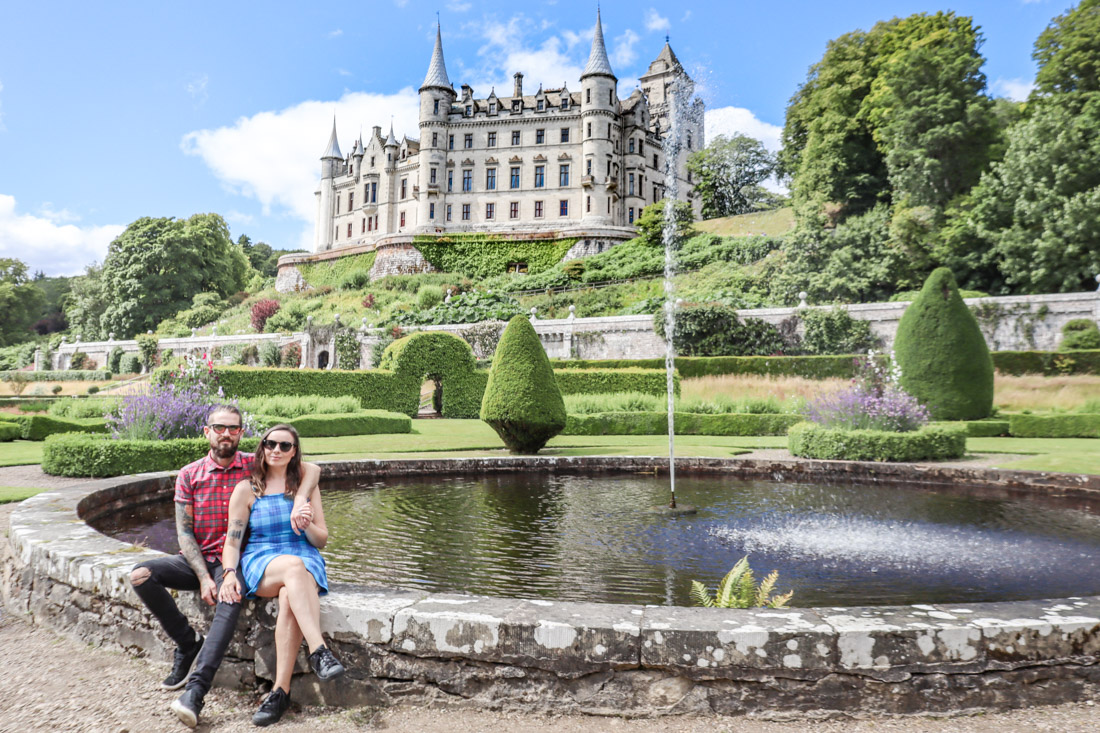 27. Distilleries on the East Coast
Water of life fans love the whisky distilleries on the east coast too.
28. Stay in the Castle
Yes! You can stay in a castle on the North Coast 500. There are four castle hotels on the east coast and prices are reasonable starting around £120 in low season.
Find out more in our specialist guide to castle hotels on the NC500.
Everything
Some fans can't choose one highlight.
Linda from South Africa just loves the tranquillity of the NC500 and Lars from Sweden loves it all.
---
North Coast 500 Guides

We've written a lot about the NC500. Please check out the following free guides to help further with your planning:

You may also like:
---
Final Words

Please do tell me what your highlight of the North Coast 500 was. Let me know your country of residence too.
It's great to see how far Scotland fans have come to visit Scotland's answer to Route 66!
I don't think it takes many dreamers much time to make the NC500 trip a reality. Hopefully, these highlights have got you booking up too.
---
Save this post for later!
Pin to your Scotland board.

What is your NC500 highlight?