This article has links to products and services we love, which we may make commission from.
516 miles of wild landscape, stunning beaches and tasty food! The North Coast 500 (NC500) is one of the UK's most popular road trips and rightly so. I (Gemma) have gathered up the most frequently asked questions about the NC500 to help you with your planning. You might also want to check our North Coast 500 itinerary (free) and tips on what to know before you go.
NC500 Frequently Asked Questions
What is the North Coast 500?
The North Coast 500 is a popular road trip in the Scottish Highlands. The route is just over 500 miles (516 to be exact) hence the name!
Visitors to Scotland's answer to Route 66 in cars, supercars, motorhomes and bikes.
Where is the North Coast 500?
You've seen the lush photos of waterfalls, edgy cliffs and majestic deer but you are not quite sure where it is?
The North Coast 500 is a relatively new marketing strategy for an area of Scotland that has always been there and has always been loved. It's the Scottish Highlands!
It takes in all the small villages including Applecross, Shieldaig, Gairloch and bigger towns like Ullapool. It also passes the castles and distilleries in the east.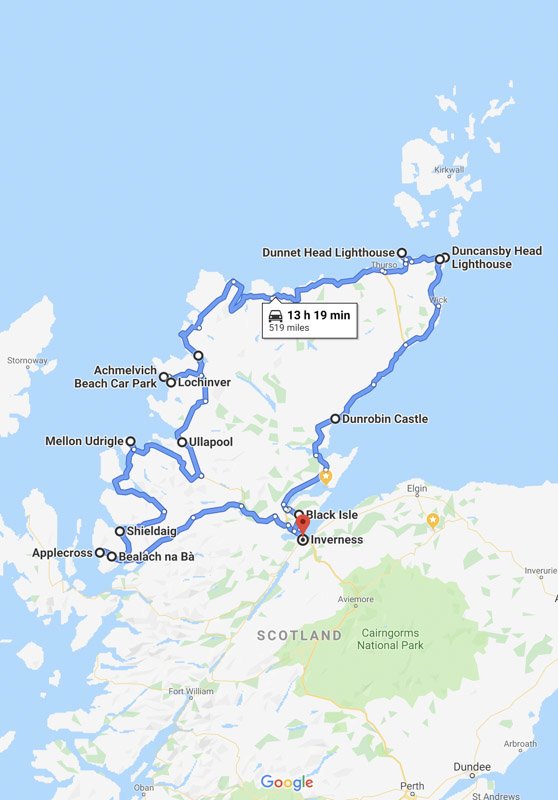 Where is the North Coast 500 Start and Finish?
Where does the North Coast 500 start? This is one of the most common questions asked by people starting to plan their NC500 trip.
The official starting point is the gateway to the Highlands, Inverness, and this is where the road trip ends too.
So where does the North Coast 500 go? Starting at Inverness, the route goes all the way out to John o'Groats and back down again.
---
» One of the North Coast 500 tours actually starts from Inverness, you can read about it here
---

North Coast 500: Which Way Round?
I'd say this is the most popular question and there is no right answer.
Some readers have alluded that the west coast was their highlight so if you think that is going to be the case maybe leave it until last?
If you are gasping for a dram then you'll want to head the to east first to hit up the many Highland's distilleries.
How Long Does it Take to do the North Coast 500?
The minimum time to drive the route is two days. However, you will not be stopping often to take in the views or experience the towns.
Some tours do it in three-four days with lots of stops.
Other holiday-makers take up to seven days at a slower pace.
Tell us in the comments how long you plan to do it in.
Where to Stay on the North Coast 500?
There are two important things to remember when planning your accommodation for the North Coast 500.
Firstly, there is a variety of types of NC500 accommodation! This is great because it suits every budget. You can expect the following during your stay:
Planned and wild camping.
Pitched up motorhome spots.
Hotel dorms and private rooms.
Bed and breakfasts (B&Bs, very typical for Scotland).
Every type of star hotel.
Castles! Yes! You can stay in a castle on the NC500.
Secondly, due to its popularity, accommodation books up really fast. Avoid leaving it to last minute or you'll be disappointed.
---
» Check out our NC500 accommodation guide for advice on hotels, B&Bs and apartments
---
Is the North Coast 500 Suitable for Motorhomes/Caravans/RVs?
It is but you do have to remember that the roads are 'A' roads which means single track and the Bealach na Bà is not for the fainthearted.
There is an alternative road for larger campervans. Don't try it. If you fail or breakdown you are limiting the local's lifeline.
---
Doing it by van? Here's our camping and motorhome NC500 guide
---

Is the North Coast 500 Signposted?
There are brown tourist NC500 signs around the Scottish Highlands.
You will see lots of Highlands attractions with brown signs t00.
The local towns and villages will be signposted so look out for where you are going next.
What to see on the North Coast 500
There are many attractions on the NC500! Here are a few:
Bealach na Bà – the winding road.
Applecross – food with a view.
Shieldaig – sunsets.
Gairloch – water tours.
Mellon Udrigle Beach – turquoise waters.
Gruinard Bay – red toned sand,
Ullapool – a dram and singsong (also the ferry to the Isle of Lewis),
Ardvreck Castle – ruins.
Lochinver – expensive pies.
B869 – crazily beautiful road.
Kylesku Bridge – iconic bridge.
Balnakeil Beach – cows on the beach.
Smoo Cave – wee boat tour.
Thurso – surf's up.
Dunnet Head – most northerly point of mainland Britain.
John o' Groats – snap the sign.
Duncansby Head + Stacks – the real northern tip.
Dunrobin Castle – 189 rooms.
The Black Isle – beautiful.
+ many distilleries on the east coast.
---
» Read the full North Coast 500 highlights – contributions by NC500 fans!
---

Can I use my Drone?
Using your drone Scotland is becoming harder. Lots of areas are becoming drone-free to protect the buildings, wildlife and landscape.
Respect the signs, The (Insta) Gram and the shame is not worth it.
Frequently Made Mistakes
Overplanned
Didn't make enough time
Didn't pack enough warm and waterproof clothing
Relied on 4G
Forgot maps
Forgot tripod

Final Words
As long as you book your accommodation in advance (unless camping), fill your tank up and remember the map you are in for one of the best rides of your life!
Tell us in the comments if you have any more questions.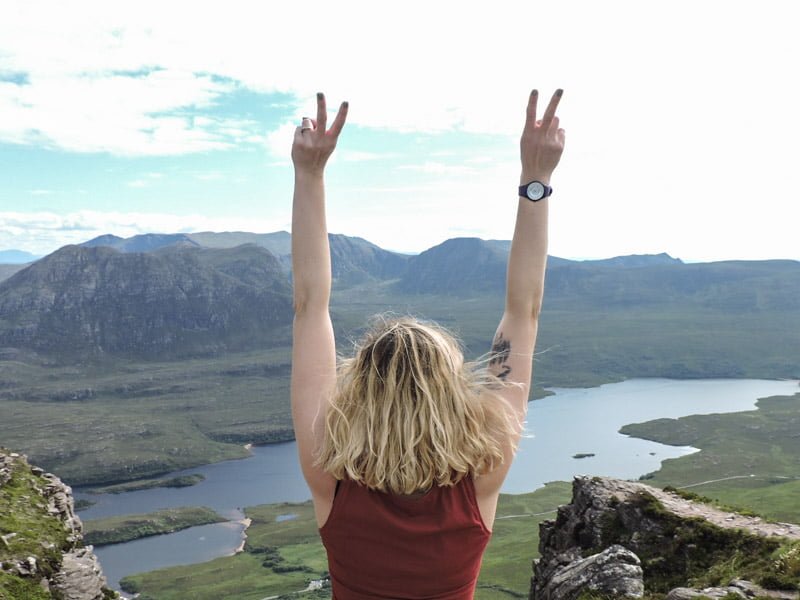 North Coast 500 Guides

We've written a lot about the NC500. Please check out the following free guides to help further with your planning:

You may also like:
Doing the NC500?
Pin to your Scotland board to save this post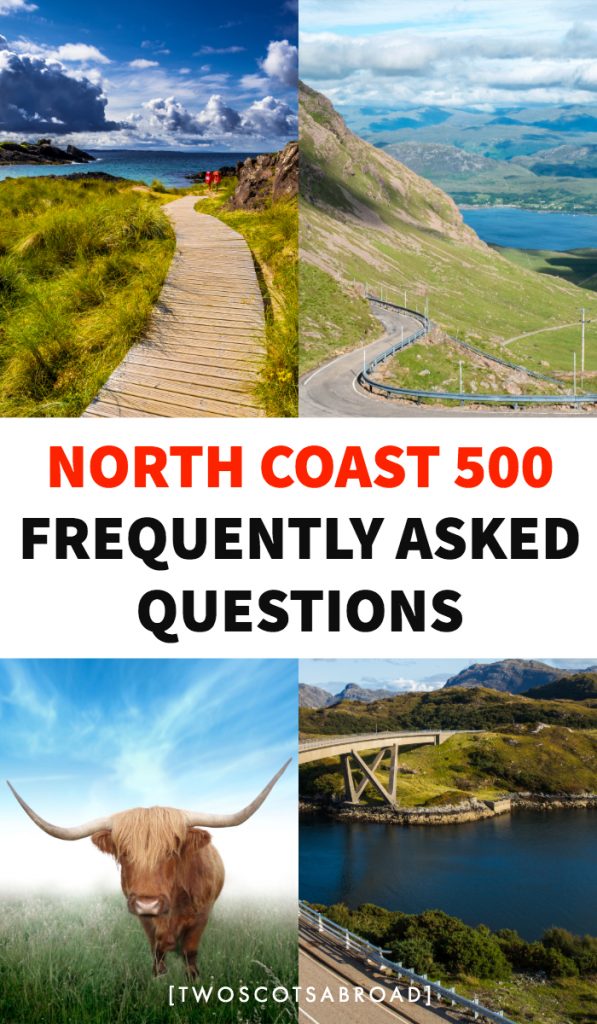 Any questions?

Ask below.