This article has links to products and services we love, which we may make commission from.
If you've seen any pictures of Canada's nature, chances are they are from either Jasper or Banff National Parks. They are the most visited national parks in Canada. In fact, they are neighbours so many people visit both when coming to the Canadian Rockies. But what if you could only choose one? This guide, by Maya from Travel With The Smile, will detail the differences between the two in our Jasper vs Banff showdown.
Jasper or Banff: Which National Park Is The Best For You?
While I always recommend visiting the Rockies for at least a week, the ideal time would be two weeks, it's understandable that not everyone has this time available.
The following Jasper versus Banff comparison breaks down similarities and differences between the parks to help you choose which one to visit.
It features things to do in Jasper and Banff National Parks, as well as atmosphere, transportation and accommodation options in mountain towns lying in their hearts and sharing their names, Jasper and Banff.
They are connected with Icefields Parkway, an insanely scenic road, which is often on the list of the most beautiful drives in the world.
---
» Don't miss | Our guide to Vancouver
---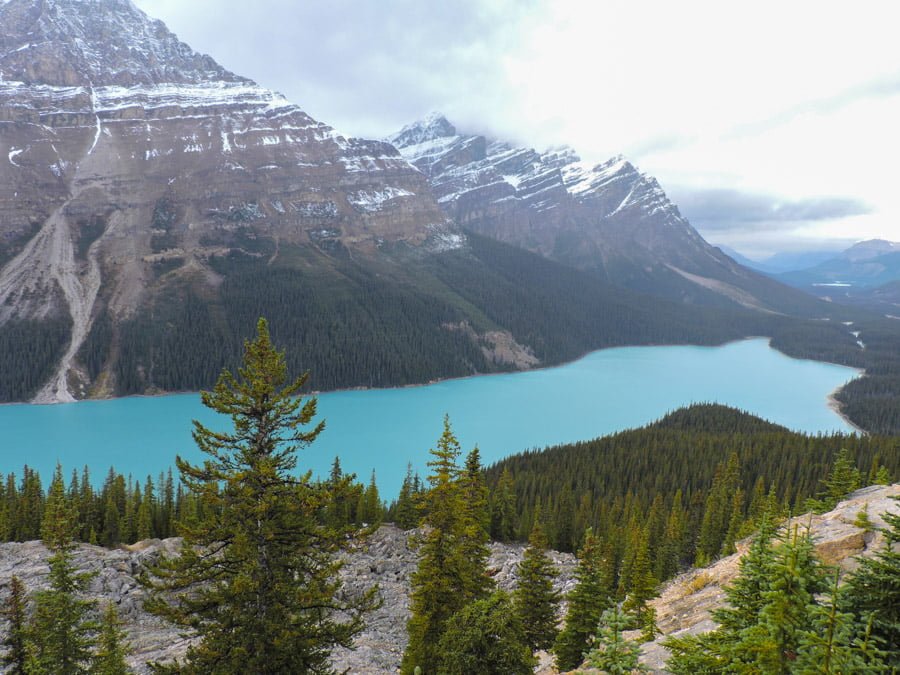 Peyto Lake in Banff Canada
---
Jasper versus Banff: Geographical Differences and Atmosphere
Jasper National Park is the largest national park in the Canadian Rockies covering 10,878km2 while Banff National Park is about half the size covering 6,641km2and it's the oldest national park in Canada.
Because Jasper and Banff National Parks are so close to each other, their climate and weather conditions are typically the same.
Most visitors choose to come in the summer when the weather is most stable, but you should still come prepared with a jacket in case of snow.
In summer 2019, a sudden snowstorm on Icefields Parkway left a lot of drivers stranded.
The highest point on Icefields Parkway is Bow Summit at 2,027 meters above sea level; therefore it can snow any day of the year.
Mountain towns Jasper and Banff are both charming in their own way and both have pros and cons for visiting.
It depends on your preferences and what kind of vacation are you looking for.
Even though Jasper National Park is much bigger than its neighbour Banff, the town of Jasper is smaller with only 5,690 citizens and Banff is almost at 10,000.
During summer, the highest season, Jasper is still a pleasure to walk around and enjoy the surroundings but Banff is a different story.
The traffic often collapses, finding a parking spot might be a miracle and the main downtown street is very crowded with hordes of tourists.
Both towns are surrounded by high mountain peaks.
In Banff, the mountains are much closer to the town and appear to be bigger while in Jasper, the town is situated in a large valley and mountains are a bit further from town.
Banff appears to be busy and crowded most of the year and Jasper is much quieter, especially when the summer ends. A lot of Banff's year-round visitors are locals from Calgary enjoying a weekend, a vacation or very common bachelorette parties due to Banff's bustling nightlife. The reason is not only the popularity of each but also the distance from major cities.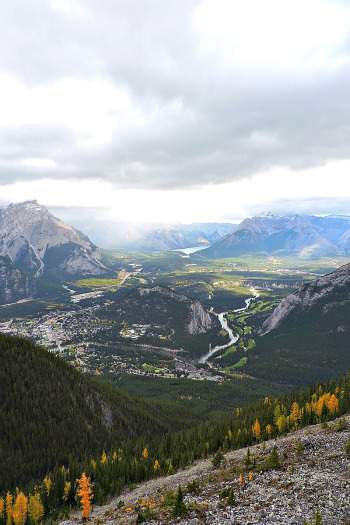 Banff National Park
---
How to Get Around Jasper and Banff
While the closest international airport to Jasper is in Edmonton, 365 km away; the closest airport Banff is in Calgary; only 126 km.
Therefore visiting Banff is incredibly easy; you take Trans-Canada Highway and can drink beer in Banff in two hours.
After driving in the foothills, you will soon enter the Rockies and pass Kananaskis Country and Canmore, another stunning mountain town.
The drive from Edmonton to Jasper is not very scenic and takes around 4 hours. Even if you'd like to visit Jasper, I would still recommend flying to Calgary. You can drive through Banff and the Icefields Parkway in a day; it's definitely worth it even just for a quick drive-through.
The most important things to consider before visiting the Canadian Rockies are a car or campervan rental and accommodation.
There are some shuttle buses connecting big cities with small mountain towns but it's always easier and more budget-friendly to rent a car or a small campervan.
Jasper's tourist attractions and spread around town and take some time to get to. As an example, the popular Maligne Lake is a 48 km drive away. Since there is no public transport available, you need to drive yourself everywhere.
Banff has public transport around town and also to the most popular tourist attractions such as Banff gondola, Lake Minnewanka, Johnston Canyon, Lake Louise and Moraine Lake. The transport to most of the hiking trails is not available without a car. And public transport along the Icefields Parkway is not available at all unless you join a tour.

Icelands Parkway Rockies Canada
---
Accommodation Options in Jasper and Banff
Accommodation can get very pricy in both Jasper and Banff. They both have a lot of hotels and lodges costing around CAD 300 per night during summer, and they are usually booked months in advance.
To save some money, consider staying just outside the national parks. If you're visiting Jasper, you can stay in Hinton and in the case of Banff, cheaper accommodation can be usually found in Canmore, just 20 minutes away and also accessible by public transport.
Hostels are also an option. You can read Two Scots Abroad's guide to cheap accommodation in Banff here.
Hands down the most budget-friendly option with yearly increasing popularity is camping.
You can bring or rent a tent, rent a small campervan or bigger RV, you can easily save a lot on accommodation and sleep in campgrounds. There are 11 campgrounds in Jasper National Park and you can find 14 campgrounds in Banff National Park.
This way you are more flexible and can stop in a campground when you're done with your day. It's easier to have campgrounds booked in advance, for weekends and summer especially. But if you are not renting an RV and don't need full hookups, finding a campground shouldn't be a problem.
Elk Under Rundle Mountain Banff National Park Canada
---
Jasper Versus Banff: Nature and Highlights
Natural wonders and wildlife watching are the reasons people visit the Canadian Rockies. Both national parks offer endless options for hiking, stunning turquoise lakes, waterfalls, and glaciers.
Jasper has more options for easy hikes with almost no elevation.
Banff has more convenient sightseeing options around town without the need to drive. Visitors in Jasper are more spread out through the valleys than in Banff giving the wildlife more space so wildlife watching is better in Jasper. Banff has the most popular lakes with insane shades of blue.
Jasper has fewer yearly visitors while Banff has almost twice as much so you can expect to enjoy the wilderness in Jasper more. Banff is closer to other national parks – Kootenay and Yoho in British Columbia.
As you can see, both Jasper and Banff offer a lot of activities.
Highlights of Jasper National Park:
Wilcox Pass Hike for a bird's eye view of Athabasca Glacier
Visiting Athabasca Glacier and Columbia Icefield
Hiking the Mount Edith Cavell and Valley of the Five Lakes
Sunwapta and Athabasca Falls
Visiting Pyramid Island and Pyramid Lake
Swimming in Lake Annette or Lake Edith
Mountain biking around town
Wildlife watching
Important Tips About Wildlife
The most common wildlife in the Rockies is elk, deer, black bears, grizzly bears, and moose.
It's an experience of a lifetime to see mama bear playing with her young cubs or see a herd of elk crossing the river.
Just remember that these animals are wild and they shouldn't be fed or approached.
They might seem to be enjoying eating the grass but can charge at you within a few seconds.
Parks Canada advises all visitors to carry a bear spray while visiting the Rockies. No matter how popular or remote the hiking trail is, you can spot a bear anytime. Learn when and how to use a bear spray and stay informed about the bear's behaviour.
Highlights of Banff National Park:
Swimming in Johnson Lake
Cruising on Lake Minnewanka
Hiking up the Sulphur Mountain
Biking along Vermilion Lakes
Hiking to Johnston Canyon and Ink Pots
Visiting the popular lakes – Lake Louise, Moraine Lake, Peyto Lake
Watching a sunrise at Two Jack Lake
Biking the Legacy Trail from Banff to Canmore
Taking Lake Louise gondola to see a grizzly bear
Final Words
No matter which national park you decide to visit, I guarantee you that you will plan a return visit to see more.
Even though it might seem that Banff is easier to visit due to its proximity to Calgary and public transport options, Jasper has many natural wonders as well, and a lot of beautiful places are hidden away from bus stops.
If you drive the Icefields Parkway all the way to Jasper, you will see that both national parks are incredibly picturesque.
If you'd like more amazing mountain sceneries with a mix of ocean views, check out Vancouver and Vancouver Island in British Columbia.
Pin to your Canada travel guide board
What's the verdict?
Tell us in the comments below