This article has links to products and services we love, which we may make commission from.
Looking for the best hostels in La Paz, Bolivia's capital city? Look no further. Whether you are visiting on a budget or looking to make new friends, this guide to affordable yet fun La Paz hostels details what's on offer, the best locations and where you should stay in one of the highest cities in the world.
Best Hostels in La Paz
Wild Rover La Paz
Fancy a fiesta? This is where it's at.
Wild Rover is a chain of popular hostels found in Peru and Bolivia.
If you stay in all four, you can claim a free t-shirt!
Wild Rover La Paz is situated in an ex-presidential palace in a touristy area of La Paz.
The staff are friendly, the bar is jumping, there's live sport on the TV and sun loungers in the 'garden'.
Coined, the highest Irish bar in the world, Wild Rover is aimed at backpackers looking for a party.
Rooms include traditional dorms for those saving every Boliviano to modern bunks with privacy curtains.
Dorms include lockers, electrical sockets with shared or private bathrooms featuring power showers.
Request one of the smaller dorms if you want to be propping up the bar but not sleeping directly next to it.
Prefer your own space? There are double (matrimony) and twin rooms available too.
Prices include a basic backpacker breakfast of bread and spreads.
There is no kitchen but the hostel restaurant serves local and comfort food.
There's a TV room so you literally don't have to leave Wild Rover but you should.
The only gripe, the WiFi is poor. Welcome to backpacking in South America!
Arriving with Bolivia Hop? Enjoy a free welcome shot.
Pros: Friendly, party-ready, vodka (praise be!)
Cons: Not for the faint-hearted! This is a party hostel, breakfast is typical, WiFi is weak, no kitchen
Loki Hostel La Paz
Two minutes walk from Wild Rover you will find another South American hostel chain, Loki.
Popular in Peru, Loki La Paz is a big party hostel aimed at social people.
Like Wild Rover, there is an on-site bar with a signature drink called a Bloodbomb, happy hour, themed nights and entertainment is organised by the friendly staff.

Don't want to party too hard or partied too hard? There's a TV room with Netflix.
Rooms start with 4-bed dorms and go up to 10 bed. Private rooms are also available.
Showers get rave reviews.
Request a top floor dorm if you need to try and get some sleep.
A restaurant is located in the hostel.
There's no laundrette on site but there is one over the road.
Prefer something a little more upmarket?
Check out the La Paz Loki Boutique.
Pros: Friendly, party hostel with events
Cons: Loud, no kitchen, weak WiFi
Selena Hostel La Paz
Selina is a chain of hostels not aimed at party backpackers.
The target audience for this hostel in La Paz are visitors with are slightly older mindset who are looking for some social activity in a nice setting.
There is a co-working space available for those who need to get some hours in.
Selina is more like a clean boutique hotel than a backpacker hostel.
A variety of rooms are on offer from 4-bed dorms to 10-beds. All dorms have private curtains.
There are also private rooms.
There is a bar on site which sells beers, cocktail and food.
Unlike Loki, there is a small kitchen which guests can use if they can get access. Try to avoid peak times.
Selina is located in a quiet neighbourhood, 5 minutes walk away from a local shop.
It's a little out of the way, about 15 minutes from the city centre.
Pros: Friendly, clean, privacy
Cons: A little out of the way, not party orientated if that's your vibe
The Adventure Brew Hostel
The Adventure Brew Hostel is one of the traditional backpacking hostels in La Paz which pulls in a tamer crowd who like a drink.
This is a craft beer hostel which offers tours of the Saya brewery every Sunday.
Even better news, every guest gets a free beer on entry!
Other events such as a weekly BBQ are also popular.
Rooms available include traditional dorms from 4-bed up to 20-bed as well as private rooms. Showers are hot.
We stayed in a private room for one night and did the brewery tour.
Its proximity to the bus terminal is also an appeal.
Prefer to be downtown? There's a second Adventure Brew Hostel in town.
Pros: Chill hostel, free beer and awesome brewery tour
Cons: May be a little tame for some
The Greenhouse Hostel
You've probably never heard of the Sopocachi neighbourhood but if prefer an up and coming side of a city then The Greenhouse Hostel in Sopocachi may be for you.
Coined the wealthy and bohemian area, quality restaurants can be found here and if you're a fan of food you might consider The Greenhouse Hostel for its kitchen.
One of the smaller hostels in the city, Greenhouse has nine rooms over two floors, four of which are shared and five are private. All use the shared bathroom facilities.
The open patio and greenhouse is a hit with visitors.
Pros: Cool area, big kitchen
Cons: Not central but that's the point
Prefer to be closer to the centre? The Cathedral is the sister hostel which is built around the same ethos of the 'chef hostel' aimed at visitors who want to cook.
---
Cruz de Los Andes
If breakfast is your priority then you might want to consider Cruz de Los Andes.
This quirky bed and breakfast is more like a hotel than a hostel but it's bright, clean and the staff are helpful.
Each room is private and has a unique mural painted on the walls by local artists.
Great location, tucked up Calle Aroma near lots of restaurants and the bustling Witches Market.
The staff at the reception are very friendly and there is a holding room for luggage if you are trekking or checking out.
The breakfast of fruit, yoghurt, bread and EGGS is a welcomed change.
You won't get breakfast like this included in any hostel stay in La Paz.
Cruz de Los Andes is ideal for those looking for a quiet hostel to chill out and get a good sleep.
Another traveller says 'this is the nicest place we've stayed in South America'.
Pros: Friendly, clean, breakfast, location
Cons: Not one of those looking to socialise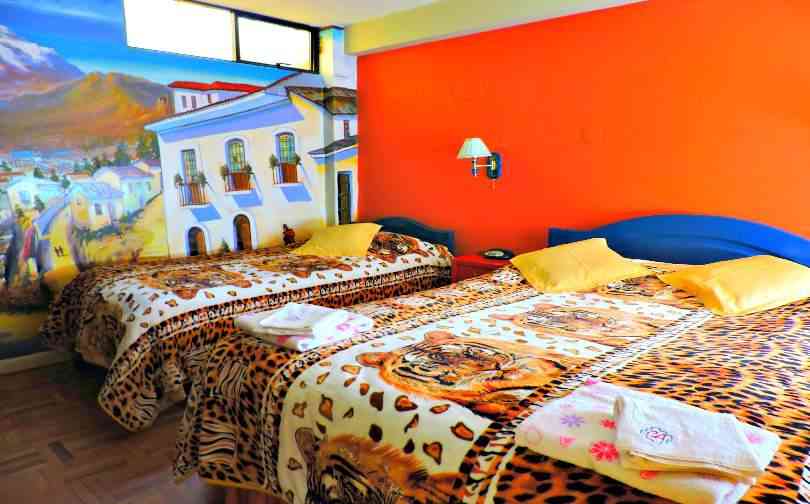 ---
Estrella Andina
Estrella Andina is just around the corner from Cruz de Los Andes, again near The Witches Market and restaurants.
The views from this hostel are incredible. We enjoyed watching the sun set over the red clay buildings of the city and a firework display during our stay.
The hostel also has a rooftop patio on floor five.
The room itself, like the rest of the hostel, is very clean.
The shower was scorching, we checked in after a fourteen-hour bus journey from Sucre so this was a dream.
Rooms also have a small TV.
The breakfast is a delight.
You'll become obsessed with the quality of accommodation breakfast during your South American travels because most are terrible. Stale bread and jam.
Here there's a platter of fresh fruit, yoghurt, bread, eggs AND pancakes.
To add to the pancakes, Dulce de Leche! South America's is Nutella.
Best working WiFi during our stay in the city, which is unusual for La Paz where the WiFi is notoriously crap.
The staff are friendly and helpful and again there is a storage room for those looking to dump their stuff.
There is also a nice common area with cool llama chairs.
Pros: WiFi, views, friendly, clean, breakfast, location
Cons: None, bar if you are looking for girls on a bar then look elsewhere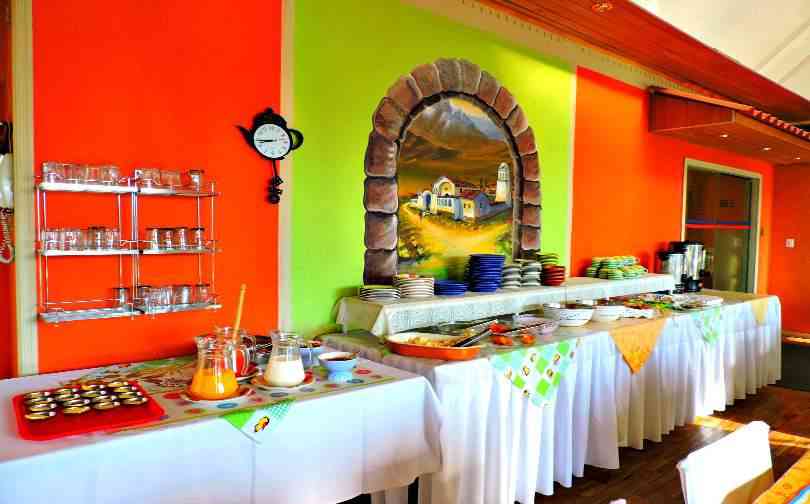 ---
Airbnb in La Paz
There is more than just hostels for affordable accommodation in La Paz.
Airbnb apartment rentals are also available which is ideal if you've been on the road for a while and want some private space.
We stayed in the Achumani area of La Paz which is a sun trap with a local market.
Final Words
Wondering where to stay in La Paz? The questioning is now over. Whether you are looking for a party atmosphere or co-working space, hostels in La Paz have it all.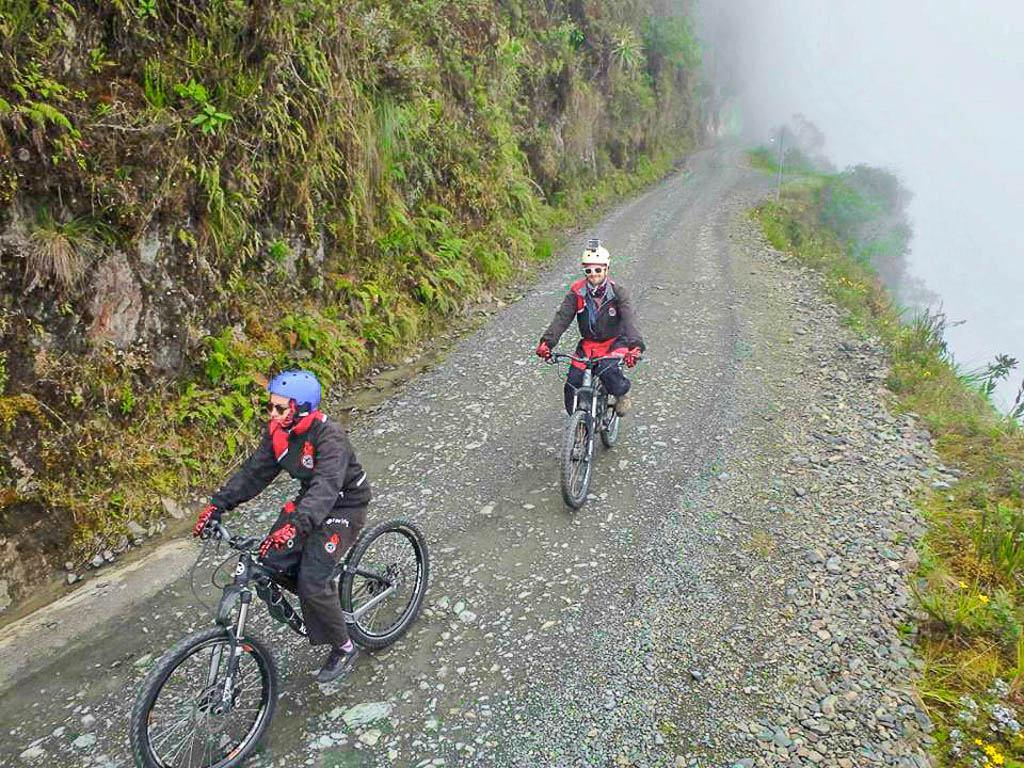 Thanks to the generosity of the hostels we worked with in La Paz (Wild Rover, Adventure Brew, Cruz de Los Andes Estrella Andina). Our own opinions, mouthy Scots!