This article has links to products and services we love, which we may make commission from.
Reassurance. That was my initial feeling as we drove through the British Columbian town of Gibsons from the ferry terminal, Langdale. Restaurants, bars, even a vintage shop and sunshine obviously. We are on the Sunshine Coast in Canada so you could only hope for the burning orange circle in the sky.
We signed up to two months on the Coast without much knowledge of the area and Gibsons brought us hope that we had made the right decision.
The Beachcombers
Many tourists and Canadians alike flock to Gibsons because Gibsons is famous! The town was the film set for the internationally renowned 70s TV series, The Beachcombers. The nineteen seasons strong comedy-drama followed the lives of two loggers, Nick and Jesse and their tugboat – Persephone, you'll hear this word again soon… The show was centred around the cafe, Molly's Reach, which was run by the motherly figure, Molly. Although the show ended in the nineties (with a failed attempt to bring it back), it is still very much celebrated in the town of Gibsons.
Marvellous Marina
Gibsons is more than just the set for a soap, it is also extremely scenic with its marina and mountainous backdrop. This is where you will find us (Gemma and Craig) Two Scots taking a stroll, kayaking or sipping a hard lemonade when our small 'hometown' of Roberts Creek is giving us a bit of cabin fever! Just what Molly ordered.
Soames Hill, Gibsons
Although Soames Hill is slightly awkward to get to without wheels (we cycled there), this hike is totally worth the trek. After a short walk through shaded trees, you are met with a tough climb up but these stairs really are the steps to heaven!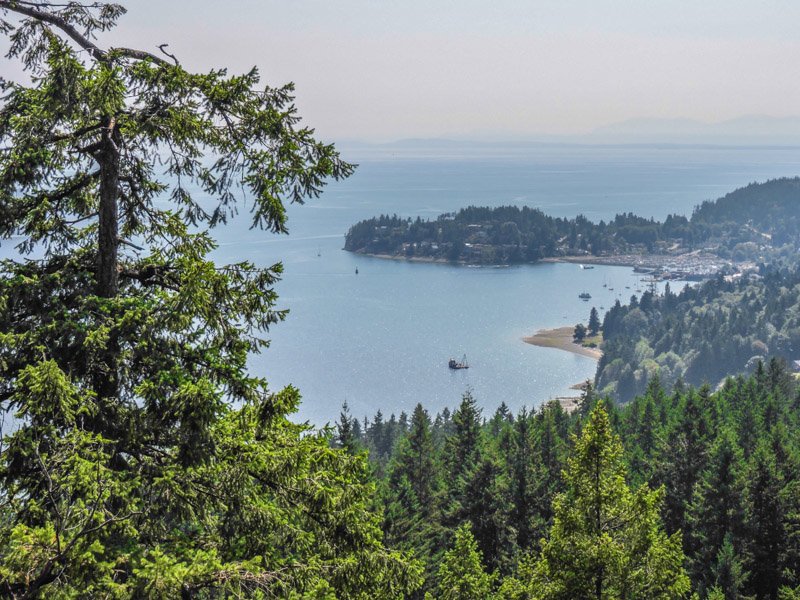 Watch Out! Beers Crossing at Persephone
You will have worked up a thirst after Soames Hill, this puts Persephone the brewery, in the perfect position. Nestled behind the hops next to Soames Hill, you'll find this rustic brewery come bar which sells a selection of home-brewed beers including Craig's favourite The Golden Goddess.
We spent a fun afternoon there with our Scottish friends, Karen and Craig. Not the biggest of beer fan, I sampled the Taster Flight which is four beers of your choice in a cute set.
Our friends went home with a souvenir – a growler which is a cool looking refillable beer bottle! This word obviously created hilarity amongst us Scots (look it up)…
Persephone not only does the perfect pint but also provides parties! We were invited along to the brewery's second anniversary party (disclosure – the $25 cover was waived. Thanks for the tickets, Giddy!) By day, teams battled it out in a Tough Mudder-style event to win the prize of 100 litres of Persephone beer then as dark drew in, we partied in the barn amongst the hay bales to a young jammin' funk band. Check out Craig's moves…
If you make it along next year, tell us if the 204s manage to hold on to the winning title!
Website: Persephone Brewing Company
Contact: 778-462-3007
Address: 1053 Stewart Road, Gibsons
Cost: Sleeve of Golden Goddess $4 / £1.97 (all beers paid for by us)
Gonna Have a Food Time
There is a great mix of culinary delights in Gibsons however only one is a must for the novelty value in our eyes – Molly's Reach. This restaurant serves a variety of burgers, fish and chips along with local beers and a long list of cocktails. All amongst lots of Beachcombers paraphernalia.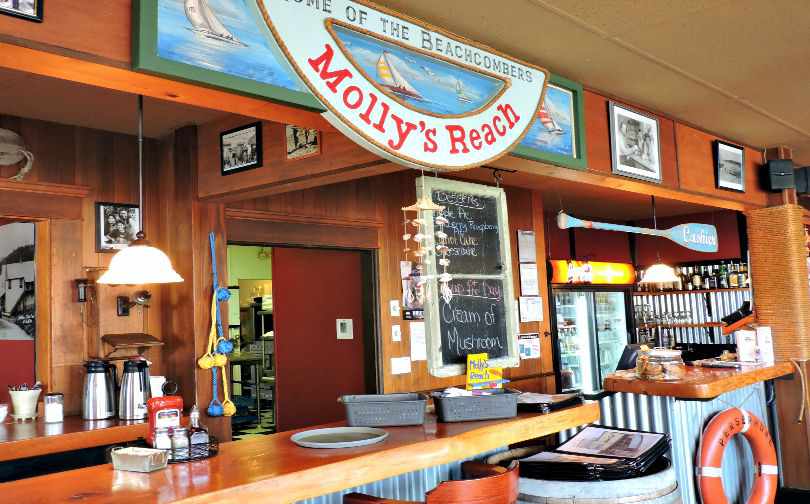 You almost feel like you are on the set yourself, move over Nick and Jesse! I went for the Beachcombers Breeze cocktail ($7), it would have been rude not to! With the ingredients of vodka, grapefruit and cranberry it certainly cleaned the palate in time for my halibut and chips ($18). Craig managed, just, to devour The Reach burger ($16) which consisted of two burgers, bacon, two types of cheese minus the salad, egg and a side of sweet potato fries. Quite a reach to consume, some may say.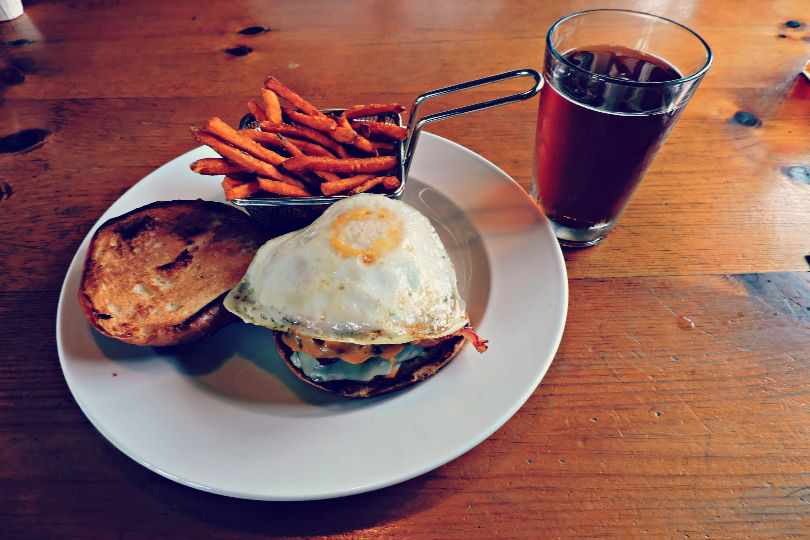 Website: Molly's Reach
Contact: 604-886-9710
Address: 647 School Road, Gibsons, BC V0N 1V0
Cost: $41.50 / £20.39 + tax / tips
---
Vancouver to Gibsons (+ local routes)
From Vancouver – forty minute ferry ride from Horseshoe Bay $16.25 / £7.98 return (and then the above bus)
Bus 1 and 90 from Langdale Ferry or Sechelt (depending on starting point) will drop you off in Gibsons for $2.25 / £1.11
---
Fancy Kayaking in BC?
The Sunshine Coast, BC is awash with water sports in the summer, free hikes for all levels, heaps of food and don't be fooled when October comes as the scenery is just as darling!
Like the look of the Gibsons and want more like this? Check out our guide to the Sunshine Coast, BC, we hope to join you there in the future (on a more permanent basis!)
Like Gibsons?
Why not hover over image and pin to your Pinterest board?
Have you been to the Sunshine Coast?
Thank you to Molly's Reach and Persephone for their hospitality. An honest review, as per usual.