This article has links to products and services we love, which we may make commission from.
Visiting San Diego on a budget?
While the city is a popular tourist destination and known for its world-class attractions, you don't really need to break the bank just to enjoy what it has to offer.
Whether you wish to explore some of its famous neighborhoods, enjoy free tours, take photographs, or simply just try new things, this guide details the best free things to do in San Diego.
We'll also look at some inexpensive tours and attractions in San Diego that are worth paying for.
And since the city is known for its idyllic weather, you can enjoy most of these activities at any time of the year.
San Diego also features on our California bucket list.
Free Things to Do in San Diego
In the following list, you'll find some of the best free things to do in San Diego starting with the downtown area.
Most activities listed in this section are outdoors.
Old Town
With its vibrant Spanish community and its 19-century homes and historical buildings, Old Town is a must-visit for places to see in San Diego for free.
Located in Presidio Park, explore and learn about the colonial lifestyle at the Junipero Serra Museum (2727 Presidio Dr).
People spend about an hour here captivated by the fantastic history.
Old Town also features in our guide to San Diego in December.
Heritage Park
Heritage Park (2454 Heritage Park Row) sits on 7.8 acres and contains architectural gems, including the first synagogue of San Diego, The Temple of Beth.
Take in the sight of several restored Victorian homes- note that the homes have been restored in the exterior only and are not open to the public.
Balboa State Park
Although it is the home of several paid family-friendly attractions, the entrance to Balboa State Park is home to many free activities in San Diego, with over 1200 acres to explore.
Here you can wander among the beautiful architecture and serene gardens.
Balboa State Park makes the list of free places to go in San Diego, with miles of walking trails and parks to explore.
This place also features in our guide to California in December.
Explore Little Italy
As you explore places to go in San Diego for free, Little Italy has art installations that you can examine and snap a selfie or two.
Here you can walk around and take in the public artwork for free.
The charming piazzas with red tables are a staple in Little Italy and are the perfect people-watching locations.
Spreckels Organ Pavilion
Enjoying a concert at the Organ Pavilion (1549 El Prado) is another option you can include in free outdoor activities in San Diego.
Get a bonus when you extend the day and stay for the evening concerts from the built-in lights that frame the arches of the architecture.
Tip: Park in the pavilion's lot for easy access.
Take the Seven Bridge Hike
This urban 5.5-mile loop hike takes you to the dispersed bridges throughout historic San Diego, beginning with the two bridges in Balboa Park (Park Boulevard Bridge and Cabrillo Bridge).
Your free things to do in downtown San Diego continue as you explore three more bridges (First Ave, Quince Street Bridge, and Spruce Street Suspension Bridge).
Hillcrest's Vermont Street Bridge and Georgia Street Bridge complete the hike.
The Gaslamp Quarter
The Gaslamp Quarter is fun to walk around and take iconic photos under its namesake sign on 5th Ave and L Street.
It spans 16 blocks and is a historic district complete with Victorian architecture and worth spending at least a half day if you want something exciting and free stuff to do in San Diego.
Hike Annie's Canyon
Annie's Canyon (498-450 Solana Hills Dr) is an accessible, flat, and relatively easy trail that borders the wetlands of the San Elijo Lagoon State Marine Conservation Area.
The narrow slot canyon trail is unique because as it gets narrower, it gets more challenging, and a ladder climb is necessary.
There are several other trails to explore as well.
Torrey Pines State Natural Reserve
Explore one of San Diego's natural gems; Torrey Pines State Natural Reserve (12600 N Torrey Pines Rd) is free to enjoy.
You can spend hours exploring some of the best hiking trails that highlight breathtaking seaside cliffs.
Head for the Torrey Pines State Beach via the Broken Hill Trail and admire the ocean views while getting there.
Tip: Find free parking on the street, as parking in the park isn't free.
Map and Atlas Museum of La Jolla
One of the free things to do in La Jolla is to tour the Map and Atlas Museum (7825 Fay Ave).
Here you can explore their rare and private collections of maps to get a perspective of the world hundreds of years ago.
La Jolla Beaches
Another free thing to do in La Jolla is to enjoy the sand and sun and surf on the beach.
La Jolla Shores (8200 Camino Del Oro) is a mile long and a favorite for San Diegans for sunbathing, surfing, kayaking, and paddleboarding.
Black's beach has an LGBQ section; although bathing suits are required, there are clothing-optional venues.
La Jolla Underwater Park
Come swim with the sea lions at La Jolla Underwater Park, and it's free.
You can watch from above through the local store (for a small fee) or in the water snorkeling, paddleboarding, or just swimming.
Make it a point before you leave to see the seals play as the sunsets off the point.
Tip: If you want to have more space for yourself, avoid the weekends.
Coronado Island
Coronado Golden Beach (919 Ocean Beach Blvd) is a top pick for free things to do in Coronado Island because it is world-renowned and has won the Best Beach in America award more than once.
Here you will love the 1.5-mile stretch of golden sparkling sand and the breathtaking sunsets.
There's Coronado Dog Beach on the North end for dog lovers and their companions.
There's no cost to visit, and parking is free nearby.
Volleyball on South Mission Beach
Play volleyball with a group of friends at South Mission Beach (2677 Ocean Front Walk), where the game is free, and the nets are set up, first come, first serve.
The weekends are busy, and it is a great place to find pickup games on the challenge courts.
South Bay Salt Works
Bike, hike, or just stroll in the park between South San Diego and the south edge of Chula Vista as the active operation of salt is being harvested and processed.
Along your walk, you might glimpse indigenous wildlife and birds as there are several nearby ponds and Majestic views of the bay.
The trail is made of loose gravel and decomposed granite and is best served by a mountain or hybrid bike.
Otay Ranch Town Center
Only 40 minutes from San Diego, Otay Ranch Town Center (2015 Birch Road) is a lovely little progressive town where you can wander and sightsee with your fur buddies, as pets are welcome.
It doesn't cost anything to explore, but if you are in a spending mood, there are a variety of restaurants and stores.
Throughout the year, they host several farmers' markets days and nights on various days of the week.
Have a Picnic in Marina View Park
Head to Marina View Park (900 Marina Parkway) If you are looking for fun free things to do in San Diego
For couples, pack a basket with your favorite food and a bottle of wine for a picnic and enjoy the incredible views of the Marina.
Bring the kids and make it a day while they play on the playground, and you sit and enjoy the open space.
Take a stroll or bike the path that links to the marina and enjoy the outdoors with the entire family.
Chula Vista Bayside Park
Bayside Park is a location to add to the list of things to do in Chula Vista for free with its wonderful walking trails and friendly people you meet as you feel the sea breeze.
Here you can slow down and become one with nature.
Besides free, the word for this place is easy; easy parking and easy walking.
Free Indoor Activities in San Diego
If the weather is not cooperating, you will want to plan fun things to do in San Diego for free that are inside or at least under a cover.
Listed below are some indoor activities in San Diego you can enjoy without charge.
Timken Museum of Art
Still exploring free attractions in San Diego?
The Timken Museum (1500 El Prado) is a quick stop and the only free museum in Balboa Park.
An original Rembrandt is on display for public viewing and other iconic exhibits.
Other museums in the park offer free Tuesdays for San Diego residents when they show an ID with their San Diego address.
Mormon Battalion Historic Site
Learn about the soldiers and women who made the longest march in military history during the
Mexican-American War at the Mormon Battalion Historic Site (2510 Juan St).
It is free to visit, and all areas of the building are accessible to visitors with disabilities.
African Diaspora Museum and Research Center
Explore 6000 years of African history at the African Diaspora Museum and Research Center (2471 Congress St), where exhibits highlight the colonial and contemporary periods.
The museum houses a collection of African artifacts, carvings, and weavings.
Free Things to Do in San Diego at Night
Check out some of the fun free things to do in San Diego after sundown.
Take Brewery Tour After Dark
For beer lovers looking for free things to do in San Diego at night, take a free brewery tour at Ballast Point Brewing (2215 India St).
Go behind the scenes to learn how Ballast Point Brewing was birthed in 1996 by a small group of local homebrewers exploring ways to make a great craft beer.
Committed to the craft of beer, this local brewing company is woven into the fabric of the community.
Ray St at Night
Revamping and worth visiting, Ray St in North Park is only a block long but full of live music and artists and their handiwork on display.
At this part gallery, part craft fair, you can spend upwards of an hour just strolling through gallery rows, and admission is free.
Seaport Village
Walk along 14 acres of waterfront shopping and sightseeing at Seaport Village.
Here you are free to explore the area until 9 pm, and it doesn't cost anything making this an excellent option for free things to do at night or during the day in San Diego.
Walk along and admire the unique shops, sailboats, and a slower, friendly vibe.
There are plenty of beach seats and benches to sit, people-watch, and take in the great ocean views.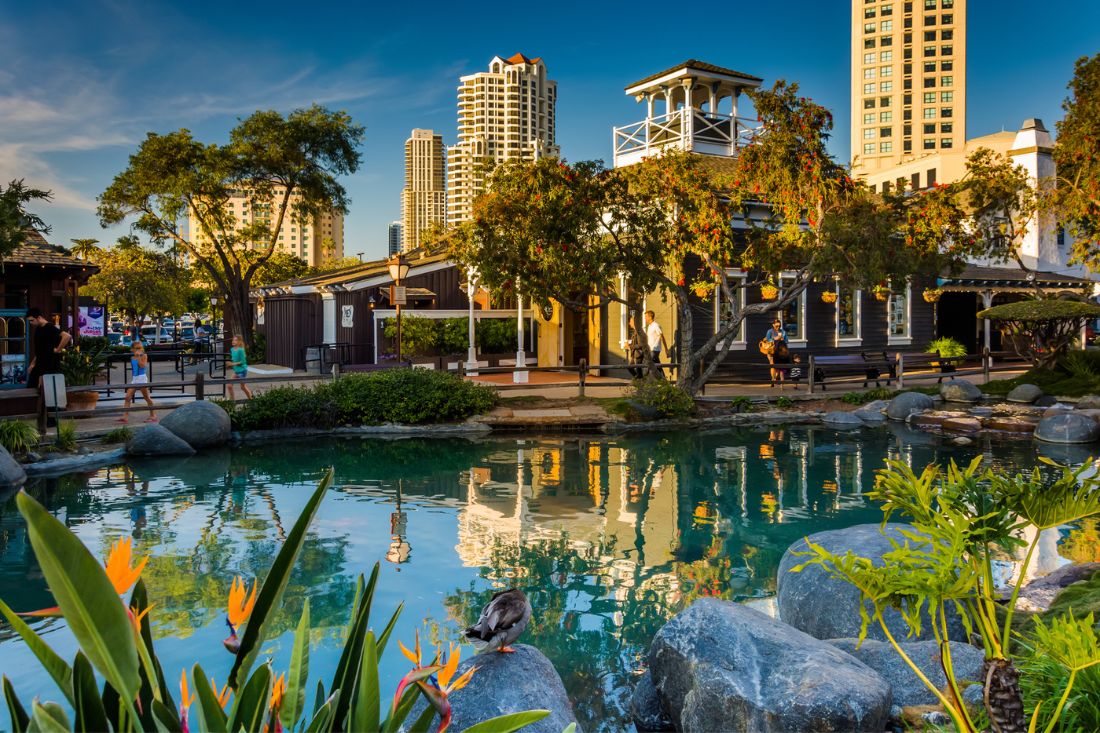 Inexpensive Things to Do in San Diego
If you want to make the most of your time in the city, several of San Diego's exciting activities are worth the extra money.
Below are some of the cheap tours and activities you can enjoy.
You may also like our guide to warm places to visit in USA in December featuring more things to do in San Diego.
San Diego Harbor Cruise
Take a harbor cruise in San Diego in a three-level luxury ship with outdoor and indoor seating.
The trip will take you to Coronado Bridge, Downtown San Diego, Midway Aircraft Carrier, and other waterfront landmarks.
Snacks and drinks are also available on board.
San Diego Ghosts & Gravestones Trolley Tour
If you're looking for a thrilling experience, take an evening trolley bus tour in San Diego and hear some scary and mysterious stories about the city.
You'll explore cemeteries, the Old Town, and one of San Diego's haunted places, the Whaley House.
This is also an exciting way to learn more about the city's history.
USS Midway Museum
Take a self-guided tour of the USS Midway Museum (910 N Harbor Dr) and see the world's longest-serving aircraft carrier, the historic USS Midway.
You can explore the ship's engine room, galley, jail, and sleeping quarters and see around 25 restored aircraft.
There are also short films, flight simulators, and music videos that'll let you experience the moments when the naval aircraft carrier was still in use.
Final Thoughts
We hope this guide to all the free things to do in San Diego helped you plan your activities!
Let us know if you have any more recommendations for fellow locals or visitors.