This article has links to products and services we love, which we may make commission from.
If you're looking for free things to do in Hilton Head, South Carolina, you're in luck.
Throughout this post, you'll learn all about the best free and affordable activities in Hilton Head that you absolutely won't want to miss, including a few seasonal attractions!
Hilton Head has quite a few cheap attractions despite being such an upscale location to visit so we will include them too.
This guide will reveal the best free things to do in Hilton Head outdoors as well as indoor attractions.
Plus, festive activities and budget tips on where to stay and how to get around.
Free Outdoor Things to do in Hilton Head
Enjoy Coligny Beach
Despite being one of the most popular attractions in Hilton Head, a visit to the scenic Coligny Beach is a must.
It's absolutely free to visit the beach though you may have to pay for parking; head over to South Forest Drive for free parking.
The amenities at the beach are abundant and feature outdoor showers, spots to relax, and many wheelchair-accessible spaces.
If you get hungry while there, be sure to stop by some of the nearby family-friendly restaurants in case you're traveling with little ones!
Visit the Historic Hilton Head Range Rear Lighthouse
The Hilton Head Range Rear Lighthouse is one of the most historical spots to visit in Hilton Head, dating back to 1879.
While there are many lighthouses on the island, this is the only one that is an actual lighthouse.
The lighthouse was recently renovated in 2019 and is now open to the public.
When visiting the lighthouse, stop by the oak trees right near it, which are some of the oldest Live Oak trees on Hilton Head.
Attend a Show at Shelter Cove Harbour
There are quite a few free concert series throughout the summer at Shelter Cove Harbour, generally on Thursday evenings.
Unless you wish to stand during the entire concert, bring your own chair that you can set up to stay comfortable.
Because admission is free, try to get there early to make sure you have a great spot while you enjoy the music.
Visit the Stoney Baynard Ruins
The Stoney Baynard Ruins are one of the must-visit historic locations in Hilton Head.
The ruins are of what used to be a plantation house near the Calibogue Sound, dating back to the 1790s.
Today, as the name suggests, there are genuinely just ruins left, but it's still an interesting spot to visit on the island.
Admission is entirely free though there may be a small parking fee depending on the time of year that you visit.
Bike in Fish Haul Creek Park
Along Port Royal Sound, there's an incredible trail in the shade found in Fish Haul Creek Park.
This is one of the best free things to do in Hilton Head, SC, if you already have a bike.
If you aren't traveling with a bike, they can be rented throughout the island for affordable rates depending on how long you're renting one.
Watch the Sunset at Harbour Town Lighthouse
No trip to Hilton Head is complete without catching the sunset at least once over the Atlantic Ocean.
There are many places to watch the sunset in Hilton Head, but one of the best spots is at Harbour Town Lighthouse.
Get there a little earlier to ensure that you can snag a great spot overlooking the water, and don't forget to bring your camera.
Peruse the Stands at the Farmers' Market
Visiting Farmers' Markets on Hilton Head is the perfect way to get outdoors without spending money unless you wish to purchase something from any stands.
There are many throughout the area, including the Thursday markets at the Coastal Discovery Museum, the Farmers' Market at Bluffton, and the Farmers' & Makers Market at The Shops at Sea Pines Center on Tuesdays.
Learn and Step Back in Time at Fort Howell
Fort Howell is a historical fort dating back to the 1860s that is free and open to the public.
The fort was initially built during the Civil War to protect the nearby waters after an attack.
Once the battle ended, enslaved people on Hilton Head Island were freed by Union soldiers.
These were the first enslaved people freed during the Civil War, and they later went on to set up more forts and the town of Mitchelville.
Today, the fort is explored via a nature trail through the woods with occasional plaques and signs that educate visitors on the fort's history.
Go Geocaching
If you love getting outside, go on a geocaching adventure on Hilton Head.
This can be a great way to spend some time if you're visiting the island with kids and want to explore the island less traditionally.
Relax at Mitchelville Beach
For a quieter alternative to the popular Coligny Beach on Hilton Head, go to Michelville Beach instead which features in our best beaches in the US guide.
Even during peak seasons and popular times of day to go to the beach, Mitchelville Beach tends to be very tranquil.
There are quite a few amenities at the beach, including showers, picnic tables, restrooms, and even a bridge leading to nearby Barker Field filled with outdoor recreational fields.
Mitchelville Freedom Park Tour
Do the self-guided tour of Mitchelville Freedom Park to learn about the formerly enslaved sea islanders of Hilton Head.
The tour can be done at your own pace.
This is where the island's Juneteenth events take place.
Check out our guide to the best places to visit in the US in June for more.
Explore the Audubon Newhall Preserve
Another excellent free thing to do in Hilton Head while outdoors is to explore the Audubon Newhall Preserve, which spans 50 acres.
The best way to explore the preserve is to use the trails throughout, which are only about a mile long.
Along the way, be sure to look out for the more than 100 bird species that live there freely in the preserved area.
Free Indoor Things to do in Hilton Head
Learn at the Coastal Discovery Museum
The Coastal Discovery Museum is the perfect place to go if you're looking for fun things to do in Hilton Head with kids.
While most of the attractions at the Coastal Discovery Museum are indoors, some of the trails that lead between exhibits are outdoors.
Admission is free, though some educational programs happen each day that require a small fee if you wish to attend them.
Throughout the museum, you can learn about the area's natural history and visit historic buildings.
Go Inside the Hilton Head Branch Library
If you're a lover of books and want to stay indoors for a bit, head to the Hilton Head Brand Library, the island's main library.
There's ample reading space, public computers, and books that you can take off the shelf and read inside, even if you aren't a member.
The library also hosts many free events and programs throughout the year, which you can attend if interested.
Interact at The Sandbox Children's Museum
The Sandbox Children's Museum is a fun place to go if you'll be visiting Hilton Head with children.
Inside, there are many interactive educational exhibits and activities children can participate in while learning.
While there's usually a small admission fee, be sure to visit on their Free Family Fun Night, which changes days each year.
Check their website for the most updated information on when free nights are.
Cheap Things to do in Hilton Head
Explore Sea Pines
Sea Pines is the main resort complex located on Hilton Head, and guests can access everything inside with a pass which costs just under $10.
By paying, guests can enter the resort area and visit the shopping centers and more.
This small fee goes towards the Sea Pines community and is worth it to access all the fun activities in the resort.
Play a Round of Golf at Pirate's Island Adventure Golf
To have some fun during your visit to Hilton Head, consider golfing at Pirate's Island Adventure Golf, which is fun for all ages.
One round is $15 for adults and $11 for children, but you automatically get a free game if you get a hole in one.
Go on a Paddleboard Tour
One of the best cheap things to do in Hilton Head is to go on a stand up paddleboard tour like this one.
This is one of the most affordable and unique tours you can take around the island.
During the tour, you'll get taught how to paddleboard by an experienced guide and explore the coastline.
Have Fun on a Kayak Tour
Another excellent cheap tour that's relatively popular is this 1.5-hour kayak tour that's limited to a small group of ten.
If paddleboarding isn't your thing, this kayak tour is perfect and includes a kayak rental with a life jacket.
During the tour, you'll kayak through marshlands as you're taught all about the history and landscape of the island by an experienced guide.
Join Gullah Heritage Trail Tours
Learn more about the Gullah Geechee Corridor, which South Carolina is part of, from Hilton Head born guides with Gullah Heritage.
Discover the language, history, and tour the Gullah Neighborhoods with Gullah Heritage Trail Tours.
This is the priciest activity in our guide at just over $40 but reviews say it is worth every penny for privilege to learn more about the culture.
Free Festivals and Events in Hilton Head
Art in the Garden at The Greenery Garden Center
Art in the Garden is a new annual event taking place every year in Hilton Head at The Greenery Garden Center.
This free event is a celebration of local artists held directly in the beautiful garden and is a perfect way to support the arts in the area while also enjoying the outdoors.
May Fest
Another excellent free festival in Hilton Head is May Fest, which, as the name suggests, is hosted in May annually.
This event has been held for more than 40 years and is hosted by The Rotary Club of Bluffton.
This is also an arts-focused festival featuring arts and crafts, food trucks, and even a fun pie-eating contest.
Hilton Head Island Gullah Celebration
Did you know that Hilton Head had a rich Gullah history?
The Hilton Head Island Gullah Celebration has been highlighting cultural Gullah heritage on the island for over two decades.
Free Things to do in Hilton Head in Winter
Go Fishing
This may be a surprising free thing to do in winter, but the best time of year to go fishing in Hilton Head is in the winter months.
Grab a fishing pole and some bait, and head out to the water to go fishing.
Because this isn't peak season, it's easier to catch a fish this time of year versus in the summer months.
Enjoy the Beaches
The best time of year to head to the beaches is in the winter months.
Even though the temperature is a bit cooler from December through February, there are significantly fewer visitors to the beaches; it's typically just locals.
Movies in the Park
Bluffton occasionally hosts winter movies in the park during December for festive movies like "Elf."
Because it's winter, you'll want to make sure you're prepared for cooler weather, so bring blankets and dress appropriately, as the event is typically held rain or shine.
Movies have been held in Martin Family Park in the past, though that may change.
Meet Santa
Many free holiday-related events allow children to meet with Santa!
These events start directly after the Thanksgiving holiday, some as early as Black Friday.
In the past, Santa has even met children on Hilton Head at the Neptune Statue, where they can take photos, listen to holiday music, and even munch on gingerbread cookies.
Stroll the Waterfront to See Holiday Boats
During the holiday season, walk along the marina to see the beautiful boats that are docked.
Many boat owners will get into the holiday spirit and deck the halls by decorating their boats with tons of holiday lights.
Because you'll want to see the boats lit up, be sure to walk along the waterfront at night once the sun has already set.
Affordable Accommodation in Hilton Head
If you're visiting Hilton Head on a budget, consider booking a stay at the Days Inn by Wyndham Hilton Head.
Pricing changes throughout the year, but it's generally one of the most affordable places to stay on the island.
Another great option is the Red Roof Inn Hilton Head Island.
For more space, book a one-bedroom apartment at the Hilton Head Beach and Tennis Resort.
How to Get Around Hilton Head on a Budget
The cheapest way to get around Hilton Head is by walking, but make sure you wear proper footwear.
If you'd rather rely on public transportation, a few affordable options are available.
The Breeze is a public trolley that will get you around for only $1 no matter where you get off, but make sure you pay in exact change.
This trolley runs until around midnight on weekends and 10:30 p.m. on weeknights but is not available to ride until around noon.
For a free option, consider The Sea Pines Trolley, which picks guests up at trolley stations.
There are a few routes, but they will stop at popular clubs, shops, and more.
The Sea Pines Trolley is a seasonal trolley, so it's not available for use year-round.
If you don't want to use public transportation, Lyft or Uber are always an option, but keep in mind that it may be a bit more costly depending on the time of year and day.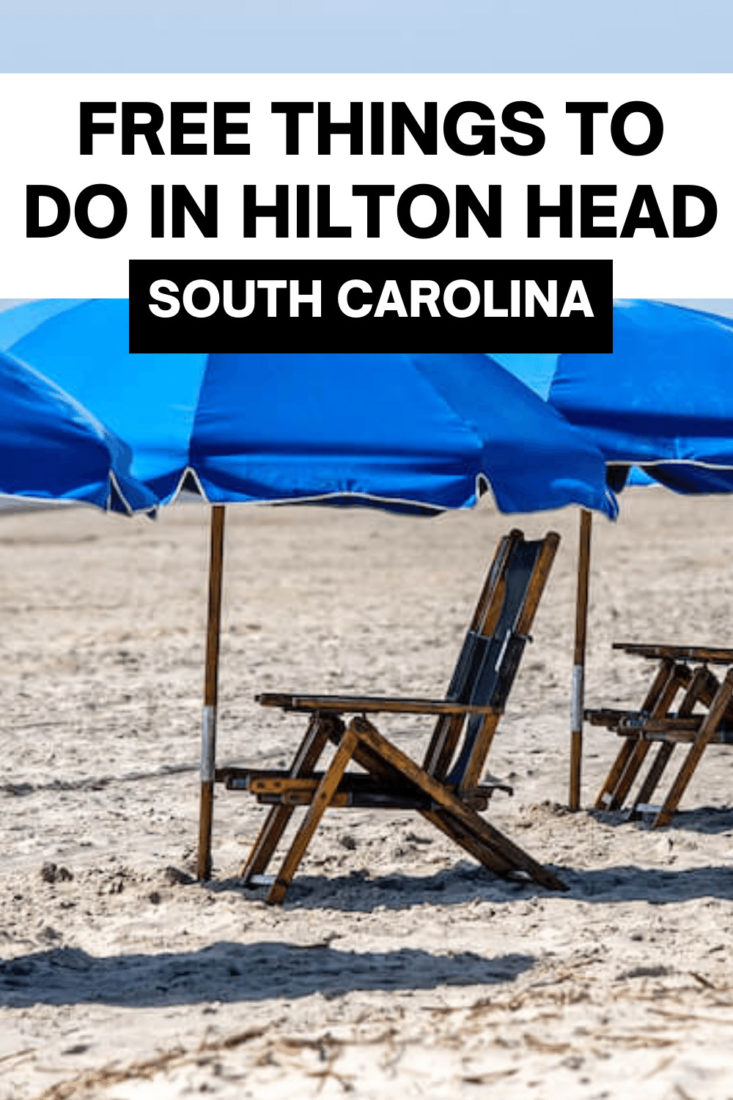 About the Author
Amy Hartle is the founder of East Coast With Kids, a website dedicated to highlighting the most fun destinations for kids AND adults on the East Coast of the USA. Born and raised in Florida, Amy has lived on the East Coast all her life. Check out this New England road trip guide and US travel guide for more content by Amy on Two Scots Abroad.