This article has links to products and services we love, which we may make commission from.
Denver is Colorado's capital and is also known as "The Mile High City" as it sits at 5,280 ft. above sea level.
This beautiful metropolis offers panoramic views of the Rocky Mountains to the West and the Great Plains to the East.
The city also has a long list of fun activities to try- from exploring the Red Rocks Park to touring the Colorado State Capitol.
If you're on a tight budget, this guide outlines free things to do in Denver, including outdoor and indoor places you can visit during your trip.
You'll know about the free and cheap things to do in Denver, affordable places to stay, and how to get around the city without spending a fortune.
Denver is also on our USA bucket list for drinking, eating, and seeing a show.
Free Outdoor Things to Do in Denver
Go on a Free Walking Tour
A walking tour of Denver is one of the best ways to explore the city like a local and take in its beautiful sights.
Some companies offer free walking tours that start at 10 am at the State Capitol Building (200 E Colfax Ave) and last for around 2-2.5 hours.
There are plenty of incredible stops, including Larimer Square (1430 Larimer St), Denver Mint, and Union Station (17th and Wynkoop Streets).
Look at Street Art at the River North Art District
The River North Art District (or RiNo for short) is a must-visit during your trip to Denver.
Although this area is known for its art galleries, jazz bars, and quirky restaurants — the street art truly steals the limelight.
You can find endless murals scattered throughout the neighborhood that depict wildlife, culture, and meaningful events throughout history.
There is even an interactive map on the district's website so you can plan your own self-guided tour.
Mountain Bike At Buffalo Creek
Buffalo Creek Recreation Area is another place to visit if you're looking for free outdoor activities in Denver.
It is just an hour's drive from the city center and has over 50 miles of trails for people to explore.
Although these trails are great for hiking, many people choose to go mountain biking here instead.
You'll find at least 40 trails within Buffalo Creek with different difficulty levels and elevations.
There are also plenty of family-friendly trails in the area and spots for overnight camping.
Explore Lariat Loop Byway
If you're looking for free sightseeing in Denver, the Lariat Loop Byway is a great option.
This historic road traces the path of early 20th-century motorists and offers breathtaking views of the Rocky Mountains.
You'll also see evergreens covering the foothills of the Rockies and the crimson rock formations at Red Rocks Park.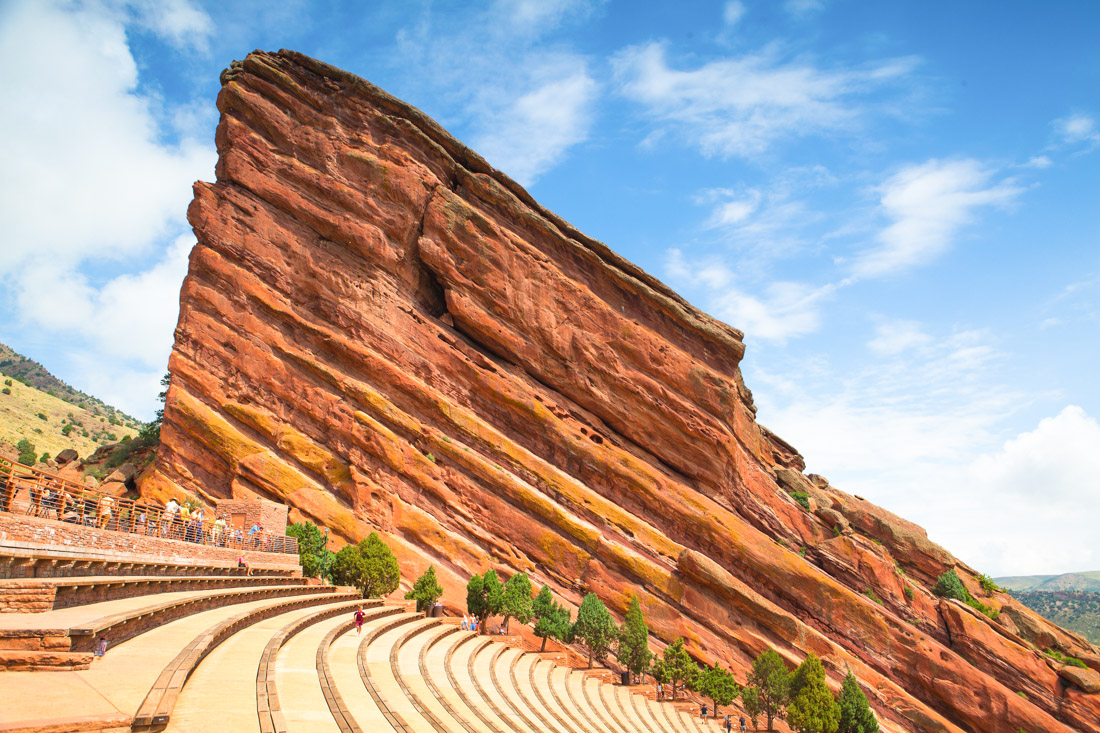 Visit Red Rocks Park & Amphitheater
Whether you're a music lover or just looking for a unique place to explore, Red Rocks Park & Amphitheater (18300 W Alameda Pkwy) is worth visiting.
Located in Denver's suburbs, it's a popular concert venue that attracted top performers like The Eagles and Coldplay.
The natural red rock formations on the site provide a fantastic backdrop.
You can head to its free Visitor Center, which has a museum featuring exhibits about Colorado's music legacy.
Hike at the Many Nearby Trails
One of the things to do in Denver for free is to hike along its many nearby trails.
Just outside the city center, you can find lots of parks that offer spectacular views and the chance to escape into nature.
Some of the top hiking destinations in the area include the Rocky Mountain National Park, Bear Creek Lake Trail, and Red Rocks Park.
The peaceful atmosphere in these trails makes the city and Colorado a hotspot for wellness retreats.
All these great destinations are within a 40-minute drive of Denver and offer fantastic hiking opportunities.
Rocky Mountains National Park made it to our list of national parks to visit in November.
Free Indoor Things to Do in Denver
One of the best free things to do in Denver is to visit some of its famous indoor places and attractions.
A list of free indoor activities in the city is provided below.
Tour the Colorado State Capitol Building
If you're looking for free indoor things to do in Denver, then this needs to be at the top of your list.
The Colorado State Capitol Building (200 E Colfax Ave) is one of the city's most important buildings, as it is home to the General Assembly and the offices of the Governor.
It is also a stunning piece of architecture, with its golden dome being a particularly iconic feature.
There are free tours of the Colorado State Capitol from Monday through Friday, and they provide a great opportunity to learn more about Colorado's history.
Enjoy the Denver Public Library's Art Collection
If you're a fan of art, you also need to visit the Denver Public Library (10 W 14th Ave) to see its art collection.
The library's Western History art collection consists of over 1,500 original pieces dating back to the mid-1800s.
This includes incredible paintings, sculptures, and drawings from artists like Albert Bierstadt, Charles Marion Russel, Frederic Remington, and Thomas Moran.
Plus, it's one of the free places to visit in Denver where you can take time to read a book or two.
Denver Art Museum Free Days
The Denver Museum of Art (100 W 14th Ave Pkwy) has a world-renowned collection of indigenous art, traditional art, and contemporary art.
The museum showcases artwork by contemporary artists such as Jeffrey Gibson and Kent Monkman.
A variety of educational programs are also offered to help visitors learn more about art.
Free admissions to the museum are available.
Ski Factory Tours
Another fun thing to do in Denver for free is to go behind the scenes of its ski manufacturing industry.
Meier Skis (1775 S Broadway) offers two free tour options perfect for anyone interested in finding out more about the ski-making process.
And while learning about how skis are made, you may enjoy drinking a complimentary locally brewed beer.
Visit the Colorado Music Hall of Fame
The Colorado Music Hall of Fame (17900 Trading Post Rd) is one of the free tourist attractions in Denver, Colorado.
This is where you can learn more about Colorado's musical heritage.
The museum showcases the talented artists and institutions that have shaped Colorado's music scene, like Diane Reeves, John Denver, and Judy Collins.
Note that this is a self-guided tour, so spend at least an hour looking at all of the exhibits.
Cheap Things to Do in Denver
This list features cheap activities in Denver that you can enjoy.
You can click the link to book your tickets.
Go on a Haunted Walking Ghost Tour
Denver is full of awesome attractions and tours, but this haunted walking ghost tour must be one of the most exciting!
This tour takes you to Denver's oldest neighborhood — Capitol Hill.
Here, you can learn about the city's dark history, visit haunted sites, and learn about the unsinkable Molly Brown's ghost.
While this tour may not be for the faint-hearted, it is undoubtedly thrilling and unique.
It's a great way to learn about Denver's history, and you get to hear chilling stories about the city's past and its previous residents.
You can choose between a 1-hour tour or an extended tour at a reasonable price.
Learn About Denver's History & Architecture
You can learn more about Denver's history and architecture from a local guide on this walking tour.
There are five options to choose from in this tour, including tours of Capitol Hill, Lower Downtown, 16th Street, Quality Hill, and Larimer Square.
You'll also get the chance to see some of the oldest structures in the city, like the two-story brick buildings at 1526 Blake Street, Lower Downtown.
Note that tour options differ depending on the day you're heading to Denver, as some of the tours are only available on certain days.
Free Events in Denver
Here are some of the top free events in Denver that you won't want to miss.
Explore The Clyfford Still Museum On Free Days
The Clyfford Still Museum (1250 Bannock St) is where you can spend free museum days in Denver and admire groundbreaking exhibits for all ages.
The museum was named after Clyfford Still, one of the most influential artists in the 20th century.
He was an American painter known for his abstract expressionism art pieces.
At this museum, you can find over 3,100 pieces of his artwork, as well as photo albums, sketchbooks, and personal effects.
Five Points Jazz Festival
Five Points Jazz Festival (2762 Welton St.) is an excellent opportunity to experience the best of Denver's jazz scene and learn about the city's rich musical history.
This free festival takes place annually and celebrates the history of Denver's Five Points neighborhood.
Five Points was once regarded as the "Harlem of the West," as it was home to multiple jazz clubs that hosted legends such as Miles Davis and Thelonious Monk.
This free event has outdoor and indoor stages featuring performances from talented local jazz musicians.
Denver also features in our guide to the best places to visit in the US in May for its Five Points Jazz Festival.
Visit Cherry Creek Arts Festival
Visiting the Cherry Creek Arts Festival is an inexpensive thing to do in Denver if you want a fun day out or an opportunity to indulge in art.
This festival attracts over 350,000 people each year.
This is where you can listen to performing artists, see original art pieces, and participate in immersive art experiences.
Attend The Colorado Dragon Boat Festival
The Colorado Dragon Boat Festival is a two-day event that celebrates Asian heritage and features tons of exciting activities.
Attending the festival is one of the fun free activities in Denver, Colorado where you'll get to know more about the rich Asian culture.
The highlight of the festival is the dragon boat competition, which sees more than 50 teams of boaters race across Sloan Lake in intricately designed boats.
There are also traditional lion dances, martial arts demonstrations, and a range of stalls selling Asian food and crafts.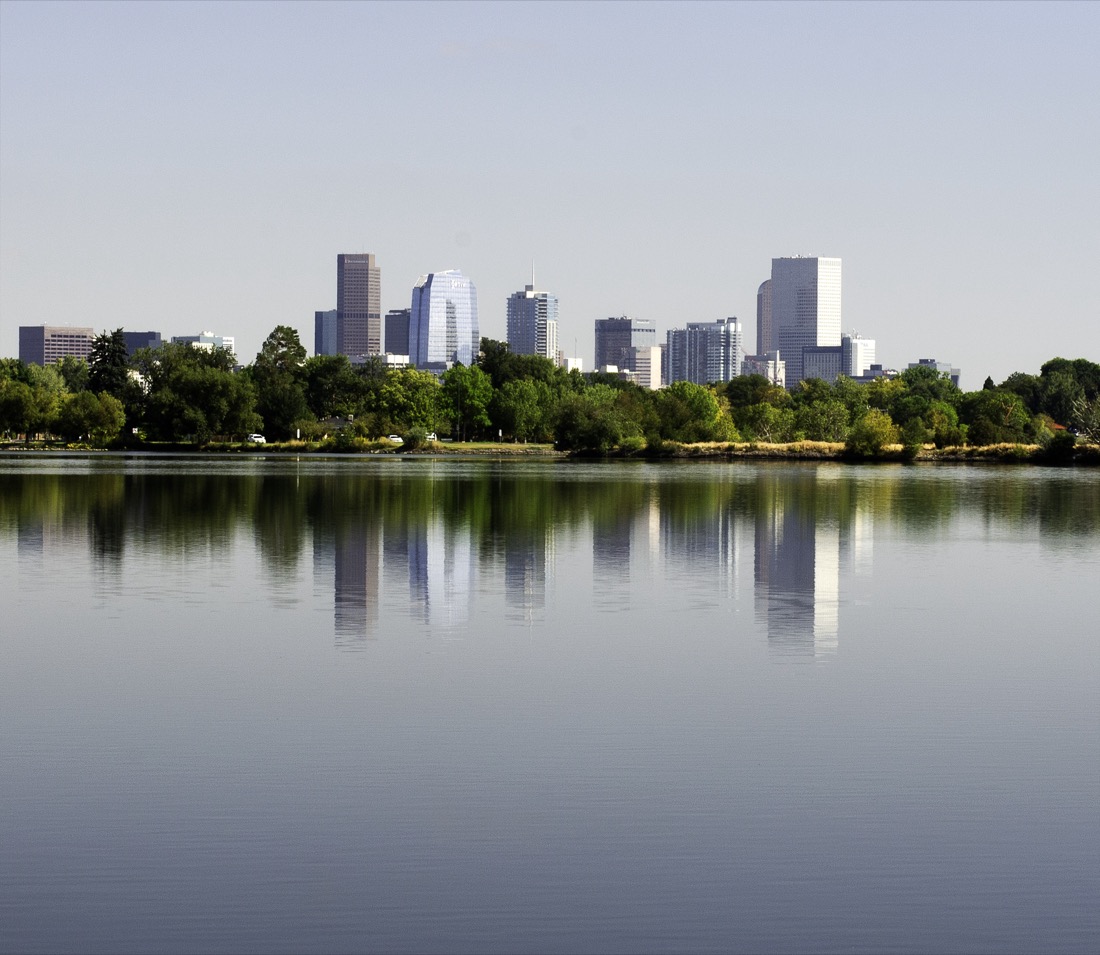 Free Things to do in Denver in Winter
Check out some of the best activities in Denver, Colorado during the winter season.
Go Ice Skating
When you visit during winter, one of the free things to do in Denver, Colorado, is to enjoy ice skating on the rinks within the city center.
The city's outdoor ice rink is open between November and February and is located along the iconic 16th Street.
There is also an outdoor rink located at Denver International Airport.
If you have your own skates, feel free to bring them along.
Snowboard at Ruby Hill Rail Yard
Snowboarding at Ruby Hill Rail Yard (1200 W Florida Ave) is another great free activity in Denver.
Although the park is only open for a short time during winter, this is one of the city's most popular attractions to try out skiing and snowboarding.
It opens during the middle of February and operates until March- if the weather is suitable enough.
Ruby Hill Rail Yard also boasts several rails and boxes for all skill levels.
The rental equipment is sometimes free too, but you have to head there at a specific time.
Enjoy Denver's St. Patrick's Day Parade
If you're looking for free family activities in Denver, then don't miss Denver's St. Patrick's Day Parade.
You can watch floats and marching bands make their way down the parade route, decked out in green from head to toe.
The best location to see the parade entries' full performances, like dancing and full music sets, is on Blake Street, south of 20th Avenue.
It can get pretty crowded, so people will start arriving as early as 6 a.m. to secure a spot.
Affordable Accommodations in Denver
Denver is a pretty large city, so there are several accommodations that can fit almost any travel budget.
The La Quinta by Wyndham Denver Gateway Park (4460 Peoria St) is an excellent budget hotel that includes a complimentary breakfast.
Another place you can check out is the 11th Avenue Hostel (1112 N Broadway) which has reasonably-priced private and shared guest rooms available.
If you're thinking of a more apartment-style rental, the Charming Denver Apt,4 Mi to Empower Field! is a good option that's close to multiple attractions in the city like the Colorado History Museum (1200 N Broadway).
How to Get Around In Denver
There are plenty of options for getting around the city, whether you're looking to walk, bike, take public transportation, or use a ride-sharing service.
Denver has an extensive bus system with over 100 different routes if you're looking to take public transportation.
You can also take the light rail, which has six different lines that can quickly get you to major spots in the city like the Theater District and 16th Street Mall- without the traffic.
Taxis, Lyft, and Uber are ideal for leisurely exploring or if you want to personalize your ride.
Taxis in Denver set fares per mile, while fares for Uber and Lyft may change depending on your demands.
But if you want to save money, ride a bike or walk around.
The city is connected by hundreds of walk paths and bike lanes that make it easy to get around without a car.
About the Author
Emily Collins teaches yoga and meditation classes and is an avid retreat enthusiast. She has lived in Colorado Springs, Colorado, for the vast majority of her life and routinely visits Denver and other major cities in the United States for wellness retreats.
Emily Collins, Retreat Pundi