This article has links to products and services we love, which we may make commission from.
Estelí is a small town found in the north of Nicaragua. It's similar to Santa Marta in Colombia in the sense that it is used as a springboard for the discovery of other places including Somoto Canyon National Monument, which can be explored with as part of a tour, or how we roll: self-guided Somoto!
Estelí
There isn't much to Estelí, similar to León (although different because there is lots to do in León – check out our post on things to do in León), it's just a real-life town. people go to work, hang out in the central square using the free WiFi (!), and the church bell tells you when to wake up (or an air raid siren in Estelí's case!) Do expect to see men in cowboy hats and boots, very cool!
Rico Restaurants in Estelí
There are a few over-priced gringo restaurants in Estelí. We spent a couple of afternoons in Luz y Luna Cafe, using the Wi-Fi. For dinner, we mostly opted for Nicaraguan fare (meat, rice, beans, tortilla, 80 cordobas / £2) or street food which was similar with the addition of papas, fried potatoes with meat and veg inside (same price). Churros filled with dulce de leche were awesome too!
Somoto Canyon National Monument
The main reason that travellers head to the north is to hike Somoto Canyon, and rightly so, it was beautiful. Large overpowering rocks with blue waters, your voice echoes, definitely a feeling of inferiority to nature is captured there!
Please excuse the quality – taken from action cam!
Here is the action:
Somoto Canyon Guided Tours
There are many guided tours around Somoto Canyon for varying abilities. The shorter four-hour tour takes you through the canyon withthe opportunity to swim and some companies even organise tubing but the tranquilo kind, no rapids!
The longer tour takes six hours and offers a variety of hiking, canyoning, swimming, jumping off rocks, and a boat trip.
The companies appear to provide waterproof bags – this is essential!
Self Guided Somoto Hike
After being ripped off in Ometepe, we opted to attempt a self-guided Somoto hike. It wasn't massively successful in the sense that we didn't see the whole canyon but we did hike, canyon, swim, and jump off some rocks so a good day out!
Self Guided Somoto Canyon Fail
After entering the park, do not continue down the path, take a right at the houses (down a garden path almost), an easy mistake to make! We hiked along a path then began climbing on rocks to avoid the water for as long as possible, this took over an hour. After one fall (me), one lost hat (Craig, he managed to retrieve it!) we couldn't escape the water any longer. Stupidly Craig had his mobile phone, so we had to do a few manoeuvres to ensure it didn't touch the water (thrown to me in the water, from Craig on a rock / bag on top of head whilst wading), this was a challenge.
After some swimming and watching a tour group do some jumps, we lunched and headed back which took under an hour.
»»» Like swimming? don't miss Nicaragua's answer to paradise
Estelí to Somoto Buses
There are frequent buses which run from Estelí to Somoto however there is no specific time. There is definitely a 07:30 express bus which most tourists use (75 cordobas / £1.88) each from the Cotran Norte bus station on the Pan – American Highway. The journey took 1.5 hours. From Somoto we took an overpriced taxi to Somoto Canyon (150 cordobas / £3.76) for about 15 minutes. The driver dropped us off at a tour company who tried to sell us a tour, we politely rejected and headed for the entrance. A ranger then tried to sell us more tours, again we rejected and set off on our way.
The way back was a bit of a disaster. After waiting twenty minutes in basking sun, we hailed a taxi for 15 cordobas / 38p, then our chicken bus broke down. Option one: hang out by the side of the road with the other 30+ passengers and hope not to die in the heat. Option 2: walk back to bus start ion and wait on next bus, probably around a forty minute walk. Thankfully we hailed a taxi and caught next bus (journey around 2.5 hours).
Where We Stayed
Warning! Excitement levels high! Hot water in the shower for the first time in six weeks, all thanks to Hostal Los Altos. This very European feeling, beautifully decorated hotel offers escapism in Nicaragua. The compact room had air con, a TV, and clothes storage.
A choice of breakfast was included and dished up in the outside dinning room, a lovely way to start the day.
The family run hotel staff are a delight and helped us with advice on bus times and availability of ATMs via email (there are ATMs in Estelí!)
Facebook: Hotel Los Altos, Estelí
Contact: +505 8858 1662
Cost: Approx. £54
---
Estelí is an easy town to spend a few nights in, using it as a gateway to nature's fincas and Somoto Canyon.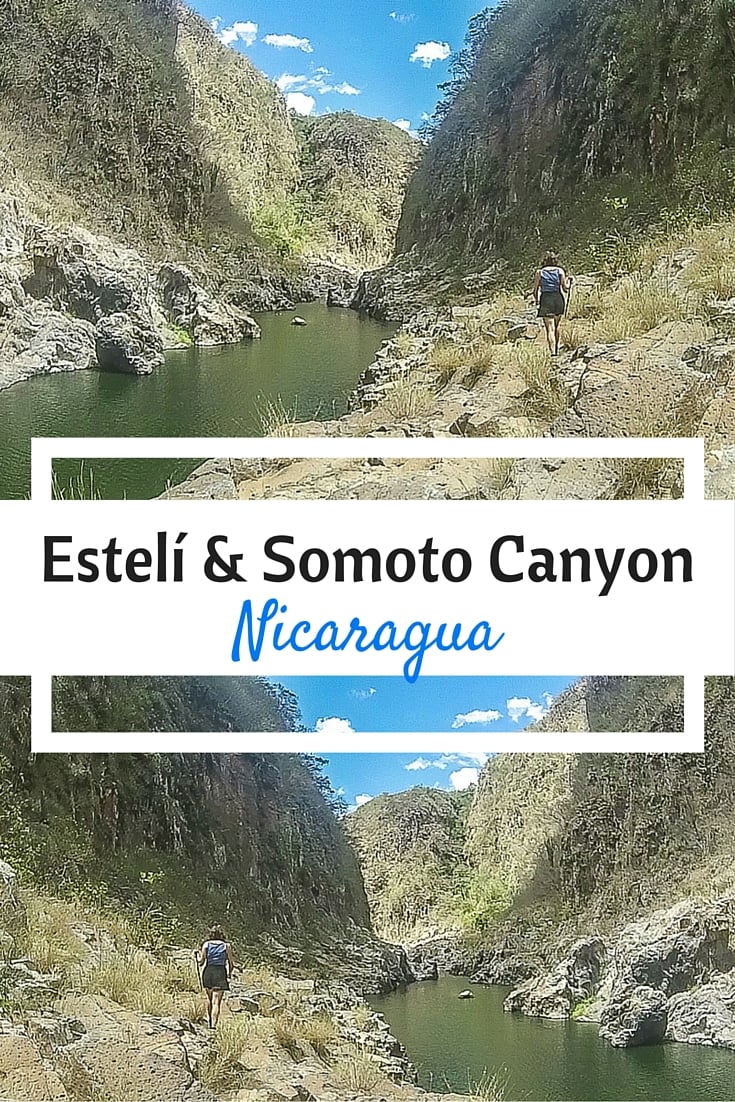 Have you been to Nicaragua's north?
Any questions?

Feature image by Tobias Eder via Flickr CC 2.0
Thank you to Hostal Los Altos for the two nights stay, an honest review as always