This article has links to products and services we love, which we may make commission from.
Cappadocia (Kapadokya) is a small region in Central Anatolia in Turkey. It is known for its dreamy landscape and unique 'fairy chimneys' – cone-shaped, towering formations.
Göreme and Uçhisa are the most popular towns to stay in as they have many of the best cave hotels in Cappadocia.
Watching the magical hot air balloons float above the terraces of the Cappadocia cave suites at sunrise is well worth setting your alarm for. Obviously, taking part in a morning ride is a must too.
Read on to discover the most popular accommodation in Cappadocia offering comfort, luxury and the most sought after terraces for capturing your Instagram-worthy balloon photos, of course.
Top tip » These boutique cave hotels sell out fast. When you fall in love with one book or be disappointed! Here is a list of the best hotels in Cappadocia.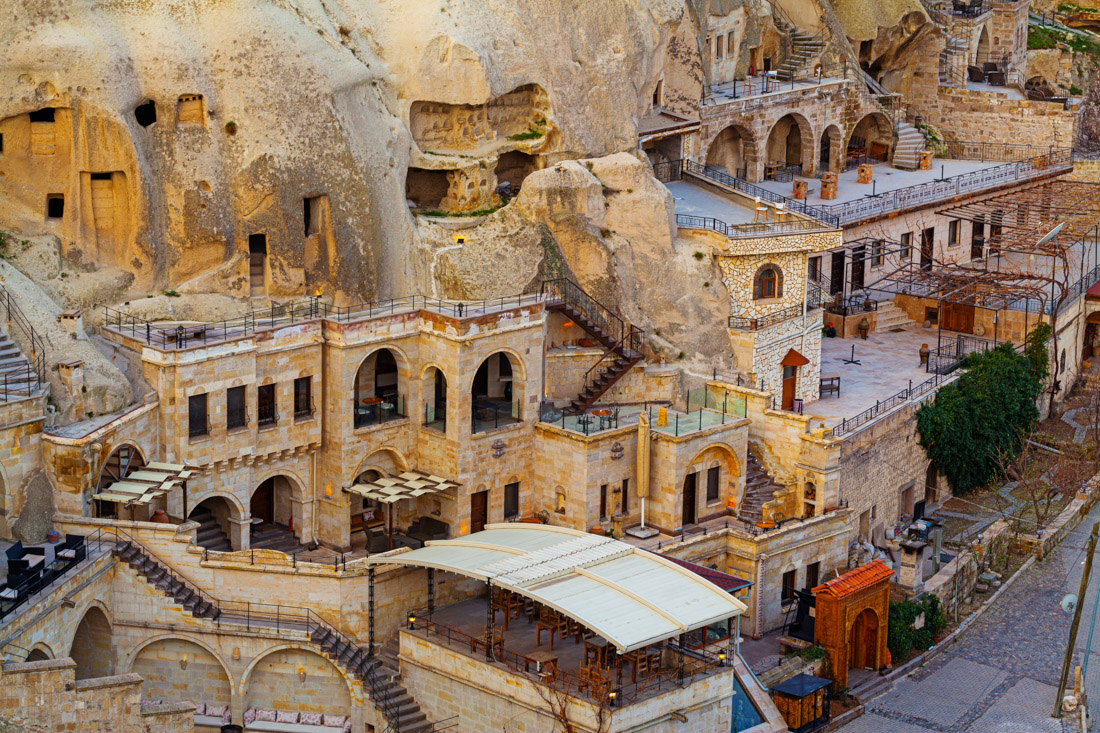 Where to Stay in Cappadocia
Göreme is where most visitors flock to but there are lesser-known areas that have equally as cool hotels such as Uçhisar.
Uçhisar is the tallest point in Cappadocia.
Although further out from the tourist heart of Cappadocia, Ayvalı is another popular area for luxury cave hotels. 
Ürgüp is less touristy area if you prefer to avoid the social media crowd. 
Many of the hotels offer a hot air balloon ride booking service so you can literally split your time between relaxing at the secluded hotel* and then on a hot air balloon if that is your style of travel. 
There are honestly hundreds of hotels in Cappadocia and the majority of them are built into the caves.
Don't believe me? Check out the full range here.
Remember, you are booking a cave room.
There may be some dust, the WiFi probably is not going to be great in the cave hotel room because of the walls and from our experience, the electricity charging takes longer than at home.
However, it really is a magical place.
Let's dive into this guide's selection of Cappadocia cave suites.
The article is sectioned by area for ease.
You can check availability or book any of the hotels by simply clicking the hotel name or 'book here' button. 
You may also like our guide, things to do in Cappadocia, which reveals the best activities and attractions in the area for couples and friends.
Uçhisar Cave Hotels 
Museum Hotel – Most Photography in
Uçhisar

$$$

The Museum Hotel is one of the first 'cave hotels' in our guide. A cave hotel has rooms carved into Cappadocia's stone but you can forget living like The Flintstones, The Museum Hotel, Cappadocia is luxury. 

The outdoor pool is one of the most photographed Cappadocia's hotel swimming pools on Instagram.

A nice touch is that it is open all year round and it is heated so you can take even a dip when the snow is falling in winter.

We went to Cappadocia in April and believe me, come afternoon, a swim will be welcomed to get out of the hot Turkish heat. 

Essential to the Cappadocia experience is a terrace and The Museum Hotel's patio offers panoramic views of the valley to get the best balloon pictures, at a price of course.

This is one of the most expensive hotels in Cappadocia but 90% of guests are happy with their experience. 

The stone or cave unit rooms are fully equipped with air conditioning, TVs, minibar, kettle, safety deposit box, and free wifi.

The ensuite also includes a spa bath for ultimate relaxation.

The Museum Hotel provides a daily buffet breakfast with fruit and vegetables grown from their own eco-garden.

Lil'a Restaurant on site serves classic Turkish dishes such as köfte (a form of meatloaf).

The hotel also offers cooking lessons for people interested in learning how to make tasty Turkish cuisine.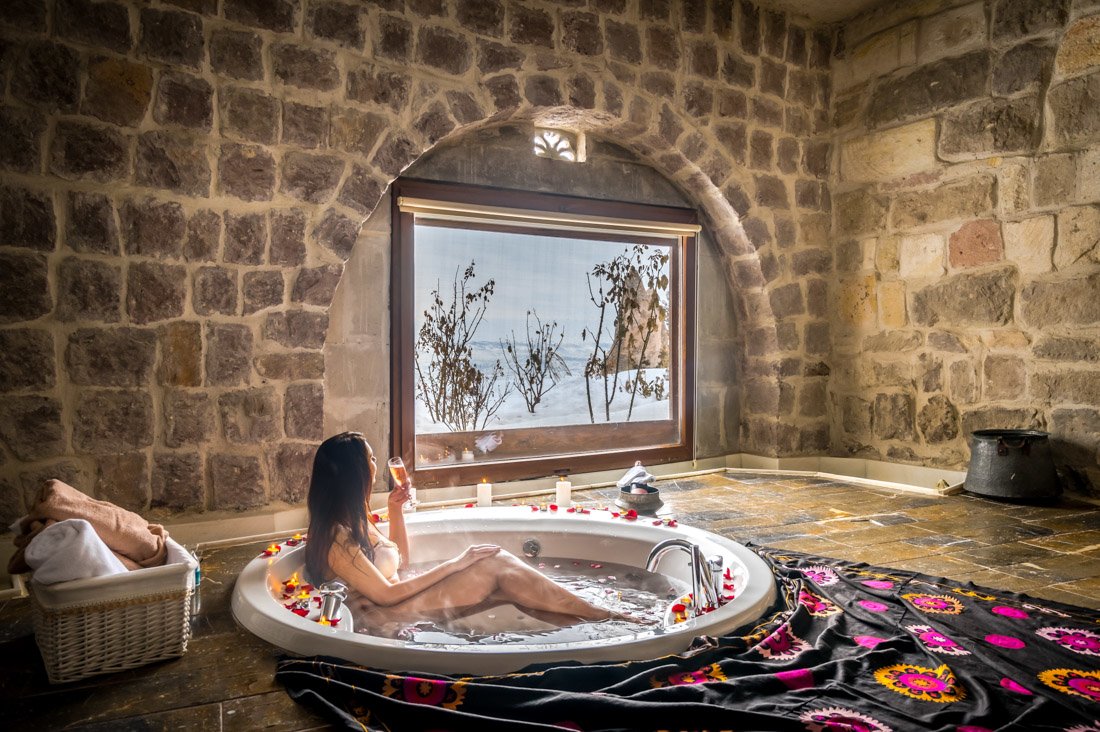 Free parking is available and the hotel offers an airport shuttle too.

Pros: Guests state it is very clean and comfortable with great coffee!

Cons: Children are not permitted at the hotel.

Best for couples and solo travel lovers.

Museum Hotel Address: Tekeli Mah. No:1, 50240 Uchisar.
Traveling together?
You'll need a tripod.
Check out the reliable Manfrotto range US / UK.
It can withstand wind, has levels to ensure that your images are straight, it has never let us down.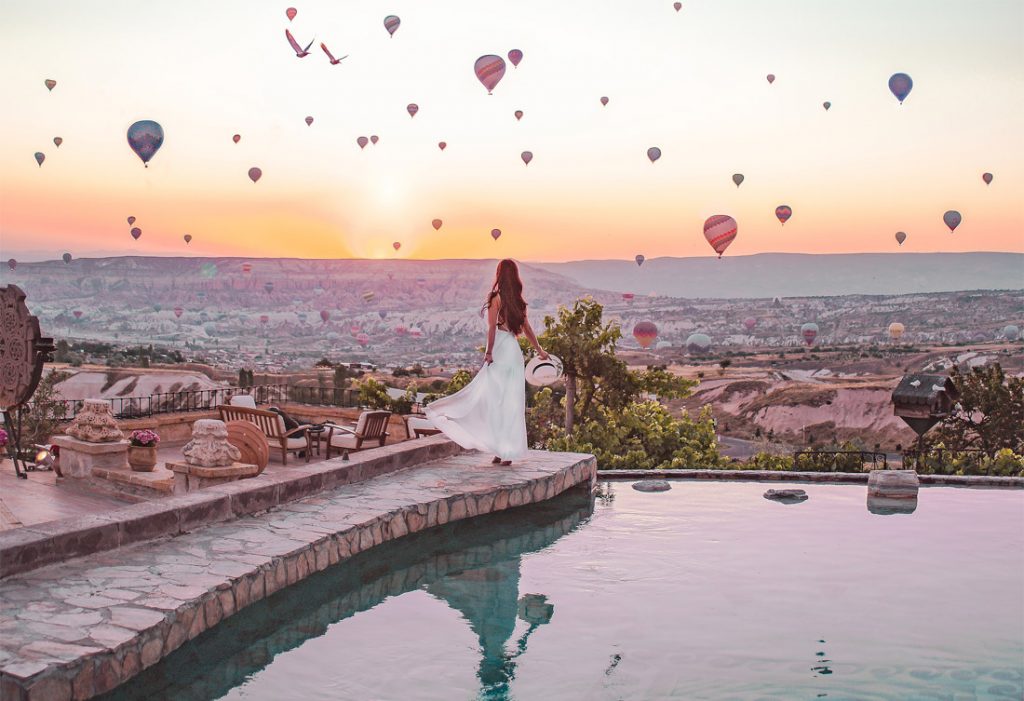 Argos in Cappadocia, Award-Winning Hotel $$
The Argos is a former monastery with several natural stone buildings, only a few minutes walk from the heart of Uchisar. 
Although a hotel with historic importance, the decor is very modern.
The rooms are spacious, designed well and have an open fireplace.
Some of the rooms are accessed by an underground tunnel and have vaulted ceilings for a real historic feel. Each room has its own private bathroom.
Some of the rooms offer a scenic view of Pigeon Valley.
What's more romantic than dinking outside with Güvercinlik Vallet and Erciyes Mountain as the backdrop?
This is possible at The Argos.
Incredibly, the hotel has its own vineyard and the wine is stored in an underground cellar.
The hotel offers airport shuttle services for an additional fee. Guests can arrange hot air balloon rides, as well as quad and horse riding tours with the hotel.
Pros: Very central location with amazing views.

Cons: Reports of breakfast being quite basic.

Best for couples and families.

Argos In Cappadocia Address: Kayabasi Sokak, 50240 Uchisar.
Taskonaklar Hotel – Top Pick for Uchisar $$
The stunning renovated buildings of Taskonarklar Hotel are situated in one of the most scenic valleys of Cappadocia, Pigeon Valley.
This is the perfect honeymoon hotel as the Royal Suites have their own private jacuzzi hot tub and terraces. Yes, private terraces.
It isn't just a hotel, it is a hotel complex. 
The deluxe suites also have their own terraces as do some of the cave hotel rooms.
Every room as the expected modern amenities, kettle, TV, deposit box safe, towels and linen. 
The hotel has a restaurant and a bar with free wifi available.
The hotel can help you with guided tours to the famous fairy chimneys, trekking, horseback riding and taking a hot air balloon ride.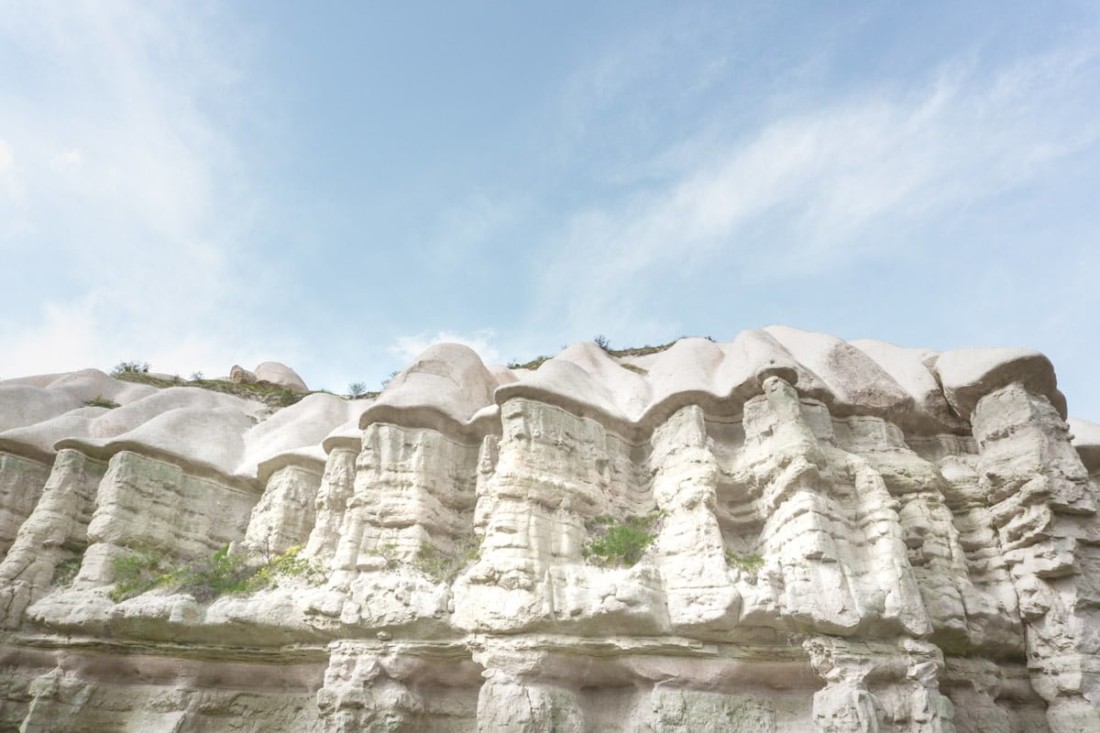 Pros: Great breakfast and fantastic views.
Cons: WiFi isn't always reliable.
Best for couples and families.
Taskonaklar Hotel Address: Gedik Sokak No:8 Nevsehir, 50240 Uchisar.
Göreme Cave Hotels
Koza Cave Hotel – Exactly How it Looks in Photos $$
Koza Cave Hotel is a very highly rated cave hotel in Cappadocia for its terrace views over Pigeon Valley.
Guests love that you can watch the hot air balloons float by the patio at sunrise.
Hotel amenities include breakfast, an à la carte restaurant, Wi-Fi, hot showers, and tour bookings.
Guests say the staff couldn't do more for them.
Pros: Views, staff, clean, breakfast.
Cons: A little pricier than other cave hotels in Cappadocia.
Best for: Couples.
Koza Cave Hotel address: Aydinli Mahallesi Cakmakli Sokak No:49, Goreme 50180.
Mirtha Cave Hotel – Top Pick in
Göreme

$$$

You won't be surprised to hear that Mirtha Cave Hotel is one of the most photographed cave hotels on Instagram and thus, one of the most popular cave hotels in Cappadocia!

Terrace with cushions?

Check!

Cute dog?

Check!

Breakfast of kings?

Check.

Mirtha Cave Hotel ticks off all the Cappadocia bucket list items but visitor reviews say it is more than just a pretty picture set up. 

The staff are friendly and speak great English, the breakfast is extensive and delicious and the rooms are clean.

The location in Göreme is also ideal for food, things to do and tours. 

Like most of the cave suites in Göreme and beyond, rooms are decorated in traditional items.

They include a TV, safety deposit boxes, kettle and complimentary toiletries.

There is free wifi on site. 
Pros: Location, staff, clean, views.
Cons: WiFi inconsistent, staff can be pushy with tours sales.
Best for: Couples, families.
Mirtha Cave Hotel address: Aydınlı Mahallesi Akgül Sokak No:10 Göreme, 50180.
Sultan Cave Suites – Ultimate Instagram Pictures $$
This is the Cappadocia cave hotel with the terrace with the 'table of fruit', cushions and dogs.
The one you see in the Insta-couples pictures! 
Sultan Cave Suites is really popular with couples posing for Instagram and even more popular with groups of girlfriends in flowing dresses.
So much so, staff have to police the area during sunrise to make sure that only guests are using the terrace for their photoshoots. 
I'm going to let you into a secret.
That breakfast table is just a setup!
Do you think this is clever or cringe?
Guests line up to sit at the table with fruit and antique kettle while the hot air balloons magically float up in the background.
Remember the hot air balloon rides take off at sunrise so it is unlikely you want to eat your breakfast at this time anyway. 
During the day the terrace is pretty empty, a really nice spot to enjoy the sun and a glass of tea, beer or wine. There is a rooftop bar where you can put your order on a tab. 
The rooms are spacious and cool, the breakfast buffet is incredible and the staff are friendly. 
There is an in-house restaurant serving traditional Turkish food but there are many restaurants nearby in Göreme.
The hotel can arrange local excursions such as hiking and hot air balloon flights. Free WiFi is available, albeit a little slow.
A free shuttle bus awaits from the bus station and the hotel can arrange airport transfers for a small fee.
Pros: Very clean and comfortable hotel.

Cons: WiFi is slow. Type of clientele might not be for everyone.

Best for couples.

Sultan Cave Suites Address: Aydinli Mah. Aydinli Sok. No:40, 50180

Göreme

.
Cappadocia Inn Cave Hotel – Value for Money $$
Cappadocia Inn Cave Hotel is located in Göreme National Park. Love Valley and Zemi Valley are within walking distance.  
The hotel's terrace offers panoramic views of the local area's stunning landscapes.
The hotel also has a large garden to relax in.
The hotel has stone or cave rooms with air conditioning, minibar and a kettle. You will find a spa bath in some of the rooms for a little extra luxury.
Free wifi is also available.
Enjoy your open buffet breakfast (included in the price) on the terrace watching the hot air balloons fly over the valleys.
Although please consider that the balloons fly at sunrise so you might not actually want to dine at that time.
A novel romantic idea but in reality, not for everyone! The hotel can also arrange hot air balloon rides for you, hassle-free. 
Pros: Friendly staff and great location with free parking.

Cons: Guests report spa facilities not always working.

Best for couples and small families.

Cappadocia Inn Cave Hotel Address: Orta Mah. Ayvaz Efendi Sok. No:16, 50180 Göreme.
Kelebek Special Cave Hotel – Unforgettable Views $$
Kelebek Special Cave Hotel is situated in the heart of the historic village of Göreme.
The hotel offers a traditional Turkish bath and a much appreciated outdoor swimming pool.
The suites inside feature a fireplace and private balconies where you can appreciate the stunning views of Uchisar and Cavusin.
Each suite is decorated with traditional fabrics and furnishings and includes air conditioning and satellite TV. The suite bathrooms have marble features and include a bathtub.
There is an onsite restaurant serving local Cappadocia cuisine. Kelebek also has a sauna and spa with a professional masseur for massages.
Enjoy the terrace and pretty gardens with dreamy Fairy Chimney views. Breakfast is included.
The hotel offers free pick-up from Göreme Bus Station.
Pros: Free parking and ideal location for being central.
Cons: Slow wifi.
Best for couples.
Kelebek Special Cave Hotel Address: Aydinli Mah. Yavuz Sok. No:1 Goreme, 50180 Goreme.
Aydinli Cave Hotel – Booked Frequently $
Aydinli Cave Hotel, a family-run hotel in Cappadocia, offers picturesque views over Göreme as the hotel is situated on a hillside.
The traditional Turkish buffet breakfast on the rooftop terrace is popular with visitors.
Have you tried a Turkish breakfast yet? Expect multiple plates full of cheese, meats, cream and bread. 
The cave rooms are beautifully decorated with simple and natural features. Each room has a fireplace with a seating area to snuggle in.
There are baths in the renovated bathrooms for ultimate relaxation.
The owners of the hotel are happy to assist with any inquiries and can arrange day trips during your stay. This is one of the most booked cave hotels according to Booking. 
Pros: Free parking and exceptional breakfast.
Cons: Some guests would prefer a local shop close by.
Best for couples and families.
Aydinli Cave Hotel Address: Aydinli Mah. Aydinli Sok. No: 12, 50200 Göreme.
Elika Cave Suites – Multi-Award Winning Romantic Suites $$
A short taxi ride from Göreme is where you will find Elika Cave Suites with its swimming pool, and spa.
Guests enjoy the modern amenities featured in the historic cave suites such as the heated floor, HD TV and Nespresso machine.
Some rooms have private terraces and patios too.
Breakfast is served at the hotel's No:10 Restaurant, and guests are welcome to dine there for lunch and dinner too.
The bar has views over Cappadocia.
Pros: Modern rooms, staff, breakfast.

Cons: Some guests felt the pool water was cold.

Best for couples.

Ulus Meydani Kaledibi Sk. No:17 Ortahisar, Ortahisar, 50650.
Cave Hotels in Ayvalı
Gamirasu Hotel Cappadocia – Ultimate Luxury $$
Who likes the sound of a hot tub party in the Cappadocia caves?
The Gamirasu Hotel cave hotel not only has balconies overlooking its rose gardens in some of its suites it also has an onsite hot tub dimly lit by mood lighting for guests use only. 
The rooms are built into volcanic rock with vaulted ceilings.
Each room has a private bathroom with some having their own spa bath.
The hotel restaurant provides fresh meals using organic products.
The breakfast is served as a buffet with local jams, fruit, honey, and cream presented as part of a traditional Turkish breakfast.
There is also a seasonal outdoor pool which is at the base of the hotel, surrounded by the cave suites. A real perk.
Free parking is offered on-site.
Pros: Free parking and a lovely pool.

Cons: Some guests felt the distance was too far from attractions.

Best for couples and families.

Gamirasu Hotel Cappadocia Address: Ayvali Village City, 50400 Ayvalı.
MDC Cave Hotel Cappadocia – Ürgüp's Old Town $
Situated in Ürgüp's Old Town, MDC Cave Hotel has stupendous panoramic valley views.
Each room at the hotel has heated marble floors, arched ceilings and stone fireplaces for comfort.
The private bathrooms include bathrobes and slippers for further relaxation.
All rooms include wifi, a minibar, and a balcony.
Guests can enjoy a Cappadocian wine on the sun terrace or enjoy the hotel gardens filled with homegrown fruit plants.
The hotel has a restaurant serving local cuisine too.
The hotel is happy to help with arranging tours and trips for their guests.
Pros: Superb breakfast.

Cons: Some guests felt the location was a little far out.

Best for couples and families.

MDC Cave Hotel Cappadocia Address: Karagandere Mahallesi Mese Deresi Sokak No 27, 50400, Ürgüp.
Cappadocia Palace Hotel – Budget Cave Hotel
Cappadocia Palace Hotel is in central Ürgüp and Nikolos Monastery is within a ten-minute walk.
Göreme Tarihi Milli Park can be reached within a short drive.
The hotel is a renovated 19th-century Greek guesthouse.
The rooms are decorated with antiques.
Room service is available.
Rooms have views of central Ürgüp or the hotel's garden.
Some rooms are set in a traditional Cappadocian cave and have a spa bath.
The hotel offers a restaurant with freshly cooked Turkish cuisine.
A buffet breakfast can be enjoyed outdoors on the patio.
Ürgüp's historic sights are only a ten-minute walk away and staff are happy to arrange bicycle rental, hot air balloon rides or tickets for a local Turkish whirling dervish performance.
Pros: Friendly staff and lots to do in the local area.

Cons: Not quite an Insta-terrace cave hotel if that's your thing.

Best for couples and families.

Cappadocia Palace Hotel Address: Dutlu Camii Mah Dar Sokak No 3, 50300 Urgup.

Essential Cappadocia Travel Tips 
How to get to Cappadocia
Cappadocia is just over 730 km from Istanbul and 285 km from the capital city, Ankara.
The best way to get to Cappadocia is to fly into Istanbul then to take an internal flight to Nevşehir's very compact airport.
From there you can book a minibus taxi (your hotel in Cappadocia can arrange this for you) or, for total freedom, you can rent a car. I wish I had done the latter.
How Many Days in Cappadocia?
I would recommend no less than three days in Cappadocia.
One day to discover the museums, spas and a short hike then watch the sunset.
A day to take a hot air balloon ride (one of the best things I've done in my life!)
A final day to get up at sunrise and watch the balloons fill the sky.
Honestly, there are not many places I dream about returning to but Cappadocia is one of them.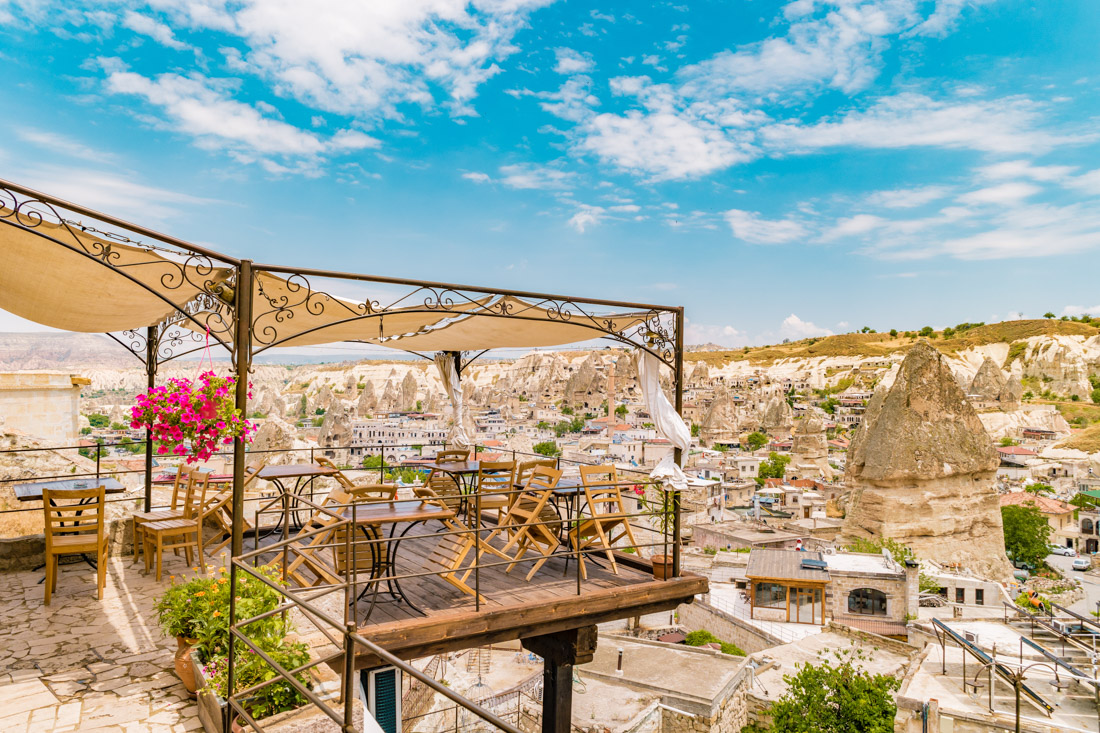 Final Words
This guide has shown you some of the best hotels in Göreme and more specifically the best 5-star hotels in Cappadocia too. We hope you enjoy all that Cappadocia hotels and Cappadocia accommodations have to offer.
Don't forget to check out our guide to things to do in Cappadocia to help plan your itinerary and you may also like our article on the most romantic places in Europe.
Going to Cappadocia? Pin to your Turkey board.
Any questions? Just ask below