This article has links to products and services we love, which we may make commission from.
Oh, Vienna. Home to opera, markets, cake and a functioning vintage fairground, Austria's capital should be on everyone's European bucket list. But where to stay? There are 23 districts and hundreds of studios, apartments, VRBOs and Airbnbs in this laidback city but not all are ideally located for visitors.
So let's take a look at the best apartments and Airbnbs in Vienna to help you book the right apartment for your trip whether that be an overnight stay for business, a weekend with friends or an extended break.
We'll look at the location, rental amenities, suitability and prices.
The Best Apartments, VRBOs & Airbnbs in Vienna
Vienna's City Centre Apartments
Ideal Location Modern Apartment
This bright central apartment sleeps four with one master bedroom and sofa beds in the lounge area.
Amenities include lift/elevator, WiFi, and a fully equipped kitchen.

The apartment is in a well looked after building, guests comment on this in their reviews.
Located in the city centre, you can reach many of Vienna's tourist attractions by foot.
Location: 1st District
Beds: 1 bedroom
Bright Studio – Heart of Vienna
These serviced apartments offer a comfortable home away from home in the centre of the city.
Guests love the high end furnishings.

Apartments are available for 2-4 guests.
Amenities include a kitchen, WiFi, TV and an elevator to the upper floor apartments.
Location: 1st District
Beds: 1 bedroom
Traditional Apartment With Contactless Facilities
With this city centre option, you can stay in a traditional style apartment with modern features.
Guests adore the decor and historic building.
There is no need to speak to reception, guests can check themselves into the property which is ideal for independent visitors.
Rooms are spacious and amenities include a fully equipped kitchen, a flat-screen cable TV, and a modern bathroom.
There is WiFi throughout the apartment.

You don't have to go far for Viennese food, the restaurant in the same building serves it!
Location: 1st District
Beds: 1-2 bedrooms
About The Area – Innere Stadt
Innere Stadt, The First District, is where first-time visitors who are interested in visiting the Wiener Staatsoper/State Opera House, Rathaus Vienna/City Hall and Hofburg Palace may want to consider staying.
Naturally, Airbnbs in Innere Stadt is more expensive than those in further away districts.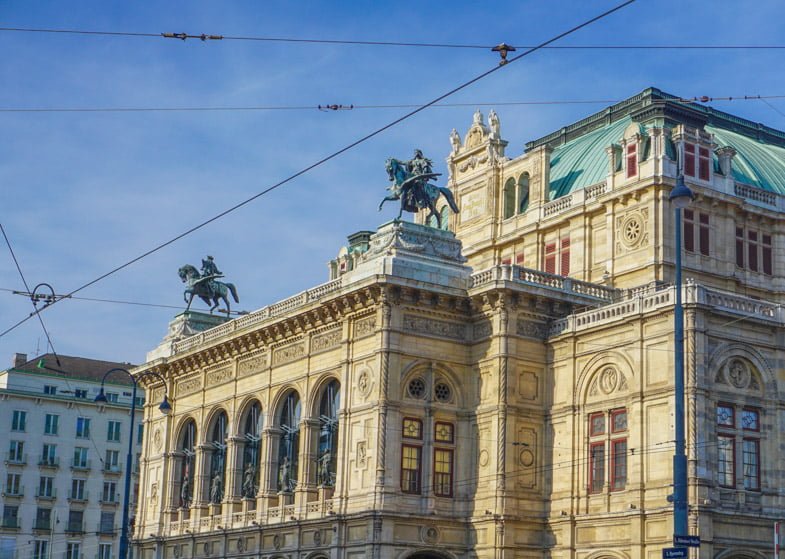 Affordable St Stephen's Cathedral Apartment
Guests can rent this entire apartment, beautifully designed loft-space.
The apartment lies in the middle of the old town of Vienna, just opposite St Stephen's Cathedral.
The main tourist attractions can all be accessed by foot.
The studio also has WiFi, air-conditioning, cable TV and a fully equipped kitchen.
An elevator is available.
Enjoy a drink on the 6th-floor ONYX bar at the Do & Co Hotel for views of St Stephen's Cathedral at night.
Location: Stephansplatz, City Center
Beds: 1 bedroom
About The Area – Stephansplatz
St Stephen's Cathedral is a 12th-century historically significant building with four towers and colourful tiles.
Stephansplatz is located in the city centre close to fashion shops, restaurants and the local coffeehouse, Café Hawelka.
Apartments in Hip Neubau, MQ and Naschmarkt
Trendy Loft With Contactless Check-In
This ultra modem new apartment has one bedroom with a double and a spacious living-room.
The main highlight of this place is the space, guests love the layout of this renovated loft.
In house facilities like WiFi, kitchen, fridge, dryer are available.
Ideally located within a short walk from the MuseumsQuartier (MQ) with bars and restaurants in the vicinity.
The iconic St Stephen's Cathedral can be accessed by a short five minutes metro ride or in 25 minutes by foot.
Location: Neubau Quarter
Beds: 1 bedroom
Quiet Apartment in Cool Naschmarkt With Roof Terrace
This 2-bed apartment comes with your own private sunny terrace or balcony.
The interiors are modern and stylish, there's WiFi throughout and cable TV.
The kitchen is fully equipped so you can shop at the Naschmarkt and dine in.
Conveniently located in the happening Naschmarkt district, close to the subway, theatre, bars and other attractions.
The biggest shopping district of Vienna is just ten minutes walk away and the Opera House and theatres also lie in the immediate vicinity.
Location: Naschmarkt-district
Beds: 2 bedrooms
About The Area – Neubau, MQ and Naschmarkt-district
Neubau is the hip 7th District, this is where the young at heart hang out.
MQ (7th) and Neubau are the best areas for cool bars and interesting eateries.
Don't miss a sunset drink at the 25Hours Hotel's rooftop bar.
6th District
Contactless Apartment in 6th
If you prefer to not meet anyone else during your city break, consider this self-check in apartment in the 6th District.
Check in is 24 hours which is ideal if you plan to arrive early or leave late.
Public transport, bus and U-Bahn can be found outside of the apartment block.
Apartments are very modern, the beds are comfortable and the kitchenettes are great for snacks.
There are multiple wall sockets, great for the modern visitor with lots of tech appliances that require charging.

Rooms are very soundproof, perfect for city life.
Free WiFi is available throughout the property.
The Mariahilfer Shopping Street is only 1,000 yards away.
Apartments in Donau City
Lovely Danube Views Studio
Enjoy peaceful views over the Old Upper Danube while sitting at the apartment terrace.

The one-bed studio apartment has glass windows that look right onto the river.

There's even a private dock.

The underground is a 10-15 minutes walk away and there are restaurants on your doorstep.
Location: Donau City/22nd District
Beds: 1 bedroom
Apartment With Pool And Free Parking
This one-bed furnished studio apartment offers access to an outdoors swimming pool and free parking.

The apartment has one bedroom, a flat-screen TV, a kitchen with a dishwasher and a microwave, a washing machine, and a bathroom with a shower.
Location: Donau City/22nd District
Beds: 1 bedroom
Penthouse Studio With Balcony In Modern Donau City
This high studio apartment with a balcony next to the Austria Center and DC tower is another ten minutes from the city centre and the metro station.
Situated on the 34th floor, the apartment provides a grand view of the city.
All essential amenities are there like a fully equipped kitchen, air-conditioning, elevator, WiFi, dryer etc.
There is one bedroom for hosting two guests at a time.
Location: Kaisermuhlen near Donau City/22nd District
Host: Ewald (photo credit)
Beds: 1 bedroom
About The Area – Donau City
Donau City or Vienna DC, is part of Vienna's 22nd District Donaustadt.
This is a super modern area of Vienna with shiny skyscrapers and modern apartments.
In summer, locals head to Copa Beach, a man-made beach by the River Danube.
Here, you can drink, dine, paddleboard, do yoga and sunbathe.
Final Words
If you are planning to visit this gorgeous city, the time to do so is now. So what are you waiting for? Book your Vienna Airbnb rental, contactless check-in apartment or VRBO now – after all, looking forward to a cosy home to return to after a long day of exploration is the key to a good vacation.