This article has links to products and services we love, which we may make commission from.
Kiev/Kyiv is the colourful capital city of Ukraine in Eastern Europe. Expect beautiful pastel buildings in Podil, dancing neon water fountains at night and couples holding bright flowers from the market. Kiev is a young city. Independence was only gained in 1991 and the people you see on the streets, shopping and performing live music, are young too. My (Gemma) what to do in Kiev guide includes the old city, what/where to eat and how to plan a day trip to Chernobyl.
Best Things to do in Kiev/Kyiv
Khreschatyk Street
Khreschatyk Street is a long street lined with shops, cafes and a handful of bars. 
The wide streets have 'over the road' crossings controlled by traffic lights and underpasses which are small shopping malls in themselves!
Grab a coffee at one of the many boxes or enjoy a slowly stewed cup of tea at The Journalist.
Independence Square in Kiev
At the top of Khreschatyk, you will find Maidan Nezalezhnosti, Independence Square. This is where many of the city's protests have taken place.
Independence Monument stands in the square, celebrating the country's independence in 1991.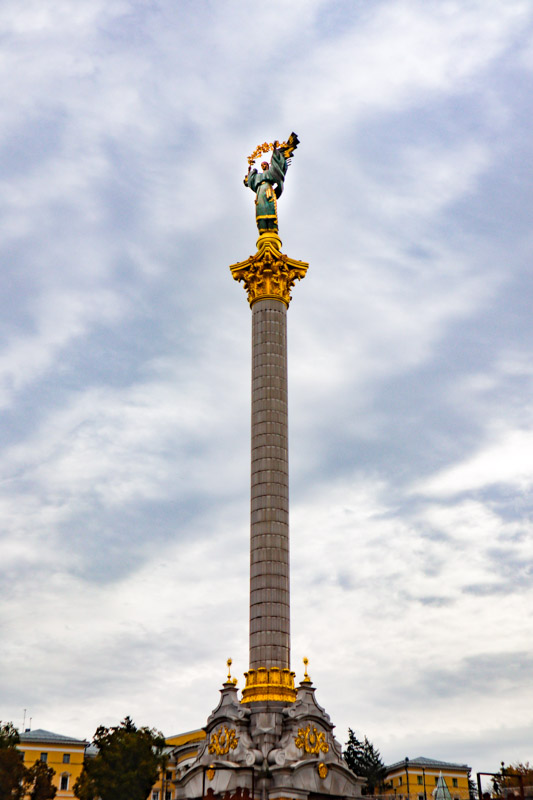 Kiev's Dancing Fountains 
It is worth visiting Independence Square area at night because the water fountains light up and dance to Queen. 
It's not uncommon to see young people dance to the music and couples smooch in the shadows. 
People's Friendship Arch, Mariinsky Park
Druzhby Narodiv Arch, People's Friendship Arch, can be reached by walking through Khreshchatyk Park.
The arch was erected to celebrate the unification of Russia and Ukraine. Underneath you will see monuments, one representing Ukrainian and Russian workers.
The Arch changes. During Eurovision it dawned the colours of the rainbow and more recently a crack appears at the top to represent the tension between the two countries, our walking guide surmises. 
https://www.instagram.com/p/BTjGb68Fll0/
Mariinsky Park
Observatory Deck 
By the Arch, there is a massive lookout and bridge where locals go to watch the sunset over the Left Bank.

As you can tell, we experienced one drizzly afternoon when I was out taking shots. The next day was brighter. 
Mariyinsky Palace 
You need to enjoy this Baroque palace from behind the gates as it is the official ceremonial residence of the President of Ukraine. 
Magic Snail Cafe Coffee 
Yup, you read that correctly.
Kiev's coffee culture is pretty big, so much so, you will find vendors all over the city.
At Mariinsky Park, you might even meet a barista cranking out coffee from his snail-shaped mobile cafe. 
The snail cafes have been controversial. It all came to a head when lines of mostly pink snails parked outside of City Hall in protest. 
Bridge of Love
Are you really a city if you don't have somewhere for lovers to chain padlocks to a bridge?
Lovers Bridge, with its Sherlock Holmes-style street lights and engravings on the ground, connects Khreshchatyk Park to City Park.
House With Chimeras
House With Chimeras (Horodecki House) is an intriguing building across from the Presidential Administration of Ukraine. 
The house was first lived in by the Polish architect, Wladyslaw Horodecki. He eventually ran out of money and it changed hands many times before becoming an official presidential building.
Look up at the animal figures all around the building.
Wladyslaw Horodecki Sculpture 
Have a cup of tea with the influential architect. 
Podil 
Pristine pastel-coloured buildings tower over hip coffee shops in Podil. 
Expect to see couples posing for Instagram with fresh market flowers in hand.
Andriyivskyy Descent
Is a striking part of Podil, pimped as  "Montmartre of Kiev". Clean streets, sweet-smelling flowers and cobblestones which connect Old Kiev and Podil. 
St Andrews Church sits at the top the steep hill. 
Park Landscape Alley
Go see a dubious Alice in Wonderland surrounded by whacky animals at Park Landscape Alley.

Golden Gate
Take a flyby view of The Golden Gate at Volodymyrska St, 40А. 
Kontraktova Square (Ploshcha)
Busy square with a Ferris wheel and Instagram posers.

Address: Kontraktova Square




Coffee Angel Wings
Touristy photo opp with the hashtags #coffee_angel
Address: Kontraktova Square



Ukrainian National

Chernobyl

Museum

Chernobyl Museum is a small museum with a packed audio guide.
Set aside an hour or so and rent one of the guides to get the most out of the four-room museum. 
As you go up the stairs you will see signs of the villages, towns and cities who were forced to evacuate during the power plant explosion in 1986.
If you do a day tour to Chernobyl you'll see these signs at a memorial in Chernobyl. See below for more details.

Address:

Provulok Khoryva, 1



World's Deepest Metro
Get down, deep down, at Arsenalna Metro coined the world's deepest station.
It's actually a tad disappointing because the route is divided between two escalators.
Note: It's quite hard to find the entrance to metro stations in Kiev. You have to squint for the M sign. 
Metro Station Hopping
Not something you'd do in every city but checking out the metro stations in Kiev is recommended because some of the decor is superb. 
Notable stations include Zoloti Vorota (grand), Kreschatyk (red) and Olimpiiska (cool motif). 
Churches in Kiev 
St Andrews Church 
Wow. St Andrews Church towers over Andriivs'kyi Descent. The deep green top of this Baroque building differs to other churches in the city's gold tops.
It is worth paying the entry fee for the views from the lookout.

Address:

Andriivs'kyi descent, 23
Art Walk, Kiev
Underneath St Andrews is you will find a series of stalls selling art and crafts. 
After Two Hares Characters Monument
Monument Pronya Prokopivna and Golokhvastov is a statue celebrating a Soviet comedy film. You can find it across from St Andrews Church.

Address: Desyatinnaya St., 14



St Michael's Golden Domed Monastery
Not a church, but well worth a visit. Named after the patron saint of Kiev, St Michael's is just as decorative on the inside as out. 
Address: Triokhsviatytelska St, 8



Kiev Funicular
Turn left from the main entrance of St Michael's to enter the funicular.
The vintage train goes downhill to the riverfront. 
St Nicholas Wondermaker on The Water Church
This is my favourite church in Kiev. St Nicholas stands proud in the Dnieper River. 
To access you have to walk across a bridge. Inside is compact but beautiful.
Address: Naberezhno-Khreschatytska vul. 8A



St Sophia Cathedral
Ukraine's first heritage site, St Sophia Cathedral has the main building, a bell tower which visitors can climb and House of Metropolitan.

Address:

Volodymyrska St, 24
Street Art in Kiev
Since 2014, Kiev has been collecting an array of street art murals on its end gables.
If you are taking an Uber from the airport to the city, keep your eyes peeled as you'll see really large and impressive work on housing at the side of the road.
In the city, there is a collection of murals close to each other near St Sophia Cathedral.
The Dreamer by Fintan
Magee 
Address: Strilets'ka St, 12

Lesya Ukrainka by Guido Van Helten
Address: Strilets'ka St, 28
Blue Birds, Shadoofs by Taras Arm
Address: Heorhiivskyi Lane. 9
Car Carousel by M-City
Address: Striletska Street, 20B
---
» See more of M-City and Fintan Magee's work in this Aberdeen street art mural guide

---
Graffiti Tunnel
Graffiti work, not murals, can be found at the underpass on the way to St Nicholas Wondermaker on The Water Church.
---
Day Trips from Kiev
Chernobyl Tours From Kiev
One of the main reasons for visiting Kiev is to take a day tour of Chernobyl.
Tours typically leave from around 07:30 and return 10-12 hours later.
It is a long day with four hours of it spent travelling to and from the Chernobyl Exclusion Zone but it really is worth the wait for those interested in soviet history, culture, abandoned places, architecture, nuclear activity or dark tourism. 
We did this one-day tour with lunch. We dined at the Chernobyl Power Plant. You can read my honest review here.

There are also two-day tours which allow you to stay in Chernobyl.

Alternatively, you can hire a personalised private tour for Kiev where you build the itinerary.
Chernobyl is not the only ghost town you spend time in during your tour, in fact, the Chernobyl Nuclear Power Plant was closer to the city of Pripyat and that is where you will see most of the abandoned places like the Ferris wheel.

---
» You may also like: 40 haunting images of Chernobyl
---
Kiev Tours
Free Walking Tour Kiev
There are a variety of free walking tours. We joined the evening 'Modern Kiev' tour with a very enthusiastic Ukranian called Alex.
The tour lasts 2.5 hours and takes you around the 'newer' side of the city, through Khreshchatyy Park to Friendship Arch. 
---
Best Places to Eat in Kiev 
The Last Barricade
Tucked away underneath the shopping mall by the dancing fountains is the popular restaurant, The Last Barricade. 
You can actually see it from above, trying to get there is a little trickier! 
Head to the elevator and choose OB level. The doors open to a swanky looking bar and this is where you quote the password Boritesya Poberte. 
We stole a 30-minute slot at a table and dined on sweet dumplings and borscht. You may want to book ahead, especially at the weekends. 
Chicken Kyiv 
I honestly thought that chicken Kiev in Kiev was a joke because in the UK, chicken Kiev is a TV dinner. 
Forget your preconceived ideas about the meal, in Kiev it is the main show!
Succulent chicken wrapped in a crust and served with mash and veg.
Note: Dill is everywhere in Kiev. If you don't like it, tell your server. 
Don't skip dessert. Kyiv Cake is a masterpiece. Break into the outer chocolate to reveal meringue goodness.

Address:

Khreschatyk St, 15/4
Ukrainian Coloured Dumplings at Spotykach
Yes. 
Spotykach is a super popular restaurant with tourists but don't be put off by that label because they do awesome cocktails and blue and yellow Ukrainian flag dumplings. 
I also enjoyed the Ukraine potato pancakes. 
Kanapa 
Kanapa is a nice restaurant serving quality food in the shadow of St Andrews Church.
We tried the fish and a glass of Ukranian wine.

Address:

Andriivs'kyi descent, 19



Lviv Croissants
Fresh, warm croissants with a variety of fillings. 
Address: L'vivs'ka Square, 14



Food on the Go 
Baked Piroshki is available in small shops dotted around the city. The bread snack is filled with a sweet or savoury filling. 
Kyiv Food Market
Ridiculously stylish and full of the local cool kids, Kiev Food Market is worth an evening meal. 
Especially if you and your travel partners can't decide what to dine on because the market plays host to a number of restaurants selling everything from pizza to puddings. 
I recommend the pad Thai.
Menus aren't in English but you'll find an English-speaking staff member behind each booth.
Madame Josy
Looking for something photogenic and sweet? Madame Josy small cakes are served in a very cool cafe.
Check out the pink bathrooms.

Address: Borysa Hrinchenka St, 4а
Breakfast in Kiev 
Liberty Diner, Kiev
We stumbled across this diner accidentally looking for HUM HUM, which we never found in the end.
A happy coincidence though because the Liberty portions are big and the staff are super friendly.
I had the oats which came with ice cream. My friend had a cooked breakfast.  
Address: Verkhnii Val St, 28
Blue Cup Cafe
Very chic and modern cafe serving sweet and savoury pancakes among other things.
Think white tiles and XX-style music and you are there.
I had the sweet pancake stack with a bitter jam, nice contrast. 
Address: Pushkinska St, 5
Kiev Bars 
PALATA №6/Палата №6
Don't mind the tourists in the straight jackets drinking shots while their head is one fire…
Cocktails come in test tubes at PALATA.
Kiev is renowned for its nightlife. We stumbled onto the next after PALTA and ended up in a shell of building with banging tunes. 
Location unknown, like every good night out should be! 
Address:

Bulvarno-Kudriavska St, 31А
Drunk Cherry
One street behind Khreschatyk, just under the arch, you'll find Drunk Cherry which does what it says on the tin!
Cherry liqueur is brewed on the premises. Maybe stay away from the Hard Cherry during your first visit. 
The bar may seem really busy at first but there's a small room at the back which has tables and chairs.
Best Places to Stay in Kiev 
Apartments
Self-contained apartments in Kyiv are affordable. You can rent a private room for an average price of £75 but there are rooms for as low as £25. Entire apartments average at £120 but go as low as £20.
Hotels
Kiev Hostels
Hostels are great for those on a budget or looking to meet fellow visitors. 
---
Practical Information 
Is Kiev safe?
Yes, Kiev is safe. We walked around at night with no qualms. Uber taxi is super cheap if you prefer not to walk in the cities at night.
At no point did I feel protective of my belongings in relation to pickpockets in crowds. 
Currency in Kiev
Kiev uses the Ukrainian Hryvni (UAH) currency which comes in notes and coins. You can find today's rates here. 
It is not easy to buy UAH outsides of Ukraine. We just used the ATM at the airport when we touched down. A first for me! 
WiFi and 4G in Kiev
The roam everywhere tariffs don't cover Ukraine annoyingly.
You can pick up a very cheap SIM card when you arrive or hook on to free WiFi where you can. 
We went with the latter and managed to navigate for three days. Finding our Airbnb apartment was a bit of task initially.  
---
Planning a trip to Kiev? 
Pin to your board
---
Final Words
There are so many things to see in Kiev on the street, underground and up above. From cathedrals that pierce the skyline to buried restaurants that hold secrets, it is easy to spend three days in Ukraine's capital with a day trip to Chernobyl to remember and learn about the world's worst nuclear disaster.