This article has links to products and services we love, which we may make commission from.
I'm broken! My throat is hoarse and my stomach muscles ache from laughing so much because we've just had
one of the best extended weekends of our lives.
Ooft! A bold statement, Gemma! True but I say with confidence that if you sign up for a tour with West Trek Tours in Vancouver you'll be saying the same thing. Craig and I have trekked, ceilidh danced, sang, eaten and partied with 52 other travellers from approximately twelve different countries through West Trek's Summer Explorer Rockies Tour.
The next four articles are going to make you green with envy as we tell you about our time with the West Trek Wolf Pack in Valemount, Jasper, Banff, and of course, The Rockies' famous lakes.
Bus Bonding
It quickly became apparent that this tour was more than just a bus full of international tourists hoping to spot a bear and take some snaps of Lake Louise. Within the first couple of hours our guide, Lee aka Papa Wolf, had us singing along to Bon Jovi, playing bus Olympics and Pass the Hug!

As we made our way through British Columbia, in the safe hands of our driver, Sexy Vincent, Papa Wolf shared funny stories and facts about the towns we were passing. Did you know that Abbotsford is the world's highest producer of raspberries, is the town with the most churches (four) in Canada, has the greatest rates of teenage pregnancy and, wait for it, is the drive-by shooting capital of Canadaland (although it has now shed its title of murder capital of Canada)?! Lee's eleven years of tour guiding has allowed him to build up an outstanding bank of anecdotes and stories. All of which are delivered with accents, energy and leave you sitting on the edge of your seat wanting to know how the story ends. There is also a word you are forbidden from saying and if you do, you have to commit to ten-star jumps…
Wolfing Around
Lee wasn't alone. We had the privilege of meeting the new kid on the West Trek block, Francesca aka Mamacita Wolf! Ok, enough of the wolf chat, what's that about? On a West Trek tour, there is no chance of being a passive group member, you are part of a wolf pack that howls together, get fat together and swims in lakes five degrees together.
Day one, Vancouver to Valemont, had two main focal points – to get to know each other and to get closer to Alberta. We made a couple of stops, one for coffee in Hope (see feature photo, this is where the first Rambo was filmed!) one for lunch and another to buy booze for the campfire that evening if you were that way inclined. No pressure if you don't partake in the consumption of alcohol, there were plenty of baby wolves who had the same amount of fun as we did, without a hangover the following morning. Watch out for the Japanese Justin Bieber on day three.
The tour is set up to be extremely inclusive. As well as the wolf pack philosophy, Papa Wolf creates celebratory responses, the noises you make when you see something cool but with 53 of us doing it in unison! Most notably the 'Japanese Girl' -ahAHHHahhh (raising your voice in the middle then returning to normal pitch at the end,) 'Korean Girl' – ohhhhHHHohhh, and for us Two Scots 'OH YA BEASTIE!' This breaks the ice to help travellers move out of their comfort zone.
---
» Don't miss our guide | Banff versus Jasper!
---
Fall-ing for the Rockies
We made one scenic (and sill photo) stop at Spahats Creek Falls where we started filming for our West Trek movie, which we watched together at the post-trip party.
Take heed (make a note) – book your onward travel a couple of days later so you don't miss out. You will have Wolf Withdrawals and will need to fill the void by attending the party!

Our final destination for day one, Valemont, is where we checked into our hotels, dined on a pasta buffet and had a few drinks around the campfire. We chatted with a group of Mexicans (seriously beautiful people) and felt smug that we could understand some of the Spanish! Obviously, on the whole, they spoke English and we were the inept ones. We also tracked down the only Colombian on the trip, Sebastian, and told him repeatedly how much we adored his country. And in true Colombian character, he shared that admiration for his country too!
Not sure if sharing a bus is for you? Check out this guide to small group travel.
We are refreshed and ready to take on 'one of the most scenic roads to drive' according to the National Geographic, the wolfpack is bus bound and on the move by 8am.
Sleepy Mount Robson
Our first stop of day two of West Trek's Summer Explorer Rockies Tour is Mount Robson. My first reaction is to ohhhOHHohhh (Korean Girl) at the burnt orange and red colours mixed in with purple from blueberries.
The 3000 metres Mount Robson is being shy, hiding behind the clouds. We are used to the Dita Von Teases of the earth (like our summer expedition with the Sunshine Coast whale.) The tallest mountain in the Rockies was just not up for showing off that tip. The wolfpack unites as a team again and starts the day with a group hug before moving on to our next stop – Jasper.
Rockies' Lakes, Just Jasper, Gorgeous Guests

Jasper is smaller than I expected. There are a handful of restaurants and cafes but because West Trek knows its client base doesn't have the pockets of the mature holidaymakers in the area, we are advised to buy lunch at the supermarket, which suits us. We grab a coffee at a very busy and touristy cafe too, Jasper has a population of 3 thousand and a tourist footfall of 3 million! The small town didn't blow me away; it's like a poor man's Pitlochry in Scotland (jokes, it's expensive to stay anywhere in the Rockies) but Jasper is obviously the gateway to some of nature's greatest offerings such as…
Athabasca Falls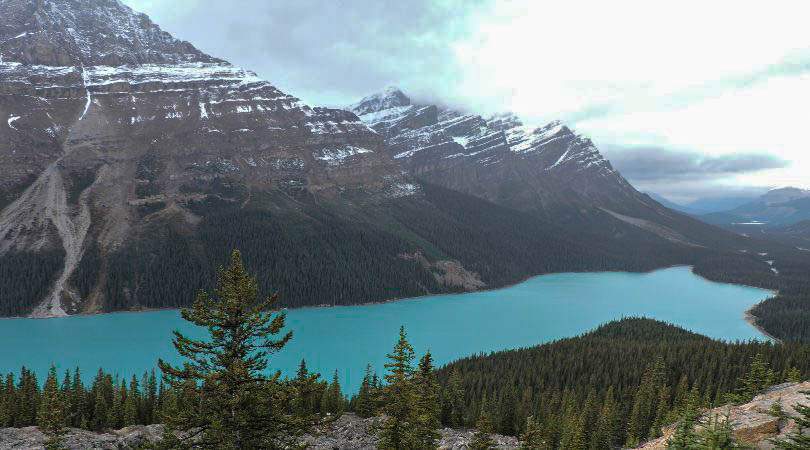 Day two really was the day to be in awe of that typical turquoise water we all came to Canada to see. This beauty is just jaw dropping. So what makes the Rockies' lakes so blue? In layman's terms, rock flour runs down the glacier after ice has thawed on the mountains. The silt particles that lie underneath the water give off that stunning turquoise colour but they need reflection from light to do so. The lakes don't look like this all year round, the best months to see the turquoise colours are in summer but don't rule out other seasons in the Rockies!
Polar Bear Swim – Bow Lake
It wouldn't be a trip to the lakes without a swim. Our past experiences of lake life in B.C have been pleasant; this experience was a thrill but let's just say, not toasty! The daredevils of the pack, stripped down to their swim stuff, held hands, ran and took a dive. Cue scrambling to get out of the five degrees glacier water! Refreshing.
Thanks to our companions who had our towels ready for us – team!
Columbia Icefields
Deemed the 'pyramids of Canada' by Brewster Attractions, the Columbia Icefields weren't even on my radar but Craig ticked off a bucket list item today. This additional activity ($58 / £29) allowed us to board an Ice Explorer and there are only 23 in the world!
This monster truck took us on to the Athabasca Glacier and dropped us off on the ice.
Although this glacier is as thick as the Eiffel Tower is tall, it may not exist in the next hundred years! Athabasca loses ten metres of ice every year so get there quick to taste nature's skin age defying ice-cold glacier water. And it was our biggest hit on Instagram! We even saw a group (and a dog) hiking on it and our Colombian friend, Sebastian, saw snow for the first time!
Banging Banff
Now that we were looking ten years younger, it was time to party in the Rockies most happening party town, Banff! We checked into our plush hotel, put on our party gear and had a pre-party meal to line the stomach. I brought along fluorescent face paints so we donned a few tribal stripes and hit the dance floor of Club Hoodoo.
We were the envy of the club with those bright stripes – sorry, for wolves only! Then it was a slice of pizza and drunken stumble back to the hotel, not before a game of Pass the Hug (from day one) on the street!
Day three of West Trek Tours, The Rockies Summer Explorer could be my favourite of the four, although it's hard to choose, all of them were fun!
Never Too Lake
Regardless of the rain we stopped of at Moraine Lake, Papa Wolf aka Lee the tour guide, orchestrated an umbrella dance. To be honest, we didn't notice the rain; it wasn't until we looked back at photos we realised that we had been in a downpour.
Lake Louise didn't get the "aaaAHHHahh" I thought it would. I did enjoy the hot chocolate at The Fairmont Chateaux though. Will go back there as a guest when I win the lottery.
Two Jack Lake has the colours just right. That yellow pops out against the blue of the lake and the grey / white mountain.Like it?
It was Emerald Lake that won my affection. Unfortunately, the canoe shop had a 'back in ten minutes' sign on the door but we found a stationary yellow (my favourite colour) number to take the mandatory Instagram photos on.
As Craig and I were playing about with the camera and canoe we heard an echo batter around the lake… "OH YA BEASTIE!"
We were being watched by the rest of the wolfpack, from across the water.
Banff National Park

Pay the additional charge of $42 / £22 for the Banff Gondolas ($96 for both the Gondolas and Columbia Icefield Ice Explorer). It's worth is for the views and the opportunities to simulate a scene from The Matrix.
Heading to the Rockies independently? Check out this article on hostels and hotels in Canada which includes Banff, Jasper, and Lake Louise.
Bieber Fever with West Trek Tours
Back to on the party bus, Lee belted out some party tunes and to the annoyance of everyone on the bus, Canada's finest, Justin Bieber! Boo, hiss, off, off, off! But then something magical happened. The Japanese Justin, (who had otherwise been silent) arose from his seat and gave us a hip-thrusting rendition – Baby, Baby, Oh!
Rustic Raving
Our last night was spent at a fortress in the forest! We managed to get some shuteye in the rustic cabins and man those beds were comfy, too comfy! The manager had to knock to get us moving on the Monday morning. Obviously the party the night before is partly to blame.
After some local wine tasting, we retired to the campfire to roast marshmallows and listen to Papa Wolf's tales of bear wrestling in the wild. What do you do when you meet a black bear? Serenade him.
Full of sugar and on our second wind, it was time for the international dance party. We can-canned, did some kind of sexy Latino couple dance (not with Craig, he was too busy dancing with the Japanese Justin Bieber) and of course, I used my bossy disposition to get the group ceilidh dancing from atop the kitchen island! I was proud of their attempt, they even managed to switch partners. A better performance than many Scottish weddings we've been too! The international dance party led on to a disco where we all fought over music, pleasing twelve nationalities is a hard feat. If you'd like to find out more about camping at Canada's national parks, check out this guide.
You may also like: hostels in Banff
Northern Lights Wildlife Wolf Centre
The last day was the toughest, purely because we are 30+ and can't handle a three-night party. Our emotions were tender; this was not helped by a visit to the Rockies answer to Bear Grills – Leo Downey and his buffalos as well as an educational stop at the Northern Lights Wildlife Wolf Centre.
There was not a dry eye in the house after Sheila passionately advised us about the wrongdoings of the Canadian government and how they are mistreating the country's wolves. You may have heard about this already, as Miley Cyrus has recently been vocal about the killing of wolves in Canada. We broke down when Sheila's wolves howled, a perfect end for us – the tight-knit Wolfpack now listening to the real deal, closing the perfect circle to one of the best weekends of our lives.
Top – Moab, bottom left -Scrappy Dave, bottom right – Maya (photo credit: Jenny Brnt)
The bus ride home was broken up with a stop at the supermarket, another for a dip in Lake Okanagan situated in the wine region, Kelowna and a final photo of the September 18th West Trek Wolfpack – wolves for the weekend, friends for life.
---
Thanks to West Trek Tours for making this trip possible. Our honest views as always. We LOVED it!
Website: West Trek Tours
Tour: The Rocky Mountains (Summer Explorer)
Contact: (604) 408-WEST (9378)
Cost: $448 / £226 (adult) / $399 / £171 (student) + room upgrade options and additional activities