This article has links to products and services we love, which we may make commission from.
First impressions of Nicaragua? The people are so friendly! That can also be said about the Filipino couple, Calvin and Molly, who run Hostal Monte Cristi, Managua (Nicaragua's capital)! This is our first stop in the Central American country and we quickly realised that we've made a great decision taking the dreaded red-eye flights from Orlando to Managua!
The Stress of Spirit Airlines
Spirit Airlines gets a bad rap; lost bags, delayed flights, hidden costs but in reality, their website is pretty transparent (and well designed) and they are cheap – so you pay for what you get. For $282 / £194 we flew from Orlando to Fort Lauderdale, Florida in a timely manner then Fort Lauderdale to Managua, Nicaragua. True to form this flight was delayed by two hours but the airline got us there in one piece and the steward staff were lovely. I really didn't agree with this though –
It's not even a boarding pass, how can they charge us for not bringing the bit of paper that tells us that it's not a boarding pass?!
Proof of Leaving Nicaragua
I'd read the frantic posts about Spirit Airlines (and other airlines) requesting onward transport out of Nicaragua. This ended up not being the case for us but I am way too much of a square to have risked it.
I found the following helpful information online and followed it. Pamela Rodriguez from Tica Bus replied quickly and we had tickets within a day.
Send an email to [email protected] with the scanned passports of the passengers, the desired route, time and date of travel
Once Pamela receives the email she will forward the information to the Credit Department. They will contact you with the Credit Card Authorization Form
Complete and sign the form and send it back to them via email.
The Credit Department will charge your credit card and send the tickets via email
The Credit Department functions Monday – Friday from 7:00am to 4:00pm….processing of credit cards will happen during that schedule.
IMPORTANT – TICKETS ARE NON REFUNDABLE!
I randomly selected March 1st and although we don't intend to take the Tica Bus on that date, we will use it at some point as we fly out of Costa Rica to Austin on March 13th. Pamela is going to change the date for us – excellent customer service.
Hostal Monte Cristi, Managua
We arrived at Augusto C. Sandino International Airport in Managua at 02:30, bleary-eyed and unaware of an entrance tax! The airport representative took $20 USD from me then $10 from Craig. We advised her that's all we had, and she shrugged and accepted it. Once I'd woken up I thought 'that was strange' so asked a fellow traveller. She only paid $10. I marched back and demanded change – absolute chancer!
Yamir, Molly and Calvin's uncle, collected us from the airport and drove the four-minute journey to the gated community where Hostal Monte Cristi is situated. Calvin greeted us, showed us where to get filtered water, and then to our rooms to get some sleep.
The ensuite room was clean, had two fans, towels, TV, wardrobe, and a comfy bed: just what we needed. We laughed at the welcome sign which said 'enjoy but sleep with one eye open' but were extra vigilant in locking up the MacBook and passports with the Pacsafe Bag Protector.
In the morning (OK, more like afternoon) we met Molly and Calvin in the outside social area, which has hammocks, tables, chairs, games, and a dog called Kiwi who likes to be stroked!
We had cereal for breakfast whilst Calvin shared his tips on Nicaragua and answered our questions about their life. Hostal Monte Cristi has been open for one year. The couple moved from the Philippines to be closer to Calvin's dad, who lives in Managua, which has given Calvin the chance to put his degree in marketing and Molly's degree in international business to good use! They are the friendliest of hotel owners, fitting in well with our initial impressions of Nicaragua.
Calvin then introduced us to the Nicaraguan chilled local beer, Toña, before we took a casual walk around the gated community, which has a shop, cafe, bakery (panadería) and randomly two hardware shops! Local kids giggled at us and the teenage boys!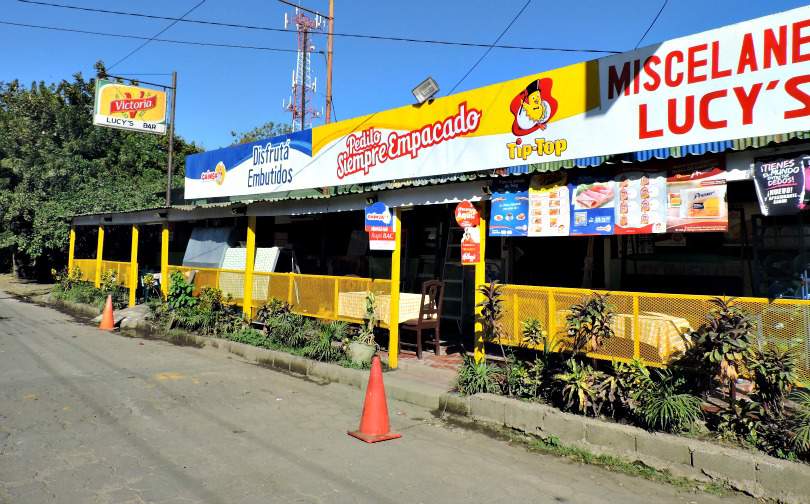 The afternoon was spent swinging on the hammocks before a dinner of pasta, which we prepared in the massive kitchen of Hostal Monte Cristi, no fighting over the pans in this hotel! Another bonus is that the hotel Wi-Fi is stronger than some of the places we've been to in North America, which meant I could catch up on some blogging.
Hostal Monte Cristi to UCA Bus Terminal
The trip into the UCA (pronounced OOCA) bus terminal took approximately 25 minutes and cost 130 córdobas /  £3.25.
Next Stop – Las Peñitas via Leon to spend two weeks staying/working at a beach lodge. A post on how to get the bus from Managua to Leon coming soon.
---
Website: Hostal Monte Cristi
Address: Caretera Norte, Managua 11057, Nicaragua
Contact: +505 8711 9069
Price: $33 USD / £22 / 926 córdobas
Notes: The complimentary airport shuttle runs from 05:00 – 23:00, there is a small charge for flights out with this time.
Was this useful? Pin to your Nicaragua Pinterest board
Essential Nicaragua Reading
Have you been to Nicaragua?
Thank you to Calvin and Molly for their hospitality, we were honoured to review their new hotel, an honest review as always.