This article has links to products and services we love, which we may make commission from.
Viñales is a tranquilo haven less than three hours from Cuba's capital, Havana. Don't get me wrong, Havana is a mecca for cocktail lovers and salsa dancing queens but after touring the streets of La Habana Vieja by day and joining in the fiesta at night, it may be time for some R&R among the lush green countryside of Cuba's tobacco fields and mogotes at Viñales Valley. There isn't an abundance of things to do in Viñales but that's the beauty if it so here's what not to miss during your Havana to Viñales day trip. We will also discuss how to take a day tour of Viñales from Havana and how to visit independently.

---
» You may also like: our first timer's guide to Cuba
---
Plan a
Viñales Day Trip From Havana 
Where is
Viñales?
Viñales National Park is a UNESCO Cultural Landscape of Humanity found in western Cuba. It is renowned for its colonial houses with large porches, limestone hills called mogotes and natural produce, tobacco and coffee. 
Tourists visit every day independently and as part of group tours. Some make a stopover if doing a multi-stop tour of the island, others just visit on a day tour.
How to Get to
Viñales from Havana 
How far is Viñales from Havana? 183km apart, 2 hours 27 minutes drive according to Google maps.
Viazul, the most popular bus company in Cuba, buses depart every morning from Havana.
The journey takes around four hours and tickets can be booked online here. It is advised to pre-book to avoid disappointment.
We did this journey and it took around 3.5 hours with a twenty-minute comfort stop at an overpriced cafe.
Buses depart Viñales in the late afternoon, arriving back in Havana in the evening. 
I strongly advise that you take a note of all the potential bus journeys you plan to make in Cuba and/or book ahead.
Locals rarely know the times of the buses but can offer a taxi colectivo (shared taxi) rides which sometimes works out the same price.
Buses often run on 'Cuba time' which is sporadic and WiFi is not easily accessible like you are accustomed to. You can read everything you need to know about WiFi and 4G in Cuba here.
Alternatively, you can let someone else do the driving during a one-day Viñales day trip!
---
Havana to
Viñales Tours
Leaving Havana at 07:30, this Viñales tour from Havana really packs in an itinerary to ensure that you don't miss the Viñales highlights. 
The day starts by meeting your friendly Cuban driver at a local Havana spot. From here you drive to Viñales then spend the morning learning about the local produce, tobacco and coffee at Cuban plantation. Bring extra USD if you want to buy something. 
A guide will meet with you at the plantation. Lunch at a finca (farm) is included, all of the food is locally grown. You will have the chance to interact with locals throughout the morning part of the tour.
In the afternoon, take a boat ride to Cueva del Indio, an indigenous cave popular with tourists and spend time at the botanical gardens.
This is a long day, leaving Viñales at 18:00, ticking off all the top things to do in Viñales. Reserve your spot here.

---
8 Epic Things to do in Viñales
So now we've covered how to get here, let's take a look at what to do in Viñales if visiting independently. 
1. Hire a Bike
One of my favourite things to do in Viñales is to cycle.
Hire a bike from the local tout at the main square and stretch the legs while biking through the tobacco fields, mogotes, and past those typical Cuban vintage cars.
Don't be surprised when you see a cow-pulled cart, you are in the countryside after all!
The mogotes are large imposing hills made from limestone, smothered in vegetation and reminds me of a scene from Jurassic Park or Jurassic World for our younger readers!
I kept expecting to see a pterodactyl soaring through the sky. Instead, we saw turkey vultures, dogs and cows.
The Valley is not dissimilar to Halong Bay in Vietnam, just without the water and garbage.
Bike hire in Viñales: 6 USD/$6 for 5 hours (no locks)
2. Visit a Tobacco Plantation
One of the main draws for visiting Viñales, and Cuba, is cigars. Many of the popular fields used for tobacco growth can be found in Viñales so if you are a visiting both Havana and Viñales and are looking to purchase cigars, wait until you get to Viñales.
This day tour includes a trip to a tobacco farm. Alternatively, if you are staying with a local overnight, they will be able to sort a tour out for you too.
If you don't have time to visit a plantation you can always pop into the tobacco shop on the main street.

3. Hike Through Santo Tomas Cave
For 15 USD you can hire a knowledgable guide to help you hike Cuevas de Santo Tomas, Cuba's largest cave network.
The 2-hour tour is trekked using head torches to light the way but is suitable for hikers of all levels. Sensible footwear and a liking for heights are a must.
Cuevas de Santo Tomas is a 30-minute drive from Viñales so factor this into your itinerary.
4.
Cueva del Indio
Cueva del Indio, mentioned above in the tours section, is closer to the main street in Viñales (10-minute drive) so if you are short on time but want to visit a cave this may be a better option.
This short tour involves a boat ride into a dimly lit cave.
5. A Hotel on the Hill
Hotel Los Jazmines is a short hike/quick taxi ride away from the heart of Viñales and has a swimming pool, cafe, and bar which overlook the UNESCO World Heritage Site Viñales Valley (Viñales National Park).
Even if you are not staying at the hotel, you can pay the day right and sunbathe surrounded by mogotes and breath in that fresh air, as we did with friends!
This feels like a true escape from the hot and sticky city of Havana. I mean, look at the scenery.
Entry (non-guests): 3 USD/$3
6.
Stay in a Casa Particular in Viñales
Casas Particulares are private houses owned and lived in by Cubans. These locals rent out their rooms to visitors.
Casas are popular forms of accommodation so don't be nervous about staying in one if you have time to spend more than one day in Viñales as we did.
Many of these homes in Viñales are painted in pastel with comfy porches and rocking chairs. Hosts often put on a breakfast spread for an additional fee. Our breakfast or desayuno in Viñales was well worth the money.
Our host from  Sara y Jorge.met us off the public bus which was super kind.
You can read more about staying in a casa particular in Cuba here.
See our accommodation advice below.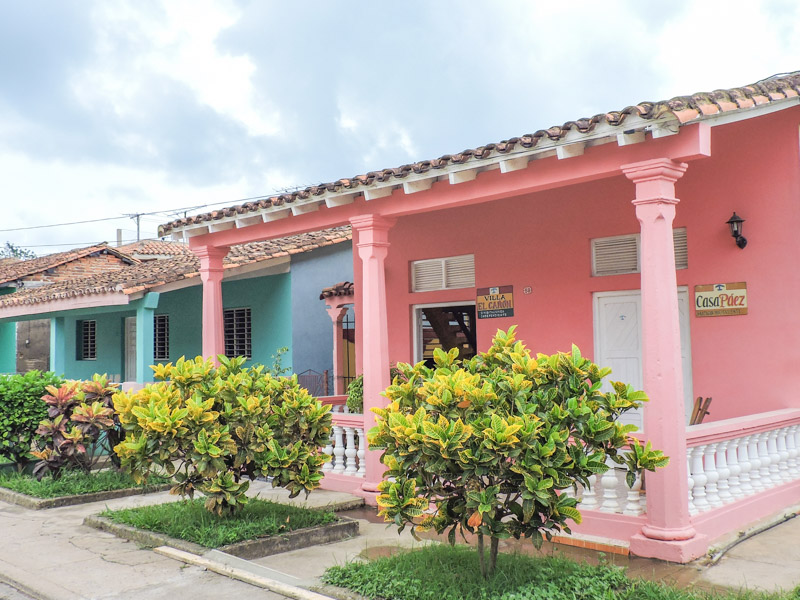 7. Dine at Viñales Restaurants

There is a strip of restaurants and bars on the main street in Viñales which cater to all budgets and serve decent meals.
We dined at Dulce Vida which serves tasty pizzas. Believe me, there are terrible pizzas in Cuba which you have to try from the 'hole in the wall' in Havana!
El Olivo is also recommended for locally produced food. Vegan and vegetarian options too.
8.
Palenque de Los Cimarrones
If you are in Viñales over a weekend and you are looking for a fiesta why not join the Cubans and the local talent at Palenque de Los Cimarrones – a (not so wild) rave in a cave!
One of the mogotes just outside of the main stretch doubles up as a cabaret-style show displaying Cuba's talent of dancing, singing, and comedy.
At the end of the acts, the dance floor opens up to the public.

Entry: 2 USD/$2

Taxi collectivo: 1 USD each (6 adults + the driver's girlfriend who was also going)

Bottle of rum: 6 USD/$6
---
Viñales Travel Tips
Accommodation in Viñales
I am assuming that you've come to Cuba to experience an authentic stay with locals?
If so, you will be looking to book into a casa particular. If you are still unsure, please read our guide to casas which outlines our personal experience of three weeks of travels in Cuba.
Our casa in Viñales was actually our first stay with a local so we took the advice of our hostel in Havana who recommended staying with Sara y Jorge.
It is ideal for solo travellers as the bedroom is set out like a dorm room with four beds.
This is not like our other casa experiences which were all private rooms.
Sara and Jorge's house has a lovely porch with rocking chairs and a neighbouring pig that comes to visit!
Sara's breakfast is outstanding, a true banquet that will make you forget that you are staying in a country that has rations.
Casa price: 10 USD
Breakfast: 4 USD which is expensive for Cuba but there was lots of it
Reserve your bed at Booking.com or read more reviews at TripAdvisor
It is not necessary to pre-book casas in Cuba, when you step off the bus you will be inundated with locals selling you their space! It is your role to barter for your bed.
If you are uncomfortable with this, you can now check out reviews and book casas through Booking.com, TripAdvisor or Airbnb.
Airbnb in Viñales
There are a variety of casas available via Airbnb in Viñales, Cuba and the average price for a private room in Viñales is 22 USD.
However, a few areas I need to make you aware of using Airbnb in Cuba.
The app doesn't work in Cuba
Cuba has had its own form of Airbnb since the 90s! Casa owners create a network throughout the island and call ahead to book for you, they get commission in return
It is not uncommon for the casa booked for you to get a better deal (a longer stay) so you are moved elsewhere and you might not know it. You will know it if you book via Airbnb
Read the Airbnb reviews to check whether amenities promised are provided. Hot tubs?…
Casa owners are now advertising over different search engines like Airbnb, Booking, TripAdvisor, Hostelworld, etc and since WiFi is not as readily available the response may be slower than accustomed to
Casa owners may be slow to update when rooms are booked/casas are sold out because of WiFi availability
Reasons for booking with Airbnb
Peace of mind – you can see images, reviews and a picture of the owner
Pre-pay by credit card, less cash required – read our guide to currency in Cuba here
Airbnb is a popular app, we trust the resource and customer service is generally on the side of the customer
Hotels in Viñales
If our guide can't convince you to stay with locals, no stress! There are a handful of hotels in Viñales such as:
Getting Around Viñales
There are plenty of taxis in the main square and street. Your casa owner can also help you out with requests. You do need a level of survival Spanish to get by.
Bikes can be rented from the main street too. Some casas may have some for rent also.
Viñales to Trinidad
The next stop on our Cuba itinerary was Trinidad with a stopover at Playa Larga to dive.
We opted for a taxi colectivo shared ride which cost us 25 USD each, five members in the car. Halfway during the journey, we swapped cars. This is totally normal so don't be spooked.
Playa Larga to Trinidad cost another 25 USD per person. Moving between stops does get expensive but the distance is far.
There is a bus which goes from Viñales to Trinidad. It leaves at 06:45 and gets to Trinidad around 16:35. You can reserve tickets here for 37 USD.
WiFi in Viñales
Is there WiFi in Cuba? Yes, my article will explain everything in detail here.
To summarise, there is an  ETECSA telecommunications centre in Viñales where you can purchase a card which you use to log on to using your own device. Many casas now offer this service as well.
You can log on using the card anywhere there are WiFi points like the store itself, some cafes or parks. You'll know the points by the large groups of locals looking at their phones.
Cuba Travel Costs
Cuba is not as cheap as the likes of Colombia or Bolivia in South America, where we left for Cuba from.
The total budget for 3 weeks in Cuba: 1903.50 USD. 
Our Cuba daily budget was 90 USD per day for two people with limited activities and one week in an all-inclusive resort.
Full details of our Cuba travel costs can he found here: 3 weeks in Cuba.
---
Personal Experience
I wouldn't advise Cuba as a part of an around the world trip. We felt the pain of being restricted by our budget as this was month four of 18!
We were also suffering from major travel burnout, backpacking around Cuba is not easy. I'd love to return with more funds and less pressure to save.
Learn from my mistakes, here's what I would do differently:
Download the bus times. Locals do not know the times and are quick to offer taxi colectivo services which starts to add up at 25 USD per ride, per person
Screenshot recommended restaurants for each stop. Some restaurants are pretty poor and even Cubans will tell you this
Build a loose itinerary. Remember you can't just log on to 4G like you can elsewhere
Think about the activities you'd like to do. Don't be me and plan nothing
Consider renting a car? You may have to wait a few days in Havana for one to come in but having that flexibility to move around will be liberating
It is highly unlikely you won't have a kitchen during your trip. I know this can be difficult for vegans and long-term travel fans
Accept that the Cuban hustle isn't going anywhere! It's tiring but this two-tier economic system has allowed Cubans to survive and thrive
---
Going to Cuba? Pin to board for later
---
Final Words
I really enjoyed our time in Viñales. The rural town is wildly different from Havana which makes it an ideal day trip or overnight stay. I always say Cuba is a country of contrasts and by visiting Havana and Viñales you'll see why too.
Visiting Viñales?
Let us know what you think in the comments below.