This article has links to products and services we love, which we may make commission from.
The Isle of Skye is one of Scotland's most popular tourist destinations and it's easy to see why when you experience the raw nature of Cuillin Mountains and the lochs which penetrate every nook and cranny of the island. It's disheartening that the Inner Hebrides' biggest island is only six hours away from Scotland's capital, Edinburgh, yet many Scots have yet to be enchanted by the West Coast of Scotland. Here is how Craig and I (Gemma), along with our good friends, Gordon and Jen G, spent two nights on the Isle of Skye.
Two Nights on the Isle of Skye Itinerary
Day 1 – Look it's Skyewalker
The gang set off from Fife in the 1 litre Aygo, Craig in the driving seat and our friends Jen G and Gordon in the back. The drive was pretty non-descriptive until we reached the road to Glencoe (2 hours 50 mins), wow – this is what tourists see when they visit Scotland!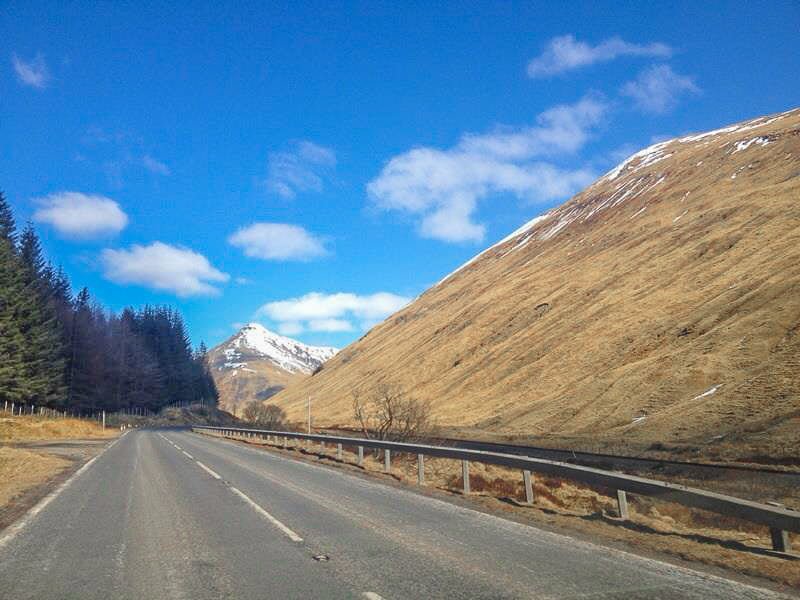 We stopped off at Fort William (Glencoe – Fort William 30 minutes) for a wander, which was a little underwhelming but a much-required stretch of the legs. Our second break stop was more impressive, Kyle of Lochalsh (1 hour 45 mins).
Arriving on the Isle of Skye
Soon after that we reached our destination of Skyewalker hostel in the northwestern town of Portnalong. The owner, an ex-social worker from Glasgow who moved to get away from the city stress, advised us that a large travel group would be taking over the hostel, and asked if we would mind a double room upgrade, eh yes please!
We enquired about local pubs, she advised us of one just five minutes away with a pool table or another 'half an hour' away which would have a fiddle band jam that night. We opted for music. The coolest thing about the hostel was the crystal maze conservatory, we had a drink there to celebrate our arrival and set off on the easy walk to the local town, Carbost (not to be confused with Colbost).
The Old Inn of Carbost
Needless to say, the trip to The Old Inn did not take half an hour! It's the way us 'city people walk' the hostel owner told us when we jokingly complained the next day. We arrived in darkness and panic – how were we to get back to Portnalong? It's Skye, there are no lights! Gordon was more worried that we had missed the last order for burgers. Panic over, I jumped on a band member as he unpacked his instruments, and he offered us a lift home and we managed to get some grub.
Stargazing on Skye
Quite a few ciders later and lots of chats with local fishermen, our taxi driver stuck to his word and dropped us off at the Skyewalker and weren't we thankful of the lack of street lighting, I have never seen stars above like it!
Our driver must have thought that we were tuned to the moon, stepping and stumbling out from his car cooing at the dark skies and twinkly lights. It was like a Disney movie! Craig and I lay on the ground and geeked out (well Craig did, big space fan, I listened). Craig says it's his fondest memory of our relationship to date (never mind the month in South East Asia or the many mini-breaks!)
Day 2 – Cruising about Skye
Skye's transport links are terrible. Locals are currently protesting to get more funding to improve the increasingly less, the road less travelled. For example, buses from the Skyewalker only run three times per day Monday – Friday and even less (once) on a Saturday. They obviously take the day of rest very seriously as no buses run. This means you have three options.
Firstly, stay confined to the Carbost area which does offer some things to do in Skye, but limited. Here you'll find the oldest whisky distillery, Talisker Distillery. Secondly, like us, bring a car. The downfall of that is someone has to be the designated driver, which means no sampling uisge beatha, the water of life! This was more of an issue on the Isle of Islay, which has at least eleven distilleries! Finally, let a tour do all the work for you. This is how we intend to see Skye again in the future – like a celeb who is driven around and dropped off at the important Skye attractions. Road trips are a great way to see Scotland since it is so small. Check out this guide to Scotland's stunning scenery.
Portree for Lunch
After shaking off last night's booze, we drove to Portree (30 mins) for lunch. I had previously tried to get us accommodation in Skye's largest town, Portree, but everything was fully booked or too expensive. I was glad it worked out that way, Skyewalker was ideal. Post lunch, we had a walk, filled the boot with bottles and drove to Dunvegan Castle, (32 mins), the ancestral home of the Chiefs of Clan MacLeod. The fairy tower is said to be haunted and weirdly enough, I received a text from my Gran (who never texts) just as I purchased a postcard for her, oooo.
We did plan to return to Portree for drinks later that night but we weighed up the cost of taxis and decided to visit the hostel's real local pub, Taigh Ailean, which was actually five minutes away. We ate fish and chips (authentic chippy fish and chips), played giant Jenga, and chatted to the locals. The stars were not in our favour that night. When we arrived back at the hostel to welcome the 'tourists,' who were the reason for our excellent free upgrade, I discovered they actually go to Edinburgh University. Oops!
Day 3 – The Storr and The Snore
On our final day, fresh air was required so we took an easy stroll up The Old Man of Storr (40 mins from Carbost). The coolest part of the hike was when it snowed (this was April!) After a quick jaunt up and down, we set off home to Fife. Craig drove angrily home behind slow cars and trucks as we snoozed.
Cost of Travelling Around Skye
Petrol: approximately £60 (split between four)
Hostel: dorms £17-19 (we ended up with a free upgrade and own bathroom!)
Time with pals: priceless!
Other Things to do in Skye
How did we miss it? Yes, Skye's Fairy Pools! One of the highlights of every traveller's trip is taking a dip in the Fairy Pools! Do you know what this means? We'll just have to go back…
Our two nights on the Isle of Skye ignited a newfound appreciation for my home country and encouraged me to hike the 96 miles of the West Highland Way the following year.
Where is your favourite spot in Scotland?
*we have no affiliation with any of the companies mentioned in this post, just helpful tips for your trip to Skye