This article has links to products and services we love, which we may make commission from.
When I say Texas you think of cowboys and Conservatives, right? Wrong! Say hello to Austin – the hipster Texas city in The Lone Star State.
Just over 950, 000 people reside in Austin and during our three visits, we've met around 30 of them and one even married us. Yes, you heard that right.
We love this city so much we got hitched by Lady Bird Lake on Lou Neff Point.
Here's our guide to unique things to do in Austin today, which are awesome!
Visiting for Christmas? Here's our festive guide too.
Get Your Bearings
The main areas you are most likely to spend time in during your trip to Austin are the Downtown, Red River, Sixth Street, Rainey Street, East 6th, South Congress and Zilker.
While some of these Austin activities are not unique in Austin they are definitely unique to Austin.
Where else in the world can you eat Tex Mex and drink craft beer while listening to any genre of music possible?
---
Unusual Things to do in Austin
1. Eat Breakfast at Juan in a Million
The first thing to do in Austin is to grab a Tex Mex breakfast and Juan in a Million (2300 E Cesar Chavez St) is the legend you get to meet.
Not only does the ex-high school teacher, Juan Meza's sell no frills, great homemade food, he also greets every single customer at the door with his signature handshake! Now that is a personal welcome.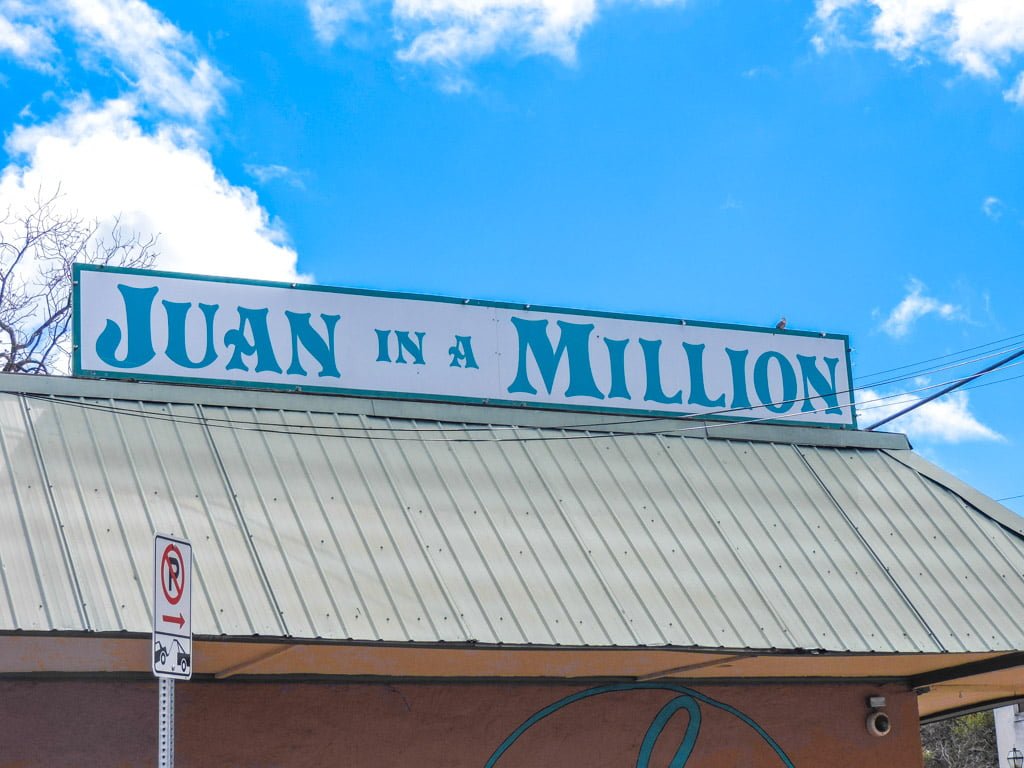 Our taxi driver said one day he drove past and couldn't believe the size of the line, Juan had just made it to the big screen.
Casey Webb from the notorious hit TV show Man v Food had taken on the challenge to eat eight Don Juan tacos stuffed full of eggs, potatoes, bacon and cheese.

Think you can make it on the 'Juan of Fame'? Webb managed four and a quarter…
Tell us how many you manage in the comments below!
2. Mimosas + Tacos at Ciscos
You are not hard-pressed to find breakfast tacos in Austin but Cisco's (1511 E 6th St) is an iconic diner on East 6th Street.
As soon as you sit down next to the cute tiled wall, a friendly server will hit your table with glasses of water, salsa and delicious taco chips.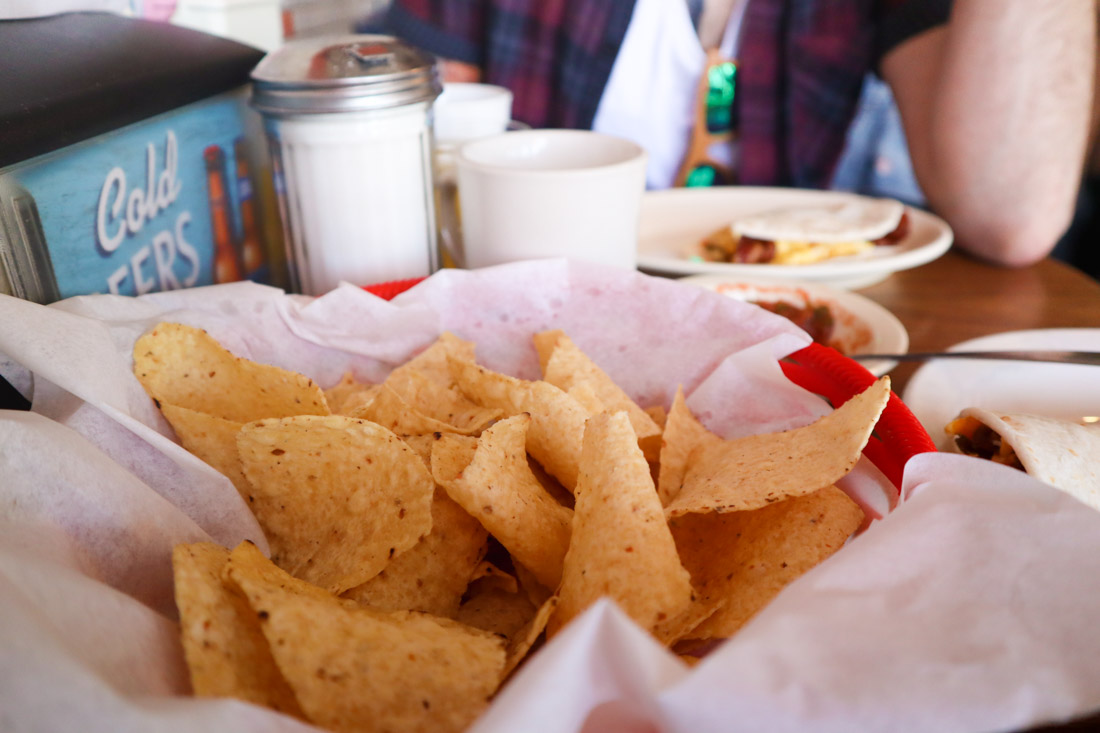 Breakfast tacos with eggs, cheese and meat for under $5 and a liquor licence are just what to the doctor ordered after a night of partying in Austin.
Lots of visitors also hit up the popular chain, Torchy's Tacos. Check out Torchy's secret menu recipe.
Guys! You can buy my t-shirt (below) here. 'Guid' means good in Scottish.
3. Stroll Along Lady Bird Lake
Austin's hike and bike trail is bustling come spring/summer.
What better way to blow the city cobwebs away than to hire a bike and pedal along the Colorado River?
This 2-hour sightseeing tour is done via bike and includes a ride along Lady Bird Lake.
Even better, why not hire a paddle board and get in?
During our first and third trip to Austin, we stayed at the HI Hostel (private room) which was an absolute steal during Austin's South by Southwest festival.
Those who are familiar with the festival will know that accommodation prices triple during the 10-day tech, digital and music festival.
Since the hostel is located by the lake, we walked along the designated path cooing at the cute dogs and dodging the runners to get to the parties in the city.
The lake itself is dominated by kayaks, boats, river bikes, birds and turtles.
A stroll by the lake with the sun on your face is one of the more romantic things to do in Austin so much so, we returned in 2016 to say 'I do' with the lake as our backdrop.
We eloped to Austin! Read our wedding story here.
4. Make a Splash at Barton Springs
Barton Springs (2201 Barton Springs Rd) is a natural spring for the public to sunbathe around, kayak, and swim in. Or sunbathe on your kayak as I saw some girls do.
Located in Zilker Park, there are two options for the pool. The first is to pay to use the swimming pool style spring which has a nice grassy hill to sunbathe on. The sun can get pretty powerful so remember your factor 30.
Love the water? Check out our guide to the best beach towns Texas has to offer.
The second option is to use the area next door (there is only one fence that separates the two) for free.
Don't make the mistake we did – take the turning before the bridge and use the concrete hill for sunbathing. We were stuck on the muddy and stony ground which was fine with a towel.
The locals will laugh and ask if you went into the water…
We walked there from the HI Hostel which took around 50 minutes and then cycled back. Save some cash a pack a picnic.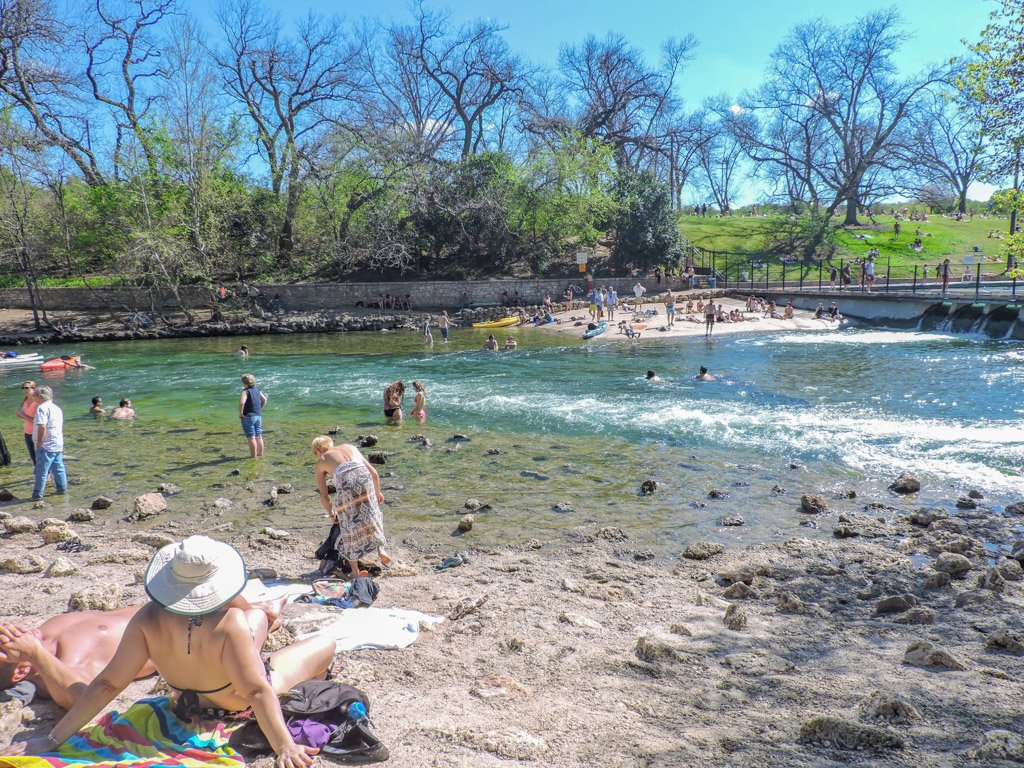 5. Cool Off at High Heights
The Azul Rooftop Bar and Lounge (310 E 5th St) at the Westin Hotel allows non-members to use their rooftop swimming pool free of charge (as well as towels).
However, do expect to pay skyrocket prices for drinks.
Personally, I think it is worth the hit on your purse as the cold slush cocktails and summer vibes music was just what we needed to chill out after the madness of South By.
Azul features in our most Instragrammable places in Austin guide.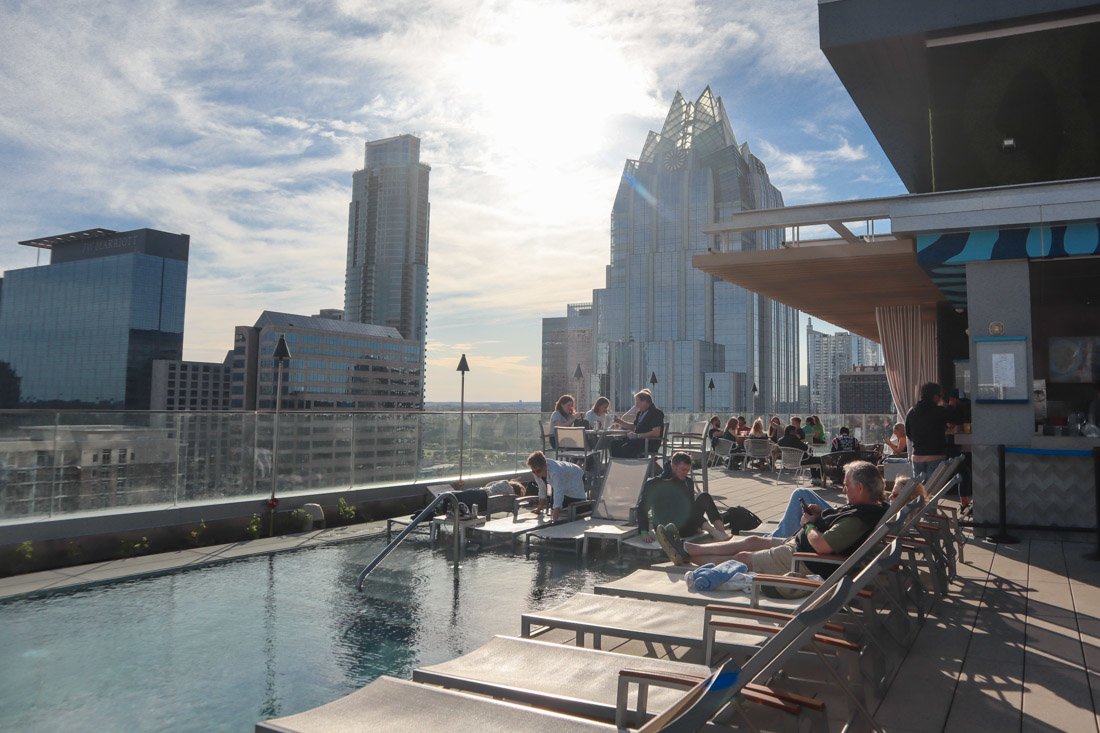 6. Beat the Hook!
One of our recommended downtown bars, HandleBar (121 E 5th St), has a cool rooftop which is ideal for hot nights and it really is set up to provide a lot of fun.
There is one game which simply consists of a hoop on a string. The aim is to swing the hoop onto the hook.
It sounds pathetic but honestly, friends have fallen out over this game.
Next door is the Speakeasy, Floppy Disc Repair. The door staff are total douchebags and we're not the first to say so. Read the reviews.
7. Get Crafty
There is now an explosion of craft beer breweries in Austin, to Craig's delight.
One of his most recommended is Lazarus Brewery on East 6th Street.
Expect an audience of all ages, drinking flights and wine while listening to live music play outside on the bandstand. Furry friends welcome.

8. Catch a Band
Across the road from Lazarus is Zilker Brewing Company which also puts on shows.
In fact, these two craft breweries are just two of the over two hundred live gig venues in Austin.
Some say that Austin is the musical capital of the world. You can see a show any night of week at different areas around the city.
There is always something going down on Dirty 6th but please be warned, that street gets messy at the weekends.
Other notable venues include:
Mohawk.
HandleBar.
Cheer Up Charlies.
Hotel Vegas.
Emo's.
Latitude 64 (which becomes the BBC Music Embassy during SXSW).
The North Door.
Stubb's Bar-B-Q.
Want more music? This three-hour music tour led by a musician sells out fast
9. Be Cute at Austin's Rainbow House
I've died and woke up in social media photography heaven.
Cute Nail Studio (1211 E 7th St) actively encourages you to come to see their bright and awesome salon!
This unique rainbow building just off East 6th is a wonder to behold.
Clever marketing by the Cute team and they are kick ass on Insta too.
If you're quite into unique architecture, check out our guide on treehouses in Texas you can book!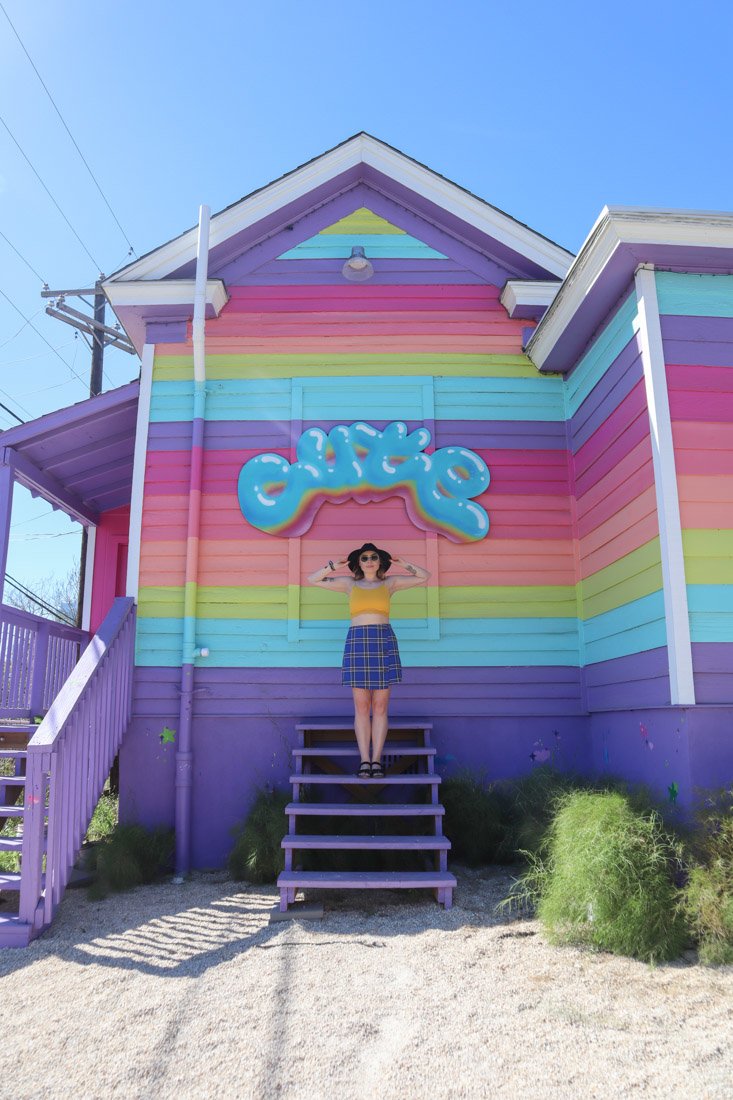 10. Up For Swinging?
There are two spots that you can climb into a hammock while you drink an alcoholic beverage or coffee (hot not recommended).
First up is the area outside of Revival Coffee Shop (1405 E 7th St) which is shared with a food truck.
The next hammock stop can be found at the food trucks on East 6th, across from 1660 food trucks.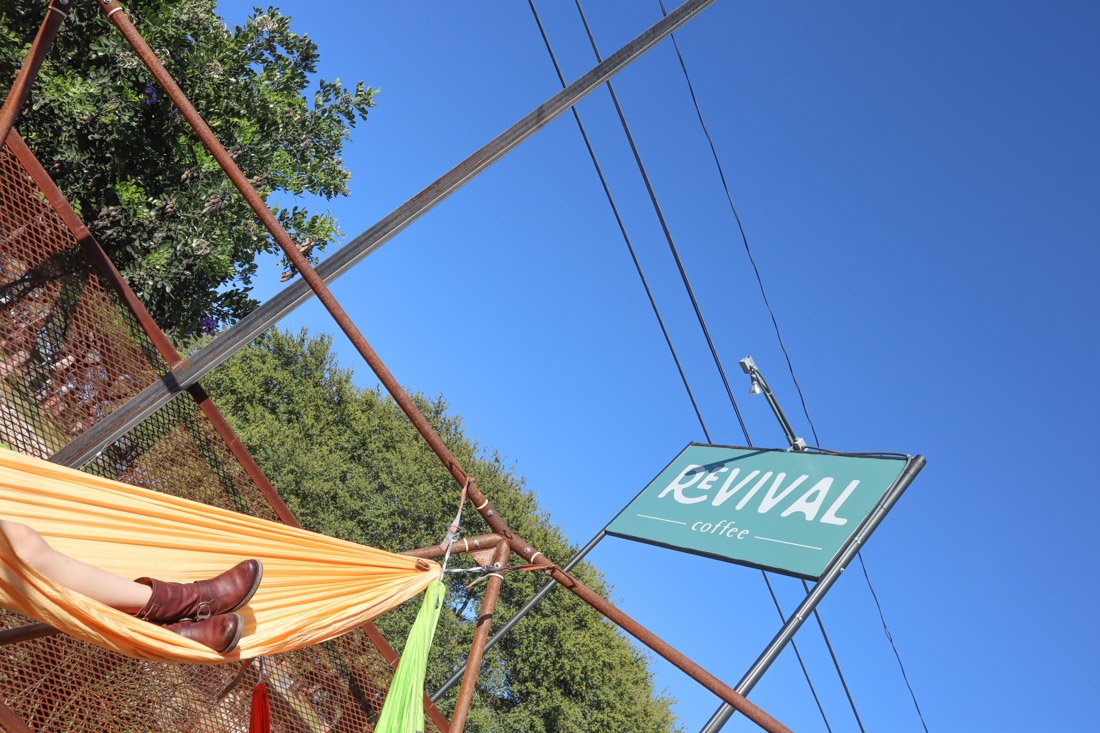 11. Food Trucks
You can't go to Austin and not eat from a food truck.
What do you want? Colombian? Brazilian? Tacos? Burgers? Pizza? Poke Bowls?
You name it, there's a truck that does it.
We even saw Peruvian desserts being sold near Barton Springs.
Now that's niche!
12. Sinful Desserts by Nuhas
The seven deadly sins definitely result in diabetes at this food truck located next to Terry Black's BBQ on Barton Springs Rd.
The brownie is to die for.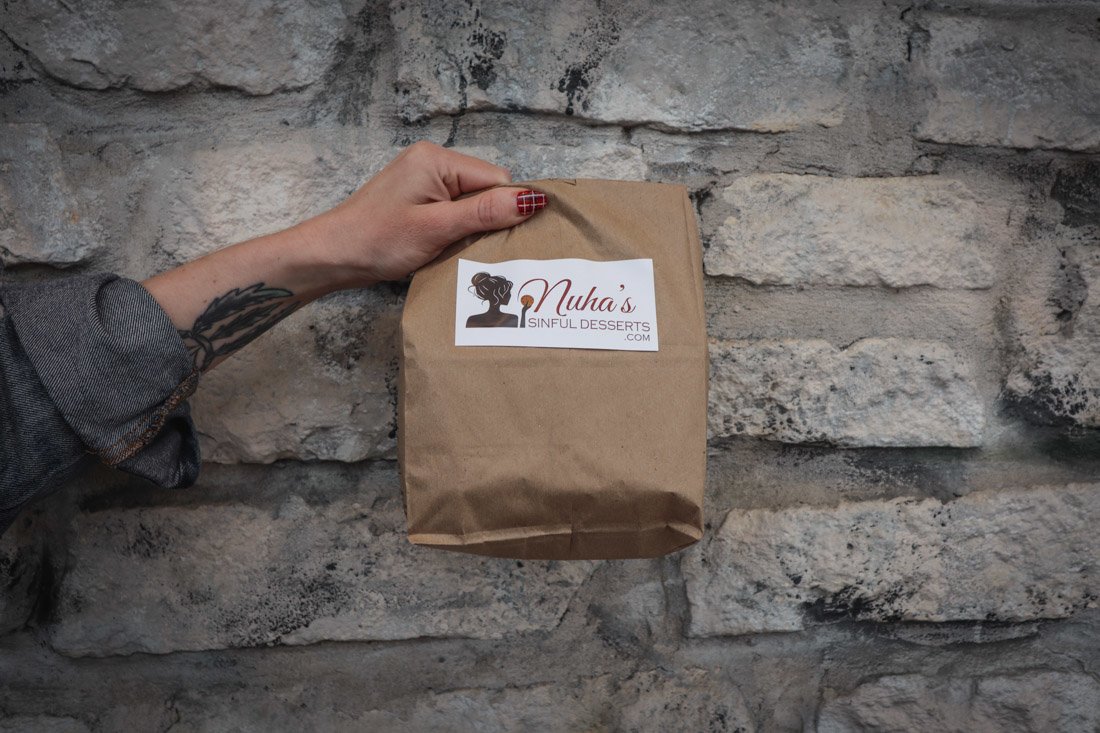 13. BBQ, Austin Texas Style!
Do it as Texans do! Some of the most popular Austin attractions are the BBQ houses.
Franklin BBQ, on the east side, is the most talked about BBQ joint. Therefore, you have to get there fast (11 am opening) and expect to wait in line. It closes when the food is gone.
During our trip, a taxi driver recommended Blacks (Guadalupe St), on our way there, we stopped for directions and a local pointed out Green Mesquite so we settled for there.
No need to settle, Green Mesquite serves up a decent plate of two types of meat and two sides! This Austin restaurant is very close to Barton Springs so you can bathe and then BBQ, just don't burn baby.
We've now dined at Blacks and the Copper Pit and have to say that we prefer Mesquite.
We're not really a fan of cold food and by the time you wait in line to choose your sides, your meat and then pay your food, your plate cold.
I also hate the amount of single-use plastic. There's no need at a sit-down restaurant.
Do your bit of the environment, purchase Bamboo cutlery set US / UK. Super cheap at under $10 and helps save the plastic tide while you dine.
If you have time, head out to Lockhart to try Kreuz BBQ. Best green beans I've tasted.
Find out more in our road trip guide.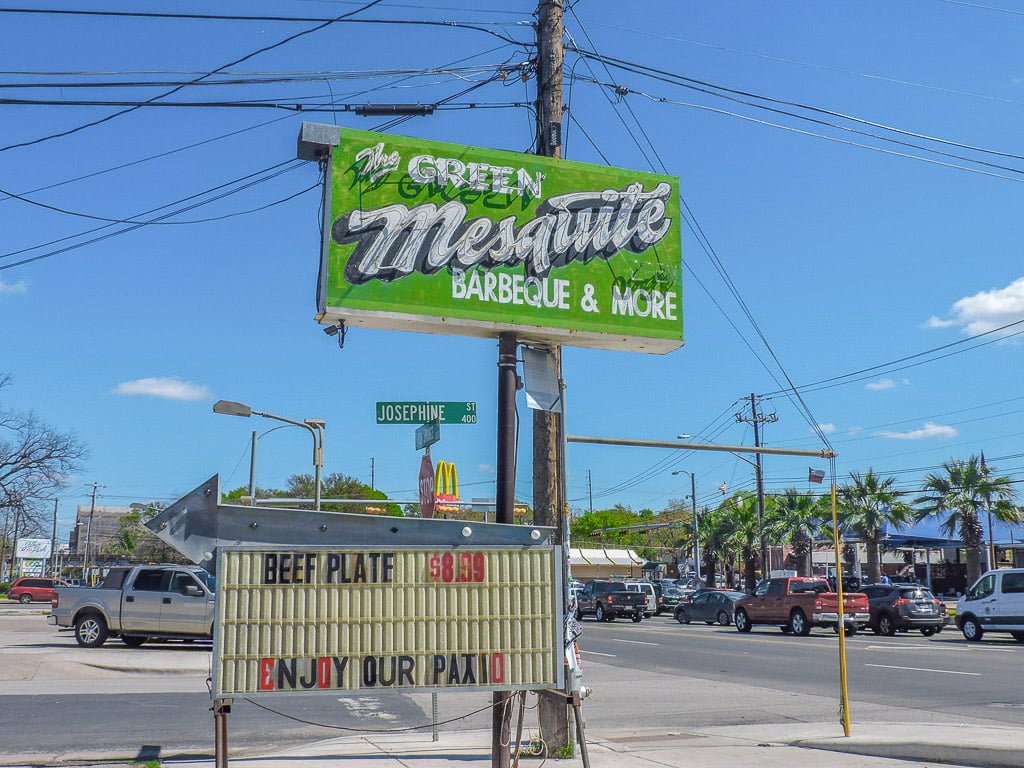 14. Wander Along South Congress (SoCo)
Dirty 6th is a cool, messy street full of filthy bars and definitely one of your first stops for things to in Austin at night but if you are looking for a street that is laden with seriously gorgeous looking people (everyone has fully committed tattoos, even saw a girl with a leg sleeve), see SoCo.
South Congress is lined with lots of vintage shops and delicious eateries.
On Saturdays, a pop-up market sells artwork and jewellery. Look out for the topless cowboy on a horse. Yes, that happens.
You may also like our guide to free things to do in Austin.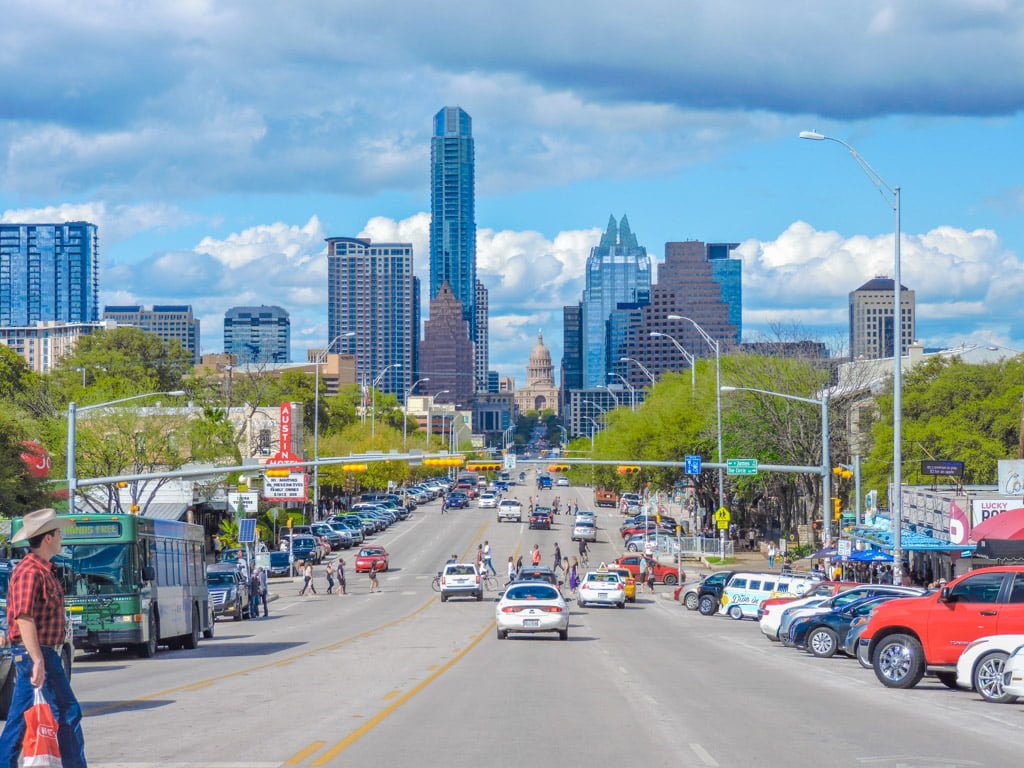 15. Biscuits at South Congress Cafe
Can't say much for the front of house service. I'm assuming the chick who served us our drinks was hungover.
Positively, the waiting servers were super friendly and the biscuits melt in your mouth.

South Congress Cafe (1600 S Congress Ave) made it to our best restaurants post. Find out who else managed to take a spot on our Austin foodie bucket list.
16. Shop for Treats at Big Top Candy Shop
Aka heaven for me! This circus-themed candy shop also sells ice cream and floats on South Congress (yes, I adore this area).
Not just one of the things to do in Austin with kids, it's for big kids too right? Their stock will fill you with nostalgia as well as sugar.
You can even buy seasoned bugs! We took some home for my eleven-year-old cousin to try.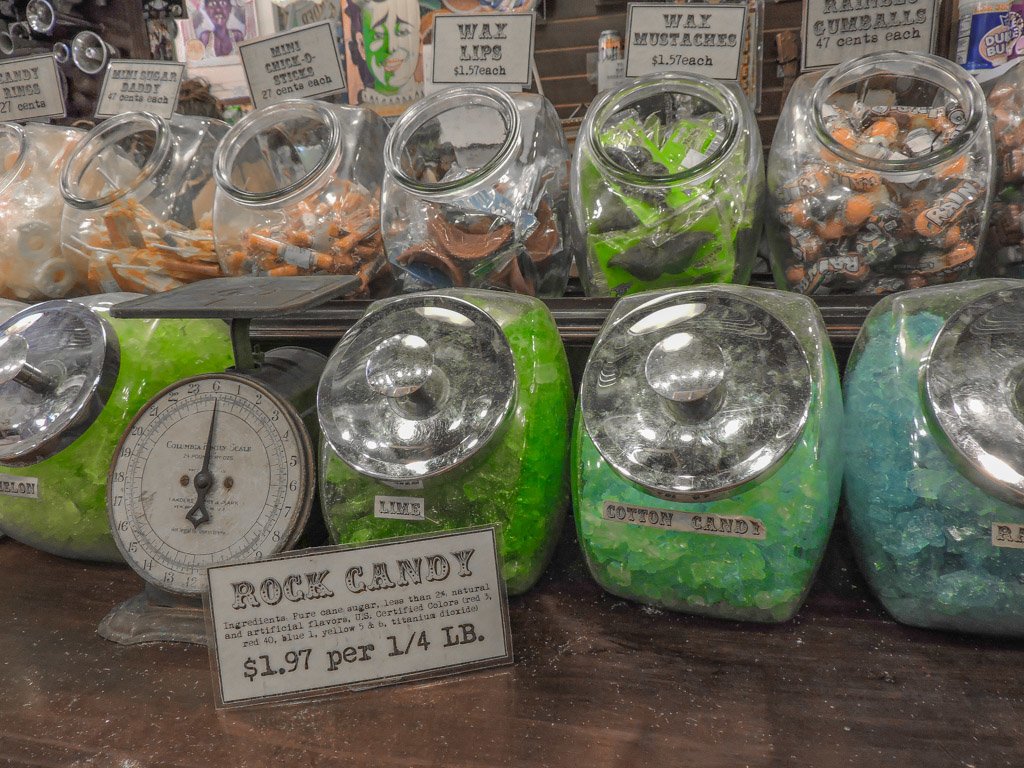 17. Get Snap Happy – Street Art in Austin
There is a lot of street art in Austin but unfortunately, much of it is spread quite far apart. Close to downtown, you can catch:
The I Love You So Much Wall on So Co (see below).
I Hate You So Much Wall on Rainy Street (see below).
Let's Band Together heart on East 6th Street.
Historic 6th Mural at 5582 N Interstate 35 Frontage Rd, 78701.
Ninja Style graffiti on Lamar Boulevard Bridge.
Pop Art Girl at Colorado St. and W 5th Street (is she still there, didn't see her this year)?
Tau Ceti triangle at Brazos and Second.
A little further afield is the famous:
Jeremiah the Innocent at 21st and Guadalupe.
You're My Butter Half at 2000 E Martin Luther King Jr Blvd (Alamo St.)
We were really disappointed to see that Hope Outdoor Gallery at Castle Hill has now be closed down. This is where we got our wedding photos taken.
Rumour has it that Hope will be reopening at a spot near the airport. If you like street art why not visit us in Fife, Scotland! This lesser-known area of our home country has an emerging scene worth checking out.
We never made it to the Cathedral of Junk but if you like art and trash it might be worth a quick visit if passing by (it's smaller than most people imagine).
Some of the murals are quite spaced out so this electric bike tour can cover more grounds than by foot.
Back at South Congress, you'll see a large gathering at the end of a shop – this is the 'I Love You So Much' wall.
As the story goes, the artist spray painted the message, I love you so much, on her girlfriend's shop wall after they broke up.
Not up for all that smooshy love crap? Well, Austin has something for everyone.
There is an alternative message, the 'I hate you so much.' Not a direct response from the shop owning girlfriend thankfully!
The message was ruined but you can see a third version (the second was put on wood but warped) on the wall in Bungalow (bar) on Rainey Street.
I love you so much wall: 1300 S Congress Ave, Austin, TX 78704.
I hate you so much wall (3rd version): Bungalow 92 Rainey St, Austin, TX 78701.
---
18. Rainey Street
If you are looking for things to do in Austin at night head to Rainey Street.
We ate curry at G'raj Mahal Cafe which is a typical (for the area) wooden house style restaurant decked out in not so typical bike wheels and umbrellas.
A starter samosa, two curries and two naans came to $44.59.
If you are having a few beers, remember it gets hot come March (check out how sweaty we are!)
Stay hydrated and consider packing these hydration tablets US / UK for the next day, there's nothing worse than a hangover in the heat.
A British doctor in Cuba recommended them as a hangover cure, I don't travel without them now.
PS – this area has exploded! You heard it here first. Rainey Street is now packed with places to eat in Austin.
It's also a go-to area if you are seeking out the free South by Southwest music events.
19. Hire a Bike or Scooter
Be like a local and hire an electronic scooters or bike to get around town.
Companies such as Uber, Lyft and Lime have dumped e-scooters by the side of the road and you just use an app to activate and then scoot.
Be cautious of cars and don't drink and drive.
20. Stay in an Airstream
A what?! All over Austin you will see silver food trucks in little clusters like outdoor food courts or standing proud individually.
Well, some homeowners take these food trucks, remove the cooking equipment and kit it out with kitsch home stuff and let you stay in them!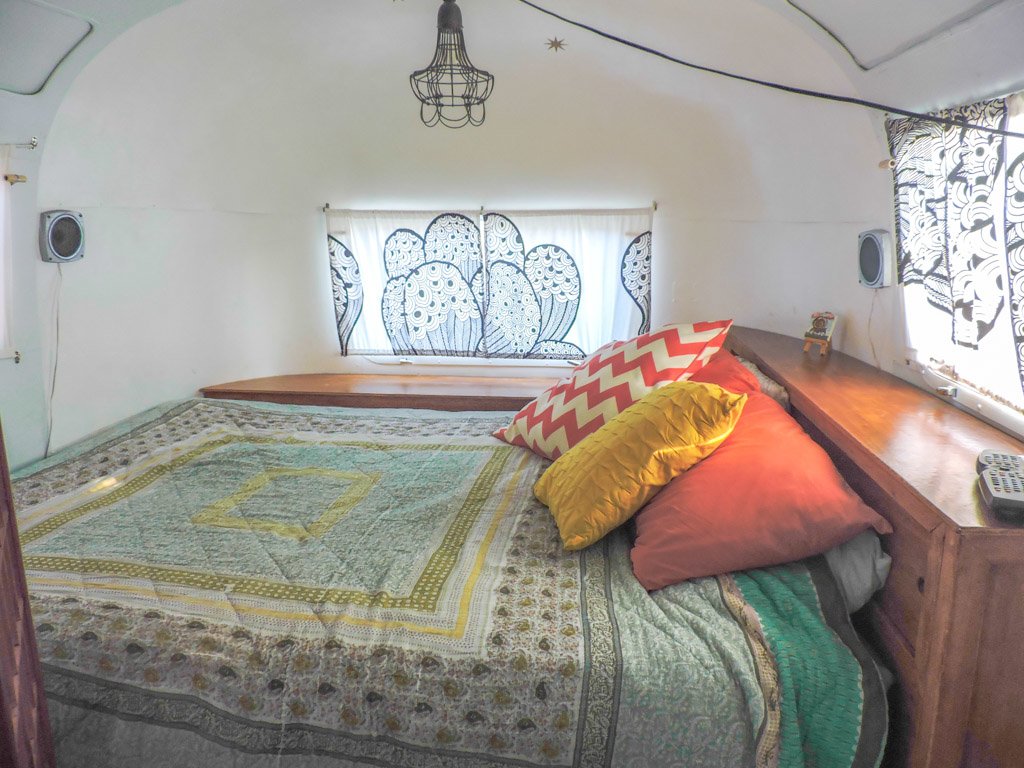 21. Attend South by Southwest
Honestly, it is a fun ten days full of free parties, gigs and swag.
Catch intimate music shows with big artists, watch movies in Austin's cute theaters and get lost in the madness.
You will need a holiday after this festival!
22. Head to Big Bend
If you can find enough time to build an Austin to Big Bend National Park road trip into your visit I highly recommend it.
We did this 11 stop West Texas itinerary over four nights and ate the best BBQ, saw art installations, stargazed and hiked in Big Band among the dusty roads and bluebonnets.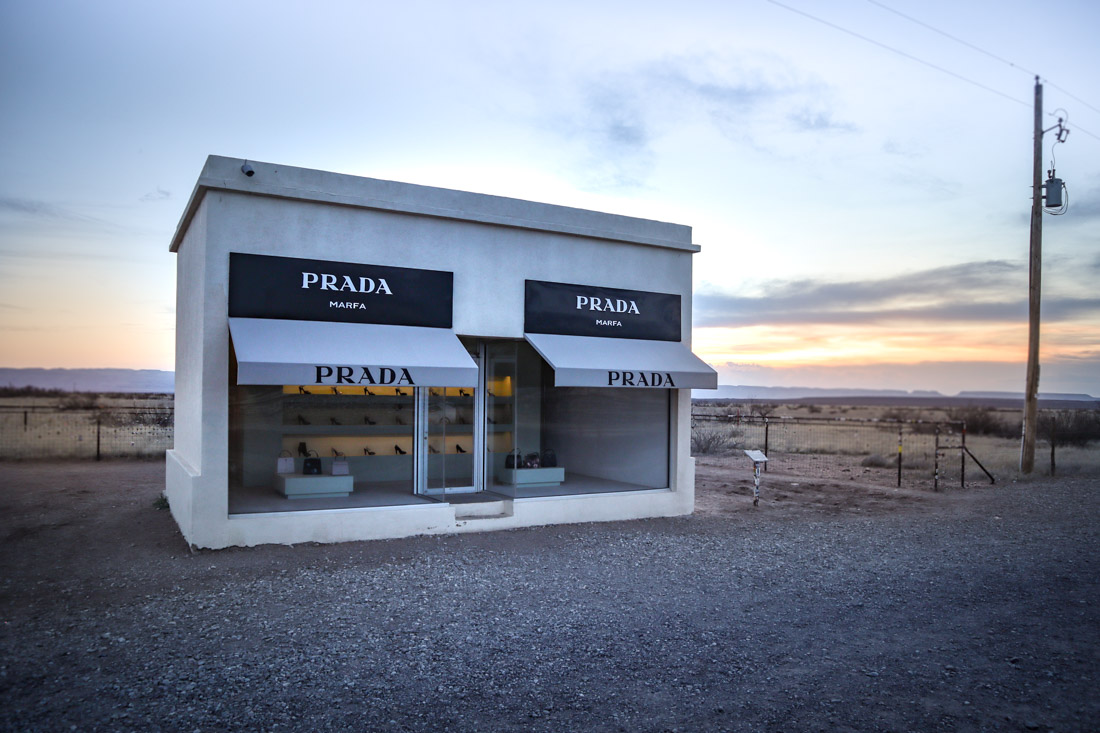 BONUS: GET HITCHED IN AUSTIN!
Craig and I loved Austin Texas' points of interest SO MUCH we went back the following year and eloped!
We headed back to the lake and married at Lou Neff Point, took photos around the city, ate Italian, and then partied to Junior Boys at Mohawk.
Accommodation in Austin
We've stayed in seven different areas of Austin over the fours years. Our preferred choice has to be the HI Hostel at Lady Bird Lake if on a tight budget and happy to walk.
Best Austin Tours
Austin Packing List
You can't survive a trip to Austin without:
Warm layers, it was freezing when we arrived in March and didn't heat up until a few days into SXSW
Sunglasses for the sun and hiding behind.
Tattoos, you won't fit in without one.
Camera and battery
Eco water bottle as there are heaps of places to fill up for free – the practical Tree Tribe US / UK
Filter and purifying water bottle like Water To Go [quote TSA15 at checkout for 15% off]
---
You May Also Like Our Other Austin Guides
Final Words
I know what you are thinking – where are the bats?
We've never actually managed to experience over a million bats flying from Congress Avenue Bridge.
Have you?
Needless to say, we're still happy with what we've accomplished in Austin, the city that will always have a special place in our heart!