This article has links to products and services we love, which we may make commission from.
A Thailand itinerary has a lot going for her. Turquoise waters, lustful mountains, she's chill up north, all party down south. She's the kinda country that every person wants to visit; the gap yahs, the honeymooners, and more increasingly, holidaymakers with kids. You could easily spend one-month scooting around the north and nursing your hangover in the south but since life gets in the way and restricts us of a life in Paradise here is an outstanding 2 weeks in Thailand route which covers the best of what this Asian country has to offer. Ps yes, there will be elephants.
Where is Thailand?
Partly smothered (never mind sandwiched) between Cambodia, Laos, and Myanmar, Thailand keeps good company. The ease of travel around Southeast Asia makes it a very attractive option for backpackers on gap years or holidaymakers who dare to cross borders on their annual leave.
How expensive is Thailand?
Out of the four Southeast Asian countries on our itinerary, Thailand was the second most expensive country to visit (Singapore was the most expensive, Vietnam was the cheapest and Cambodia in the middle). However, don't let this put you off a trip to Thailand, there is something for every budget from purse pinching bed dorms to luxury Thailand vacation accommodation.
Although you can book attractive hotels with swimming pools for less than £20 per night, the price of food and drink is more expensive than Cambodia or Vietnam.
To put bluntly, some areas of Thailand are really popular and tourists pay the price because they are happy to pay the prices. For a budget trip to Thailand, stay clear of the clifftop sea-view restaurants and stick to the trusty street food.
Weather in Thailand
Just like Scotland, the weather in Thailand is temperamental although you can expect a hell of a lot more sunshine in Thailand than in the U.K or the Pacific Northwest.
The best times to visit Thailand depend on where you plan to stay. Planning a trip to Thailand can actually be dictated by the weather but as always, you cannot guarantee forecasts are accurate so always pack a decent raincoat (like this neat [amazon_textlink asin='B00DNO0GYK' text='Marmot' template='ProductLink' store='twoscotsusa-20′ marketplace='US' link_id='30e3b3e4-a6c0-11e7-a0e0-6d246bfa5e51′]).
The good news is that you can be strategic with your island choice depending on the time of year you wish to visit.
The west coast islands (Phuket and Krabi) face rain from May until late September/early October. The east coast islands (Koh Samui and Koh Phangan) get their turn from September to December. Many roads become mud pools and boats are cancelled during the rainy/monsoon season in Thailand.
We visited Koh Samui (southeast) in July and had one day of a downpour (and a power outage). The north can be much cooler at times. The drier season for the north (Chaing Mai and Pai) is typically November to May. I recall a very unpleasant three-hour drenched scooter ride from Pai, we could not feel our faces or hands by the end of it. Free botox anyone?
Currency in Thailand
Thai currency is the Thai Baht which comes in note and coin form. £10 is approximately 446 Baht at time of writing. For the best rates see here.
Tipping in Thailand is not mandatory like it is in the USA but it is appreciated. It is not common practice to tip street food vendors (although I'm sure many intoxicated customers on Bangkok's infamous Khao San Road do) however it is becoming more expected in the 'fancier' restaurants.
Like most experiences; if you found it exceptional and you can afford to tip go for a 10% addition to the bill. Always negotiate taxi and tuk-tuk prices before you set off.
Getting around Thailand
Today, internal flights from Air Asia and Nok Air, make transport in Thailand more economical and efficient than ever. We wasted a full morning bickering over trains and ferry options from Chiang Mai to the south, finally agreeing to fly to save time.
However, Seat 61 (excellent online transport guide) states that the train and ferry combo from Bangkok to Koh Samui is an authentic travelling around Thailand experience. Unfortunately, the train website communication is shocking and never replied to my request for information so we ditched it and flew.
In short, Thailand's transport system consists of planes, trains, ferries, and boats. Within towns and cities, there are also options of taxis (and now Über) and tuk-tuks. Tuk-tuks are bikes with a seat and make-shift(ish) roof and it is very common to hop on for a short ride. As mentioned above, always agree on a price before leaving, tipping 10% is up to you.
1- 2 Week Thailand Itinerary
Bangkok
All roads lead to Bangkok, and I say this with affection. Bangkok is crazy! It is loud, busy and a bit of a car crash on first impressions but after a few days in the city and moving away from the party street, Khoa San Road, you will realise that the city is more than just drinking out of buckets and eating bugs. The city has a number of temples worth your time such as the Temple of the Reclining Buddha (probably the most photographed) and the Wat Po temple area.
Beaches Near Bangkok
If your Thailand trip planner cuts your time short but you need to get out of the city, you don't have to go south to swim in the sea.
A couple hours outside of Bangkok there are a few beach options such as Hua Hin, Hat Sai Kaew and Ao Thian (Koh Samet) and the up-and-coming Pranburi resort.
Getting to Bangkok: flights from most big cities around the world
Days: 2-4 depending on priorities (some use it as a stop-over only)
Chiang Mai
Chiang Mai is in the north of Thailand and what I would refer to as the 'gateway to adventure'.
Many visitors to Chiang Mai stay for a few days but rarely see much of the city as they day trip away to waterfalls (Mae Sa), lakes (Huay Tung Tao) and to see the elephants at the Elephant Nature Park. A day out to this nature reserve is definitely one of the most exciting things to do in Thailand but you have to book up fast as feeding and bathing the adopted elephants is becoming ridiculously popular.
ENP is also educational, it teaches you why you should not ride elephants. Elephants (and tigers) in Southeast Asia are abused and beaten into submission until they comply to entertain us, westerners.
Other cool things to do in Chiang Mai include taking a cooking class (expect around 7 courses, mmm sticky rice and mango), shopping at the Night Bazaar, and getting a massage from a prisoner.
Chiang Mai is fast becoming a business hub for digital nomads, it offers co-working spaces at reasonable rates for those who work online.
Getting to Chiang Mai: Train or fly
Days: 2-4 (if using as a base to head to Pai or Chiang Rai)
Pai
Pai for us was one of the best places in Thailand. There are bus trips to Pai, the hippy town in the mountains from Chiang Mai but we hired a scooter so we could stay overnight and chill at the hot springs and waterfalls in our own time.
The town itself is a bit overrun with expats in Thai pants (the baggy harem type) but the stop-offs on the way must be part of your Thailand travel itinerary.
Getting to Pai: Bus or scooter from Chiang Mai
Days: 1-2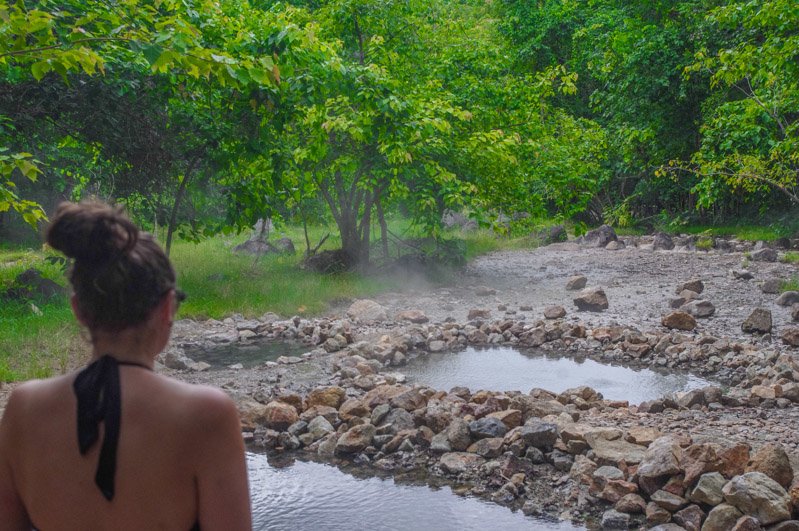 Chiang Rai
Once the lesser-known area of northern Thailand, Chaing Rai is being put on the map.
This slow-paced city is about as chill as it gets with long-tail boat rides along the river and checking out the Jekyll and Hyde architecture of The White Temple (below) and The Black House. Maybe one to miss on a restricted Thailand itinerary for 2 weeks.
Getting to Chiang Rai: by flight (airport) or bus (station)
Days: 1-2
Thailand Travel Itinerary: Island Hopping
So now that you are templed out, it's time to feel the sand between your toes, heading south to Thailand's islands. There are a variety of options for island hopping and accommodation to suit every budget from those looking for a hammock to the other half who want to push the boat out.
As mentioned, the weather will dictate which side of the country to visit so don't throw caution to the wind (and the rain), do some research while choosing your best of Thailand in 10 days trip. The number of days you plan to spend on a Thai island will depend entirely on if you want a base with day island hopping or a longer trip where you carry your bags from the beach to boat.
West Thai Islands
Krabi
You can expect that piercing turquoise waters, white-sand beaches, and longboats covered in colourful flowers.
You have made it, you are in the postcard of Krabi! If you tire of lazing by the beach check out the day trip to Thung Teao Forest Natural Park aka Krabi Emerald Pool. Check out this guide on places to go in Thailand for more information on Railey which is close to Krabi.
Phuket
Thailand's biggest island, Phuket, is still one of its most popular. Many tourists relax here for two weeks using the island as a springboard to visit the smaller sister islands, others stay and explore the island's own 30 beaches.
Get there: fly or bus (train to Surat Thani is 3-4 hours away)
Koh Phi Phi
Dive, cliff-jump or snorkel in the crystal clear waters of the Koh Phi Phi. This is where you will find the younger backpackers partying by night and chilling by day. Maya Bay has been one of the top attractions of Phi Phi since the 90s film, The Beach, was filmed there.
Maya Bay is currently closed to the public. Over tourism has ruined the area.
Get there: 45 min ferry from Phuket
Koh Lanta
More chill, less action and less than two hours away from Krabi this selection of islands is less touristy than the big dogs of Phuket and Krabi.
Get there: Ferries with car/minibus capacity from Krabi (1.5 hours) and Phuket (4 hours). Bridge building is in the process (but completion is dubious)
East Thai Islands
Ko Pha-Ngan
The first thing that springs to mind? Yes, Full Moon Party.
Hat Rin beach is the culprit for these notorious all-nighters which result in backpackers with bonfire burns and female travellers losing friends. Safety is not really the top priority on everyone's list that heads to Ko Pha-Ngan but granted, they are in for a good time.
Whisky buckets and magic milkshakes may be on the menu for full moons but when the day draws in and the boats full of spew pull out, the resort which is left still has a lot offer visitors.
Koh Samui
Chewang is the most popular area for holiday-makers in Koh Samui and if you like Pizza Hut on your paradise then it may be the spot for you. Along the coast you can enjoy quieter areas such as Lamai, the nightlife is pretty non-existent but there area few restaurants to dine out.
As you fly into Koh Samui you will see the Big Buddha and Guan Yin in the skyline, like an Asian Disney. Na Muang Waterfalls are also located on the island but are nothing in comparison to Mok-fa-waterfall in Pai.
Get there: Fly or train (to Surat Thani) and ferry
Koh Tao
This was the island we wish we had reached but our two-week Thailand itinerary saw us dock at Koh Samui to ensure we enjoyed some R&R before returning home. In the past, Koh Tao was a hotbed for expats looking to dive by day and have a few drinks at the night but of late there has been a spate of serious crimes on the islands which have become a turn-off for some heading south.
Get there: two-hour ferry ride from Koh Samui
[callout type="left" title="Make Thailand Happen" message="Check out our advice on saving for that big trip" button_text="
Show me the money
!" [callout type="left" title="Make Thailand Happen" message="Check out our advice on saving for that big trip" button_text="Show me the money"
]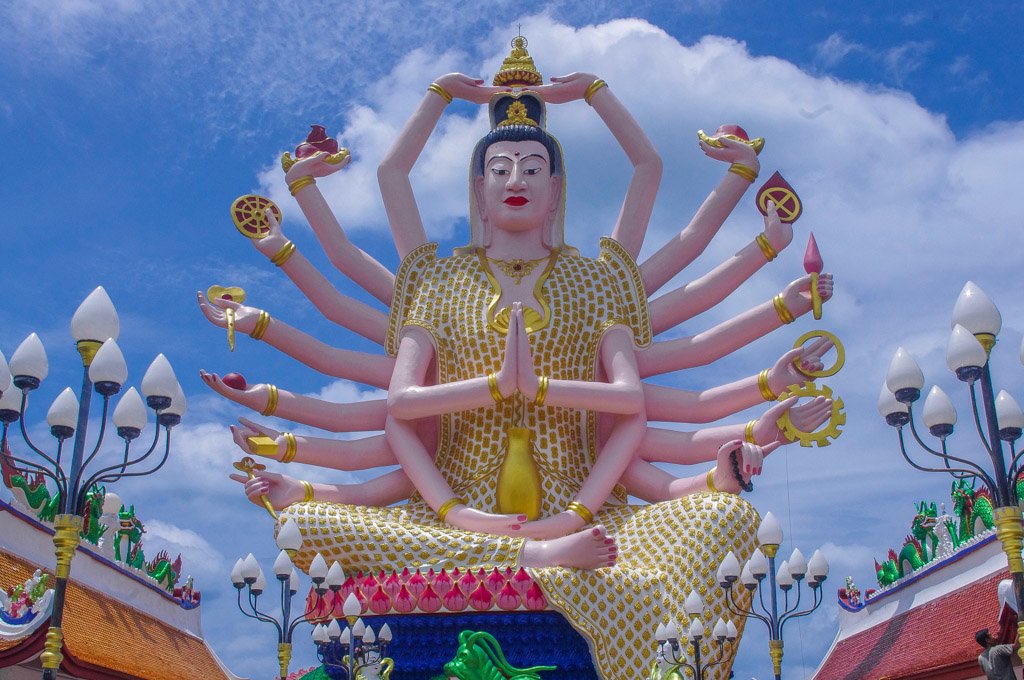 I know what you are thinking, this Thailand itinerary offers a year worth of activities so what to do in Thailand for a week or two? The obvious answer, you will just have to return the next year to see the remaining sides of the country (but check the weather forecast first!)
---
Save to your Thailand board for later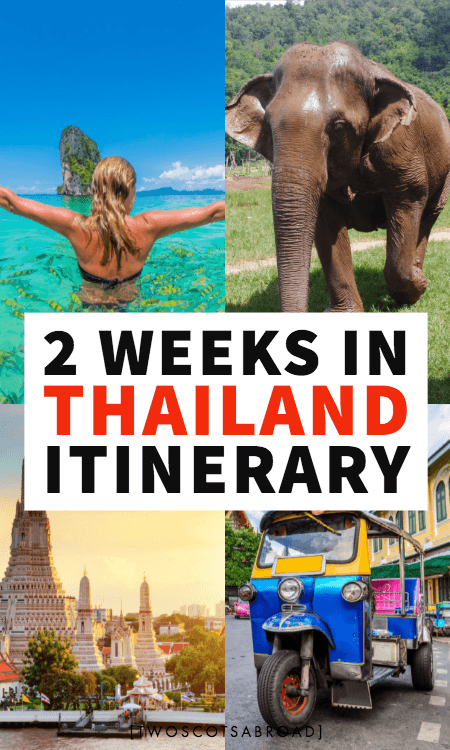 What have we missed? Tell us in the comments below