Looking for advice on long term travel planning but not sure where to start? You've come to the right place. My husband, Craig, and I (Gemma) took an 18-month career break to the travel the Americas and Europe and have detailed every single movement from saving to packing, planning to staying alive on the road. We visited 16 countries in 17 months from Cuba to Canada, Spain to the States and here is our long term travel itinerary, our daily average budget, and practical tips on how to travel long term.
1. Long Term Travel Destinations
Long term travel routes have to be considered with a sensible head. Yes, it would be sexy to drive along Route 66 in a Cadillac or fun to sing karaoke with the kids in Tokyo but both activities are expensive.
Setting (and sticking to) a long term travel budget is far more challenging than a quick three-week trip island hopping in Thailand then going home to comfortable wage at the end of the month to pay off the credit card bills. There is no home and there is no pay at the end of the month!
Prioritise
Write down where you want to go and what you want to do. Then it is time to do some research – this is all part of the long term travel experience! Use social media, travel blogs, tourist board websites, and Pinterest to get a feel for backpacking prices, visa instructions (and costs), itineraries, public transport information, and ideas of things to do.
Check Prices Online
You'll swiftly work out that some countries are more expensive than others. For example – a dorm bed in Sydney, Australia starts at $19 whereas you'll find one in Bogota, Colombia for $6.
Some continents/areas are cheaper than others but countries within those continents/areas vary wildly.
Let's take Southeast Asia for instance. Hanoi, Vietnam is super cheap, you can get a bed for $2.50 (in a 6.5 rated hostel) compare that to Singapore where dorm beds start at $11 for 5/10 hostel.
Beers in Hanoi are $1.50, Singapore? $8.37!
I'll cover our strategy for booking cheap accommodation below as it makes sense to investigate flight prices, more on that to come.
If you are travelling long term on a budget, I would strongly suggest avoiding the following countries:
USA and Canada
Europe's Nordic countries
Australia and New Zealand
Japan
But I want to see Niagara Falls! I know, you can – just be prepared to burn through cash like Harry Styles does ladies.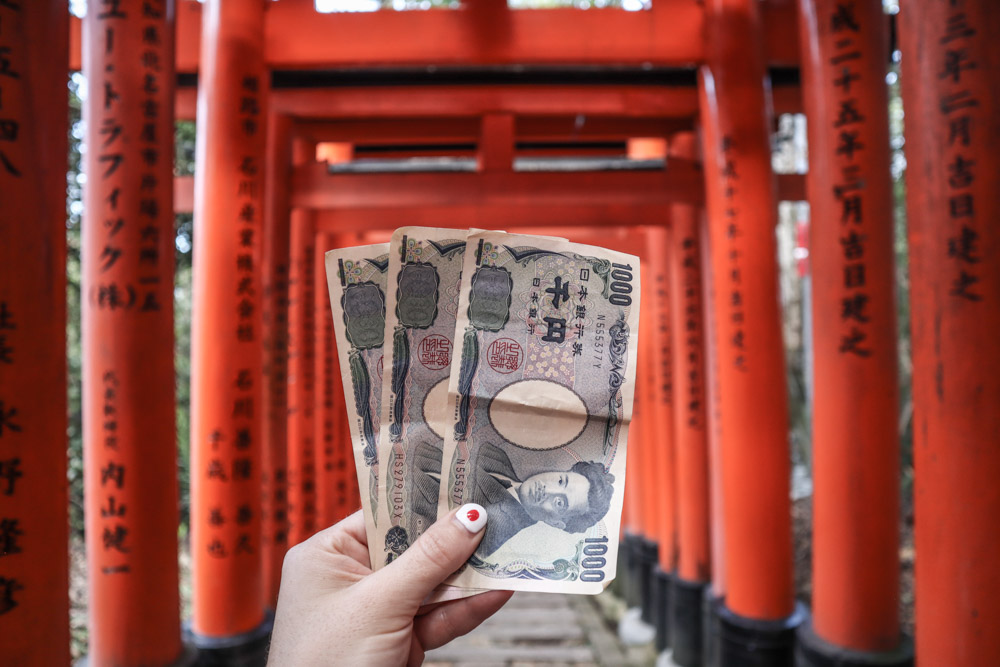 Facebook Groups for Travel Planning
Don't be afraid to chat with bloggers on social media or join Facebook groups to ask for advice.
There are two excellent Facebook groups for female travel lovers where non-biased travellers of all ages, shapes, and sizes give advice about their home countries and places they've visited – Girls V Globe and Girls Love Travel.
These groups are especially useful for ladies looking to long term travel alone.
Every destination has a Facebook group now. Just use the search function to find them.

2. Saving for Travel
My name is Gemma and I am a super saver.
My best tips for saving is to set up three bank accounts.
The first account is where your pay goes, a second account for savings which cannot be touched, and a third for savings which can be tapped into for a wedding gift or new car tires (safety first!)
Next tip is to write down how much you spend (every single detail) for one week and then work out how much you can realistically live off. Each payday, move your savings over into the mentioned accounts.
Avoid window shopping, if there is no temptation, you won't splurge!
Sell your stuff at car boot sales. Complain! Speaking to companies can reduce your monthly payments, for example, your phone provider. Go sober, not drinking every weekend was one of our biggest saving techniques.
---
Read more | We managed to save £20K to travel, and you can too.
---
3. Cheap Flights and Other Transport
Craig lives on the Skyscanner app!
He claims that it is one of the long term travel must-haves, due to its 'go anywhere' function.
If you are flexible with dates and destinations – you will find cheap flights.
When searching for flights via computer, always set your computer to 'incognito' or 'private browsing' so websites do not remember your previous searches and hike up their prices.
Another travel tip is to Google the local airlines, bus companies, and train lines for your desired countries then go directly to their sites.
For example, Air Asia is a popular low budget airline which covers South East Asia and beyond. Sign up for the newsletters of these airlines for deals.
Don't be scared of buses! We bussed all around Peru, Bolivia, and Colombia – some of the overnight buses have bad boy lazy chairs! Go local!
Do what the natives do – chicken buses in Central America are a thrifty traveller's dream. Always be cautious of your belongings, opportunists roam in every country. Overnight trains in Vietnam have beds!
Car rental is sometimes a cheaper option in the long run and Bla Bla Car is a new car-sharing option for you to consider. Have you tried Über or Lyft in your home city? It's a cheaper taxi service which runs from an app.

4. Travel Accommodation Search
While searching for cheap accommodation do consider the reviews of places too, we managed to avoid bed bugs and I hope you do.
Each continent/country favours different search engines for hotels – for example, Booking.com for North America, Agonda for Asia.
Hostelworld is still my go-to for hostels.
In Nicaragua, many hostels, hotels, and guest houses advertise via Airbnb, even though they are not private houses.
We've stayed in an airstream in Austin, a prison in Slovenia, and a time capsule in Portland!
Word of mouth! Backpackers love to chat and pass on their experiences. Read about our good and bad hostel experiences.
Couchsurfing is not something that we have used during this trip. This website connects travellers with people who can offer a sofa or bed.
Both set up profiles and can leave reviews, like Airbnb but without paying. Naturally, your safety is paramount, so be sure that you are comfortable from the beginning.
We did swap our skills for a bed in WWOOFing style voluntary work (no fruit picking!) through the website Workaway.
---
» Read more | Check out our review of Workaway and HelpX for more details
---
You will need this variety of long term travel accommodation, especially if travelling in a couple – often you will want private space but other times you will want/need to converse with other human beings!

5. Pills, Bills, and Travel Insurance
Couples that rave together, stay together.
So what about those who live in each other's pockets, on limited money, with no GPS for a number of months? Long term travel in relationships is a test, whether that be a friend, parent, sibling, or significant other.
My best advice for long term travel as a couple is to test the water first. We endured a 5 – week trip to South East Asia two years before this long term travel trip.
We didn't kill each other so started saving for the future.
Get hobbies – whether that is reading, blogging, or DJing (Craig makes music on his phone!)
Learning new skills is a great way to avoid getting on each other's nerves.
Oh, and get used to going to the toilet in close proximately of each other!
These long term travel relationship tips worked for us – I left Scotland with my boyfriend, and came home with a husband (the same man!)
We got hitched in Austin!

11. Long Term Travel Planning Itinerary
March
After a stopover at a JFK airport, we touched down in New Orleans where we spent the next three days listening to jazz, drinking hand grenades and eating Po Boys!
Next up, one week in Austin, Texas for the popular music festival South By Southwest. We watched new and old bands, drank beer, and ate tacos all without putting our hands in our pockets! Love free stuff? Check out how to do SXSW for free.
Duration: 9 nights
Average daily budget: $100 (based on a private room and hostel)
Currency: American Dollar

March/April
May/June
A late addition to the long term itinerary was Colombia. Every backpacker that we met raved about the country, our only background information about Colombia was cocaine and cartels.
Craig found cheap flights via Skyscanner so off we went to the Caribbean coast! Highlights include the friendly Colombian people, Tayrona National Park, and empanadas.
Duration: 3.5 weeks
Average Daily Budget: $53 (Bikes, Volcan El Totumo, Tayrona National Park, dorms)
Currency: Colombian Peso
Colombia –

no cocaine in sight

June
Hello Havana! We touched down in the land of cigars and salsa with grand plans of backpacking our way around the island (which is possible in three weeks) however we ran out of money, and patience.
Cuba is hard work.
I can't sugar coat it! Yes the rum is super cheap and tasty, and the beaches are paradise but it is hot, some locals see you as a walking dollar sign, and the lack of free information made transit tough work.
We were suffering from long term travel fatigue after four months of crazy backpacking.
After two weeks of travel (Havana – Viñales – Playa Larga – Trinidad), we booked ourselves into an all-inclusive resort in Varadero – a holiday within a holiday.
This was the cheapest option for saving our long term travel budget!
Duration: 3 weeks
Average Daily Spend: $90 (Havana Walking Tour, diving, all-inclusive,

casas

)
Currency: CUP
Dreaming of Cuba? Check out our Cuba Travel Guide

July – January
The summer months of July and August were spent on the Sunshine Coast of British Columbia, Canada.
This hidden gem is only a 40-minute ferry ride from Vancouver and boasts of lakes, hikes, and craft beer.
Duration: 2 months
Currency: Canadian Dollar
This is where we want to live: the Sunshine Coast, BC
All our Canada content starts here
January
February
March

June
Welcome to warmer climates! Hello Espanol! The summer month of June was divided up between Marbella with Craig's family, our final Workaway in Granada, and Malaga with my friends Shelley and Jen G.
Duration: 34 nights
Average Daily Budget: $65 (based on $32 private room)
Currency: Euros
I wouldn't say

Granada

is my favourite city, what's yours?

July
Last stop – Portugal! We spent the next ten days using the capital, Lisbon, as a base. We attended the music festival NOS Alive, watched Portugal win the European Championships, and devoured custard tarts in Belem.
Duration: 11 nights
Average budget: $160 (based on $49 private room in a guesthouse)
Currency: Euros
12. How To Apply For A Career Break
So why a sabbatical? I had always regretted not taking a gap year between university and work so when I found out that after three years of working with my council that I could apply for a sabbatical that was me ready.
When Craig and I met, he was planning on moving to Holland but put that on hold and we tested the wayfaring waters with a five-week trip to South East Asia. We did not kill each other, so the long term planning began.
I verbalised my plans with my line manager and head manager, they were both supportive so I put in my application with a supporting statement which identified what benefits me taking a career break would bring to my job.
I was a politics and current affairs teacher so the justification was pretty straight forward – I wanted to bring the textbook to life!
Craig is a self – employed gas engineer, he passed his business to his brother.
Waiting for it to happen or making it happen fellow travel lovers?
Have we missed work? Yes, I miss the routine, constant chat, and the banter with the students, but I have still worked every day – blogging which I now do full time.
---
» Read my step by step guide on how to apply for a sabbatical
---
13. Long Term Travel Checklist
To finish off this ridiculously big guide of long term travel advice here is a quick to-do list for you to check off and remember – long term travel is not for everyone. I had an incredible time but I'm looking forward to the shorter trips that the future holds!
Here is our advice to Scottish mum/daughter duo who are about to take the trip of a lifetime
~ featured on STV2
---
Did you find this useful?
Why not pin to your Pinterest board?

---
Any questions or quips?
Fire them in the comments and I'll get back to you.