Exhausted from the rush of Hanoi? Sapa Valley in the north of Vietnam is your answer to tranquility. Set amongst the rice fields, this relatively easy two-day hike will immerse you into the local culture and get your heart pumping, and obviously, there is rice wine involved if you so wish.
Hanoi to Sapa by public transport
The most popular route to Sapa from Hanoi is by overnight train which is pretty comfortable as long as you are happy with lights out immediately.
A second part of the transport link is bus, which takes you to Sapa town. The only downside is that you arrive at around 6am and there may be locals who wish to drink rice wine with you over breakfast…
We did this through an organised tour but it is possible to do so independently, check out this guide here.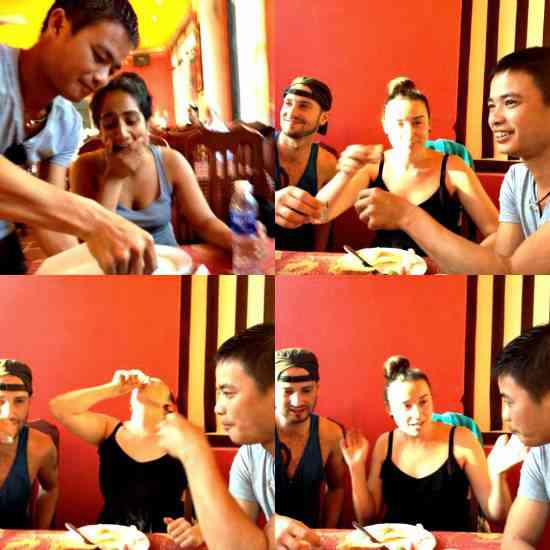 Sapa Valley
Since the arrival to Sapa is around sunrise, there is plenty of time to wander around the Sapa markets which are set up for tourists.
Be careful with your belongings, we heard of quite a few pickpocket incidents in Sapa.
There are plenty of cafes and restaurants for you to dine at if you arrive later than us.
Sapa Valley treks
The hike doesn't start from Sapa town itself but a minibus picks you up and drops you off at the top where you'll be greeted by Hmong women.
These fit ladies walk three quarters of the trek with you, asking lots of questions about our life and answering our questions about theirs.
The aim of the chat is that you'll purchase some goods that they have made when you arrive at their village.
Hmong tribe in Sapa
What makes every trek? The guide!
And we always seem to land the mad ones, and we love it (check out our experience with Juanito in Peru!)
Our enthusiastic tour guide, Quang from Sapa Pathfinder Travel, share lots of stories about the Hmong tribes.
Quang told us that it is common for Hmong ladies to be kidnapped by admirer's families!
Families then make payment in French coins and animals, the woman does have a say whether she likes him or not thankfully!
We are shown around houses on the way and the difference between the four Hmong ethnic groups is explained.
It rains intermittently, buy a poncho before you hike in Sapa and wear appropriate walking gear.
Check out my kick-ass female packing list for tips.
Do not wear Converse like some of our new hiking friends.
More rice wine with locals
The day ends at our homestay (with wealthier Hmong people). We are greeted with chips which is ideal because I am starving!
After a dip in the water we dine, get forced to drink a lot of rice wine (boke) and the boys smoke tobacco in bongs which nearly makes them vomit.
Our shower isn't too shabby…
Day two Sapa hiking
We trek for another half of a day. Magically we stumble across a shop (someone's living room) which sells ice lollies, is this a mirage?!
At the top, we bus back to the station, take over night train back to Hanoi and wake up on the train in time to see the Hanoi market stalls open for the day's business.
Great end to an enlightening and fun time with interesting people.
More Vietnam Tips
Halong Bay was underwhelming but you may like it. Please learn from my mistake – I will never book a boat tour through a hostel again.
Lots of companies sell packages so shop around when you arrive, no need to book before you hit Hanoi.
Be wary of taxi drivers in Hanoi! One of our new friends was tricked by a taxi driver when he arrived in the city and was made to pay a ridiculous fare, be wise.
Dai nam taxi company is cheapest – 100 to the airport, book by phone via your accommodation. Finally, watch your ankles when on mopeds, I managed to burn myself!
When visiting Vietnam, Sapa is a must. Sapa Valley is lush and the people on our tour were interesting.
Visiting Sapa without a tour looks trickier, the train station was quite daunting but it has been done – check out Lauren and Ben's post on Sapa Trekking to see how.
Where has the best trek of your life been?
PS. We have no affiliation with any companies named, just our a review of our great experience.